The Hand Hotel in Llanarmon is possibly the cosiest place I've ever stayed. It's all roaring fires and low beams, snug corners with comfy chairs, welcoming smiles and friendly chit chat over large glasses of red wine.
I arrived on a snowy Thursday afternoon to find the excitable yet tranquil atmosphere that can only be brought by snow.
Even as an adult, you can't help but get swept up in the magical excitement that comes with a thick blanket of fresh, white snow. Especially when you're an adult who is in no rush to get anywhere and you're only too happy to sit by the fire and enjoy the delicious food and cosy vibes The Hand is famous for.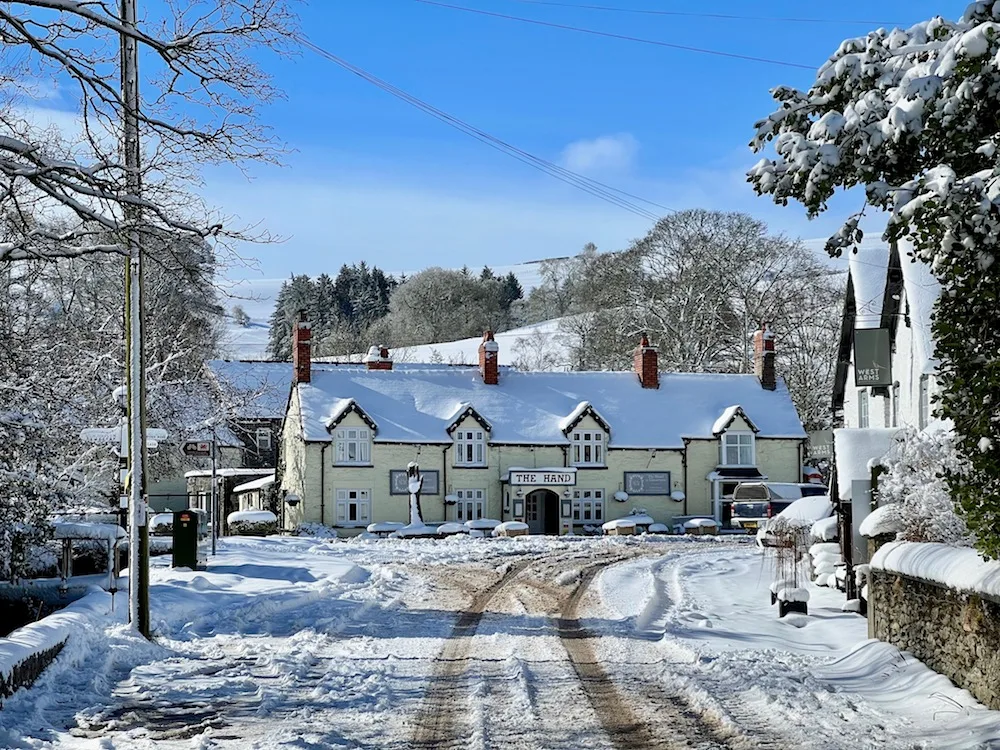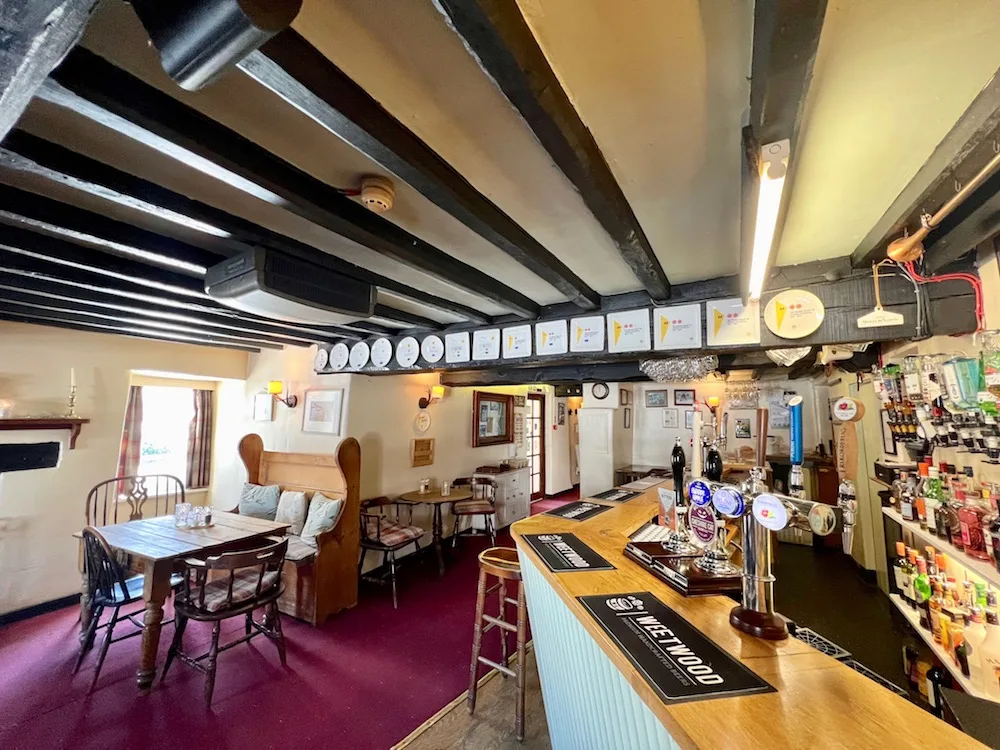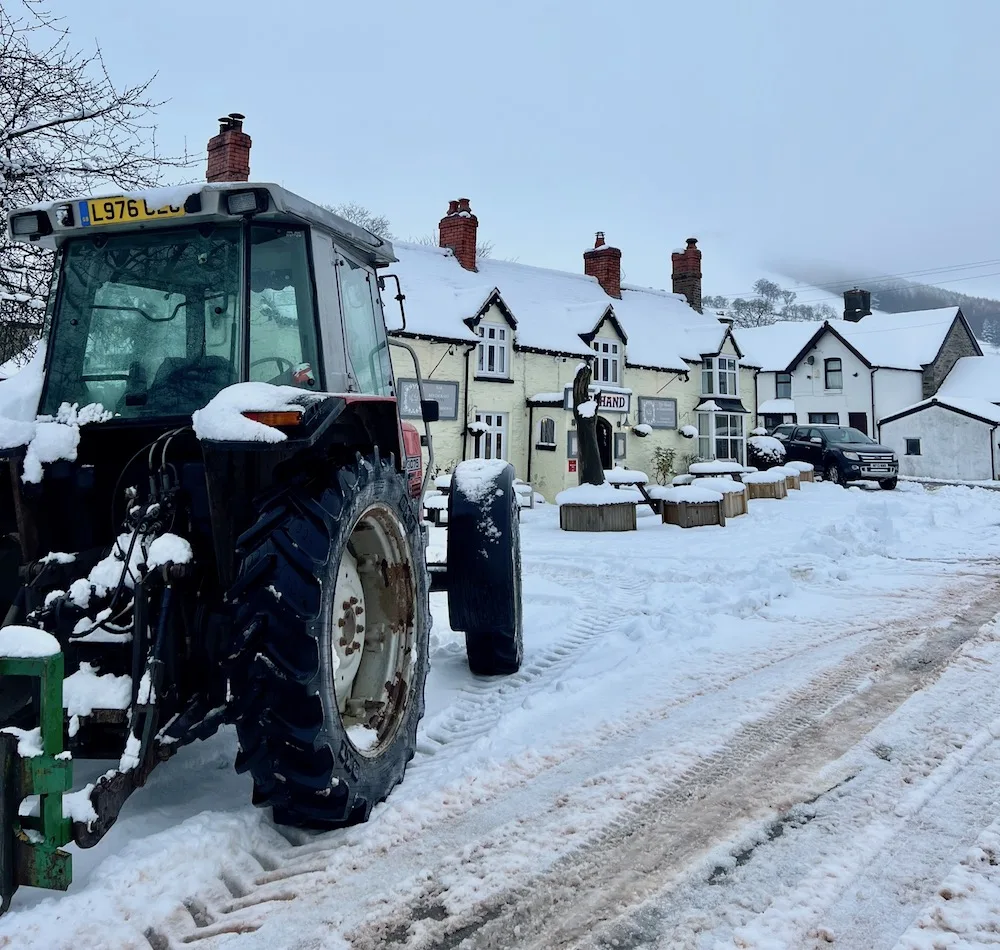 I crossed the bridge into Llanarmon, Wrexham, to see a small tractor sat outside the pub alongside a fancy 4×4 and a little fiesta. If you wanted to sum up the hand in one scene, this is it. It's the kind of place where local farmers will pop in for a pint after a long day at work. But you're just as likely to find people who have travelled far and wide for this famously cosy bolthole. The reputation of incredible food, excellent service and this beautiful, historic building brought me here. But it's the unpretentious welcome and traditional country pub atmosphere that keep people coming back.
I was greeted warmly by Jackie Greatorex, the co-owner, who quickly disappeared into the back to swap her wellies for an elegant pair of flats before showing me to my room.
I passed the resident's lounge and saw a couple who were leisurely reading by the fire and I was told they'd been 'snowed in'. I didn't tell them that I'd just arrived and the roads were perfectly clear. I suspected that, like me, they were secretly quite pleased to be 'stuck' here.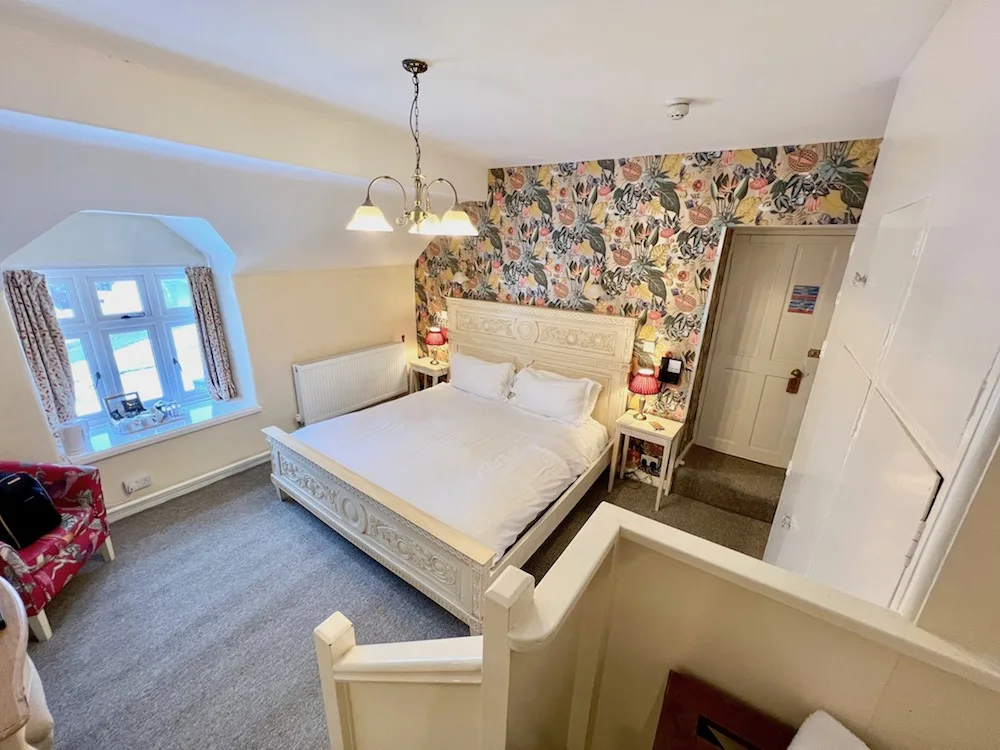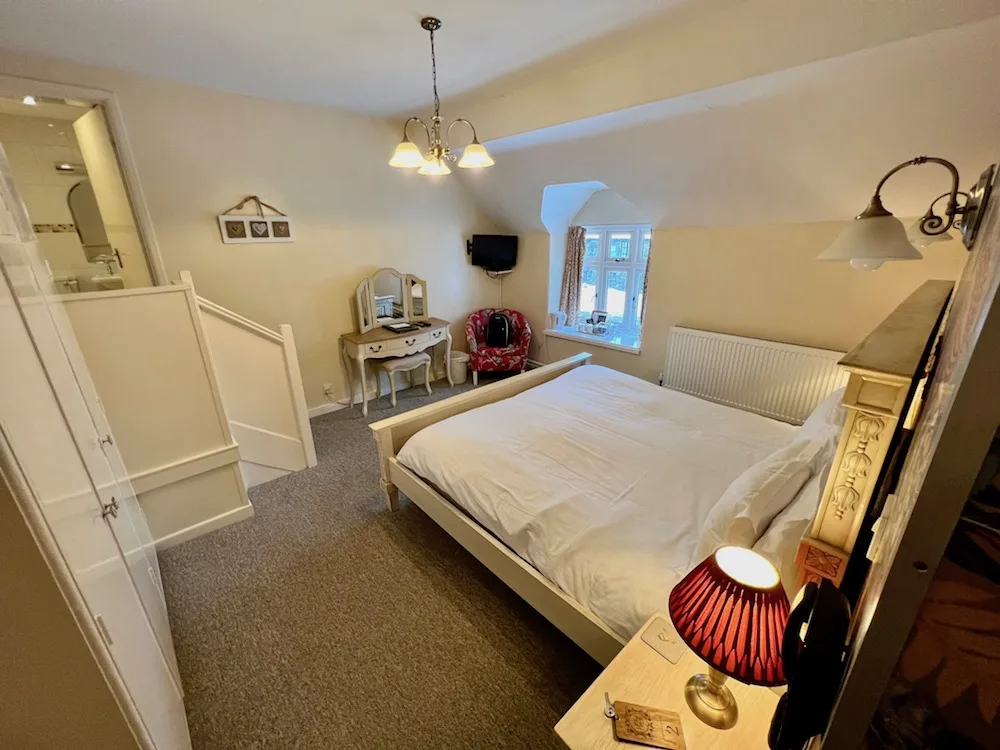 My room was spacious and cosy with an inviting window seat to sit and watch the snowy world go by.
I immediately made myself a cup of tea and tucked into the homemade shortbread biscuits that were waiting for me.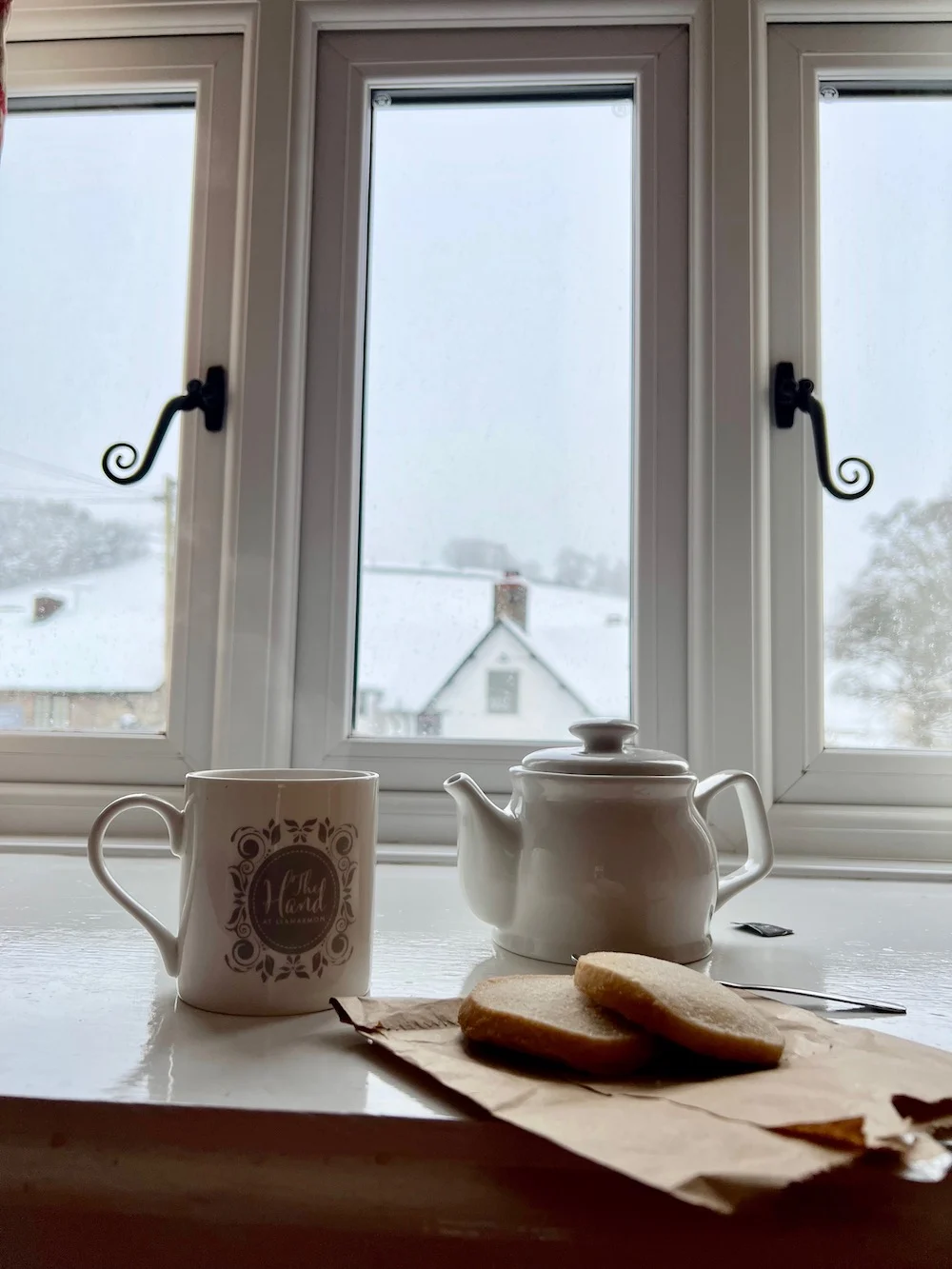 A friend was meant to be joining me but she was unable to make the first night so I was alone that evening. I was initially disappointed but quickly realised that the homey and friendly atmosphere in the bar and restaurant was infectious and I was making new friends in no time.
With a good book and a large glass of wine I tucked into an incredible dinner. I was sitting at a table next to a well travelled couple who had lots of stories and recommendations to share and we (very randomly) had a friend in common so there'd been no need for me to feel sad about dining alone.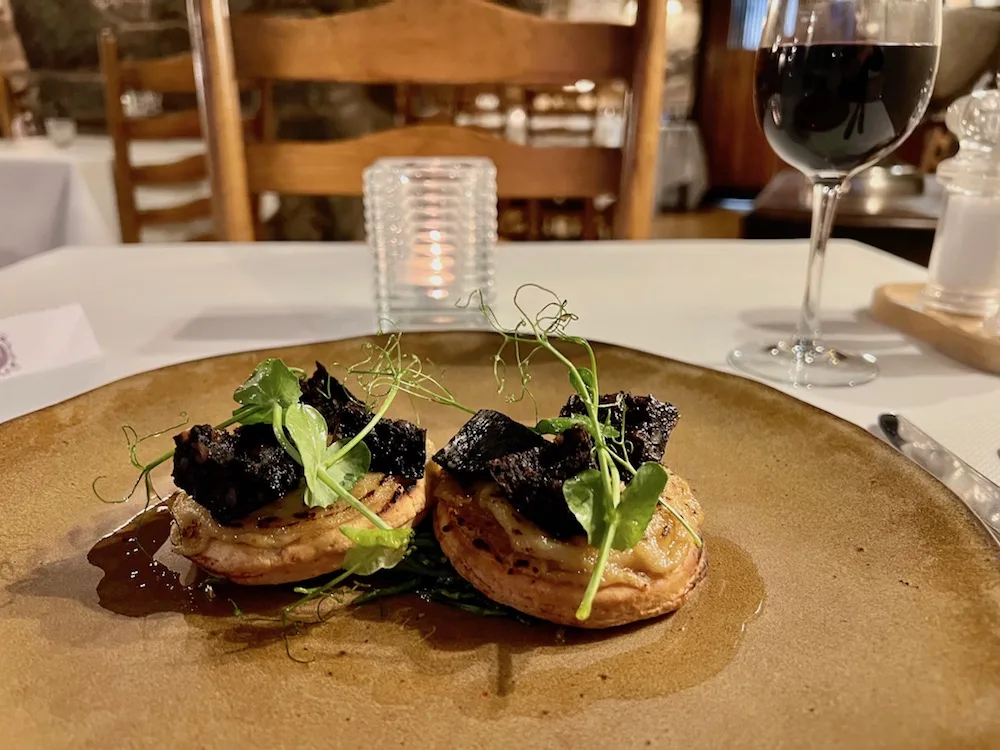 I started with grilled Welsh cakes, glazed with Welsh rarebit, black pudding and samphire.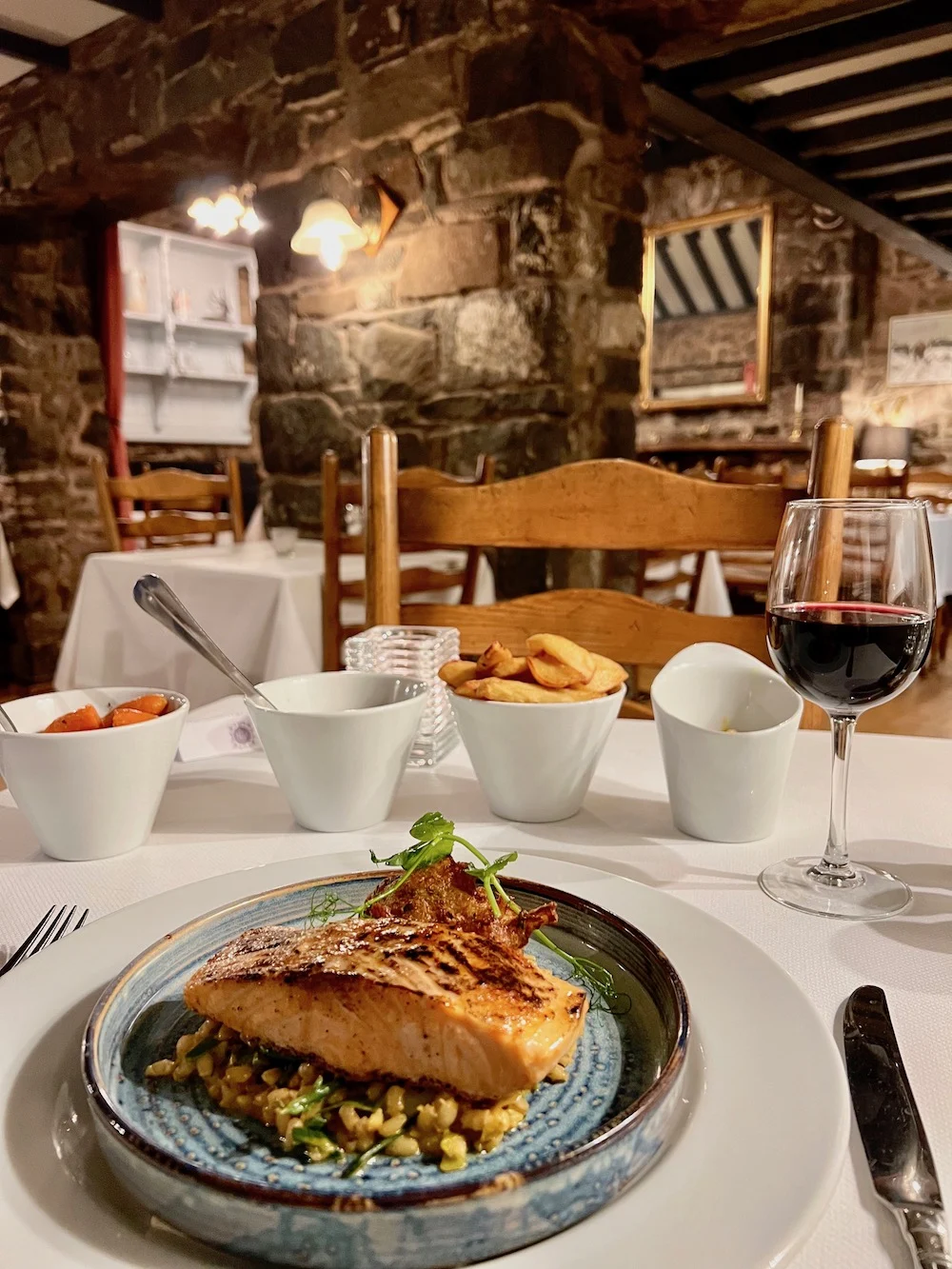 For my main I had grilled salmon fillet served with pearl barley, leek and lobster stock risotto, smoked haddock pakoras and samphire.
The bar and restaurant was busy later that evening with a large group of Dutch visitors who were travelling around Wales in 4x4s. They were obviously overjoyed the snow had given them an extra challenge as they drove through the winding mountain lanes, so they brought with them another level of excitement to the atmosphere.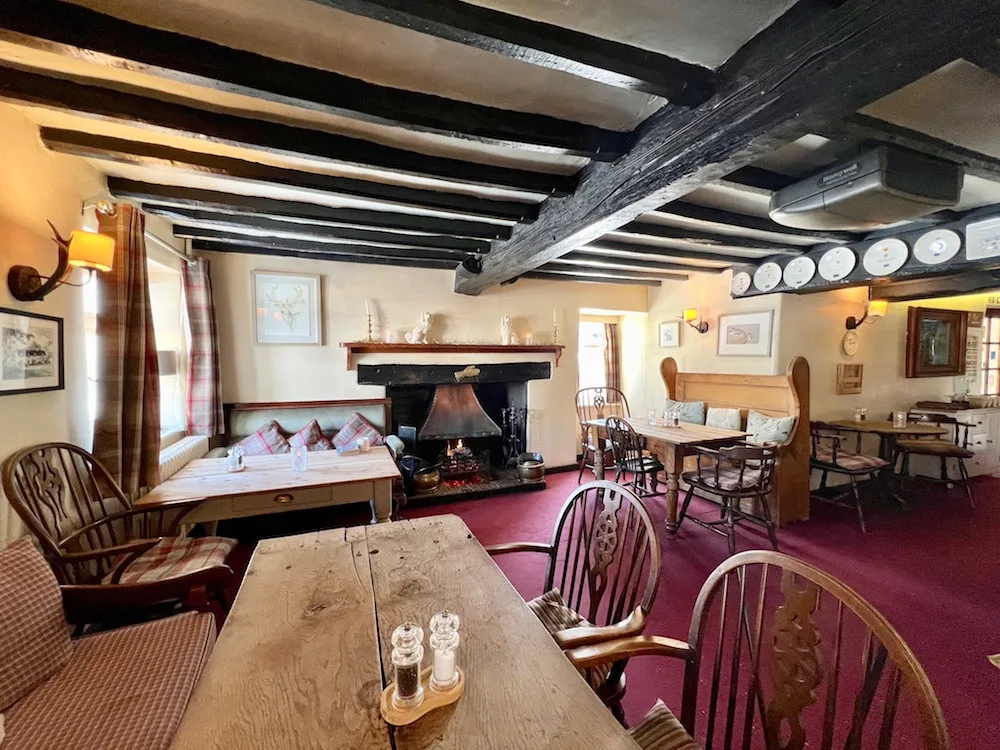 I retired to my room to have a bubble bath and finally read my book.
It's worth noting that you can hear a bit of noise in the bedrooms above the bar. Personally, I didn't mind. I'm assuming most people wouldn't stay in a small country pub unless they wanted to embrace that lively pub atmosphere, so I don't think it would be a problem for most people. If you think it would annoy you then it's worth asking for a room at the back of the restaurant overlooking the gardens.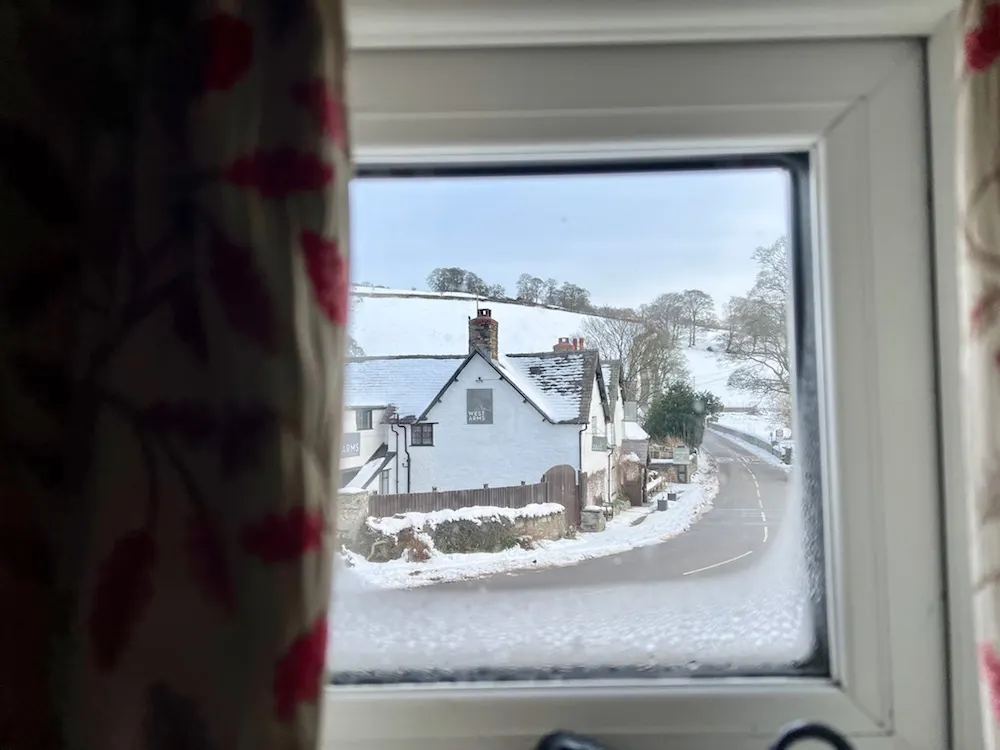 The following morning I woke up to even more snow. I enjoyed a breakfast of smoked salmon and scrambled eggs before putting on every layer in my suitcase and heading out for a walk.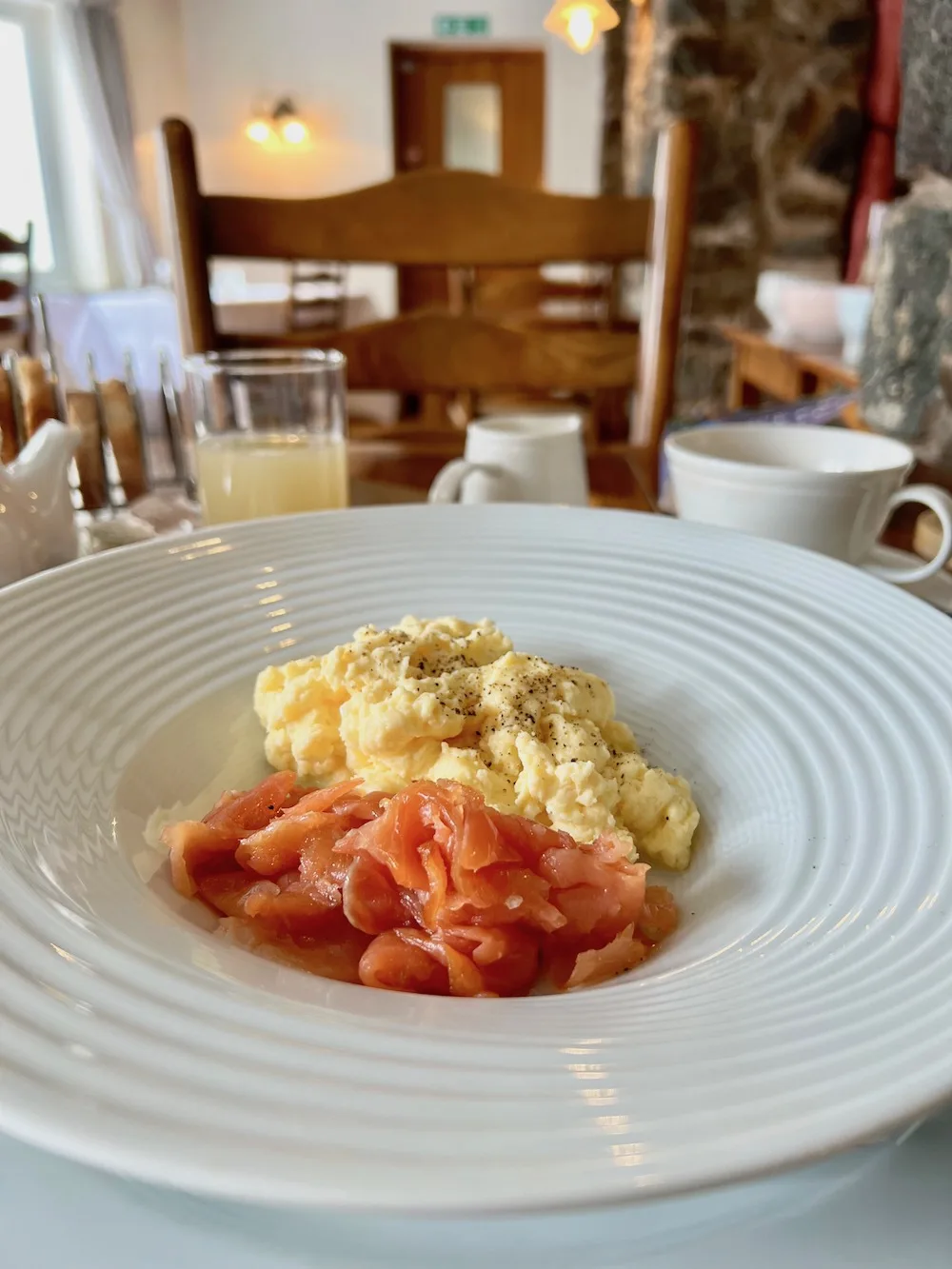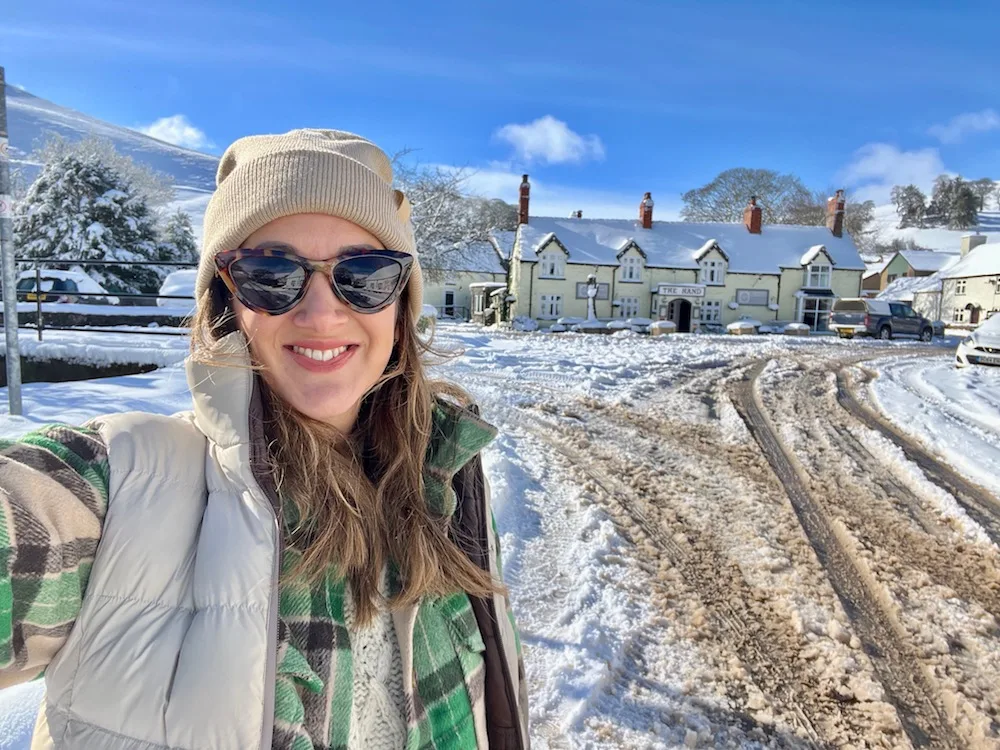 I felt like I'd walked out of The Hand and stumbled into Narnia. The sky was bright and blue and sunlight dazzled off the fresh, white snow. It was like a sprinkling of fairy dust across a cosy and untouched blanket.
The snow on the public footpaths was simply too deep for much of a walk so I stuck to the road and headed up into the hills.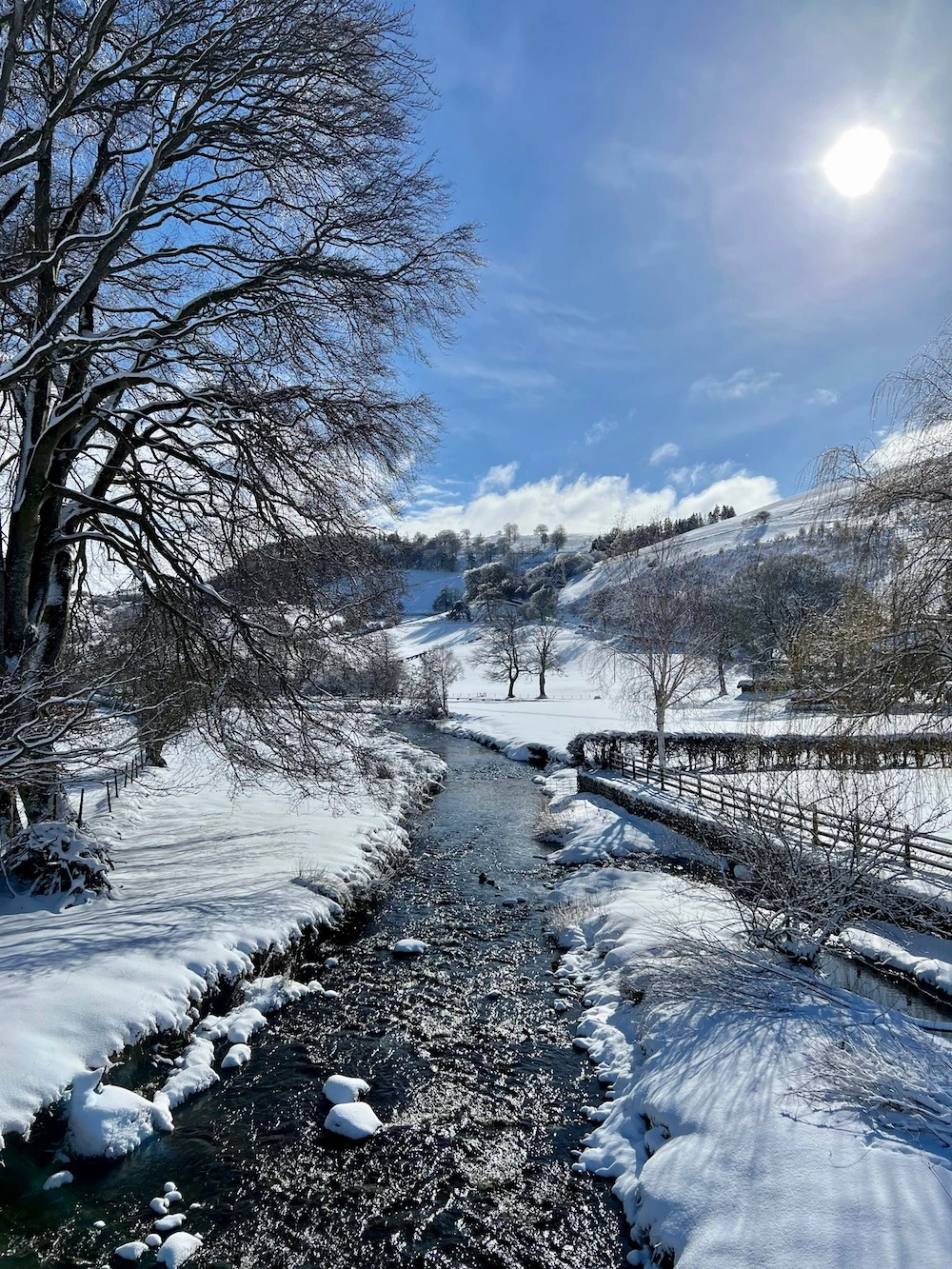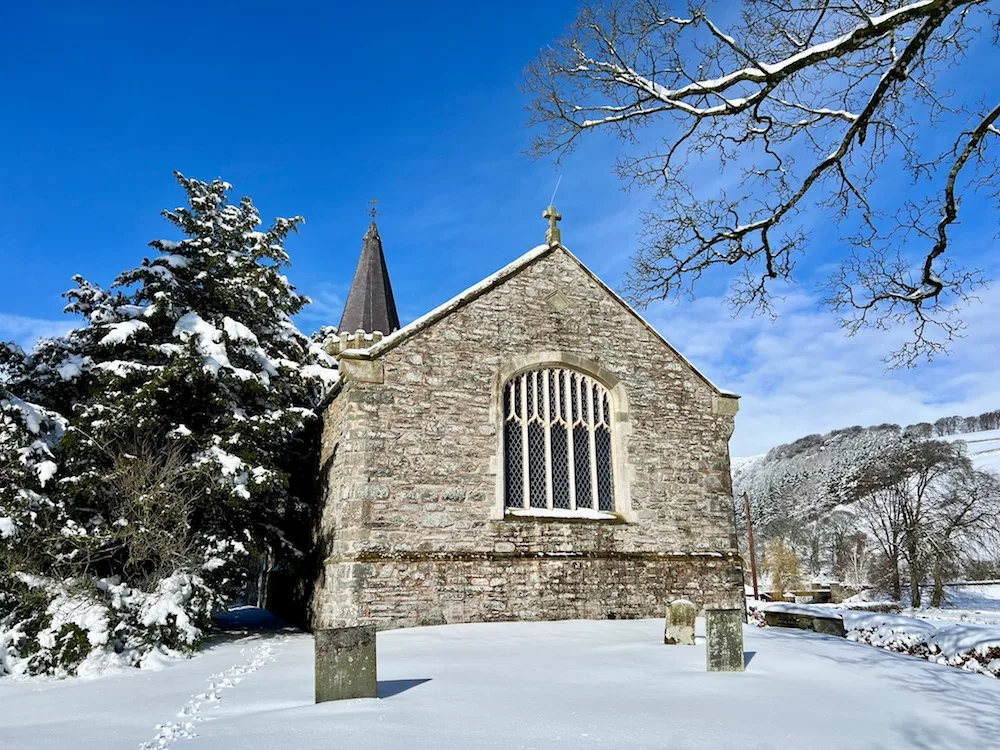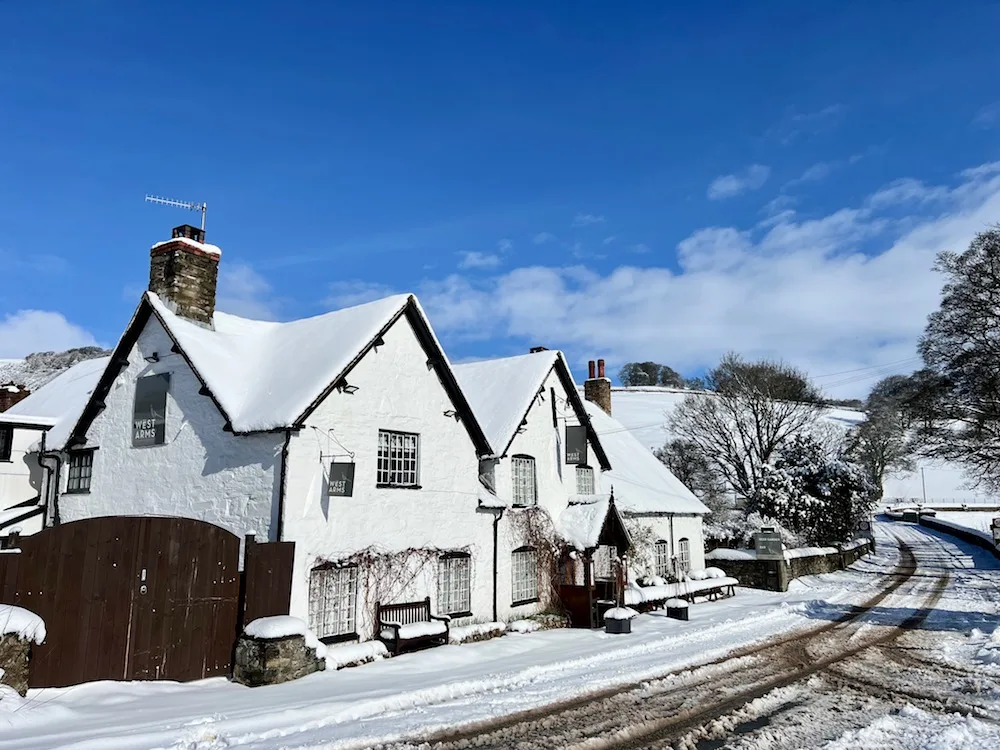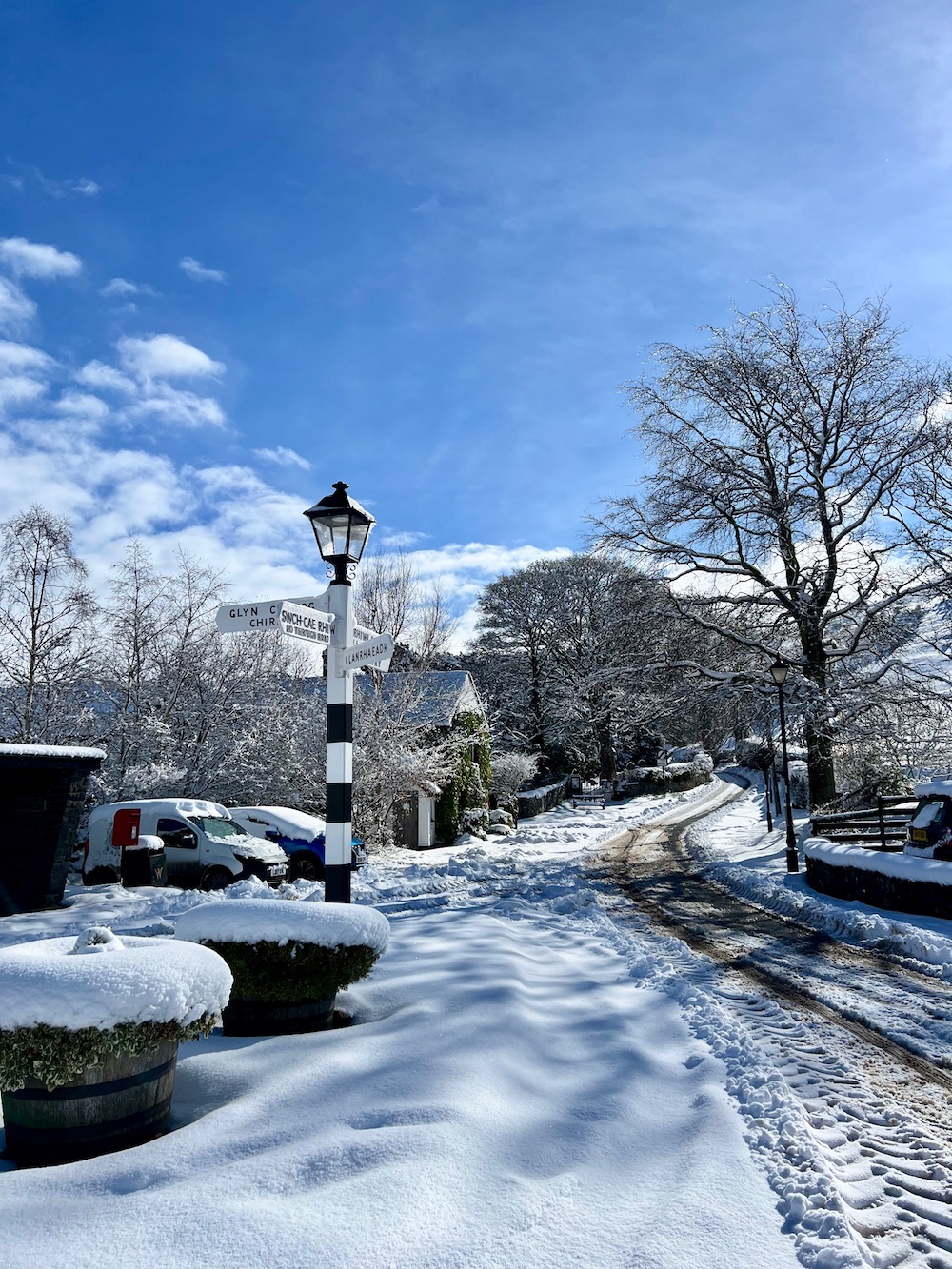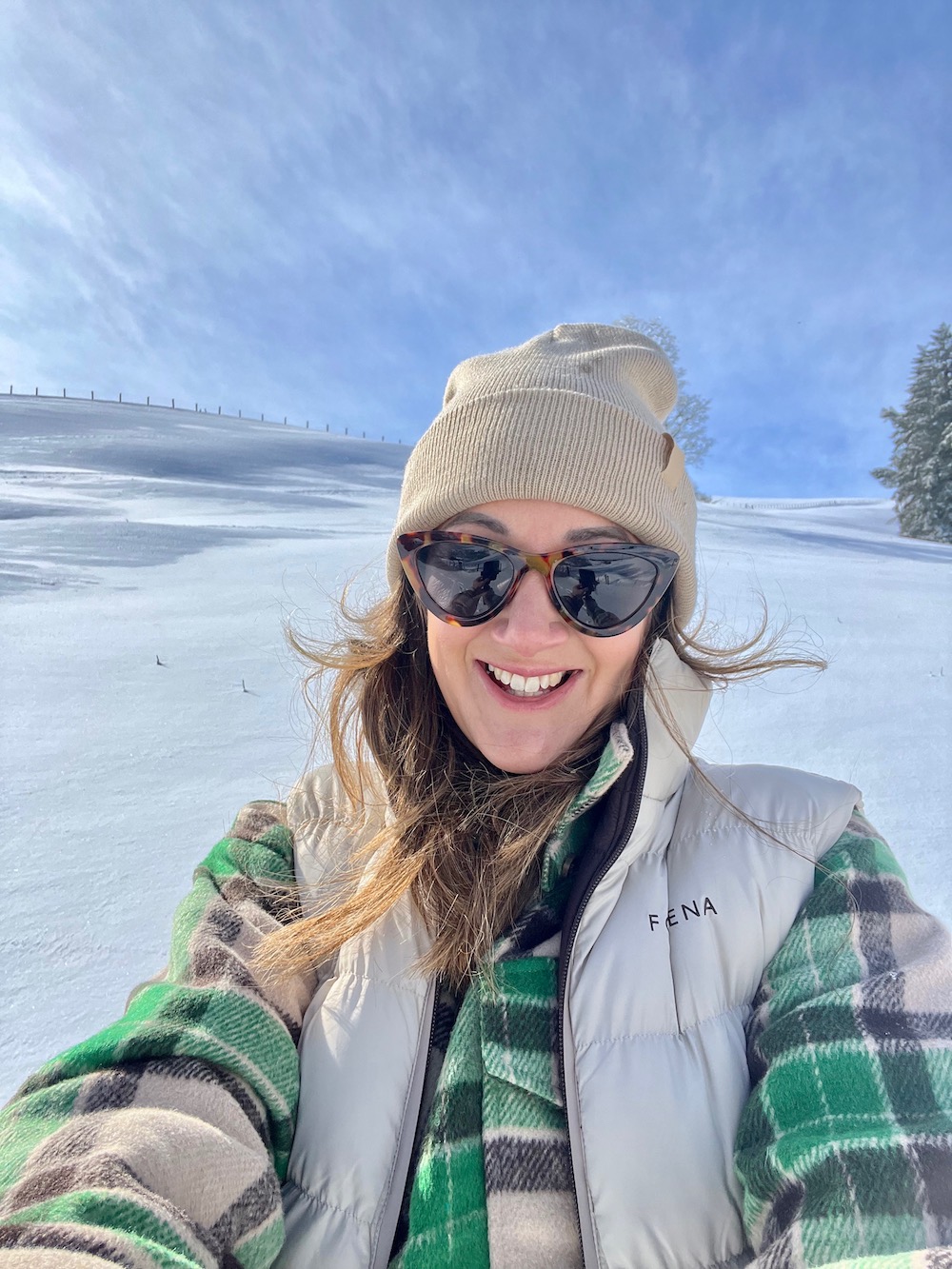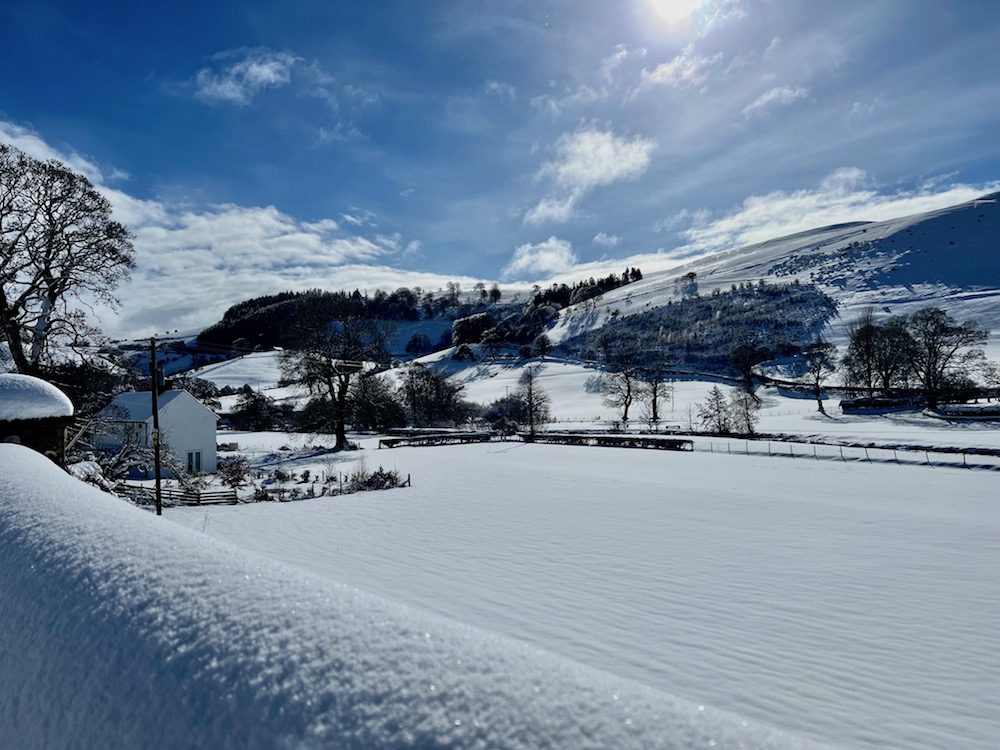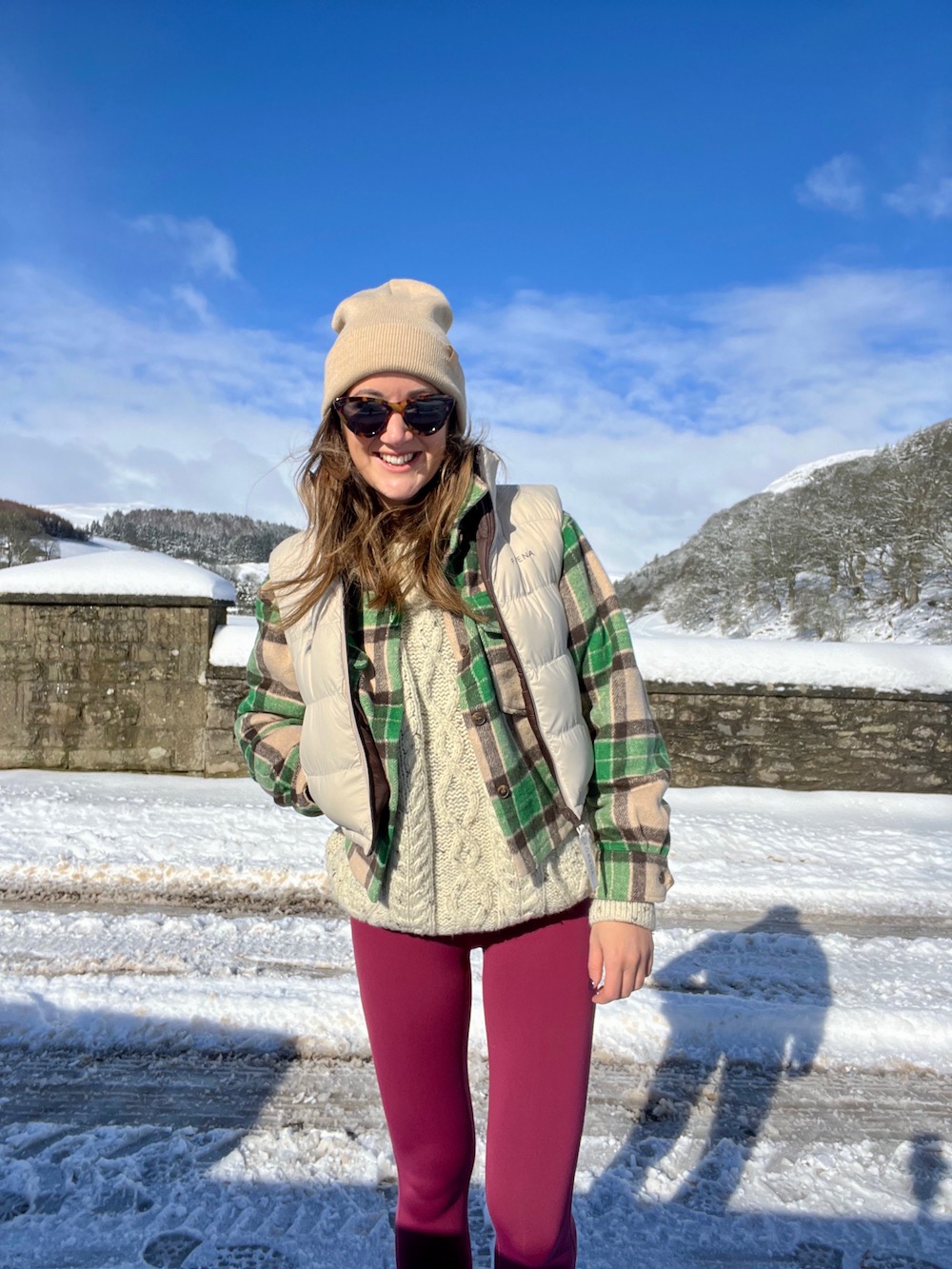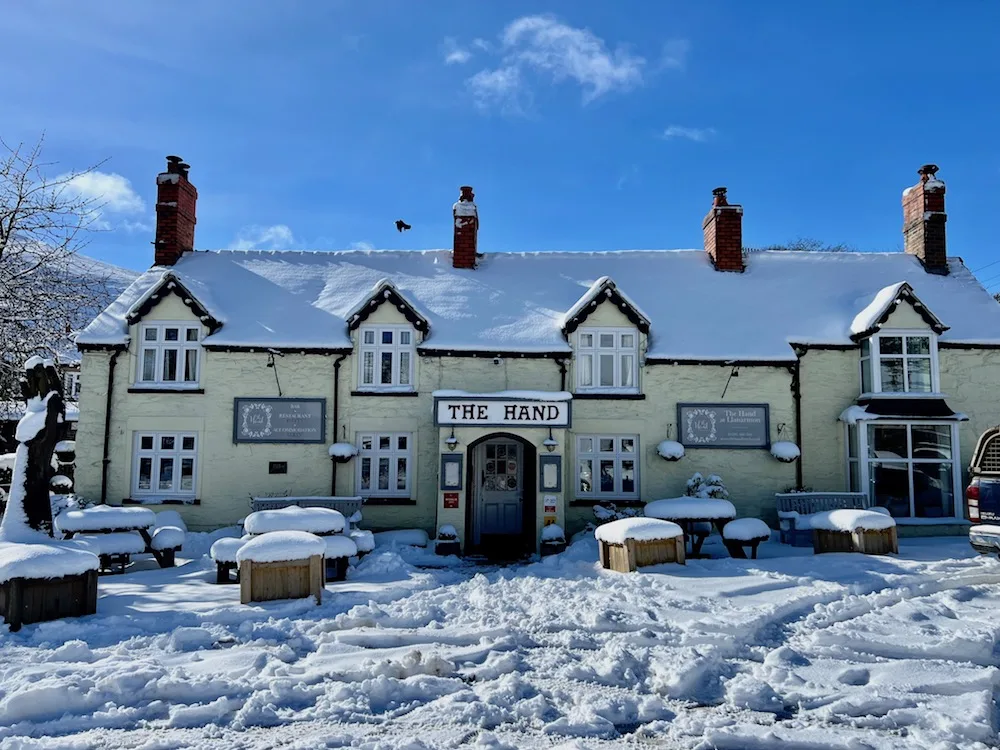 I returned to The Hand a few hours later with that rosy cheeked glow and tingly hands I remembered from childhood. The bar was quiet so I snuggled up by the fire with a pot of tea and a book while I waited for my friend to arrive.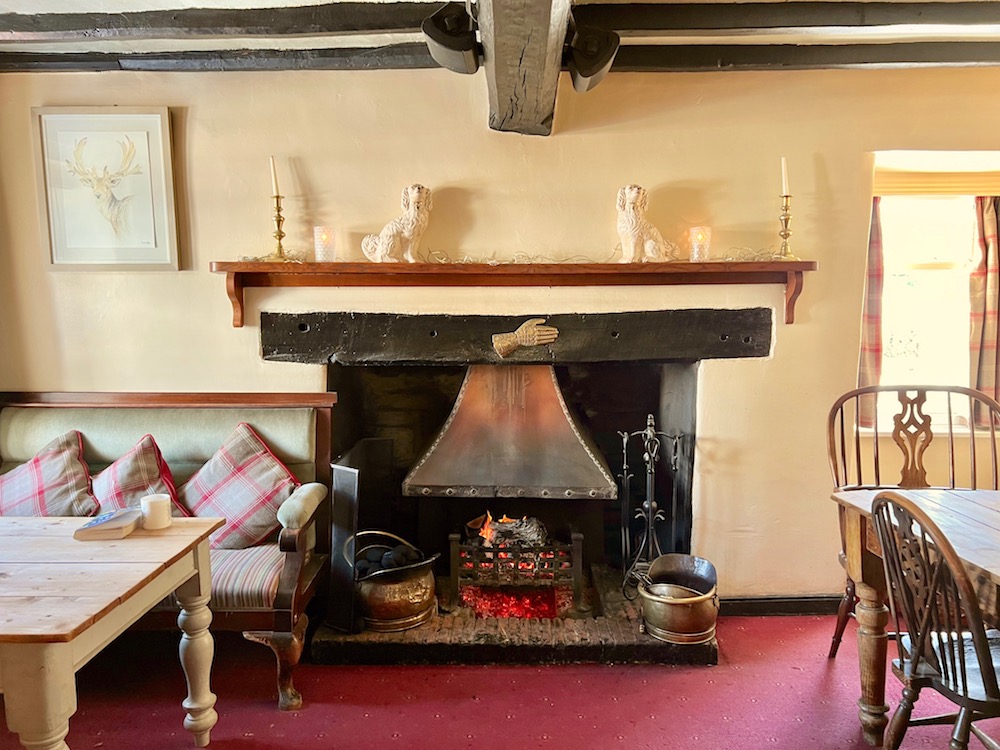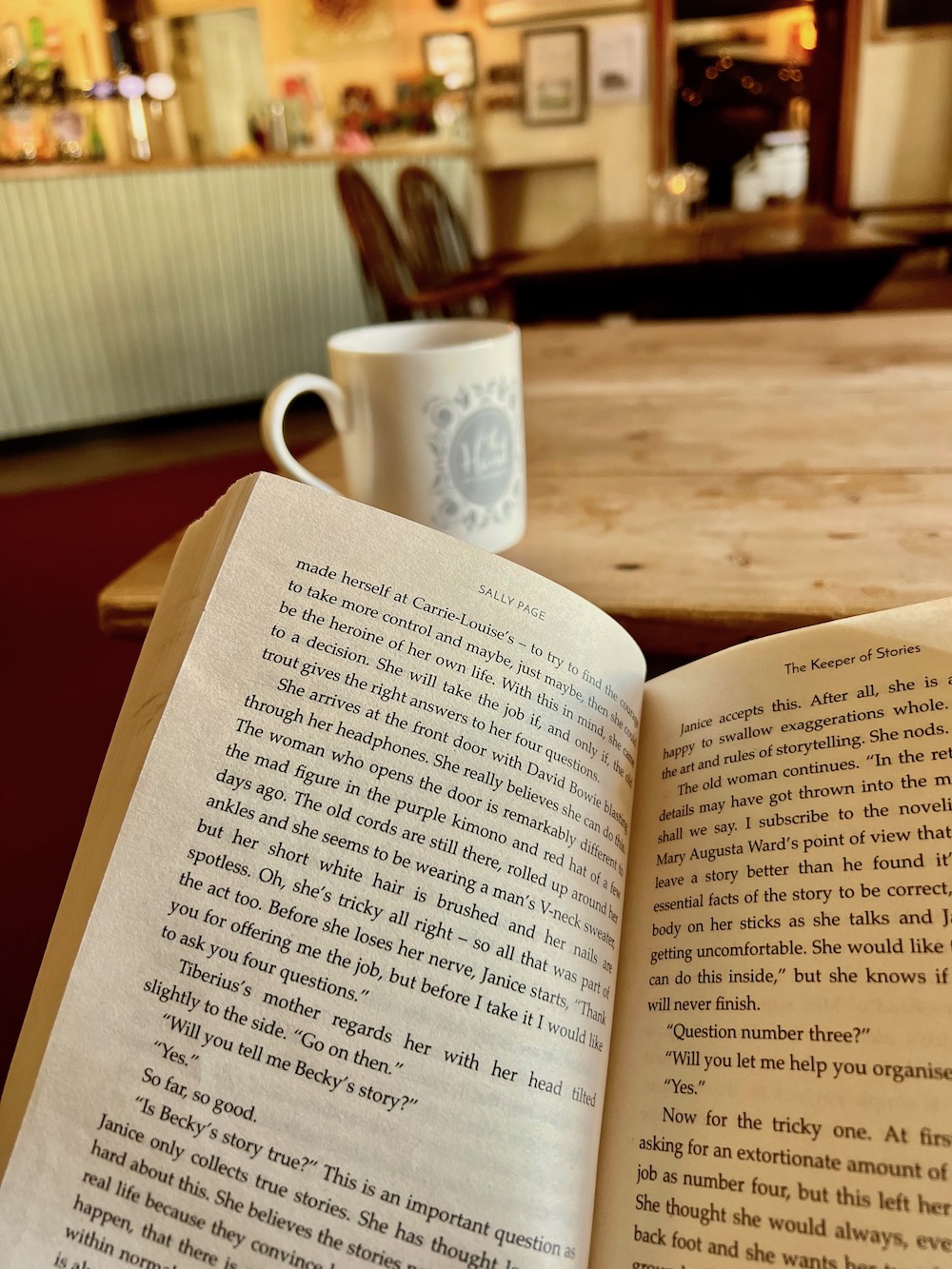 At this point I had planned to get out and explore the local area. I could have gone to Llangollen, Chirk Castle or into Oswestry, just three of the many places that are a short drive away, but I decided to stay put. The Hand felt like a warm and cosy hug and I just didn't want to leave.
I also have to hand it to the local council and farmers who did an incredible job at clearing the roads. Despite there being about 2 feet of snow, the roads were very clear.
My friend arrived later that day and after a catch up over a pint we headed out into the garden to use the sauna and hot tub. A small, stone building sits in the garden and houses an infrared sauna and changing room.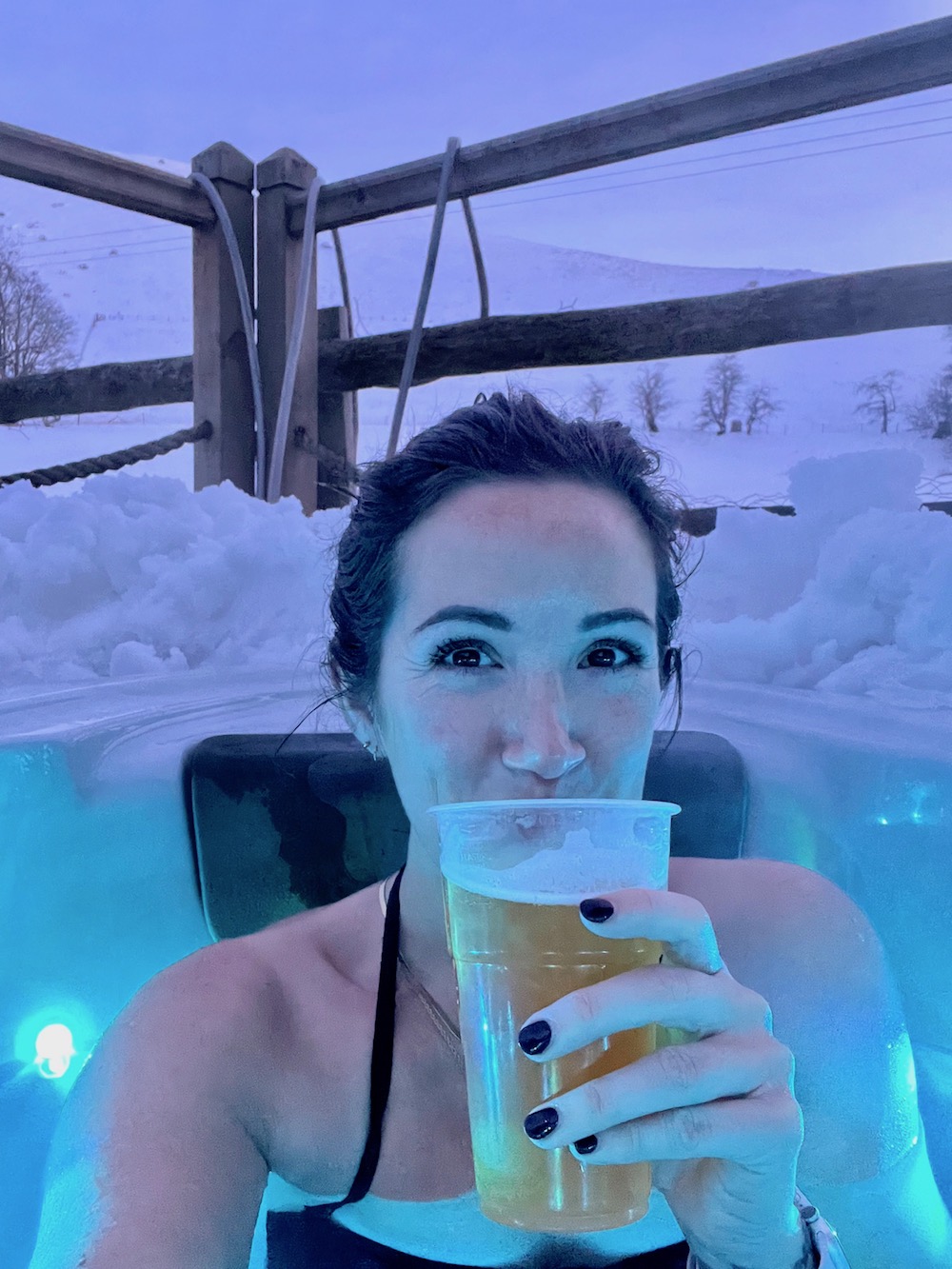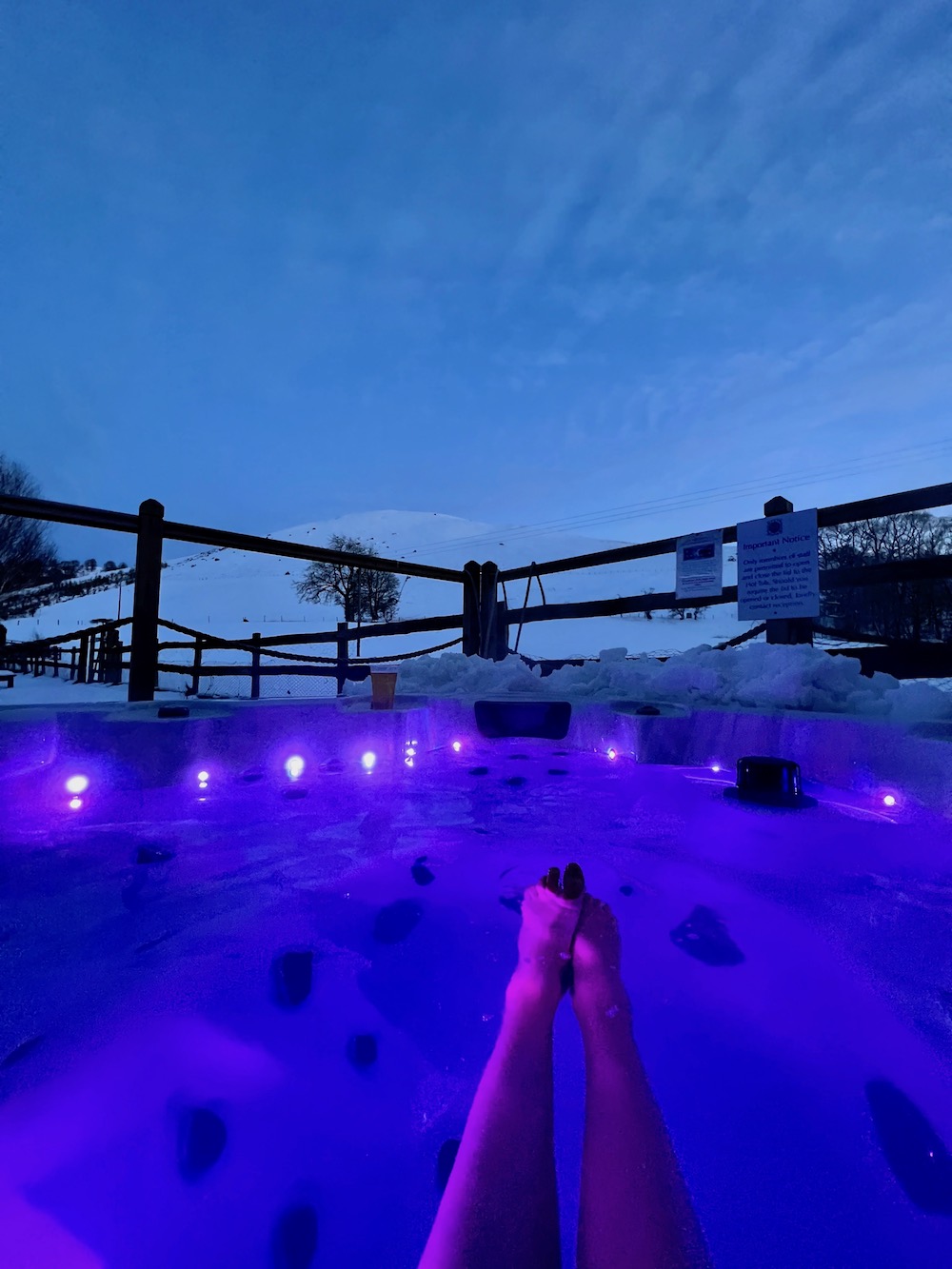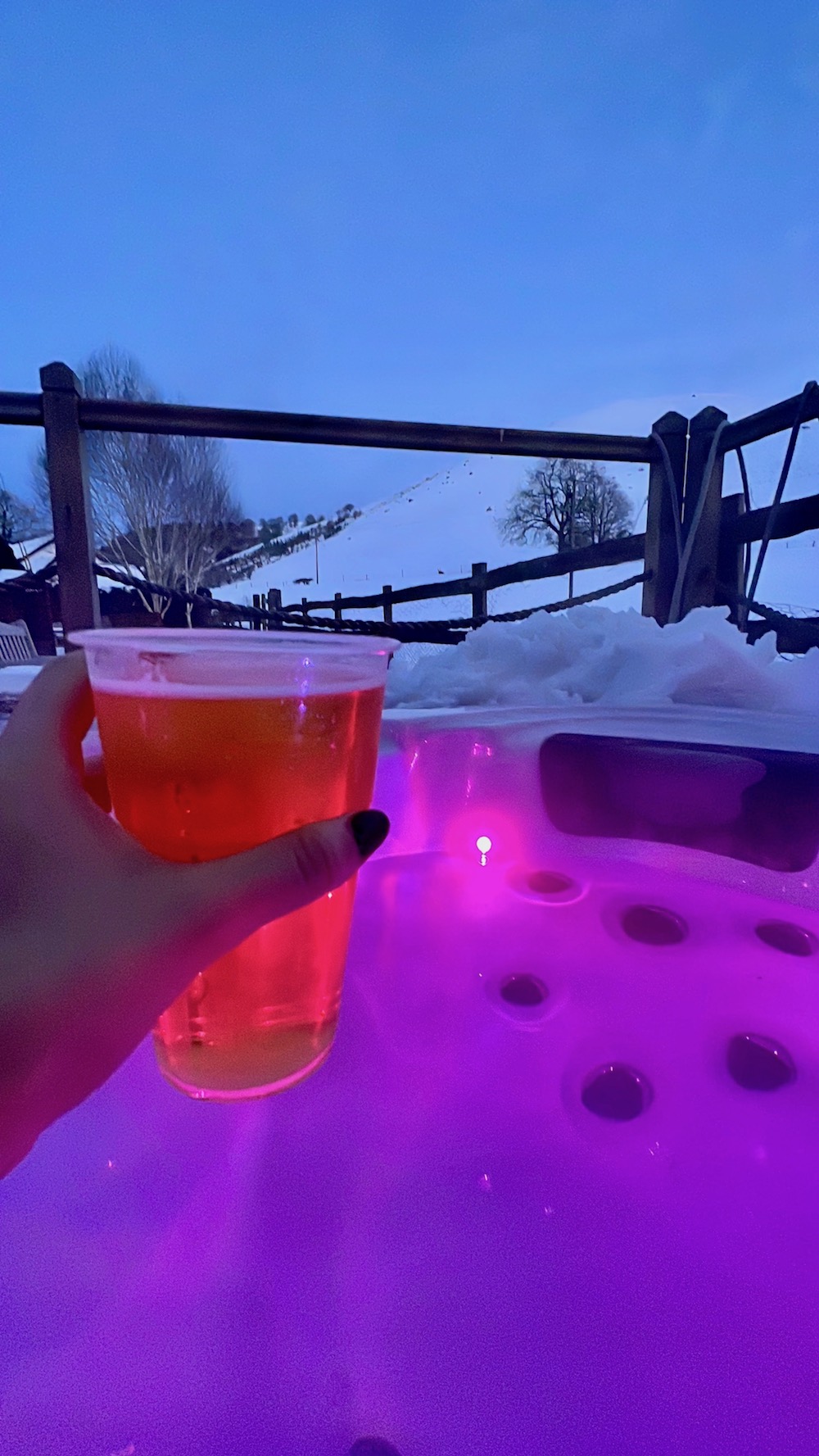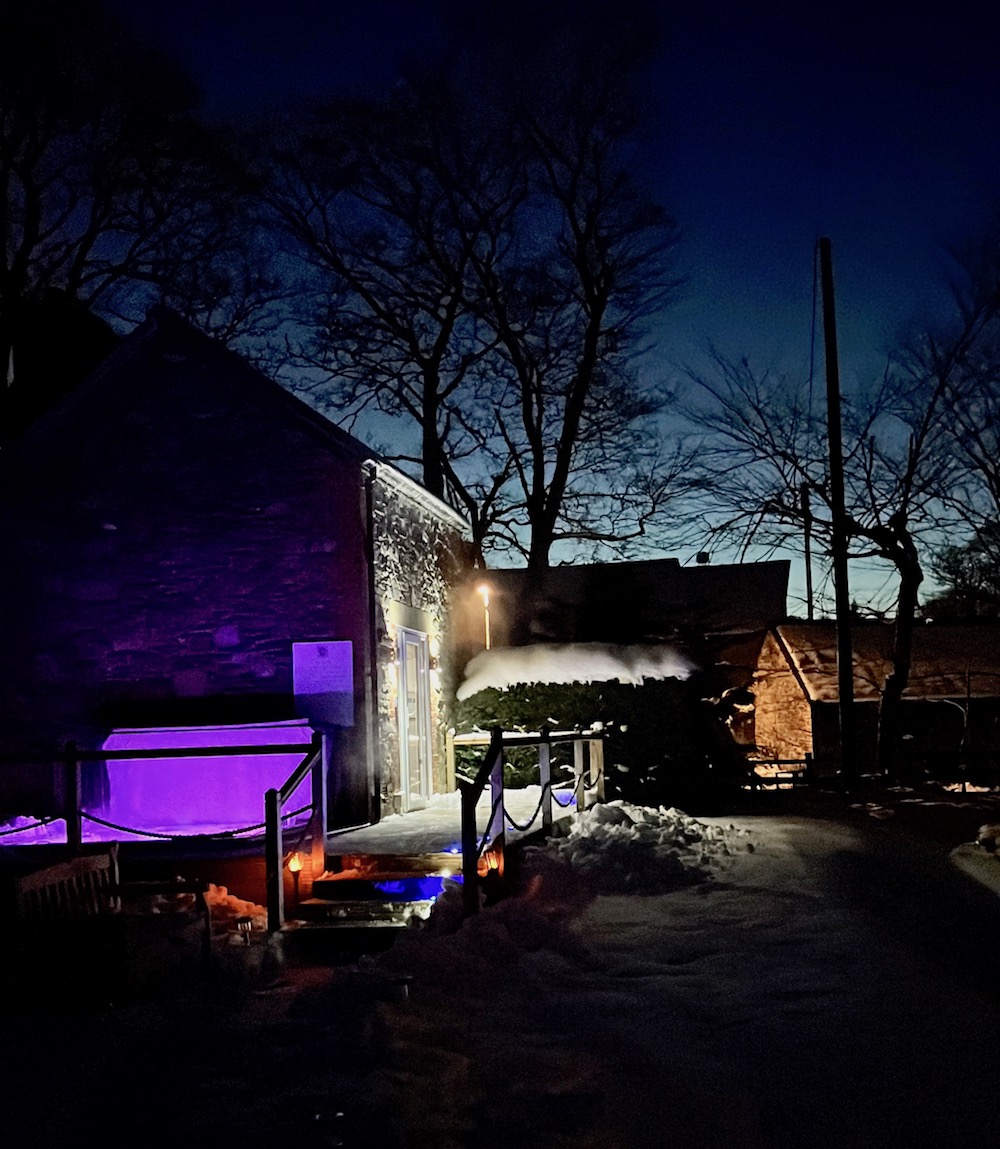 We then hopped into the hot tub where a couple of cold beers were waiting for us on the side. The sun was just about to set, we were surrounded by snow and billowing steam and snowy hills, we were drinking beer while floating around the hot tub and thinking about the steaks we were about to have for dinner. This was one of those happy moments you know you'll always remember.
For dinner that evening we shared a camembert starter with deliciously warm olive bread. And then we both had steaks which were just delicious and so perfectly cooked.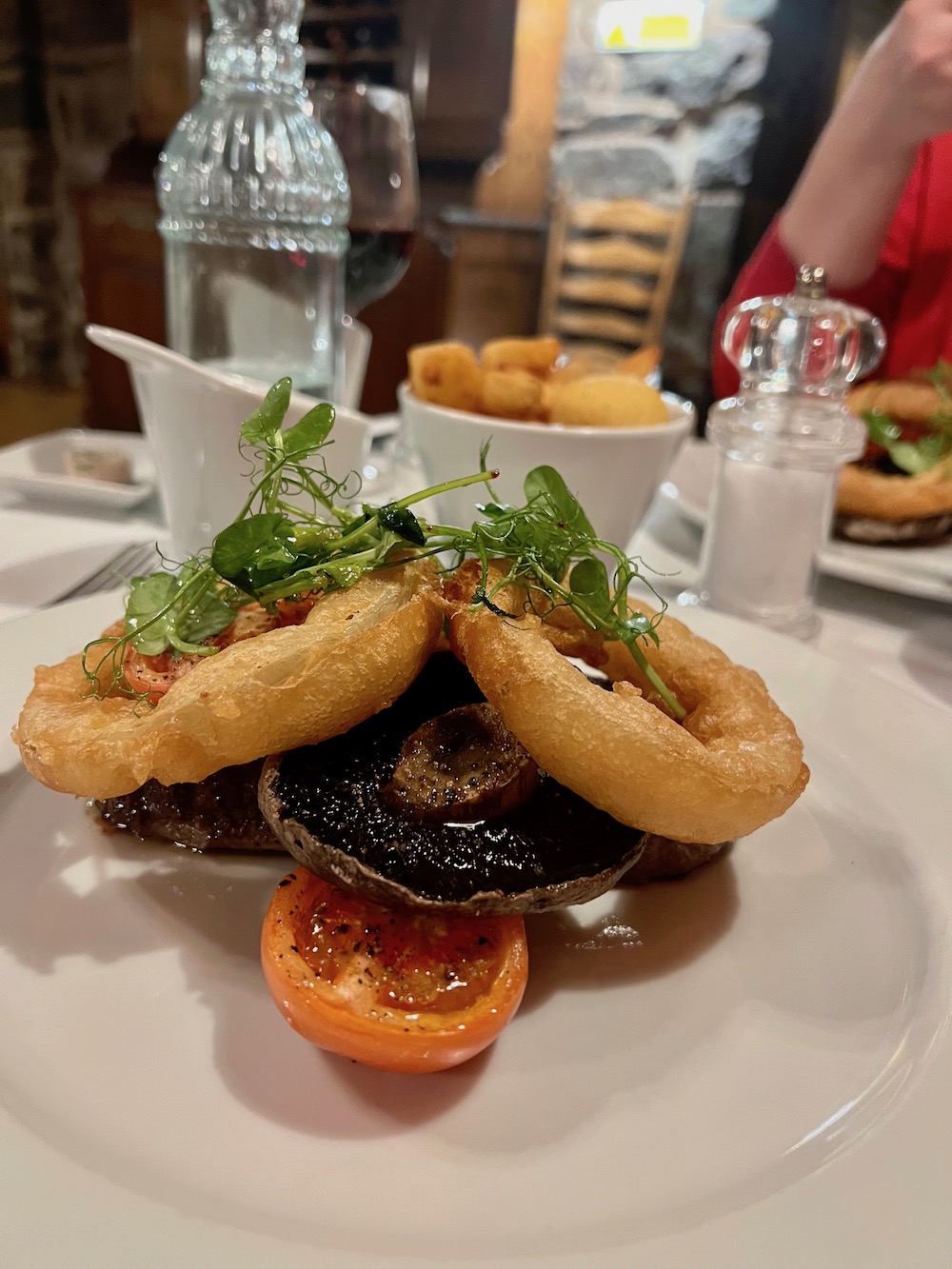 Overall thoughts on The Hand in Llanermon
If you're looking for a romantic night away then I would 100% recommend The Hand in Llanarmon.
It's worth noting that there are other pubs/restaurants nearby called The Hand, so when you search for it make sure you search for 'The Hand in Llanarmon'.
The hotel is so cosy. I'd say it's cosy rather than luxurious.
There's a lovely, homey, welcoming vibe. It's a bit like staying with a rich and hospitable family member who has a private chef. It's the complete opposite to the sterile and impersonal hotels many of us are more used to. And I must admit I quite like the anonymity of a big hotel. This felt very personal in contrast but I really liked it.
The food is a huge selling point for The Hand and it's worth travelling here for the food alone.
The food is very meaty – which I know is a good thing for many people. I'm not a vegetarian but I don't eat a lot of meat and I would have liked to see more vegetarian options on the breakfast menu.
The Welsh cakes topped with black pudding were honestly one of the most delicious things I've ever had. I'm still thinking about those now. I might go back and have them again.
There are lots of walking trails from the village of Llanermon so hikers will be in heaven.
And there's a lot to see just a short drive away. I'm going to write a blog post about things to do in and around Llangollen because there's so much and it's a beautiful area.
Having a pre-dinner soak in the hot tub was dreamy.