Would you stay in a shipping container?
Probably not, that's a silly question really isn't it!
What about if the shipping container looked like this….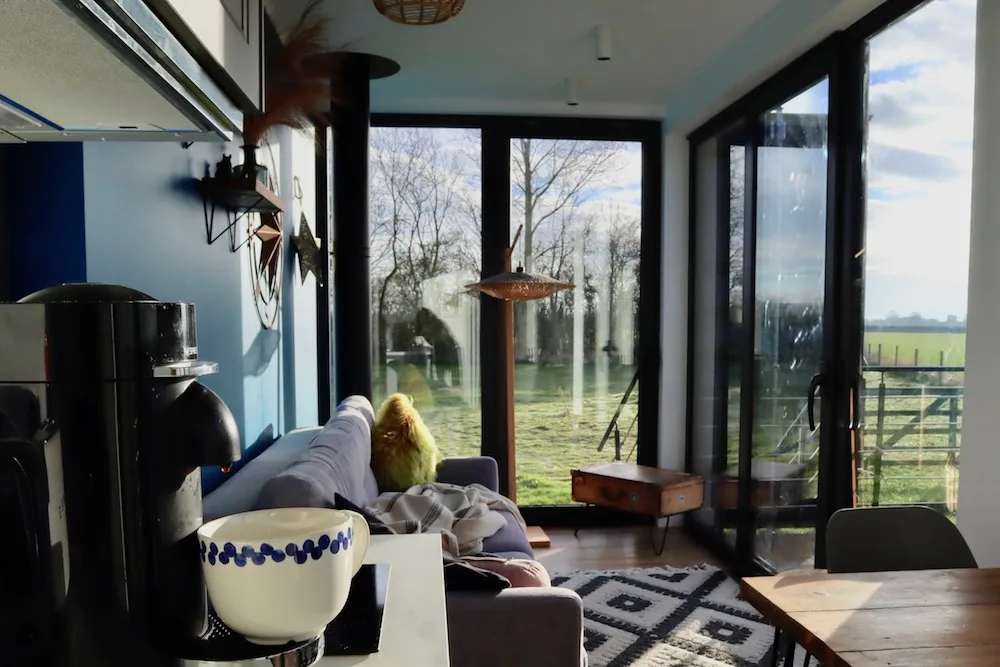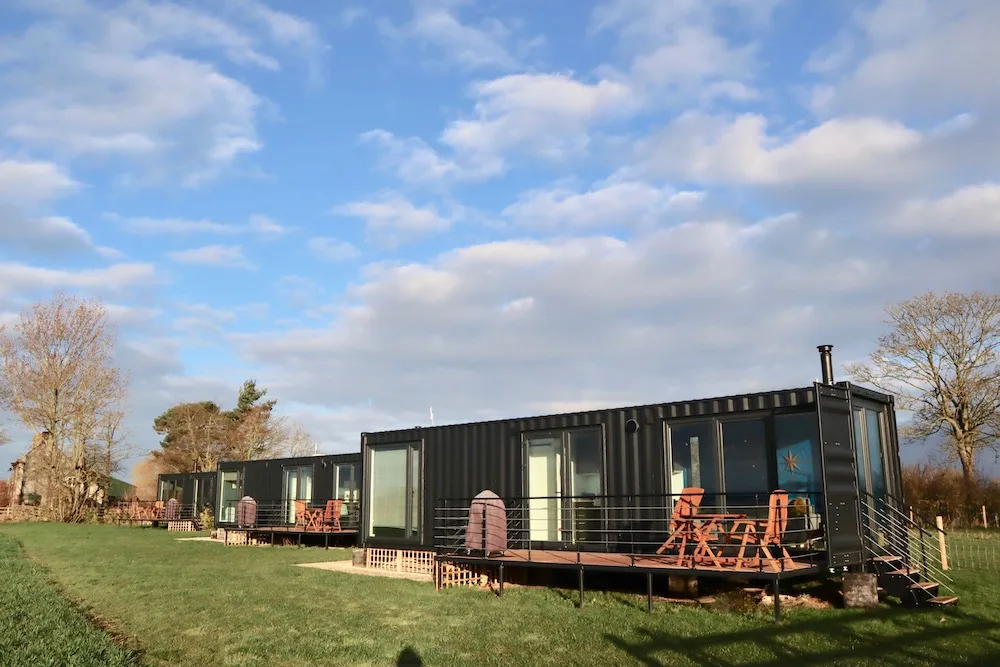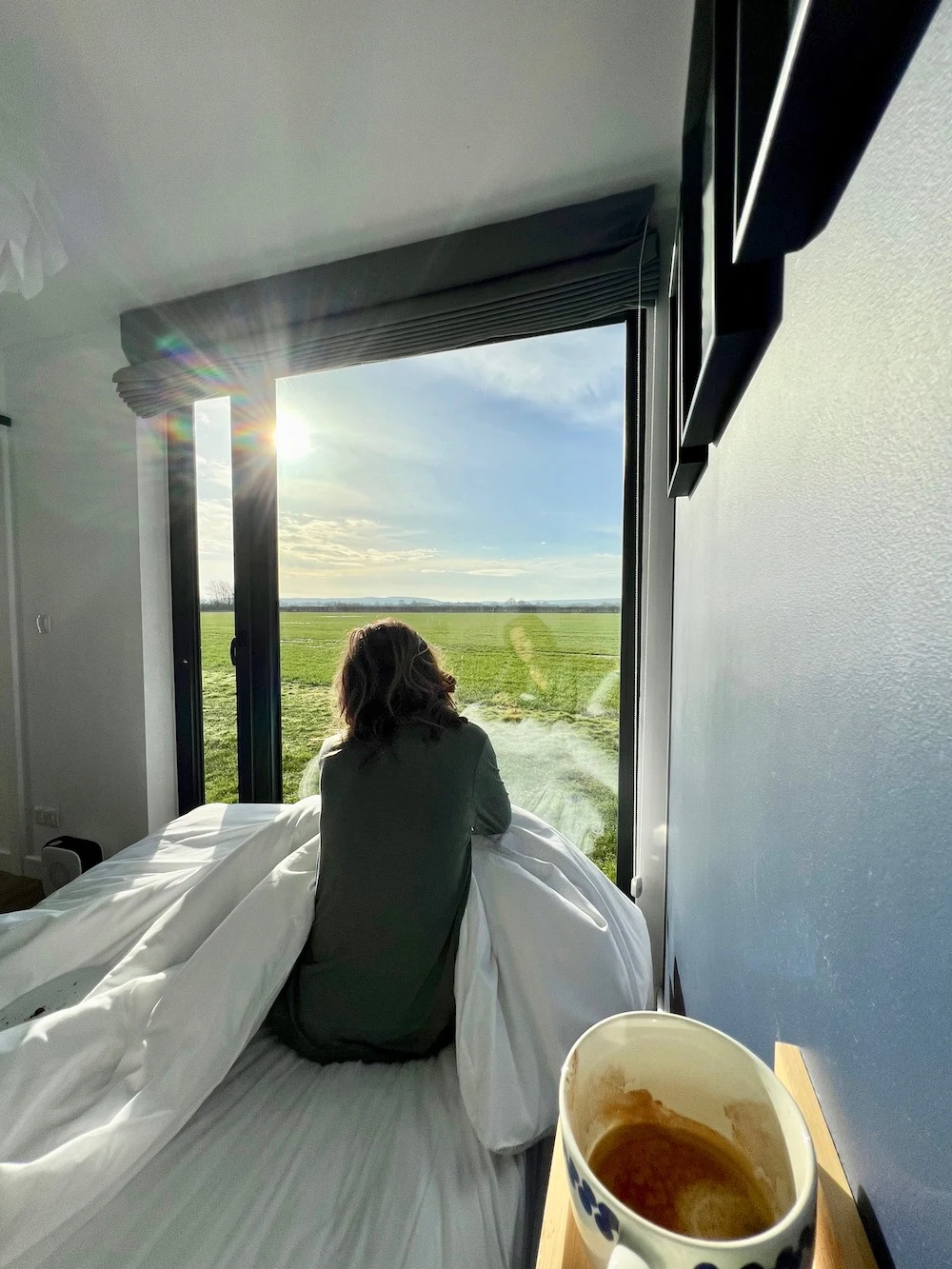 I've just returned from a gorgeous glamping break and this time I had the pleasure of staying in a converted shipping container at The Box BNB in North Yorkshire.
It's no secret that I love glamping. I love the simplicity and ease of a glamping break and my stay at The Box BNB didn't disappoint.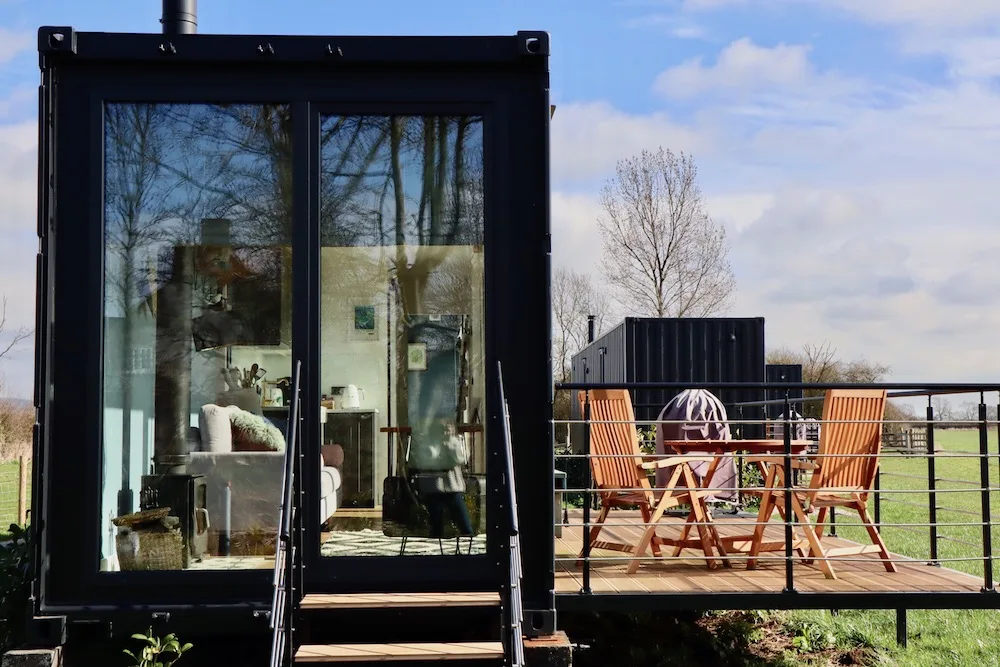 The Box BNB is located on a farm in Malton, North Yorkshire. This is one of those pretty and idyllic farms that could have come from the pages of a childhood storybook. The kind with a driveway lined with daffodils and a friendly dog who runs to greet every visitor.
On a large field to the side of the farmhouse sit three black shipping containers, which might not sound like the start of a great story about a weekend break, but stick with me…
These shipping containers have been transformed from functional steel boxes into tranquil cabins for a luxurious yet simple escape.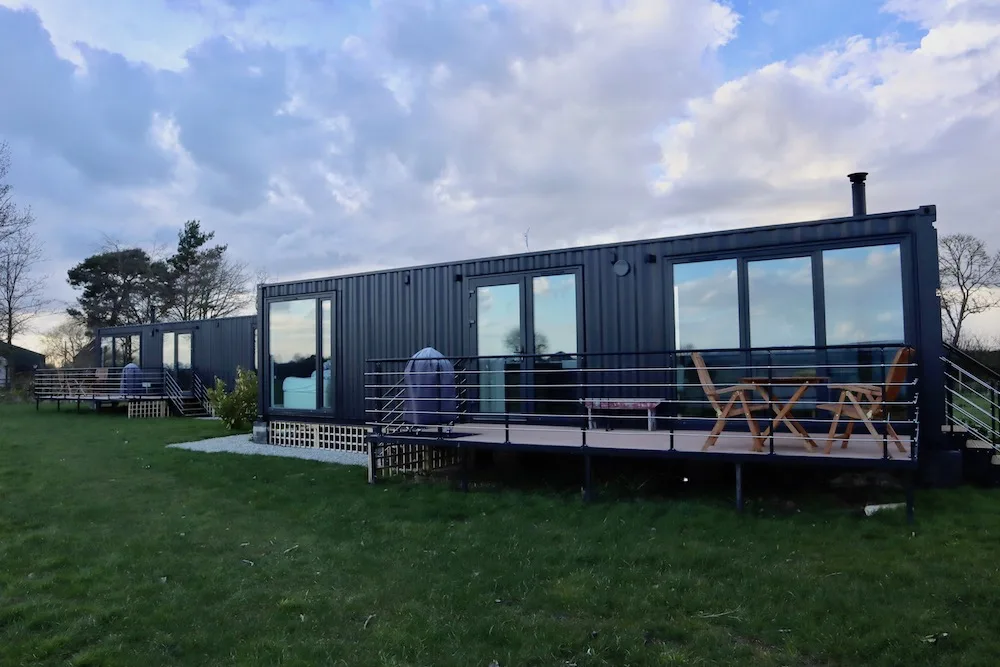 The cabins, named The Pig Box, The Duck Box and The Rabbit Box, have been perfectly placed so they're next to one another but each guest has total privacy and can't see into the floor to ceiling windows of the cabin next door. Oh yes, let's talk about those floor to ceiling windows!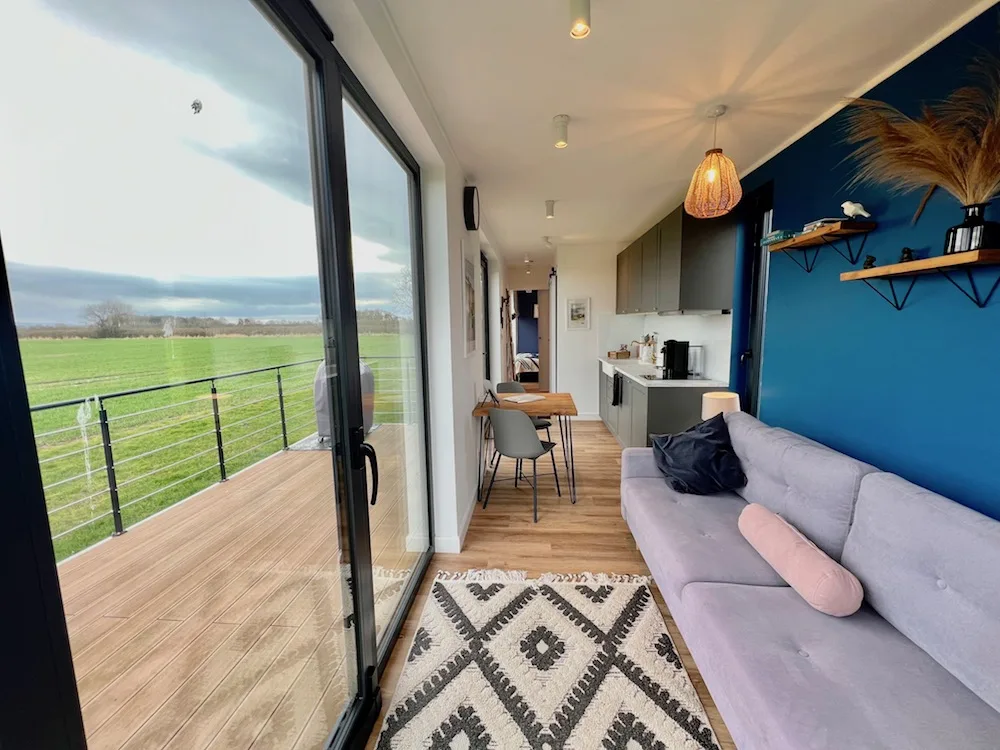 The long wall facing out to the field has been almost entirely removed and replaced with floor to ceiling windows and sliding doors. With so much glass, the cabins feel light, spacious and airy and offer unspoilt views across the countryside. I found that you can't help but sit and stare at the view, watch the sky and the clouds rolling by and look out for enormous hares hopping across the field. Views like this are mesmerising and there's no need for a TV when you've got this to look at.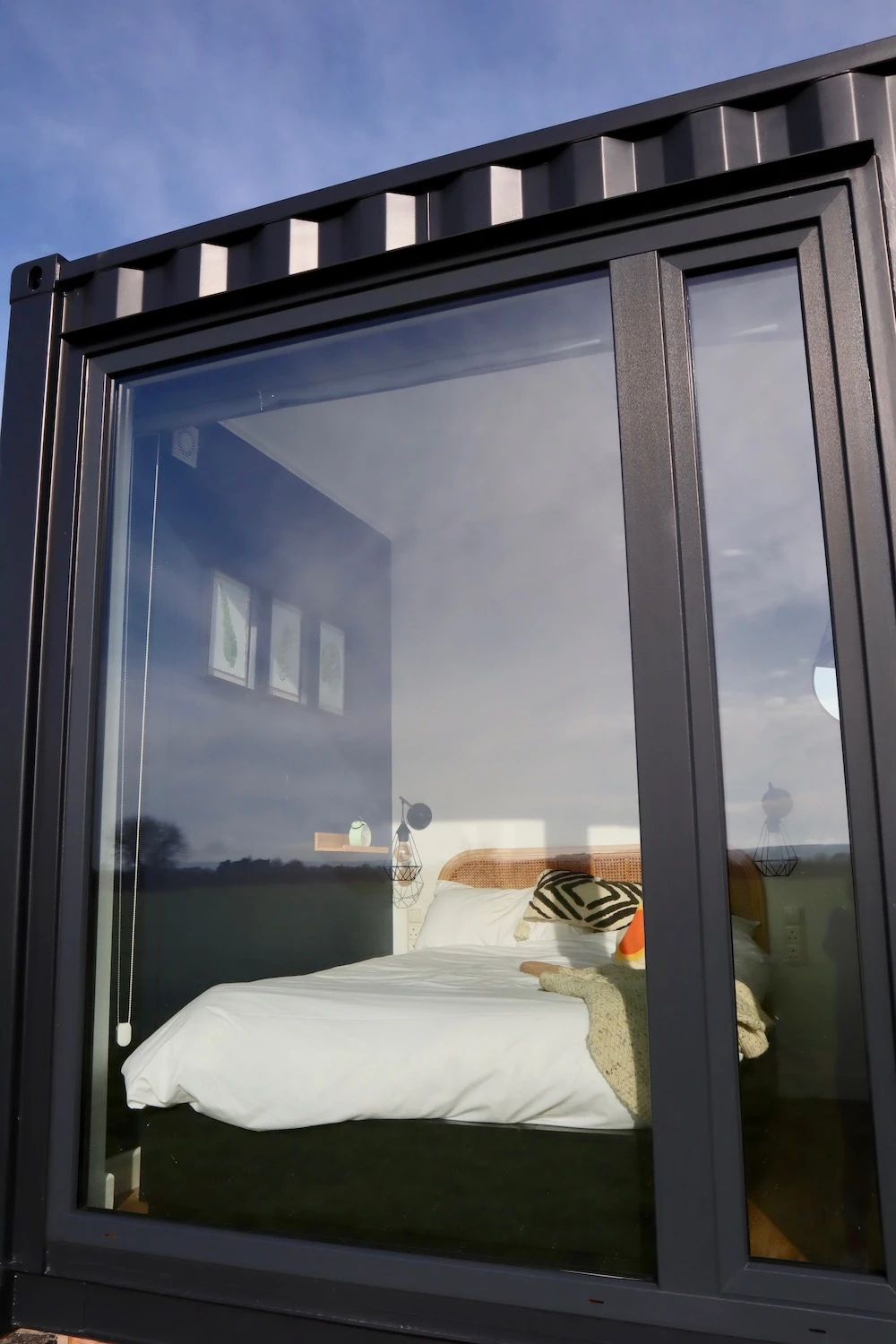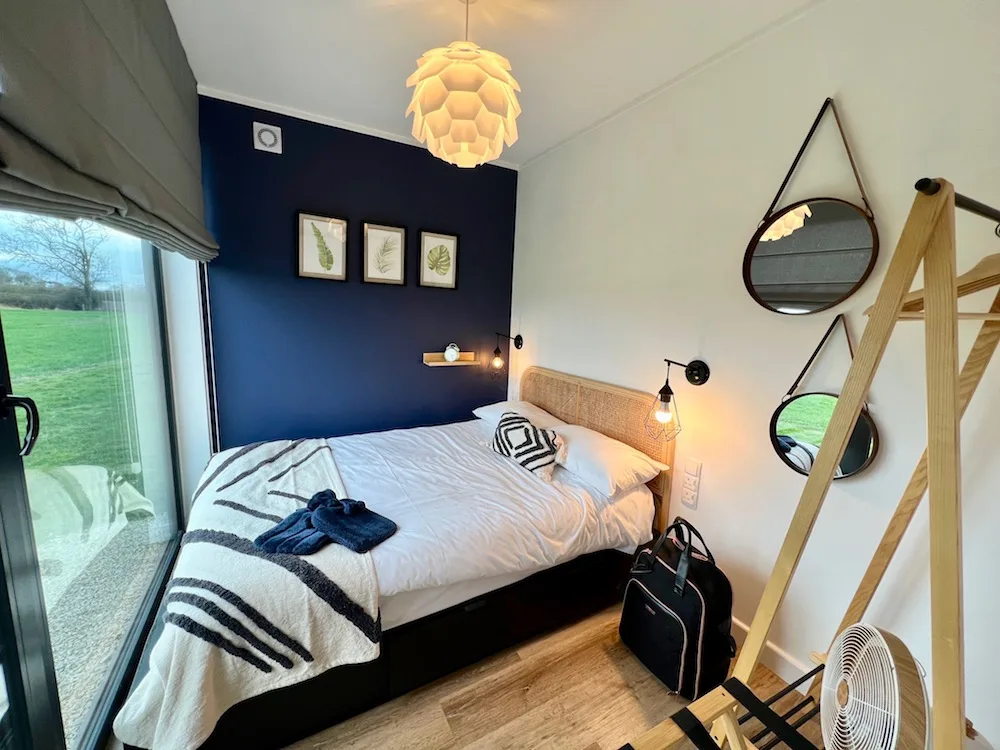 Each cabin has a cosy bedroom, a very stylish bathroom with a large shower and a spacious kitchen/living/dining area with a wood burning fire.The outside decking area has a BBQ and a table and chairs too.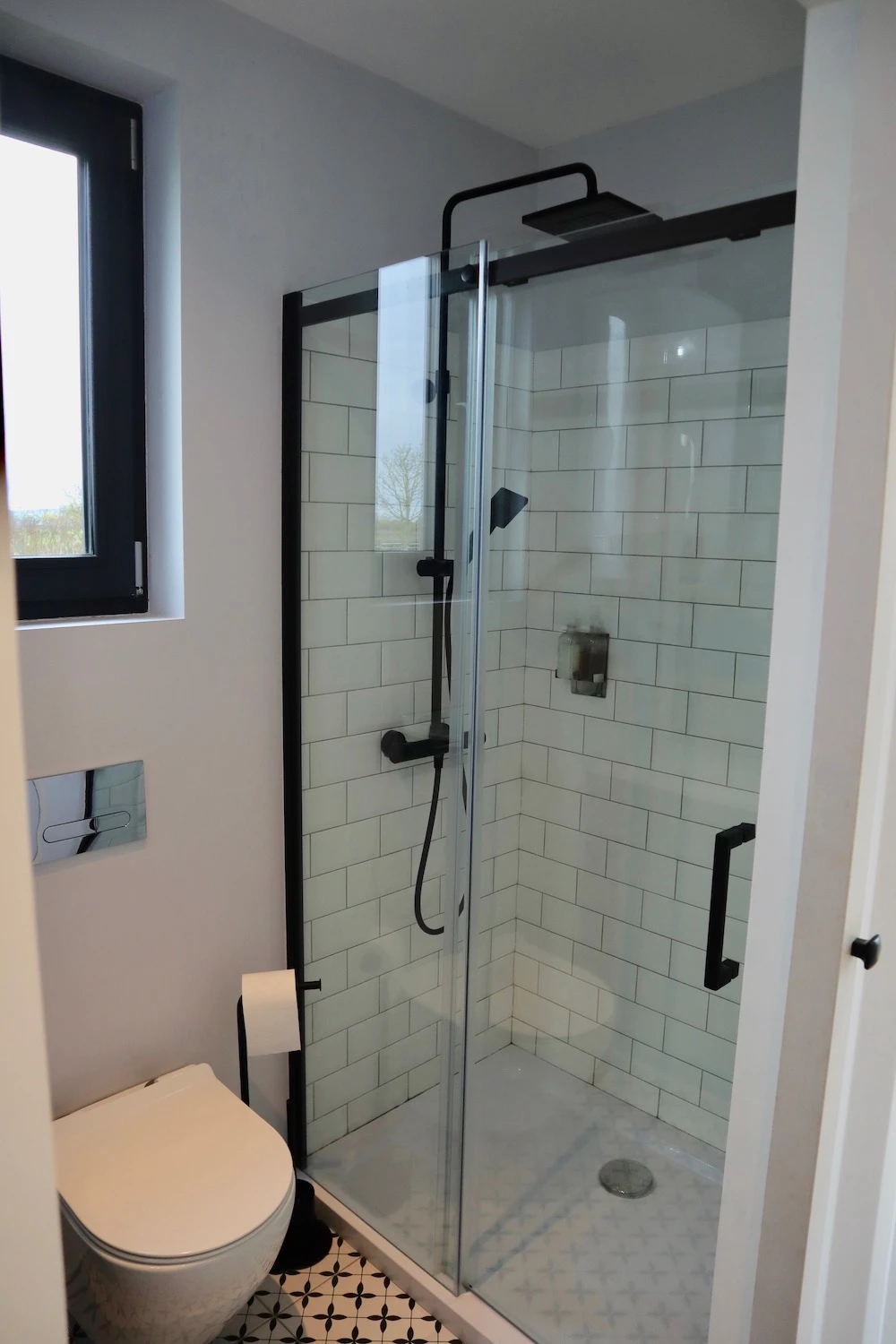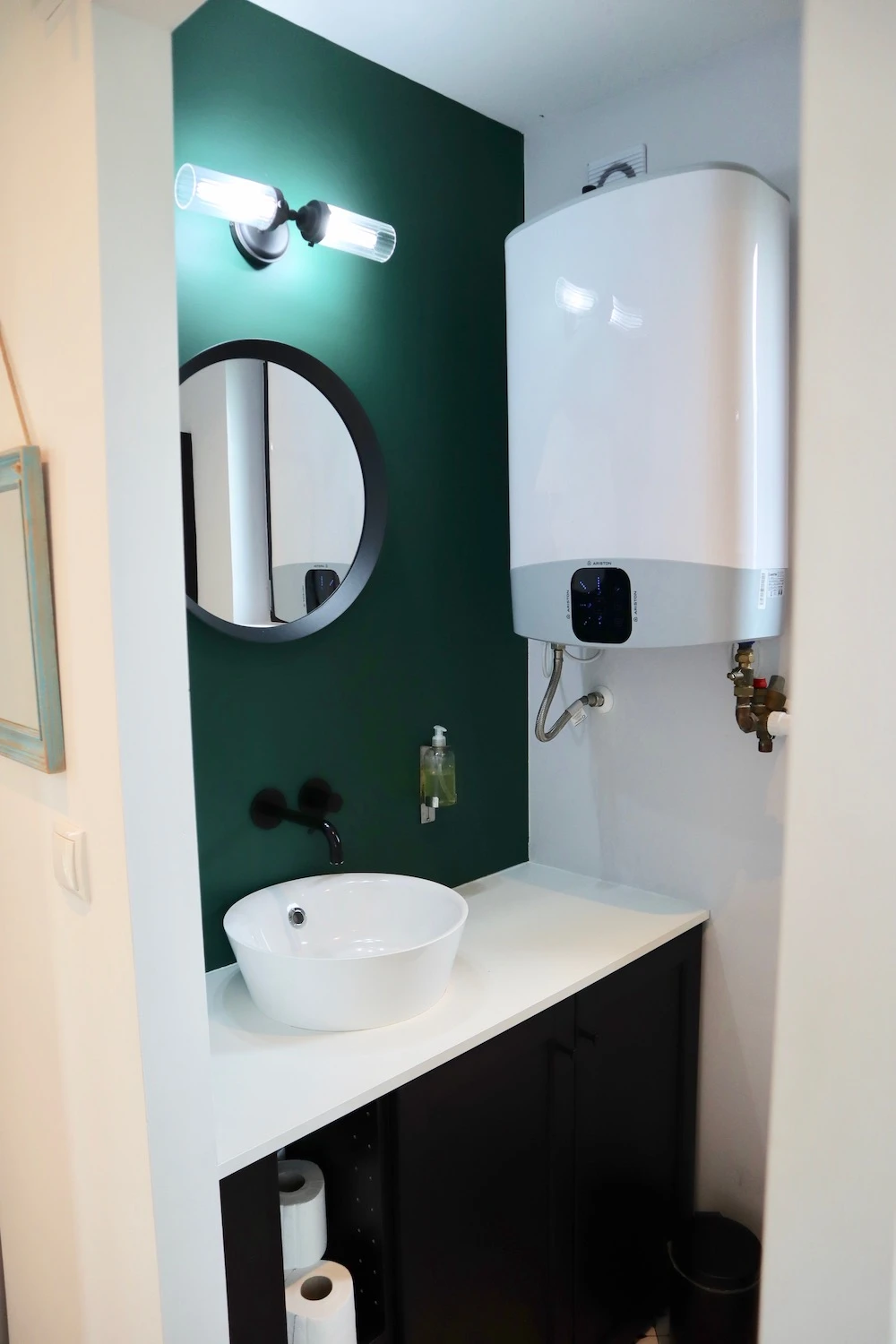 Each cabin is beautifully decorated and I loved the simple yet modern decor.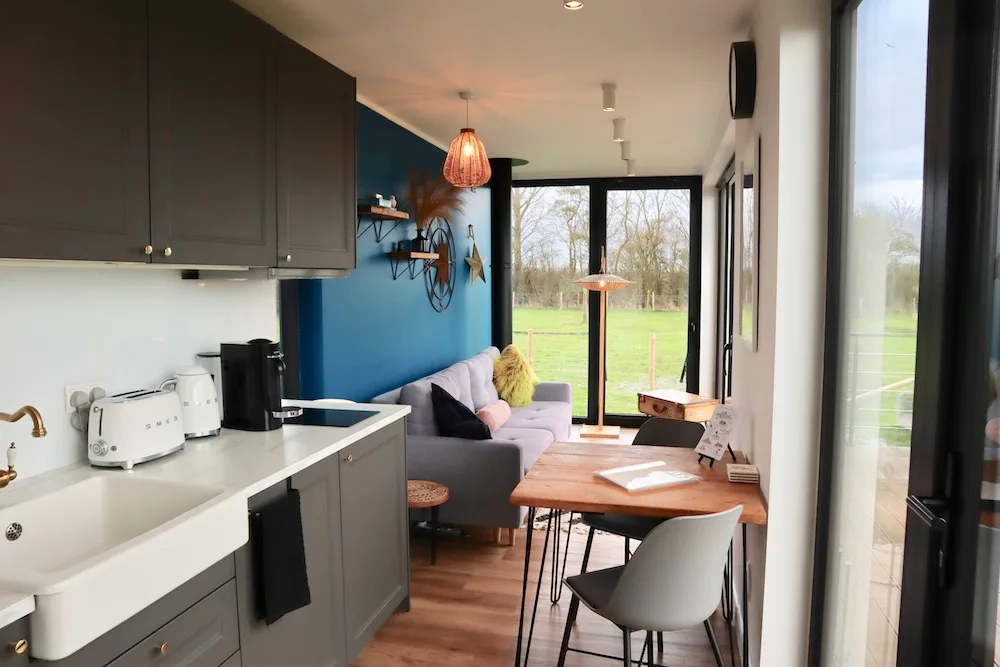 The Box BNB review (in short!)
I LOVED my stay at The Box BNB and if you're looking for a short break in North Yorkshire then you can't go wrong. These private, self-catering cabins provide a perfect base to explore the area. They are ideal for nature lovers who want a simple yet luxurious place to stay. Guests are immersed into the surrounding landscape thanks to the enormous windows and it was a joy to wake up, open the blinds and watch rabbits hopping about the fields.
The Box BNB is a great option for couples and it would be great for bigger families or groups to hire all three cabins for a group holiday that still provides some privacy with separate living areas.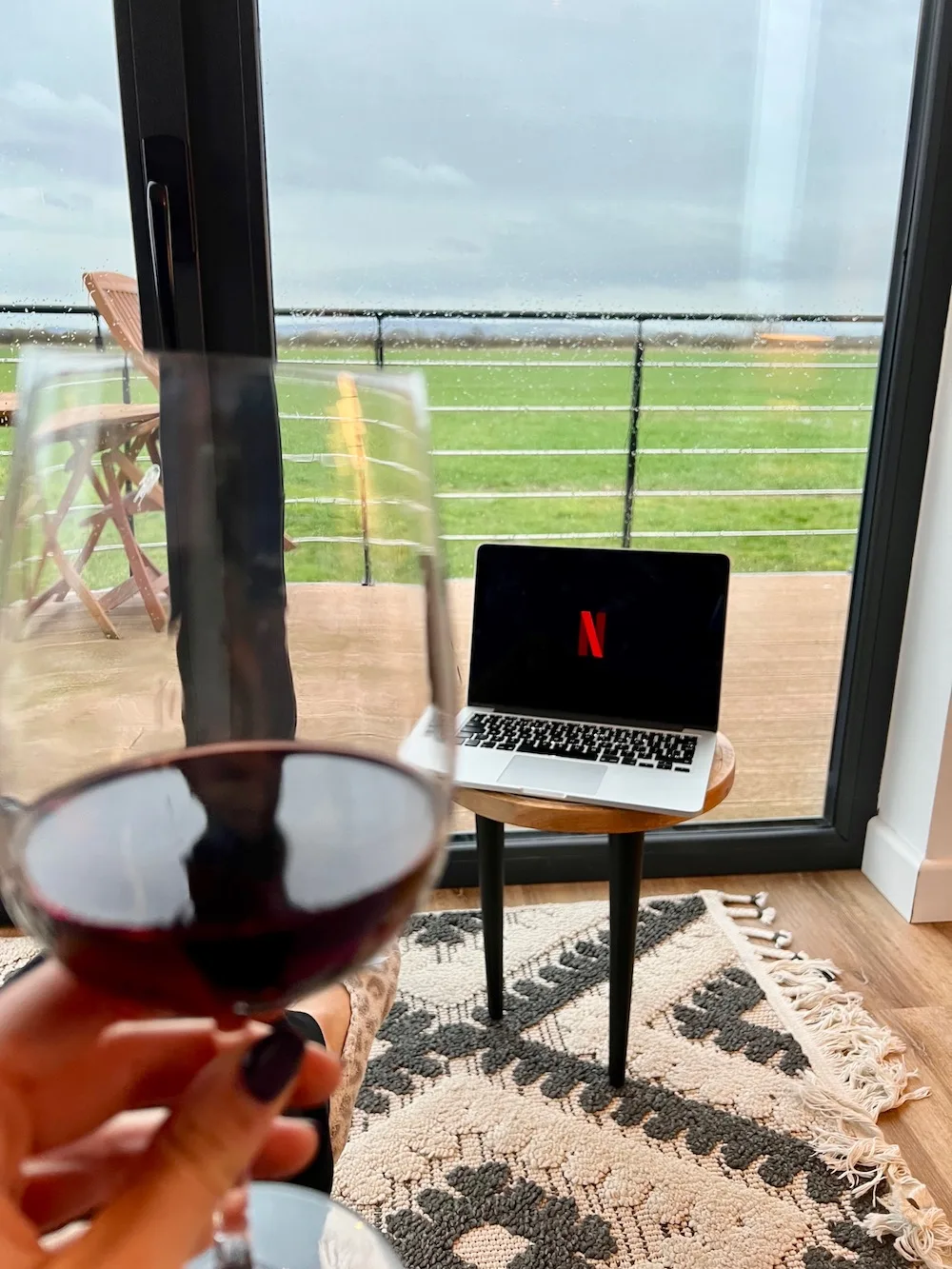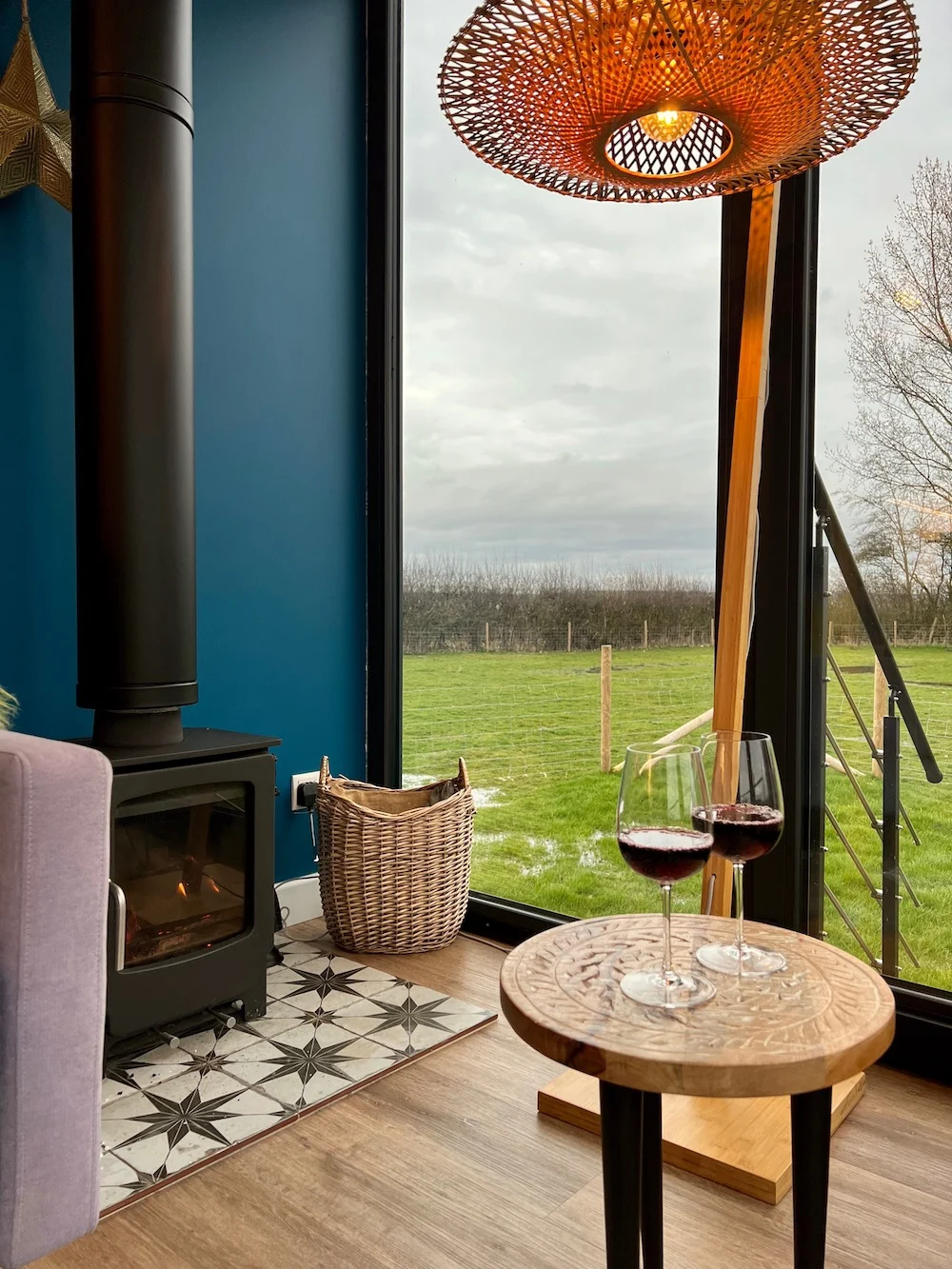 Are there shops, bars, restaurants nearby?
Yes, there's lots to choose from. I loved how the location of The Box BNB felt so remote but it's actually just a short drive into the nearest town where you'll have all the amenities you'll need.
You'll be sent a big list of local places to eat and drink which includes lots of cosy gastro pubs!
I briefly stopped at Lidl in Pickering on my way to the cabins as it was just 10 minutes away. I stocked up on tasty treats (and wine!) before making my way to my cabin for a 3pm check in.
The Whole Hogg Farm Shop is also just a 6 minute drive away and the town of Malton is known as being Yorkshire's 'foodie capital' as it's home to so many artisan food shops and has lots of foodie markets.
What can you do nearby?
I visited in the winter so my stay was mostly about having a cosy, relaxing break. But I still got out and about and saw some of the gorgeous places nearby.
Thornton-le-Dale
First of all, you HAVE to visit Thornton-le-Dale. It is just the prettiest village you could imagine!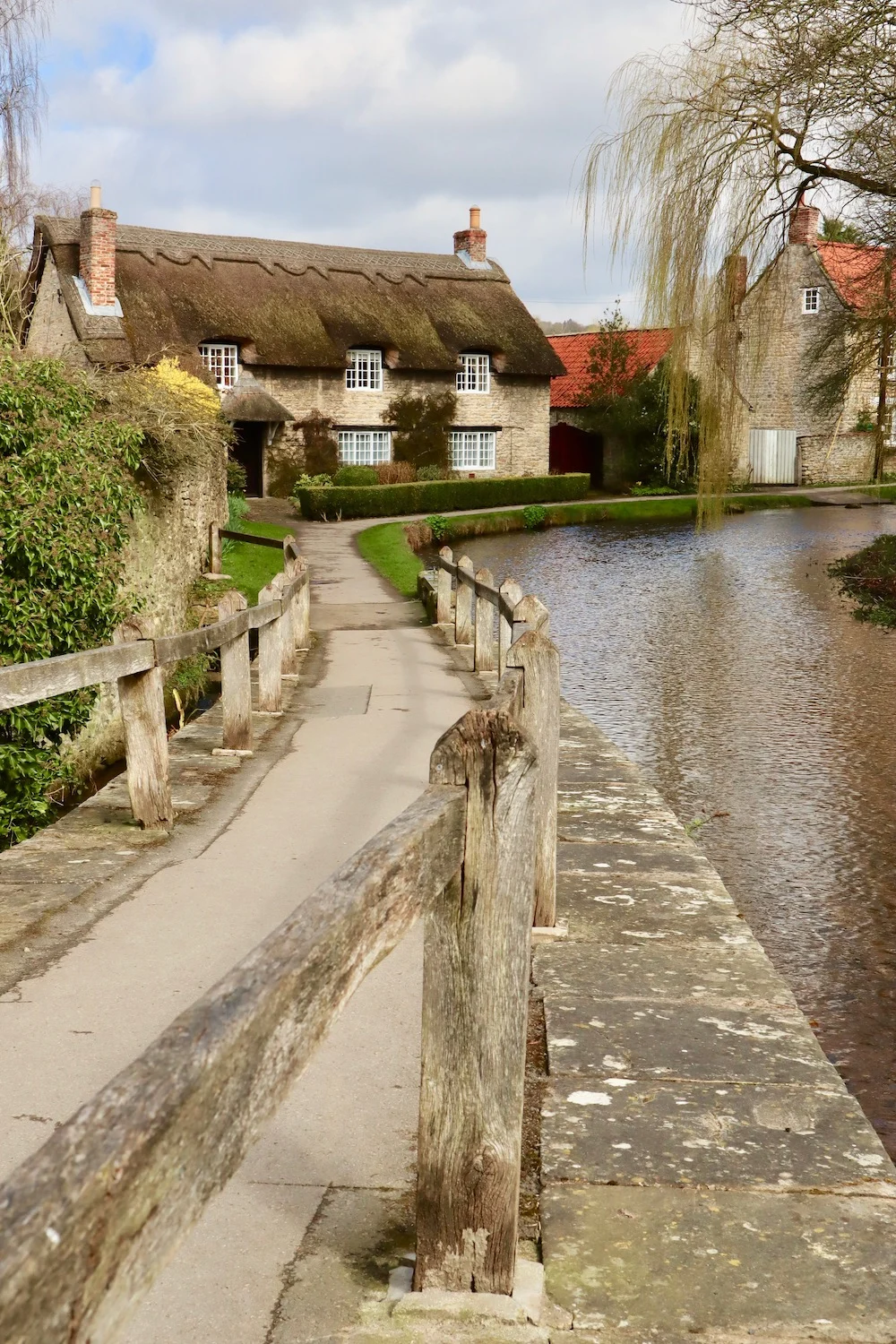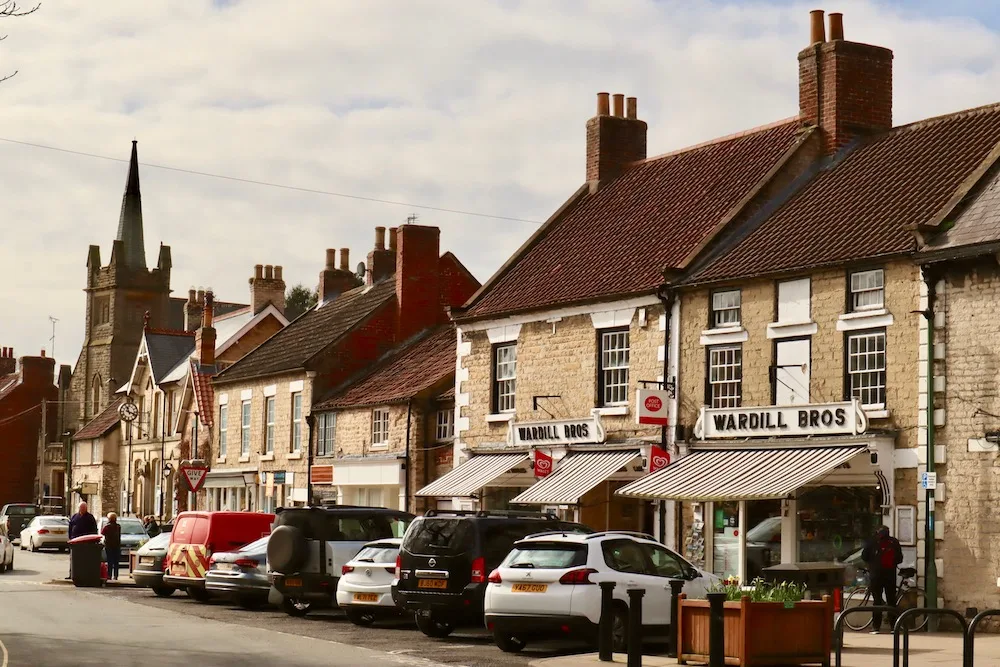 Dalby Forest National Park
I then had a walk around Dalby Forest where there's a nice cafe and visitor centre and a great playpark if you're taking the kids.
There are 13 walking trails, 6 cycling trails, a Zog Trail for little kids and GoApe which is brilliant for older children.
It's worth noting that parking is £10 in Dalby Forest, no matter how long you stayed. I only stayed for 30 minutes so was a bit annoyed about that but I know most people would spend a few hours and therefore it isn't too bad!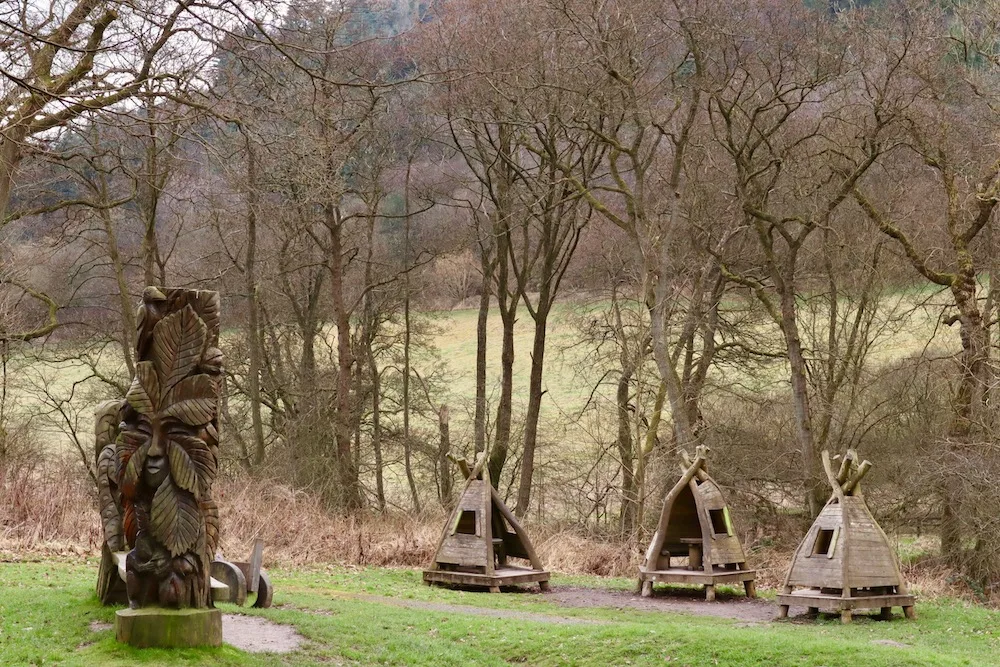 Goathland Station
Next up I went to Goathland Station because I'm a massive Harry Potter fan and this station was used as the film location for Hogsmeade Station! It's beautiful and you can have a nice walk across the moors above.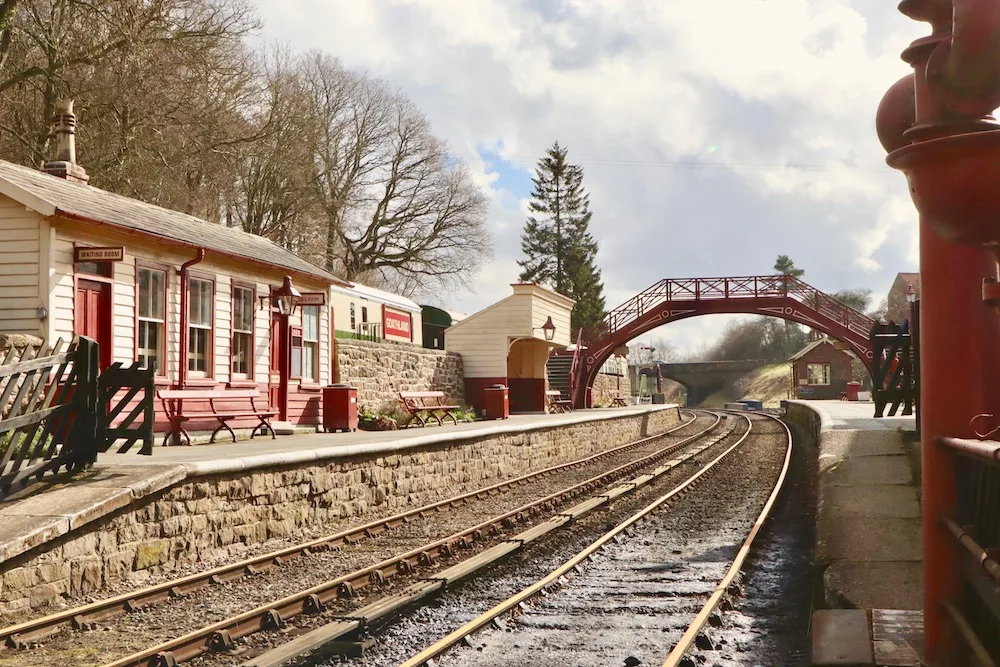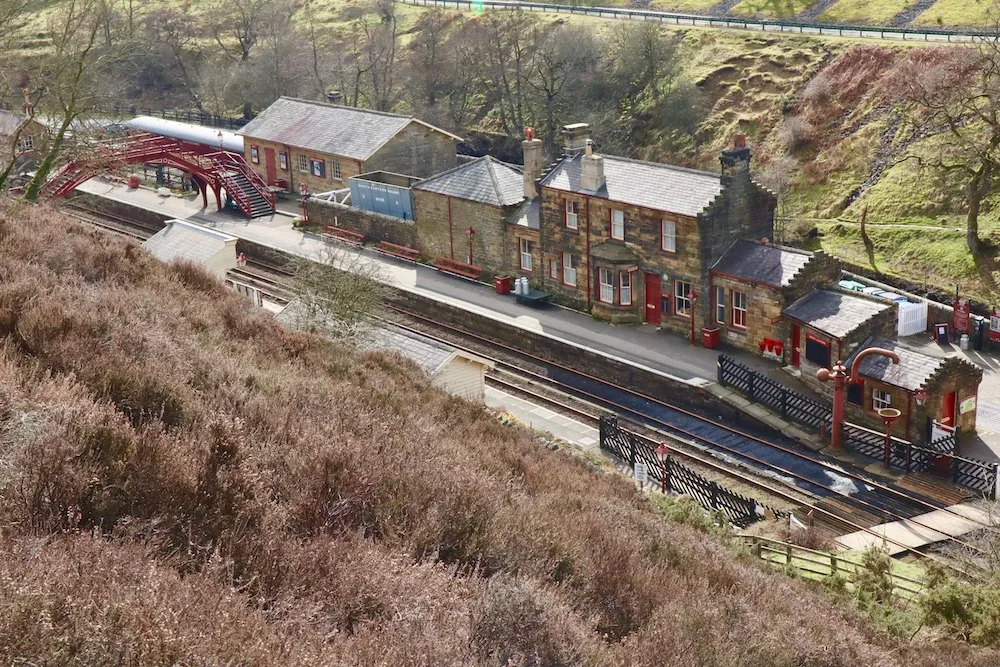 Whitby Abbey
Next I went to Whitby Abbey which is incredible. I'd planned to then spend the afternoon in Whitby but it was pouring down – not that I need much persuasion to head back to my cabin! I had lunch at the YHA at the abbey.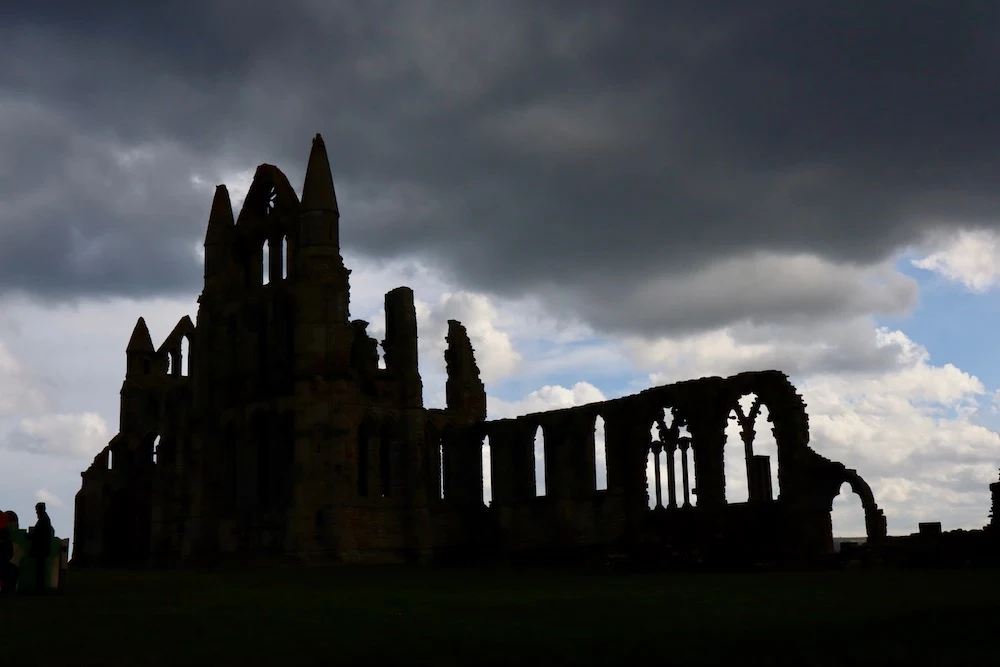 Whitby
Whitby is gorgeous so, as well as visiting the Abbey, I highly recommend having a stroll around the town too.
I've got a blog post all about things to do in and around Whitby here.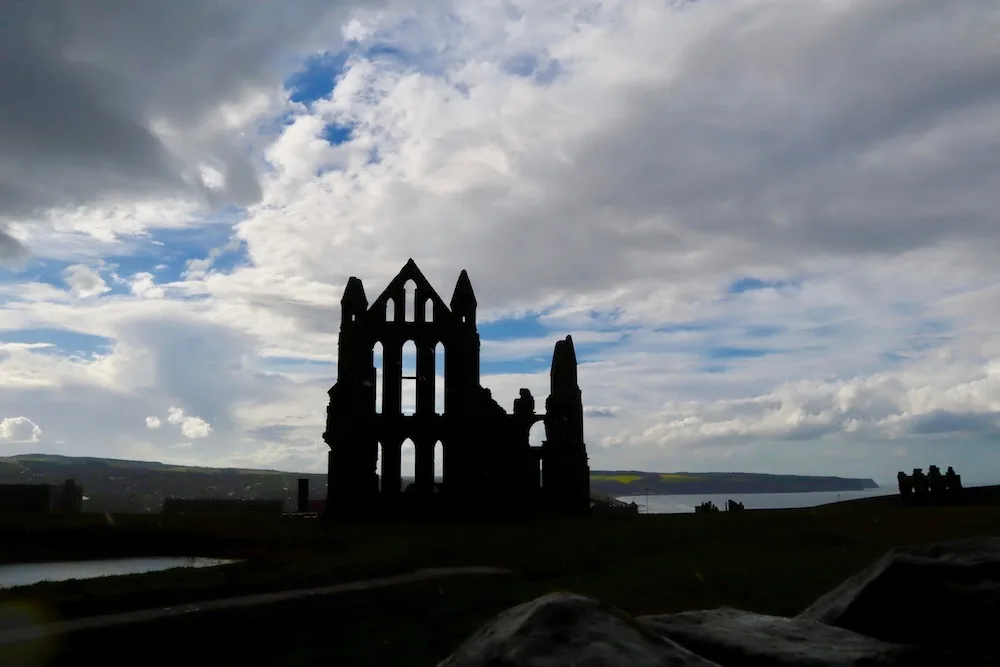 Robin Hood's Bay
While you're near Whitby, make sure you swing by to Robin Hood's Bay, a perfectly picturesque fishing village.
Scarborough
If you want even more of your fill of old fashioned seaside towns then Scarborough is just a 35 minute drive away.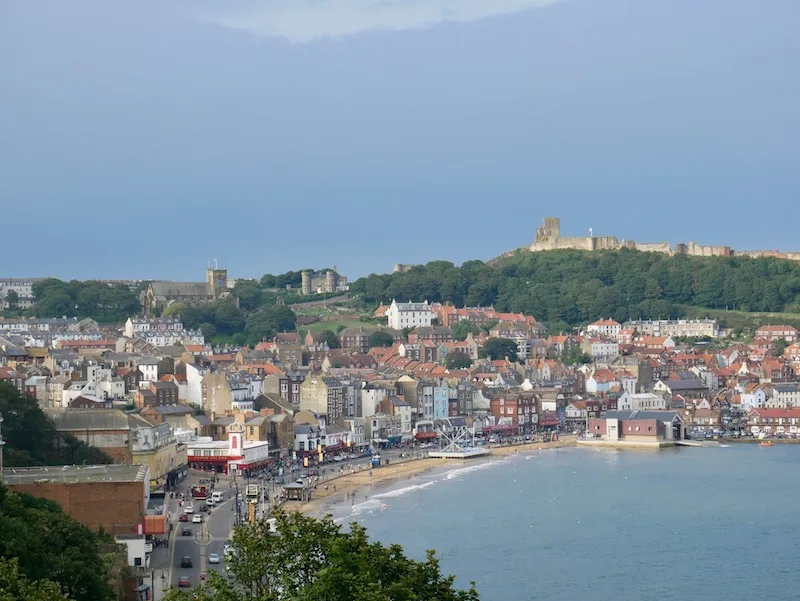 York
The gorgeous city of York is also just a 35 minute drive away and you can't miss a visit to York Minster or a stroll along the Shambles.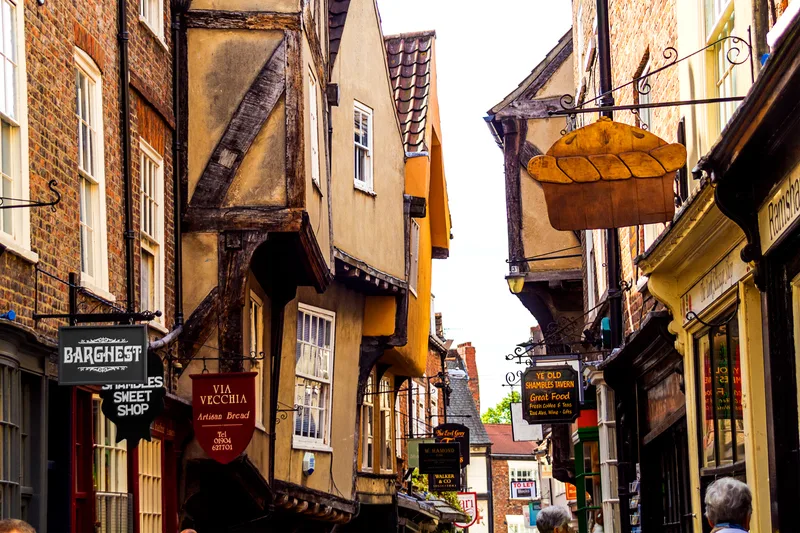 Who is The Box BNB best for?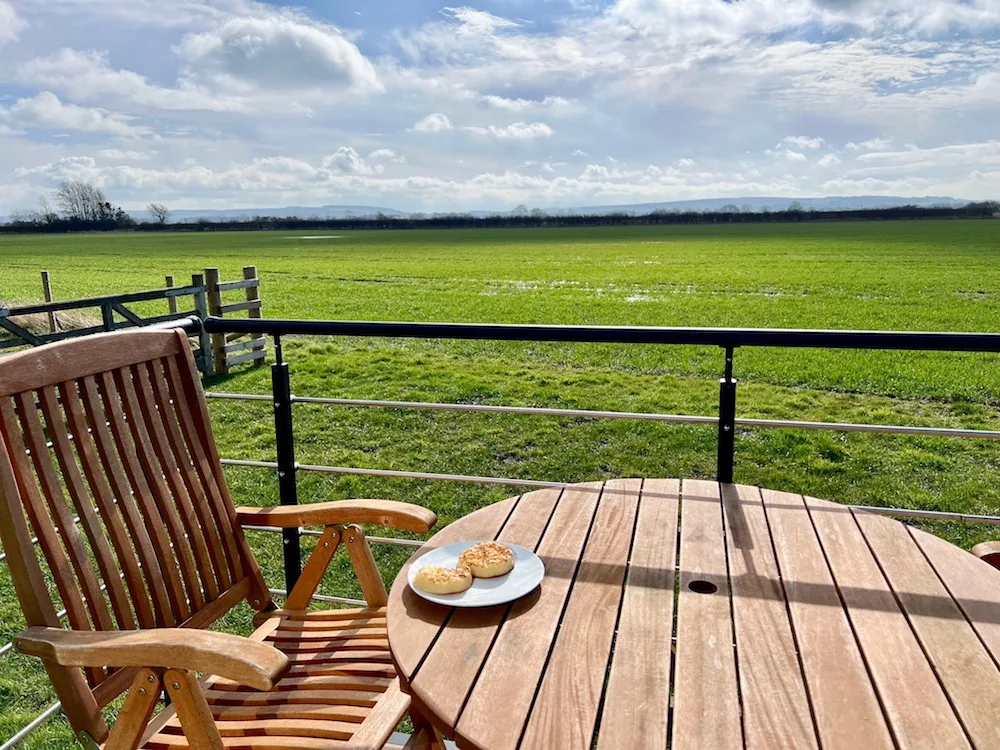 The Box BNB is definitely best for a romantic escape for a couple. It's so cosy and tranquil so it would be lovely for two adults who just want to relax for a few nights.
It would also be a lot of fun if a group or a large family booked all three of the cabins.
There's currently plenty of availability so it wouldn't be hard to find a few days when you could book all three on the same dates.
Each cabin can be booked for 2 adults and 2 children but I personally think it would be a little bit cramped, particularly if it rained and you couldn't sit outside. However, I am a mum of three and I know that virtually all glamping breaks end up being cramped when you take the whole family so maybe you'd just accept that it's a squeeze and hope for good weather!
Who are your hosts at The Box BNB?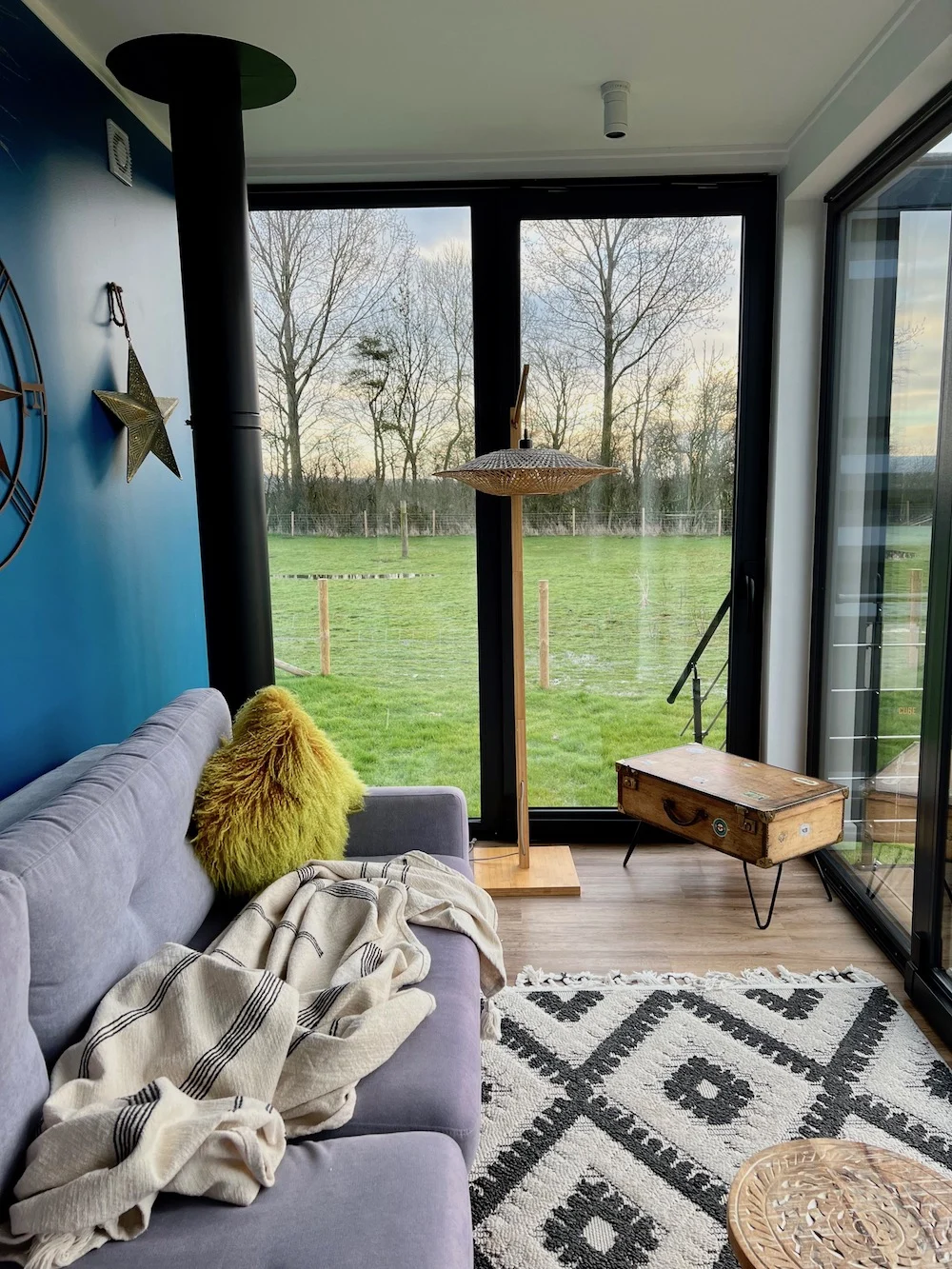 Your hosts at The Box BNB are Rachel and Peter who, along with their daughters, live on the farm.
I had a couple of friendly emails from Rachel, confirming my booking and giving me all the information I needed to check in. There was also some information about things to do in the area as well as places to eat and drink. This information was also all in a welcome booklet when I arrived. There was a phone number in the welcome information to call or message at any time if you have a problem or need more wood for the fire.
It's a self check-in process so other than the emails and briefly passing Rachel on the drive, I didn't see the hosts. I imagine it may be different if you're staying over the weekend or the summer months when people tend to be outdoors a little more.
Was The Box BNB easy to find?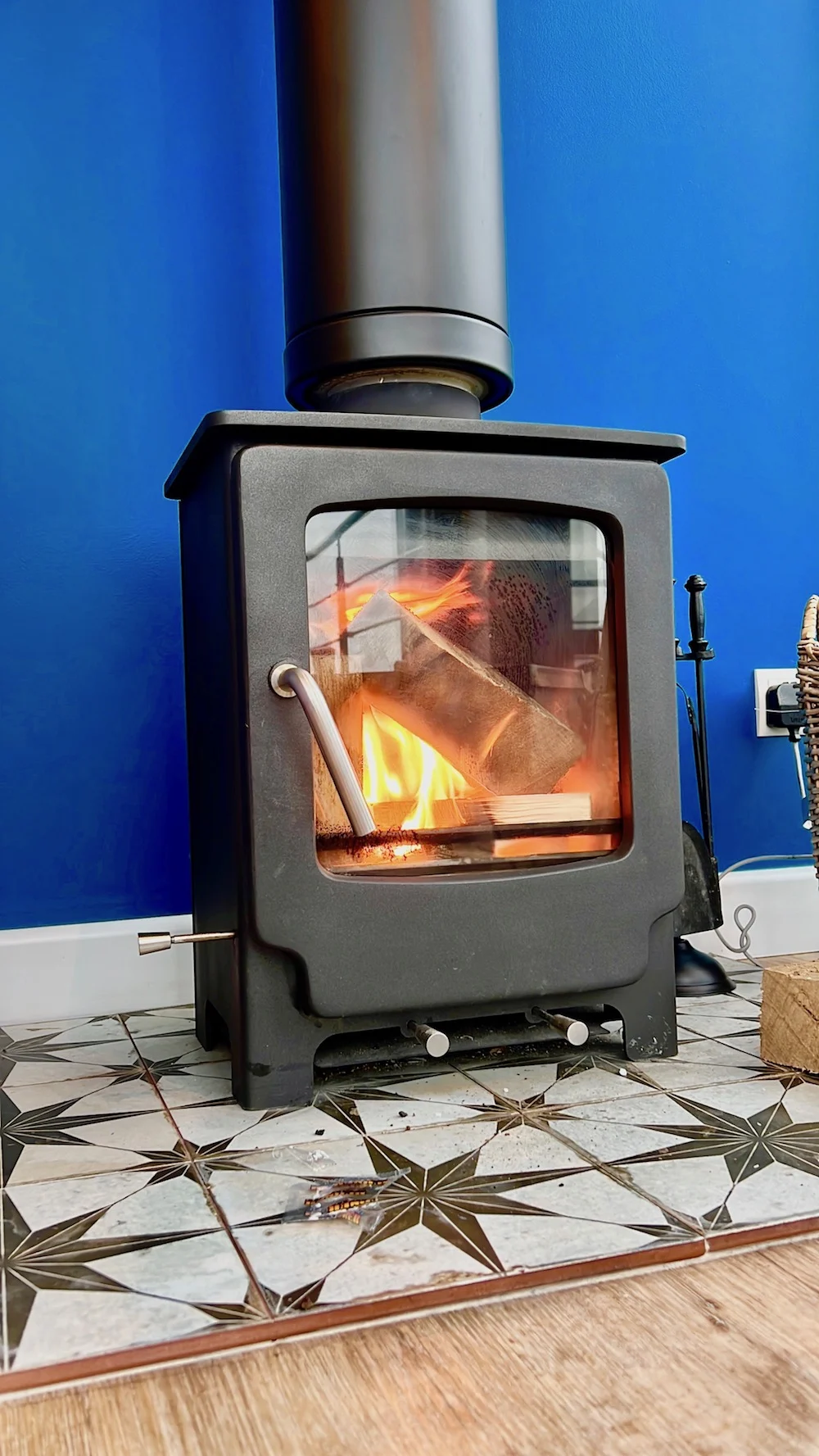 Yes, it was!
I've included this question because I often find glamping accommodation on remote farms are a little tricky to get to! They're either not on Google Maps or they're up tiny, single lane dirt tracks in the middle of nowhere.
The Box BNB is, thankfully, very easy to get to. Google Maps will take you right there and you don't need to navigate any tricky lanes!
What do you need to bring with you to The Box BNB?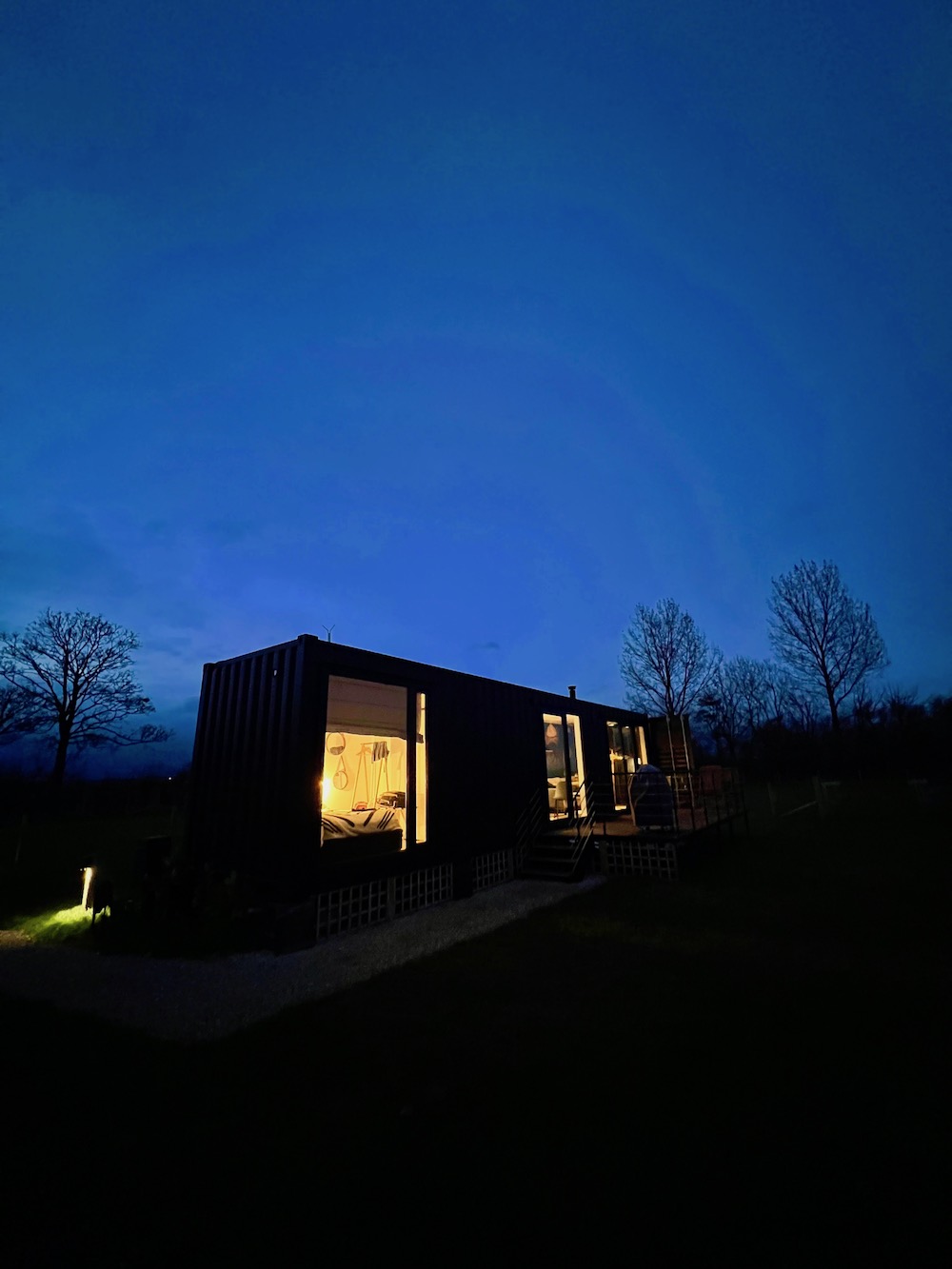 Other than your food and clothes you don't need to bring anything. All bedding and towels are provided and there were a few peppermint tea bags and coffee pods there. There was also salt, pepper, oil and a few herbs and spices.
There's really good WiFi if you wanted to bring a device to watch films.
I'd also recommend a good book and you might want some games like cards or Scrabble.
How much does it cost to stay at The Box BNB?
Prices start from £169 per night and it's £10 extra for one child each night. The minimum stay is two nights.
Find out more
Visit The Box BNB website