EWEN, Cirencester – Even from the car park it's not hard to see why The Wild Duck near Cirencester attracts the sort of names you'd expect at a Royal Wedding.
For a start, the 16th century pub is barely visible underneath its ever-creeping overcoat of ivy and its surrounding cloak of trees and shrubs.
If it wasn't for the sweeping gravel out front and handsome flying duck clock peeping from beyond the green leaves, you'd be forgiven for thinking The Wild Duck Inn was simply another creamy tumble of privately-owned Cotswold barns.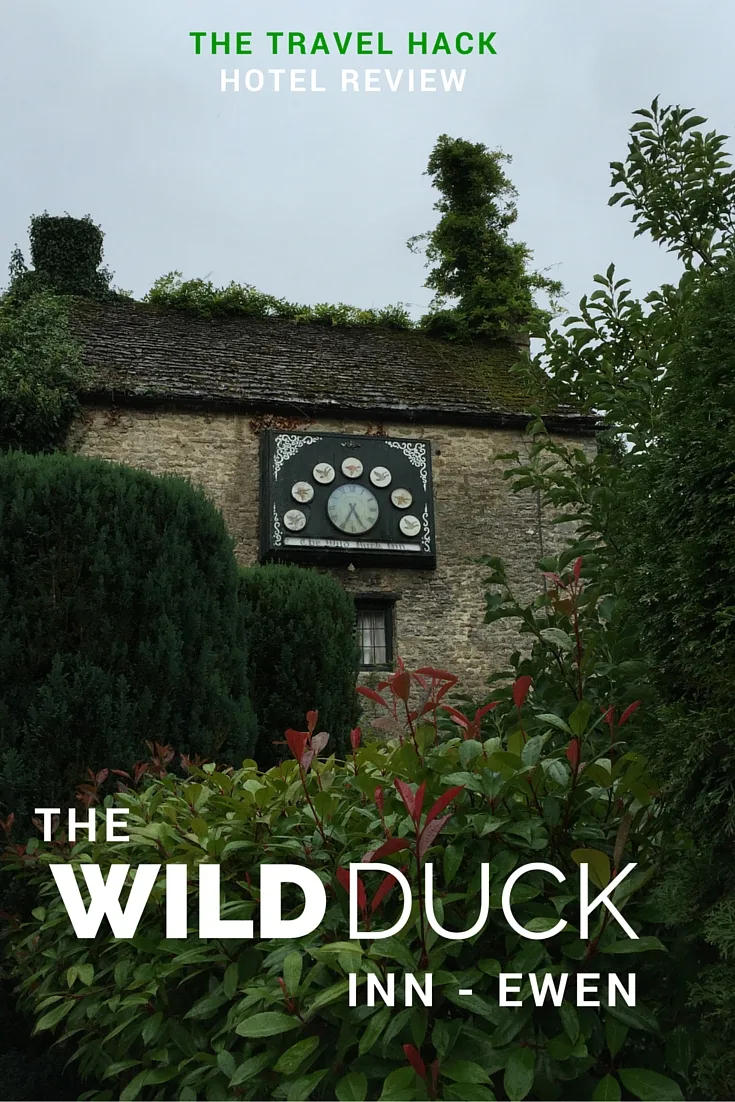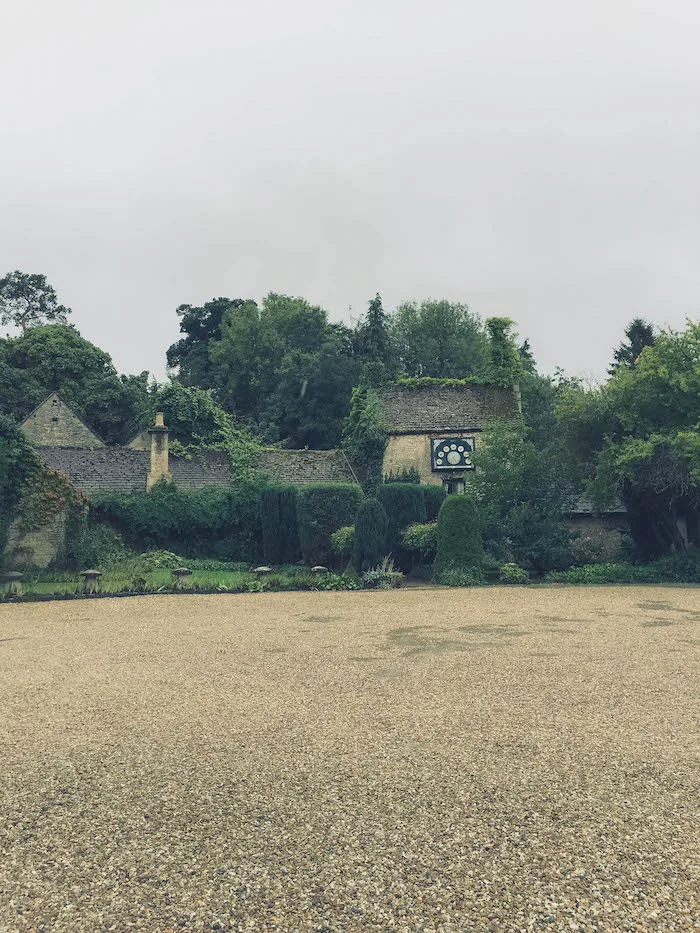 A Spooky History
The Wild Duck's owner-manager, Dino, told me about the pub's interesting history.
As part of the Ewen Estate, the pub's buildings were originally gardener's cottages and barns serving the nearby Ewen Manor. One of the barns became an unofficial ale house during the First World War before closing and reopening with an official license in 1937.
You may find yourself sharing the bar with a few extra spirits – if you know what I mean!
The subsequent historical timeline is a little fuzzy, but the number of ghosts that apparently count as regulars are evidence that The Wild Duck has seen a lot of action since it transitioned from a barn to a watering hole.
We do know that 25 years ago, Dino's parents bought the pub and revamped it from its original incarnation as a 'tie and jacket' establishment, into The Wild Duck of today.
It's a makeover that's served them well, because nearly a quarter of a century later, The Wild Duck is still a local institution very much at the heart of Ewen life.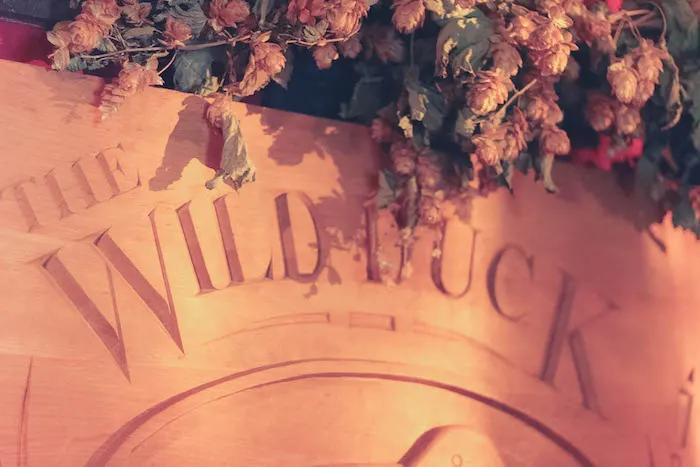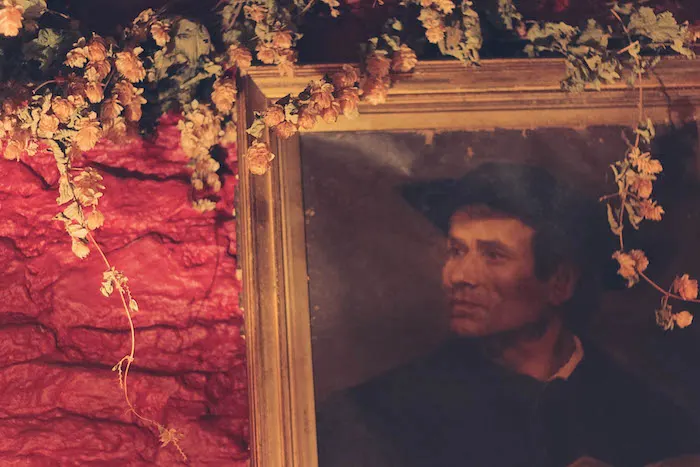 The Location (and celeb spotting)
As well as being virtually incognito, The Wild Duck occupies a blissful location for Royals and London's High Society to effortlessly retreat when the bright city lights get a little too dazzling.
The 12-room pub is minutes away from pretty Cotswold town Kemble, with its station and direct line into Paddington Station, a strike away from Cirencester Polo Club, and within easy reach of Tetbury and Highgrove – home, of course, to HRH Prince Charles and The Duchess of Cornwall.
Kate Moss, Kelly Osbourne, Geri Halliwell, Zara Phillips have all enjoyed the Wild Duck's hospitality.
This unique position means The Wild Duck has seen the likes of Prince Harry and Princess Anne enjoy its scampi and chips, and celebrities like Kevin Spacey and Liz Hurley warm themselves by its open fire.
With such a roll call of regulars, it would be easy for this country pub to err on the side of snooty and look you up and down if you're not driving a new Range Rover or wearing Hunter wellies.
The Wild Duck, however, is as humble as it is cosy; whether you've letters after your name, or brick dust in your hair, you're welcome – which is another reason the celebs and royals love it, Dino tells me. "They're left alone when they come in – so they can relax and be themselves."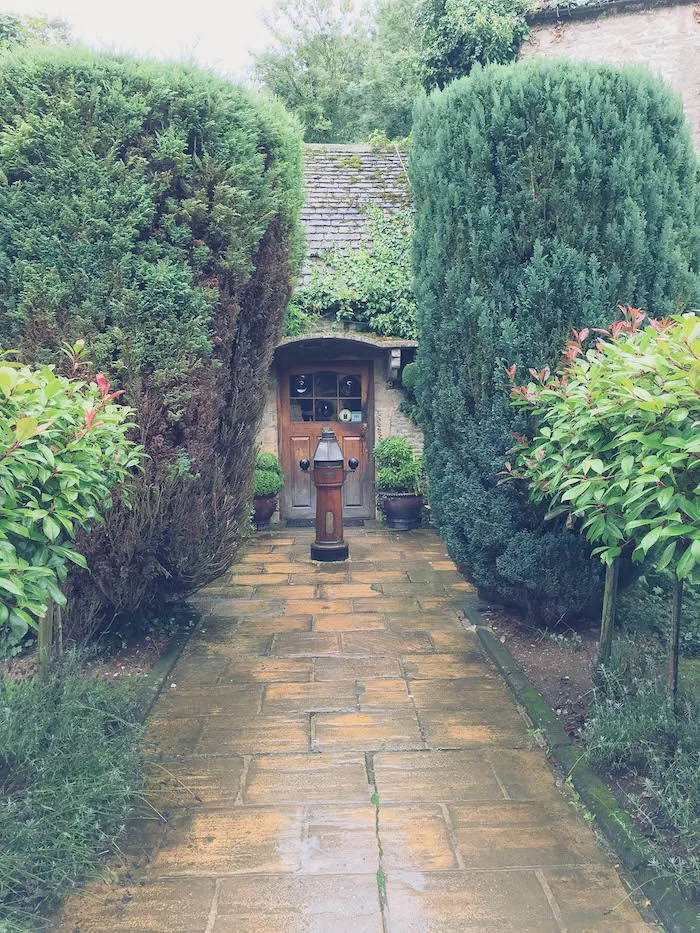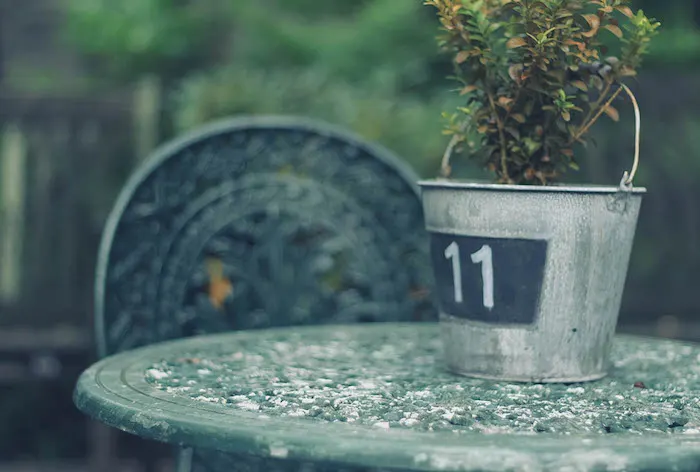 The Bar
Wandering inside The Wild Duck is like transitioning into a subterranean world; had The Fantastic Mr Fox been drinking at the bar, I wouldn't have been a bit surprised.
You're met by a lattice of poppy-red walls, snooker hall soft lighting, the smoky warmth of a fireplace, antique furniture and a menagerie of glass-cased fish, many of which were caught in the nearby Cotswold Water Park lakes.
The pub also has a micro-brewery and serves up its own selection of traditional ale.
If you don't want to stand at the bar with a pint of the pub's famous, home-brewed beers – Ewen Oil, Duckpond and Golden Duck – you can steal away to one of the restaurant's crimson nooks, free from eaves-droppers.
The only eyes watching you (that you can see, anyway) are those in the oil painting portraits on the walls.
The secrecy this cavernous layout affords you is deliciously naughty; dinner and breakfast are a clandestine experience, so much so that had I wanted to trade State secrets or have a tete-a-tete with Prince Harry, I suspect no-one would've noticed.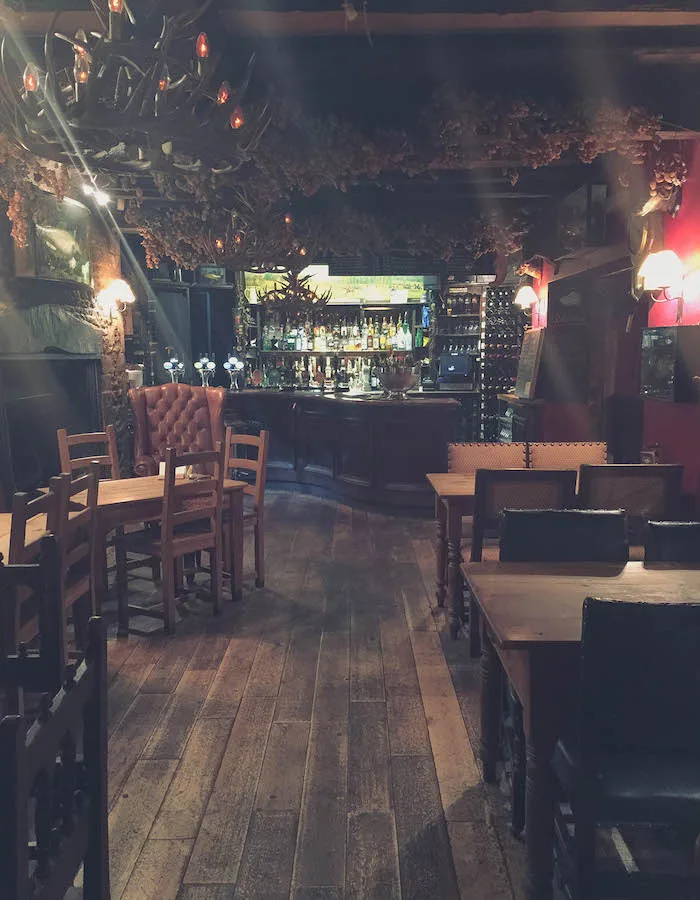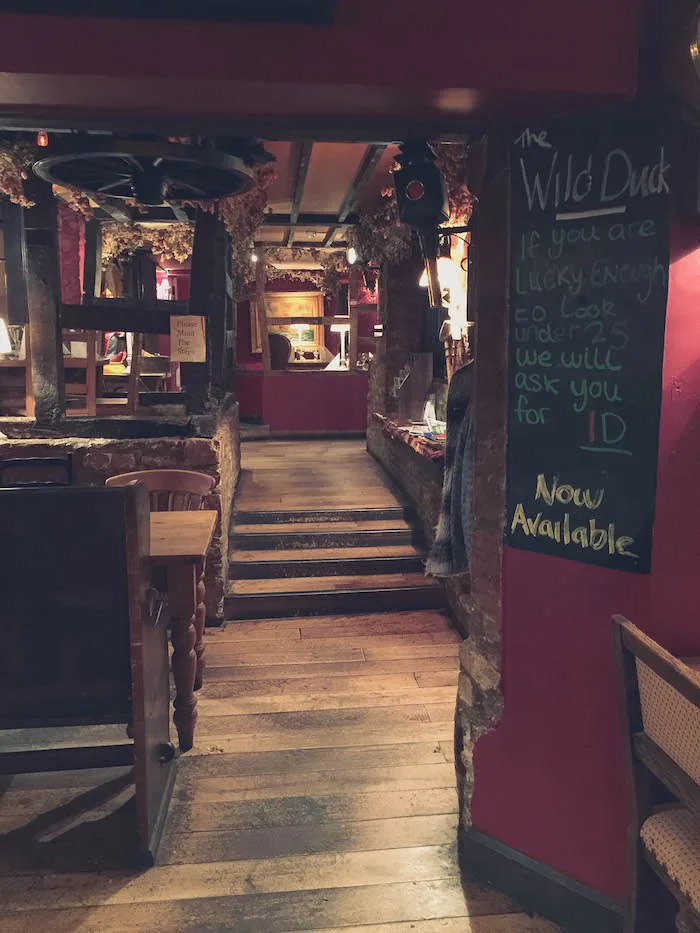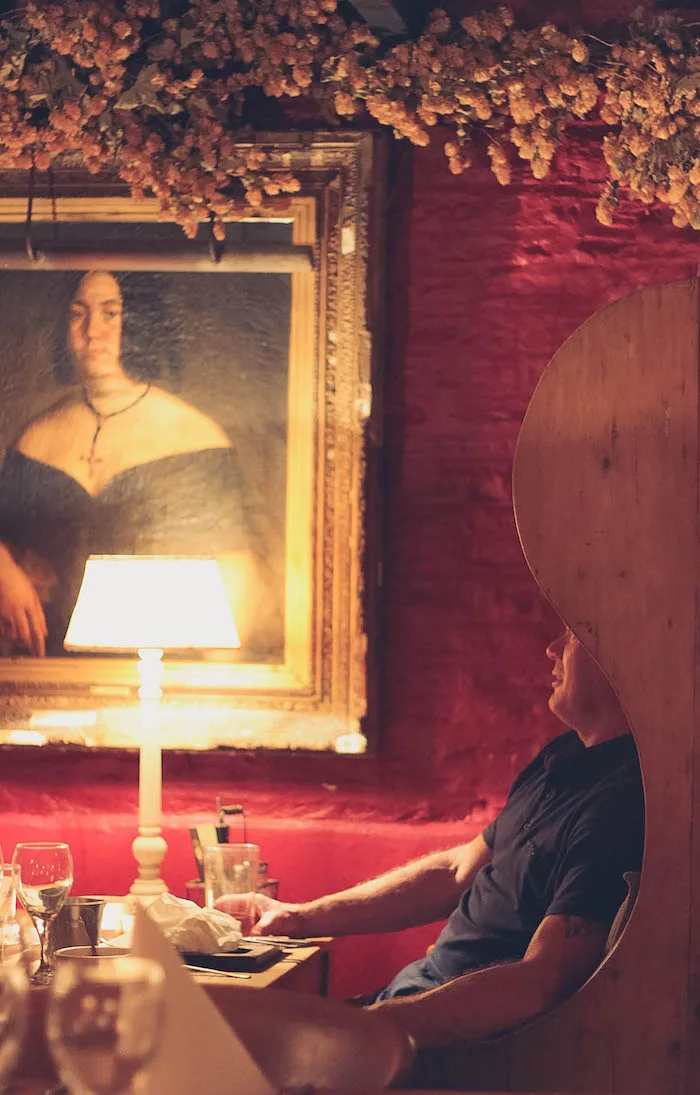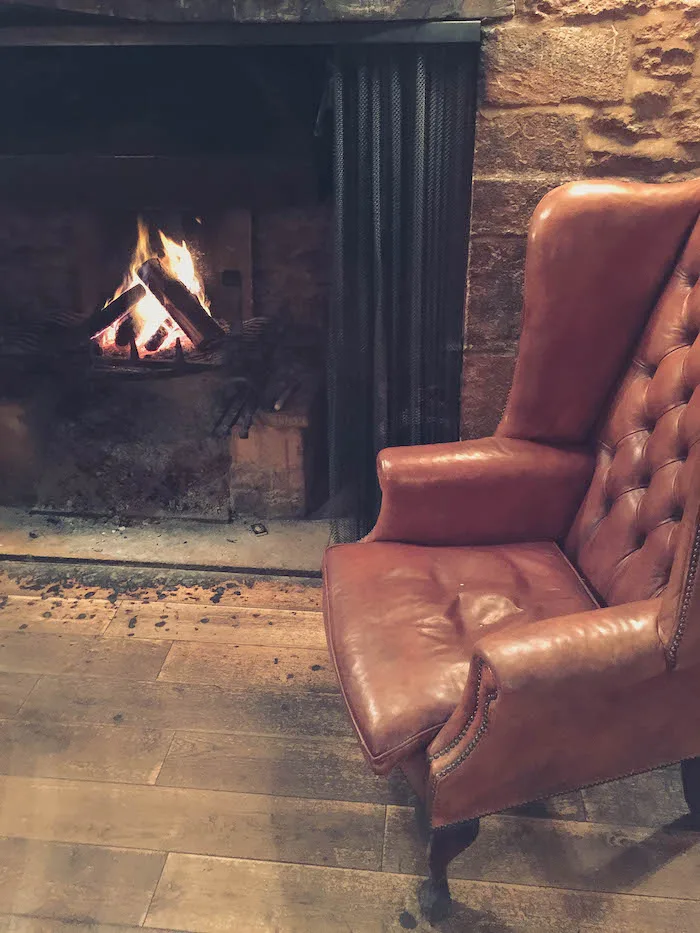 Dinner
Let's put it this way: Princess Anne eats at The Wild Duck. Richard and Judy had a party here. And on an average mid-week night, the restaurant is jammed. In fact, residents have to book a table or risk losing out.
The food certainly matches the overall ambience: cosy, traditional, organic and local.
Vegetarians are well catered for, as are children. Light lunches and mini plates are also on the menu, cocktails are chalked up at the bar, priced at £8, and I've heard that The Wild Duck's Sunday lunch is legendary.
Every Tuesday night is steak night – tuck in to a steak and wine from just £12.50 per person.
My dinner was delicious. To start: wild mushrooms on garlic bruschetta. It was buttery-soft bruschetta bliss. To follow: grilled chicken wrapped in Parma ham and served with parmesan potatoes.
My main was good, but my tastebuds were distracted by the skyscraper burger that was served to another table minutes before my food arrived!
The real star of the show was my pudding: Salted popcorn sundae. Sweet, salty, creamy, milk-buttoned brilliance.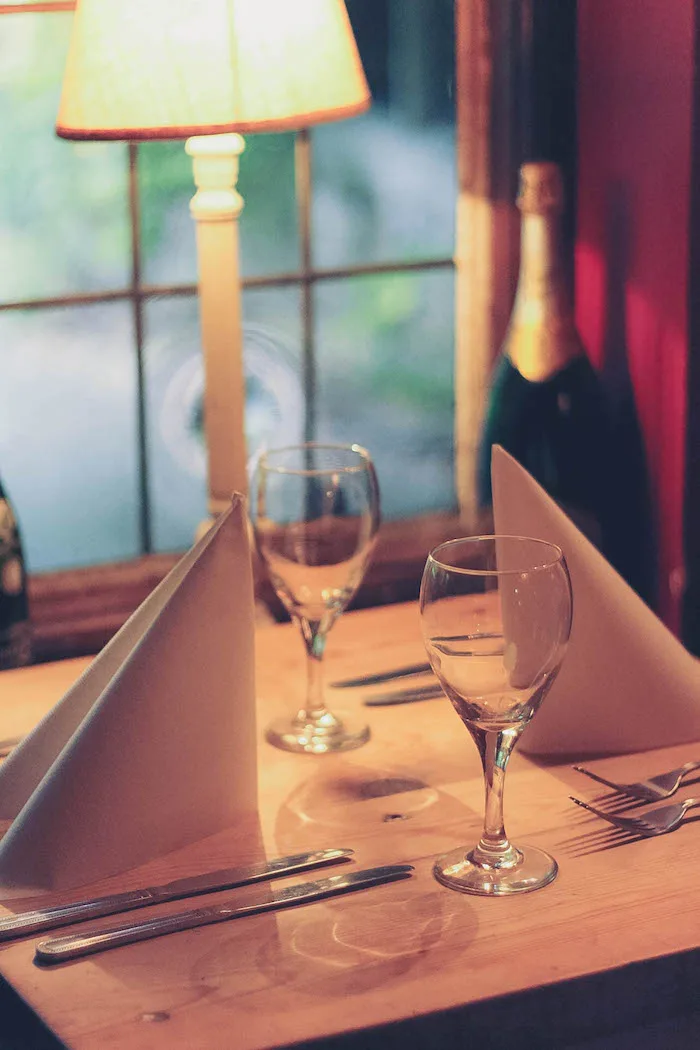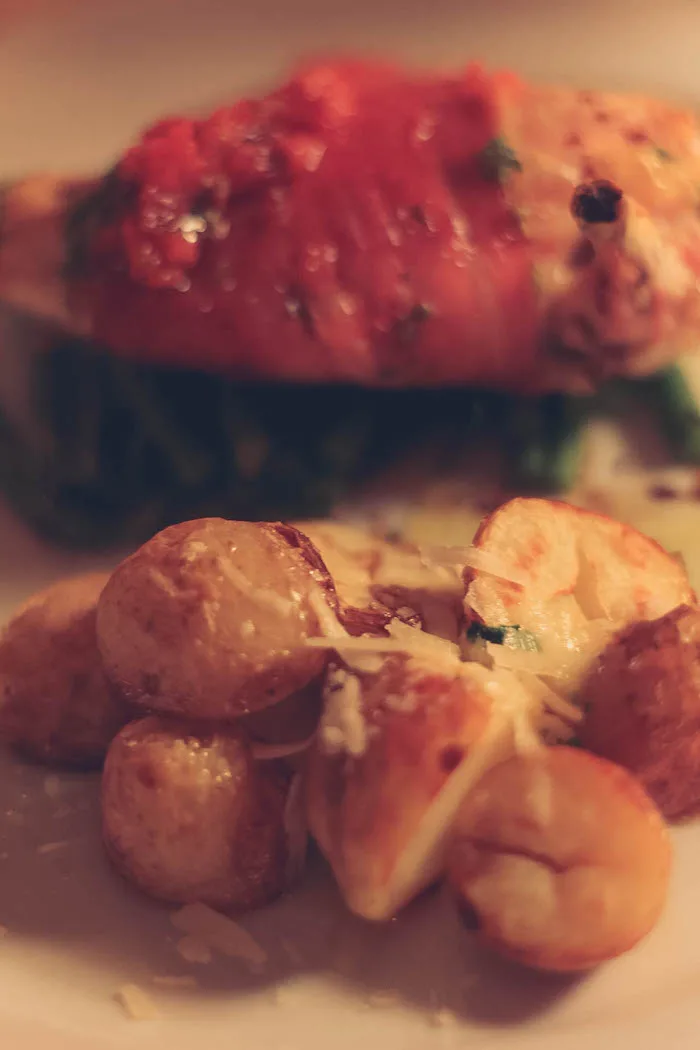 Breakfast
Breakfast the next morning is served in the same secret alcoves as dinner was the night before, shaking my body clock to its ticking core – is it morning? Evening? Twilight?
A continental breakfast is included in the room rate but, sadly, a cooked breakfast is not.
The continental selection was good (a decent assortment of breads, pastries, fruits and cereals) not over-indulgent, and included in the room rate. For something hot, like my very pleasing salmon and scrambled eggs, you have to pay extra.
A little surprising, yes – but each to their own way of doing things. On the plus-side, it saved my hips from another breakfast assault on the second morning!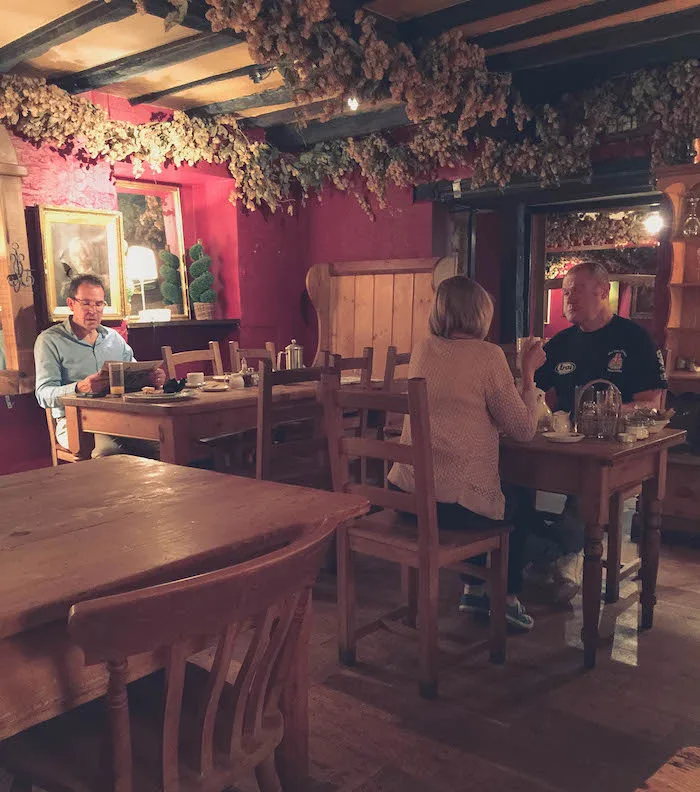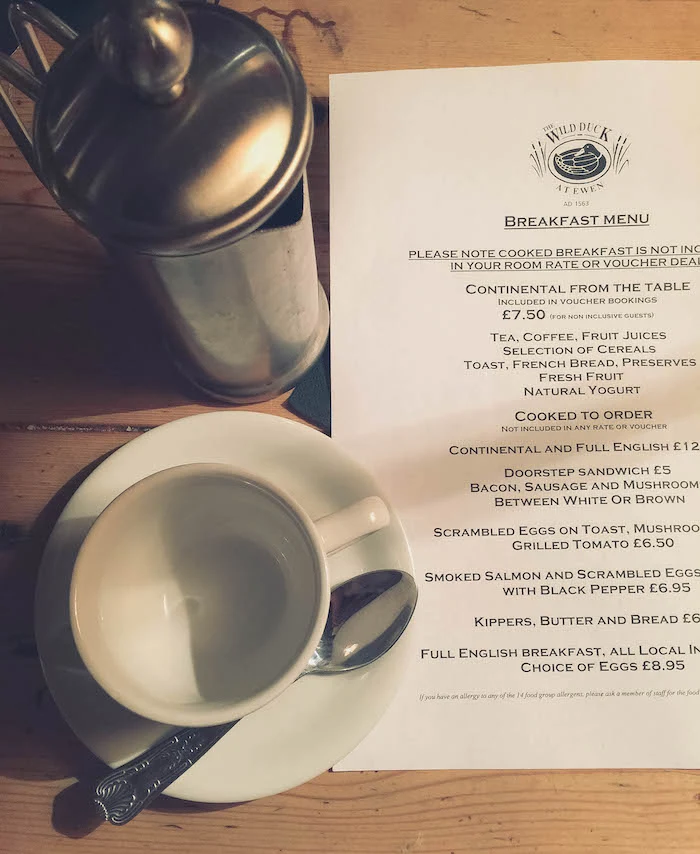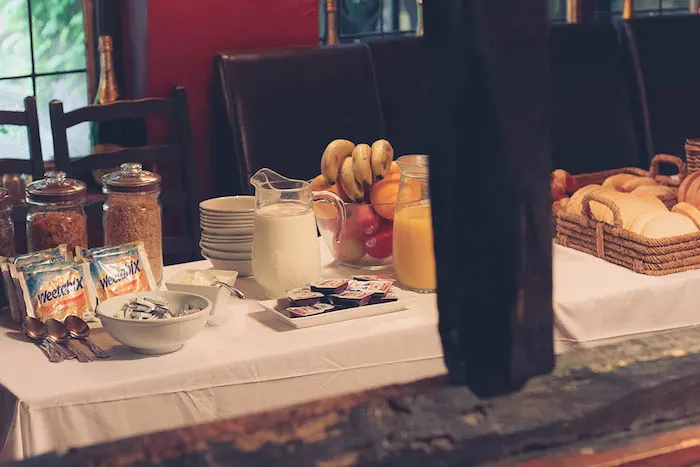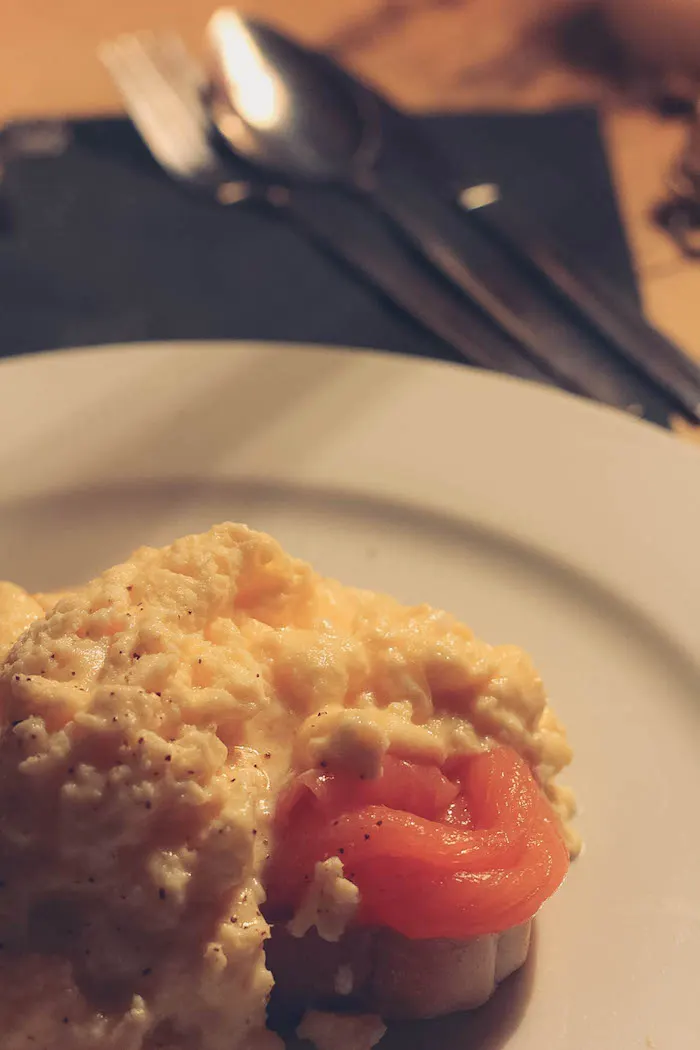 The Room
Of all the rooms in The Wild Duck, mine was the most luxurious – fit for a future king or queen or, indeed, emperor.
Called The Chinese Suite, and costing £165 per night, its style is straight out of Cotswold Life; traditional elegance and creamy colours, hemmed with bespoke touches from the Far East.
The Chinese Suite is in the oldest part of the building, dating from the 16th Century.
I reach the room via the back of the pub, up a flight of outdoor stairs – the peace and seclusion that typifies the Wild Duck continuing.
It is impossible not to coo over the room's enormous size: A-framed beams lead the eye up to the white apex of the ceiling, whilst the 10ft high four poster bed brings it back down to earth with a duck-downy bump – it's hard to resist diving amongst the fat scatter cushions and ricocheting them around the room.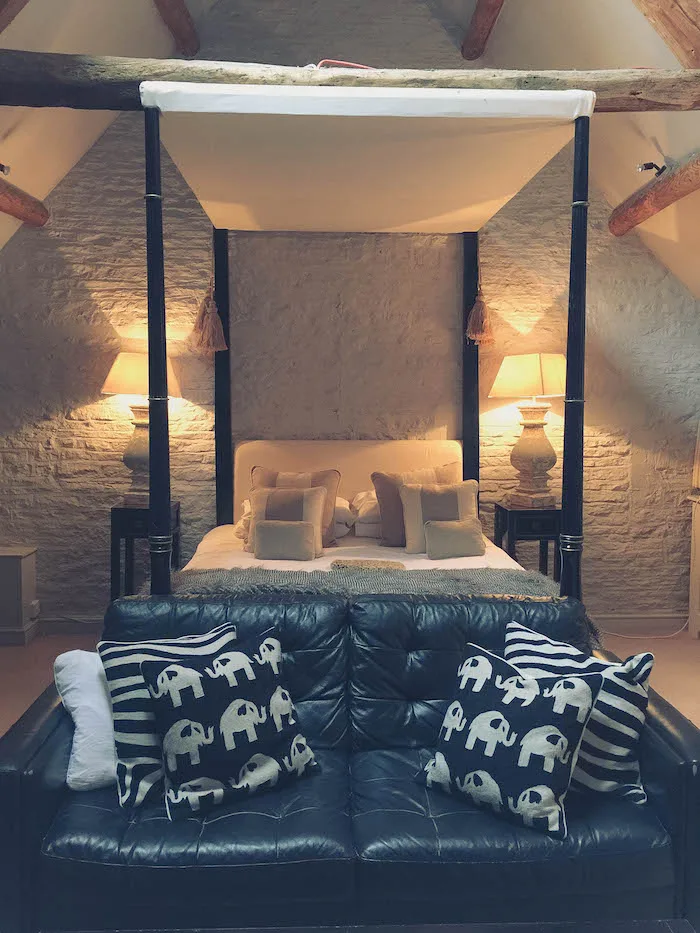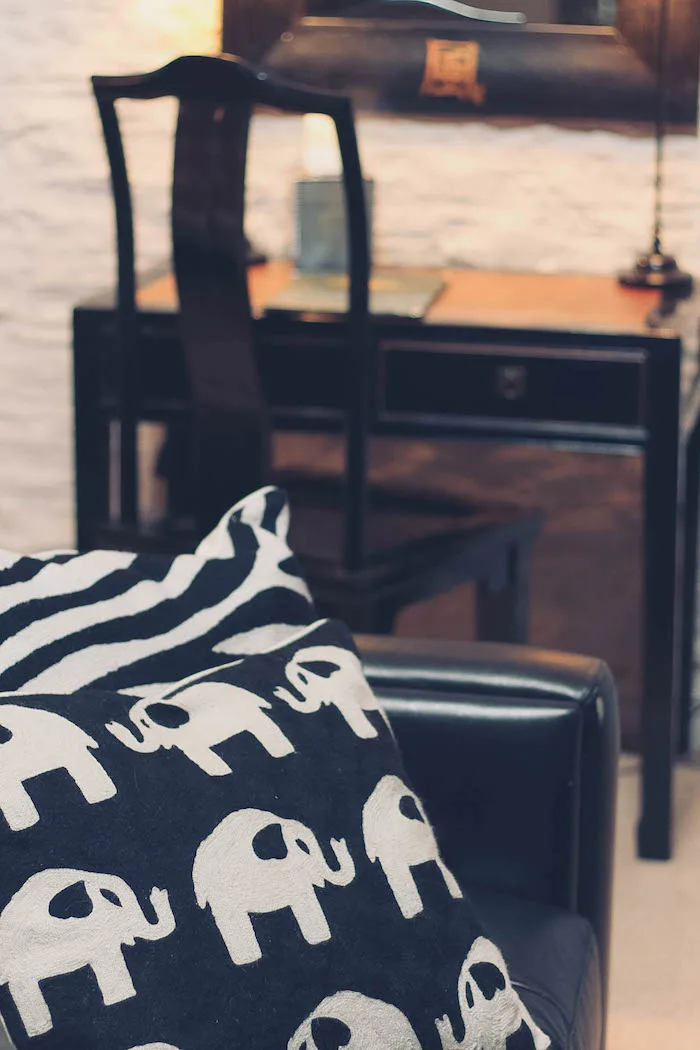 In front of the bed and facing a huge flat-screen TV, sprawls a black leather sofa and dark wood table accessorised with lifestyle magazines.
The fundamentals are there, too: a kettle plus tea and coffee sachets (lux brands and a few biscuits would've been nice), wi-fi (although it's slow), a handsome antique dressing table, a black Chinese cabinet, as well as a safe hidden in the wardrobe.
The room was imperfectly perfect; luxury without pretentions.
The bathroom's free-standing tub makes me weak at the knees, and the humorous addition of a giant rubber duck makes me grin from ear to ear.
Overall, the room is royally impressive and I can't wait to soak in the bath with my new (wild) duck friend and then head to bed…
…where I look forward to sleeping like a princess.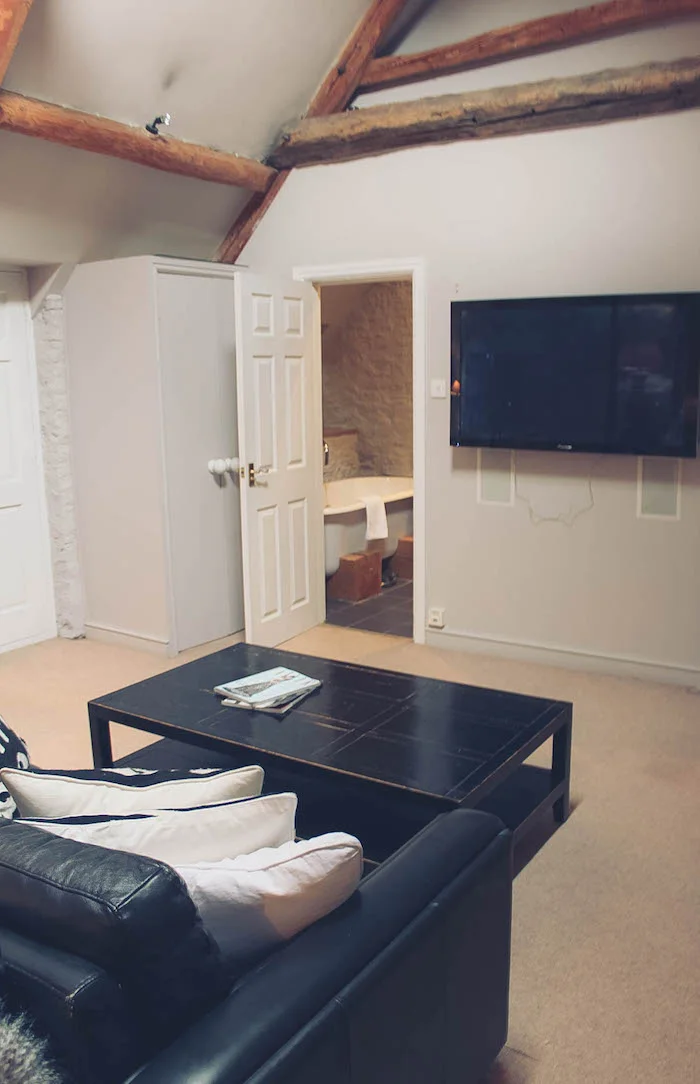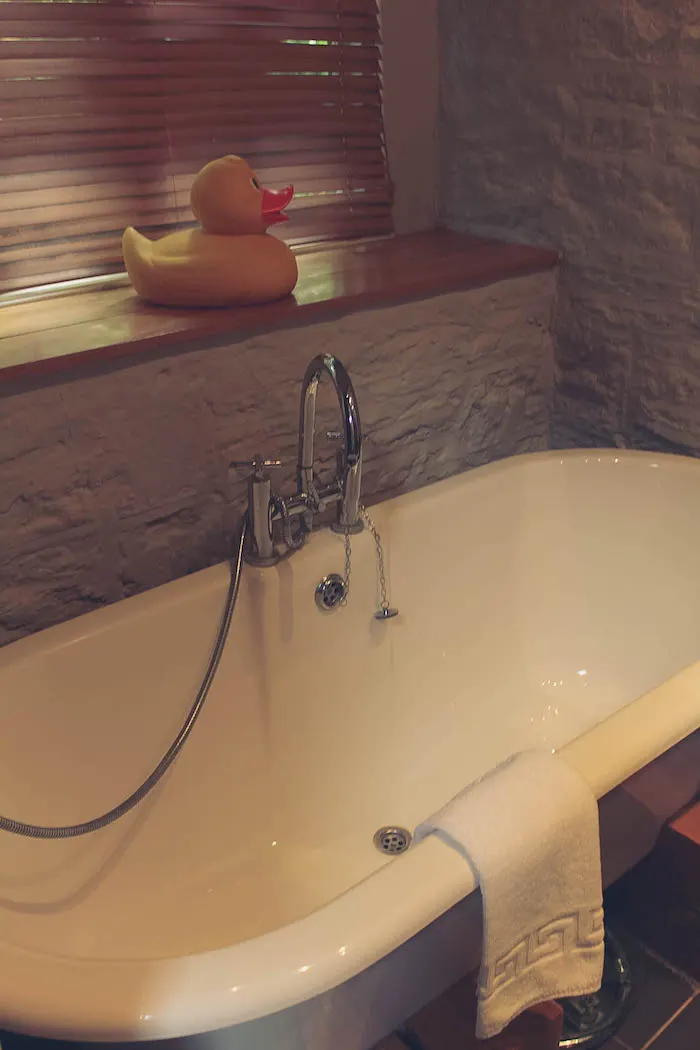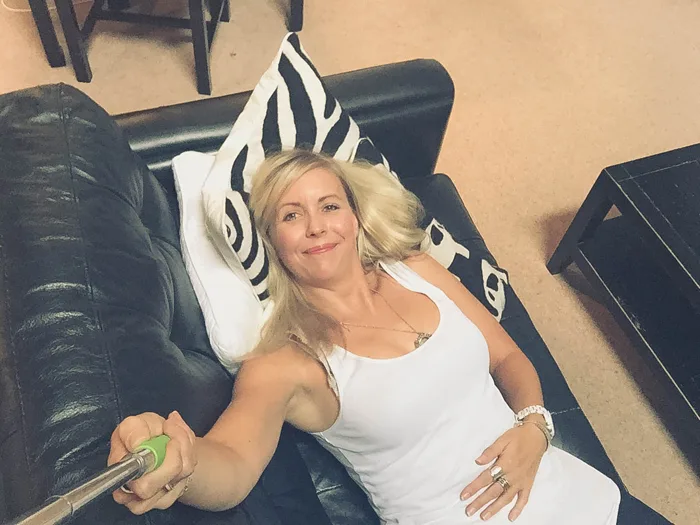 Disclosure
I enjoyed a complimentary two night DB&B stay at The Wild Duck in Ewen. As always, this review is an honest reflection of my stay at the pub and my opinion of it. It would be quackers to not write the truth!