In theory, Iceland shouldn't be this beautiful.
Iceland is a harsh, lonely country. It's volcanic and rugged with vast spaces of desolate land. There are very few trees and it can be hard to differentiate between the grey of the cloud and the grey of the earth. The land is flat for miles and miles and then it's punctuated by a sheer cliff and jagged mountains that disappear into the heavens.
It's cold and it's windy but, oh my, is it beautiful.
It's so beautiful it actually takes my breath away.
So beautiful that it has taken me a long time to write this post because I know my words and photos just can't do it justice.
Until Saturday morning I'd only seen Iceland from the ground. I knew it was beautiful but it wasn't until I got into a helicopter that I saw Iceland's full beauty in all its glory.
At 8am on Saturday morning I clambered into a helicopter for a Geothermal Helicopter Tour with Nordurflug. I was lucky enough to get the front seat and I grinned over at the pilot like a crazy person. He was busy flicking switches and pressing buttons but I could tell my deranged smile and incessant chatter was slightly off putting. I was so excited I couldn't sit still.
"You have the best job in the world!" I told our pilot, as if he didn't already know.
"I know," he smiled. "I'm always surrounded by happy, excitable people and I get to show them our beautiful country."
And what a show it was.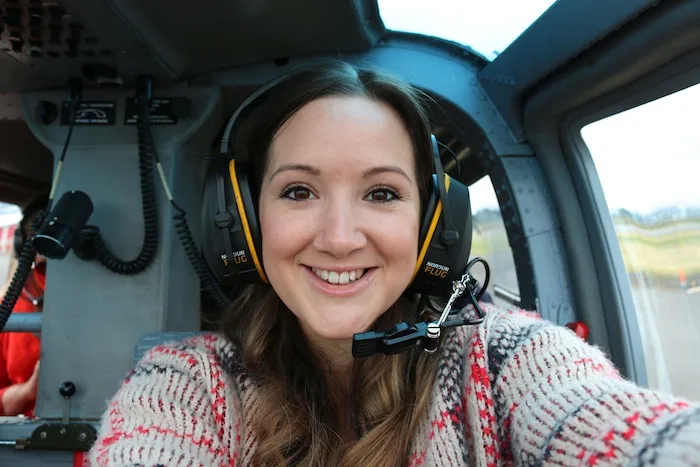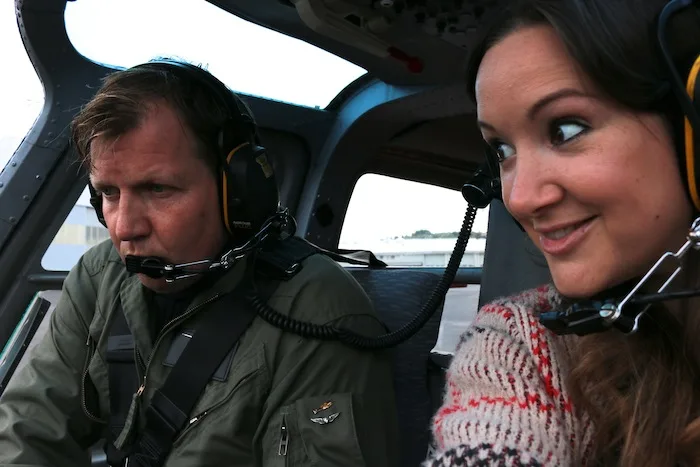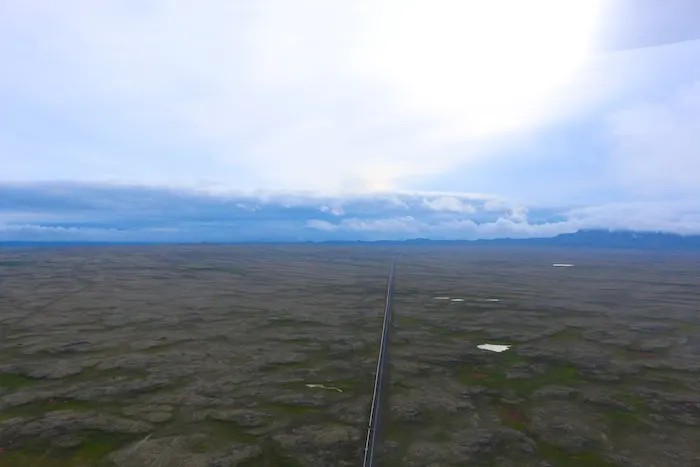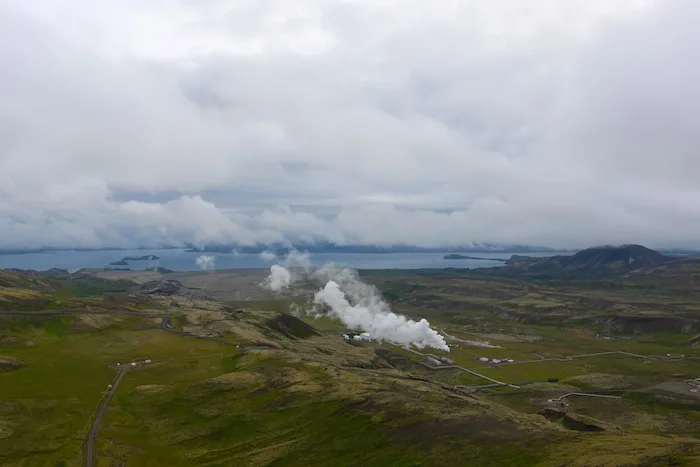 The Geothermal Tour leaves from Reykjavik so as we hovered up into the sky we could see the tiny Lego-looking town below us. Colourful roofs and boxlike buildings soon gave way to Iceland's volcanic landscape.
In many places it was possible to see where lava has torn through the countryside and left scars across the land. It was like flying over a world from a fairytale, but probably a fairytale where bad things happen.
We flew over an enormous geothermal power planet, the second largest in the world with only Japan having one bigger. Fluffy clouds of billowing steam lazily floated up to the helicopter as we hovered by.
We circled the colourful mountain range before landing at some isolated geothermal hot springs on the old volcano, Hengill. As soon as the helicopter doors opened we were hit with the eggy scent of sulphur, followed by a gorgeous earthiness that makes you want to fill up your lungs and hold it in there.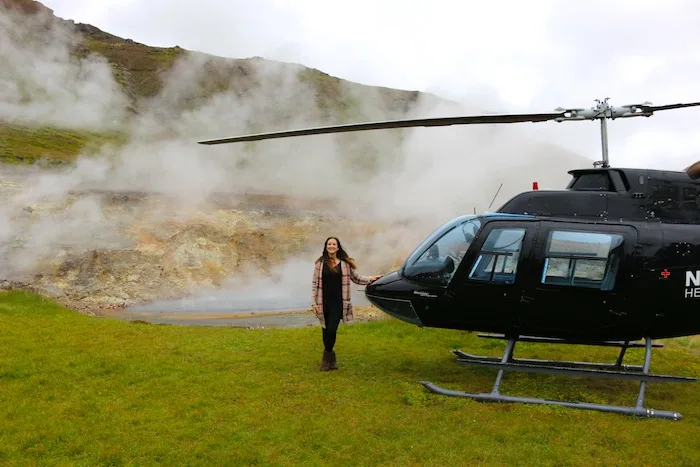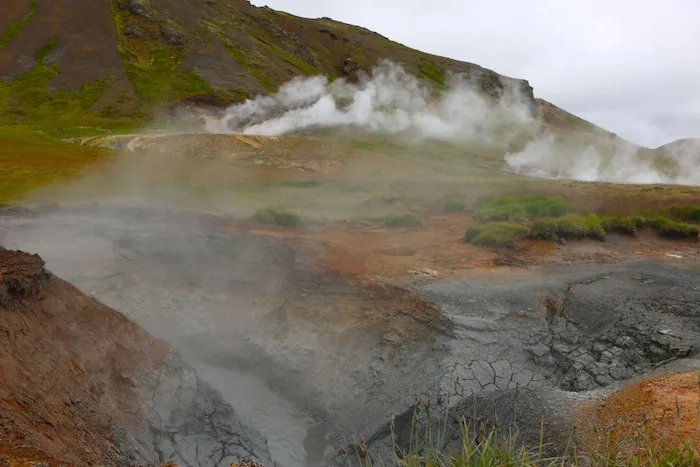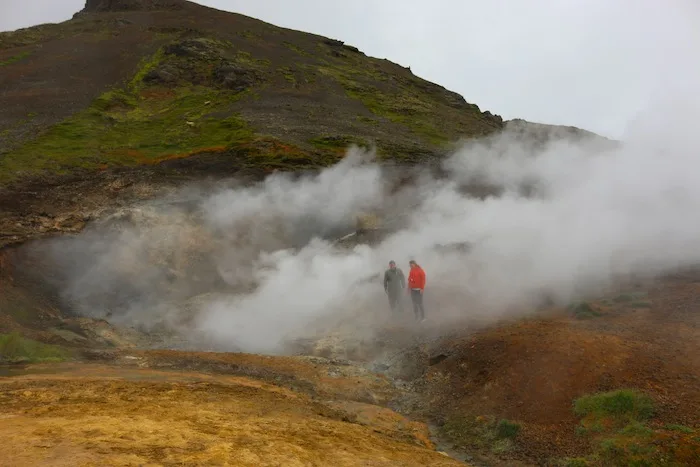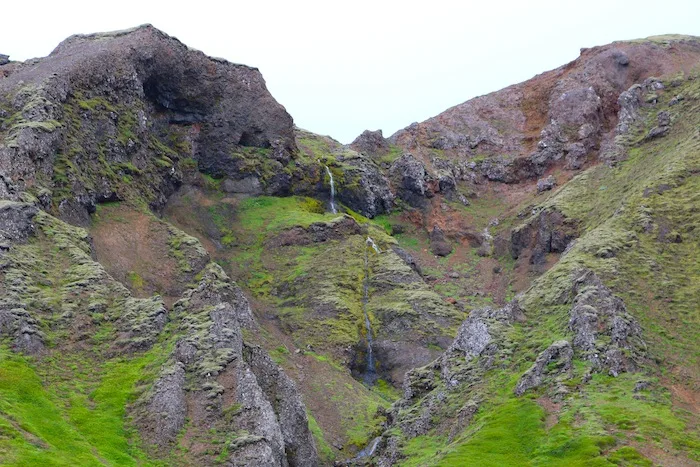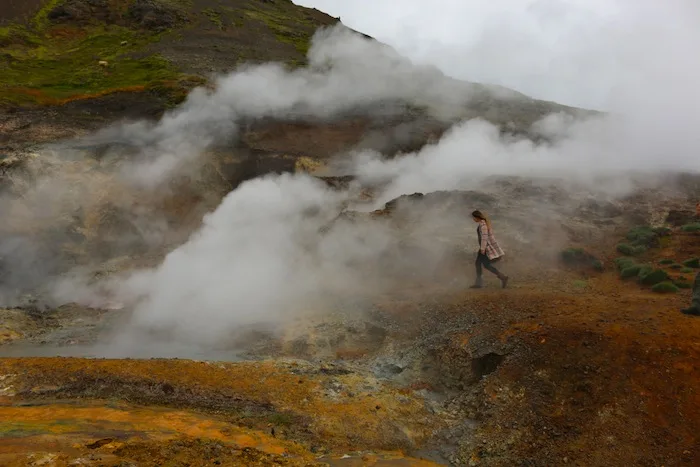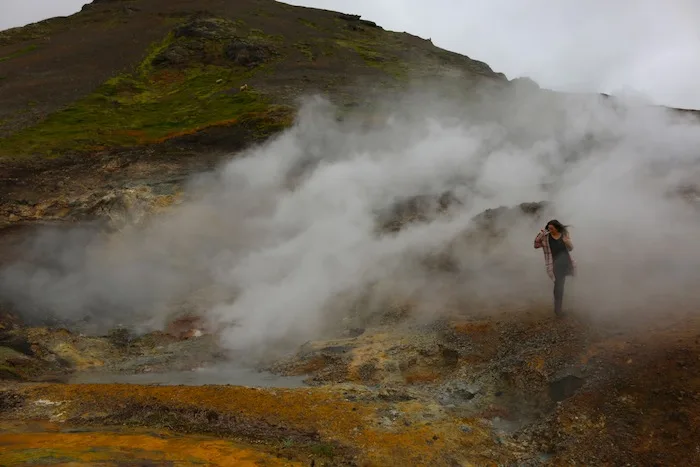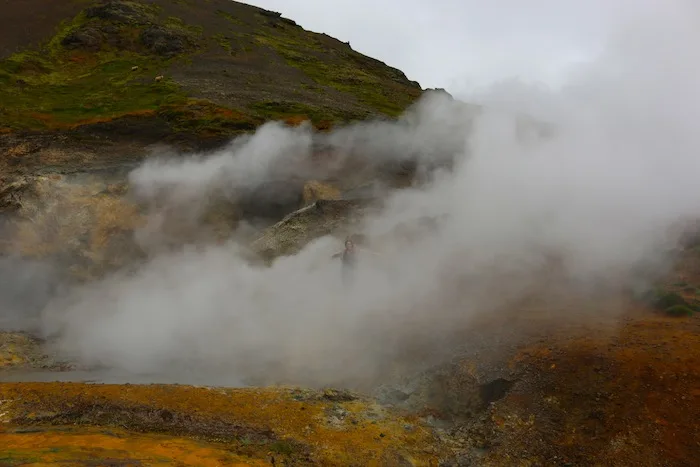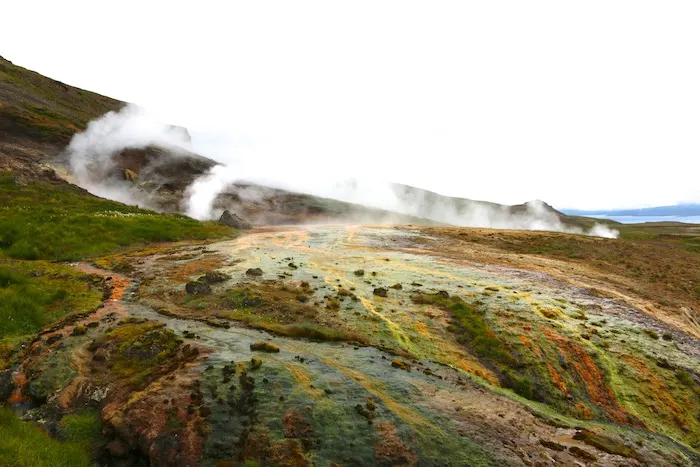 We were under strict instructions to only walk where our pilot walked. I followed him like a puppy for all of five minutes but then I couldn't resist exploring. The earth was amazingly colourful with brown, orange, black and red rocks as well as wild flowers and brilliantly green grass. And then there were the smoldering hot springs. Just standing by them was like standing near a fire as they radiated with natural heat. Clouds of steam rose from the boiling pools giving everything a magical and otherworldly atmosphere. There was so much raw energy and natural heat at that spot, it was such an incredible experience to just stand there and soak it all in.
There was a hot pool of bubbling mud that was weirdly enticing, if only it hadn't have been near boiling temperature and I would have been tempted to jump in.
Our helicopter pilot finally dragged us away and back into the helicopter (I never thought I'd ever have to be dragged into a helicopter!) It was his promise of craters, lava fields and aerial views over Reykjavik that finally tempted me back inside. Thankfully, the views did not disappoint.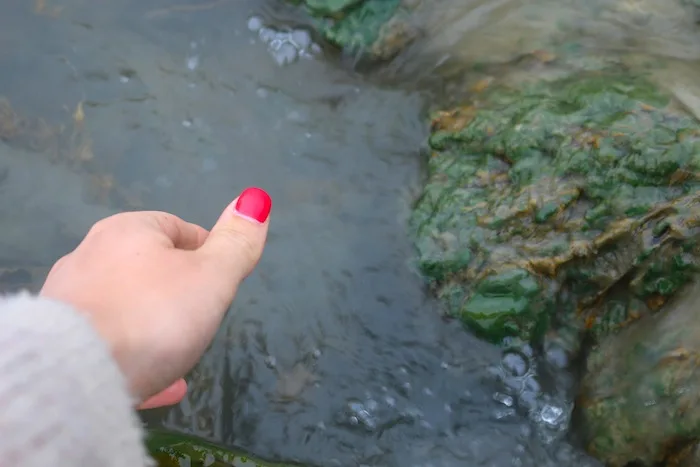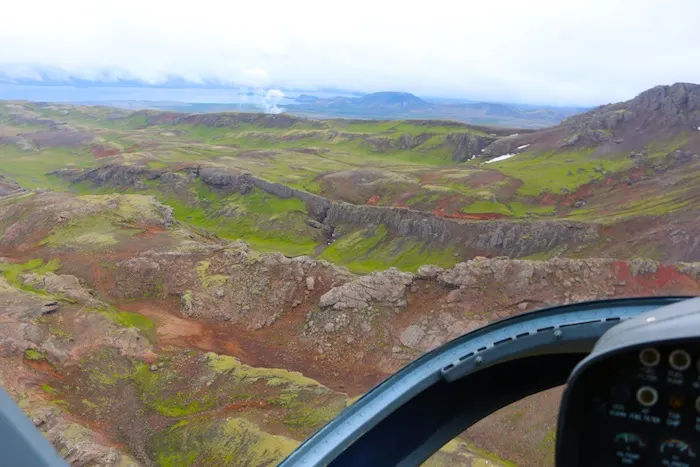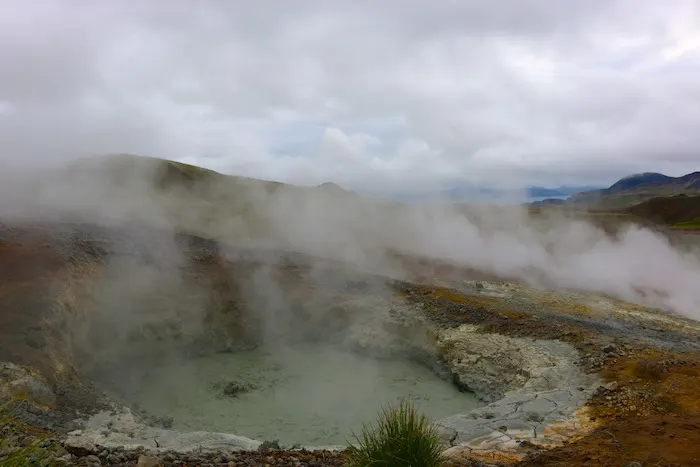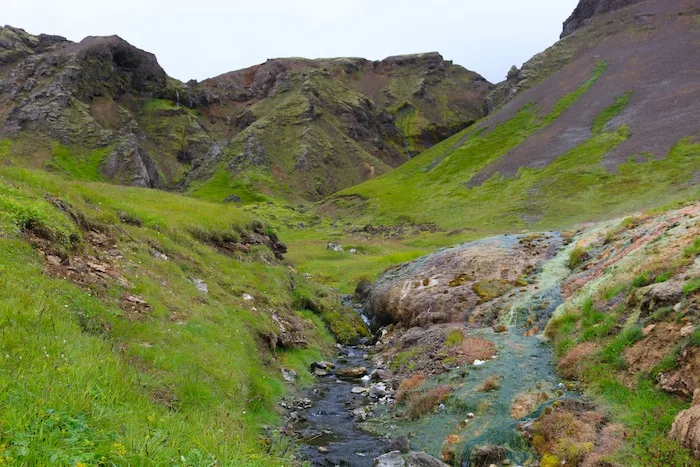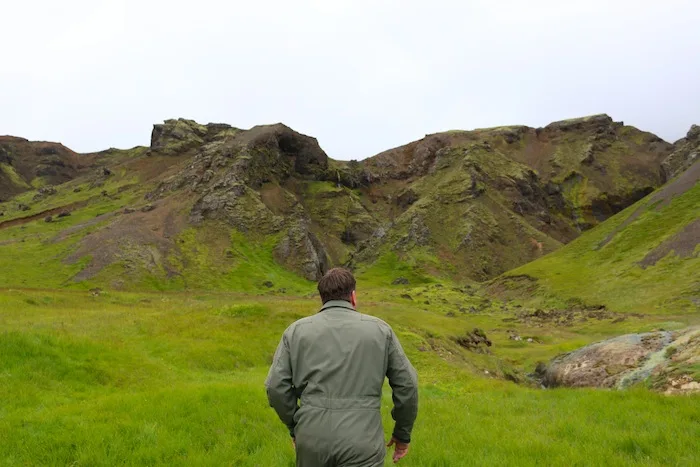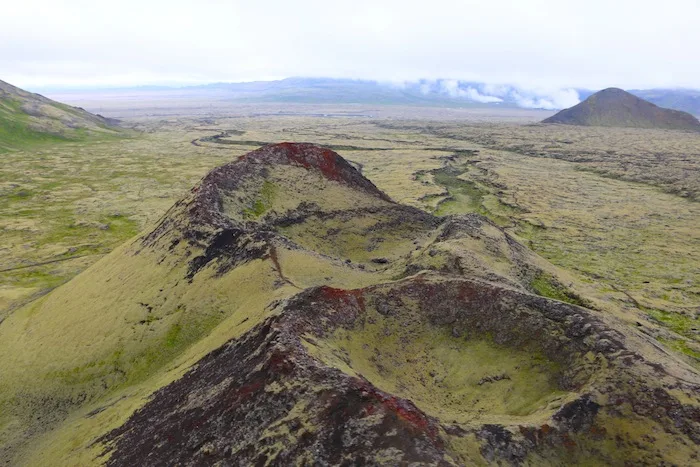 More Info
I visited Iceland with Icelandair to experience their Incredible Stopover experience. Transatlantic passengers with Icelandair can stop in Iceland for up to 7 days free of charge. The Incredible Stopover is a package they offer with a tailor-made itinerary and a one-night stay in a lighthouse on the south coast of the country. I was lucky enough to try it before it's available from 1st September 2015 – 1st November 2015.
I can highly recommend this helicopter ride with Nordurflug. It was one of the most incredible things I've done in Iceland. It is pricey at €316pp but the fact that you stop off on the volcano, in a place where you won't see another human for miles and miles around, is incredible. You can follow our pilot over on Instagram too for jealousy inducing photos on a daily basis! @mylifeasahelicopterpilot