It seem's I spend all my time seeking beaches on the other side of the world and find myself neglecting the beauty we have here in England. Admittedly, it's really the weather I'm seeking on the other side of the world but when the sun shines in England… it's a very beautiful (and rare) thing.
Just an hour and a half drive from me lies the traditional seaside town of Brighton – somewhere I haven't indulged in in a long time. When the RAC contacted me about collaborating on a road trip I found my excuse to venture down and rediscover Brighton. RAC provided the breakdown cover and England even provided some sunshine!
My boyfriend was also keen to head down as he hadn't been since graduating from uni there, so we packed our sleepover stuff and headed down bright and early to miss the saturday traffic (TIP)!
If you're heading down for a weekend, like we were, there's quite a lot to fit in so I've put together The Travel Hack's Guide to Brighton with all the finest things Brighton has to offer!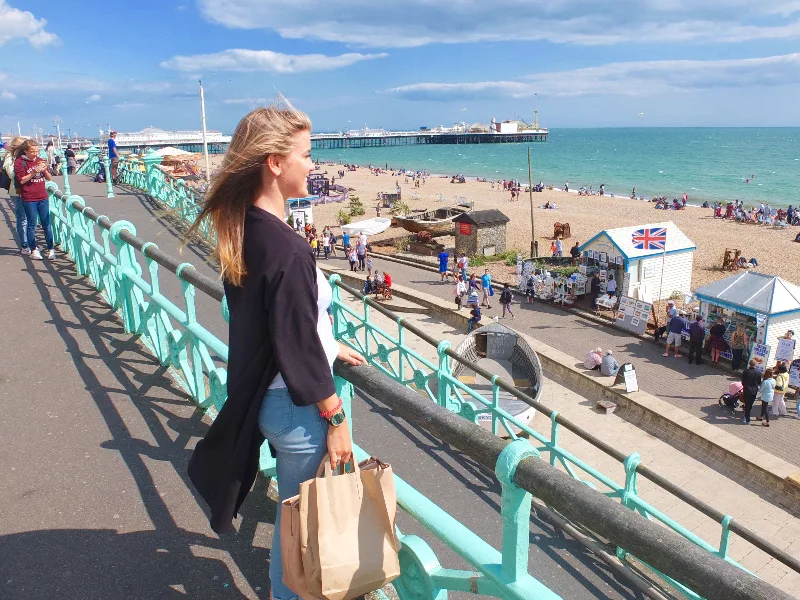 Getting to Brighton
Depending on where you're coming from, I'd say going by car or train are your best options.
There are advantages and disadvantages to both so it depends on your situation.
Going by train means usually a quicker journey (1 hour from London Victora or London Bridge), avoiding holiday / weekend traffic and Brighton Station is located right in the town centre walking distance from all the attractions including the beach.
However, train tickets can be very expensive and you will have to carry your stuff around with you and to your accommodation, which can be a nightmare in the usual rainy conditions of England or on crowded trains.
Going by car runs the risk of getting stuck in traffic and even on a clear road will take 2 hours (double the time of a train) from London. It does mean, however, that you have the comfort of your own car and if there's more than one of you, sharing the cost of petrol will be A LOT cheaper than the usual train ticket price.
Downside? Aside from the risk of traffic, parking in Brighton is a little like London. Hard to find and if you find it, rather pricey. Check with your accommodation and on Google Maps for parking spots prior to your trip. Parking can cost up to £15-£20 a day, which is fine is there's a few of you to split it between, but a considerable addition to your weekend expenses if not.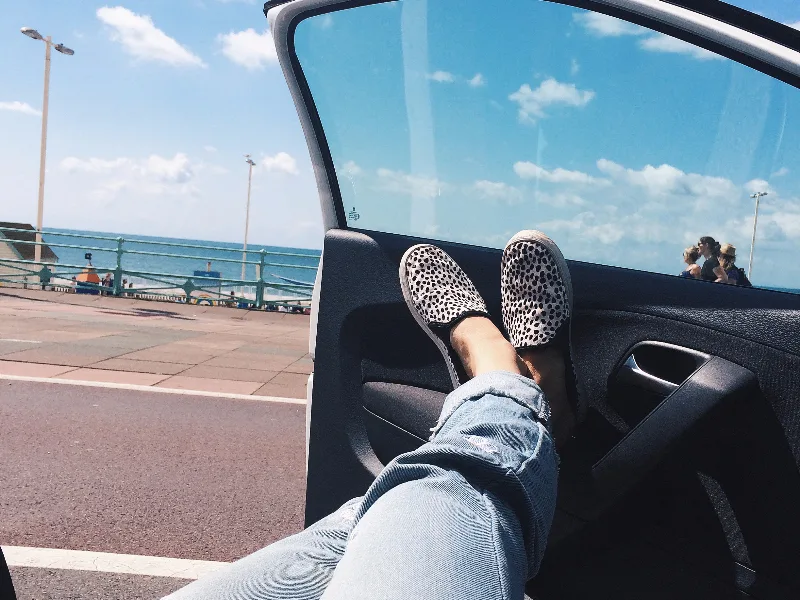 Things to do in Brighton
1. Lie on the Beach
If the sun comes out, make the most of it!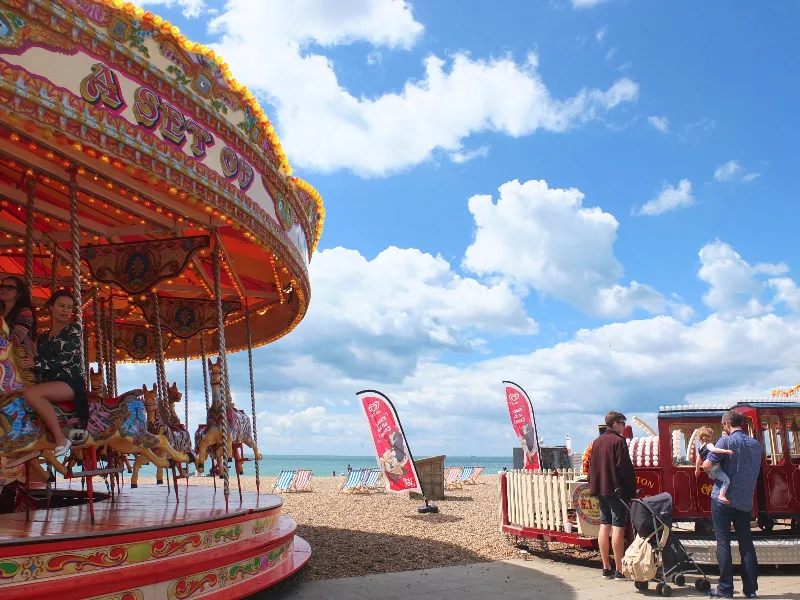 2. Grab lunch on the seafront and nosey in the shops
From traditional souvenirs and beach essentials to Jamaican Rum Shacks, there's a wide selection of amenities right on the sand.
3. Walk the famous pier, grab some fresh doughnuts and play in the arcades
Take it back old school, get a slush puppy and play a game of ice hockey. If you're feeling adventurous, theres even a big wheel for you to take a ride on! 😉
4. Be a tourist & head to one of the many attractions
Sea life Aquarium, Brighton Museum, Royal Pavillion / The Pier are just some of the great attractions in Brighton.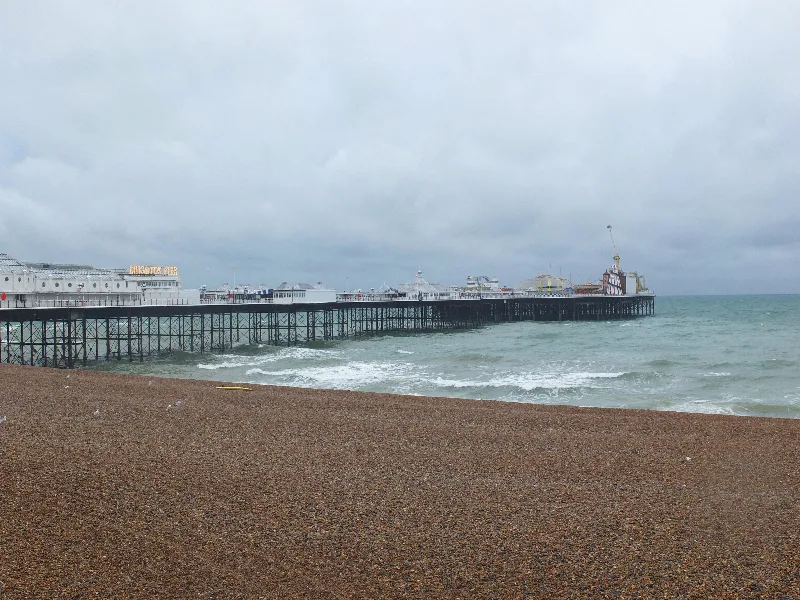 5. Explore and shop in The Lanes
From hippie clothing, freshly made fudge and Moroccan accessories to bubble tea cafes, jewellery shops and art and crafts havens – The Lanes itself can provide a weekend of entertainment.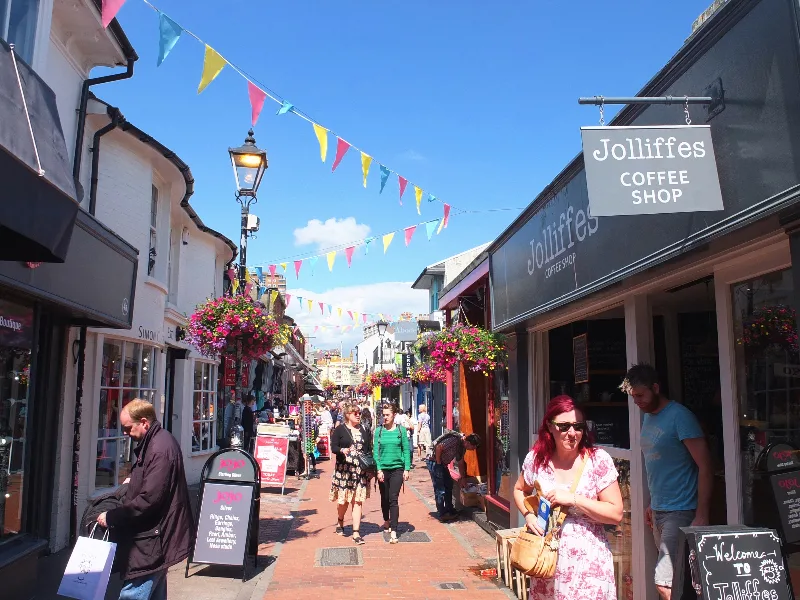 6. Watch the world go by with a slice of cake
Choose from the abundance of super cute coffee shops in Brighton and indulge in an afternoon of everything sweet. You'll find some gorgeously decorated ones in The Lanes, but just have a walk and see what you stumble across.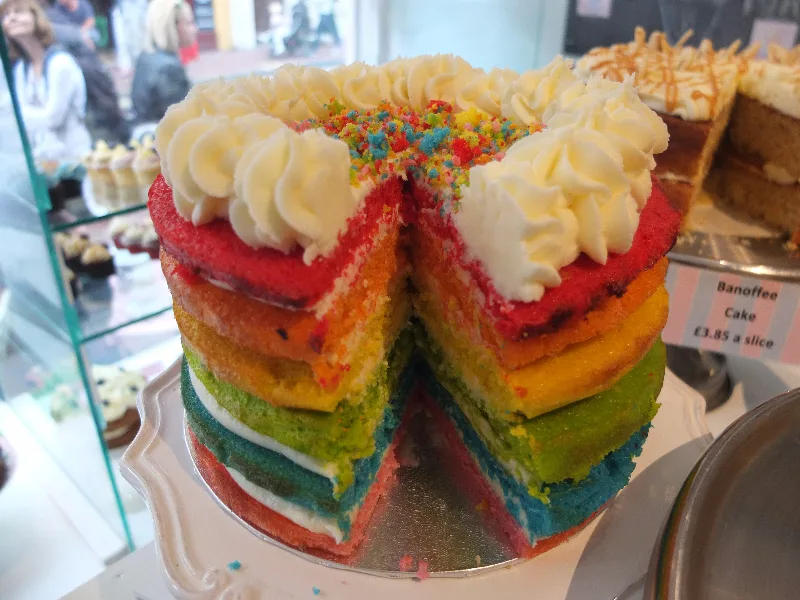 7. See what's on at the Brighton Centre or Brighton Dome.
8. Eat fish and chips out of newspaper
Need I say more?
9. Take a picture of the Royal Pavilion (best at sunset!)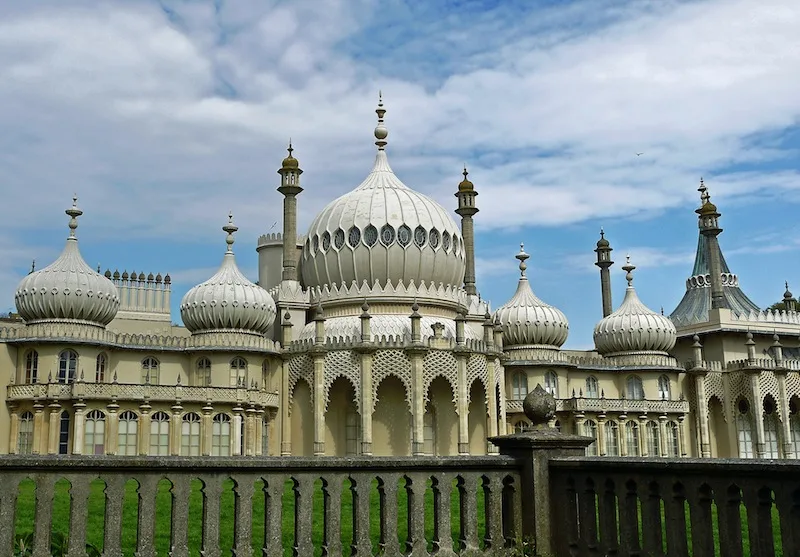 10. Embrace Brighton's Nightlife
By night, the British seaside town turns into an extravaganza of activity, from beach front bars, mainstream clubs and gorgeous little cocktail bars.
Places to Stay
Brighton has plenty to offer in terms of accommodation and if you're heading just for the weekend then no doubt, you'll want to stay near the centre.
In peak season (June – September) and at weekends, prices will much be higher and can get very booked up so it's important to book in advance if there's a particular date you're going.
Seafront Hotels
– Queens Hotel
– The Hilton
– The Grand Hotel
– West Beach Hotel
– Umi Hotel
– The Old Ship Hotel
– Kings Hotel
More Budget Hotels
– IBIS
– Premier Inn
– The Lanes Hotel
– Legends Hotel
AirBnB
If you are yet to discover AirBnB then you need to join the hype. Particularly if you love a bargain and you're on a budget. If you're booking last minute, like we were, chances are your choice on hotels is limited. But fear not, there are always rooms, flats and houses on offer for as short a stay as 1 night… Oh and at a fraction of the cost of a hotel!
We stayed at The Kings Hotel *** right on the sea front. The hotel was one of the last options for us booking last minute on a weekend in July. Whilst the decor was slightly outdated and the room basic (£200 for a night and no sea view), the location was absolutely perfect and the beach was right on our doorstep.
For a traditional weekend in Brighton, it definitely did the trick. The bed has us a faultless nights sleep before a full English breakfast to fuel another day out in the fresh air. After all, how much time do you really spend in your hotel?
Places to eat & Drink
Brighton is FILLED with beautiful little vegan, vegetarian and healthy hotspots, so eating out doesn't have to be a guilty affair. Food for Friends was recommended to me and lived up to every claim – flavours oozing out of every single dish. This restaurant is proof vegetarian food is far from boring.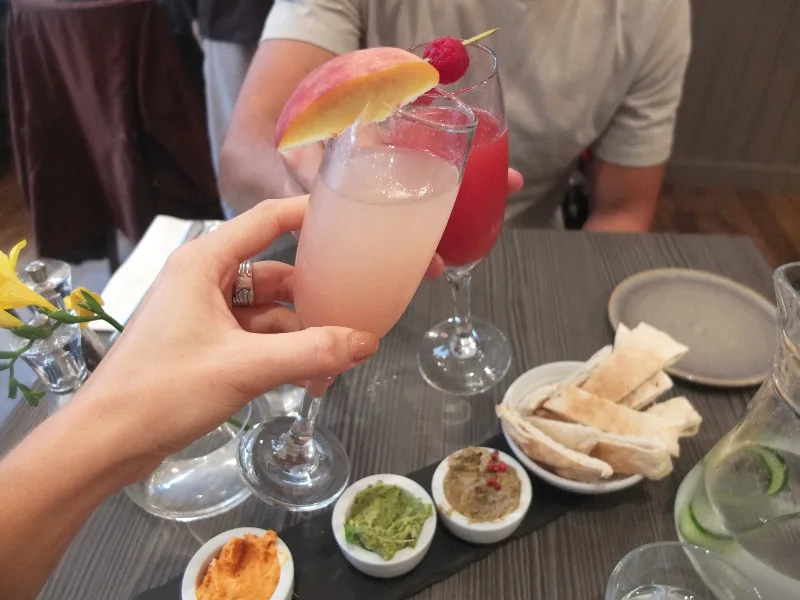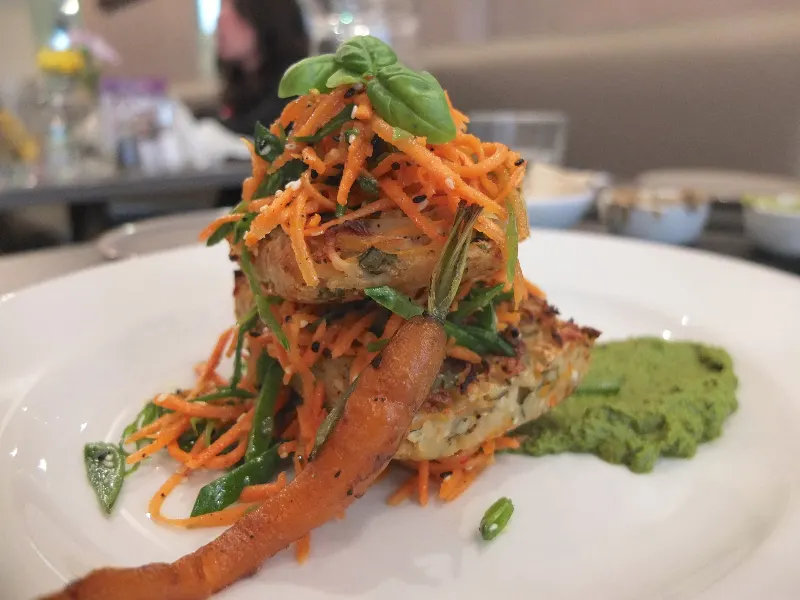 Those of you that, like me, have a sweet tooth will LOVE this place. They have one in Soho in London and I kind of jumped in excitement when I saw this one. A chocolate cafe. Need I say more? You must go.
For a cocktail list that will keep you occupied the whole evening. Here you can sit in the lounge overlooking the sea & should you stay until the evening, you can let the DJ spin you onto the dance floor. Recommend: The Expresso Martini.
We enjoyed lunch and ciders here on the seafront. May I say it was one of the best pulled pork burgers I've set my lips on.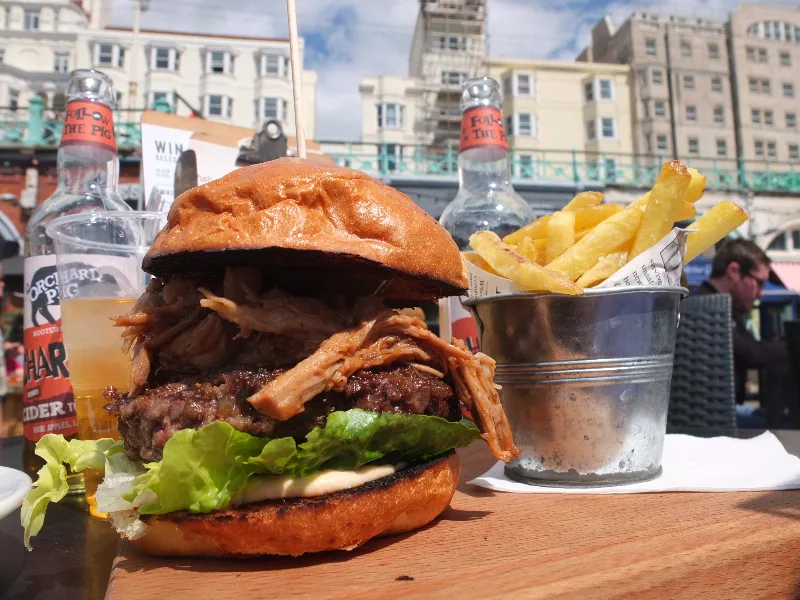 Brighton Slice of Jamaica. If reggae music, rum punches and happy DJ's are your thing – you've met your match.
A cake and coffee shop in the North Lanes that will fulfil your cake dreams. With every flavour of cake you could imagine, the cutest vintage cups and saucers and fairy lights scattered across the walls, you won't be wanting to leave.
HEAD'S UP + EXTRA INFORMATION
Remember your raincoat (even in the summer!)
We had the most glorious summer sunshine on the Saturday, yet the Sunday bought us nothing but rain, grey clouds and blustering sea winds. Always be prepared for England's contrasting conditions!
Look ahead and check with your accommodation for parking
You don't want to waste any of your weekend driving round in circles finding some where to park and wasting your exploring time!
You'll find a LOT of hen / stag parties down here, prepare for some banter participation
Have you been to Brighton?
Any additional 'MUST DO's' that I've missed?
Mollie x