"The good news is that the water is 2°c today, it's going to be great."
I attempted to return our guide's enthusiastic grin but I'm pretty sure I was less than convincing.
"It's tough when it's below freezing so 2°C is nice!"
I couldn't help but admire the Icelandic optimism that I was starting to notice everywhere I went. Our guide, Chris, was actually British but the attitude had clearly rubbed off on him.
As a girl who is more used to swimming in 26°c water, 2°c suddenly seemed like suicide.
We were snorkelling with DIVE.is at Silfra dive site in Thingvellir National Park in south west Iceland. The site is about a 40 minute drive from Reykjavík so it's a great place for a day trip from the city centre.
From the surface, Silfra looks like your average river running through the snowy (yes, I said snowy!) Icelandic countryside but it is actually a rift in the tectonic plates between North America and the Euopean/Asian plates. When swimming through the rift you're literally swimming between continents and I happily imagined having one arm in America and the other in Europe.
Silfra is considered one of the best dive sites in the world thanks to the visibility of up to 120 meters. You won't see many fish because the water is so cold so there is no food for them. But you will see an incredible landscape formed from lava rock as well as lots of algae and seaweed.
The rift expands by 2-3mm each year as the Earth shifts with evolution. Rocks hung precariously along the edge of the rift and we were warned to stay away as they could drop at any moment. Warnings like this make you realize how incredible this snorkeling spot is and how beautiful yet destructive nature can be.
The water in Silfra comes from Iceland's second largest glacier, 'Langjokul', and it filters down the mountains, underground and down the porperous lava rock. It takes 30-100 years for the water to filter into Thingvellir National Park so you can understand why it's so clear. It's so clear and fresh that you can drink it as you swim along – definitely a novelty for anyone used to snorkelling in the sea.
What do you wear when snorkelling in the cold?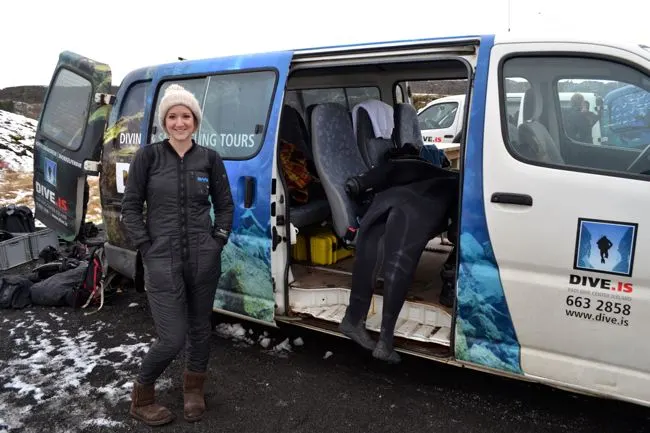 The water is so cold that you have to wear a drysuit rather than your average wetsuit. It was like a military procedure getting everyone kitted out in drysuits and we were soon awkwardly bumping into each other with stiff limbs and blinkered vision.
If you got even a drop of that freezing water trickling down your back it could ruin your experience so the guys were amazing at making sure we were airtight.
Your first layer is a thin base layer or thermal underwear. I wore regular leggings, a long sleeve t-shirt and super thick ski socks. Your second layer is a thick onsie that was so snug and warm I would have happily brought it home with me. The third layer is the drysuit that you have to wiggle and squeeze and shake and jump your way into. The drysuit has boots attached and rubber seals around the wrists and neck to keep the water out.
We were then fitted with 'collars' to make sure the water couldn't sneak in. You then wear a hood and gloves, a snorkel, mask and fins and you're good to go.
What is it like to snorkel in Iceland?
There's no time to think about how cold the water will be. You're straight in, face down and marvelling at the incredible colours, the clarity and the peaceful tranquility that you can only find underwater. The surface is so blue it almost doesn't seem real and you can stare all the way down to the bottom.
The seaweed sways gently on the surrounding rocks and it waves you past as you make your way through the narrow passage.
There's a gentle current that is strong enough to slowly pull you along but not so strong that you ever have to fight it.
Weirdly, the best way to stay warm when you're swimming in cold water is to stay as still as possible. As soon as you move your hands or head a fresh gush of cold water seeps into your gloves and hood so the fact that you barely need to move is a godsend. With all the layers you're wearing you're as buoyant as a life raft so you're free to sit back and enjoy the ride.
So I might have said that you don't have time to think about the cold but that might have been a little white lie. It was beyond freezing. But it's only your hands, feet, face and heads that get cold. Your body, arms and legs are toasty while the rest of you takes a hit.
The first 2-3 minutes and the last 2-3 minutes were the worst for me. Brain freeze hit me like a sledge hammer when I first put my face under the water and my fingers had never been so cold by the end.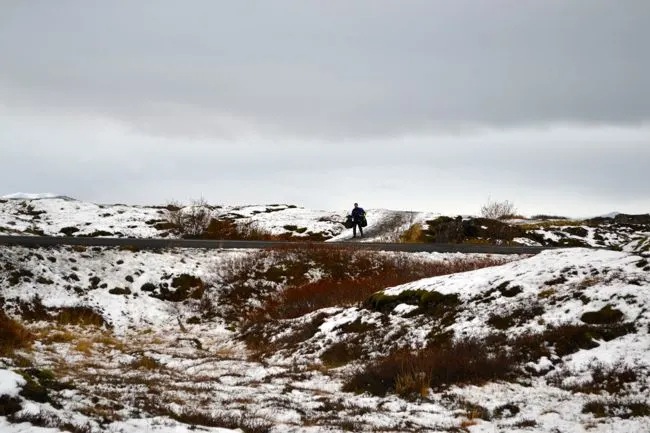 After 30 minutes we emerged onto the snowy ground and it was actually a delightful relief and a welcome bit of warmth. It was such a stark contrast to emerge in to the white and snowy landscape after half an hour of bright blues and turquoise colours.
After an adrenaline fueled jump from the rocks into the icy waters, we peeled ourselves from our drysuits with lots of wiggling and tugging (something that no one in the world could ever make look good) and were surprised to find that our clothes and hair were all bone dry. We then warmed up with thick hot chocolate and plenty of biscuits to dunk.
This incredible experience was with DIVE.is on their Silfra Snorkelling Tour. I received 50% off my trip but all thoughts and opinions are, as always, my own. I can highly recommend the team for an unforgettable trip. We had two guides for ten people and they were both funny, patient and helpful and very safety conscious.