This week I will be ticking off a country that has been lingering at the top of my bucket list for years. I've been telling myself that I will get there one day and that day has finally arrived. I'm going to India!
I'm taking an overnight flight on to Delhi on Wednesday and joining an Intrepid tour. I opted for a tour because I can only take two weeks off work and I want to see as much as I can in that short time. Intrepid My Adventure Store is one of the brands I work for at Flight Centre and I'm a massive fan, especially since I went to Morocco wit them and had the most incredible week.
So here's what I'll be up to while I'm in India: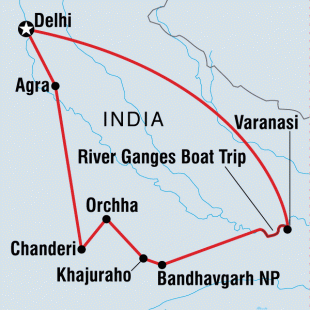 Delhi
I'll be spending my first two days in Delhi, the capital of India and a city where I will be well and truly thrown in at the Indian deep-end. I'm looking forward to the chaos, the shops and bazaars but I'm also excited to see some historical sites like the might Red Fort of Delhi, Humayun's Tomb, mosques and temples.
Varanasi
From what I've heard, Varanasi is a dirty city but you can't help but fall in love with it. This is a place filled with Hindu temples, pilgrims, shrines and devotees. I'll be taking a 'candle flower ceremony' on a sunset cruise down the River Ganges.
River Ganges Boat Trip
It's time to relax and leave the cities and take a riverboat down the Ganges. I'm really looking forward to some chill out time and we're going to be camping on the river bank and getting back to nature.
Bandhavgarh National Park
In comparison to other national parks, Bandhavgarh has an abundance of tigers and I'm keeping my fingers crossed in the hope that I'll spot one. I'll also be staying in a jungle resort, visiting a tribal village and taking lots of walks through the forest.
Khajuraho
Khajuraho is best known for the 1000 year old explicit Kama Sutra carvings in the temples. I'm going to do my best not to giggle like a teenage boy but I can't promise anything.
Orchha
This is a tranquil place that not many tourists venture to. I've heard that it's a perfect place to find a piece of 'original India' and to experience a slower pace of life. I'm sure this will be a lovely change from the mad hustle of London.
Agra
I'll finally have the chance to see the Taj Mahal! This is what initially attracted me to India and the reason I chose the north over the south so it will be the perfect end to my trip.
Any tips?
If you've been to any of the places I'm going, can you recommend any must-see things, places to eat or things to pack?
I'm also looking for some books to download to my Kindle because there will be a lot of time spent travelling. I've read Shantaram, any other suggestions?
If you want to see some gorgeous photos from India, take a look at Cookie Sound is Travelling. I've been ogling these photos for weeks!