Luban Bajo in Flores, Indonesia, is quickly becoming a popular tourist destination for backpackers looking to get away from the usual routes and see something a little different. It is also the launching point for most people to visit Komodo Island which is why we'd travelled out to this point in Indonesia.
But Komodo Island isn't the only reason to visit Luban Bajo. Another thing that attracts adventurous travellers is the chance to go diving with manta rays.
While we were in Luban Bajo we went scuba diving in search of the elusive Manta Rays that we'd heard were in abundance in this area. We opted to dive with Bajo Dive Club who were absolutely amazing. There are quite a few dive clubs in the area and we'd heard that these were the best from the other backpackers in the area. They were a little more expensive but I'm always happy to pay for quality scuba diving equipment and instructors.
We were really lucky to be the only people diving on our chosen day and had Scottie, a lovely American Dive Master, all to ourselves. I can be a nervous diver at times but he was incredibly calm and a great support. We got even luckier when we found out that the small boat they usually use was being repaired so we had a huge boat that they usually use for 10 people on 4 day safaris. The boat was a total luxury after the little fishing boat we were on to visit Komodo. It was really choppy too so it would have been a nightmare on a little boat.
There was a really strong current but Scottie was really nice and told us the best way to deal with it was with little fast kicks. The 6 crew on the boat seemed a little excessive for just the two of us but they were amazing and were great at helping us into our kit and in and out of the water.
We began at Manta Point and as soon as we went down we saw a rare Black Manta. We were told that it was very unlikely we'd see one but could spot them easily as they're totally black but have a white patch on their chest.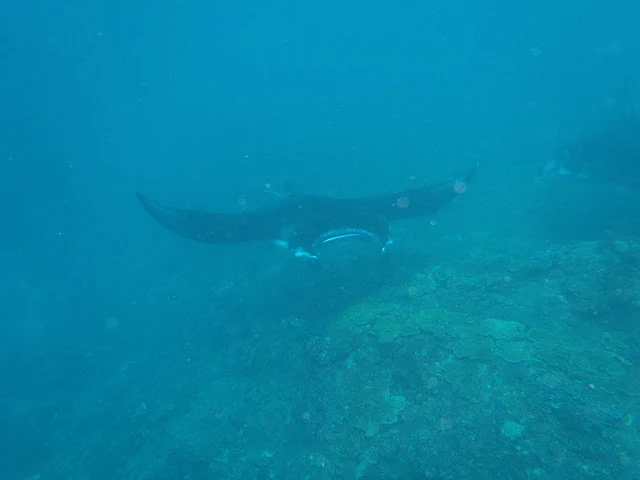 The current was so strong that if I stopped concentrating for even a second I found myself getting sucked away and out to the unknown. We found some sturdy looking rocks and had to hold on to them while the current did its best to drag us away. Within seconds of us lying down on the seabed at least 20 mantas floated their way slowly and gracefully to where we held on.
I lay there for a minute, mesmerised by a few that were floating just meters from where I was, when I noticed something flickering by my side and I saw a baby manta was staring right at me, less that 10 inches from my face. This was amazing but it also scared the hell out of me and I began to get swept backwards by the current.
Scottie said that Manta Rays have the largest brain out of all fish and they're really intelligent and inquisitive. Some of the older mantas ignored us and carried on with their business but some would come really close and get a good look at us. They are so peaceful and slow and serene that they made me feel really calm, despite being surrounded by 5m wide Manta Rays and kicking furiously to avoid getting washed away!
Our next dive sight had no Manta Rays but was much more beautiful with miles of colourful coral and loads of fish. The current wasn't quite so strong so we were able to just let it carry us along the wall of coral and when we got to the other end the current magically changed direction and carried us right back again.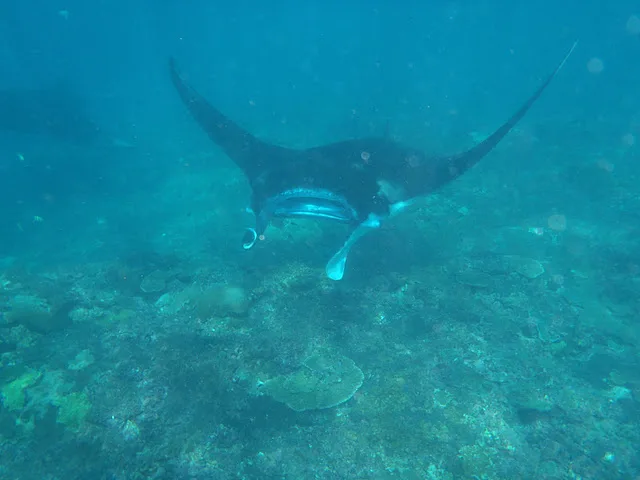 Almost as soon as we'd entered the water we saw a massive turtle which are my favourite things to spot while diving. He was totally unperturbed and not bothered that we were there so we could get really close. Obviously I didn't touch him but he was just centimetres from my fingers before he breezed over my head.
Getting back on the boat was a bit of a nightmare and I actually started to get really scared. We came up near some rocks and because of the current it took the boat ages to reach us. And due to the current we were being swiftly swept towards these jaggered rocks with massive waves crashing into them. It's really difficult to swim above the surface with dive gear on and I was literally swimming flat out and still getting gradually closer to the rocks. After about 10 minutes I'd swallowed about half a ton of water and was just starting to run out of energy when the boat finally got close. With my last little bit of energy I got close to the boat and the guys on it had to hurl me up the swinging ladder and onto the deck where I sat for 10 minutes shaking like a leaf.