The Gili Islands are off the northwest coast of Lombok and easily accessible from either Bali or Lombok. There are three islands; Gili Trewangan which is the biggest and known as the 'party island' as it is where most of the backpackers head to, Gili Meno is in the middle and is what people seem to refer to as 'the honeymoon island' as it is very quiet, relaxed and romantic, and finally, Gili Air is slightly bigger than Meno but still quiet in comparison to Trewangan.
We arrived on Gili Trewangen on Boxing Day after spending a really chilled and relaxing Christmas on Nusa Lembongan. We were staying for New Year's Eve and were seriously ready to party after such a chilled time over Christmas.
We left Nusa Lembongan via Scoot Cruise which was really expensive. I think we payed about 40,000Rp for the speed boat. We could have got the slower public boat but it took 3 times longer and cost nearly the same amount for tourists. It's annoying when you know you're being ripped off but there wasn't a lot we could do about it.
It was pouring with rain when we left Lembongan but, about half way there, the rain disappeared and the sun was shining brightly to welcome us to paradise. And it really is like paradise.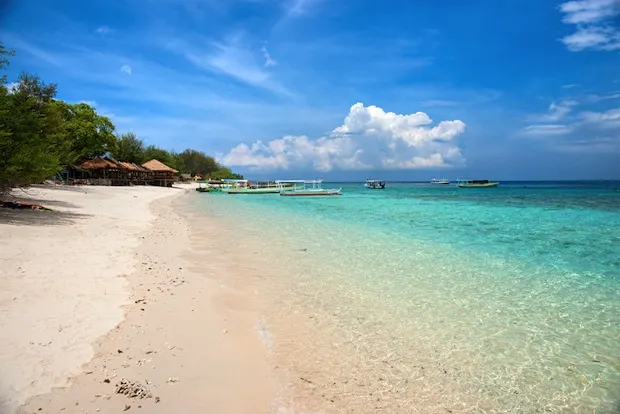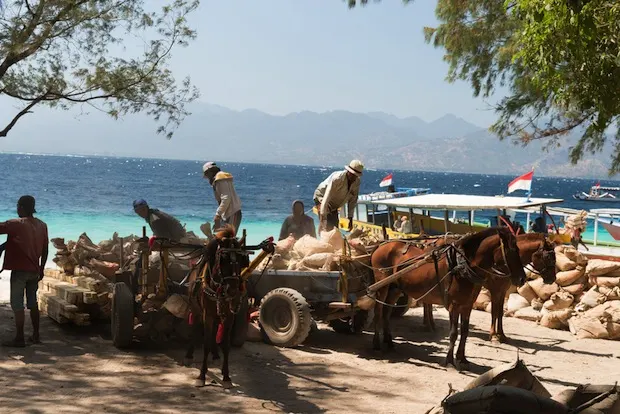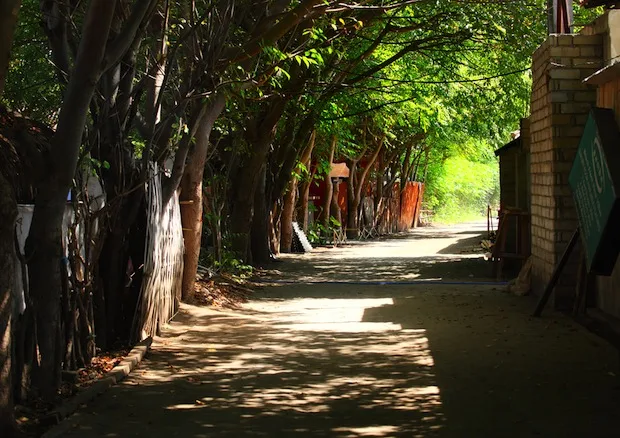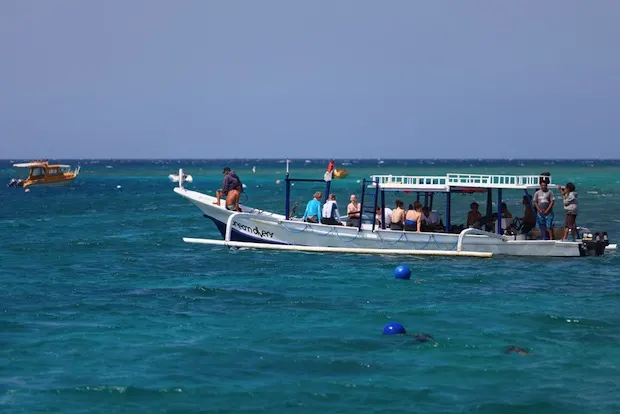 The sand is so white you have to keep your sunglasses on just to look at it and the sea is a beautiful, clear bluey turquoise colour that is so perfect it looks like it's been photoshopped. I loved the fact that this island wasn't crammed with 5* hotels or luxury villas, it still has a very 'backpacker' vibe to it.
There is one street that basically runs all the way around the island. In some places it is concrete, some places it is sand and sometimes its mud but it is mostly a mixture of all three with a few pot holes and puddles to mix things up a bit.
The road is lined with cute little bungalows and villas and bar after bar after restaurant after bar. And every single place looks cool and inviting and they're all so different too.
Some bars are totally made from bamboo, some are modern and fancy and some are simple with little cushions to sit on it the sand. And best of all…they all have cheap drinks which was a welcome relief from Nusa Lembongan where all we could drink was beer. All the bar men are really fun and friendly and most of the bars are really lively.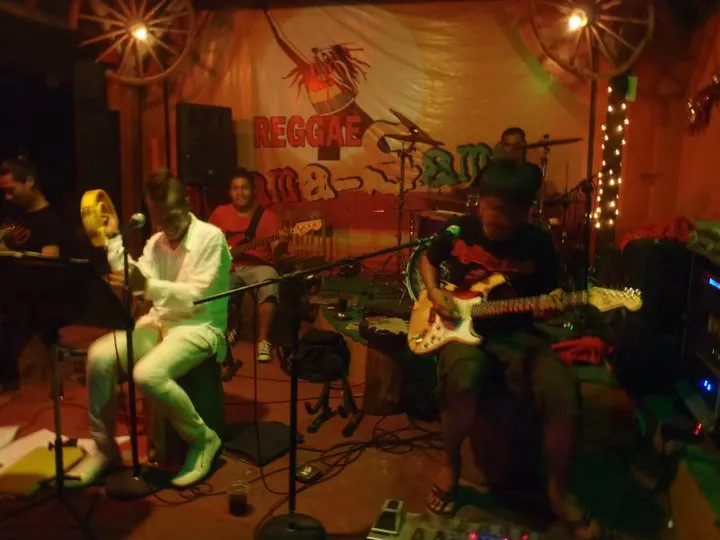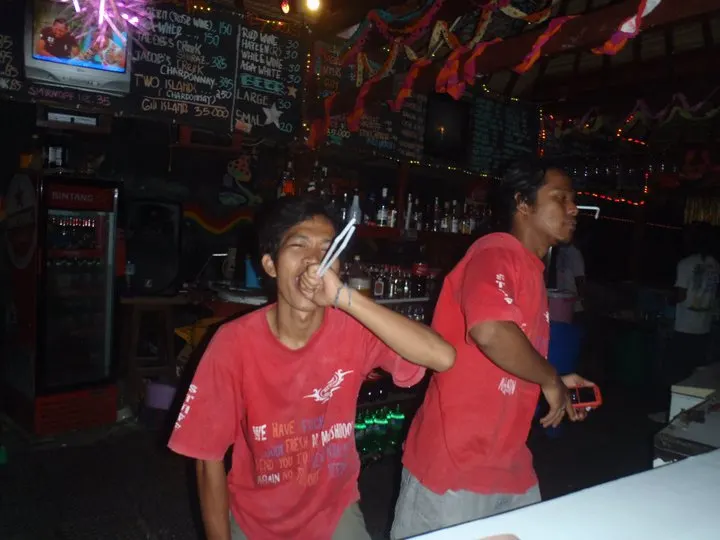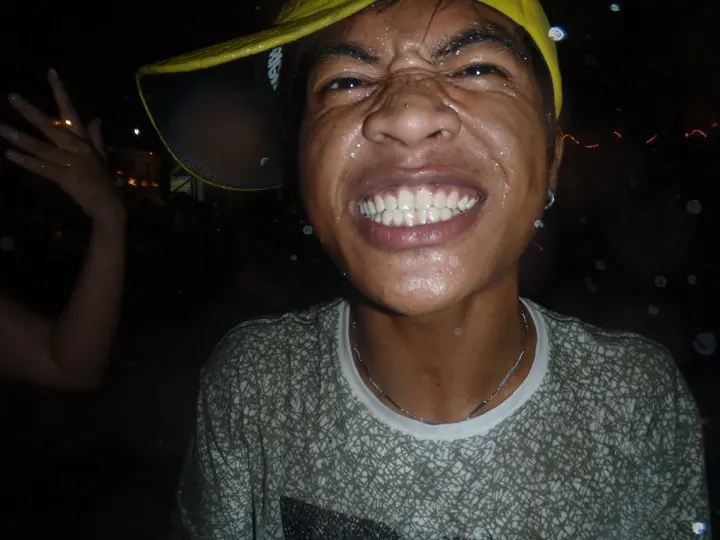 It's all a bit higgledy piggledy on the island and in some places a bit dirty and although it feels a bit wonky, I really loved it. Apparently, this is what Bali was like 25 years ago. There are no cars or scooters on the island, which is a relief because you almost sit in the street in a lot of the bars, but there are ponies to get around on which I liked and thought it was quite quaint.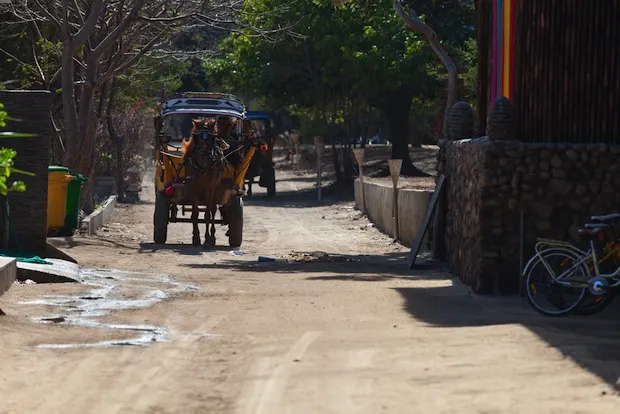 We ended up staying in the hotel behind the Indian restaurant. It was OK but not great. We got a room between the 4 of us so it was a bit of a squish but worked out cheap (50,000Rp each per night); particularly because it was NYE and the prices seem to double for this busy period. The bathroom was huge though and we had a nice little outside area with cushions to sit on and there was a nice pool out front.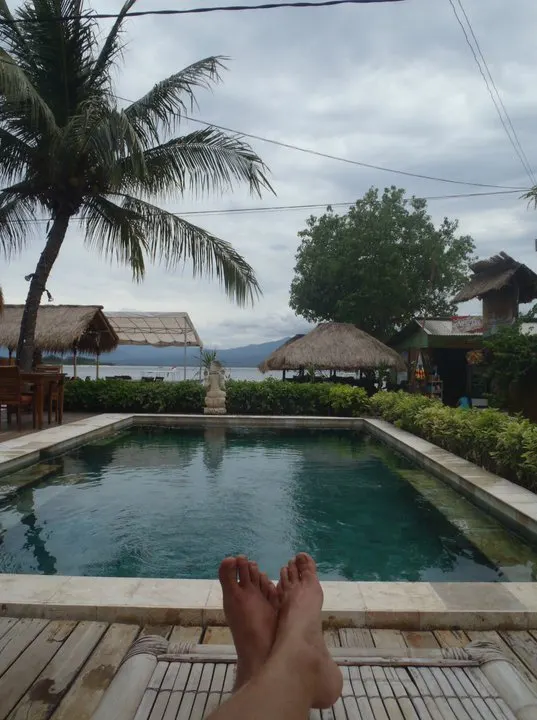 Snorkelling from the Gili Islands
Snorkelling is definitely the main activity to do on the Gili's and even snorkelling off the beach was pretty good so we booked a day tour which took us to 3 different sights and a 2 hour stop on Gili Air. The first snorkel stop was just off Gili Trewangan where we saw a turtle straight away, then one near Gili Meno called 'Turtle Point' but we saw nothing and then one near Gili Air that was cool but there was a very strong current that worried most people. I had fins on so was fine but I did feel sorry for the people who were struggling without them. The trip was OK but the snorkelling wasn't the best and the boat was well over crowded.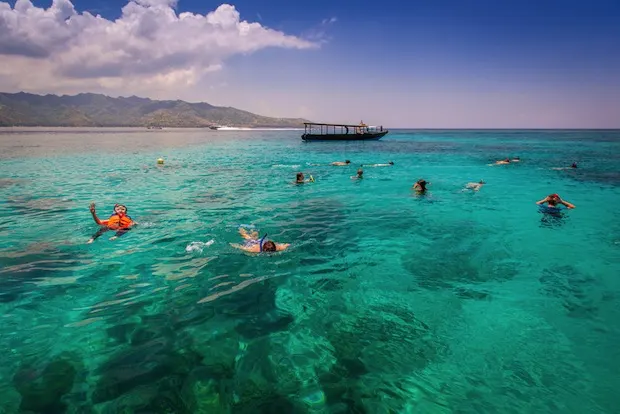 There is an amazing turtle sanctuary on Gili T where they breed turtles and release them into the wild. It was the wrong time of year for us but you can pay to take one down to the beach and release it. There are three pools full of turtles at different ages and a fenced off area where the eggs and kept warm and snug under the sand.
These pictures of the turtles in the buckets look awful but they were only like that for half an hour while the keepers cleaned their pools. The pools got pretty stinky.
We also went for lots of little walks on Gili Trewangan. I especially liked walking through all the back streets where the locals live. Huge families live together in such small spaces, sometimes just one room, and the small houses are precariously nailed together with pieces of timber that patch up the large spaces where the breeze block doesn't quite meet. Tarpaulin often covered the houses to keep it cool and also to keep the rain out and the land around the houses was full of chickens and goats that happily clucked and rummaged around.
I thought it would be sad to see how these extremely poor people live but it wasn't at all. The little mud paths were always crowded with people, from babies to the elderly, as they chatted or relaxed and played games with the children. I like the way that a game of football didn't just include a few of the boys, the whole family was involved and it was nice to see a game of marbles between about 20 people including a baby who just kept kicking them, a few little kids who had older kids helping them and parents, grandparents and dogs and chickens were also involved in the game.
Everyone was so happy and eager for us to join in the game, unfortunately we had to decline because we had absolutely no idea what was going on but we stood and watched the noisy crowd. It was so nice to see a whole family playing together; it made me think how often you'd see that kind of scene in the UK? Maybe at Christmas but I don't ever remember playing games that involved my whole family from parents to aunties, uncles, cousins and grandparents. It would be an absolute nightmare!
On one of our walks through the middle of the island we stumbled across 'Aldi'.
We carried on walking, past all the local houses, and followed a sign for Sunset Point. I don't really know why we followed this because it was midday and there was no chance we'd be staying for the sunset but we quite happily heaved our unfit bodies up a giant concrete staircase in the side of a hill, quite simply, just to see where it led.
It led to more steps. Then more and some more. And more. And they were teeny weeny little steps made for teeny weeny little people, like borrower people, so it was exhausting. It was also hot and sweaty but we were convinced that anything that required so much effort would have to have something worthwhile at the top.
There was a beautiful view, however, that looked over the lush, green hills, down to the white sandy beach and all the way across to Gili Meno and Gili Air, so the long walk was worth it after all.

NYE on the island was definitely one I'll never forget. It started out very civilized but all went down hill in Roodys where the quadruple rums began and the heavens opened. This wasn't the kind of drizzly rain we get in the UK, it was the 'soak you right through to your bones' type of rain. Within seconds, despite huddling under a bamboo hut, we were drenched but with the warmth of rum inside us we decided to embrace the rain and spent the next 5 hours doing a strange kind of rain dance as the flood water gradually got higher and higher. As the sun began to rise, and we thought we'd welcomed the new year with enough energy to last the whole year, the flood water was past our knees and in an exhausted state and soggy state we fell into bed.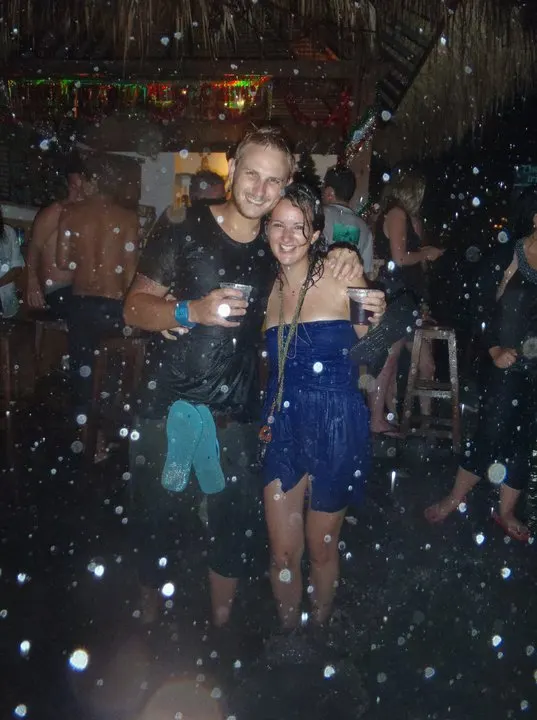 I spent the first 2 days of 2011 in bed in absolute agony. There were a few moments back there were I seriously thought I was going to die! They don't call me a drama queen for nothing! Looking back, I probably drank as much rain water as I did rum and spent 12 hours soaking wet so it isn't surprising really.
We had a great time on Gili Trewangan. We stayed for a whole week which was a bit too long really for such a small island but we had to arrive early to secure accommodation for NYE. The only bad thing about Gili T was that me, Sam and Sally were sick the whole time we were there. Literally, the whole time! I don't want to put all the blame on the island but the 3 of us became ill the day after we arrived and recovered the day after we left. Apart from in the few fancy resorts, there isn't fresh water on the island so we were showering in salty water, all the food must have been cooked and cleaned in it and even the cutlery and glasses tasted slightly salty.