Today's guide is from Ella and is an Insider's Guide to Tel Aviv. I've got to be honest and admit that before reading Ella's guide I knew virtually nothing about Tel Aviv. It was never a place I'd even considered visiting but Ella has completely changed my mind. It looks and sounds like a beautiful and interesting place to visit with gorgeous beaches, great food and loads to do.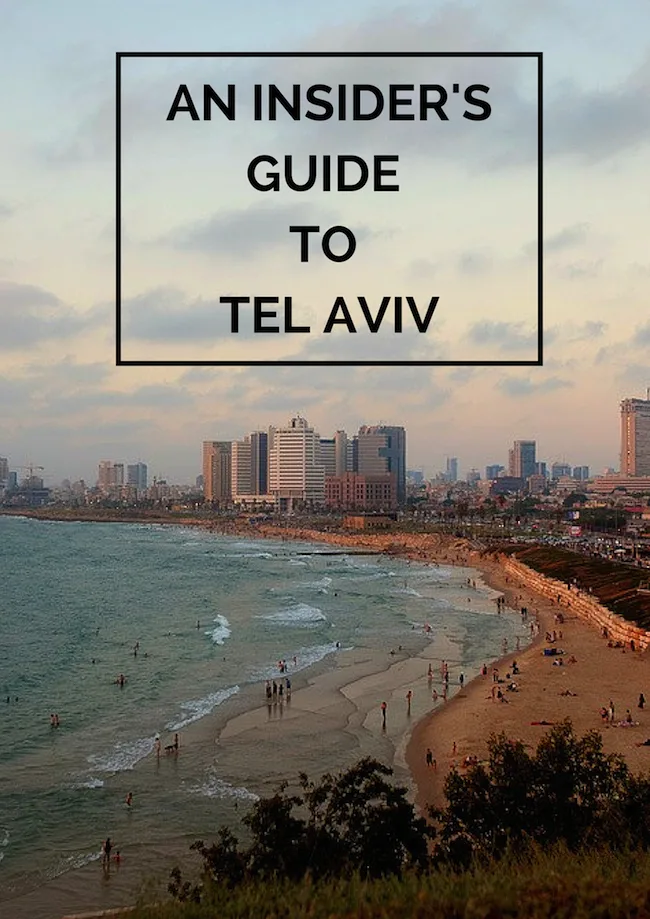 Photo credit: IMG_9364
1. Can you begin by telling us how/why you're a Tel Aviv expert?
I've lived just outside of Tel Aviv for 7 years and it's a city I venture into often. I love the city and have gotten to know it very well, so I think that's why I'm a Tel Aviv 'expert'.
2. How would you describe Tel Aviv in 5 words?
Exciting
Diverse
Bustling
Laid-back
Enigmatic
3. Is it safe for tourists to visit Tel Aviv?
Absolutely! It's not any more dangerous than other well-developed cities in the world. The media has a tendency to sensationalize events and blow them way out of proportion when it concerns The Middle East (and I personally think in general too). Tel Aviv is a very safe city and is also very welcoming to tourists.
4. Give us one reason why you think everyone should visit Tel Aviv?
If you visit Jerusalem to experience the impressive cultural and religious history, then you visit Tel Aviv to experience the heartbeat of present Israel. Tel Aviv is the kind of city that reminds you of loads of your favourite cities, while also holding something unique as well. It's part Berlin hipster, part NYC bustling, part LA sunny and laid-back, but it's also enticing in its own right. It's a first-world western city, that still has traces of Middle Eastern culture and history popping out. All of that, plus it also has some great beaches as it's right by the Mediterranean Sea.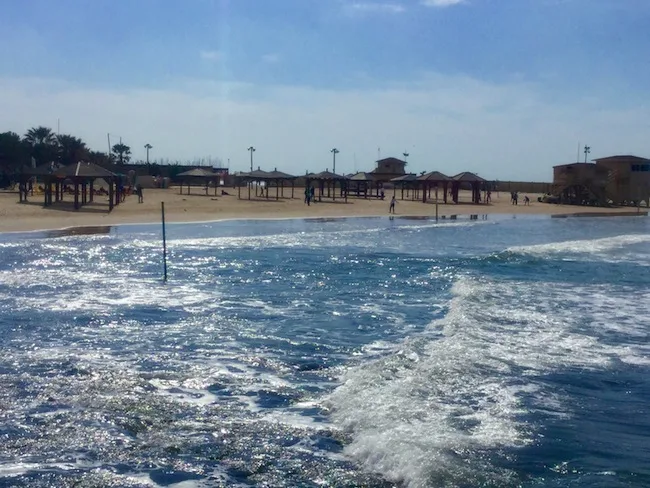 5. Can you tell us some of your favourite restaurants/ places to eat in Tel Aviv?
Max Brenner – a restaurant devoted to chocolate! You may be familiar with this restaurant as it also has numerous international locations, but it got its start in Israel and can be found in many spots throughout Tel Aviv. You can find innovative chocolate dishes (like the chocolate pizza!), as well tasty non-chocolate food. Every time I go, I order the white chocolate and strawberry smoothie. It's simply heaven in a glass.
Tzomet Sfarim (TLV port location)– "Tzomet Sfarim" means "Books Junction" and is, unsurprisingly, a chain of bookstores. But the one at Tel Aviv Port has a great cafe/restaurant on the upper mezzanine with a variety of delicious (and healthier!) meals on offer. What's great about it, is that you can take a book or a magazine from the shop and read it upstairs while you drink your tea or eat your salad! And you don't need to worry about not being able to read Hebrew, they boast a modest selection of books in English and also in Russian, so I'm sure you'll be able to find something that takes your fancy. I recently tried their Hot Nougat & Peanut drink and it was very satisfying. I also highly recommend their Shakshuka (they have at least 3 variations), an originally Tunisian but Israeli-adopted dish consisting of eggs cooked on a tomato sauce.
HaSinit HaAduma– "HaSinit HaAduma" means "The Red Chinese" and this restaurant is an Italian pizzeria. …Excuse my humor, it obviously serves Chinese cuisine and this is definitely one of my favourite eats. The restaurant is small, family-owned and very well decorated with lanterns and fabrics everywhere. It's a very cosy eating experience and I could recommend many dishes. I particularly like their sweetcorn soup and cashew chicken.
Surprisingly, I don't have any typical Israeli cuisine recommendations such as hummus and falafel, because I eat these things at home and I don't have any need to eat them outside. Oops… sorry about that. But there are loads of well-reviewed restaurants according to TripAdvisor (my go-to travel app) and I can attest that Israeli falafel and hummus really is amazing, so hopefully I can at least leave you with that knowledge.
6. What's an unusual thing most tourists wouldn't know about Tel Aviv?
I wouldn't say this is "unusual", but I reckon that most people aren't aware of how progressive the city actually is. For instance, Tel Aviv is very LGBT friendly with a very prominent scene and vibrant community. The city hosts a massive Gay Pride every year (it's June 12th this year!), with a variety of events throughout the week, and it even hosts the Tel Aviv LGBT International Film Festival during each June at the Tel Aviv Cinematheque. This is just one example but I'd say it's things like that, that most people don't know.
7. Can you tell us about some of your favourite things to do in Tel Aviv?
Namal Tel Aviv (Tel Aviv Port) – As someone who loves the sea but not the sand (I know, I'm one of those), I love hanging out at TLV port. It's a great place for a jog or a cycle in the morning, as well as a stroll with your significant other at sunset. As well as the variety of great restaurants, of which their are many, there's also plenty of shops, nightlife and occasional festivals that take place there. It's definitely a cool place to hang out with the potential for seeing an mesmerising sunrise\sunset.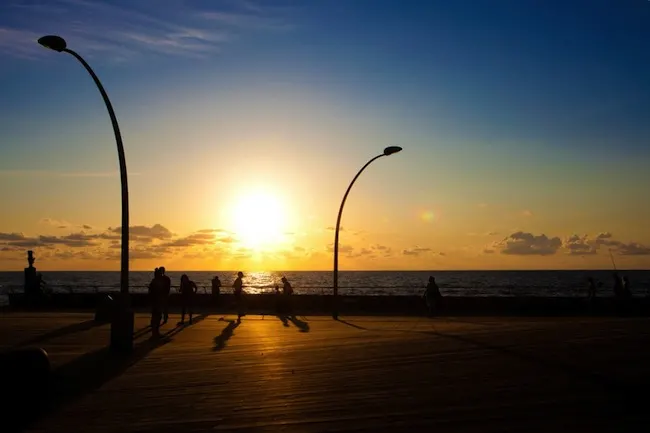 Photo credit: Tel Aviv_ Port_3_Dana Friedlander_IMOT
Friday Food Market at Dizingoff Centre

– There are so many good markets in Tel Aviv, but this is a great one that's more unknown. Dizingoff Centre in general is very cool with many types of people making a visit. They have a great assortment of cafes and shops that include some big brands, as well as many independent and alternative services. Like an entire shop dedicated to puzzle games and another that I can only describe as a mystical cave in Ireland that sells whimsical, fairy paraphernalia. But if you go on Friday up till around 3 or 4, you'll catch a very inviting and bustling food market. There's a whole range of edible goods on offer from home cooked hearty meals to baked, sweet treats but no matter what type of nosh you're in to, they're all of good quality. I recently tried sweet potato and beetroot leaf latkes at one of the stalls and I've not stopped thinking about them since.
Sarona Complex – Close to the Cinematheque, this is a new compound that consists of brands, boutiques, restaurants and cafes. The complex is saturated with palm trees and other greenery and there are even a couple of interactive art pieces scattered around the vicinity. It's definitely a cool and chic place to hang out. It's also a great area to be if you have kids as they'll have fun at the designated play zones in the space.
8. What's the one thing people need to pack when visiting Tel Aviv?
Regardless of whether you pack or buy in-country, one thing I really recommend you use while in Tel Aviv, is sun cream. It sounds obvious or maybe unimportant, but the sun really is strong and you can easily get burnt. I once became tomato-red on a cloudy day in March! Your skin might not be as… ahem, delicate as mine, but it's better to be safe than sorry.
The other thing is if you're going during the summer months, then bring light clothing as Tel Aviv gets really hot and humid. But honestly, if you forget to pack something or you lose an item, it can definitely be bought in the city so there's no need to stress about it.
9. When do you think is the best time to visit Tel Aviv and why?
I think the best time of the year to visit is between March-June and September-December. During these months, the climate isn't off-the-charts hot and there are plenty of things to see and do. During the summer there is loads of action and activity but it's also extremely hot, and during the winter Tel Aviv kind of goes into hibernation as it's too 'cold' for most Israelis. It really depends on your preferences though, and Tel Aviv generally has loads of festivals and events year round.
My personal recommendation is to visit during the 8 days that consist of the Holocaust Memorial Day, Day of Remembrance for Fallen Soldiers and Independence Day, which is usually around April\May (it's 15th-23rd of April this year). I think it's a great way to understand the people a bit better, and it's definitely a humbling experience to see everyone stop what they're doing to remember the fallen. Straight after Day of Remembrance for Fallen Soldiers is Independence Day which is the biggest nationwide party. Every city hosts some of the biggest names in music to perform their hits at open, free concerts, and everyone is out on the streets till the early hours of the morning dancing and celebrating. It's so much fun!
10. What are your favorite things to do just outside of Tel Aviv?
Tel Aviv has a conjoined city Jaffa that should get more love in my opinion. Jaffa holds sites for Judaism, Islam and Christianity and it's here where the ancient Middle Eastern history and culture can really be seen. It honestly feels like stepping into another world. The enduring architecture is gorgeous, and there are so many nooks and crannies that are really fun to explore as a wanderer.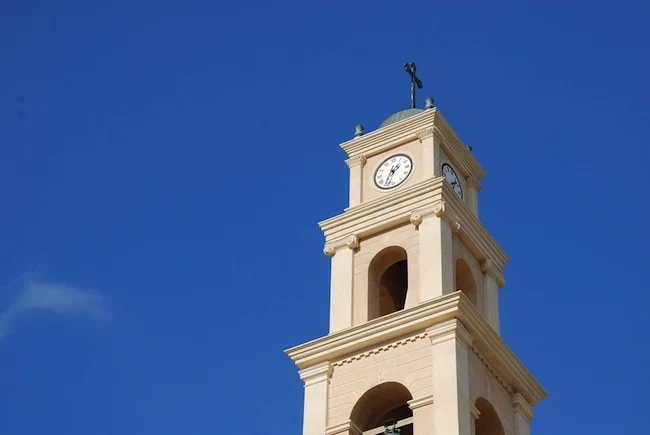 Photo credit: Jaffa
Another favourite is Bialik Street in the heart of neighboring city, Ramat-Gan. It's full of shops, cafes, restaurants and green space, which also makes it fun for a day of chill cruising. I love buying myself some frozen yoghurt topped off with fruits and nuts, just sit in the square and do some people watching while I enjoy it. "Dan" bus lines 61, 52, 70, 161, 66, 45 and 51 can get you from different places in Tel Aviv to Bialik Street, Ramat-Gan.
---
Ella grew up bi-cultural and took her first solo trip to Kenya as a volunteer in November 2014. Now she dreams of continuing to travel (and live!) in many destinations, while sharing her experiences and musings on her baby travel blog. She hopes to inspire others to think differently about the world and not miss the vast beauty of it.
Take a look at her blog, Wide-eyed Wanderer to follow her travels.