Michele Frolla is sharing unique tours to take in Rome to help you get the most out of your trip. I love taking tours on city breaks because they help you see so much more in a short space of time. You learn so much more about the people, the history, culture and sights than you ever would alone and you often get to skip the queues so you save precious time! Here are 5 unique tours to take in Rome for an unforgettable trip.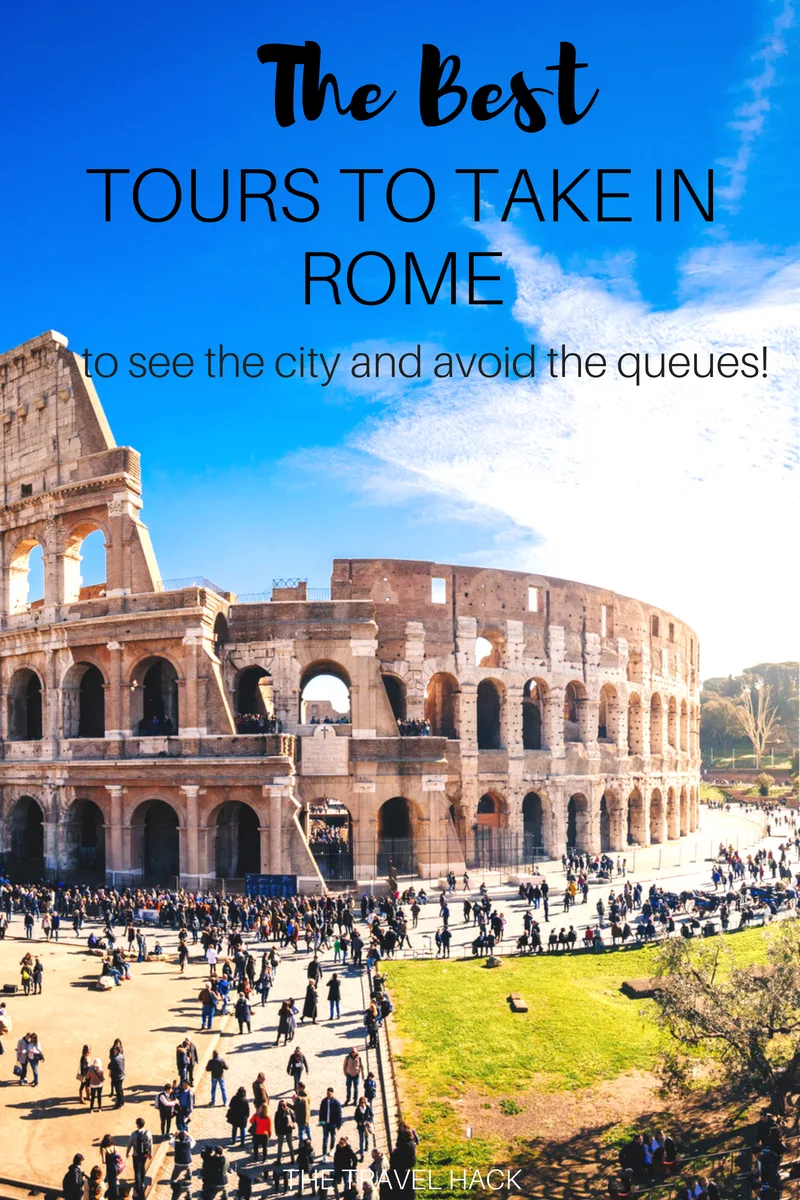 They say Rome wasn't built in a day, and it would certainly take a lifetime to see all of its treasures. Since you may only have a few days to enjoy the Eternal City, I've handpicked five of the best tours to take in Rome that will give you a chance to recreate Ancient Rome through the eyes of local guides. The best part? These tours are small and skip those horrid long queues.
If you're looking for more tours, take a look at Get Your Guide for some inspo as they're my favourite online booking platform for city tours.
Colosseum Underground Tour with Arena Floor, Upper level, Roman Forum and Palatine Hill with Dark Rome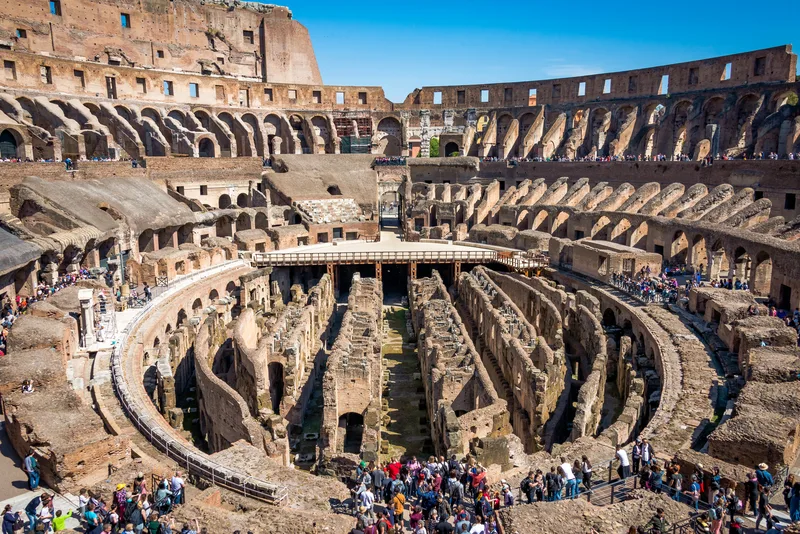 If you only take one tour in Rome, make it this one. It's the Colosseum Underground Experience with Dark Rome.
Why? Here are four reasons.
First, there is so much history, symbolism and fascinating anecdotes that you simply won't get from a guide book or audio guide. The Colosseum and Roman Forum are two very important archaeological sites that need explaining. By taking a tour you'll form a better understanding of Ancient Rome and what it was like.
Second, because you're on a tour, you'll be able to skip the queue.
Third, this Rome tour gives you exclusive access to the Colosseum's arena floor. You'll see where the gladiators prepared for the battles, where wild animals were kept and see how they used to flood the Colosseum for naval battles. None of this is accessible with normal entrance tickets. As a bonus, only one tour group is permitted per time slot.
Fourth, the tour continues above the crowds as you're taken to the upper level tier of the Colosseum. This is the highest tier. Again, you get exclusive access and incredible views over the Forum and Arch of Constantine.
Book here with Get Your Guide.
Hadrian's Villa & Villa d'Este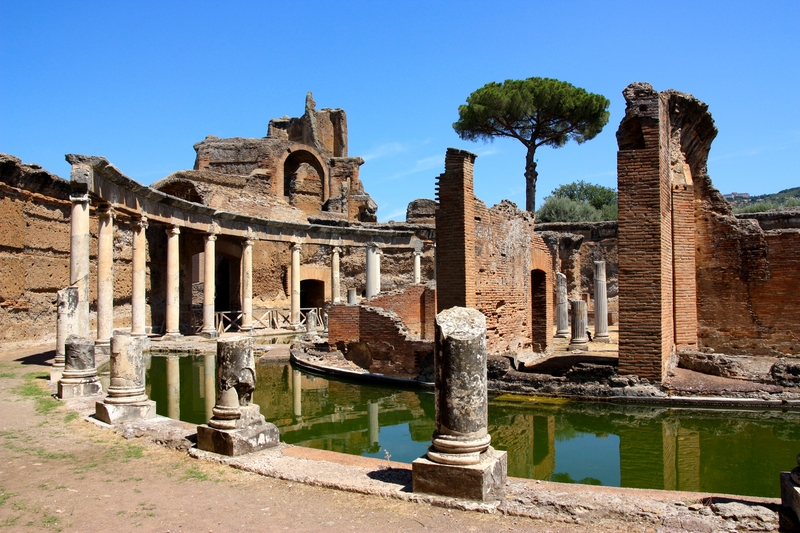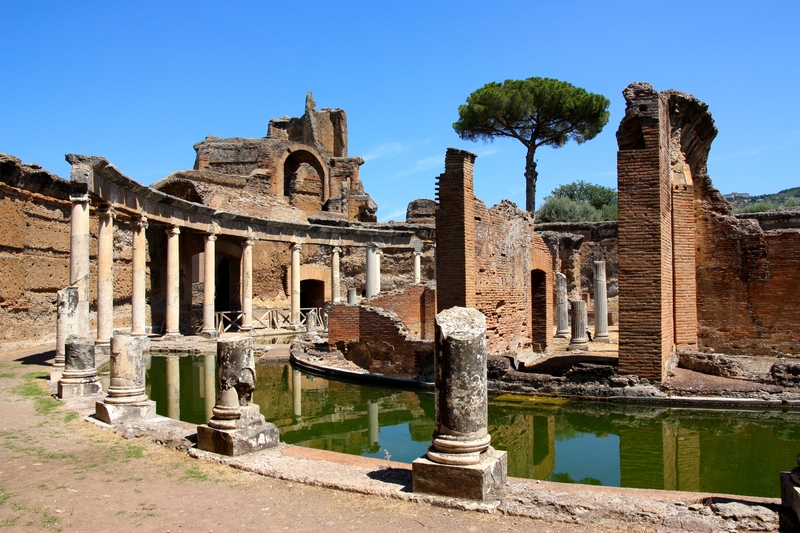 Get out of the city and see where Emperor Hadrian used to escape from everyday life.
Located just outside Rome, Hadrian's Villa is a massive complex containing over 30 buildings. Thanks to the surrounding areas abundant access to water and aqueducts that passed through Rome, this grand villa features numerous pools, baths, and fountains. Designed in classical Greek architecture, the villa would've been surrounded with a mixture of landscaped gardens, wilderness areas and cultivated farmlands.
My personal highlight of the villa is visiting the "Maritime Theatre", a small island measuring 40 metres (130 ft) in diameter surrounded by a moat and a ring of ionic columns. This was Hadrian's private island oasis containing a library, heated baths, three suites with heated floors, washbasin, an art gallery, and a large fountain.
The best way to reach Hadrian's Villa is to take a day-trip from Rome on an organised tour. Most tours will also include a visit to Villa d'Este, a UNESCO world heritage site and another must-see.
Villa d'Este was commissioned by Cardinal Ippolito II d'Este, who after failing five times to be elected Pope, dedicated his time to creating this stunning 16th-century villa and landscaped gardens. Built on top of a hill with panoramic views, the villa is famous for its complex system of pools, water jets, channels, fountains, cascades and water games.
Baths of Caracalla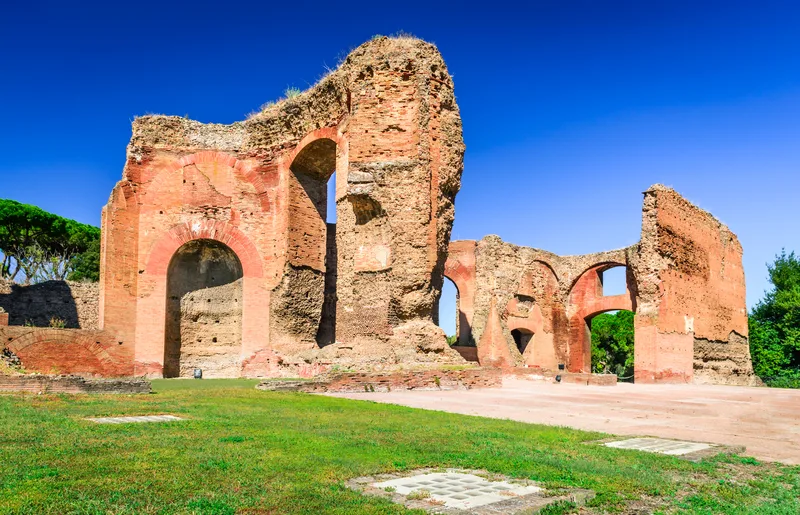 Public baths were very important in Ancient Rome, it was in these lavish baths on natural hot springs that business deals were sealed.
For a peek inside Roman life, take a tour to the impressive third-century complex that could cater to up to 1,600 bathers! Emperor Caracalla commissioned the Baths of Caracalla which were the second largest public baths in Ancient Rome.
Take a guided tour through what spanned some 28 acres (11 hectares) with walls soaring several stories high. Hear tales of how lavishly decorated the baths were with glass-paste mosaics, frescoes, and hundreds of sculptures.
With dedicated pools of different temperatures, the Baths of Caracalla also had an Olympic-sized swimming pool, two different gymnasiums for weightlifting, boxing, and wrestling, and even a library with texts in both Latin and Greek.
As you're lead through the buildings you'll get a real sense of the grandeur and sheer scale of imperial Roman, something you won't get at the ruins on Palatine Hill.
Domus Aurea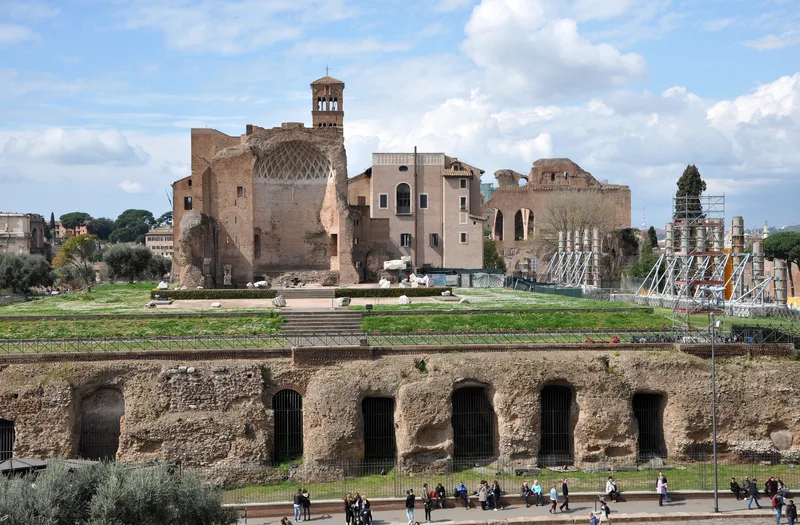 Hidden in plain sight opposite the Colosseum is Domus Aurea, the Versailles of ancient Rome.
Domus Aurea (Latin "Golden House") was an opulent residence built by Emperor Nero in 64AD. It was immense, decadent, and innovative, and pushed the boundaries of architecture. For centuries it was lost. Then by accident, it was rediscovered during the Renaissance.
Domus Aurea's extravagant decor and ornate frescoes inspired artists such as Raphael, Michelangelo, and Casanova all of which gave birth to a new art style, Grotesque.
Domus Aurea's famous feature is its bright octagonal court that opens up to the heavens via a giant oculus in its large dome. Nothing before it had ever been built. It later became the model for Rome's magnificent Pantheon.
Sadly, Nero's Golden House was buried as it was built over thirty-five years after its completion in 68AD. Emperor Trajan commissioned the construction of thermal baths above Domus Aurea, forcing the palace underground.
Due to its fragility and continual restoration works, Domus Aurea is only open on weekends and for guided tours. Prebooking at www.coopculture.it is essential.
Early Entrance to Vatican Museums and Sistine chapel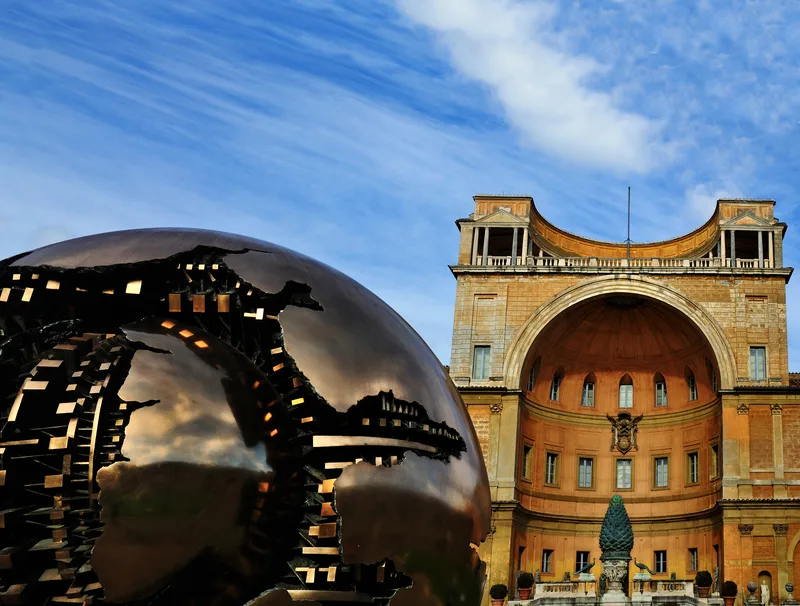 For the most impressive and immense collection of Renaissance art, the Vatican Museums is a must-see along with Michelangelo's Sistine Chapel.
Over the centuries, the Pope's commissioned and collected what today are considered some of the most important masterpieces of Renaissance art in the world. There are a total of 20,000 pieces on display which attract over 6 million visitors every year making it the 6th most visited art museum in the world.
While the museum is big, visiting each of the rooms is like a minefield. The rooms are narrow and there are people everywhere making it somewhat claustrophobic and noisy. This is hardly the ideal environment to really experience the beauty of the museum's masterpieces. Don't even get me started on the Sistine Chapel. It's chaos!
My advice? For an authentic experience get yourself early entrance tickets. For a small investment, you'll be able to enter the Museums at 7.15 am, well before the official opening time at 9am. This will give you plenty of time wander around without the hoards.
While this doesn't actually include a guided tour of the Vatican Museums, I recommend it simply because it gets so crazy busy inside. To learn about any of the pieces on display, simply hire an audio guide inside.
Pro tip: For the best experience, make a beeline for the The Sistine Chapel as soon as you arrive inside.
---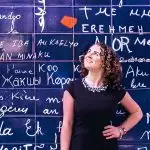 Michele from The Intrepid Guide is a travel and language blogger and author. Originally from Australia, Michele moved to Rome in pursuit of perfecting her Italian. Currently based in London, she lives by the motto "The more we travel, the more we learn." With her blog, Michele shares her passion for bringing language and travel together through with her destinations guides, language learning tools, travel phrase cheat sheets, and more! Follow her on social media as she shares fascinating and little-known linguistic and cultural facts.
---