Today's post is from Jess Signut and is all about the gorgeous island of Jamaica…
1. Can you tell us how you came to know Jamaica so well?
Jamaica has been one of my favourite places since I was little. When I was younger, my uncle was married in Jamaica so my parents and I took the trip down there. It was my first plane ride and I was so excited.
After that first time, I just couldn't stop coming back. I've come back for getaways with my family, a 2 week vacation with girlfriends, and countless times with my significant other. The mixture of beautiful beaches, and vibrant Jamaican culture makes it my number one beach vacation destination.
2. How would you describe Jamaica in 5 words?
Awesome
Exciting
Picturesque
Cultural
Vibrant
3. Give us one reason why you think everyone should visit Jamaica.
You should visit Jamaica because the beaches alone will take your breath away.
Jamaica is know as the island of All Right, everyone should take a trip here at least once in their life because there's something for everyone in the beautiful tropical climate. There are water sports and hiking for the fitness enthusiast, and there are beaches and charming places to stroll and shop for the more relaxed. There's unique music, food, and dance. You can easily have a romantic getaway, or a sporting adventure, and even a family holiday.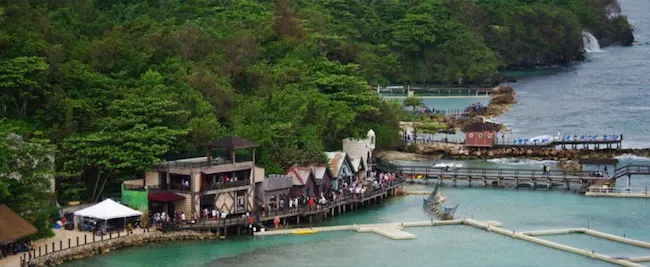 4. What would be your top tip you'd give to someone visiting Jamaica for the first time?
The Jamaican people are a very passionate people. Their language and customs reflect that. Conversations are very animated with much gesturing, and the lingo is dramatic and has a rhythm. The culture is rich, vibrant, humorous and down-to-earth. If you'd like to find out more about the local culture, you can try the Meet the People program by the Jamaica Tourist Board. It's a free program that pairs you with a local volunteer with shared interests or hobbies. Your volunteer will show you their warm hospitality and the Jamaican way of life. It's the perfect way to get the most from your visit.
5. Can you tell us 3-5 of your favorite places to eat in Jamaica?
Jamaican cuisine is known for its exotic flavors made with fresh, tropical ingredients and rustic island spices. No matter what part of Jamaica you go to, there will always be delicious cuisine.
Zimbali's Mountain Cooking studio is my favorite. Located in Little London, the prices aren't too bad and it's right on the beach. The staff are fun, entertaining and they cook your food right in front of you! The best part is that they don't just buy their ingredients from somewhere else. They actually grow them there and then prepare them for you. You can't get more farm-to-table fare than that.
Just Natural is another great restaurant located in Negril. If you're a vegetarian, this is your place to go! Preparing the freshest foods and genuine Jamaican cuisines, you'll think of coming back to Jamaica before you even hop on the plane home. Sitting outside in a tiki hut-type structure, the food, service and ambience of the restaurant come together and make a trifecta for the perfect dinner.
Last but not least, the eclectic Bamboo Blu. They serve late night food as well as breakfast. They also deliver and have free Wi-Fi. Located in Ochos Rios, they are famous for their Big Bamboo drink and it was the very first drink I had when I came to Jamaica as an adult. Reggae and ska music fill the air and hit your eardrums peacefully as you enjoy your delicious Jamaican cuisine.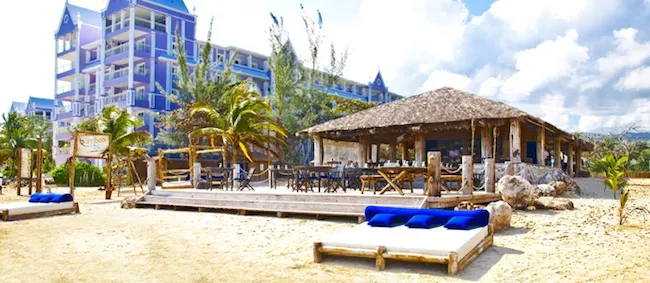 6. What are the touristy things you absolutely HAVE to do while you're in Jamaica?
Horse riding on the beach is something everyone should try at least once. The Braco Stables horseback Ride n' Swim in Rio Bueno is a good place to start. Here, you can ride a horse on the beach then take a dip. It brings a whole new meaning to seahorse.
And you absolutely have to go to The Bob Marley Museum. A staple in Jamaica's culture, the man himself has a history venue dedicated to him in Kingston, Jamaica. Everyone knows who he was, regardless if you liked him or not. The cool thing about this museum is that it's actually Bob Marley's former residence!
7. What's an unusual thing most tourists wouldn't know about?
My favourite fun fact about Jamaica is that James Bond was written here. The writer, Ian Fleming designed his dream home in Jamaica and called it Goldeneye. He then wrote ten of the James Bond action-thriller movies there. The estate now operates a small hotel there on its own exclusive beach.
8. What should be at the top of your packing list for Jamaica?
You should always make sure to bring emergency money and copies of your identification. Sunscreen – the tropical climate is like this almost year round, so sunscreen is absolutely essential whether you tan or burn. Bathing suit – there's no way you won't be getting wet when visiting Jamaica. There are so many water activities, you won't want to resist! Comfortable sandals for strolling. My laptop, so I can keep in touch with family and watch a movie, back at my hotel.
Note from Monica: My top packing tip would be to include something to wear on your feet while swimming in the sea. When I visited Jamaica we found there were a lot of sea urchins and one of my friend's stood on one. It was so painful for her and she could barely walk for a few days. The sea in Jamaica is beautiful so you don't want to miss out on swimming! You don't need proper booties, old pumps will be ideal.
9. Can you share your favourite photo from Jamaica and tell us a little about it?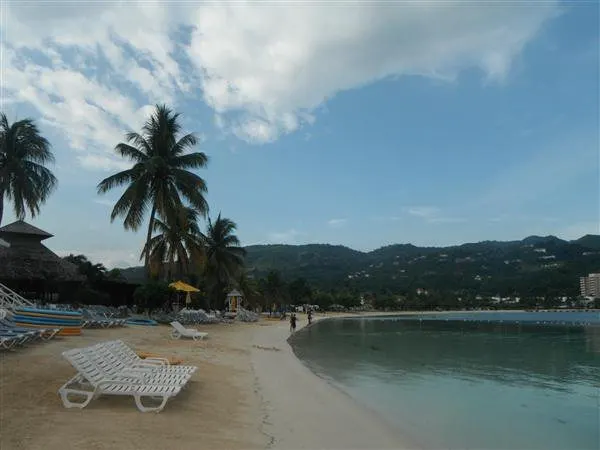 We tried to put our technological devices down while we were in Jamaica, so there aren't many photos, but I just had to snap this photo of the beach we stayed near. It perfectly depicted the beauty of Jamaica from my standpoint with the hills in the background, the beautiful and calming waters with the blue skies. This was one of the cloudier days as well, but it made for a beautiful photo!
10. Can you recommend a cool place to stay in Jamaica?
If you want to book super luxurious accommodations, then look to Jamaica Luxury Villas by Bluefields Bay. They offer cottages, large and small, on the beach. You'll have cozy privacy and superb amenities with the most attentive staff. If you've ever wanted to stay in a home that made you feel like a celebrity, this would be the way to go.
If you're looking for something more affordable, then you should definitely try staying at the Seastar Inn, located in Negril. The stunning landscaping and architecture will make you feel like a celebrity but without the cottage price. Who doesn't want to stay in a 5-star hotel at a great price? You'll be bragging to all of your friends afterwards. The impeccable staff are attentive and the hotel is gorgeous.
---
Big thanks to Jess from Tripelio for her guide to Jamaica!