What's that? There's a stroller that converts into a car seat? WHAAT!? Yes, if you're looking for a stroller into car seat contraption then I've got just the thing for you. Let me introduce you to the Doona and keep reading for my Doona car seat stroller review.
I've been putting off writing my review of the Doona car seat stroller because I've been trying to think of a more sophisticated way of saying, "Oh em gee, this is freaking amazing. Every parent should have one!"
But I can't.
So I'm just going to say it.
The Doona car seat stroller is an amazing invention and an absolute life saver for new parents.
If you don't have any kids you probably can't get quite as excited over a car seat or a pushchair as I am. But just you wait. Once you hear the pitter patter of tiny feet a weird part of your brain starts getting excited over this stuff. Bookmark this page for that day and thank me later.
Let's start at the beginning…
What is the Doona car seat stroller?
'It's the world's first infant car seat with an integrated mobility system'. Aka, wheels. Yes, it's a car seat with wheels.
It's such a simple idea, but we all know it's the simple ideas that are the best. It's so simple that I've come across a lot of mums who have seen George in his Doona and said, 'That's amazing. Why didn't I think of that!?' I've even come across one very angry mum who said, 'I thought of that years ago when we had our first child. Why didn't I invent it back then!?'
How to use the Doona car seat stroller
This is one of the reasons why the Doona is so great; because it's so easy to use.
It's a normal car seat and you strap your baby in like a regular seat. It also has a newborn insert for when they're teeny tiny.
There is a lever at the back of the Doona that you lift to release the wheels. You just lift this up and they pop out. There is a tiny jolt as they pop out but it's not enough to wake a sleeping baby.
When you're ready to tuck the wheels back in, you apply the break, tilt the car seat forward, lift the button at the back of the seat and the wheels tuck back in smoothly.
You can do all of this while your baby is sat comfortably in the Doona.
The Doona then goes into the car like a normal car seat. You can either attach it using an ISO fix base or using the seat belt.
I found it a little tricky to use the seat belt at first because you need to be careful you don't get it wrapped around the outside of the wheels. Once I'd realised this I was fine and it's just as easy as a normal car seat.
The breaks are also easy to use with a simple one-touch system. Red for break on and green for break off.


Why is the Doona car seat stroller so awesome?
You're probably still wondering why I'm getting so excited.
Here are some reasons why it's awesome:
It's quick and easy to get your baby in and out of the car
You don't need to faff with a bulky buggy
You don't need to get said bulky buggy out of the boot of your car and mess around with trying to fit your normal car seat to the chassis
Or worse still…transferring your baby from their car seat into a pushchair when they've just fallen asleep
It makes it easier to 'pop out'. Any mums out there know that 'popping' anywhere is difficult with a baby
Imagine if you've just driven to the supermarket to pick up a few bits and bobs. With a normal pushchair you'd have to find somewhere spacious and safe to park. Get the buggy out and then the baby and then try to attach the car seat to the buggy (often easier said than done) then you have to negotiate those tiny shop isles with a big buggy. You then have to repeat the whole process to get back in the car. You wanted a pint of milk and it took half a flipping hour! That's so much effort for a pint of milk. With the Doona car seat stroller you just open the car door, lift the Doona out, release the wheels and you're good to go. Its' SO easy.
It's great if you have a small car
I have a small car and an enormous pushchair (Suzuki Swift and a Bugaboo Cameleon in case you're interested). I clearly didn't think this through very well because the frame of the pushchair takes up the entire boot. If I'm going out with the bassinet I have to put it on the back seat. I love the fact that I rarely need to take my pushchair out with me because I can take George most places in the Doona.
You can take it on the bus
Don't think you'll only need a Doona if you have a car. I've read about people buying them in London because they're so small they make it easy to negotiate the tube and buses. Also, buses only allow a certain amount of pushchairs or wheel chairs on at once so you could be waiting at the bus stop for a while before you can squeeze on the bus with a pushchair (and wheelchairs get priority). When you have the Doona, you can just fold it down and put it on the seat next to you.
One thing I really love about the Doona car seat stroller is the size. It's tiny. It isn't intended to be an off-roading all terrain pushchair so it has small wheels and no extra bulk. This means it's really easy to whizz it around the shops, push it through a crowded street, pull it up to a table in a restaurant or tuck it into the corner of a busy café. You don't feel like you're ever getting in the way with the Doona but I often feel in the way with the Bugaboo. Try getting around Starbucks with a big pushchair – it isn't easy.
It's so small it will even fit into a shop changing room or a disabled toilet with you. Honestly, little things like going for a wee or trying on clothes can be difficult when you're alone with a baby. I don't want to be the kind of person who stays at home because it's difficult to go out with a baby so products like the Doona have really made things much easier during my first few months of motherhood.
Don't get me wrong – I love the Bugaboo. It's great for long walks and it's so comfortable for George but it's just too big to nip out and about with.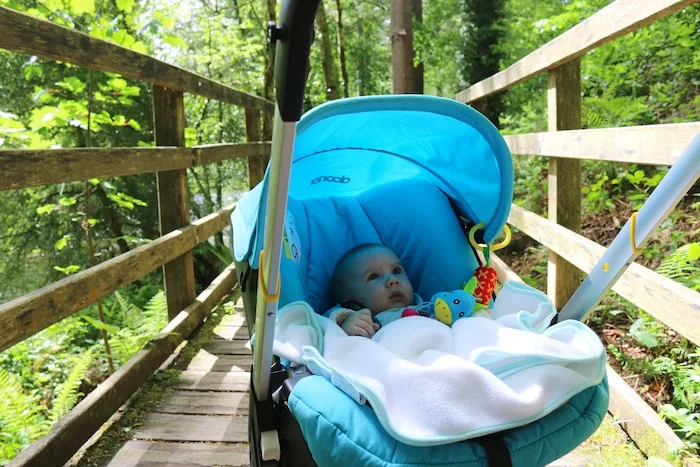 Anything I don't like about the Doona
These aren't really criticisms of the Doona, they're just things to be aware of.
Of course, it's going to be heavier than a normal pushchair because it's got the wheels. This isn't a massive problem because you won't need to carry anywhere, you'll just release the wheels and push it. But it is heavy lifting it in and out of the car and as your baby grows it's only going to get heavier. If I had a 4×4 like a Range Rover (in my dreams) I think I'd struggle to lift it up onto the seat.
I had a c-section and I felt unable to lift it for about 2 weeks. You're not meant to lift anything heavier than your baby after a section and you can't drive for 6 weeks anyway so you won't be alone getting in and out of the car during this time.
It doesn't have suspension
Like I said, the Doona isn't intended to be an all terrain pushchair. It's intended for school runs and whizzing about town and popping into the shops. Because of this it doesn't have any suspension or bouncy wheels to cushion the blows. If you're on a rough surface it will be bumpy for your little one. But don't go thinking the wheels are flimsy, they're not at all, they're just nothing like the enormous monsters on the Bugaboo.
Babies shouldn't be in car seats for too long
It's recommended that babies shouldn't be in car seats for more than two hours so the Doona isn't suitable if you plan to be out all day. When babies are small it's unlikely they'll stay in a car seat for much more than two hours anyway as they'll want feeding, changing or cuddling at some point.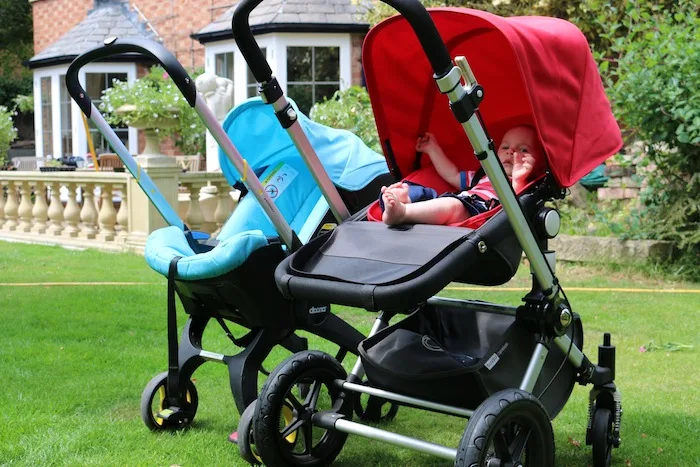 The Doona compared to the Bugaboo Cameleon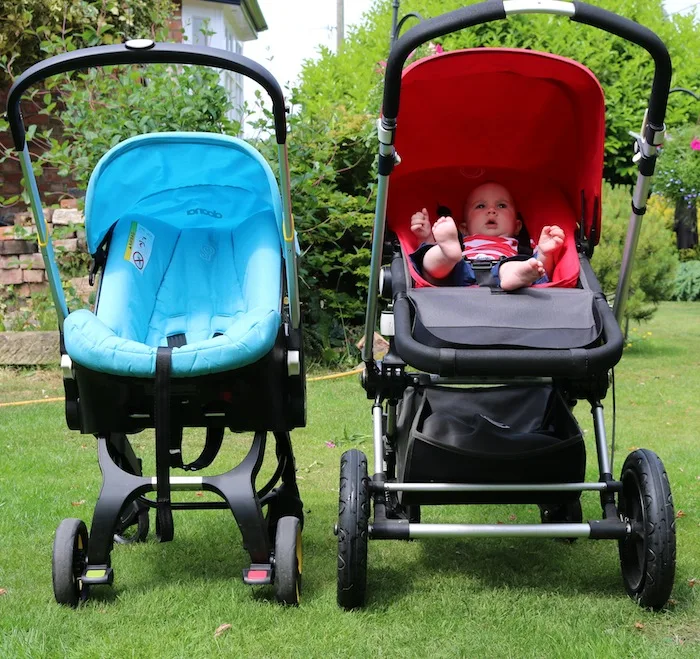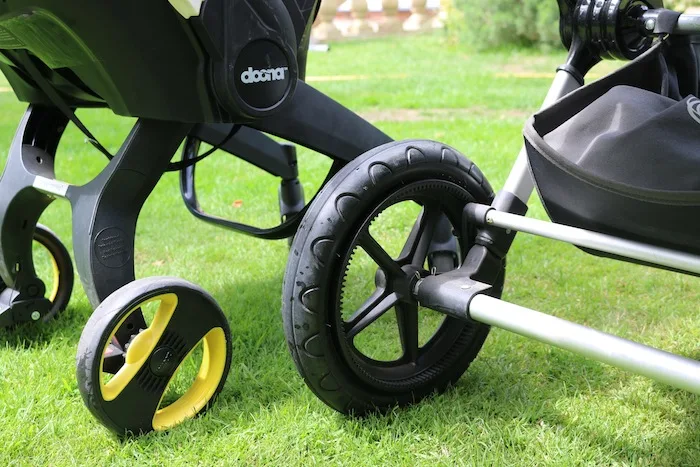 Is the Doona good for travelling with?
I've taken the Doona on a train and it was perfect. It's small enough to take up the aisle of a train and, in theory, it would just about fit on the seat when the wheels are folded. Realistically I think it's a bit big for a train seat during a long journey as you'd be squished in your seat next to it so I sat in a disabled seat and had loads of extra space.
I haven't travelled on a plane yet with George but I plan to soon so I'll be writing a dedicated post once I do. You can take the Doona onto a plane with you and it has EU and US Aircraft Approval. Experts say that the most unsafe passengers on a plane are babies and young children who are held in their parents arms so the Doona is a great solution. (I'm not pretending to be an expert on this just yet because I haven't done it yet.)
One of the main bonuses of the Doona is that you've got a car seat for when you get taxis and I imagine it will be really easy to nip about the airport and through security with it.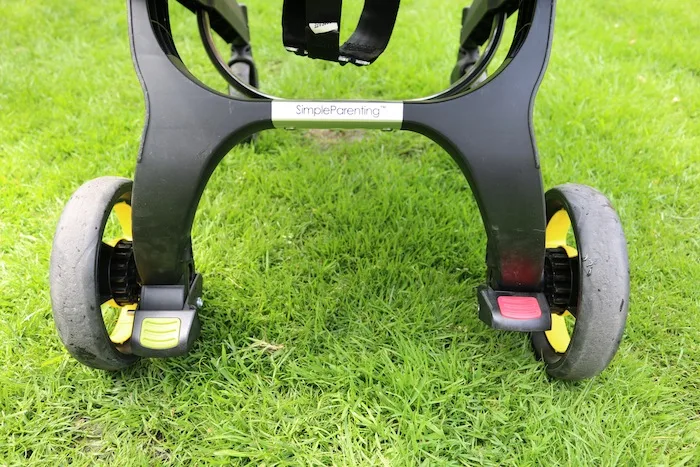 It's super safe
Of course, safety is the number one priority with a car seat. It's worth reading the safety section on the Simple Parenting website to find out more about this.
Doona Accessories
You can buy a small attachable bag, a sun shade, an ISO fix base and a car seat protector to go with the Doona. The ISO fix base makes it even easier for getting in and out of the car but it's also really easy to fix it with a seatbelt so I wouldn't worry too much about the base if you're on a budget. I also have the seat protector which is handy when it's wet outside as your wheels can get dirty and they'd make your car seat grubby. Having said that, I think a bin bag or a towel would work just as well.
The bag would be handy because there's no shopping basket on the Doona but I'm usually happy carrying my bag on my shoulder.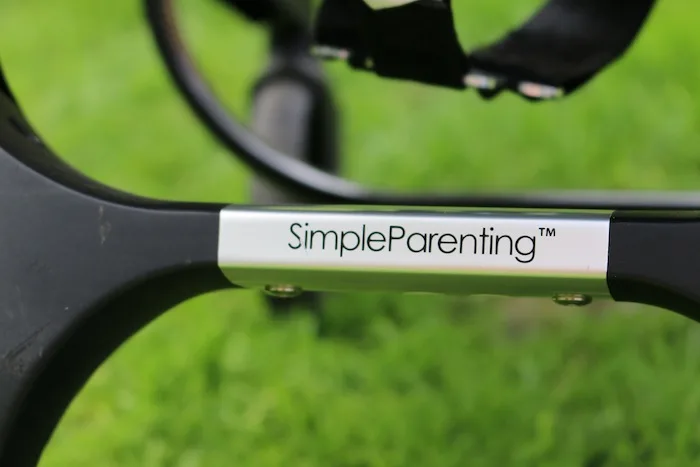 Is it worth buying?
The Doona car seat is one of those 'extras' you might put on your Baby Wish List. You can live without one so is it worth spending nearly £300 on?
In my honest opinion, the answer is yes, yes and yes again. It makes getting out and about with a baby as easy as possible. It's designed for modern parents and families who are always out and about.
If you have a Doona you won't need to buy an expensive travel system either and most people spend at least £100 on a car seat anyway.
Since getting mine I've had four friends buy one because they've seen mine and loved it so much. People stop me in the supermarket car park to ask what it is and I ended up giving a little demo to the shop assistants in Next last week. I use it every single day, even if I'm not going out in the car I'll take it to the corner shop or if I'm nipping to a friend's house down the road.
Disclaimer: I was sent the Doona for the purposes of this review but all thoughts and opinions are, as always, my own. You can find out more on the Simple Parenting site and they are available to buy from Toys R Us for £249.99. They currently have a special offer on at Toys R Us where you get a free ISO Fix base when you purchase the Doona (accurate as of June 24th 2015)