I'd like to begin by thanking the person who came up with the idea of outdoor cinemas. You are an absolute genius.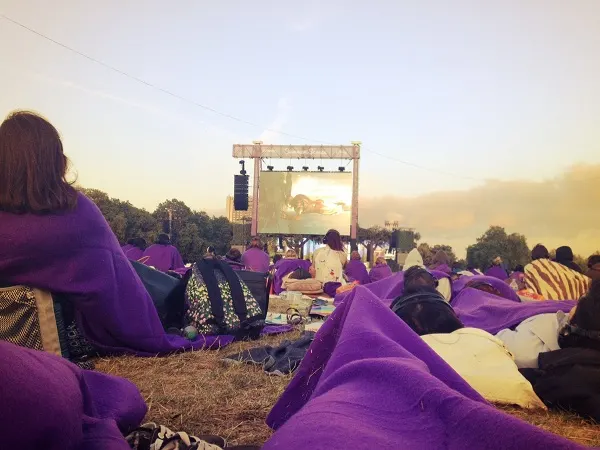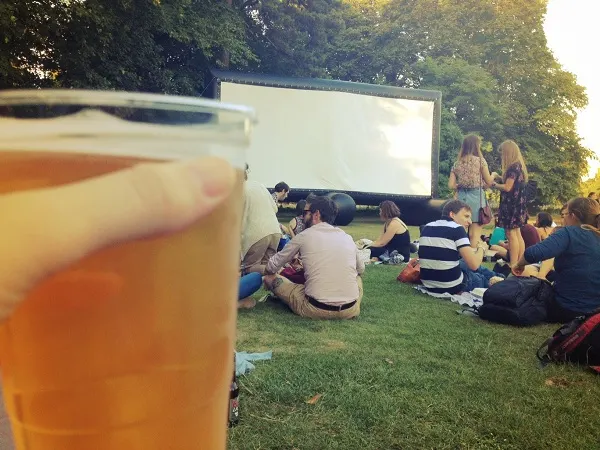 You would think that sitting outside, usually in the cold, on the hard ground while trying to watch a film with 200 other people would be a terrible idea. If the sun isn't shining on the screen it will probably be raining and no one over the age of 10 can sit cross-legged on the ground for more than35 seconds without getting uncomfortable.
But for some strange reason, outdoor cinemas are exciting and magical and romantic despite all the obstacles.
I've been to two outdoor cinemas in London so far this summer and I'm not ashamed to admit that I've now become a summer film snob. I don't actually care about what film I watch, as long as it's outdoors and somewhere beautiful. The thought of sitting in a dark and stuffy cinema or, heaven forbid, in the comfort of my own living room, is boring and claustrophobic. I want rose gardens, freshly mowed grass, beautiful buildings (hello Somerset House), hot dog stalls wafting the smells of fried onions my way and I want to be able to lie back under the stars and sip cheap champagne, OK, cheap Prosecco, from a plastic glass without being thrown out.
So if you're planning on watching a film this summer, I urge you to do it outside. Even if you get chavvy on us and drag your TV and sofa into the back garden. Go on, it's much more fun than sitting inside!

My tips for outdoor cinemas
Rug up!
Most outdoor cinemas will show films just as it starts to get dark. You'll turn up in your skimpy summer clothes and within 5 minutes the sun has disappeared and temperatures have plummeted. I spent my first outdoor cinema experience shivering while shimmying closer to strangers to try and steal some of their body heat. You might feel weird turning up to the park with blankets and cardigans and woolly socks but you'll be smug and warm come 9pm when you're bundled up and warm.
Take a cushion
Whatever you do, don't take a chair. Everyone will hate you! And outdoor cinemas aren't about sitting in chairs, they're about stretching out on the grass and lying down so take a cushion to rest your head and prop yourself up. You'll also need a blanket to lie on.
Pack a picnic
This is your chance to have a proper old-fashioned picnic. I'm talking wicker baskets, cucumber sandwiches, cocktail sausages, pineapple and cheese on sticks, cakes and biscuits, paper plates, plastic glasses and a bottle of fizz. If you're having a picnic, do it properly. If you turn up with a sandwich from Boots and a bottle of diet coke, you'll be really jealous when the people next to you have a spread fit for a queen. Trust me, I know.
Get there early
So you can get a good spot and also so you can make everyone jealous while you're eating your picnic.
Listen to the ushers
There may be ushers or volunteers or people around who run the event and these are the best people to ask about the best spot. The centre of the screen isn't always the best place to be and a place that looks good now, may have a terrible view once the sun sets.
Have you been to any outdoor cinemas yet this year or have any tips to add to the list?
Update: As requested, here are some links to where you can find great outdoor cinema screenings in London
TimeOut London: Outdoor Cinema Screen London
London Town: London Outdoor Films Screenings
Also check out Pop Up Screens. If you can make it to Morden Hall Park in South London, I really recommend this park. The film is shown inside the flower garden and it's gorgeous!
I'll also be writing about Secret Cinema tomorrow which is hands down the best cinema experience on the planet.