Is there anywhere better than London in the summer? When I first moved to the UK's capital from Australia I wondered why locals were so excited for summer, but after spending a winter in the city I was soon following flocks of Londoners as they sought outdoor spaces to spend the warmer months in. Now I can hardly bear to be indoors once the winter weather turns from miserable to marvellous.
London is known for its parks, which are incredible, especially if you're in the mood for a picnic. But if you fancy something a little more palatable than warm rose and a pre-packaged salad, or if tables and chairs are more tempting than a beach towel, is there anywhere to go?
You bet there is.
I've spent some time researching the best al fresco pubs, bars and restaurants in London (it was tough, but someone had to do it) so next time you want to head outdoors on a sunny day, ditch the picnic blanket in favour of one of these stylish London al fresco venues.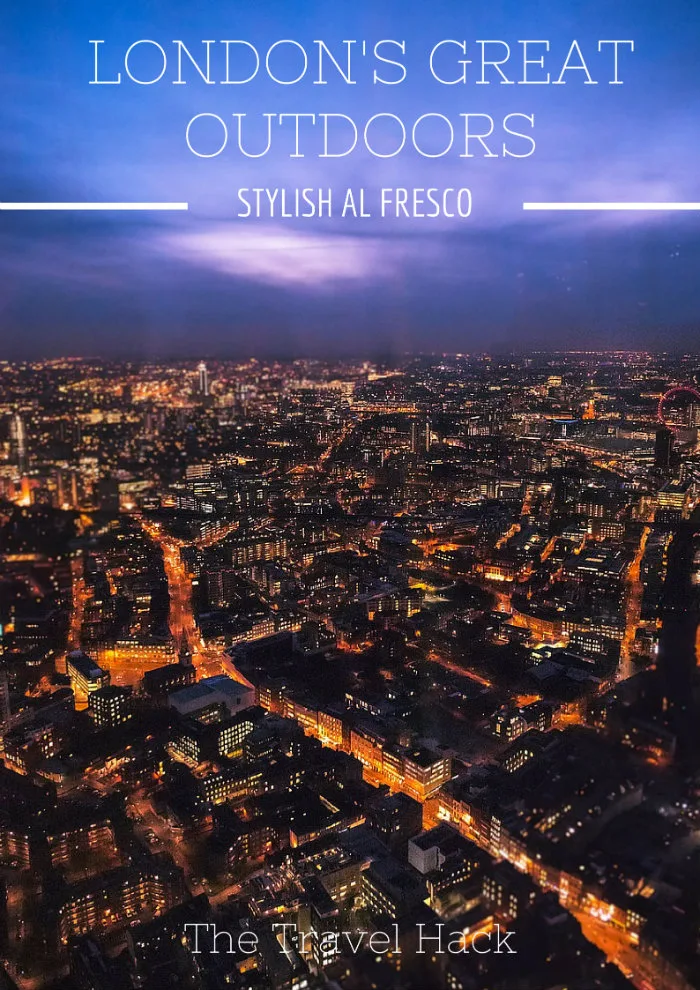 Best for a casual barbecue
London may not have a beach to boast of, but it has the River Thames, and on a sunny day you'll find locals lining the banks of the river, for good reason. The Crabtree pub serves incredible BBQ food right on the Thames, with tables and chairs under a majestic weeping willow tree. Arrive early to snag a good seat.
The Leather Bottle, Earlsfield
Hidden behind an unassuming pub on a stretch of road between Earlsfield and Tooting is one of the best beer gardens in London. Don't believe me? Just ask them: they've claimed the top spot by using the hashtag #BestBeerGardenInLondon, and it's hard to argue. As well as a barbecue and outdoor bar, you'll find beach huts that you can rent to enjoy a summer day out with a difference.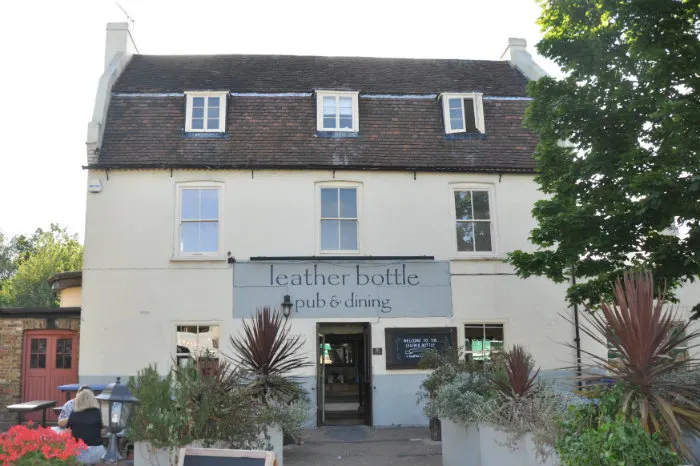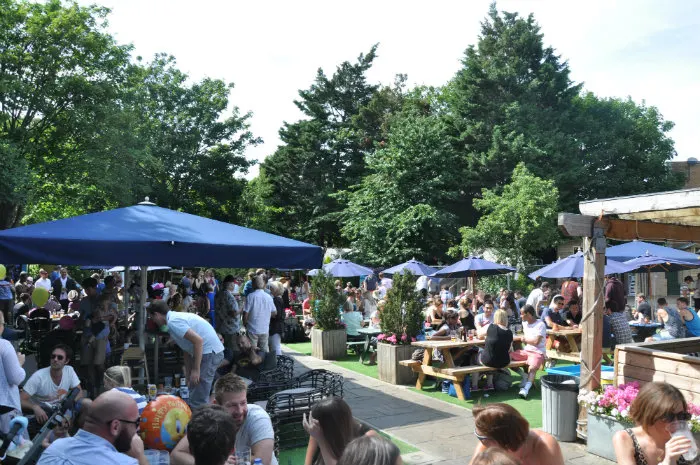 ---
Best for escaping the crowds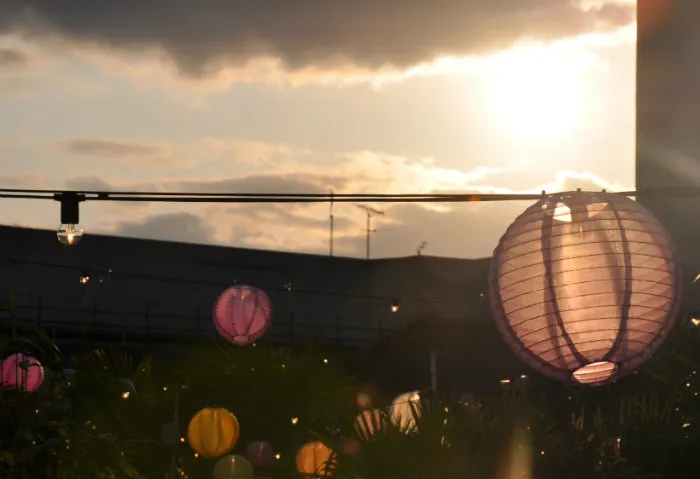 Oxford Street may be one of London's best shopping destinations, but it's also one of the most crowded areas of the city. Hidden above the throngs of shoppers is a brightly coloured garden, complete with an Italian restaurant and juice bar, as well as plastic parrots and candy-hued lanterns. Take a break from shopping and refresh in the sunshine before continuing your retail therapy.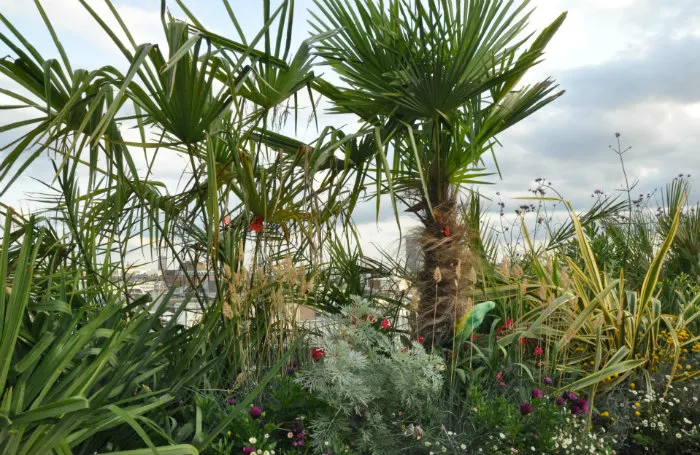 Another hidden gem can be found in the bustling area of Fitzrovia, if you know where to look. Elysée serves traditional Greek food and delicious cocktails on a deceptively large and stylish roof terrace. The atmosphere is relaxed, and heaters offer a bit of warmth if the summer gives way to some cooler weather.
---
Best for keeping it classy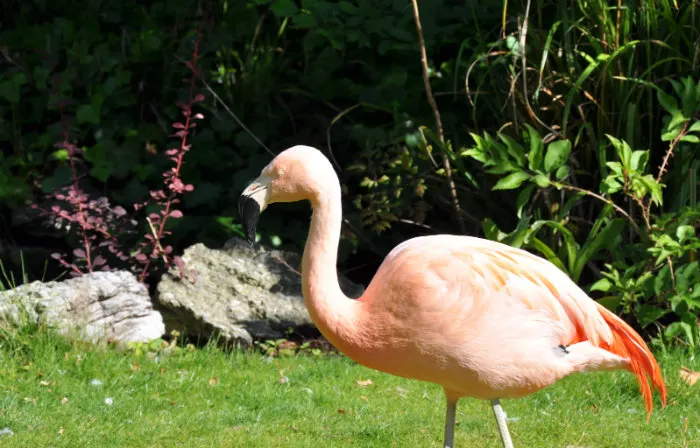 The Roof Gardens, Kensington
Covering a whopping 6,000 square metres, and with real live flamingos wandering around (seriously), The Roof Gardens is one of the trendiest outdoor spaces in London, day and night. As well as the colourful gardens overlooking the capital, you'll find Babylon Restaurant and a nightclub which hosts an array of events over the summer months.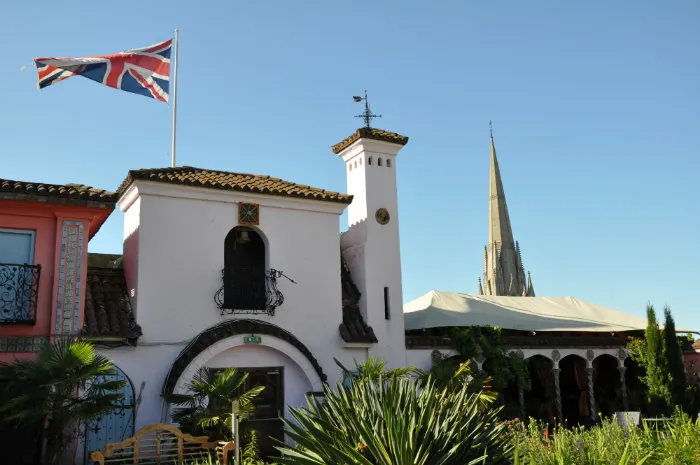 If you want to impress out-of-towners, make sure you book a table at Vista. Aptly named, this rooftop bar boasts incredible views over Trafalgar Square, the London Eye and across London's stunning skyline. Grab a seat and enjoy a cocktail while you revel in one of the best views of the city.
---
Best for hipster vibes
Tucked above a trendy East London pub is a vibrant and eclectic roof terrace serving Cuban street food and cocktails made for balmy nights. The rooftop is covered in bright green astroturf and scattered with picnic tables and colourful plastic furniture. Not only is it a great summertime bar, but it also hosts the Rooftop Film Club on selected dates throughout the summer so you can catch a classic flick, drink in hand, as the sun sets over the Shoreditch skyline.
This summertime pop-up on the tenth floor of a car park in Peckham is one of London's hippest outdoor destinations. Expect to find art, reasonably priced food and drinks, plenty of hipsters and incredible views that span the London skyline in all her glory.
And…just in case it's raining…
---
Best for when you forgot your umbrella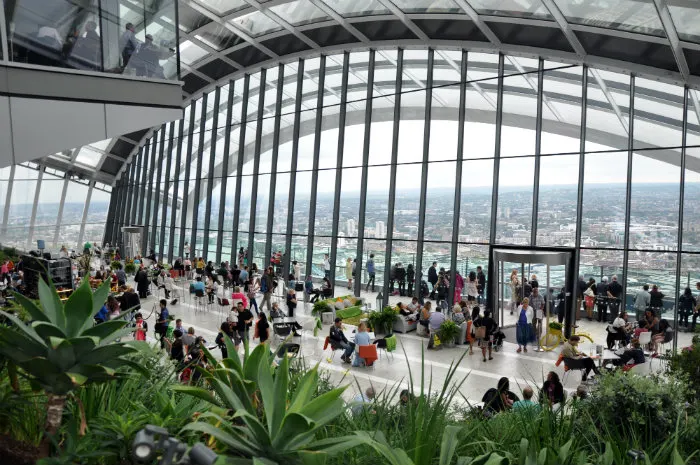 As much as I love summer in London, even I have to admit that it's not always reliable. For those days when the drizzle is relentless, book a free visit to the SkyGarden, an indoor green space in the midst of the City of London. Hovering on the 35th floor of the building Londoners call the Walkie Talkie (you'll understand when you see it), the SkyGarden offers views over the best bits of the city as well as a number of food and drink options.
We all love the great outdoors but let's face it, sometimes London is best enjoyed with a firm roof over your head.