Now there's a blog post title I never thought I'd type.
You're probably thinking I'm crazy. There are a million and one summer beauty products designed for fully-grown adults, why would you use baby beauty products?
Since George was born I've actually found some baby products are not only cheaper but also much better than the adult equivalent.
In the past I've spent a fortune on summer beauty products as I've prepared for a beach holiday. This year I'm on a budget so I'll be stealing them all from George.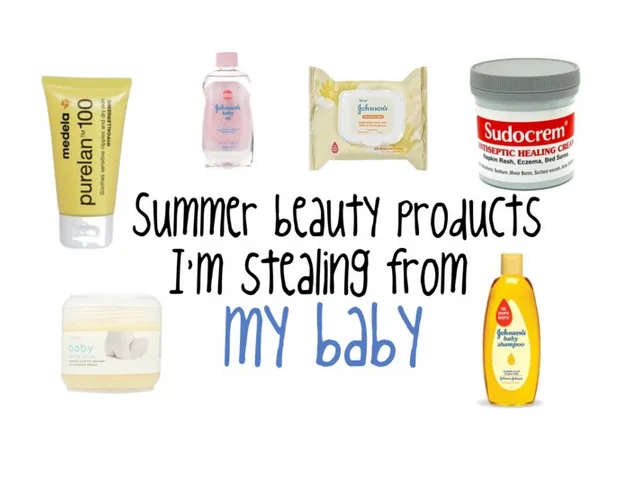 Baby oil + salt = amazing sugar scrub
I'm a big fan of the Sanctuary Salt Scrub so I was very pleased when I discovered adding salt to baby oil is almost as good.
This is also a good one if you're backpacking as you can pick up satchets of salt from cafes. Baby oil is one of those multi-use products as it's also good for removing waterproof makeup.
Be careful if you're doing your salt scrub in the bath as the baby oil turns it into a slippery death trap – particularly for the next person getting in. Big sorry to Sam who learned that the hard way.
Nipple cream
OK, OK, most of you aren't going to like this one but stick with me. Have you ever used Elizabeth Arden Eight Hour Cream? Either the lip balm of the skin protectant? If you have, you'll know that it's a-mazing. It's always recommended by celebs and models and it makes your skin super soft. As you'd expect it comes with a hefty price tag for a tiny tube.
But I've discovered that Medela Nipple Cream is exactly the same stuff! Honestly, if you'd have switched the tubes over I never would have known the difference.
If you're not breastfeeding you might feel a bit weird buying nipple cream but this stuff is amazing and is only £3.50!
Baby wipes
I'm now a proper mum and bulk buy baby wipes because we use them for everything. I use them to remove my make-up when I'm so tired I can't handle a proper face wash. They're also great to freshen up while you're travelling.
Bottom Butter
Waitrose Bottom Butter (£3.20) is the most amazing cream, especially for dry skin. I use it on my elbows, knees and ankles before applying fake tan as it stops you getting those lovely orange patches.
Check out Medela Nipple Cream about how bottom butter is being used as a face cream and rivals Crème de la Mer which costs nearly £1,000!
Sudocrem
Sudocrem nappy rash cream might not smell great but it's amazing if you have a patch of dry skin. Does anyone else just randomly get circles of dry skin on their arms? It's also good if you apply it overnight to spots.
Johnson's Baby Shampoo
I've previously been a sucker for buying expensive shampoos from the hairdressers – particularly as I wear hair extensions so I pay extra for ones without all the chemicals. I wish I'd known that Johnson's Baby Shampoo is just as good! It leaves my hair really soft and doesn't tangle my extensions.
Do you have any more baby beauty products you like to use?