Anne recently spent 24 hours in Mexico City when she was visiting for Corona Capital 2015. Here's what she got up to in such a quick trip…
If you only have 24 hours in Mexico City, and really want to get a taste of the city, then this combo is for you. It will give you an introduction to the historical centre, and one of the most famous sights of Mexico City, Teotihuacan, 'the place where the Gods were created'.
Be warned, it's a long day but if you are here only for a short time, you have to make the most of it, right?
Your 24 hours in Mexico City starts now
Pyramids
Rise early, and book a car with Uber to take you to the pyramids. Hardcore travellers may wish to take a subway and a bus, but you haven't got time for that if you are only here for a day! The site opens at 8am and if you can bear the early start, I would recommend leaving at around 7am.
Traffic is horrendous at virtually all hours in Mexico City so whether it is rush hour or not, you WILL get stuck in traffic on the journey. Do not let that put you off however, as this site is a UNESCO world heritage site and is more than worth the journey.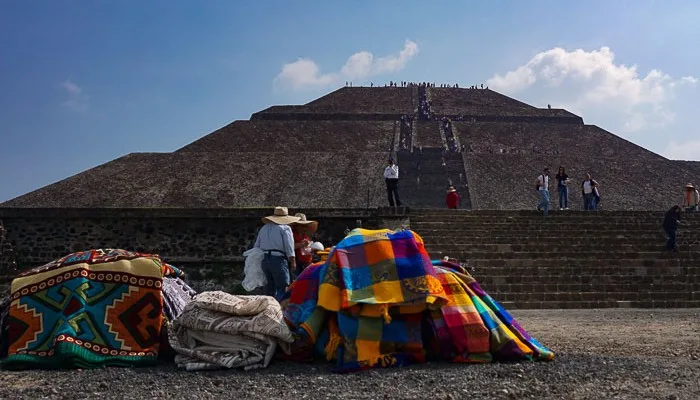 The impressive city of pyramids is 40 km north east of the city. The 'Avenue of the Dead' connects the Pyramids of the Sun and Moon, and unlike those in Tulum or Cairo, these ones can be climbed. Prepare yourself, as Mexico City is 2,240 metres above sea level and even the fit will find themselves breathless on reaching the top. The views make the arduous climb worthwhile, as you gaze in awe at ceremonial places of worship including the Palaces of Quetzalmariposa and the Jaguars.
It was abandoned in the 7th century after a fire destroyed it and has since been food for legends. 16th century writings indicate that sacrifices took place here every twenty days. Our little party seems to have a morbid fascination with this aspect of the site, spending virtually our whole time here conjuring up gruesome ways in which those sacrifices may have taken place. I'll spare you our imaginings in case you send out the troops to round us up! Research undertaken by Arizona State University suggests that grisly decapitations might be one of the methods used.
Don't Scrimp On Time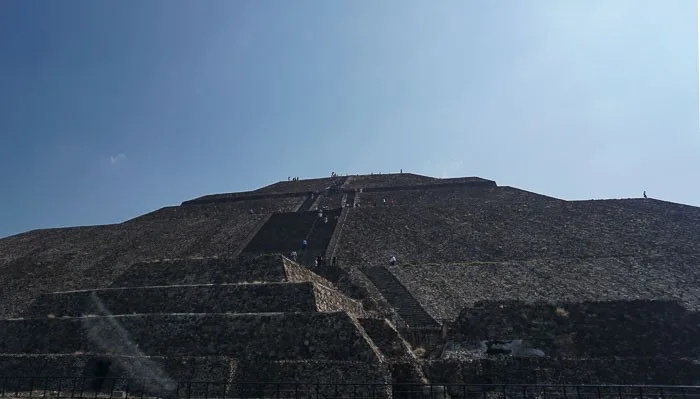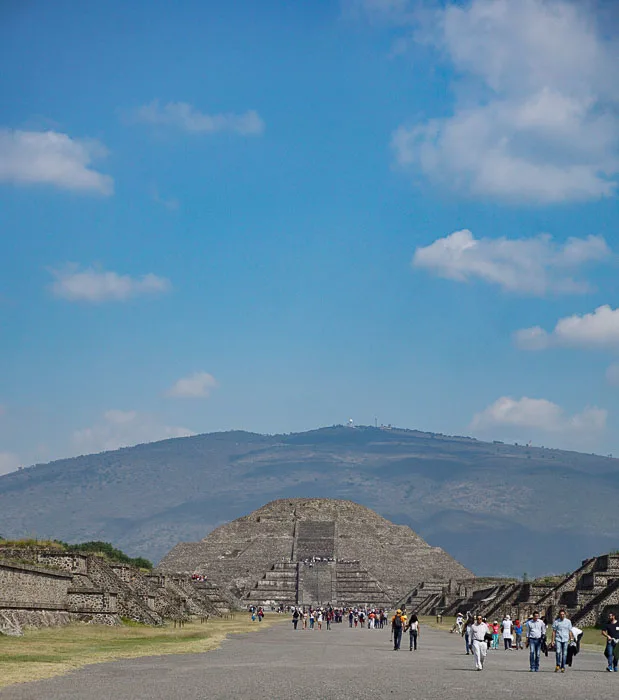 Pyramid of the Sun (above) and Pyramid of the Moon (below)
We were advised to allow 90 minutes, but for anyone with a keen interest in such places, I would recommend doubling that. The 90 minutes will allow you enough time to climb one pyramid but if you wish to see them all, you will need much longer. You could even take a picnic and make a day of it if you have the luxury of time on your side.
Sticking with our 24 hour trip, however, if you left at 7am you should be back in time for lunch leaving you plenty of time to enjoy the historical centre of Mexico City.
The Historical Centre of Mexico City
Zocala Square
James Bond fans will already be familiar with the historical centre of Mexico City, as it features in the opening scenes of the latest Bond film, Spectre. Filmed in March 2015, the action packed drama is set in Zocala square which throngs with hoards celebrating 'The Day of the Dead' a Mexican holiday dedicated to celebrating the lives of the lost loved ones. Instead of a helicopter hurtling around above your head however, you will find a giant Mexican flag fluttering in the breeze.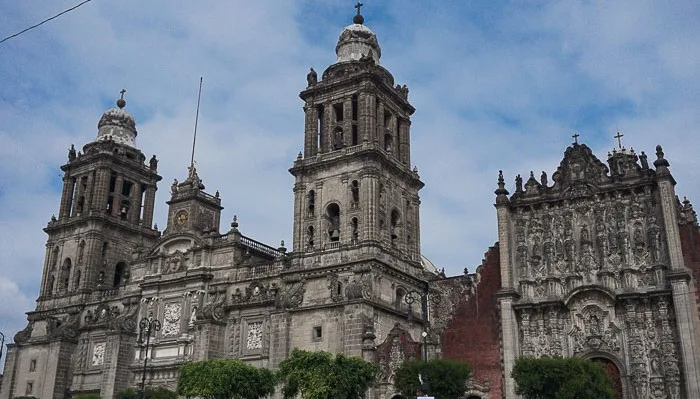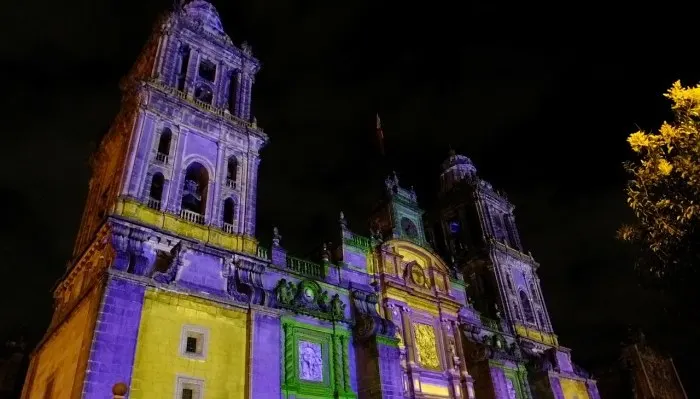 Source: Pixabay
The square is impressive on a colossal scale. Centre stage facing North is the Metropolitan Cathedral, to the right is the Palacio Nationale, to the left large porticoed buildings with rooftop restaurants offering dizzying views of the grandiose surroundings. It's difficult to capture the scale of the square in just one picture but to give you an idea, you could fit a football field into it, and some.
What makes this square particularly fascinating is the angles of the buildings. Mexico City was built on a swamp, and that combined with frequent earthquakes, means that many buildings are sinking. It is not uncommon to find buildings which look as though they are going to topple backwards, sideways, or both. Like drunken friends, who have been out on a pub crawl, and are staggering home holding one another up, the wonky doorways, rooftops and archways somehow manage to defy gravity, support one another and stay upright.
Into the Labyrinth
From Zocala, you can wander into the colourful streets thronging with visitors, anad marvel at numerous further buildings teetering perilously. Painted in hues of yellows, oranges and reds they offer eye pleasing views at every turn.
The streets are fascinating hosting regular signs of the Mexican fascination with celebrating the deceased. Skeletons dressed in bright clothing are scattered around, with makeshift alters beneath them, strewn with items loved by the deceased as an offering to their foibles. It's cute and gruesome combined but just one of the things that make this city so unique.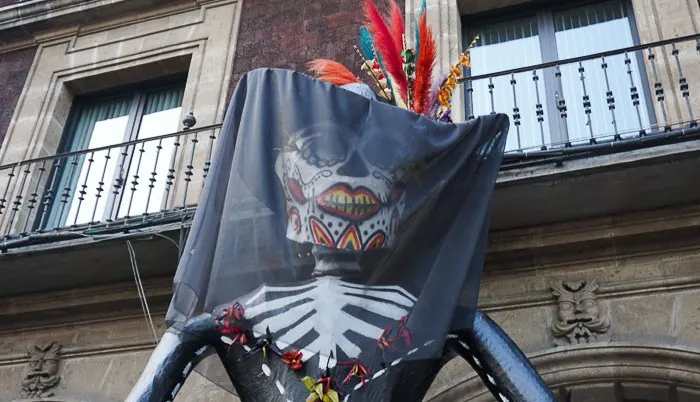 Palacio De Bellas Artes
Personally I think this is the most impressive building in Mexico City (at least that I saw, and let's face it, it was a whirlwind visit!). Just a short walk from Zocala, it's white marble facade gleams in the sun, whilst golden domes sit atop. Inside you can view large murals, art, theatre and opera.
A rather startling fact, we were advised, is that each year additional steps are added to the base because it is sinking into the spongy soil at such a rate.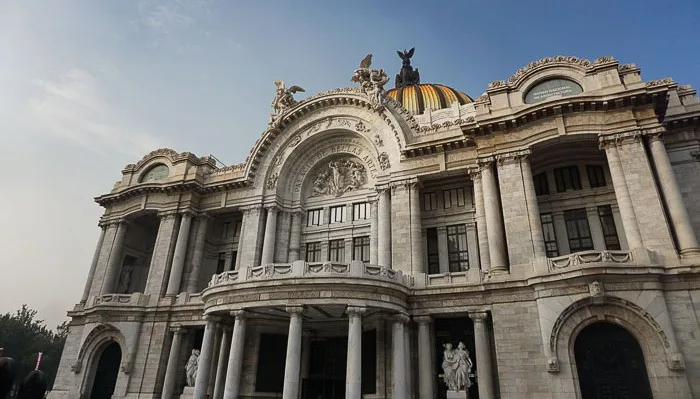 Artisan Markets
Ten minutes south of the Palacio de Bellas Artes in a two story building set around a courtyard is a traditional artisan market. There's nothing spectacular about it from the outside but inside it houses a treasure trove of Mexican handicrafts including potteries, textiles and clothing.
Unlike many major cities, Mexico City does not team with tourist shops selling souvenirs. In fact, in the streets around Zocala, we barely saw any. Here though, you will find enough inspiration to fill your suitcase with memorabilia, from painted skulls, to ornate vases, fridge magnets, plates and more. I managed to add a whopping 5 kilos to my case resulting in some creative re-packing at the airport.
So there you have it, a whirlwind tour of Mexico City which will give you a flavour for the cultural curiosities of Mexico City. This is definitely a city that leaves you wanting more.
Have you got any suggestions?
Have you visited Mexico City? If so, what would you recommend for a whirlwind visit? Don't be shy as we at the Travel Hack love to hear your suggestions.
We visited as guests of the British Embassy in Mexico and a special thanks go to our hosts Adriana, Pauline and Babette for being great company, and making us feel not like honorary guests, but more like family. They introduced us to their friends, and although we only spent three days in the city, I felt completely at home surrounded by the warmest people.