More and more of us are travelling with small carry on luggage only. These small cabin bags are not only free to travel with but it's so liberating and easy to travel light!
And let's not forget that it saves so much time at the airport as you don't need to check-in a suitcase and wait for it at the baggage carousel on the other side!
Many of us have become accustomed to travelling with just a small cabin suitcase but today I want to take things to the next level and share tips for travelling with just your small, underseat carry on bag.
I'm talking about the small cabin bag you can take onto flights for free.
I'm always booking super cheap flights and usually fly around Europe for less than £20 return. If I wanted to take checked luggage then it would cost me an extra £50 with Ryanair so I've learnt to pack light and save myself money by travelling with just a free, small cabin bag!
I've been taking European city breaks for £200 or less (such as 3 days in Krakow for £155!) and I don't want to spend 25% of my budget on luggage!
I'm going to begin by sharing some of my favourite small carry on luggage options and then go into detail about how I pack a small carry on bag and some outfit ideas for inspiration.
You might be surprised to find how much you can get in a small carry on luggage bag. I find it's enough space for a week away if you pack it correctly!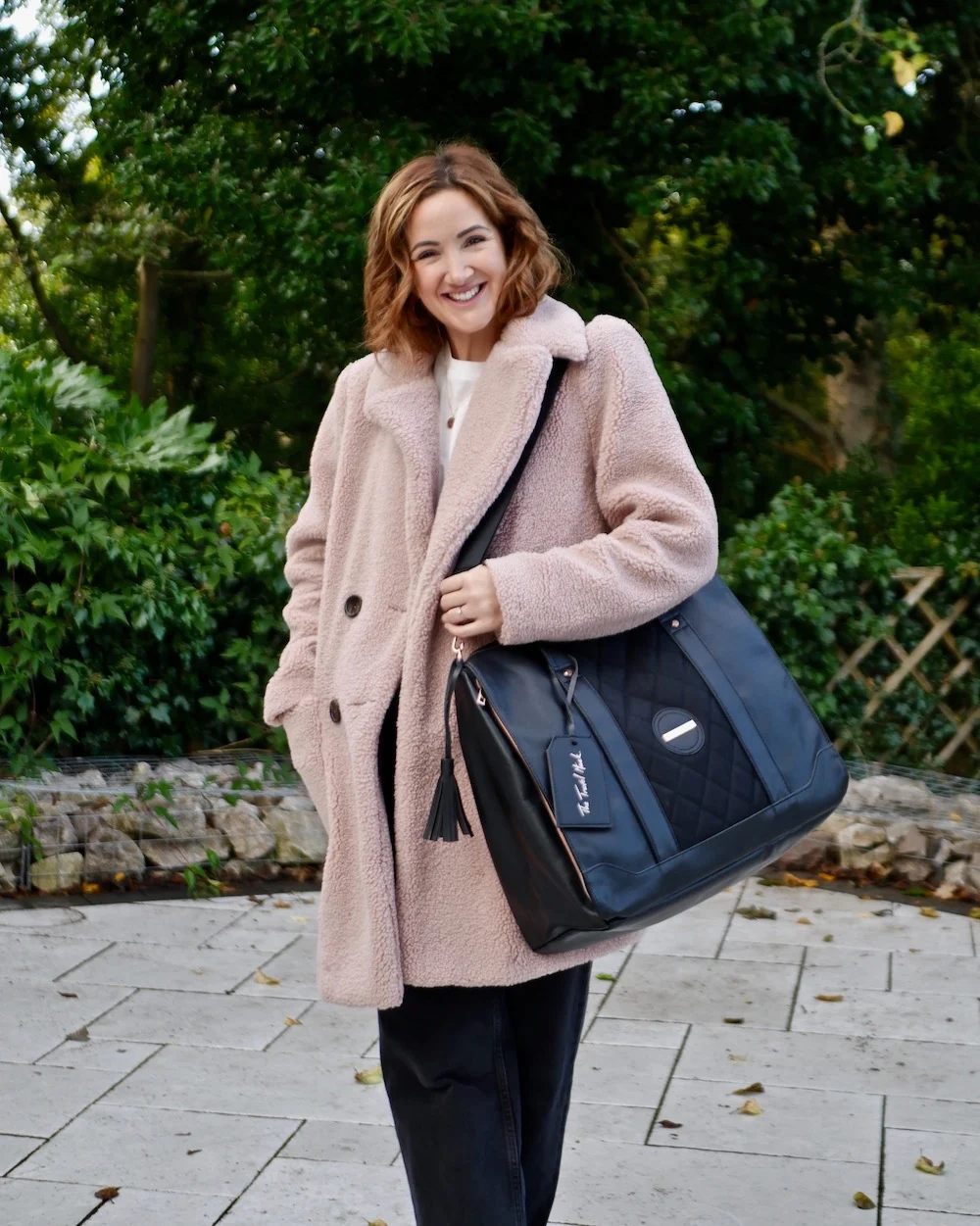 What do I mean by small carry on luggage?
When I'm talking about small carry on luggage, I'm talking about the small bag you're allowed for free. All airlines, even the worst budget airlines, allow you at least one small carry on bag at no extra cost. Sometimes this is referred to as a 'personal item' or a 'handbag'.
The size of this small free carry on bag varies from airline to airline.
The sizes they allow change frequently so I highly recommend double checking what you're allowed.
Skyscanner have an overview of the luggage you're allowed on different airlines so this is good for a quick look but don't take this as gospel. I've just scanned over it and can see that some airlines have changed their policies since this was written so take your time and make sure you know what bag you've paid for.
I usually travel with either easyJet or Ryanair. They're not my favourite airlines but they're the cheapest and have lots of options from my local airports in Liverpool and Manchester.
I don't pay for luggage when I fly with either airline.
With Ryanair I get a small bag sized 40 x 25 x 20cm. This equates to a smallish backpack and I use The Travel Hack Backpack.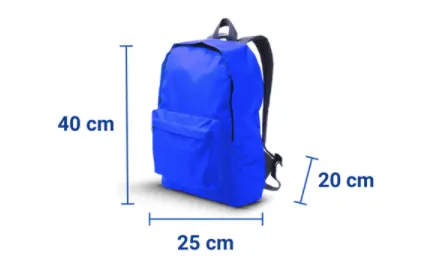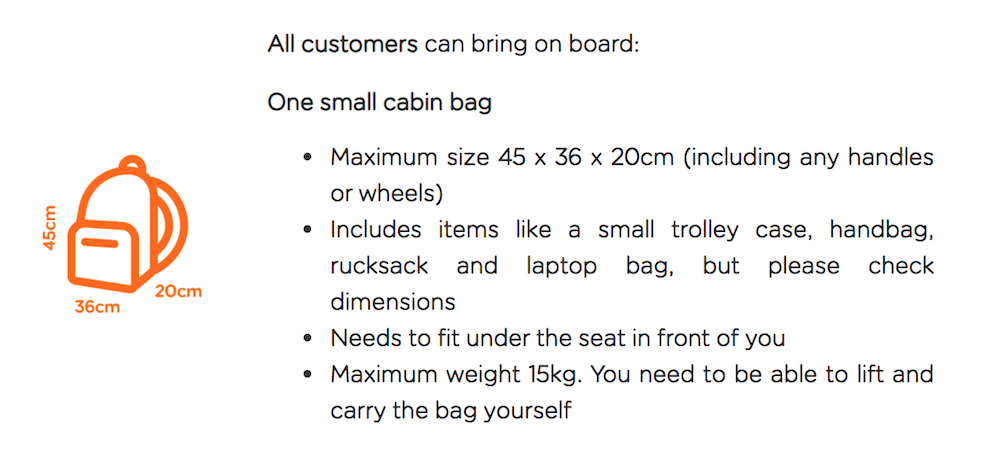 With easyJet you get ever so slightly more 45 x 36 x 20 cm and I use The Travel Hack Tote.
The main requirement is that these bags must fit underneath the seat in front of you.
Many of us are accustomed to using small backpacks and shoulder bags like these for our everyday activities, such as work or school or the gym. It seems crazy to use them for an entire week of clothing! But it is entirely possible.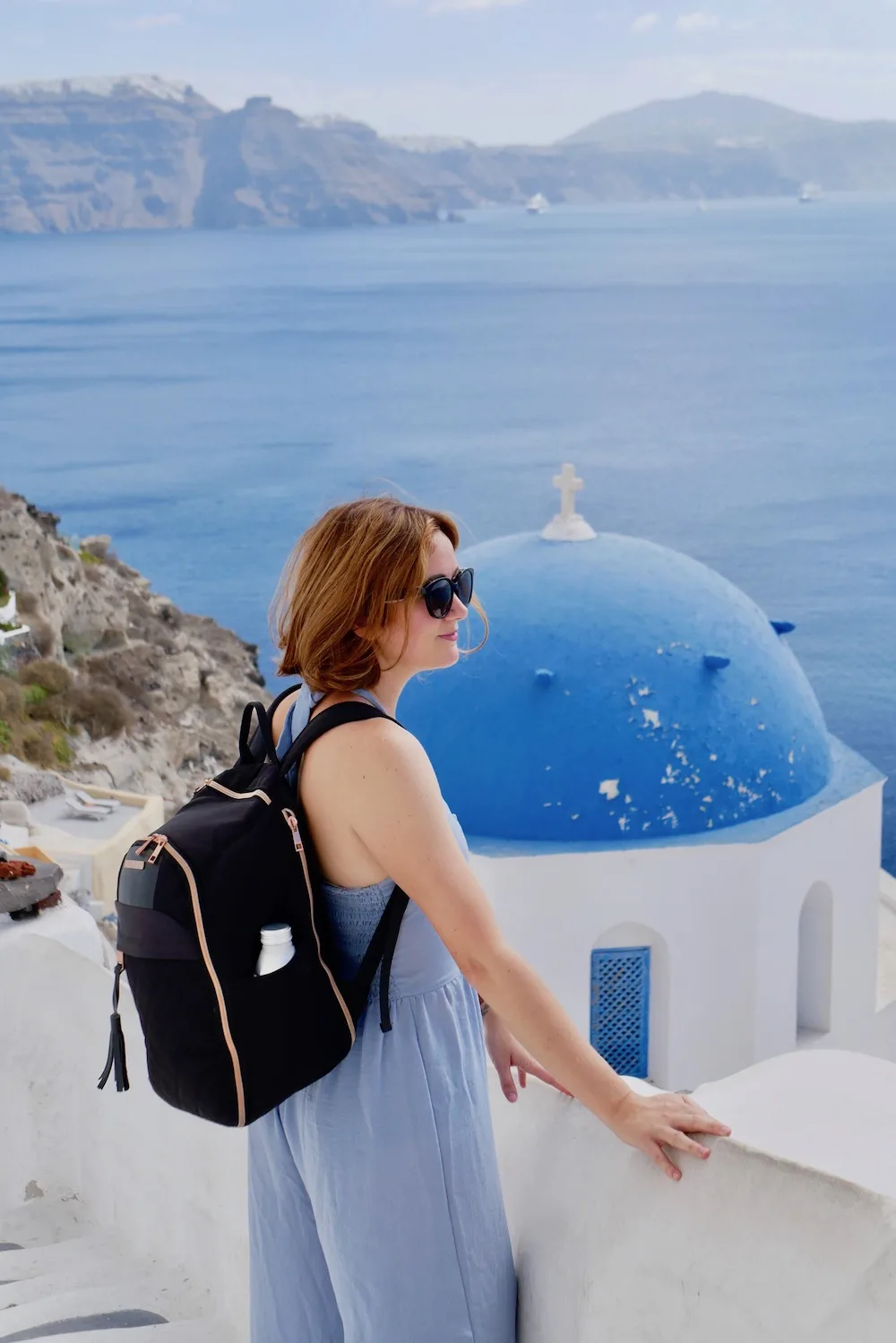 Let's start talking about the luggage before we delve into what to pack…
What's the best small carry-on luggage?
In all honesty, I'm sure many of us already have a bag at home that can be used for small carry-on luggage. Something like a backpack you see teenagers using for high school is perfect.
I prefer a backpack because, even though the bag isn't very big, you can squeeze a lot inside and it can become heavy. If you're standing around in queues for a long time it can become heavy on your shoulder.
I also love the idea of teeny, tiny suitcase but I haven't personally used one as I prefer to use a bag I can also use in my destination as my day bag.
I've dotted some small carry-on bags throughout this article but here are my favourites:
Do they ever actually measure your small carry on luggage?
Now this is advice I shouldn't really be giving because it goes against the rules. But I'm going to say it anyway.
I have never had anyone measure or inspect or double check my small carry on luggage.
I have flown with a carry on bag that I know is slightly too big for the airline (note that I've said slightly too big!) many, many times and it's never been questioned.
Having said this, you only need to read a few Amazon reviews of small free hand luggage and you'll see that lots of other people have been refused certain bags. Whether this is because they've overfilled their bags and they're wider than they should be, who knows?
If you're nervous about it then don't risk it.
What is the lightest cabin bag?
The lightest cabin bag you're going to find for your small, underseat luggage is something like this 200g packable holdall.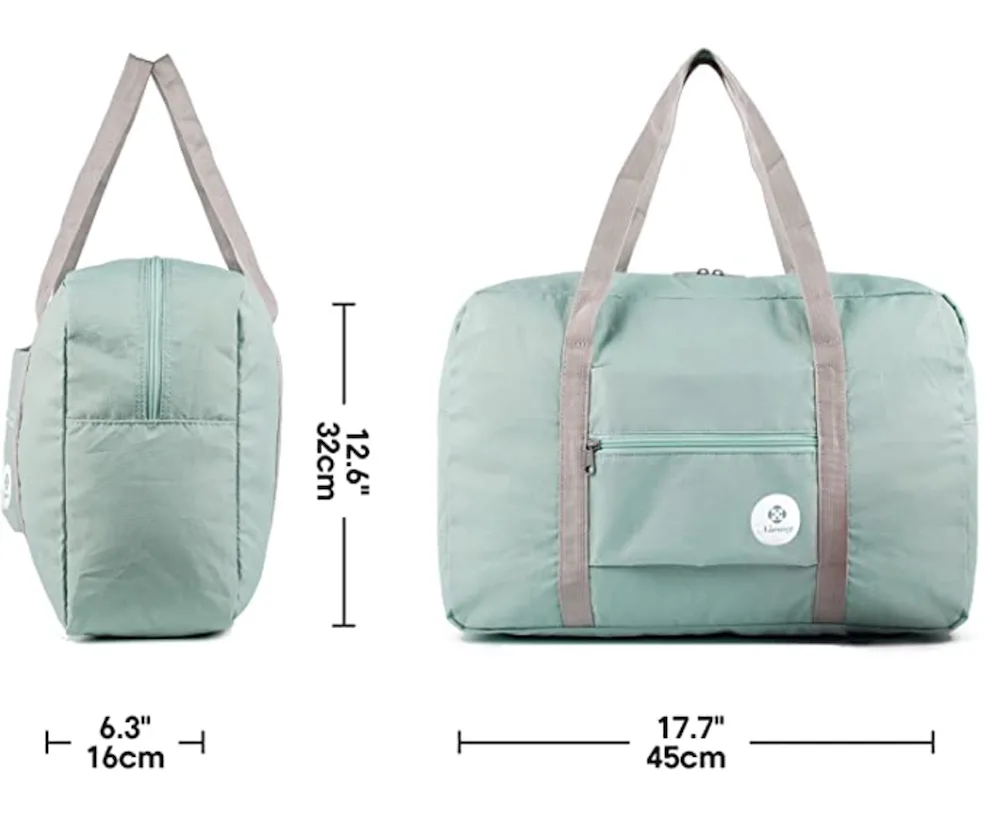 It's foldable and has a 25L capacity yet weighs just over 200g.
If you're worried about weight then this duffel bag for you.
Having said that, I wouldn't worry about weight.
Most airlines don't have a weight restriction for small carry on luggage. And, let's be honest, unless you've filled your bag with bars of gold then it's never going to be ridiculously heavy anyway because it's so small.
I think a packable holdall like this would be a little awkward to carry and I'd personally rather use a backpack with pockets and comfortable straps.
What's the smallest carry on luggage?
I wouldn't look for the smallest carry on luggage but the biggest bag you can get for the dimensions you're allowed.
Check the dimensions you're allowed and search for luggage accordingly.
Go onto Amazon, type in your dimensions and check all of the results.
Can you get underseat wheeled suitcases?
Yes, yes you can!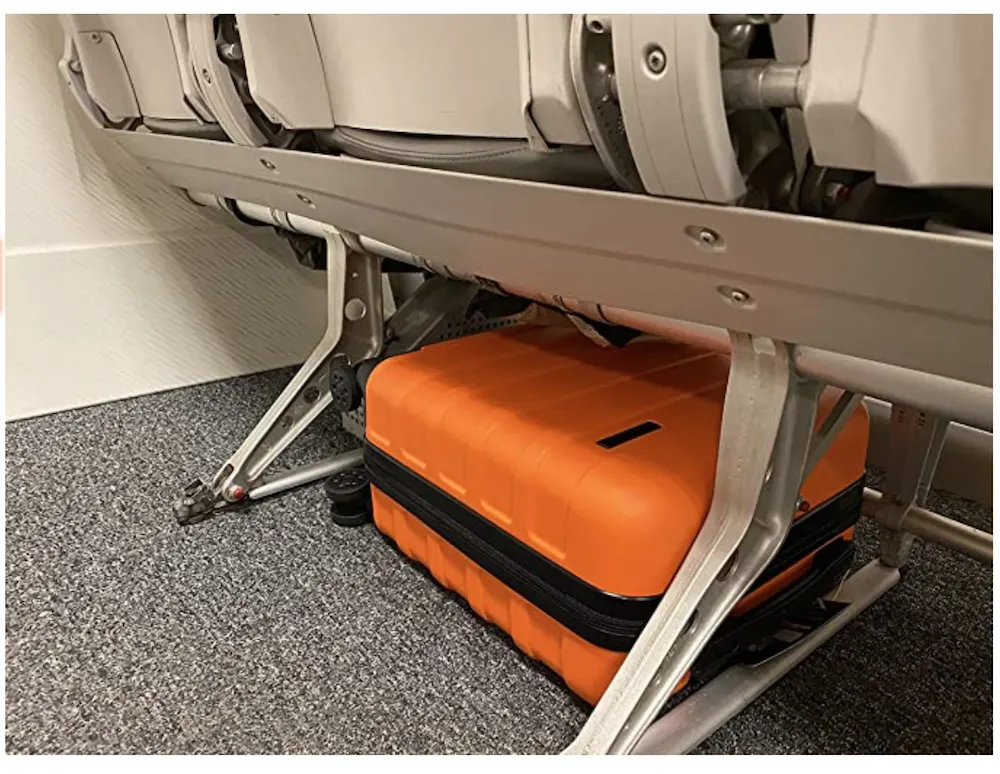 One of my favourite small carry on luggage options is this tiny, underseat suitcase from Cabin Max.
If you prefer to wheel your luggage rather than carry it then this is the case for you.
And when you see it in real life it's just adorable!
This tiny suitcase is perfect if you struggle to carry a heavy bag. And if I'm totally honest, even I come into that category. When I've got my laptop and a few other heavy items in my bag it can be really heavy and I'd much rather wheel it.
Reading the Amazon reviews for this case and they're mixed regarding whether you're allowed to take it on as under-the-seat luggage or not. Some people said it was fine and other people said it wasn't. Personally, I'd risk it but if you're going to feel anxious about boarding the plane then I wouldn't.
Do wheels count on carry on luggage in the size allowance?
Yes, yes they do!
And that's why it's best to avoid 4-wheeled suitcases if you can. I know they're the best to whizz around the airport and they wheel so well but those 4 wheels take up valuable space. So if you're looking to maximise space for your carry on luggage then avoid wheels completely and opt for a backpack or duffel bag.
If you really need wheels then it's best to look for one with 2 wheels that don't stick out so far so you'll get more suitcase space for the dimensions you're allowed.
Do I need to worry about my luggage weight for my free bag?
No, you don't really need to worry. Many airlines don't have a specified weight allowance for your small hand luggage. The main stipulation is that you need to be able to carry it yourself, and don't forget you may be walking up flights of stairs.
If you've got a disability and you've requested support when you board the flight then this is different, but most customers need to be able to carry their own bag.
Which cabin bag is best for small free hand luggage?
Best small carry on luggage for Ryanair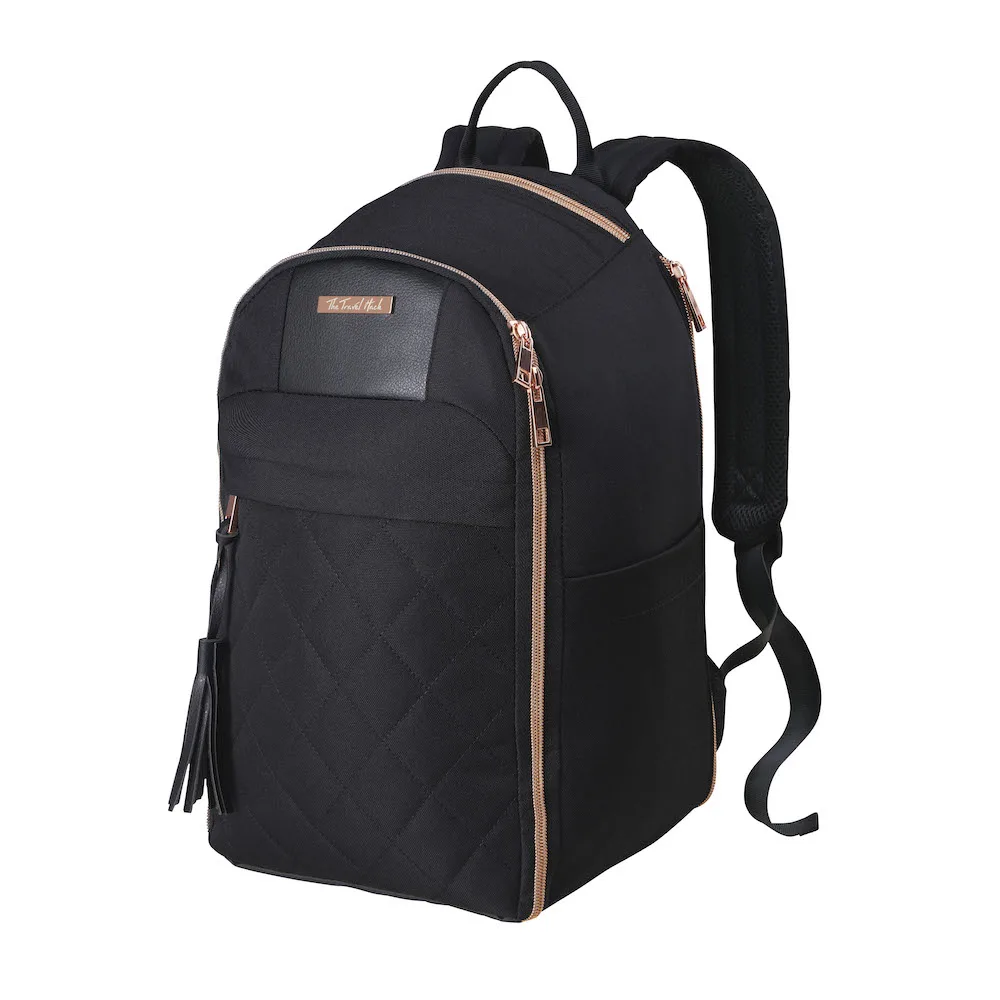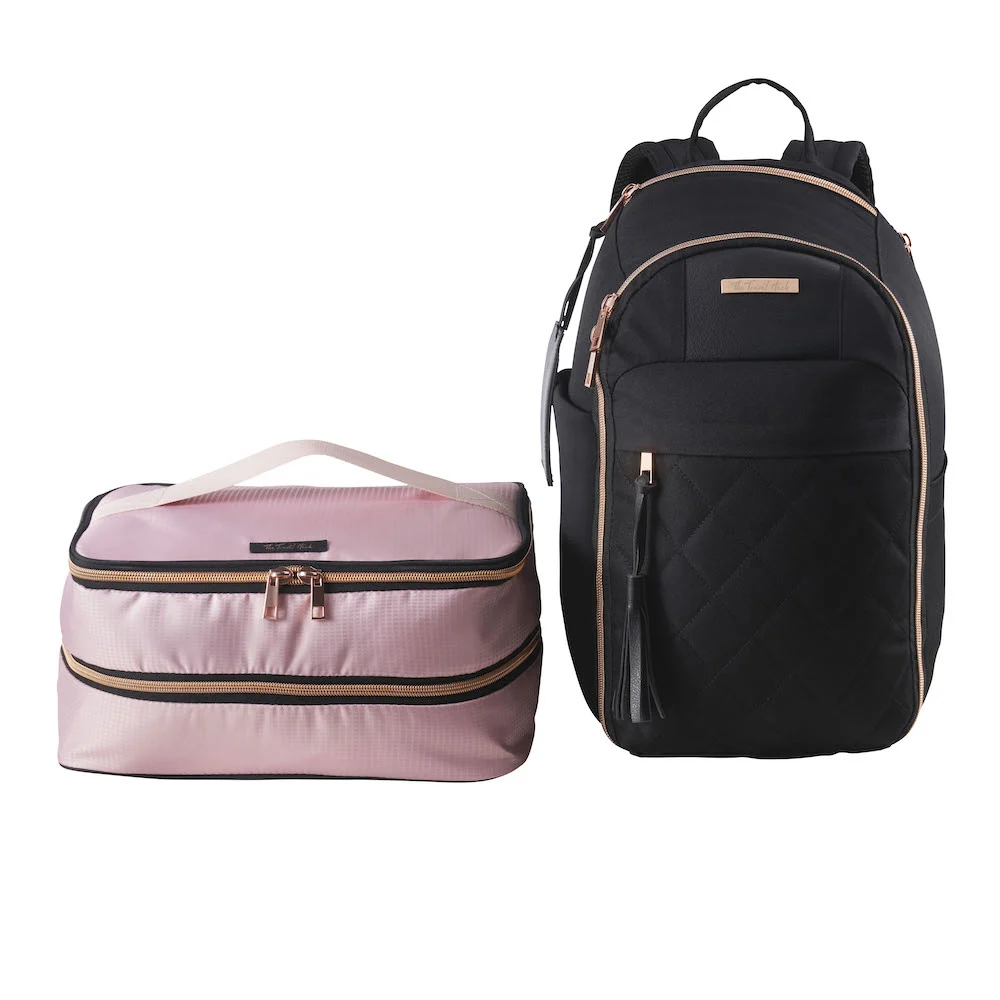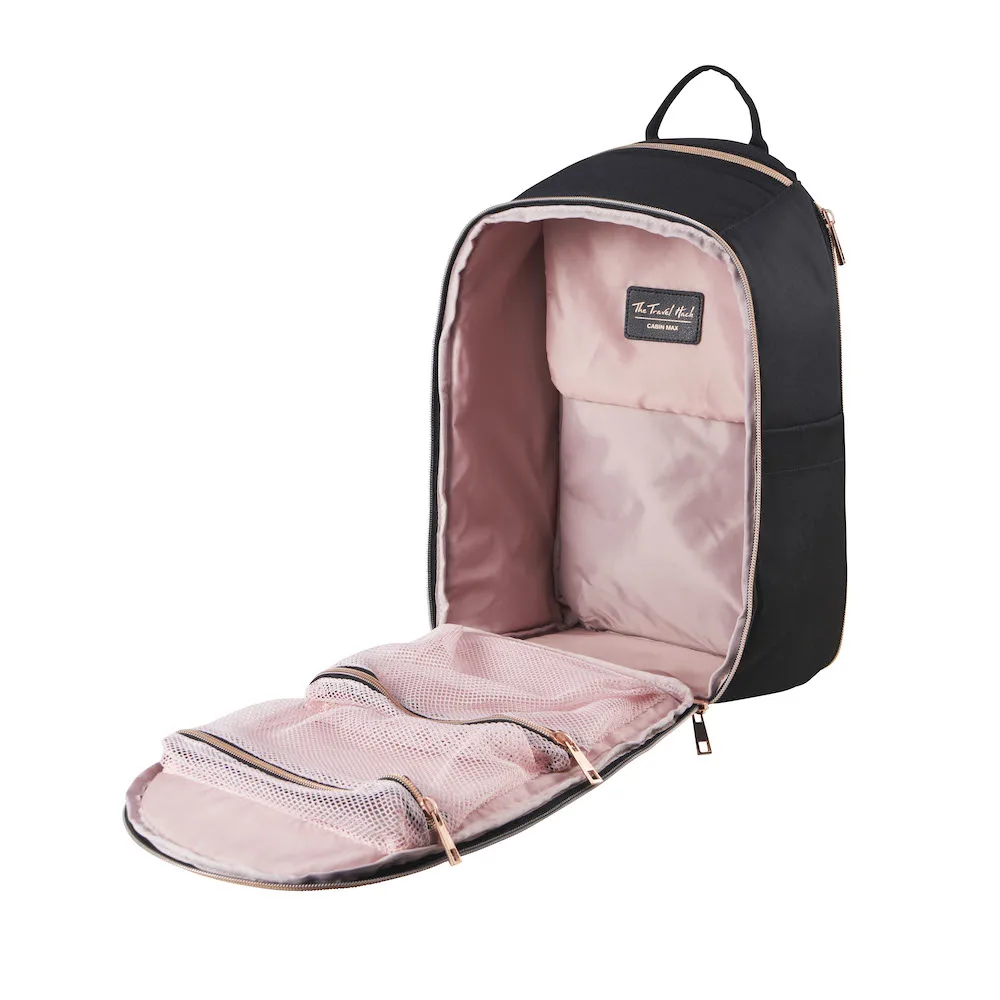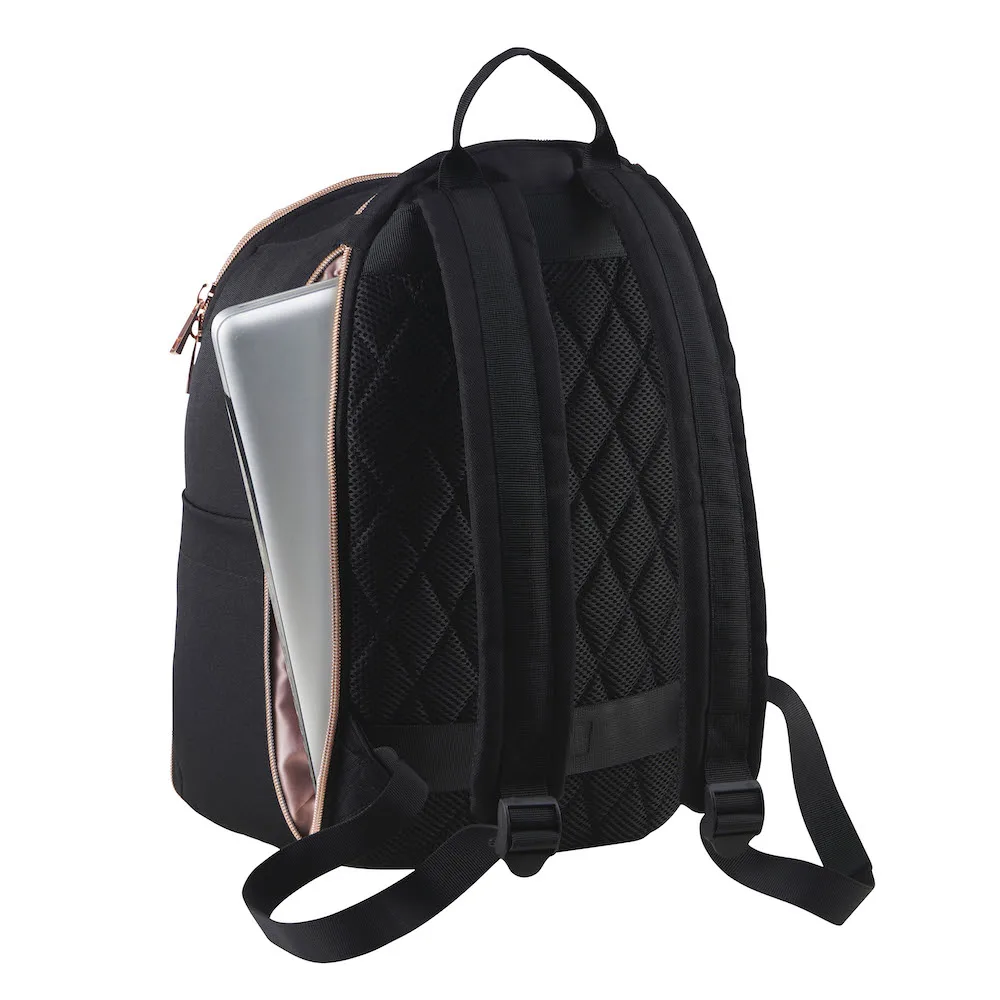 I use the Travel Hack Backpack when I'm flying with Ryanair. Ryanair have one of the smallest carry on luggage allowances for your free bag so you really do need to be careful when you're flying with Ryanair. Your bag needs to be able to fit under the seat infront of you and the seats on Ryanair are smaller so it is obvious when your bag is too big.
I like that The Travel Hack Backpack has interior pockets for organisation one big pocket that fits so much. It has exterior pockets too which make it handy for those items you're constantly reaching for like your phone, purse, passport, documents and your tablet.
You can also get a compressible packing cube that fits inside the backpack perfectly. It compresses your clothes to save so much space and it fits like a dream.
Best small carry on luggage for easyJet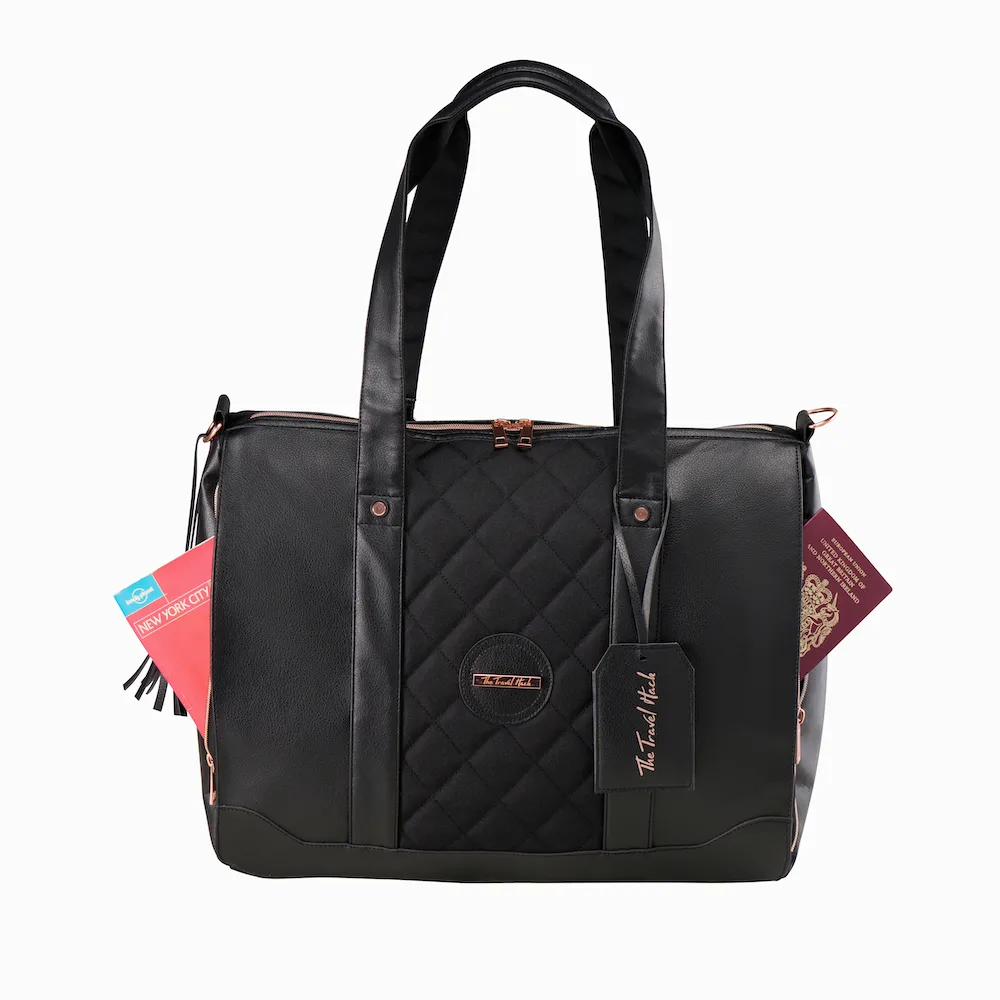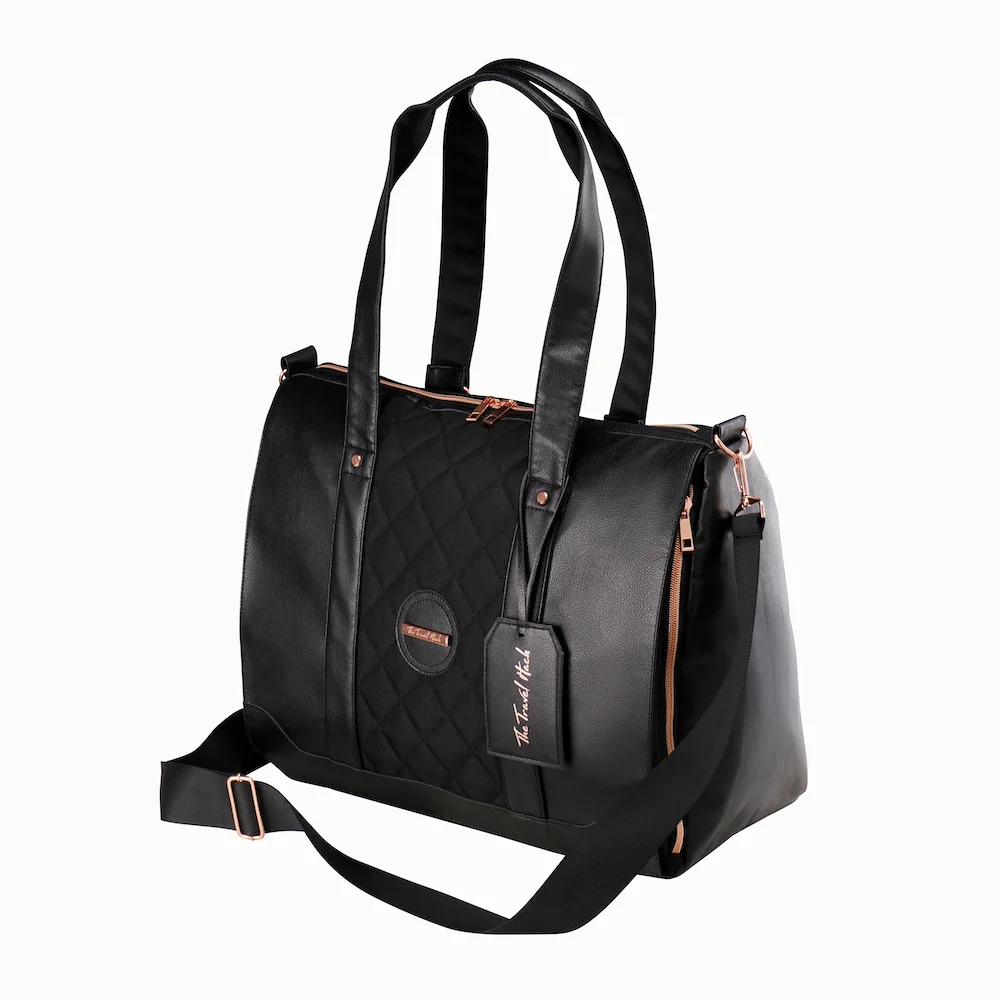 My favourite underseat bag for easyJet is The Travel Hack Tote. It has so many interior and exterior pockets for organisation and is so spacious too!
What clothes should I pack when I've got carry on luggage only?
The clothes you pack when you're travelling with a small carry on bag will vary depending on your destination and season and, of course, your own personal style.
So I'm going to share a few outfits I'd take for a trip on a European city break. If this was a winter trip then I'd simply wear fleece lined tights beneath my skirts.
If it were a summer trip, I'd leave the chunky jumpers and boots at home.
Choose thin, light materials
Wear your bulkier items on the plane (such as jeans, boots and jumpers)
Choose neutral items so they can easily be mixed and matched and worn again
Outfit inspiration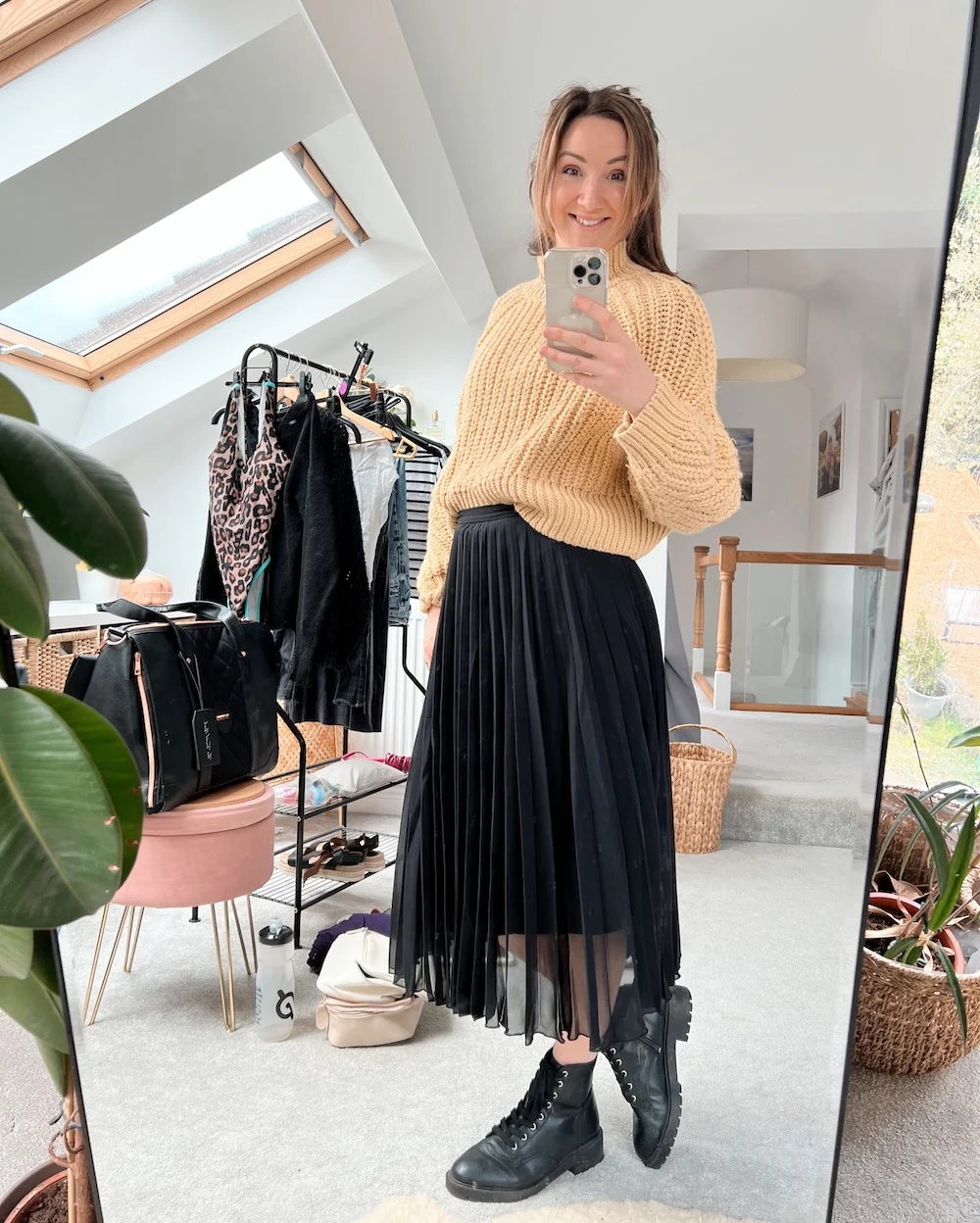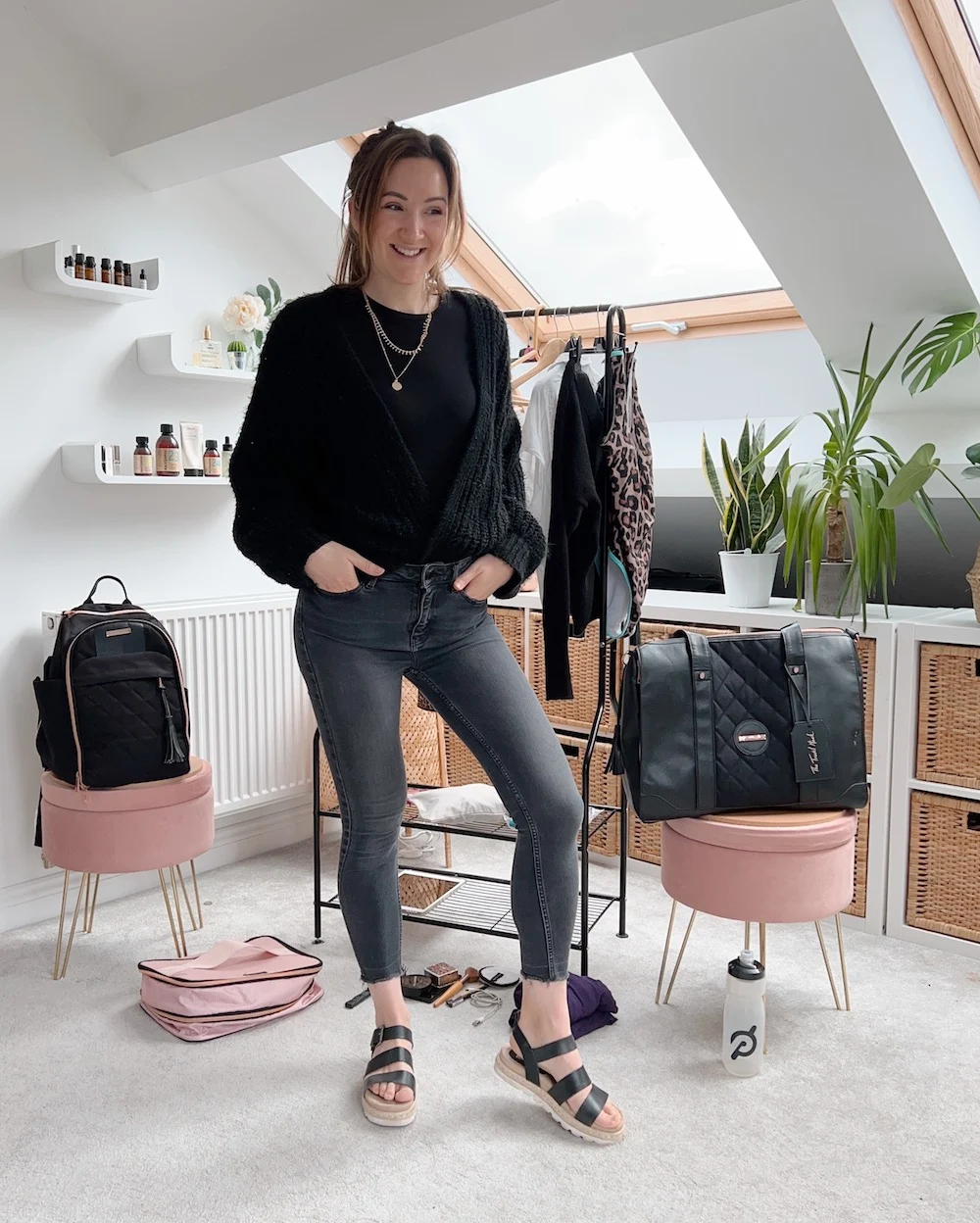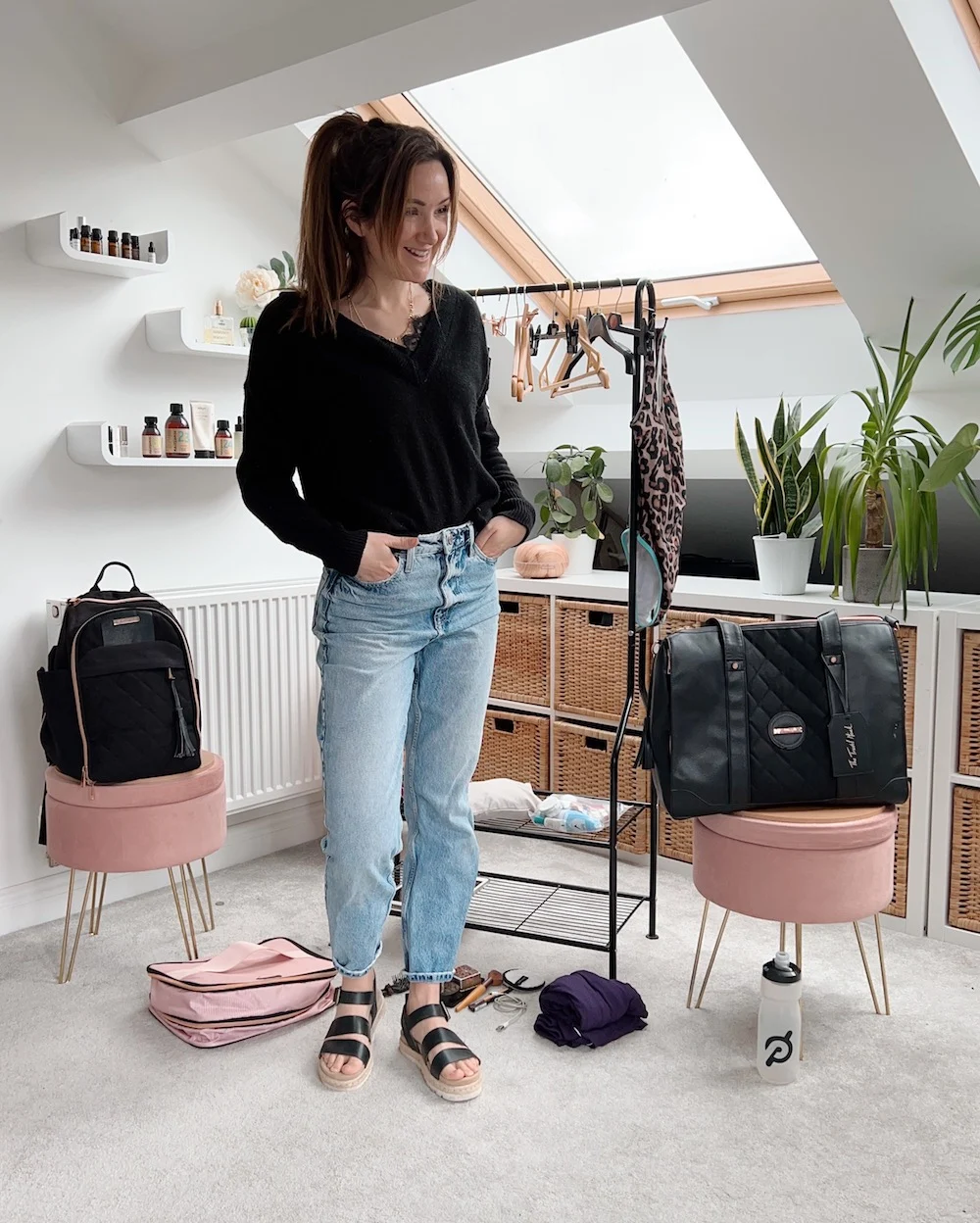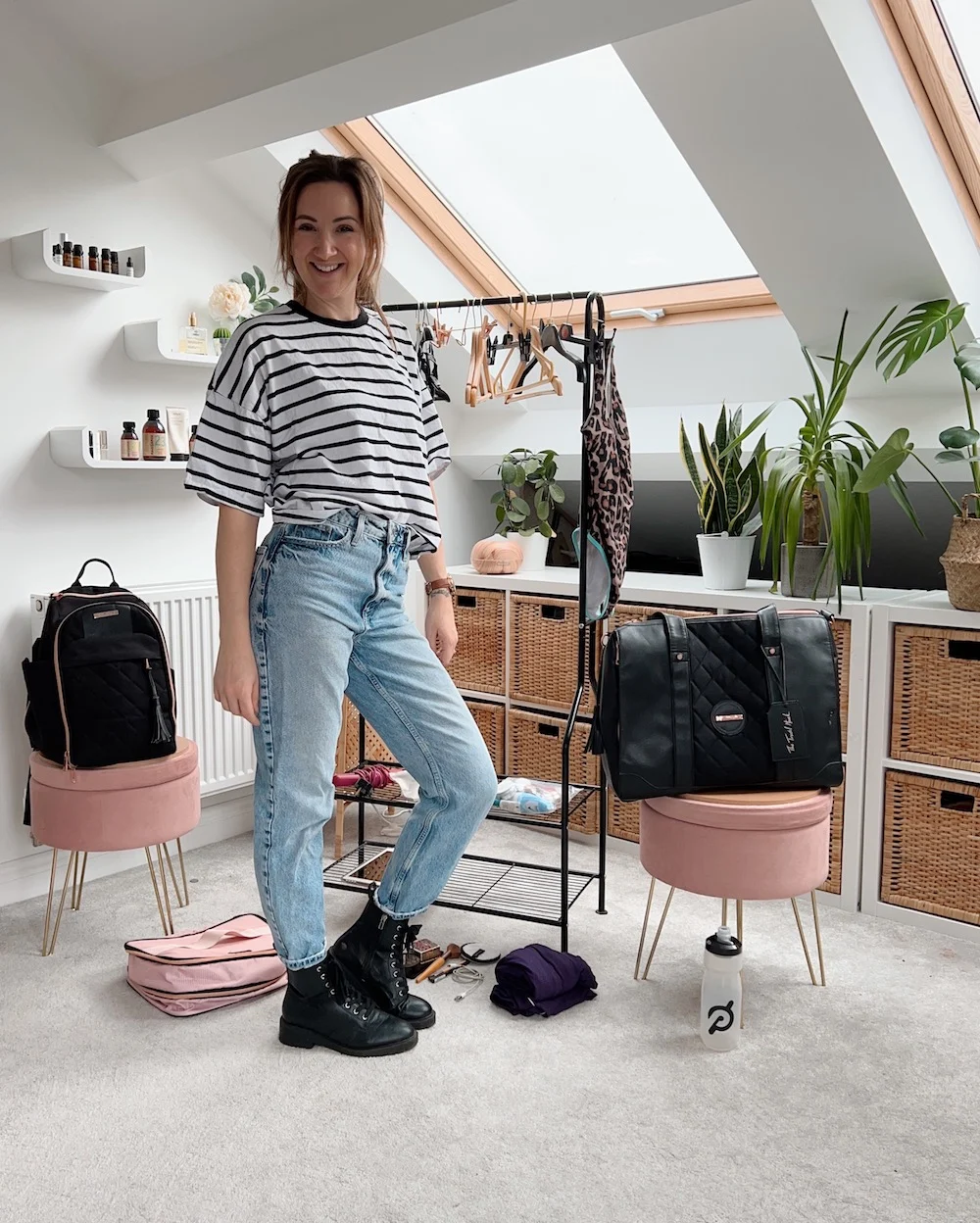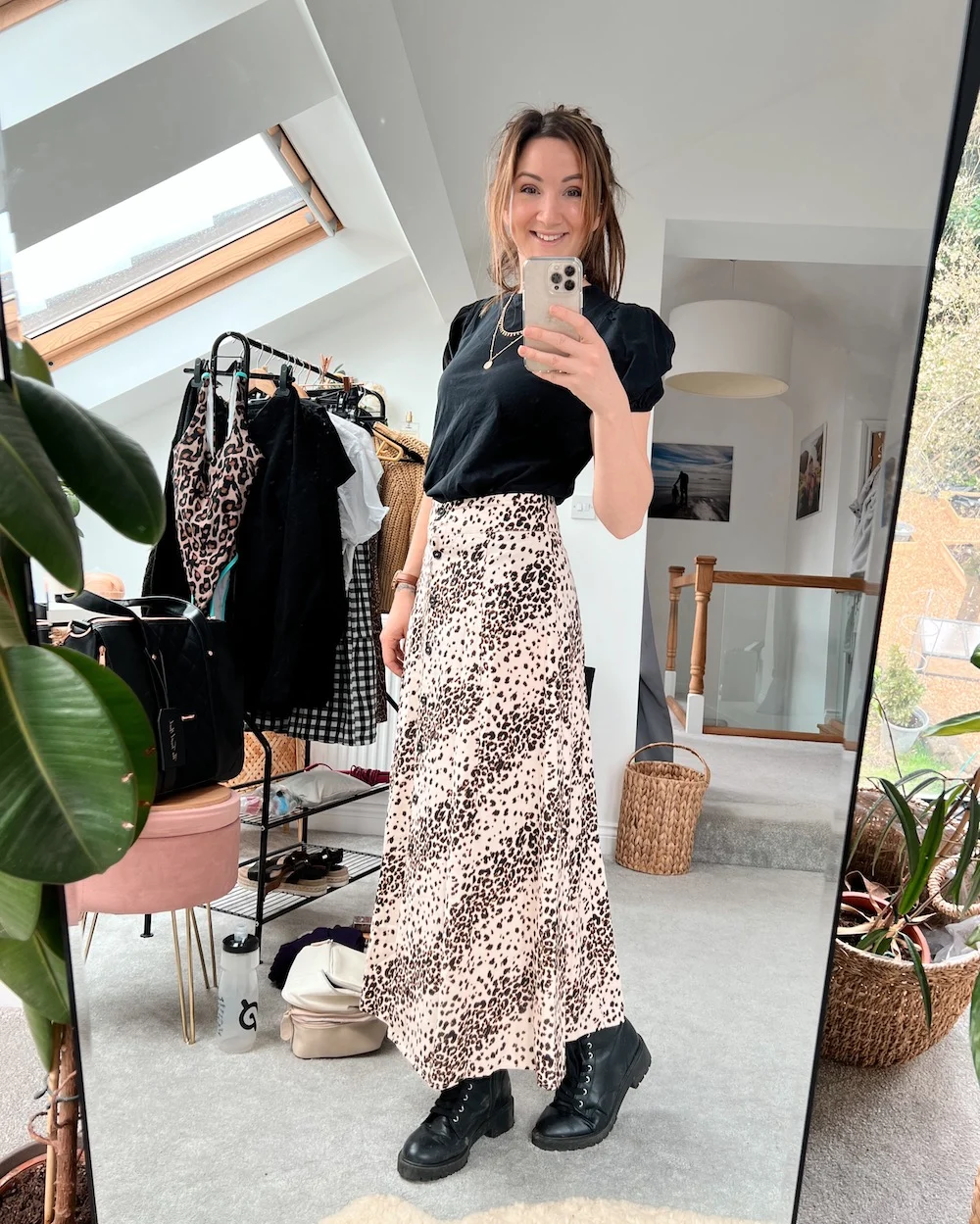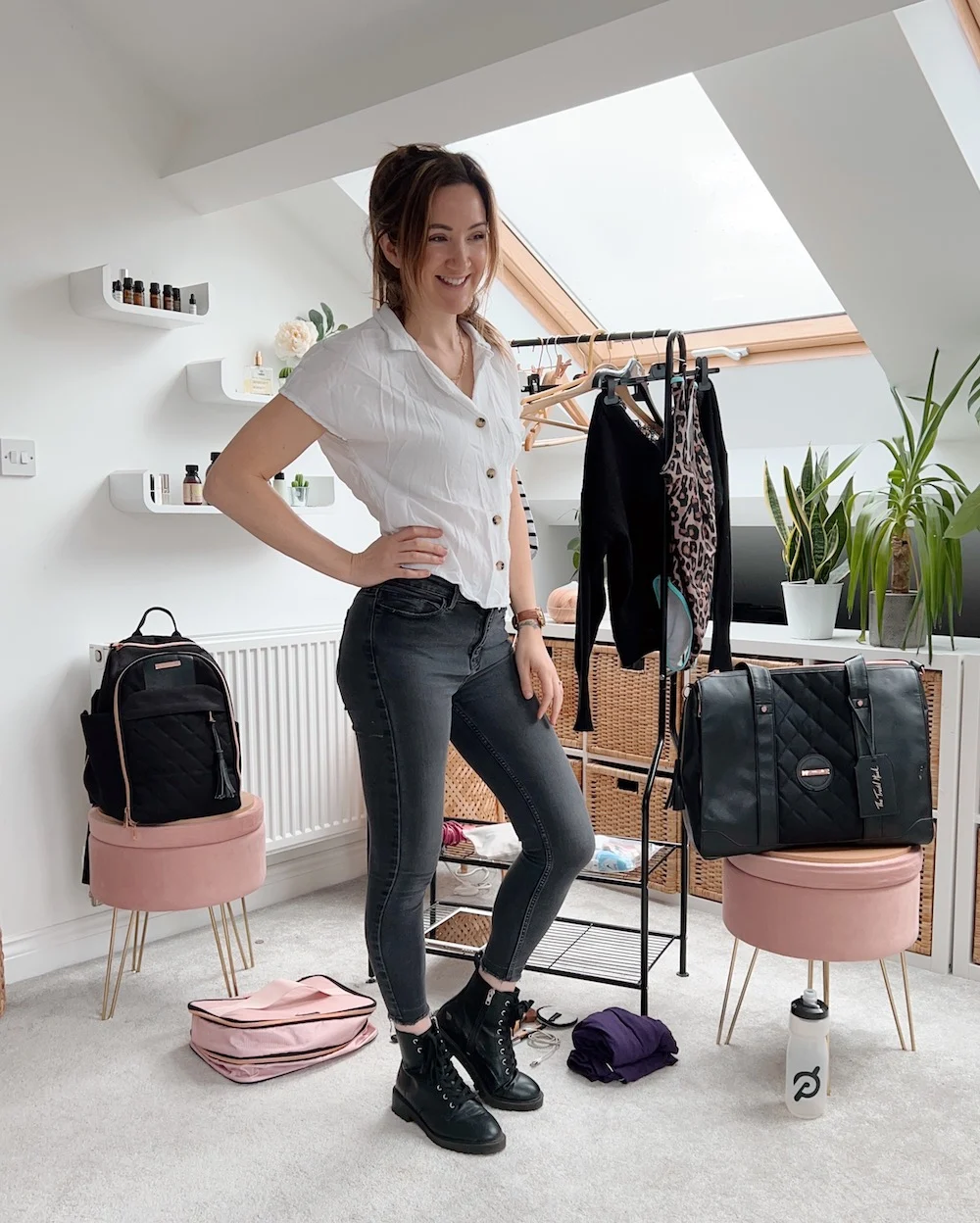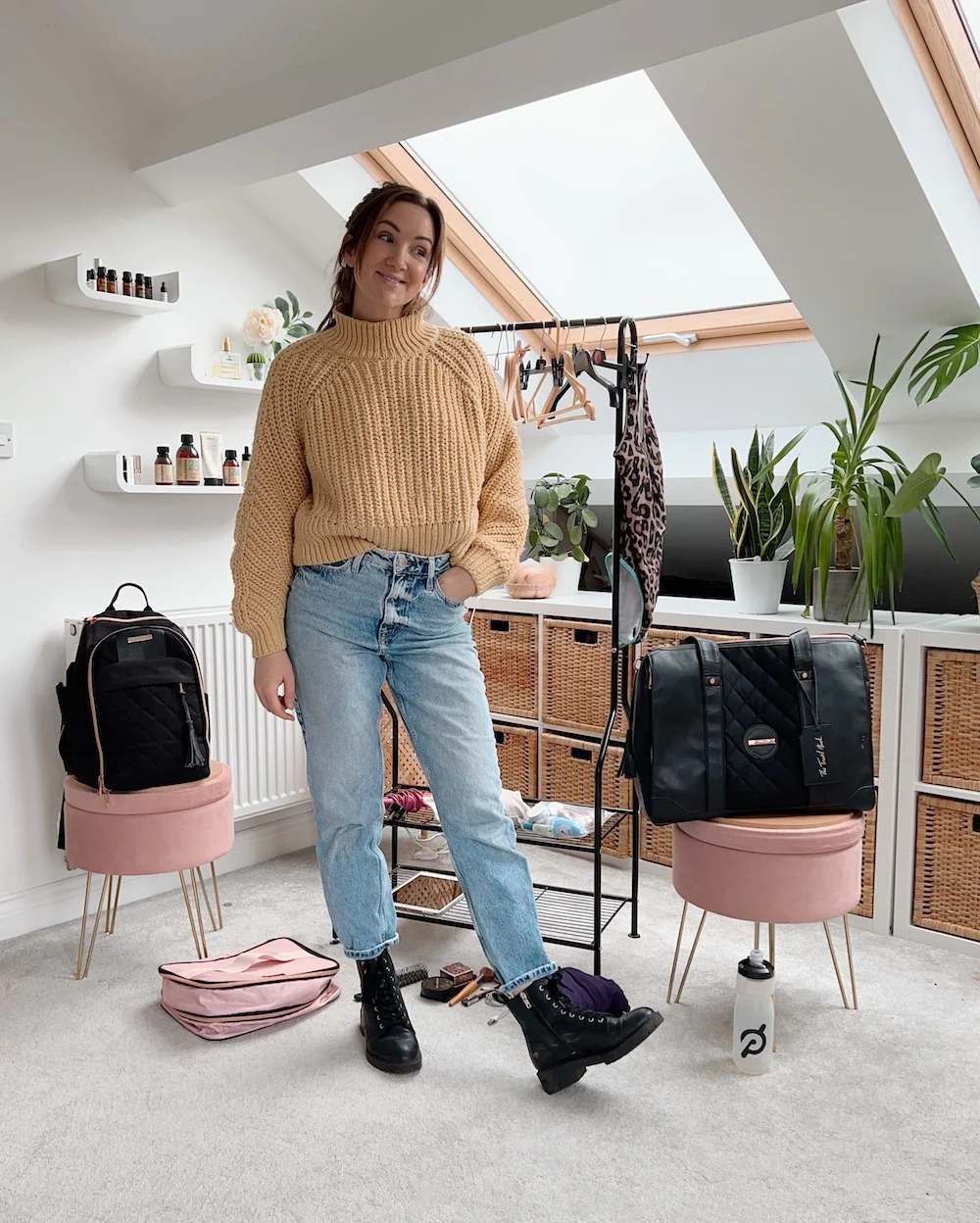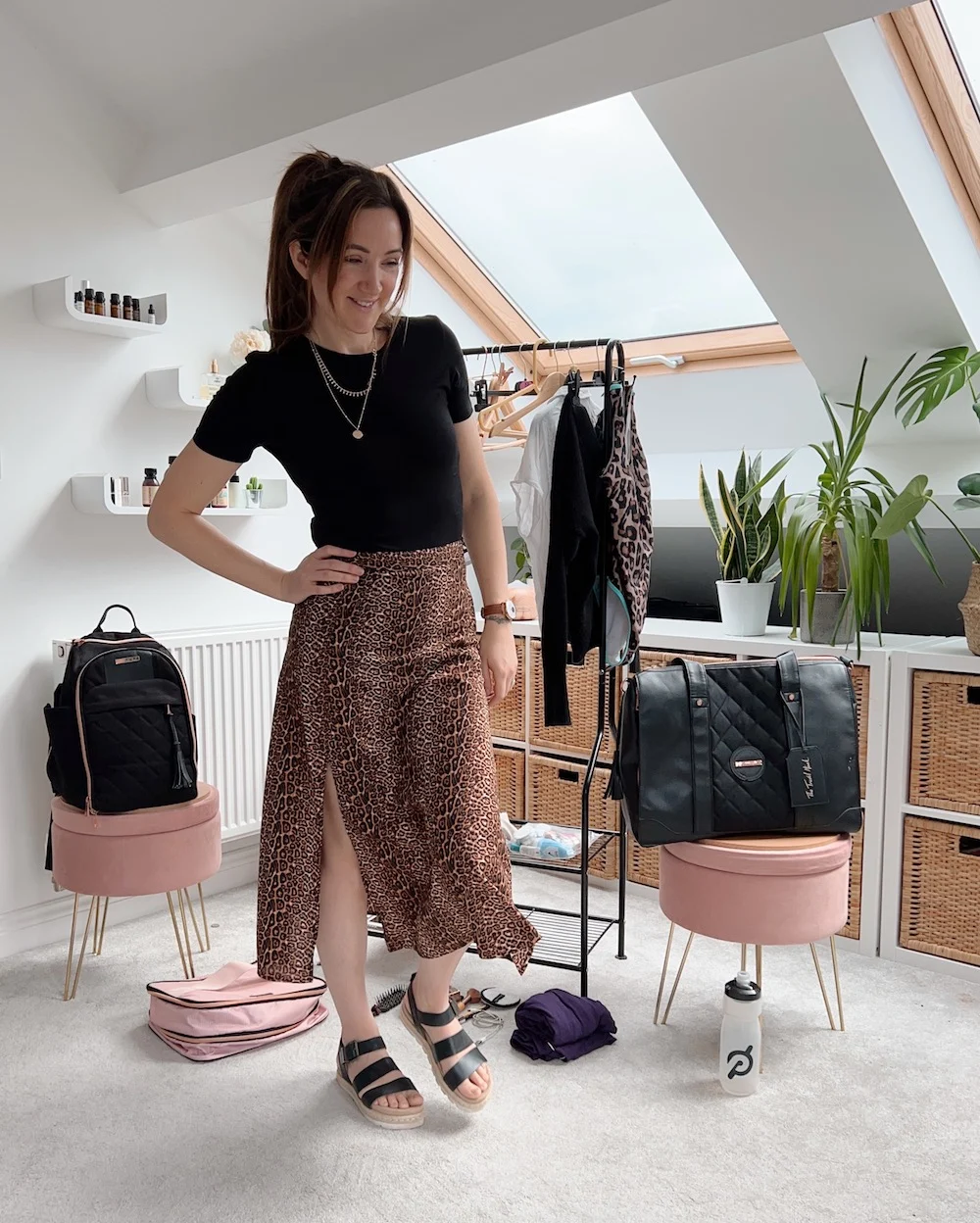 My small carry on luggage packing list
Here's what I'd wear on the plane:
Warm, comfy boots
Chunky jeans
Chunky yellow jumper
Striped T-shirt
Here's what I'd pack
Outfits
Black skinny jeans
3 x midi skirts
1 x white shirt
1 x black jumper
1 x black cardigan (although I could have skipped this as it's very chunky and looks very similar to the black jumper)
1 x black t-shirt with puff ball sleeves
1 x black body t-shirt
Other
PJs (keep them small)
Underwear (in a small bag in case I need to open my bag at airport security)
Liquids/toiletries bag
Makeup (none liquids)
Phone charger
iPad
iPhone
Purse
Swimsuit
Waterbottle
Hair straighteners
Wash cloth / makeup remover cloth
Sandals
I packed all of this up to prove to myself that is it possible and this all fitted inside The Travel Hack Backpack using The Travel Hack Compressible Packing Cube.
It was a tight fit and if I were to do it again I'd take thinner, less chunky sandals as these ones have a chunky sole. I'd also ditch then black cardigan as the one I packed is a warm, chunky one and I think it looks the same as the black jumper anyway.
The BEST tips if you're travelling to a cold destination
If you're travelling to a cold destination then packing light can be harder because you need bigger, bulkier clothing to keep you warm.
My main tip is simply to take one, big super warm coat!
You can check out my list of the best heated jackets for women over here.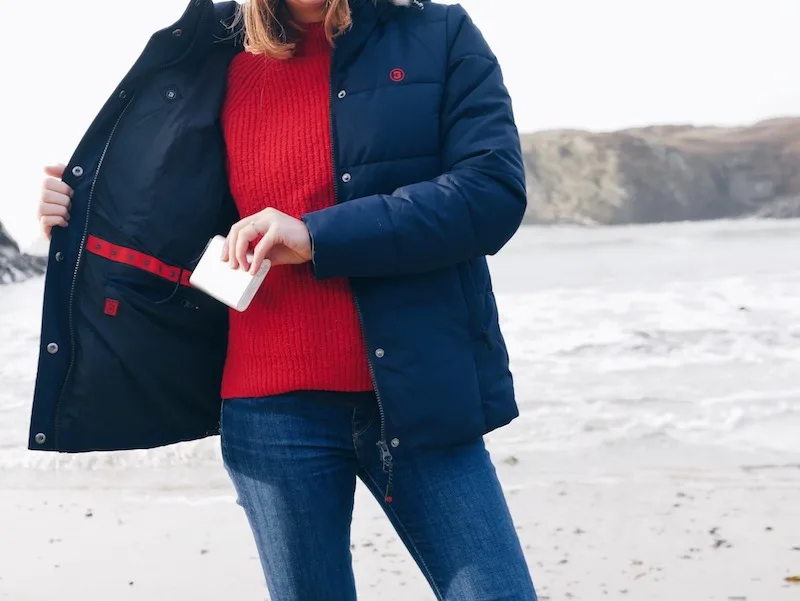 Then you can do away with all of the layers and jumpers because your big coat will keep you warm.
I'd also recommend buying a pair of fleece lined tights. They're small so barely take up any space but they're going to keep you so warm. You can wear them with skirts or beneath baggier jeans and you'll be so toasty!
Carry-on luggage for a summer city break
Taking just carry-on luggage for a summer city break is the best. You can get away with just one pair of sandals (I'm currently lovely to Barbour Gabbie Sandals as they're so comfy and I could walk for miles in them!) and lots of simple, floaty summer dresses that look gorgeous and barely take up any space in your carry-on bag.
I highly recommend using The Travel Hack Tote as it's stylish and plenty big enough and great to use as your bag when you arrive.
Should you use packing cubes?
Yes, I LOVE packing cubes. Especially compressible packing cubes which will remove the air from your bulky clothes and save a lot of space in your small carry on bag.
Packing cubes are also great to keep things neatly organised and help with privacy when going through airport security. You're probably going to need to open up your bag at security to remove liquids and electronics and you don't want your underwear spilling out!
I've got a whole blog post about packing cubes over here so check that out!