In today's post I'm sharing the best shoes for travel to ensure you're comfortable, stylish and can walk for miles. Stylish walking shoes for travel aren't always easy to come by. They're often practical, comfortable and a bit ugly…. or they're cute and stylish but you end up with blisters and sore feet!
If you're trying to pack light then finding the right shoes for travelling can be even more difficult because they need to be multifunctional.
My top tip when packing light is to avoid taking more one than two pairs of shoes. Shoes are usually the bulkiest and heaviest thing in your luggage so if you can avoid them all together then your bags will be much lighter! I recommend wearing one bulky pair of shoes to travel and then packing one small, light pair.
So here are the best travel shoes for women. I've broken it up by the best:
Comfy Sandals – Keen Elle Sandal
Stylish Sandals – Barbour Gabbie Sandal
Stylish walking shoes that aren't ugly – Northface Exploris Leatherboot
Trainers – On Cloudnova
Evening shoes – Office Macie Twist Front Mule
Warm winter boots – Dr. Martens
Shoes for air travel – Classic Vans
Flip flops – Havianas
Best water shoes – KEEN Astoria West
Best shoes for travel in Europe – Too many answers as it depends on the season
And the best shoes if you can only take one pair! – Dr. Marten's Chelsea Boot
If you keep scrolling you'll find more information about each pair and some more options for each category.
And at the end I've answered some FAQs about women's travel shoes. It seems we have a lot of questions and confusion about what shoes you can and should take travelling!
The best sandals for travel
If you're travelling somewhere warm then a comfortable pair of travel sandals will be your best friend.
Look for a pair with a thick sole as these will be much comfier and you won't feel every stone and bump in the road!
It's also best to get a pair with a strap around the ankle rather than slip ons, simply because they're easier to walk in if you're on uneven ground.
Here are three of my favourite travel sandals.
Best for: Style + comfort
I love these stylish travel sandals because they're so comfy but look nice too! They can easily take you from a walk around a city to a night out.
The leather on them is buttery soft so you won't get any cuts or blisters from these. They also have a super thick base with is cushioned and soft so you can walk in them all day.
I wore them in Rome recently (below!) and they were great. I did have a few slippery moments around the Coliseum where it's very smooth, stony and rocky but I think most people would have had to be careful here anyway.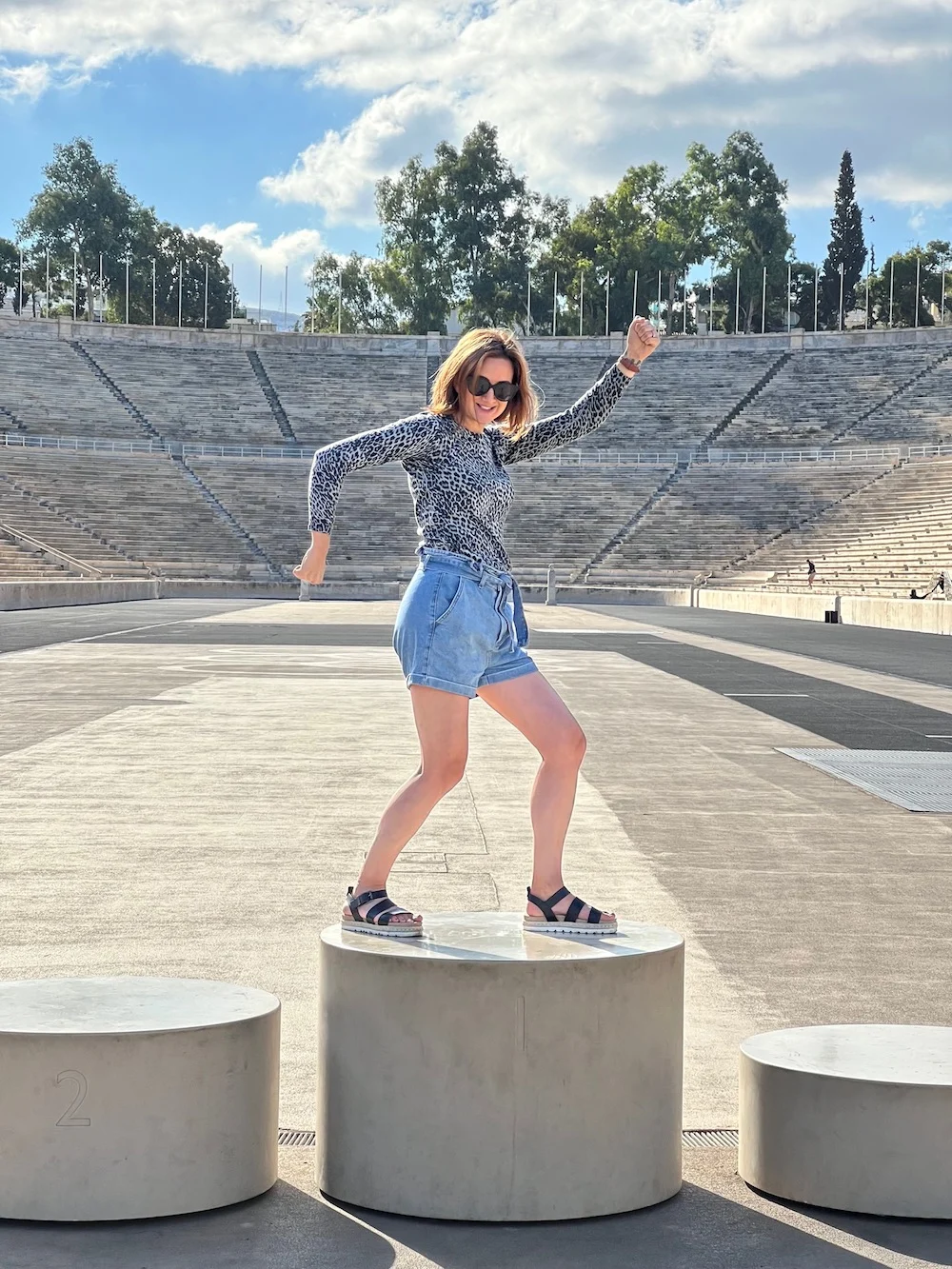 Best for: Casual comfort
I wore these comfy sandals virtually every day throughout the summer last year. They have soft, elasticated straps so they hug your feet snugly, meaning they never slip or rub. They're also really easy to pull on and off so they're great for the beach or poolside. This is also why I wore them so much last year. I had a whole line of shoes waiting by the front door but these were so easy to put on that I almost always chose them!
Best for: Fun style
These come in all different colours but I love my bright, retro style! The straps are all soft and adjustable so you can actually wear them pretty tight if you're on uneven ground and need extra support.
The best stylish walking shoes for travel
Stylish walking shoes for travel will always be something of a personal preference. Whenever I can I prefer to take a comfortable pair of trainers with good grips for most of my walking.
But there are times when you'll need a comfortable, practical and waterproof pair of walking shoes for travel.
When you start looking into stylish walking shoes you'll notice they're actually all very similar so I highly recommend going to a store to try them on or ordering a few online with the intention of sending most of them back.
Best for: Comfort
Is it a trainer, is it a boot? I'm not sure but they look very comfortable.
This is the closest thing I can find to the Teva Arrowood Lux which I reviewed on the blog a couple of years ago. They don't sell these anymore but they're SO comfortable and I still wear them all the time. They're great for hikes and casual, muddy walks. I really like them in this tan colour so keep an eye on the Teva website to see if they bring anything else back!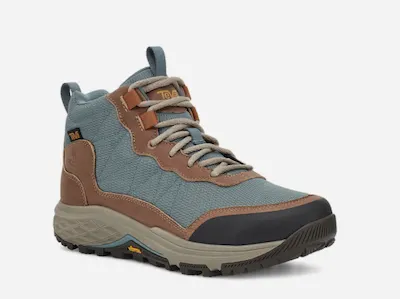 Best for: Hiking style
I've written a detailed Danner Boots Review over here and I really am so in love with these boots! They're quite heavy so might take a bit of getting used to but, after wearing them in, they're super comfy and I just love the style and this gorgeous tanned leather. Whenever I wear them I always have comments and they stand out amongst all the standard hiking boots out there.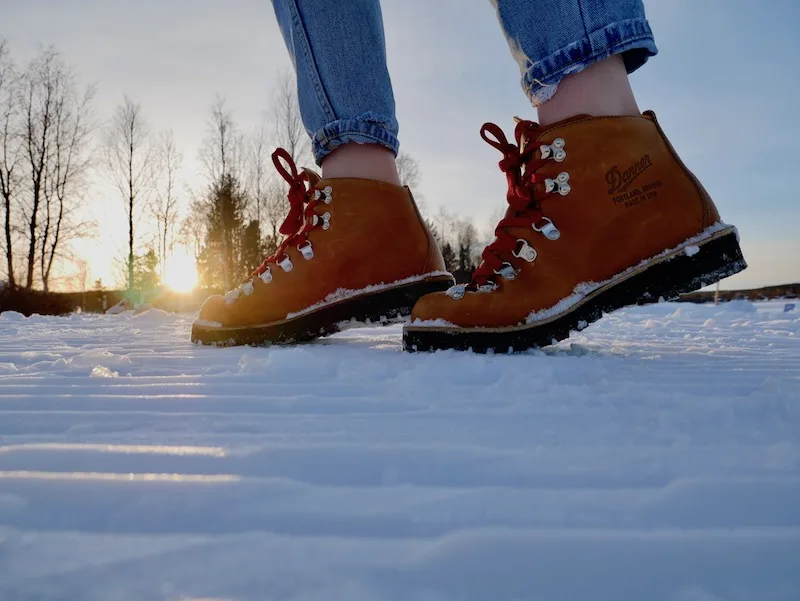 Best for: Comfort and style
Danner do have a softer, lighter and more affordable option to the classic leather boot. There are a few on their website but I love the Jag Quilt.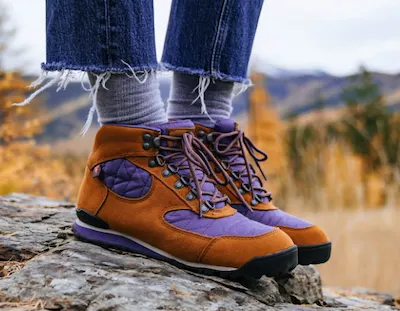 Northface Exploris Leather Boot
Best for: Soft, stylish ankle support
If you're looking for a shoe or boot with a bit of ankle support but don't want hefty leather boots then these from NorthFace could be a great option. They have a really modern design with lots of technical features that make them a great choice for hiking.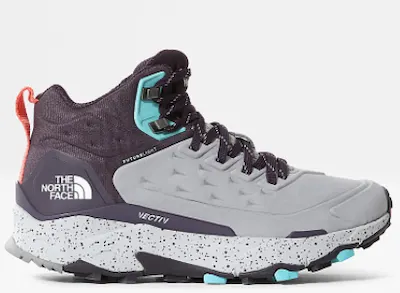 The best trainers for travel
Best for: Comfort + style
There's a reason these travel trainers are called Cloudnova and that's because they're like walking on a cloud! Honestly, they're SO comfortable. You have to try them to believe them.
On Trainers also have some really gorgeous running shoes so if you're a runner and looking for a new pair of trainers then take a look!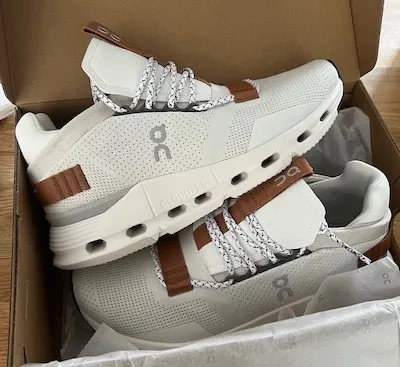 Sketchers
Best for: Lightweight comfort
I'll be honest here – I actually don't own a pair of Sketchers but when I asked on Instagram for your favourite comfortable travel trainers about 50 people replied and said Sketchers, so I had to include them on the list!
Best for: Classic style
Vans are a travel shoe favourite for so many people! Many of my friends have been re-ordering the same pair of Vans every few years since they were teenagers. These classic trainers never seem to go out of style and look just as good with jeans, skirts, leggings and dresses!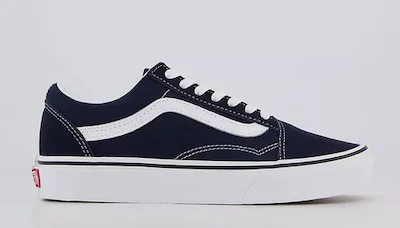 Best for: Style
For a slightly less 'trainer-y trainer' the Nike Blazer Low Platform shoes are my favourite. That low platform gives it more of a shoe feel and gives any shorter ladies (like myself!) a comfy lift!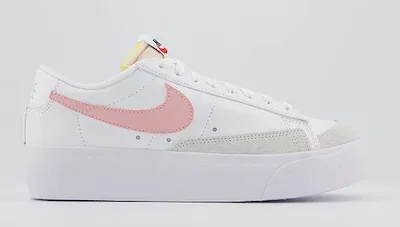 The best evening shoes for travel
Ugg Tuolummne Leather Flip Flop
Best for: Packing light
If you're comfortable wearing flats for a night out then I highly recommend taking a slim, flat pair of simple but stylish leather flip flops. These will barely take up any space in your case and they're an elegant little flat perfect for casual evenings out.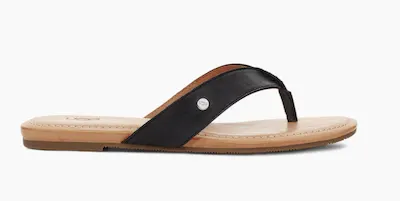 Best for: High heel + match everything
If you love a high heel for an evening shoe while you're travelling then I recommend a strappy stiletto sandal. You get your heel but this is still a slim shoe and, if you pack correctly, it won't take up too much space or weight in your case. Lie them down at the bottom of your case and pack all your smaller items around them.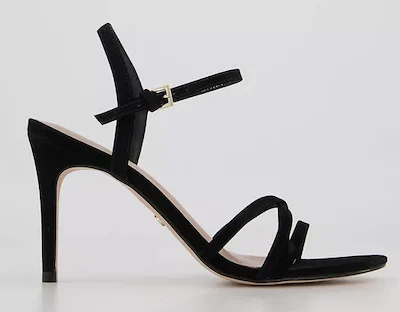 Best for: Goes with everything
I am just in love with these slip on mules! How gorgeous. The reason these mules will be so great for travelling is because they'll go with so many outfits, whether you're dressing up a pair of jeans, wearing a flowy dress or short skirt, these will look great. They also look comfy and that chunky heel will be easy to walk in.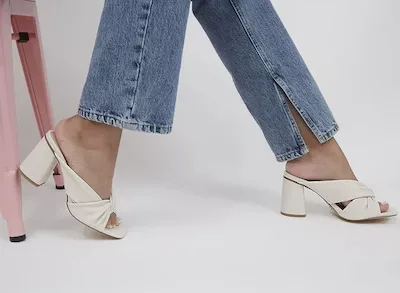 The best warm winter boots for travel
Best for: Current style
You can't beat a pair of Dr. Martens. They're comfy, warm and oh-so stylish right now! You can walk for miles in these and your feet will be toasty and comfy!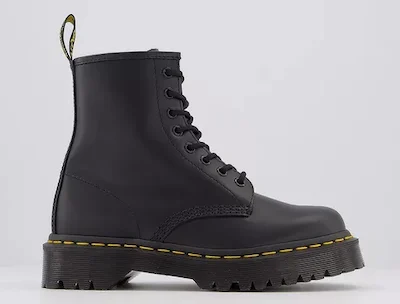 Best for: Classic style + waterproof
I was wearing these Emu Okab boots all winter and I LOVE them. I can see they'll be the kind of boots I'm wearing for years. They're waterproof and lined with the softest wool so they're super cosy and warm. They also have great grips for slippery pavements and uneven icy ground.
Best for: Stylish + waterproof
You can't go wrong with a classic pair of Chelesea Boots and I love these from TOMS. They also have them in tan with a leopard skin effect and they are beautiful!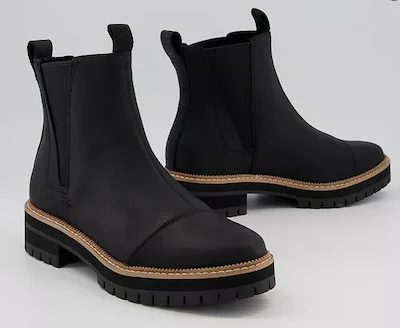 The best travel slipper or shoes for air travel
Best for: Shoes for air travel
I'm a big fan of slippers you can wear in public! OK, if someone looks closely then they might realise you're wearing slippers but you can definitely get away with wearing these Birkenstock Zirmatt Slippers on a plane!
My feet swell like crazy during long haul flights so I like to wear loose fitting shoes or take my shoes off completely. It's then nice to have a pair of shoes you can easily slip in and out of to use the bathrooms or stretch your legs.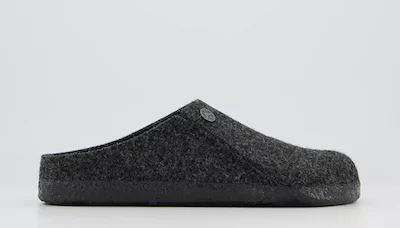 Best for: Simple comfort to slip on and off
If you can't quite bring yourself to wear slippers while you travel then I highly recommend a simple pair of Classic TOMS. They slip on and off easily, they're comfortable and they won't take up much space in your case!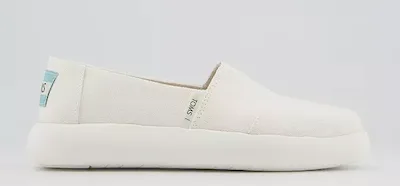 The best flip flop for travel
Best for: Simplicity
A classic pair of Havaianas will take you from the airport to the beach to the pool for a stroll around town. They're simple, they're easy and they last!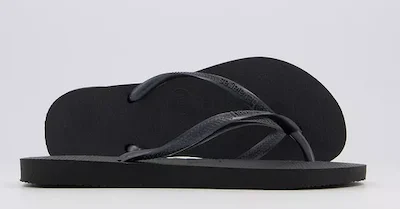 Best for: Comfort
Again, this is a brand I haven't personally tried but my Instagram followers raved about these when I asked! Everyone said they were super comfy thanks to the impact pillows and contoured arch!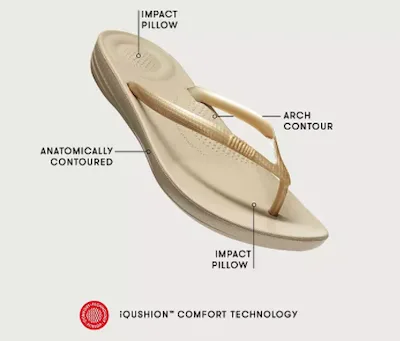 Best shoes for travel in Europe
If you're travelling in Europe then you're probably going to be visiting lots of stylish cities and doing lots of walking along cobbles and uneven surfaces.
You're going to need flat, comfortable, stylish shoes for travel in Europe.
My choice for shoes for Europe would be the same as if you could only take one pair which I've listed below. Choose Chelsea Boots for the winter, comfy but stylish sandals for the summer and white trainers for spring and summer.
Best water shoes
If you're going to be doing any water sports while you're away then a good pair of water shoes may be on your packing list.
Best for: Walking and getting wet
I have the KEEN Astoria West sandals and these are so comfy. I can happily hike all day in them and then walk through a river or along the shore.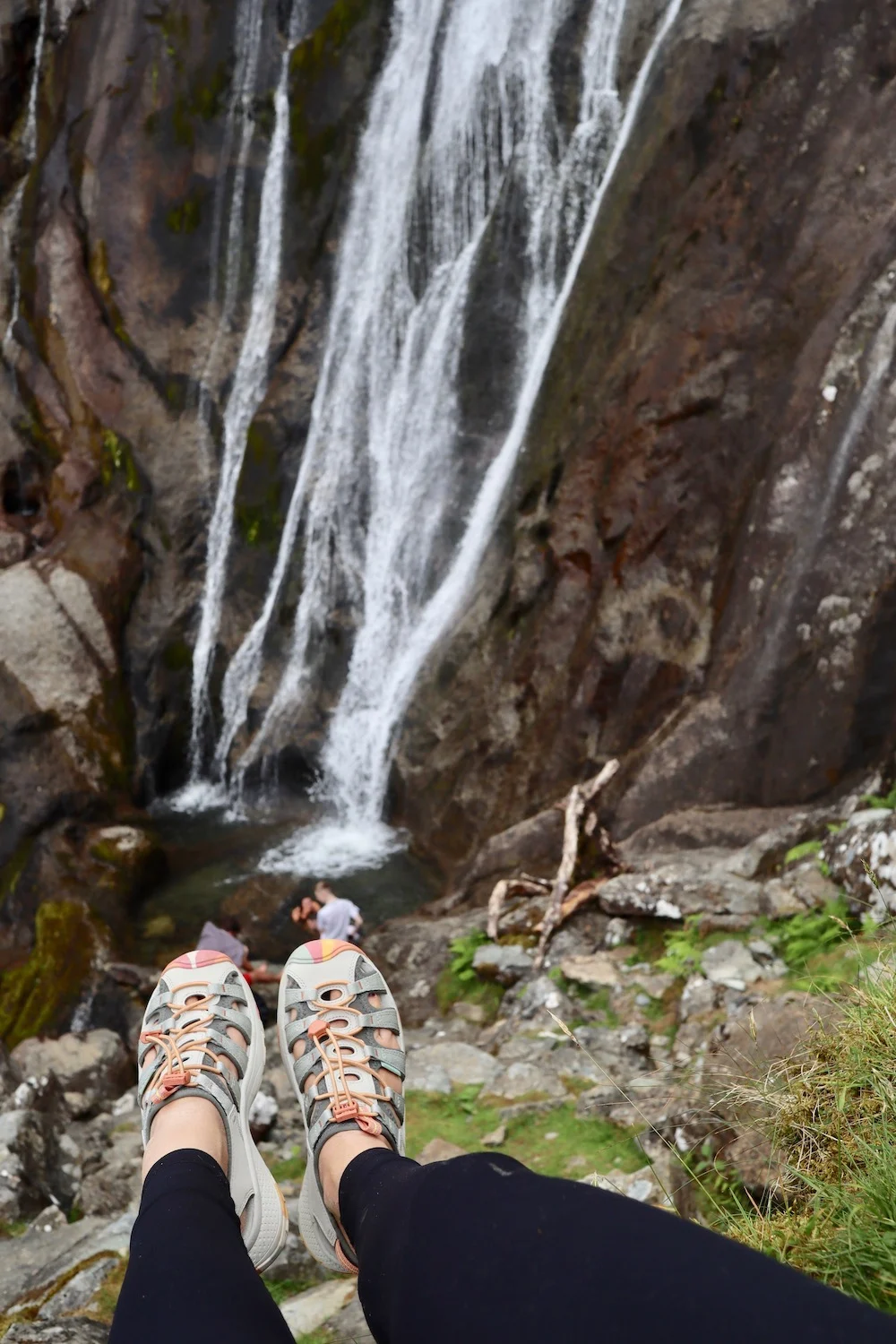 Best for: Watersports
I don't wear my Astoria West sandals for things like paddle boarding or surfing because the base is too chunky. Whenever possible I like to do these sports barefoot but when it's too cold for that I'll wear really simple aqua shoes. The slimmer the sole, the better.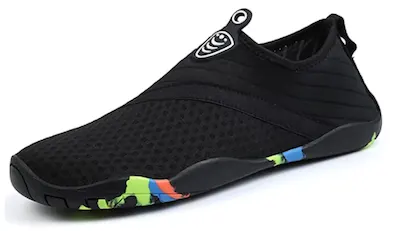 The best shoes for travel if you can only take one pair
Oh now this is a tricky one. What shoes to take travelling if you can only take one pair? If you're travelling with just small hand luggage then this can be a dilemma because you don't have space for any shoes in your bag!
I have three choices depending on the season and what you'll be doing.
Best shoes for winter travel
I'd wear a classic Chelsea Boot for winter travel. They're comfortable, stylish, can be waterproof and warm and won't look out of place in a nice restaurant.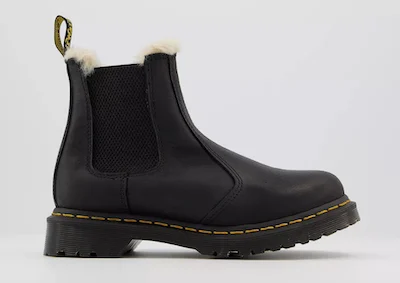 Best shoes for summer travel
These are just the comfiest sandals ever and can take you from the beach to a long walk to a night out with no problem!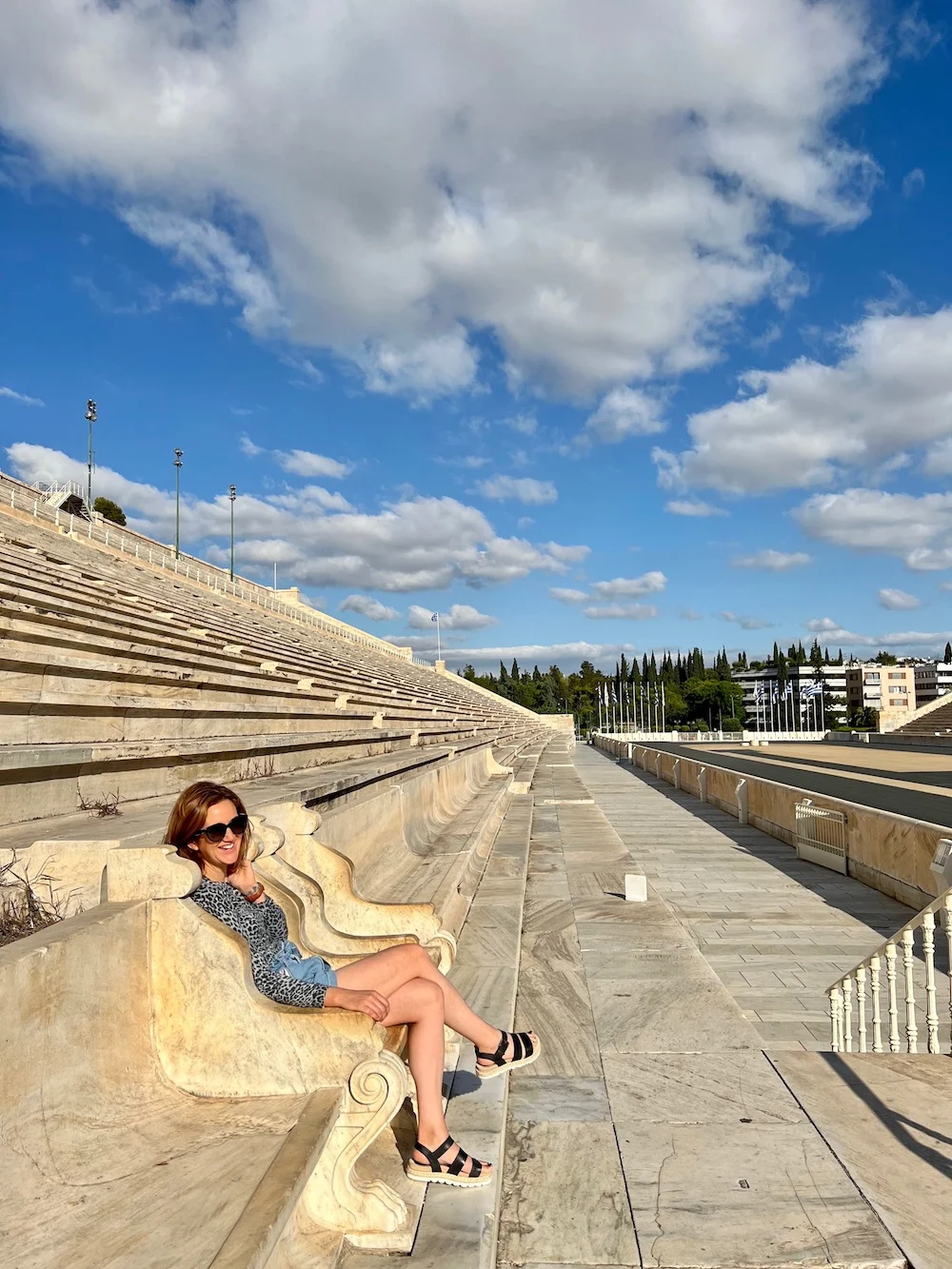 Best shoes for warm weather and lots of walking
I haven't specified a particular brand here because there are just so many to choose from but you can't go wrong with a classic white trainer. Adidas Gazelles are super comfy and it's a classic style you'll be wearing for years. Choose an off-white colour like these gorgeous Veja ones as they won't look dirty after a day of walking!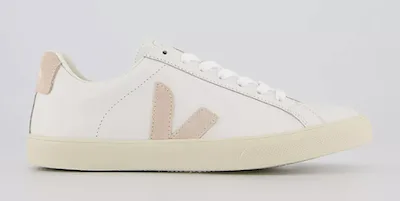 FAQs about travel shoes for women
Can I travel in Birkenstocks?
Yes! Absolutely. I love my Birkenstocks and I travel in them all the time. I haven't listed them on this epicly long post about what shoes to take on holiday because I know lots of people struggle to walk long distances in Birkenstocks and find them awkward if they slip off your feet.
Personally, I could walk all day in them so if you feel the same then yes, take them with you!
Should I travel with hiking boots?
I would only recommend travelling with hiking boots if you have a very long hike planned. You do not need hiking boots for a 1-2 hour walk or to walk around a city all day.
Hiking boots are heavy and clumpy and difficult to pair with other outfits.
If you don't have any mobility issues or problems with your feet, ankles, back or legs then you'll almost always be fine with a comfortable pair of trainers.
A stylish walking shoe is a good alternative to a hiking boot. Even if I do have a long hike planned, I'll always try to do it in a comfortable walking shoe or a more casual walking boot. I've linked a few casual walking boots above but I really love the soft Danner boots.
How do you choose the best shoes for travel: Buying advice
My main advice when you're buying your travel shoes is to make sure you buy quality. I know there are so many cheap highstreet stores selling trainers for £15 and flip flops for £2.50! And you might be wondering why you'd ever spend x10 that amount for the same product?
In my experience, it's actually much cheaper to buy quality products in the long run.
Not only do the quality travel shoes work out as better value but they're going to be much more comfortable. There is absolutely nothing worse than buying a new pair of shoes to go on holiday and they rub your feet from the moment you arrive. Or you get somewhere wet and cold and you don't want to go out because your feet are damp and freezing! It ruins your trip and means you don't get as much out of it as you would wearing comfy shoes!
Whenever possible, try and buy classic styles like Chelsea Boots or Birkenstock style sandals. These have been around for years and don't look like they're going anywhere!
The best brands to look at for travelling shoes
My favourite brands for travel shoes for women are:
Teva
Barbour
Dr. Martens
On Running
Veja
KEEN
Vans
Danner
Adidas
Should I pack blister plasters?
If you haven't had time to wear your shoes in then it's always a good idea to pack a few blister plasters just in case. If you notice your shoe is starting to rub then pop a plaster on immediately. Don't wait for a blister!
Compeed blister plasters are the best as they're so cushioned and don't rub off. I recommend buying them ahead of time because they can be so expensive in pharmacies (when your foot is bleeding and you'll pay any amount for a plaster!)