In just a few weeks I'll be driving to Portmeirion to attend my very first festival: Festival No. 6.
I'm a bundle of excitement and nerves, so to calm the latter I've spent quite a bit of time researching what I should pack to make this experience not just survivable, but enjoyable. Although I'm not a huge fan of tents, there are so many things I'm excited about at Festival No. 6 that I don't want the camping bit to ruin any part of my experience.
Most of you are probably far more advanced than me when it comes to pitching a tent or sleeping in the great outdoors (it'd be hard to be less advanced than me, honestly), so I won't patronise you by adding 'a tent that doesn't leak' or similar obvious items to my list.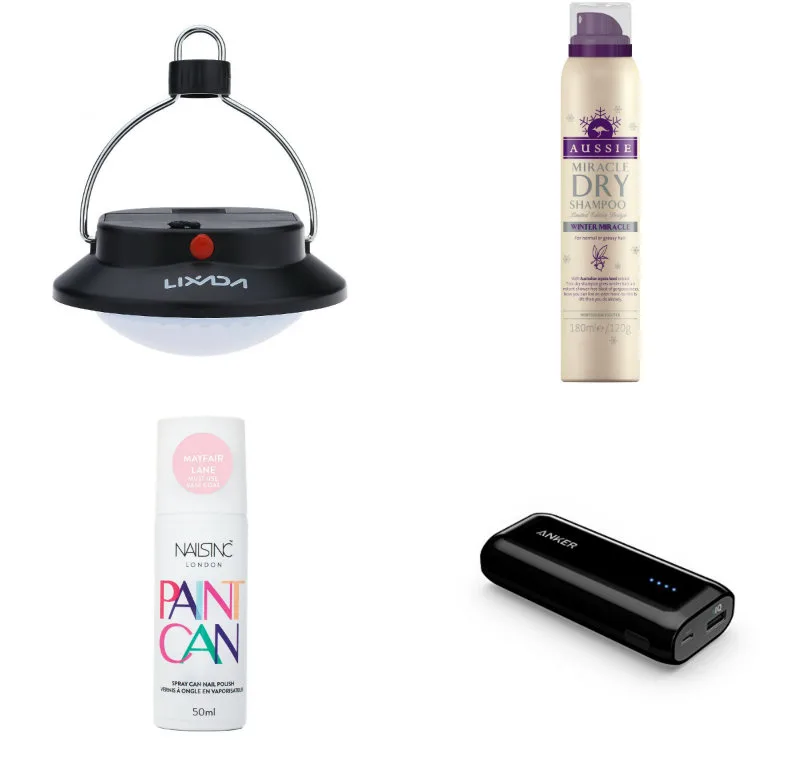 Instead, these are the 10 essential items you should add to your festival packing list to make sure you have the time of your life.
A torch is probably on every festival packing list out there, and if you're getting really fancy, maybe even a solar powered flashlight or headlamp. But if you want to get serious about comfort, then what you need is a camping lantern.
Hang it up inside your tent and when you get back at night you'll be able to see everything…not just the spot your torch is shining on. It makes getting changed at night a dream, and trying to find your wellies when you need to pop to the loo in the middle of the night suddenly becomes far more do-able.
#2: Loads of socks
Wellies are probably the first thing I'll pack for a festival (in part because mud, but also because it's a great excuse to wear my beloved Hunters). But straight after that it'll be socks. And lots of them.
For the three days I'll be at Festival No. 6, I fully expect to bring 10 pairs of socks: 1 pair for each morning, 1 for each afternoon and one for each night when the wellies have come off (and a spare, just in case).
I know if it's raining I'll just feel dirty and therefore miserable – but something so small like a fresh pair of socks can make everything feel OK again. It's like a hot cup of tea, but for your feet.
What with all of the Snapchatting, Instagramming and general photo-taking I'll no doubt be doing over the course of Festival No. 6, I'm going to need as much phone battery as I can get. Camping means no power points, so a good quality portable charger is essential for a social media heavy festival.
I love my Anker charger as it charges my phone fully two or three times – the perfect pocket-sized solution!
I only discovered this genius invention recently, and I'm in love.
If my nails start to look chipped and untidy when I'm travelling, I just don't feel like I'm put together.
Spray-on nail varnish means you can get a quick fix (it doesn't last as long as the real thing) without having to sit around waiting for polish to dry. It sounds messy – and it is – but you just wash or wipe your hands afterwards and the polish comes off your fingers (but stays on your nails). It's the easiest way to stay polished with minimal fuss.
#5: Snacks
Of course, Festival No. 6 is known for its cuisine, so I don't expect to go hungry while I'm there – but in case I get caught out with no food or energy (e.g. when I'm dancing away on the floating dance floor) I'll have some Nakd bars in my bag for a burst of (healthy) energy to get me through to my next gourmet meal.
#6: Various plastic things
This tip is thanks to Travel Hack reader Charlotte, who commented on my last post:
I'm no festival pro, but I have been to a few now and I'd recommend taking lots of plastic bags! I learned to wrap all my outfits in them individually after a very damp festival + leaky tent meant that I didn't have any clean dry clothes for a weekend!
I'm obviously hoping this doesn't happen to me, but Charlotte's logic is sound (thanks, Charlotte!). I don't really want leaky anything – so I'll be packing bin bags, shopping bags, and maybe some of those resealable sandwich bags for good measure.
Paranoid? Maybe. But I'm determined to stay dry!
#7: Swimwear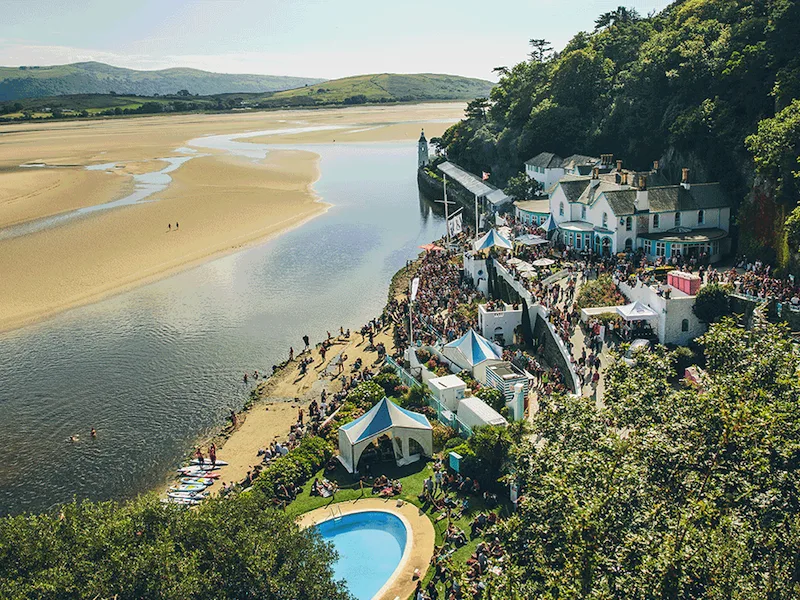 Image source: festivalnumber6.com
Yep, I plan to swim. In Britain.
Just look at where I'll be (and cross your fingers for sunshine)!
But even if you're packing for a festival that's not by the seaside, swimming gear is a great idea for showering without the risk of exposure.
These are really an essential for any kind of camping situation.
I plan to shower during the festival weekend, but in case I just can't face it, I'll have a stack of wet wipes (good for makeshift showering, removing makeup, cleaning spills) and some dry shampoo so I can feel like a human, even if I'm rocking a layer of three-day dirt.
#9: A proper bed setup
I love my sleep, and I'm not going to let camping stop me from achieving a comfy night.
The essentials I'll be packing to make sure I feel rested throughout the festival are an air mattress, a sleeping bag and a real pillow. I can go without a lot of things, but a bed isn't one of them.
#10: Cute outfits
Possibly the most important of all, a festival is as much about what's on as it is about checking out the people who visit – it's so engrained in the culture that festivals like Glastonbury and Coachella are closely followed by fashion-lovers to see what the latest trends are going to be.
I don't have a flower headband, but I'll be adding my own bit of flair to the weekend…so stay tuned for my festival diary soon after Festival No. 6 has finished.
Have you been to a festival before? What else would you add to this list?
Pin this for later