"Is this whole place ours? The whole thing? Nah, it can't be."
We'd followed the directions James Villas had sent us perfectly. We'd even put the address into the satnav in our hire car to make doubly sure we didn't get lost. Yet here we were, sat outside a Portuguese mansion and wondering where we went wrong.
We approached cautiously and soon realised this was the right place and the whole villa was ours. This place was enormous! We'd booked a holiday villa and we weren't expecting anything this grand.
I punched a code into a keysafe outside and the keys to our mansion fell out with a satisfying ping. Home sweet home 🙂
We were staying in Carvoeiro, a beautiful Portuguese town in Lagoa, Algarve. It was less than an hours drive from Faro which is served by lots of budget airlines so it's really cheap to get here. I was away with Sam and our son, George, who was six months at the time. We were also away with my parents who'd been to the area a couple of times before on golfing holidays. They were playing golf five out of the seven days we were away and this worked out perfectly as we got the villa to ourselves all day (and babysitters at night!) And, of course, we got to have a lovely holiday as a family – and did I mention my mum is an amazing cook? It was kind of a winner all round.
The villa was in a residential area just above the Carvoeiro. It was quiet up here with beautiful views. Most of the other villas surrounding us seemed to be holiday villas but it didn't have a touristy feel to it at all. It was just so peaceful!
Here's a look around the villa…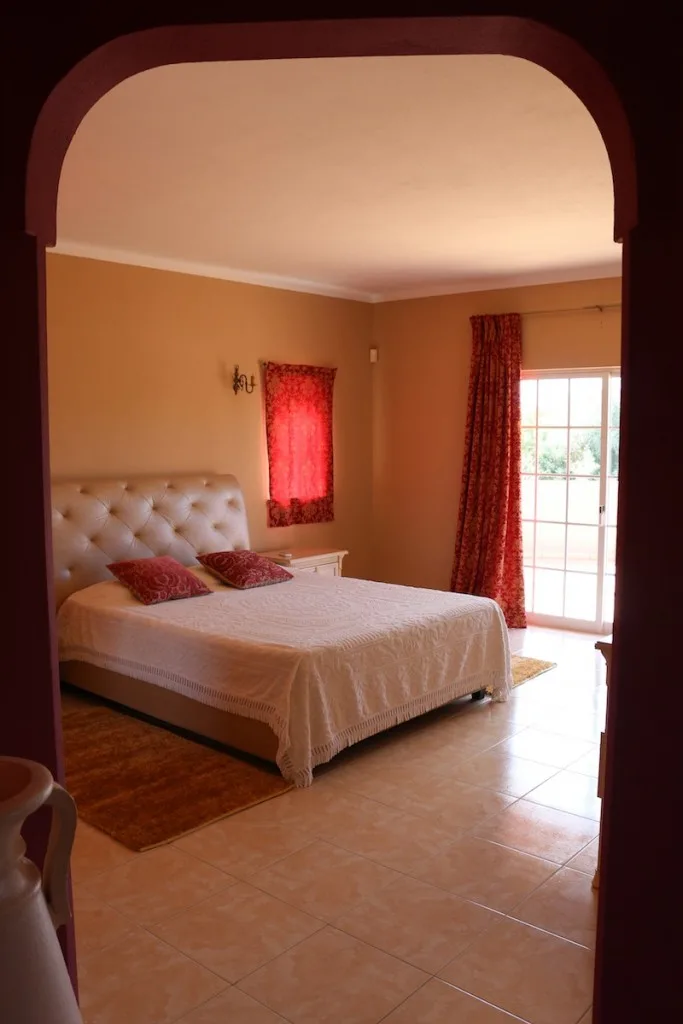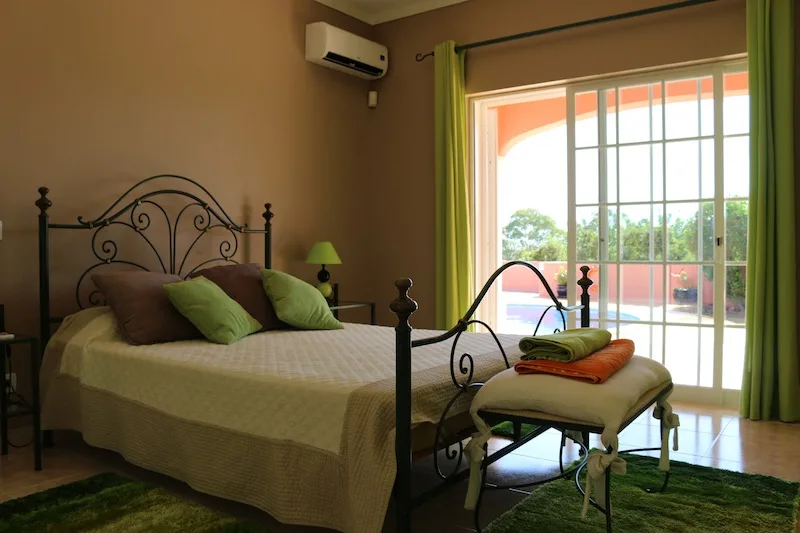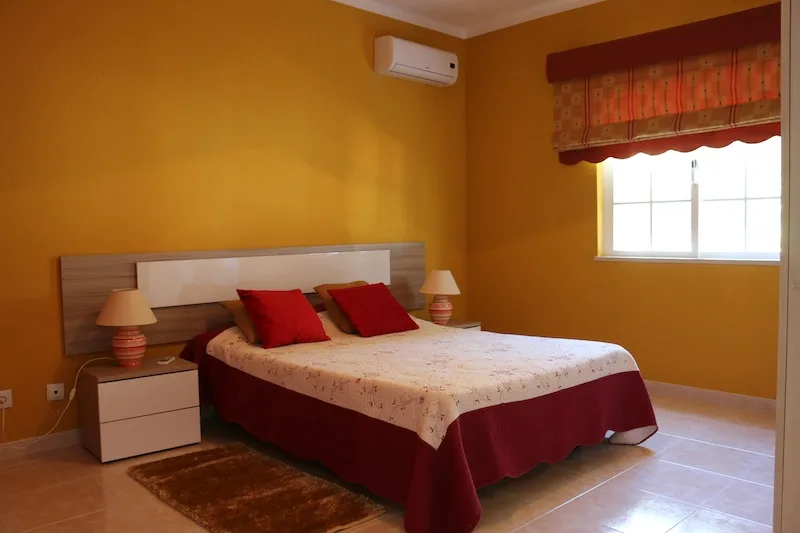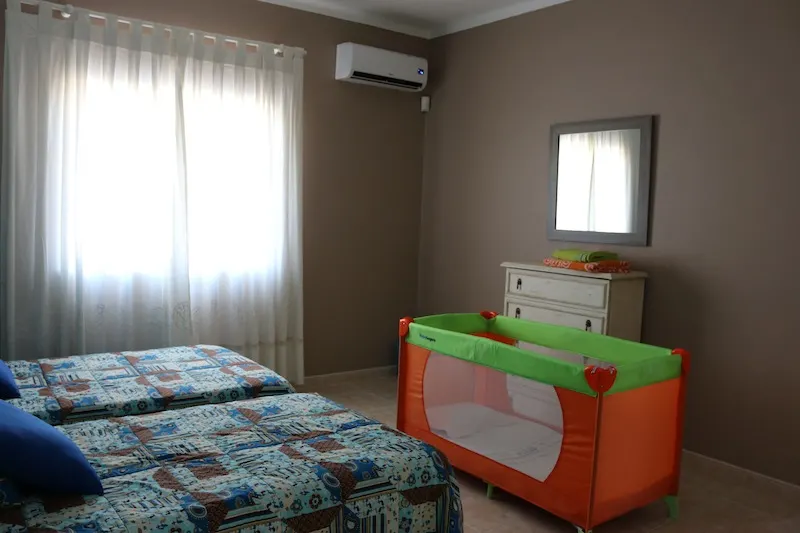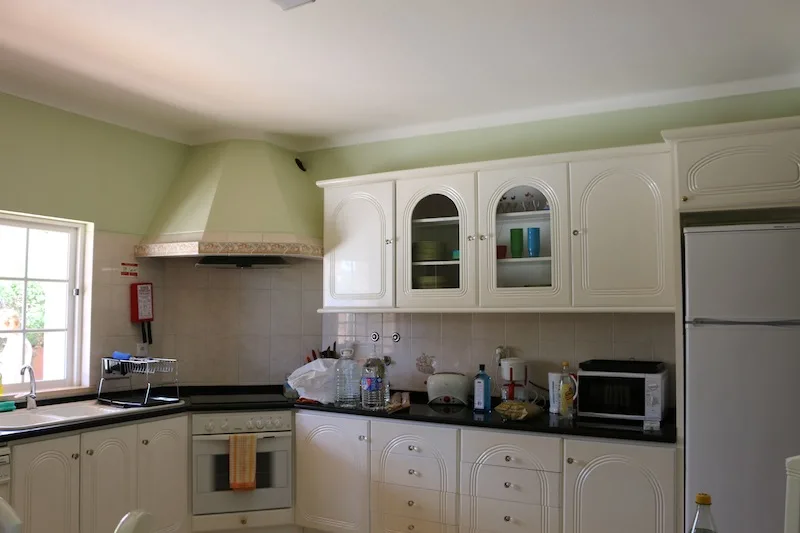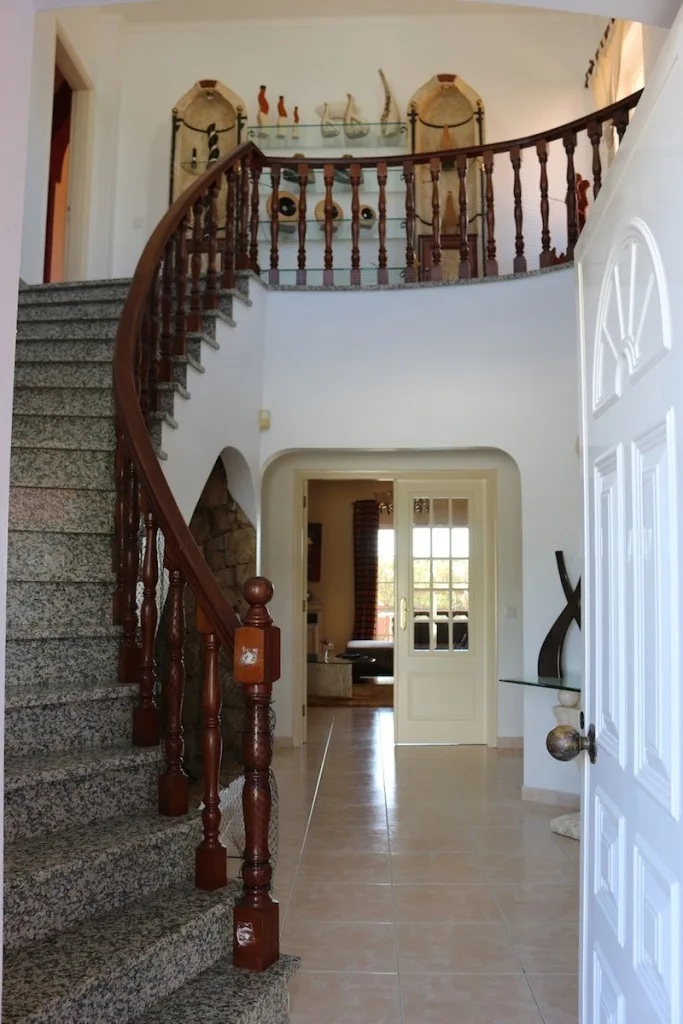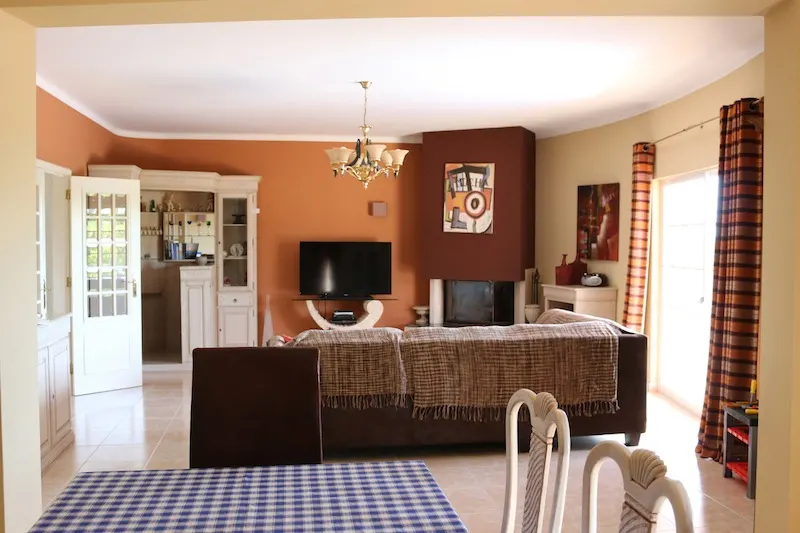 The villa comfortably slept eight people with four double bedrooms, three bathrooms, one downstairs loo, an enormous living and dining room, a good sized kitchen with pantry and a utility room. The master bedroom was upstairs and had a huge balcony that went almost the entire way around the villa.
I did the good daughter thing and gave my mum and dad the enormous master suite. It wasn't all bad though because our room led straight out to the pool so we could almost roll out of bed and head straight for a dip.
The main selling point for this villa was the garden and pool area. A huge veranda surrounded one side of the house and offered a shady spot to overlook the garden. The pool was great although you had to be brave because it was a little chilly in September. The BBQ area was my absolute favourite area in the villa. A thatched roof seating area made the perfect place for meals and we used the BBQ nearly every night.
These lovely little areas within the villa made it a perfect place for a family holiday because there was so much space for everyone. Even if there were eight people staying here it would never feel cramped or crowded.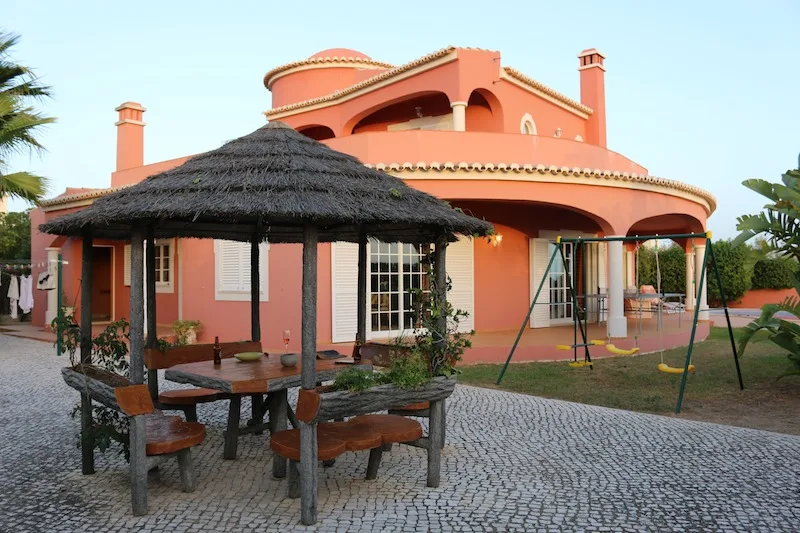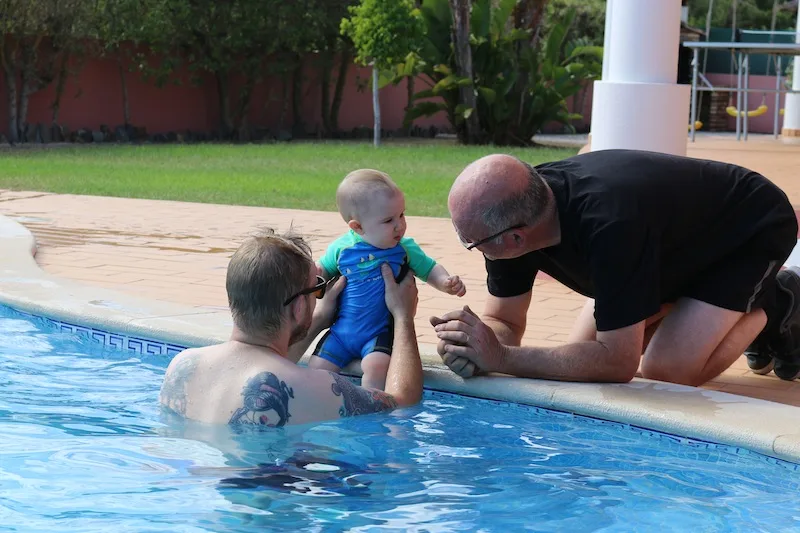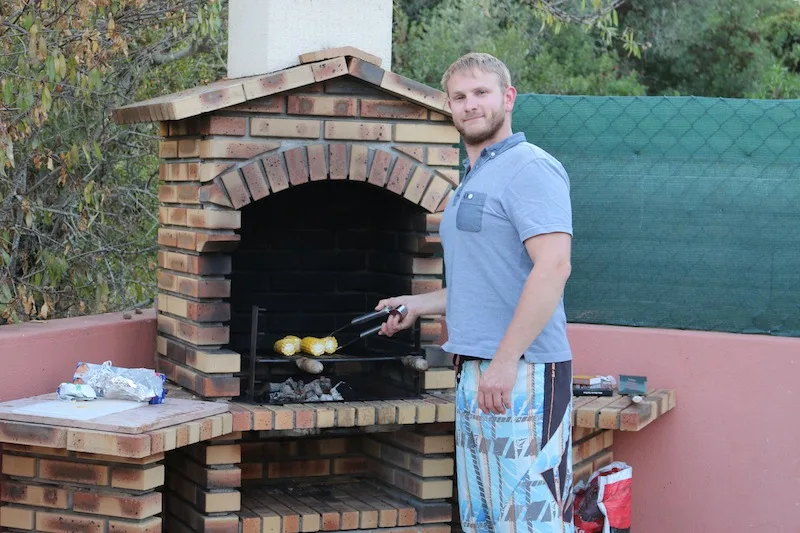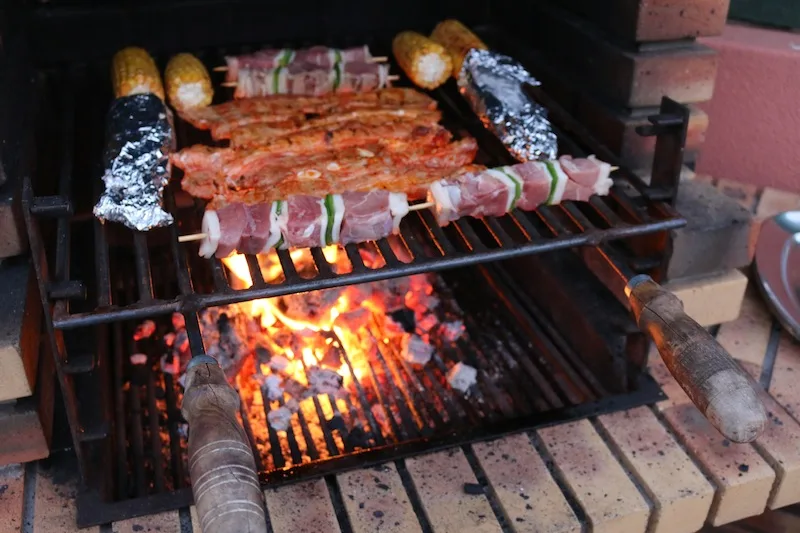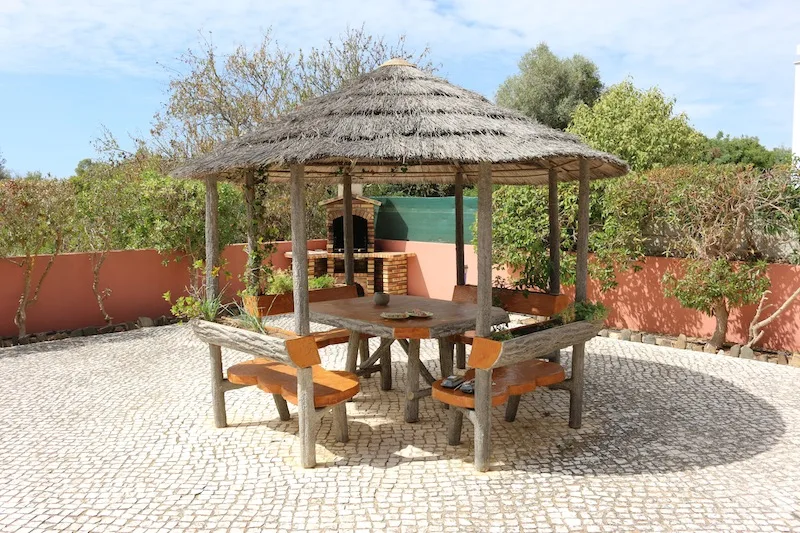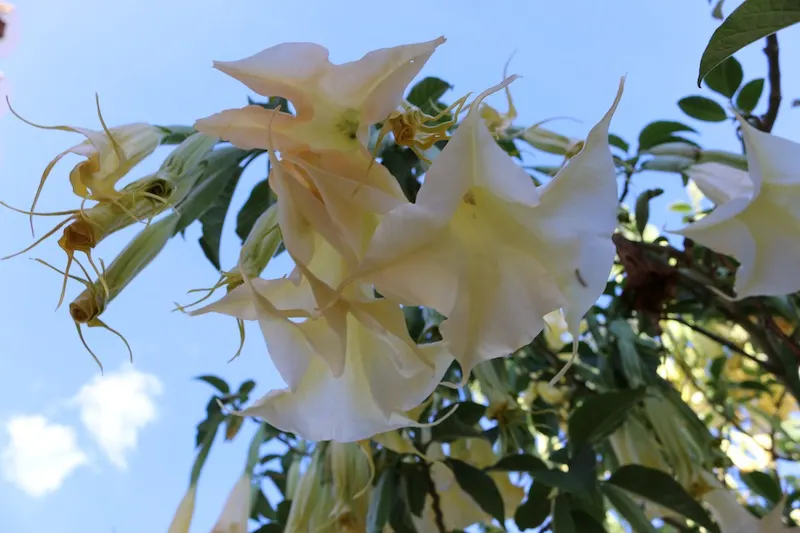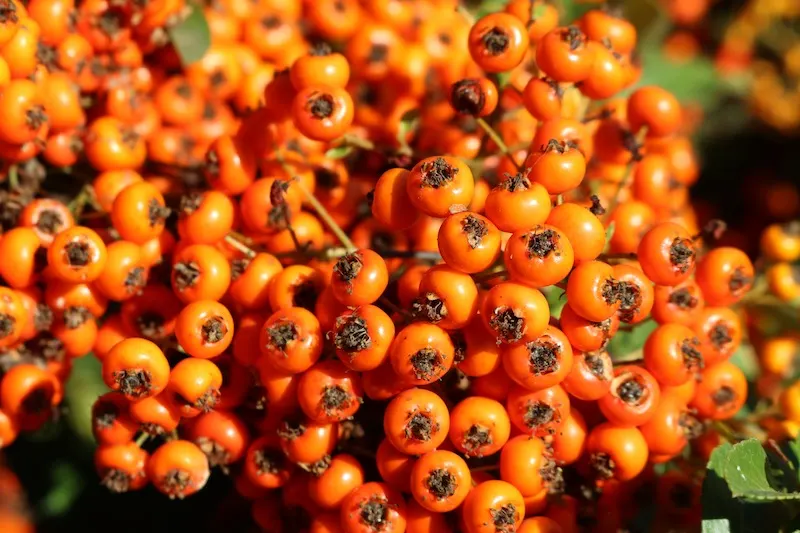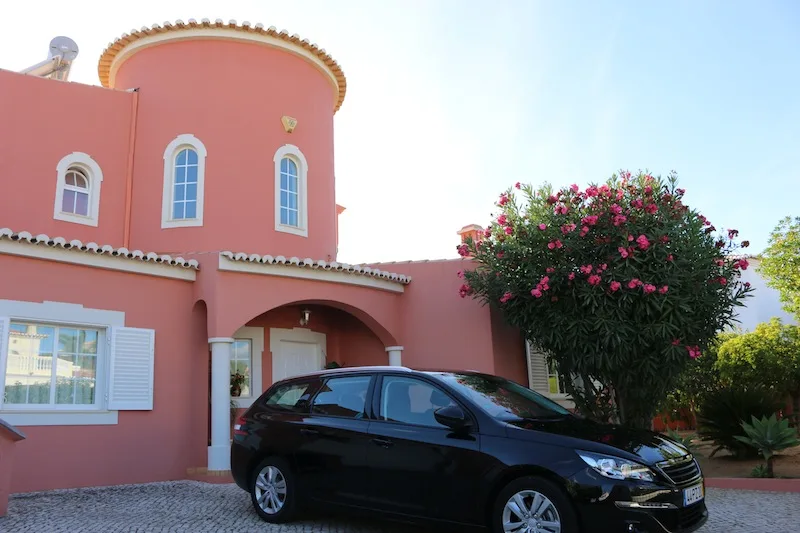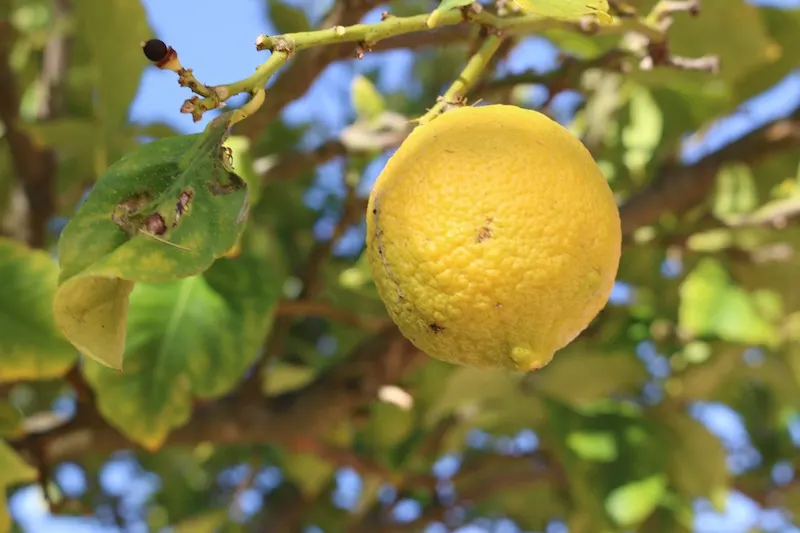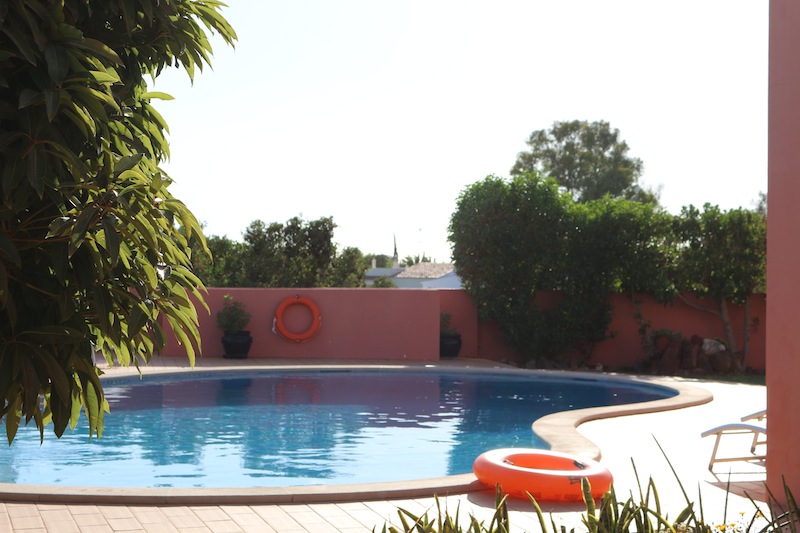 A cot and highchair were left for George and there were even a few toys for him too. The villa was the perfect level of being homey without feeling like we were actually in someone's home. It was well equipped for eight people with everything you'd need to be cooking up big meals for a big family.
The villa was a 20 minute walk into the centre of town and 10 minutes to a corner shop that sold all the basics and fresh bread in the morning. I've realised there is no better way to start the day than with a brisk early morning walk in the sunshine to collect fresh bread.
While we were away George got into a habit of getting up at 6.30am. There's not even a time difference in Portugal so I'm not sure why his routine changed but there was no way he'd stay in bed one minute past 6.30. I'm not as morning person and it was painful getting up at this time but once I was up I loved it. It was fresh and clear outside with a gorgeous pink sky and not another person in sight. I'd take George for a walk and we'd wind our way around the incredible villas, past beautiful gardens and make our way to the shop to collect freshly baked bread and croissants.
We'd get back to the villa in time for a pot of coffee and warm milk (coffee for me, milk for George) and I'd have a dip in the pool before breakfast.
It's morning routines like this that serious make me want to move to somewhere hot and this is what I'm really going to miss.
James Villas with a baby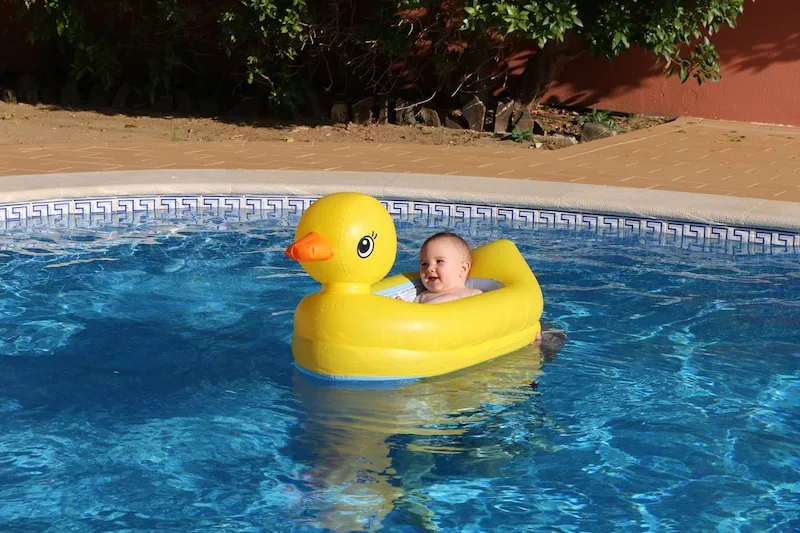 I've said before how much I love staying in villas when travelling with a baby. It's just so much easier than a hotel because you have so much space and a kitchen to prepare meals and clean bottles. He had his own room with a black-out blind and a cosy travel cot.
George absolutely loved our time in Portugal. It was a home away from home for him because he was with his four favourite people and we pretty much stuck to his same routine as at home.
The local supermarkets stocked all the baby supplies you'd need and a lot of the brands will be familiar. I took enough food for him for the whole trip because I didn't know what would be available but I didn't need to as I could have bought everything there. I went for the midrange nappies from the supermarket and I think they were Pampers under a different name.
We soon realised that there was no point going out around midday-2pm with George because it was just too hot for him. We tried a couple of times but it wasn't fair and George screamed as soon as he had even a tiny square of sunshine on him. Having a lovely villa made this much easier because we were more than happy to stay in the villa, splash about in the pool and relax and read in the sunshine. There were lots of rugs in the villa so I took them all up and placed them on the veranda so George had a soft, safe place to roll around and play. The pool was too cold for George so I was really glad I'd brought this inflatable duck bath. I filled it with warmer water and he splashed about in it in the shade.
Booking with James Villas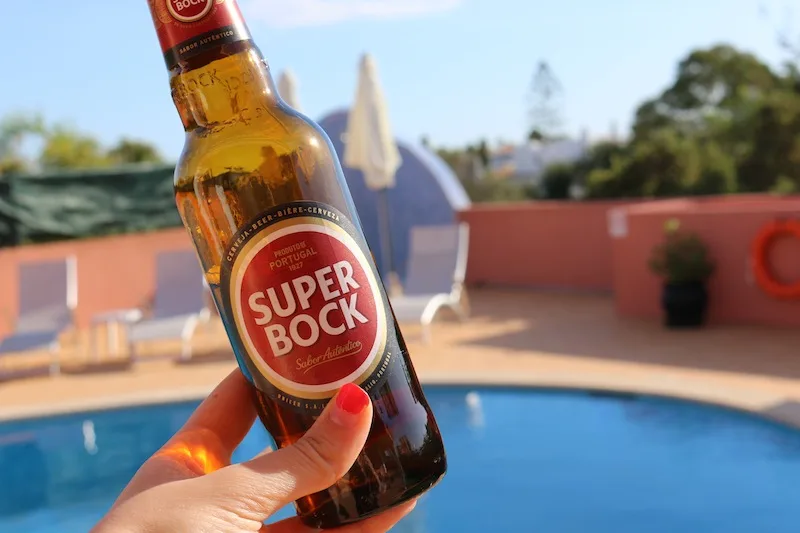 Booking with James Villas was quick, easy and totally hassle free. Once the booking was made I received regular emails with confirmation details and before we left I received a detailed document with everything we needed. It had everything from checking in at the airport, picking up our hire car, directions to the villa and how to get in.
I also booked our flights through James Villas but really should have booked them myself as James Villas do add a small commission.
The villa was absolutely perfect. James Villas aren't the cheapest villa hire company around but you really do get what you pay for. I've never heard a bad thing about a James Villa. When you have a holiday like this your villa can make or break the whole trip. If you end up staying somewhere horrible then it really would ruin your holiday as you spend so much time in the villa.
Our holiday details
We flew from Liverpool to Faro with Easyjet for £273.23 pp
It was £44 for George and he didn't have luggage
It was £65 to bring one golf bag for my parents (Top tip: My mum and dad squeeze both sets of clubs in one bag as it's the bag rather than the weight you pay for)
Long stay airport parking at Liverpool was £47.99 (Another Top Tip: If you book the cheaper Long Stay car park at Liverpool Airport and park near the exit, you're right next to the entrance to the airport – you're probably even closer than you would be if you parked in the more expensive multi-storey which is advertised as being closer)
Car hire in Portugal was £399 for the week. This got us a Ford Focus 5 door estate (or something similar). The car had a satnav built in so you don't need to worry about getting lost. I would 100% recommend hiring a car if you can. There are lots of lovely villages and beaches to visit and it would be really difficult to get there without a car.
We stayed at Gustavo villa and were guests of James Villas for the purpose of this review. Prices for the villa change depending on the dates you'll be visiting.
Final thoughts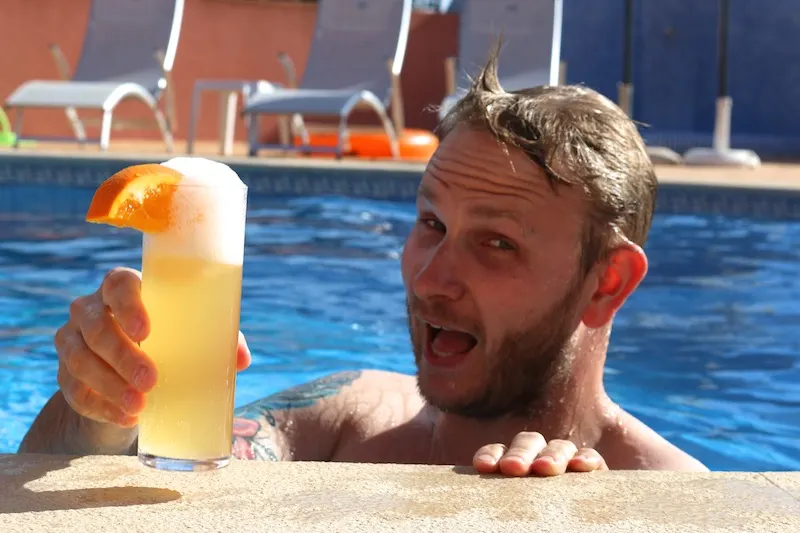 I absolutely cannot recommend James Villas enough. This was one of the nicest villas I've ever stayed at and it was perfect for our first family holiday. If you're booking a villa holiday, definitely look out for somewhere with a nice pool and nice big garden – this was what made our villa so special.
I loved Carvoeiro so you'll be seeing some posts from this gorgeous little town coming to the blog soon!