This 8K Flexwarm Heated Jacket Review was created on collaboration with 8K Flexwarm and does contain affiliate links.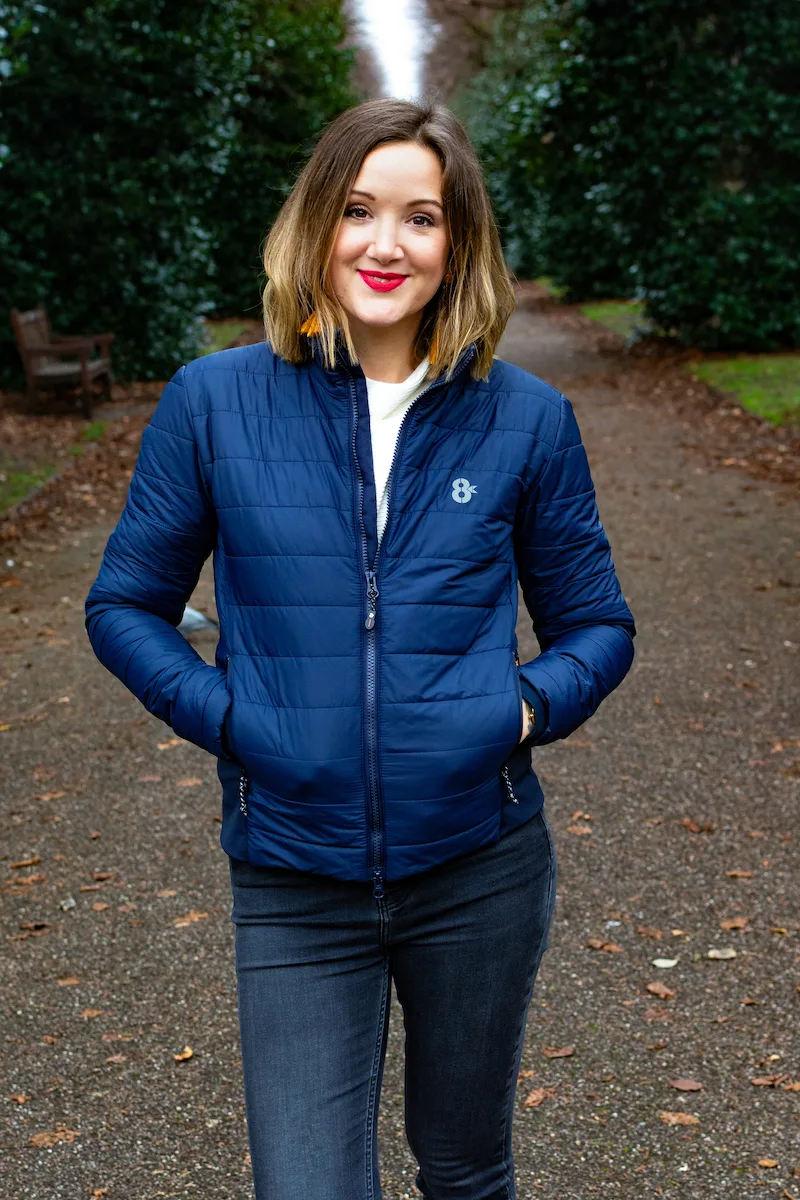 "A heated jacket!? A…hang on….a heated…..jacket…..!?'
They look at me in disbelief as they process those two words. Two simple, everyday words. But when they're put together, they make something incredible.
Yes, ladies and gentlemen, we're talking about a heated jacket here and yes, it is just an incredible as it sounds and yes, you probably will want one when you finish reading this! If you're anything like me you'll begin by thinking, 'Woah, heated jacket!? This is the stuff of science fiction. Oh hang on, no, that's probably quite simple and why isn't this a standard item in everyone's wardrobe!?'
The 8K Flexwarm heated jacket is exactly what you're imagining. It's a jacket just like any other. It's cute, it's cosy, outdoorsy and is the kind of everyday jacket you could wear in most casual situations. To the outside eye, it's just a jacket. But to you, oh my goodness, to you it's a game-changer.
To you, the 8K Flexwarm Heated Jacket is a hot water bottle and heated blanket in one. It's the jacket that's going to get you out and about on cold wintry day rather than cowering inside saying, 'Nooo, it's too cold!'
How does the 8K Flexwarm Heated Jacket work?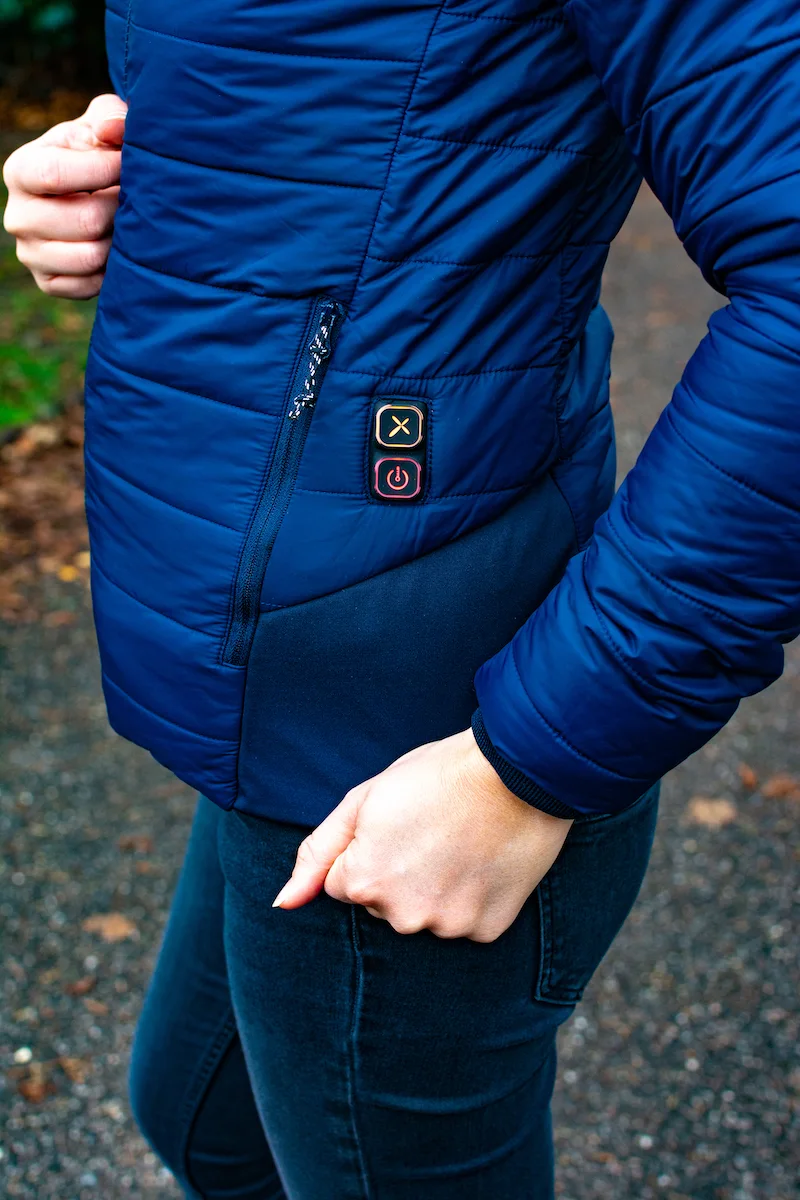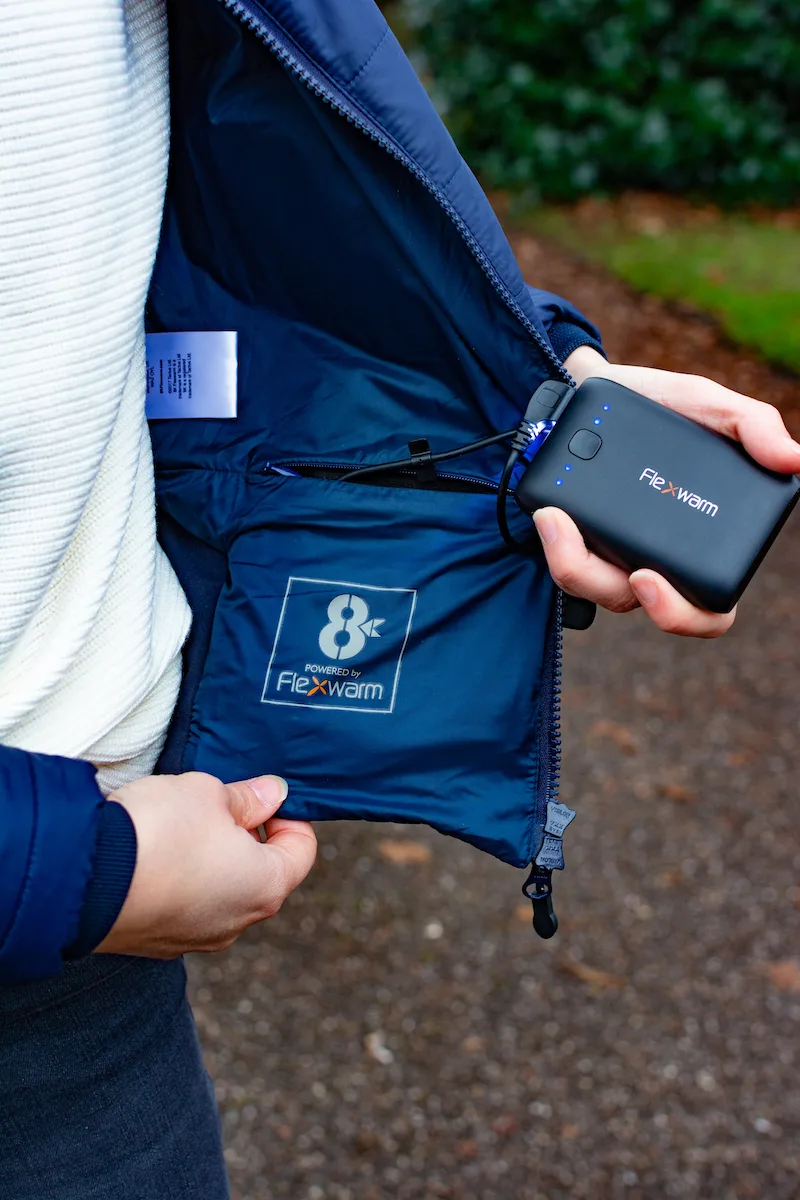 There's an ultra thin heating element running through the jacket between the inner and outer layers. You can just about feel them through the inside of the jacket but you'd barely notice they're there. The heated zones are in the front and the back and you can choose to heat just one zone or both. The front panels are particularly wonderful because they cover the pockets and keep your hands warm (yes, that's why I have my hands in my pockets for most of these pictures!)
There are three heat settings, low at 40°C, medium and 45°C and high at 50°C.
Obviously, I always choose to heat all zones at 50°C and it's absolutely delicious!
The 8K Flexwarm Heated Jacket is powered by a powerbank which slips into an inside pocket and connects to the jacket via USB. You do notice the powerbank in your pocket, it's a bit like having a small phone in there, so it's not too heavy and you quickly forget about it.
You can control the heat via buttons on the outside of the jacket. The buttons light up and are colour coded for the different temperatures and heat zones. You can also control it via an app but I found it just as easy to press the buttons.
The battery can last up to 13 hours so you can easily stay heated all day or it will last a couple of days on low usage. Another bonus of the battery is that it has two USB points so you could also use it to charge other devices such as your phone.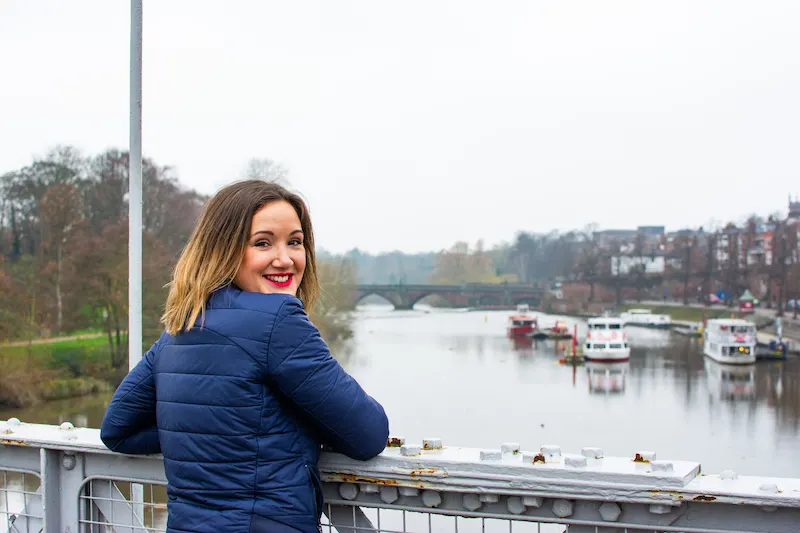 Things I love about the 8K Flexwarm Heated Jacket
It's warm!
OK, this is an obvious one but it's just so nice to put on a preheated coat and keep that heat. It's like when you've put your coat on the radiator before you go out, but you keep that radiator warmth all day.
But something worth noting is that it isn't hot, it's just the right warmth to keep it switched on. For example, the heated seats in my car are hot. Which is nice for about 5 minutes but I find myself permanently turning them on and off as I alternate between being way too hot and then being cold. You don't get that with 8K Flexwarm Heated Jacket, it's just the right temperature to not be fiddling with the settings.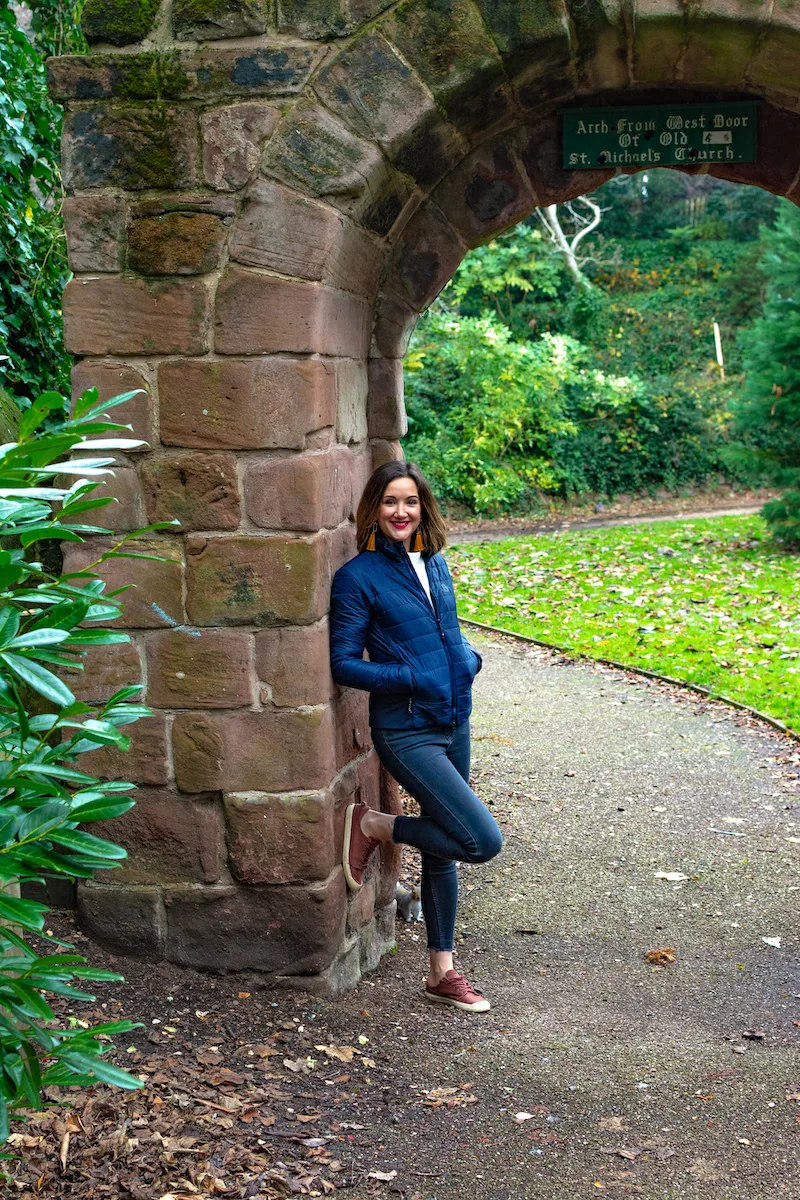 It's not too bulky
The 8K Flexwarm Heated Jacket is a slim fit and isn't bulky or too padded. The main reason I really like this is because it's slim enough to wear beneath another coat or if you're doing an active sport.
8K Flexwarm Heated Jacket is casual so it's not the kind of coat you'd wear in a formal environment. It might not be formal enough for the office but it is slim enough to slip beneath your normal work coat. I have so many really nice coats that I barely wear because they're too warm for summer but too cold for winter so this jacket is going to come in handy to get some use out of my coats in the winter!
The lightweight, slim fit is also nice for active sports such as hiking, skiing, kayaking or horse riding where a bulkier jacket would get in your way.
The jacket is water resistant but isn't waterproof so it will sit nicely beneath a waterproof jacket if you're caught in the rain.
I'm a petite build and I really hate wearing bulky clothes because they just make me look even shorter and I feel dumpy in big coats like ski jackets, so this is a really nice alternative. I love being able to wear a slim, fitted jacket that is still super warm so I can leave all the bulky layers at home and not look like a little pudding!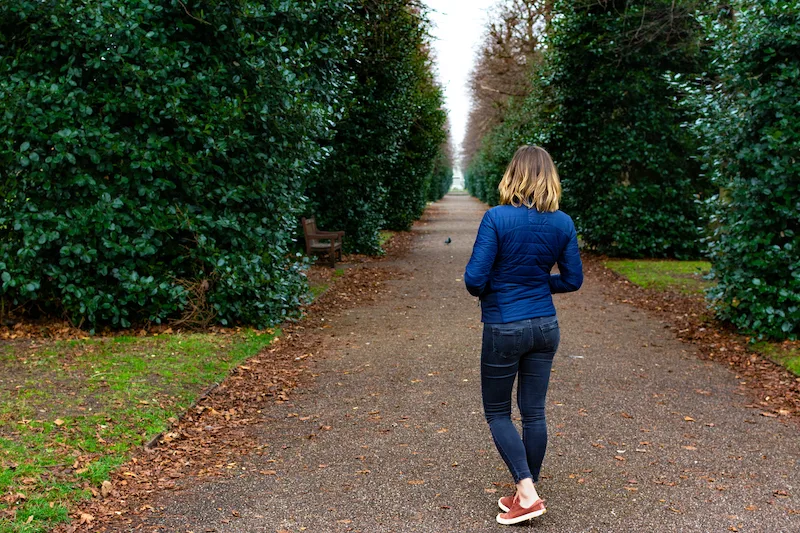 My kids love it
This is something personal to me but my littlest, Joseph, loves this jacket. We usually go for an afternoon walk where he'll run for a bit and then jump in his pushchair and have a nap. He loves his afternoon walk and loves it even more since he's discovered my jacket. One day it was particularly cold so I reluctantly took off my jacket and placed it over him as a blanket and he was the happiest little tot you could imagine! He now insists on his special blanket for every walk!
It gets a lot of compliments
This one actually surprised me because, for such a simple and casual design, I thought it would be the kind of jacket people wouldn't really notice. But I actually get so many compliments while I'm wearing it!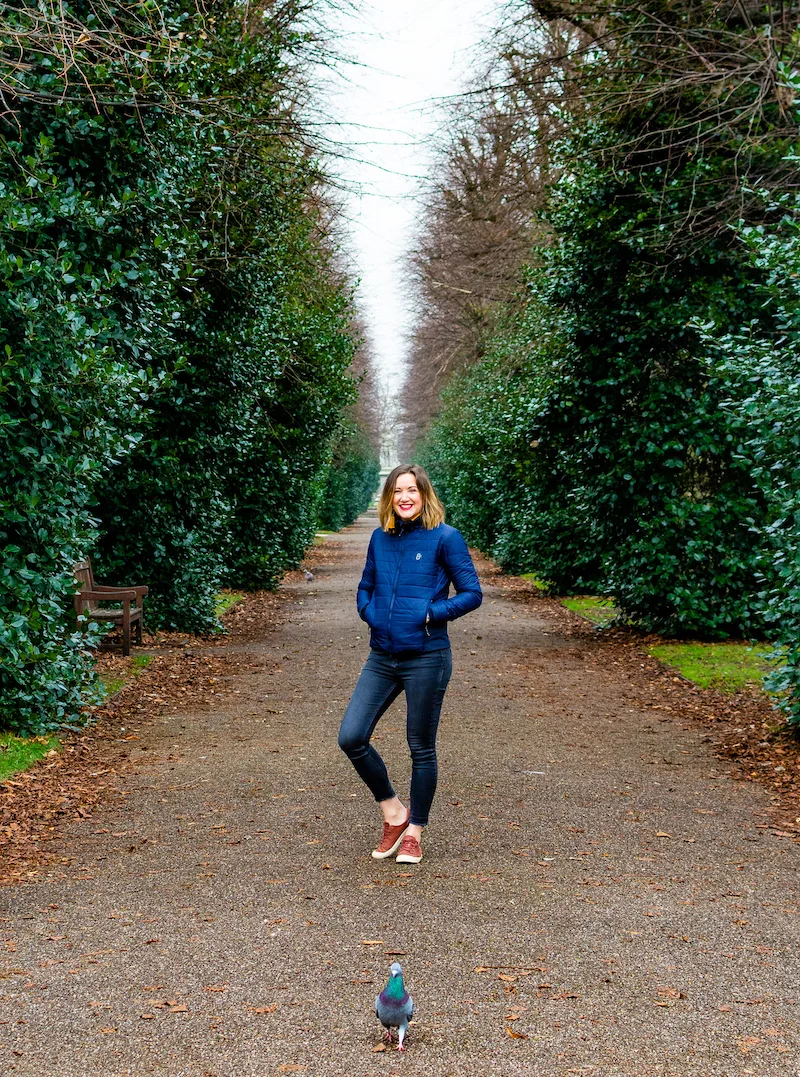 Sizing of the heated jacket
I would say the sizing measures quite small. I usually wear a size 8 on top (sometimes a 10) so I ordered the small and it fits me really nicely but it would be a squeeze if I wanted to wear a bulky jumper underneath. If you're between sizes then I'd recommend going up a size.
Other products by 8K Flexwarm?
8K Flexwarm do have other products available. They have jackets like mine in 6 colours, a hoodie and a gillet. They also have men's jackets, hoodies and gilets and they have the jacket in an age 14-16 for boys and girls too.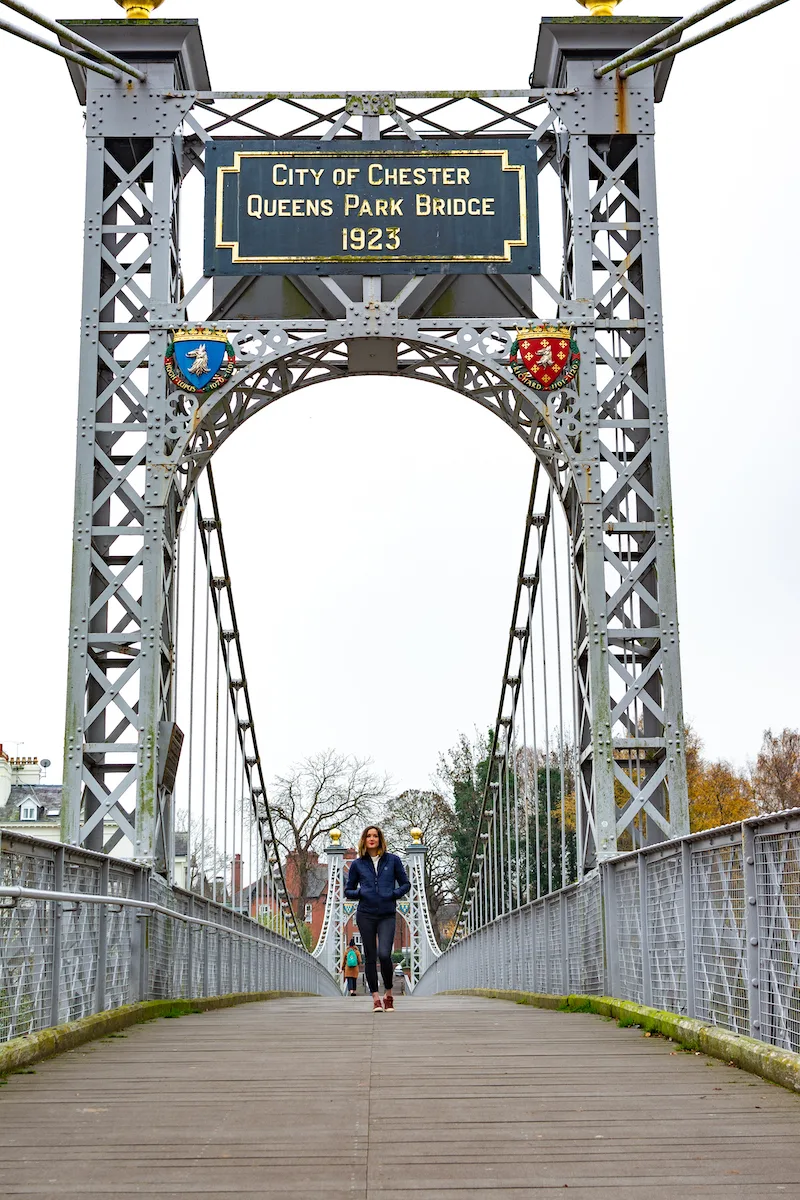 Conclusion
Overall, I'm a very big fan of the 8K Flexwarm Heated Jacket!
Here's a summary of my 8K Flexwarm Heated Jacket review…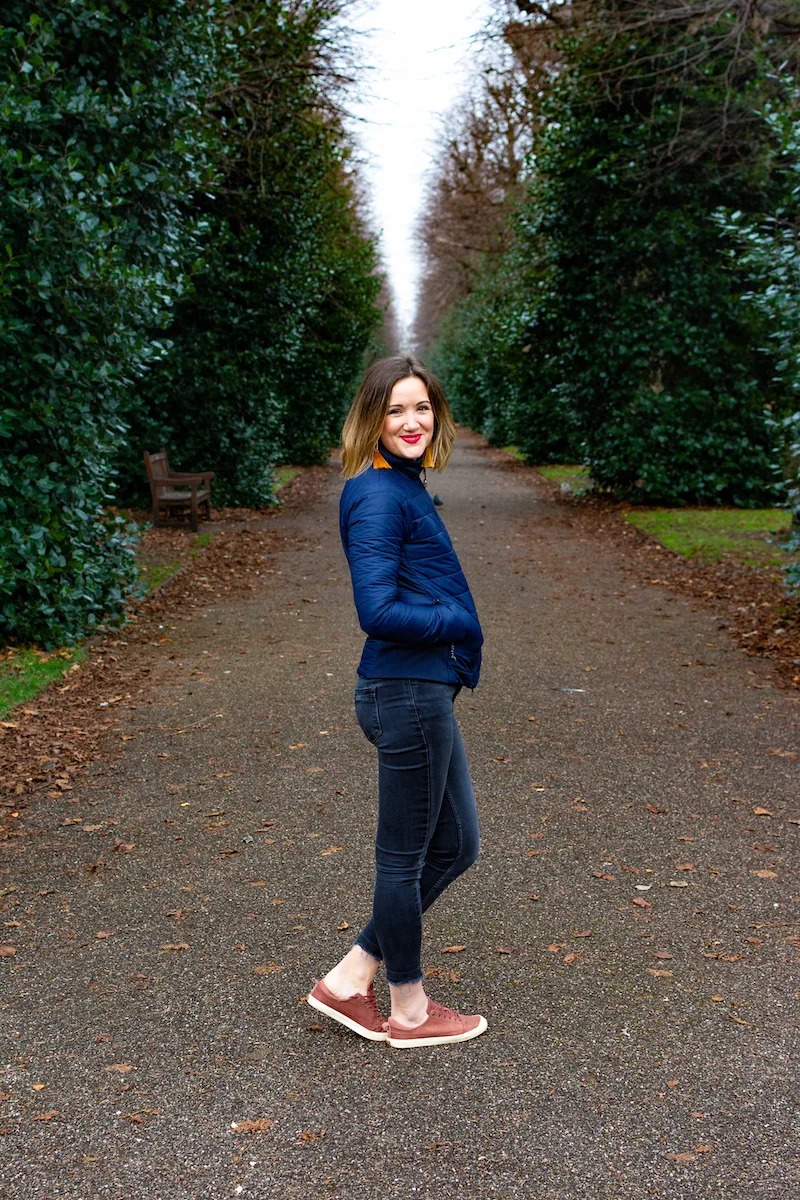 Slim fit and lightweight

Stylish outdoor design

Slim enough to slip beneath other coats such as work coats or raincoats

3 temperatures

Can select front, back or both areas to heat

Can be controlled via app

But also really simple to control via buttons on the outside

Powerbank lasts up to 13 hours

Powerbank can also double up as a phone charger

Powerbank is charged via USB so can be charged in many cars

Durable, high quality materials used

Machine washable

Feels like when you've pre-warmed your coat on the radiator – but all day!

Great for people who don't like wearing lots of bulky layers

Great to stay warm during active sports where flexibility is important

Lots of different colours (so when your friends and family see yours and want to buy one, you won't all be matching!)
Where can you buy it?
You can buy the heated jacket on the 8k Flexwarm website and there's currently a sale (accurate as of November 25th 2018). The women's heated jacket I have is usually £225 but is currently on sale for £200 and there's free worldwide shipping on all orders.
This post was created in collaboration with 8k Flexwarm with thanks to Nicky Nelson Photography for her fab pics!
Pin this and save it for later ->