If you're a regular reader of The Travel Hack you will already know that I love luggage! Some women love shoes and handbags but I love suitcases and travel bags! I just love that feeling of organising everything neatly inside a suitcase.
I've needed to get a set of good quality suitcases for our family for a while now. We previously had a more budget-friendly set but after 10 years of use the handles are starting to break on them so they've been relegated to the attic to be used as storage containers.
I was sent the Antler Clifton set of 3 suitcases in exchange for an honest Antler luggage review review.
Myself and my family have been using them all summer so I thought it was time to tell you more about them!
I've used them for flights, trains and road trips so they've done a bit of everything this summer and I've really enjoyed using them.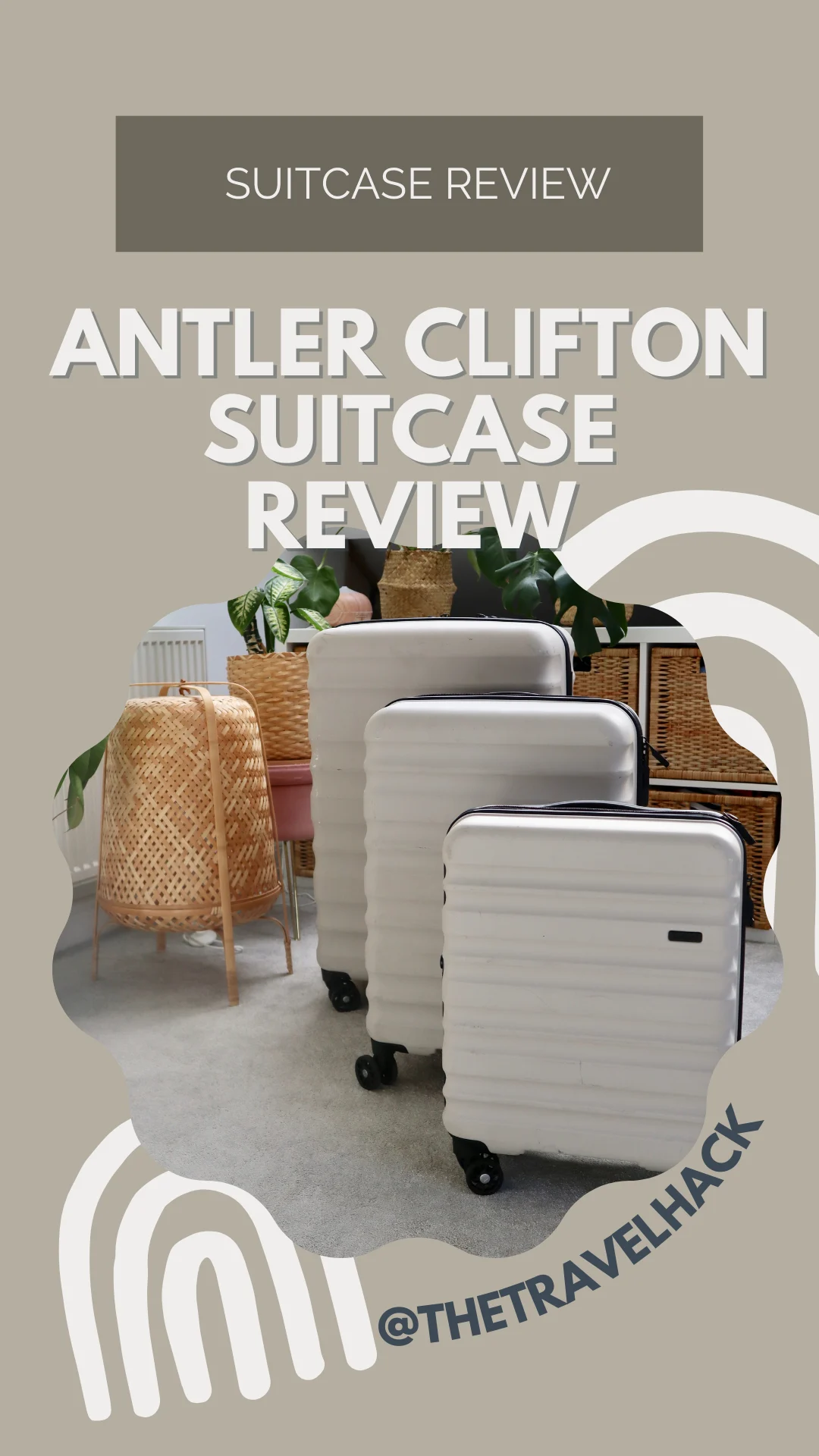 I've also got to be honest and I just love having a matching set of luggage, not only because they stack neatly inside each other when I get home but because they look great gliding through the airport together.
The main thing I love about these cases is how easy they are to push or pull. We regularly travel with our three children who are aged 2, 5 and 7 – so they come with a lot of stuff and they're not quite old enough to be useful at carrying much! This means that myself and my husband are often travelling through the airport with 3-4 suitcases, car seats, a pushchair and 5 hand luggage bags. Honestly, it looks like we're moving house every time we go on holiday!
The Clifton suitcases by Antler are so easy to push that one person can easily manoeuvre all 3 suitcases on their own. You can place the suitcases back to back and they easily glide around the airport with no problems at all. So while one adult deals with the luggage, the second adult can deal with the car seats and the kids!
You might be wondering why we don't just use trolleys but they can be a bit of a pain when you're in a rush, they're not always easy to find and you often have to pay to use them. So, whenever possible, we'll bypass the trolleys and just wheel our luggage.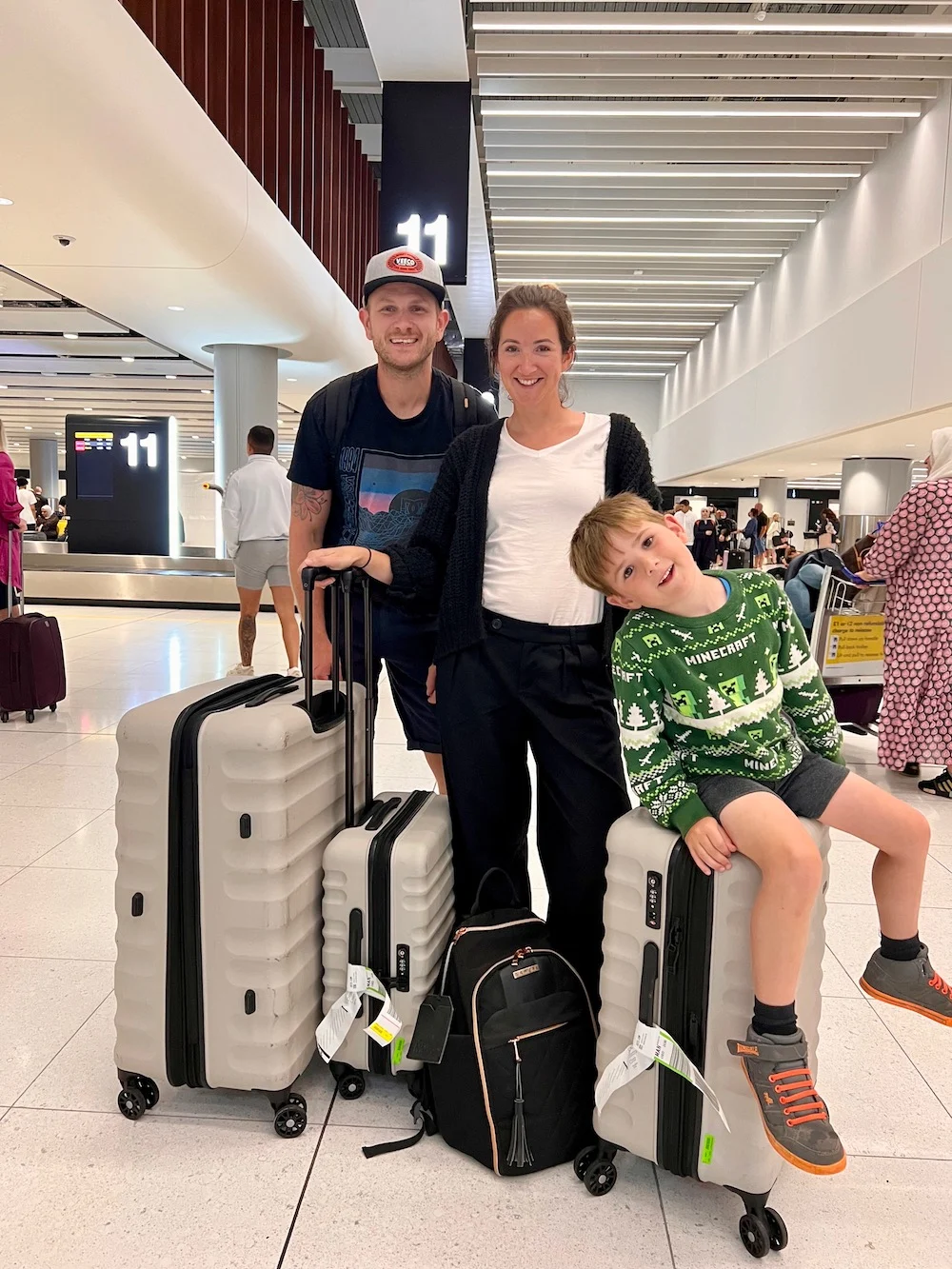 Right, now let me tell you a little more about this luggage…
ANTLER Clifton Suitcases - Set of 3, Taupe | Beige Cabin, Medium & Large | Super Lightweight, Hard...
CLIFTON LUGGAGE: Our Clifton case is everything you could want from a hard-shell suitcase. Designed to last with its polycarbonate material, it's strong, eye catching, light on its feet & wheels...
ANTI-THEFT TSA LOCKS: Our bags are anti-theft with their TSA approved locks for added security & peace of mind whilst on your family holidays, business trips or weekend getaways. The bags feature...
SIZE & MEASUREMENTS: Our set of 3 includes x 1 cabin (20 x 40 x 55cm with a packing capacity of 37 litres), x 1 medium (29 x 45 x 67cm with a packing capacity of 75 litre to 83 litre capacity when...
Antler Luggage Review
What are the Clifton suitcases made from?
The Antler Clifton luggage is made from polycarbonate which ensures they're lightweight but also strong.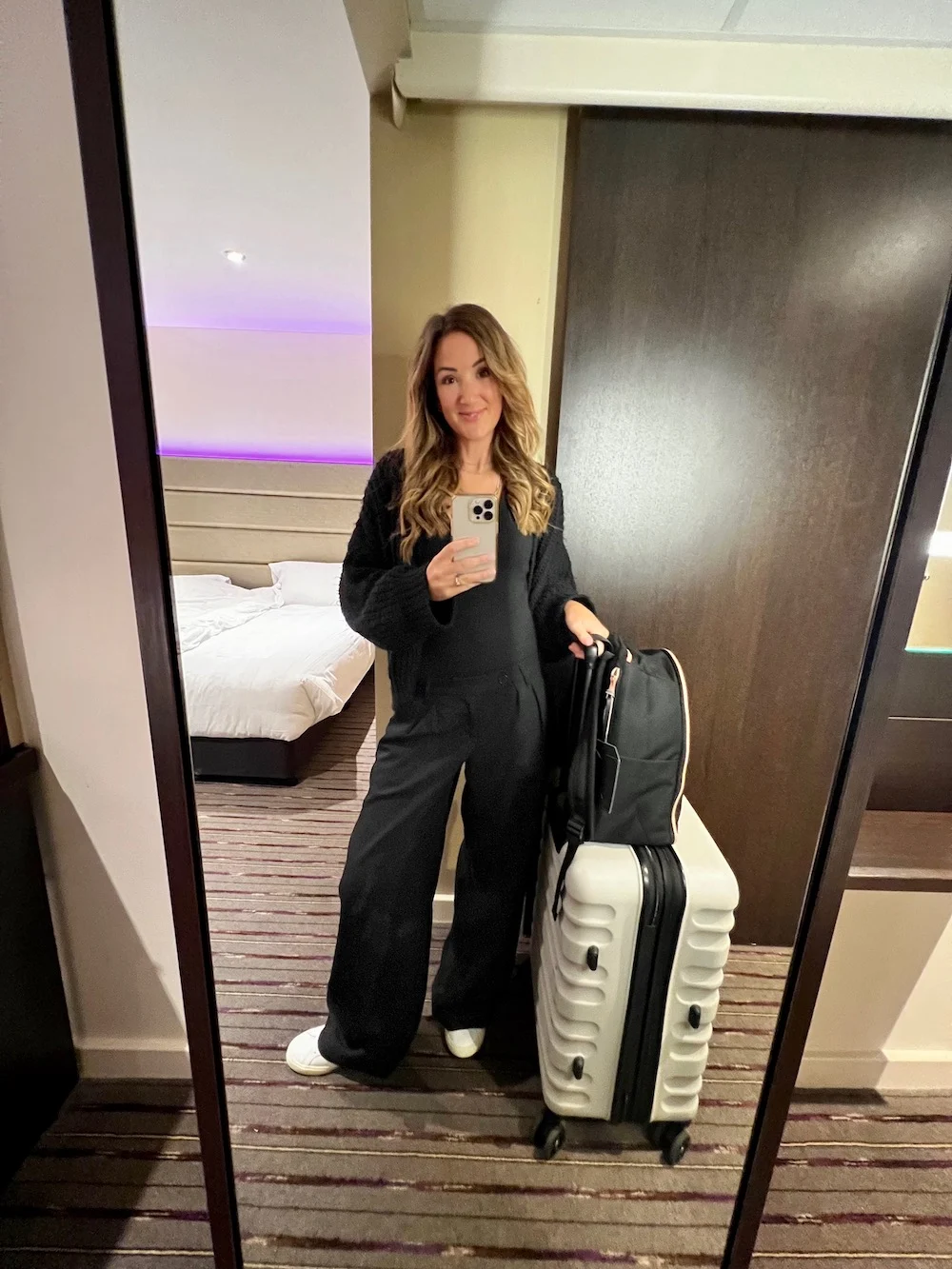 How much do the Antler Clifton suitcases weigh?
Small – 2.8kg
Medium – 3.9kg
Large – 5kg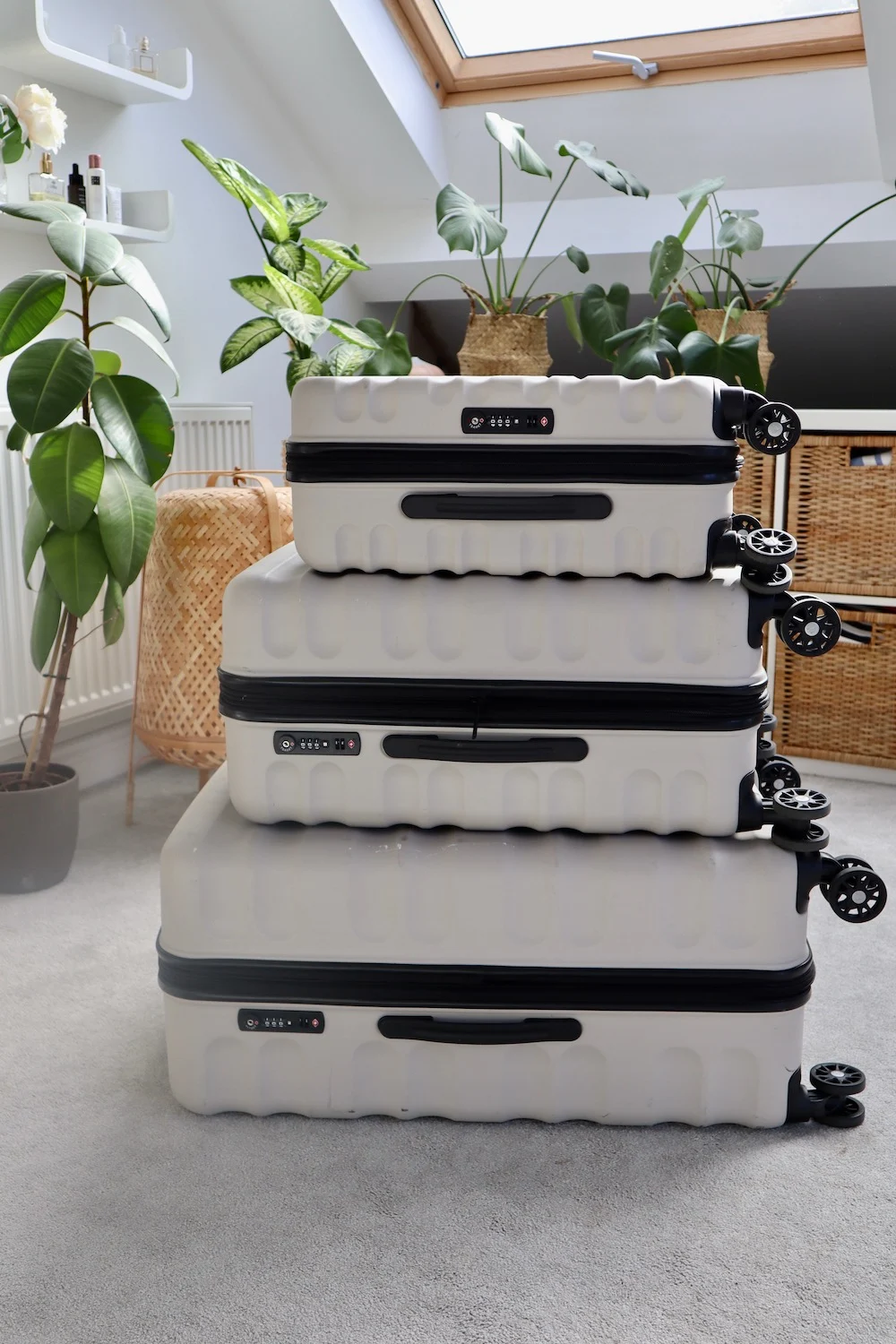 What sizes are the suitcases?
Small – 20 x 40 x 55cm
Medium – 29 x 45 x 67cm
Large – 34 x 51 x 80cm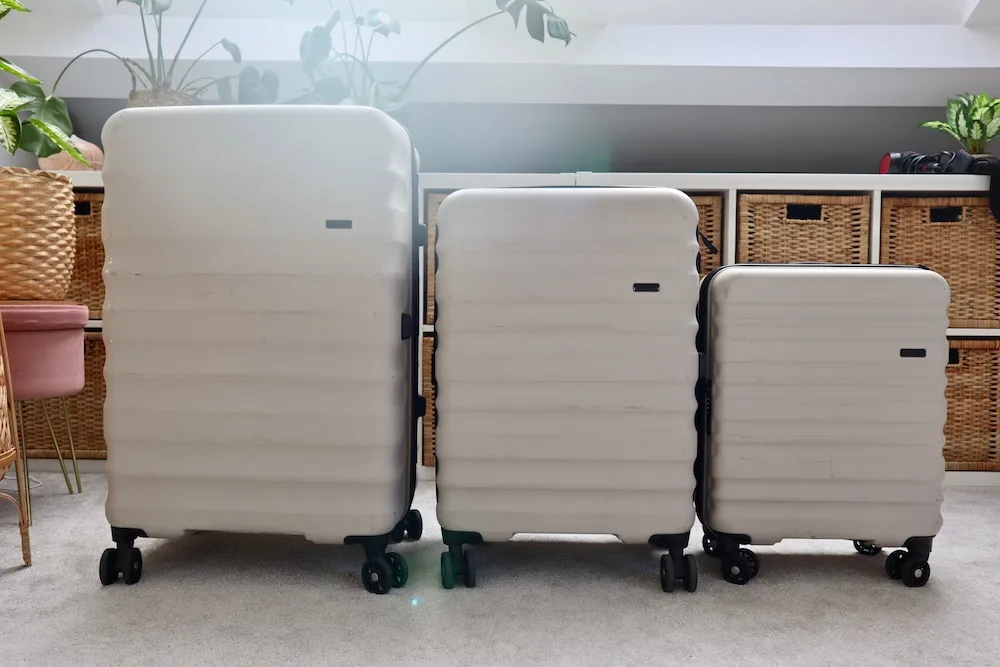 What's the capacity for each Antler Clifton suitcase?
Small – 37L
Medium – 75L (83L when expanded)
Large – 121L (or 132L when expanded)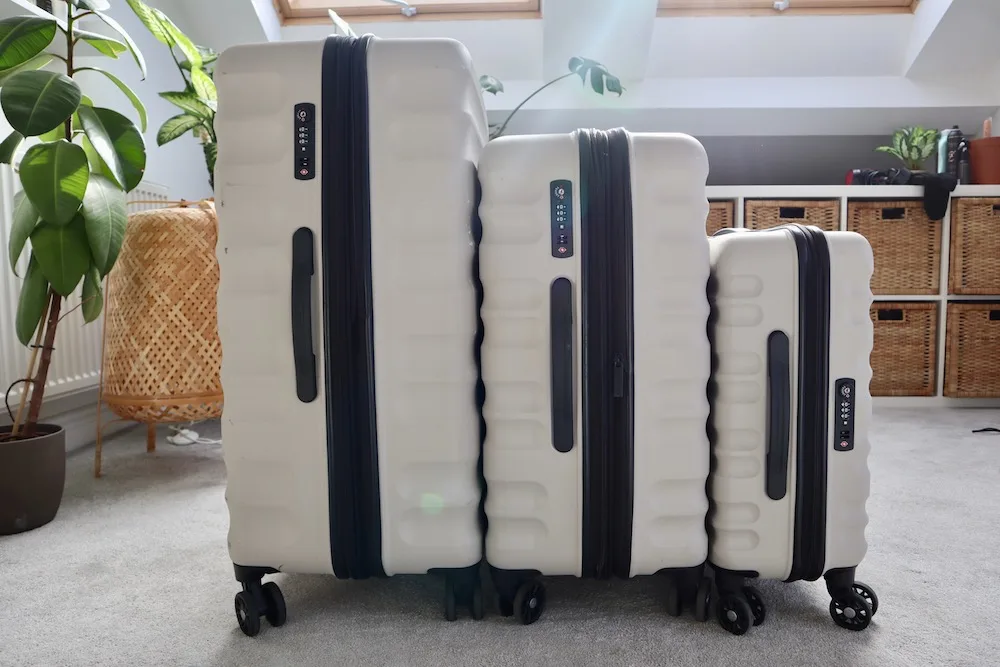 Expandable zips
Oh yes, let's talk about those expandable zips on the Antler luggage! Absolute genius and perfect for when you've accidentally overpacked. They also maintain the sturdiness and quality of the suitcase, even when expanded.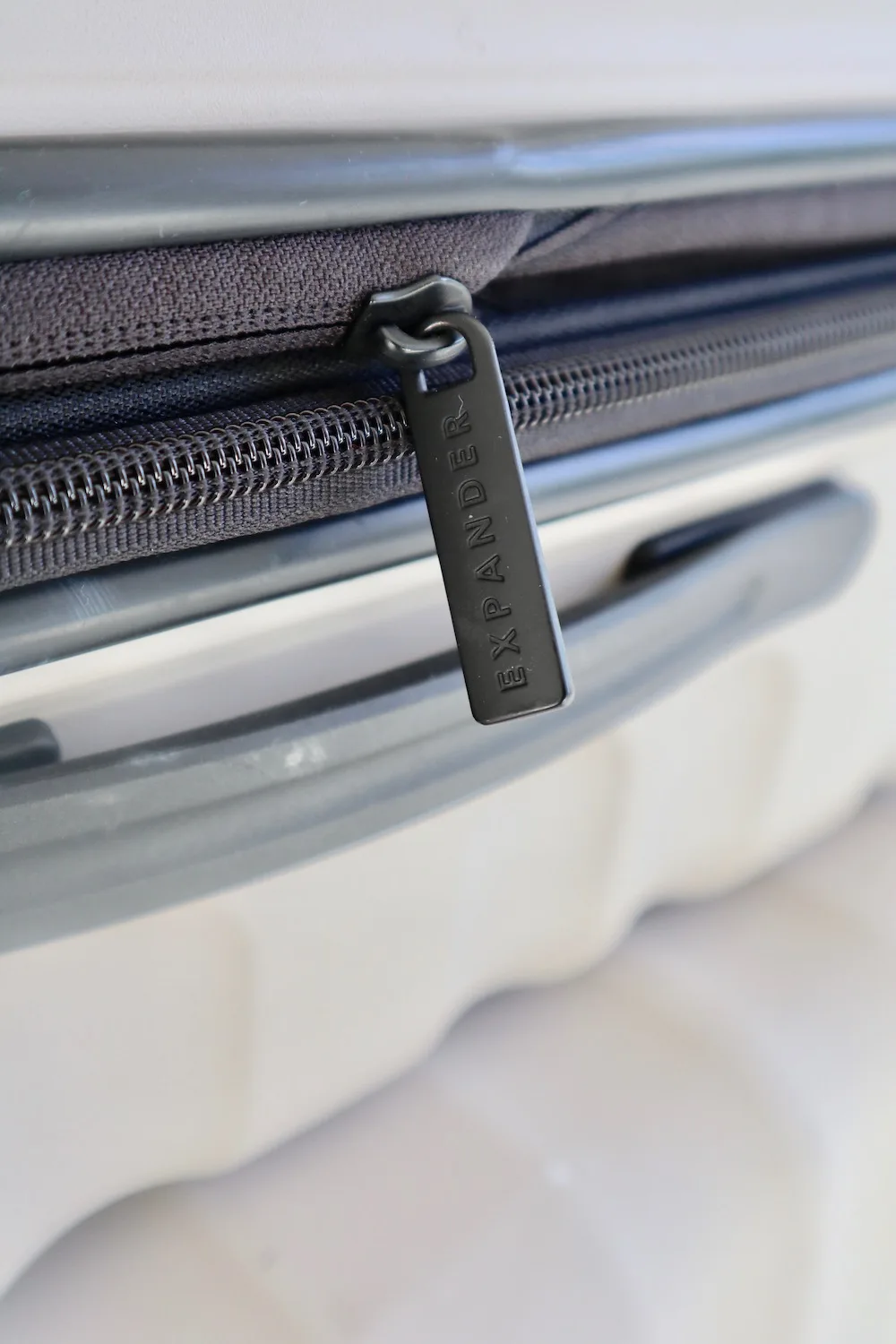 What colours do the Clifton suitcases come in?
I have them in the taupe but they also come in:
Blush
Black
Navy
Mineral
Sycamore
I love the light colours. I think they're so stylish in taupe and blush, but I'd go for darker colours if you're a frequent traveller and don't want to spend too much time cleaning your cases.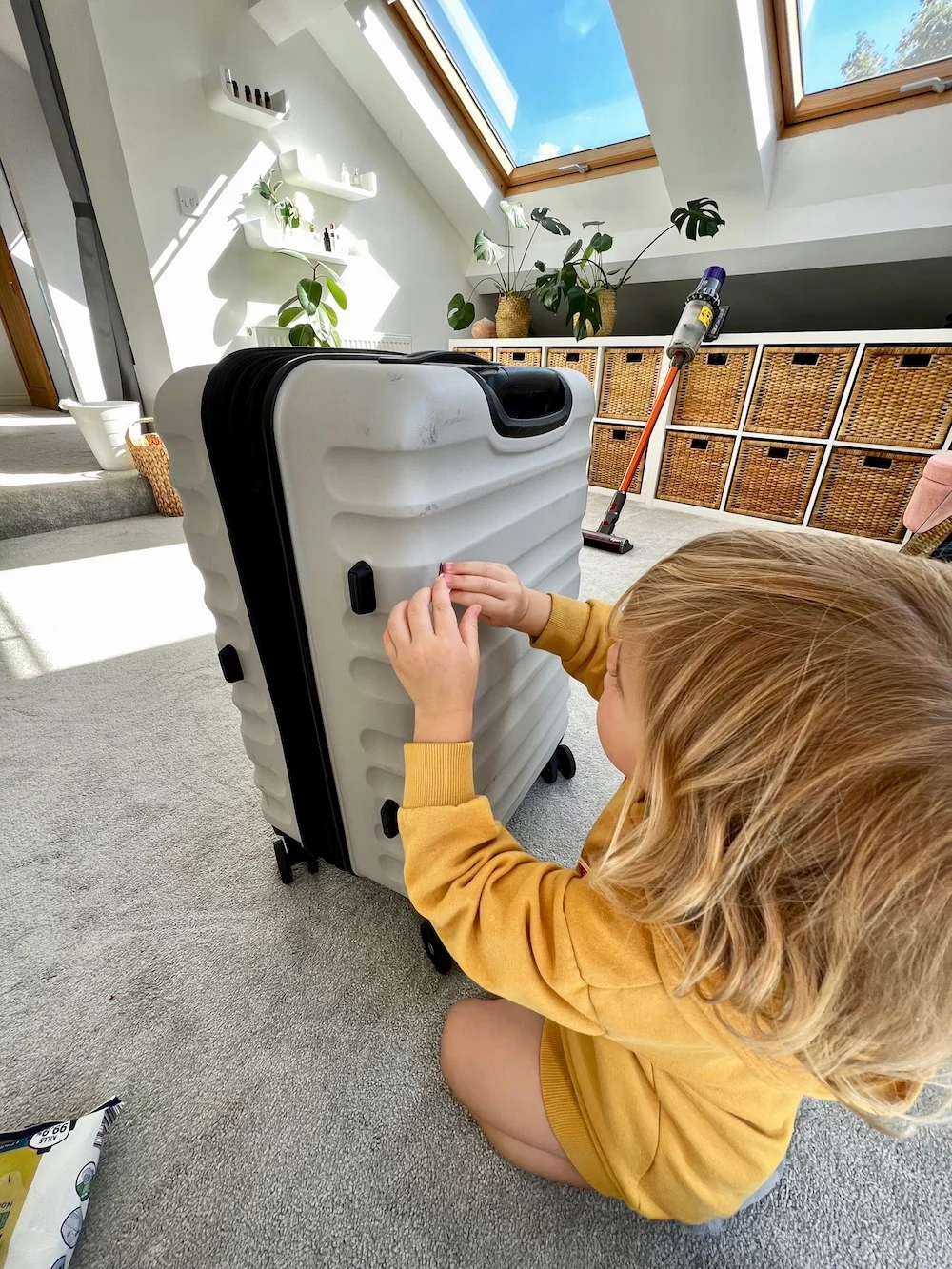 TSA combination lock
The Antler Clifton suitcases come with a good quality TSA combination lock and there's a handy little booklet showing you how to use it.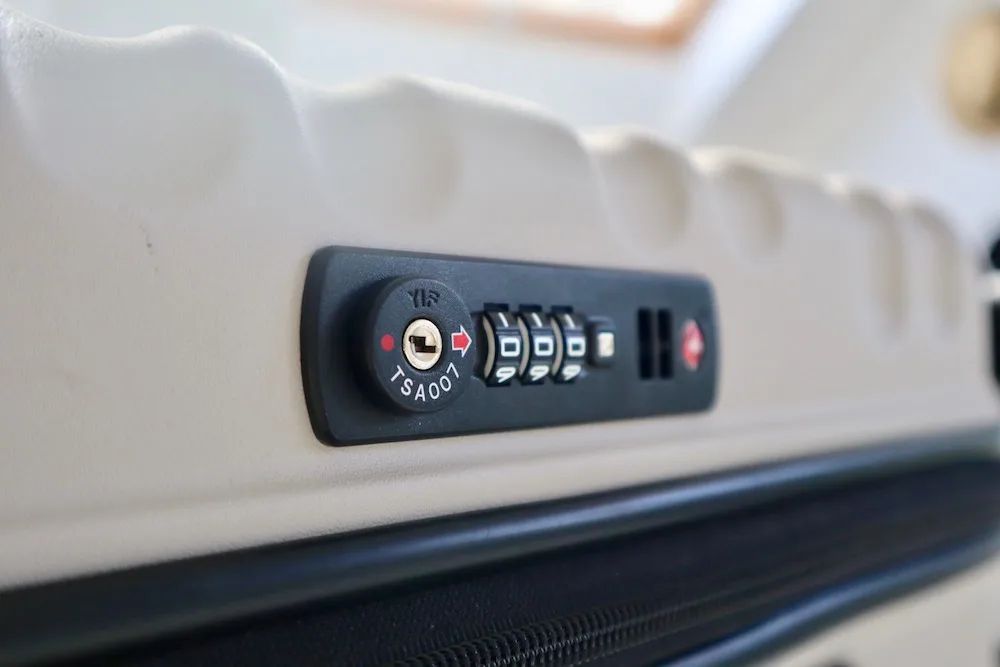 Four-wheeled luggage
In my opinion, when you've got large, heavy suitcases they absolutely have to have four spinner wheels that will easily twist in all directions.
When you've got four wheels you can pull, push and glide them so easily without the need to support much weight. The spinner wheels also make it so easy to squeeze through tight gaps and generally navigate busy places with ease.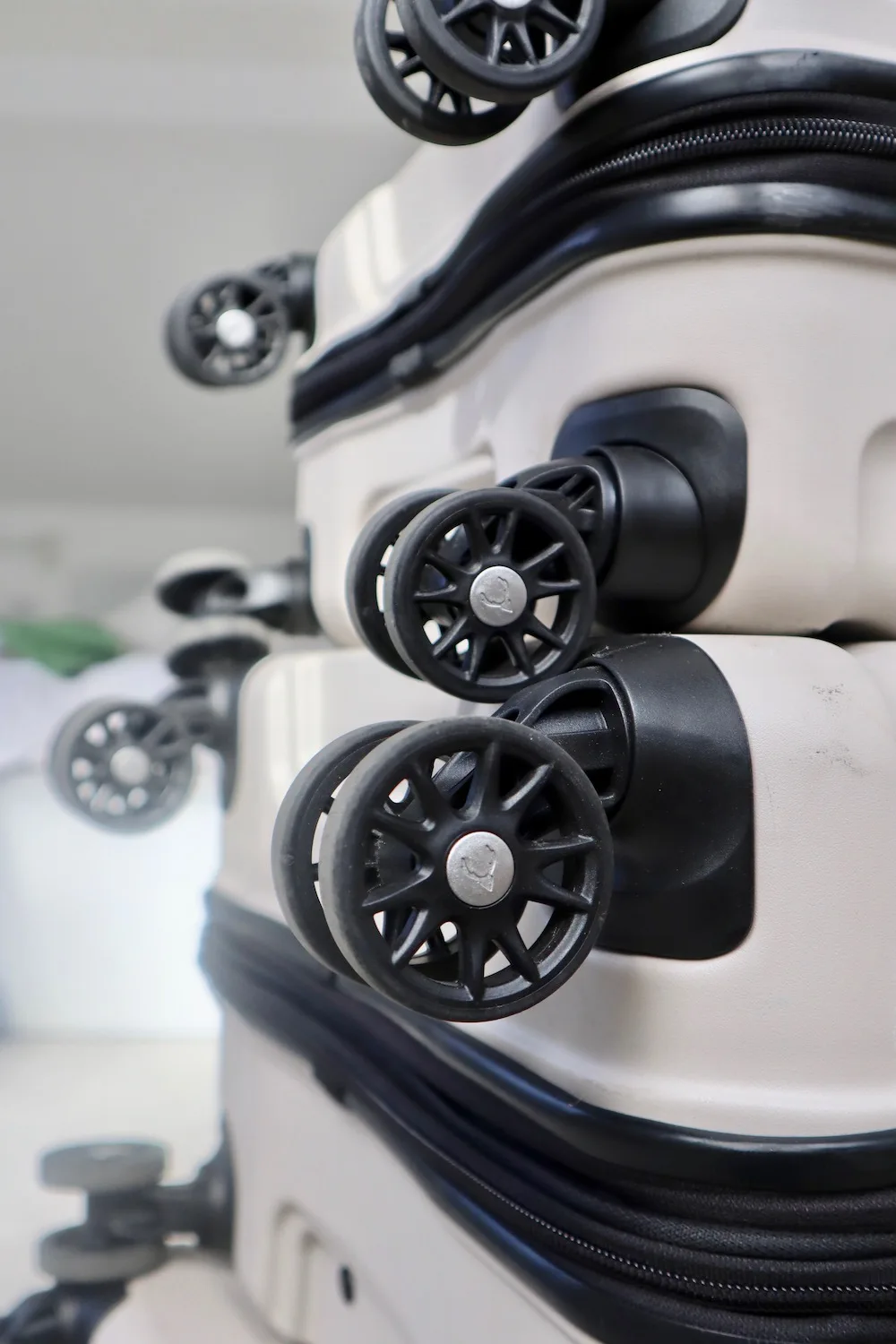 A smooth push and pull
All Antler luggage has great wheels that ensure the pull and push of the cases is super smooth and easy.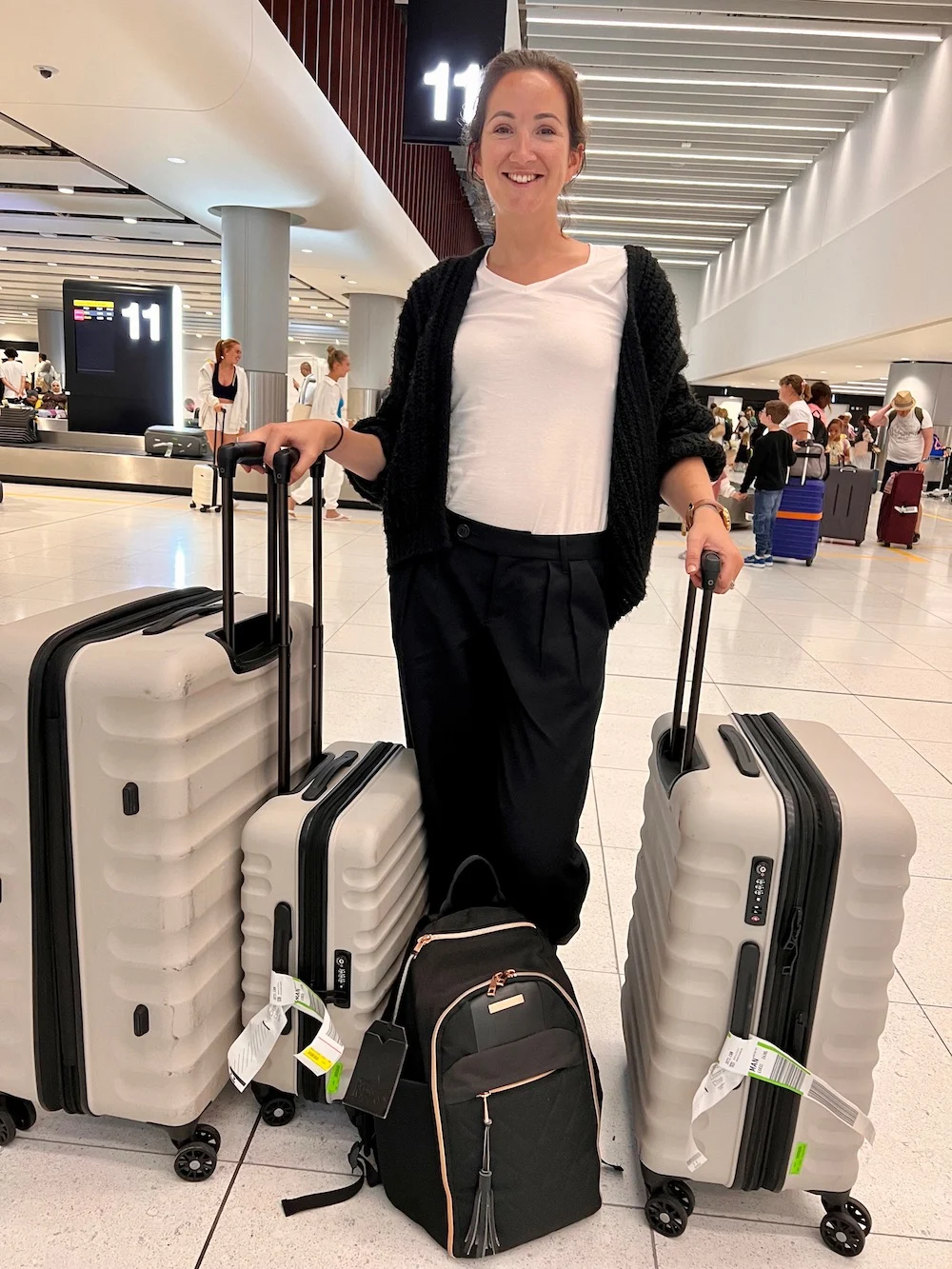 Easy handles
I love that the handles are easy to pull out and they all come to the same height too, making it easy to handle multiple suitcases together.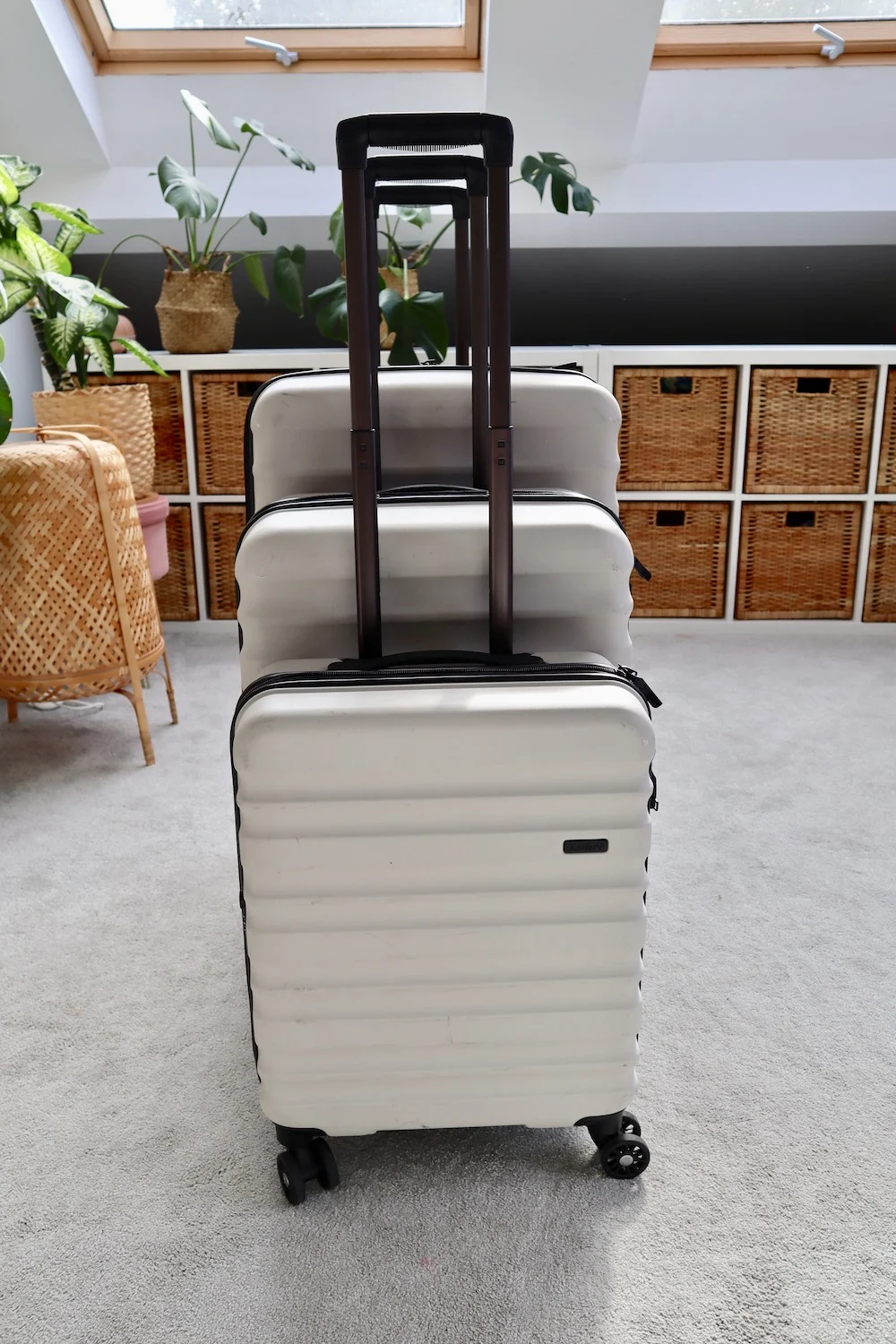 Twist-grip handle
The twist-grip handle is something I didn't realise I needed until I had it! It just makes it easier to pull the case as the handle twists perfectly in your hand. I can't really describe what it does but you need to try it to understand!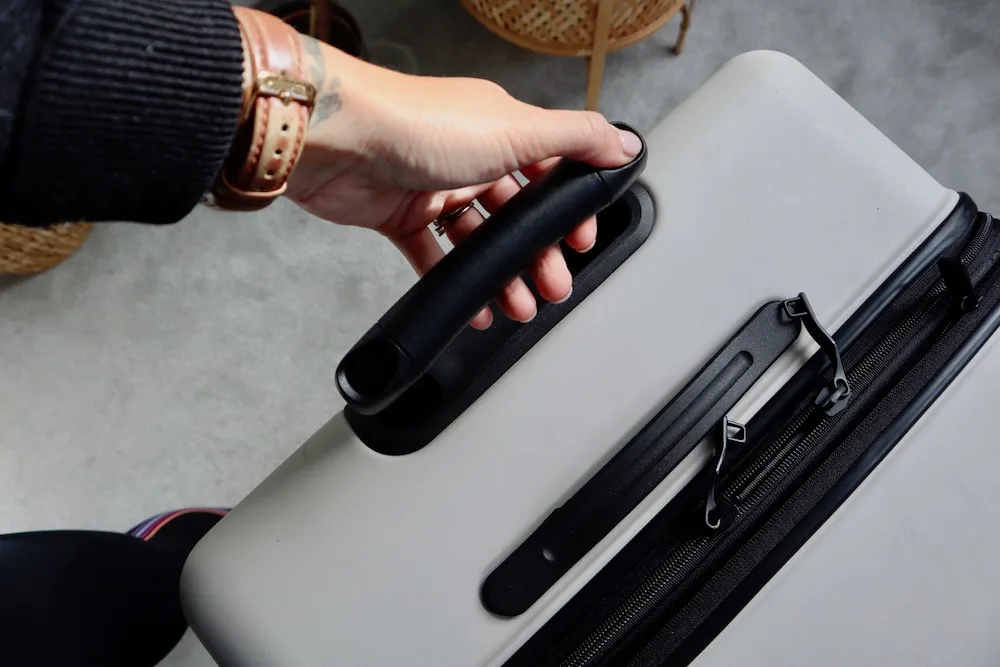 Nice interior pockets and straps for organisation
Got to love those interior pockets. Especially the waterproof one which is something most suitcases don't have.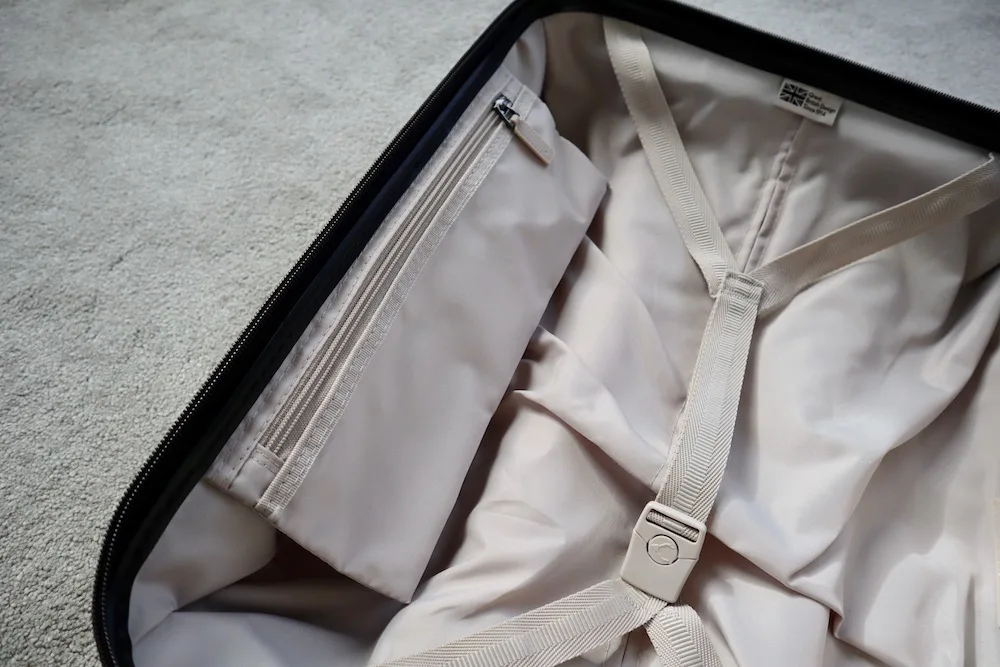 Easy to stack and nest inside each other
And of course, these suitcases are huge so it's really important for me that they'll nest inside each other for easy storage.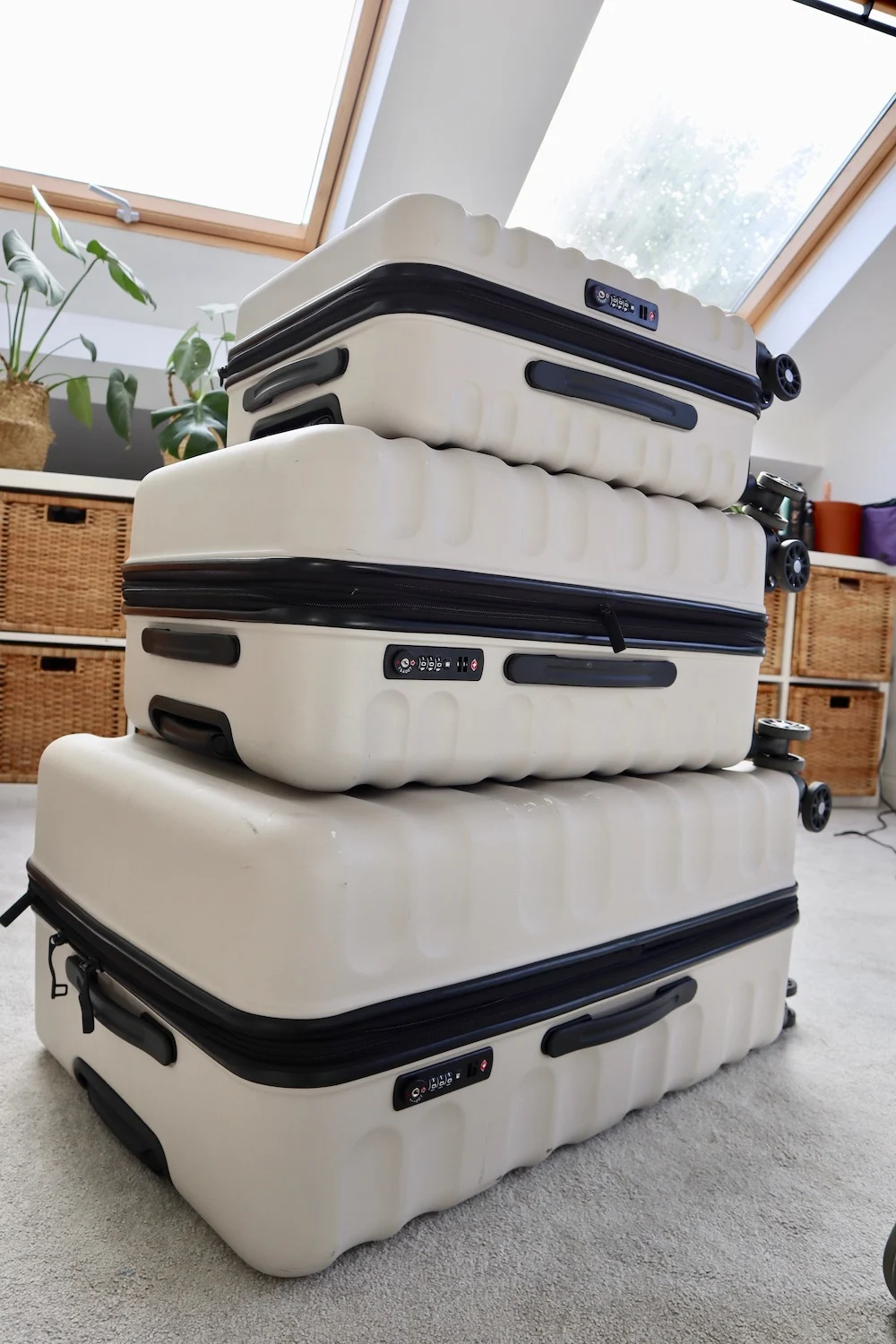 Do they get dirty?
I couldn't write an Antler luggage review without mentioning this.
There's no way to avoid the fact that your suitcases are going to get dirty. In hindsight, the taupe colour for the Clifton suitcases probably wasn't my finest idea. I do love this stylish colour but even after just one flight they were starting to get dirty.
With a bit of elbow grease and cleaning detergent, the dirty marks can be wiped off. So if you love the lighter colours then I would still go for them. But if you're like me and think life is too short to spend time cleaning your suitcases then I'd go for a darker colour!
I have recently read that The Pink Stuff cleaning detergent is great for removing marks on hard shelled suitcases so I'll give this a go and update you!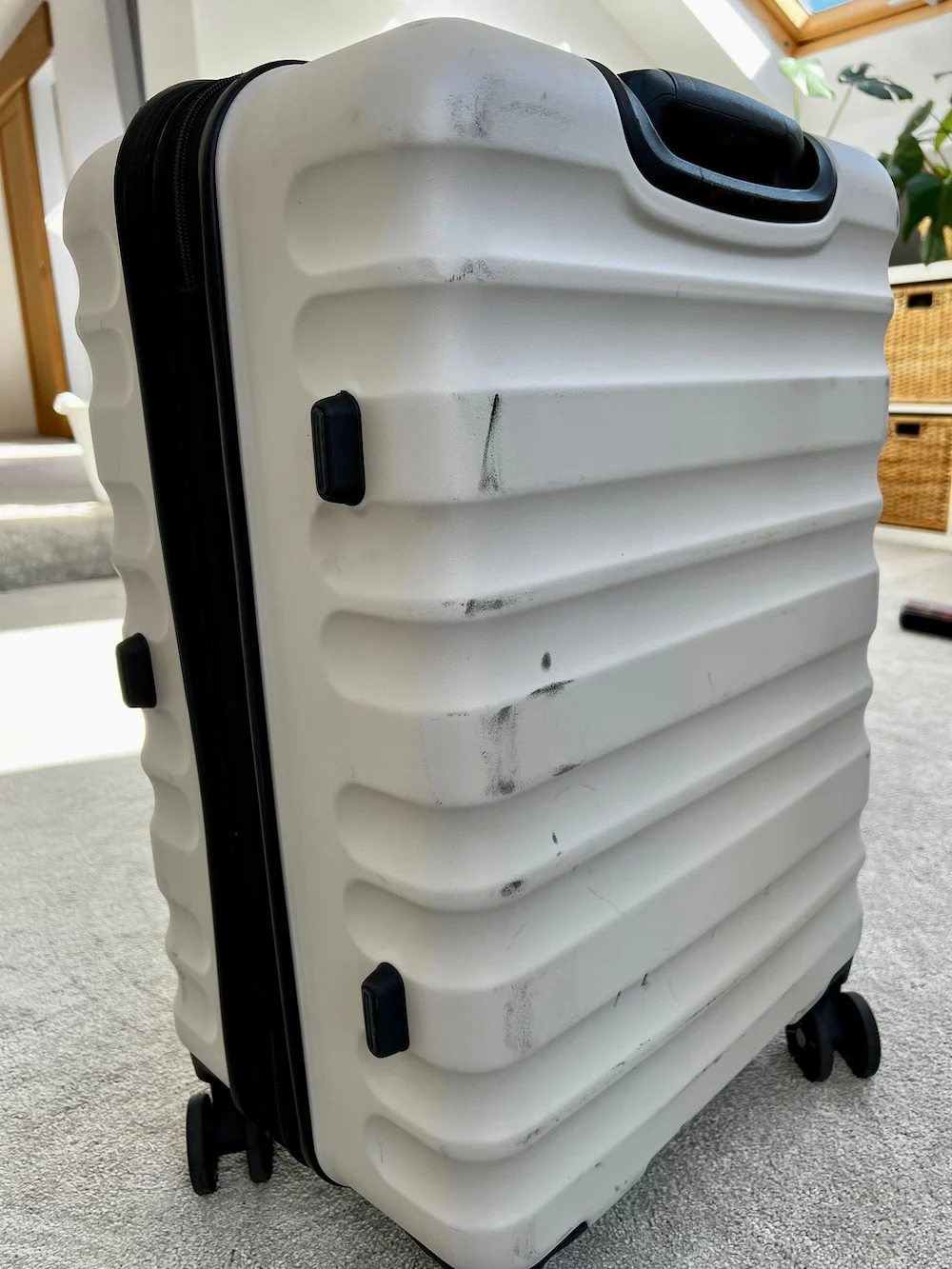 Can the smallest Antler Clifton case be used as carry on luggage?
The dimensions for the smallest of the Clifton cases in this set is 20 x 40 x 55cm, which is within the carry-on baggage allowance for most airlines.
You'd have to check the dimensions allowed for the airline you're flying with because they do vary from airline to airline.
But this carry-on case would even be allowed on Ryanair who are notoriously difficult to fly with!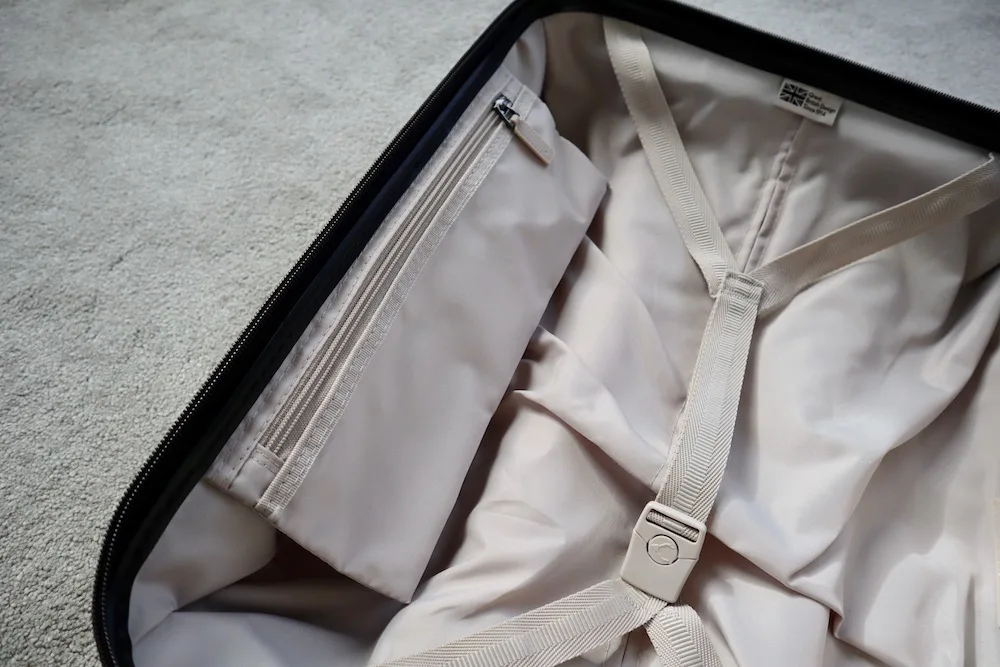 What's the Clifton Cabin suitcase like for hand luggage?
This is a beautiful, stylish and simple case but I personally prefer a cabin case with pockets and easily accessible compartments.
Thankfully, there is a Clifton cabin case with a pocket so if you're going to purchase the full set I would 100% make sure you get that one!
There are times when I'll need to open my case and get things out and, as it doesn't have any exterior pockets, I'd have to open up the entire suitcase which can be annoying and possibly embarrassing in the middle of the airport. It doesn't have an easy to access laptop pocket or a liquids pocket to be able to remove items at security. You'd have to open up your entire suitcase at security.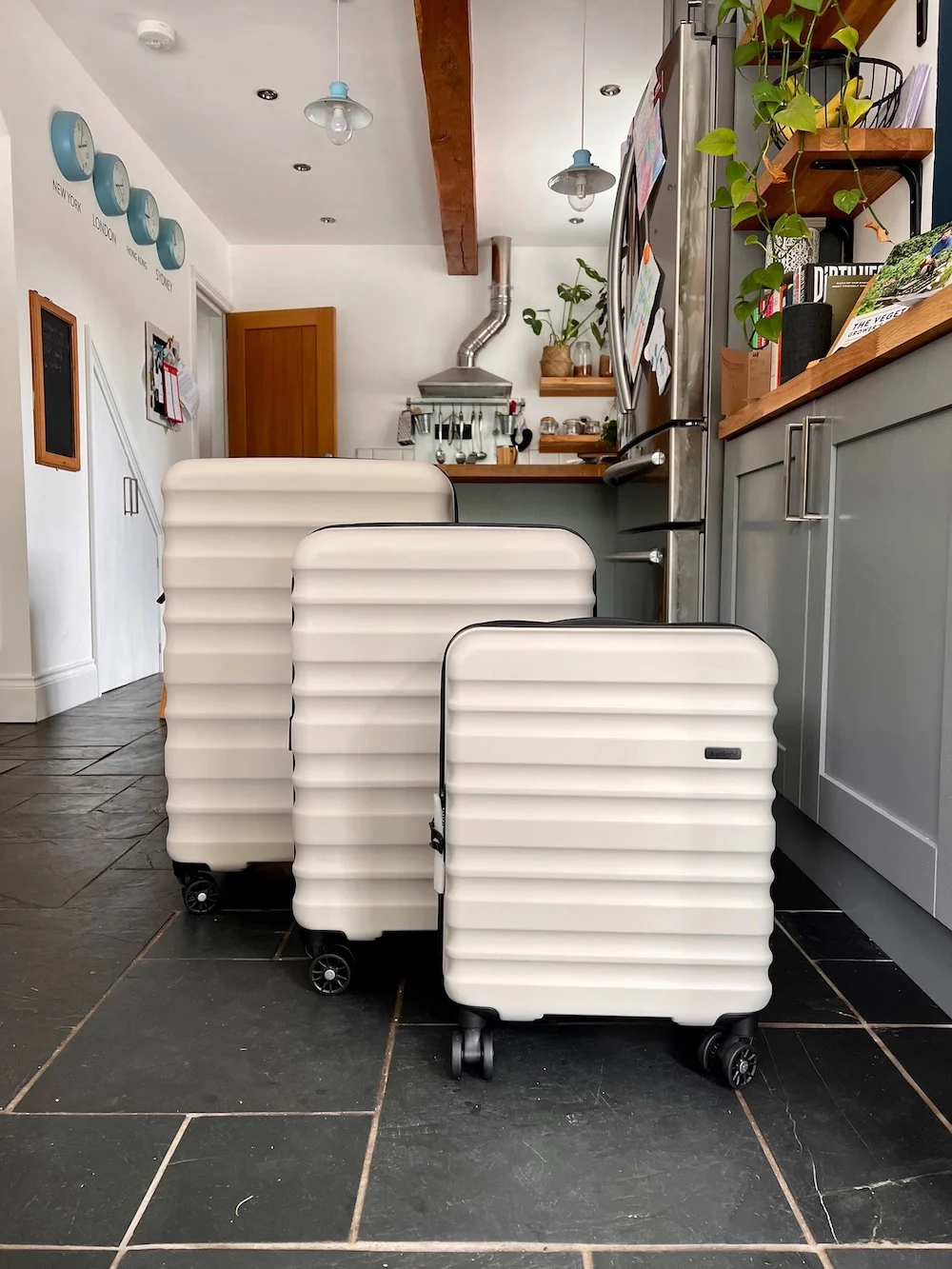 Is it better to have hard luggage or soft luggage?
It's entirely personal preference whether you choose hard shell or soft shell luggage. Hard luggage is easier to wipe clean, it offers a bit of protection for fragile items and they're water resistant. But they do tend to get scratched and dirty in a way soft luggage doesn't.
Soft luggage offers some flexibility so you can squeeze a bit more in your case. Soft cases are often cheaper and lighter too.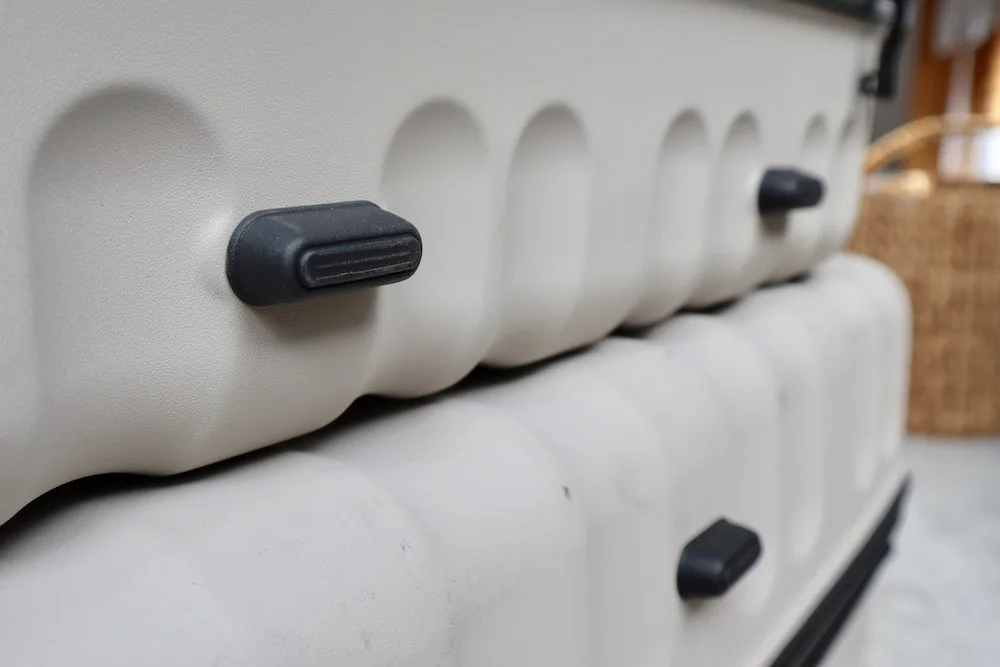 Are there any other items in the set?
If you're like me and love to have the full set then let me draw your attention to the Clifton Mini which is an adorable little case that would be perfect for your toiletries. There's also the Clifton Vanity Case which is a bit bigger and is gorgeous.
There are also other items such as the Chelsea Backpack in taupe which would complete your set perfectly!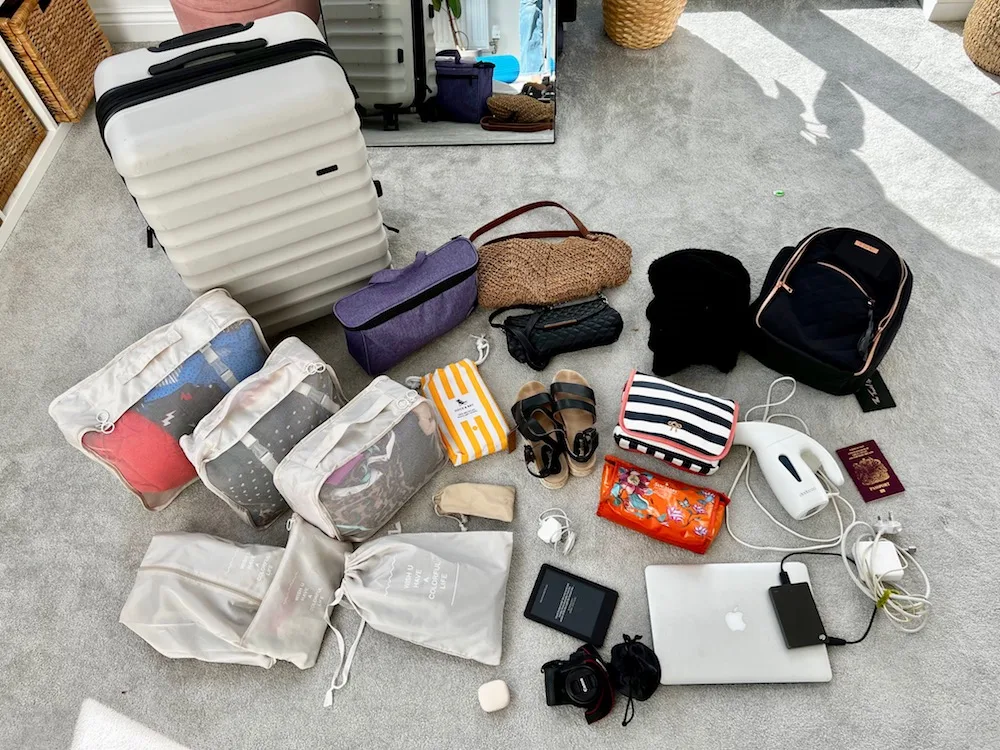 How much do the Clifton suitcases by Antler cost?
The set I have with the three suitcases in taupe is currently priced at £587. They're not the cheapest but if you're a regular traveller then they're a good investment as I imagine you and your family will be using them for years to come.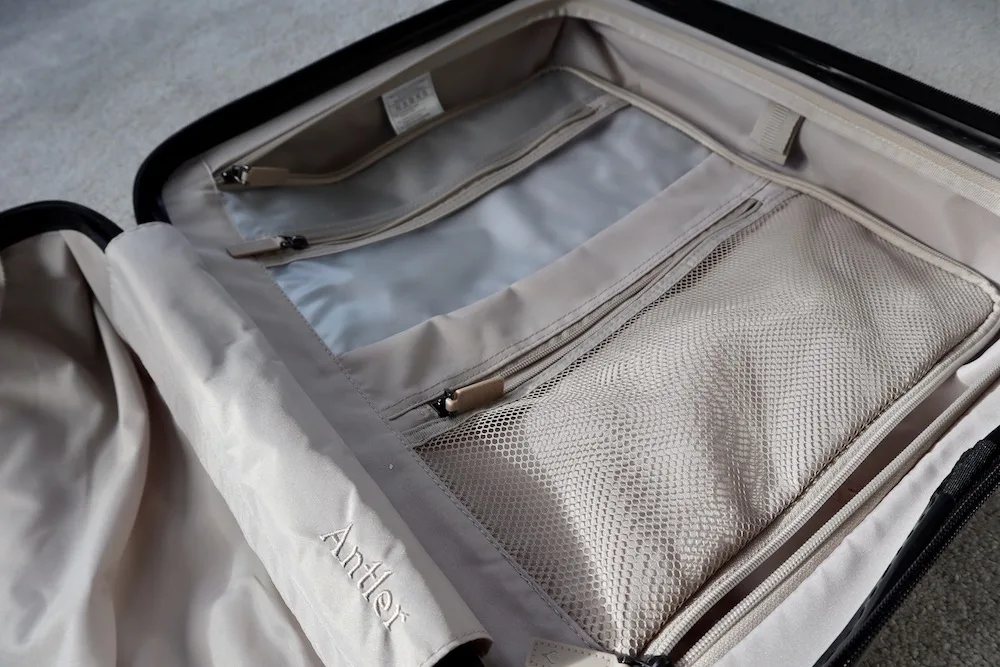 Is there anywhere to keep your laptop?
If you get the Clifton cabin case with a pocket then yes, there is a laptop pocket!
But the one I have doesn't have a laptop pocket.
When I'm travelling with just a cabin case, I'll also have a small handbag, backpack, laptop bag or briefcase for all my personal items I'd like to remove during the flight, so it's not too much of an issue.
Having said this, I'd have no problems placing my laptop inside the Clifton Cabin Case without a laptop pocket. As it has a hard shell it would be well protected and I'd put it in the middle of the suitcase between my clothing so it would have some soft cushioning! It would be awkward to remove it if I needed to get to it on the plane as I'd need to open up the entire suitcase.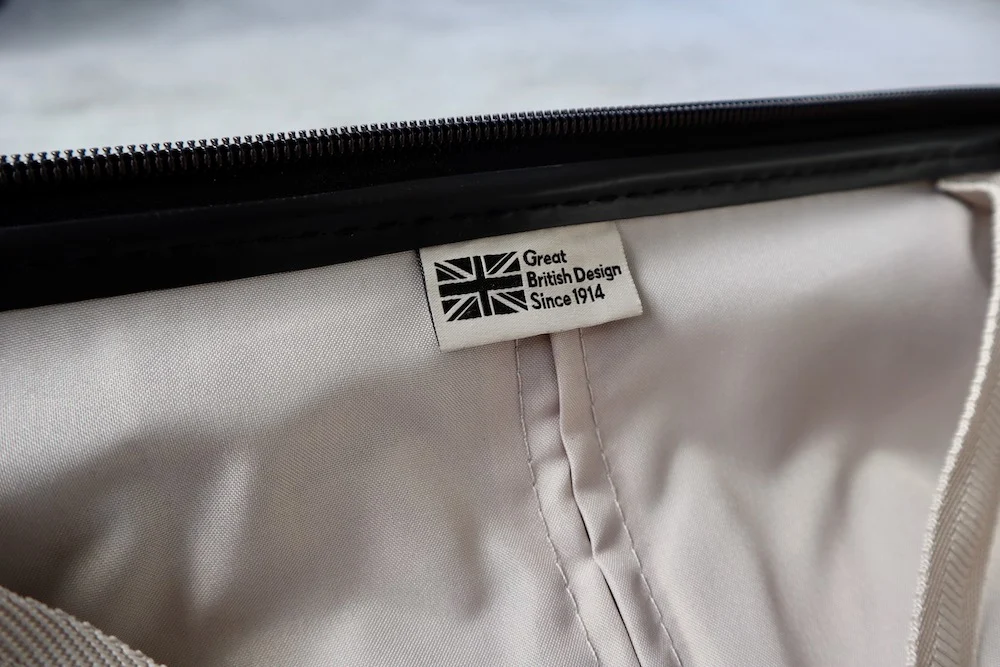 Do you think the suitcases are durable?
Yes, absolutely. I think they're really durable but they are going to get dirty. I'm very confident they won't break but after 50+ flights they're going to look very grubby if you opt for a lighter coloured case.
If you're a frequent flyer then I'd probably opt for the black or navy blue cases.
The zips on these cases all feel so well made and sturdy. If you've ever had a suitcase burst open then you'll know how vitally important this is! I feel very confident these zips won't break, even when they've been extended.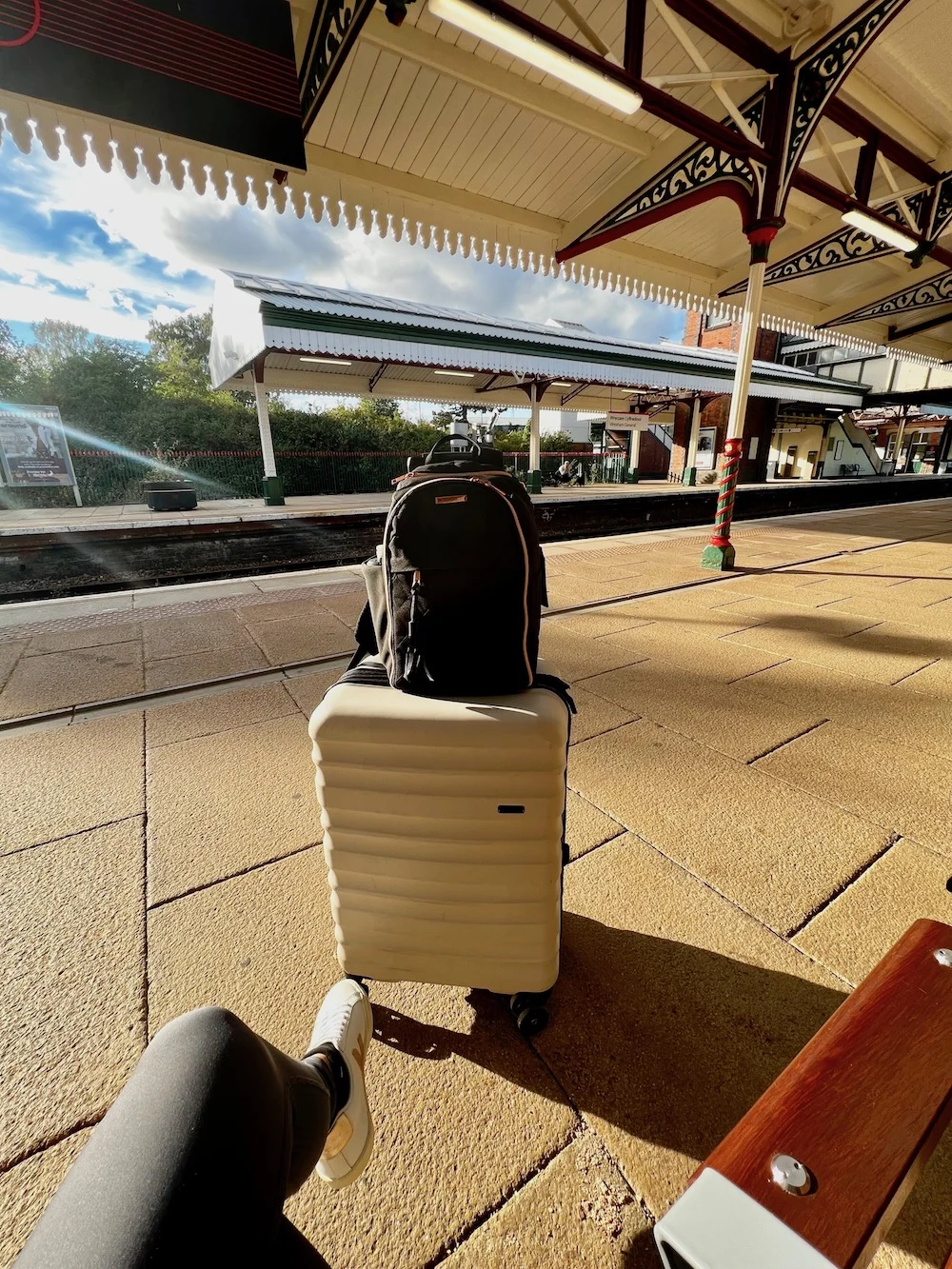 Would you recommend the Clifton set of suitcases by Antler?
Yes, I'd 100% recommend the set. They're sturdy, durable and stylish with handy pockets for organisation. They're easy to pull and one adult can easily navigate the airport with all three suitcases.
What's not to love!?
I would however recommend getting the set that has a cabin case with a pocket so you can easily access your laptop, tablet and other personal items while you're travelling.