Are you in the UK and you're looking for the best hard shell suitcase for your next trip?
You've probably been searching online and found it to be an absolute minefield. When did hard shell suitcases get so expensive and those conflicting reviews are confusing.
I know, I've been there!
Thankfully for you, I have a bit of a luggage addiction and I've tried so many hard shell suitcases.
I've simplified my list of the best hard shell suitcase into the following categories to make it easier for you!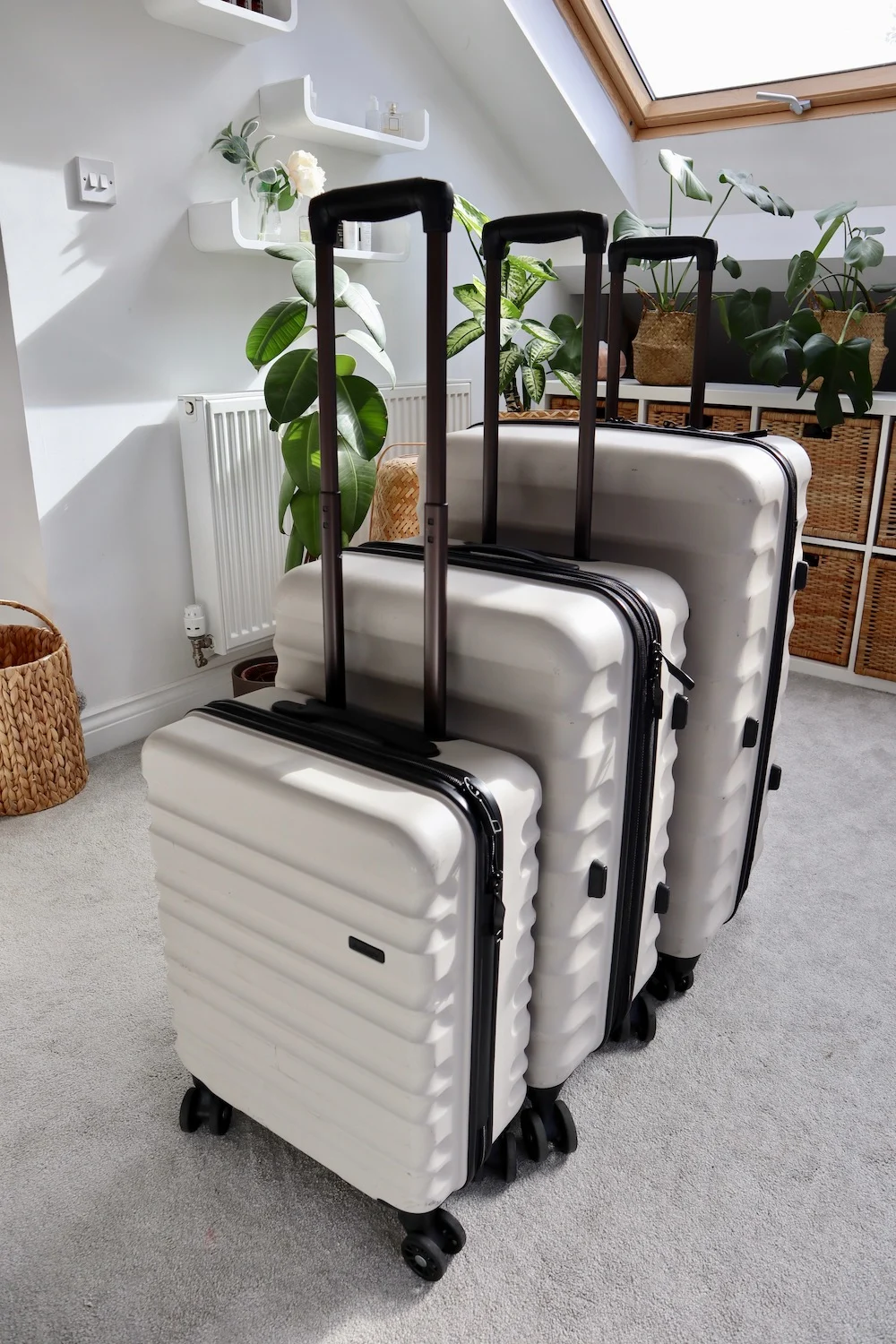 Best large hard shell suitcase
The best large, hard shell suitcase is the Clifton case by Antler. These are the ones pictured above. This suitcase ticks all the boxes.
It's lightweight
Stylish
Durable
Has interior pockets and compartments
Smooth and durable spinner wheels
Expandable zips
Nice, easy handles
TSA approved locks
Comes in a variety of sizes if you want the full set
Comes in different colours
To put it simply, this is the best hard shell suitcase.
I've got an Antler Luggage Review over here if you'd like to read my full experience of using the Clifton set.
Best premium hard shell suitcase
If you've got cash to splash then the gorgeous Globe Trotter suitcases are for you. They are going to set you back a pretty penny but, wow, they are beautiful.
The Centenary XL Trunk has a 100L capacity but it's going to set you back a hefty £2,295 so you better put this one on your wishlist to Santa!
The James Bond Collection is also rather sexy but I don't think you'd be turning up to your budget Ryanair flight with one of these.
For something a little more affordable, can I suggest the Level 8 hardshell suitcase which is lovely and considerably more affordable.
Best budget hard shell suitcase
Amazon Basics hard shell luggage
You absolutely can't beat the Amazon Basics hard shell luggage.
It comes in a variety of colours and currently has almost 35,000 4.5* reviews.
It's simple, sleek, lightweight, has two compartments and pockets, 4 spinner wheels and a decent handle.
Of course, it a lot cheaper than many other hard shell suitcases so this luggage won't last forever. But if you're buying this for one annual holiday a year then you can't go wrong.
You probably have already noticed that there's no such thing as 'cheap hard shell luggage' and it's all quite expensive. Surprisingly expensive!
In my honest opinion, I wouldn't buy a cheap suitcase, especially a large one. It's false economy and will break fairly quickly. A heavy suitcase needs to be durable and if you invest in a good one it will last for years and years. So, if you can afford it, I'd still recommend going with the Antler luggage.
Best colourful hard shell suitcase
American Tourista is, without a doubt, the suitcase brand to go to for bright and colourful luggage.
Their expandable Soundbox Spinner comes in nine colours, including a vibrant yellow, spring green, poolside blue and a coral red which you could never miss on the airport luggage belt!
These suitcases are also a good price and come highly rated on Amazon.
Best lightweight hard shell suitcase
In all honesty, if you're looking for a lightweight suitcase then you're much better off getting a soft shell case rather than a hard shell.
If lightweight is what you're looking for then a wheeled duffel bag will be your best option such as this 96L wheeled duffel bag that weighs just 2kg!
If you could make do with a soft shell suitcase then take a look at the it New York Wide Handle design.
This suitcase claims to be the world's lightest. It's massive and weighs just 2.4kg!
But if you're here for hard shell suitcases only then I'm going to have to be a bore and come back to the Antler Clifton cases.
The largest of the Clifton suitcases expand to accommodate 132 litres and it weighs just 5kg so it's the largest and lightest I can find. It's also worth mentioning that a large, lightweight suitcase is going to be expensive – even the cheap ones are quite a lot – so I think it's worth investing in a good one that will last.
Best kid's hard shell suitcase
Is it a suitcase? Is it a seat? Is it a bed?
This nifty little case is both a ride on suitcase and a seat, so when your little ones get tired of standing and walking around the airport they can comfortably have a sit down and you can pull them.
But wait, it gets even better!
This suitcase can also be transformed and it rises to form a footstool/bed for your child throughout the flight. What a genius idea.
The only downside is that you can't actually store an awful lot inside it but most kids really only want an iPad and some headphones anyway!
Best hard shell suitcase set
Do you want the full matching set? Yes, me too.
OK, I'm going to be boring again and come back to the Antler Clifton set. I still think this is the best set in terms of value, quality, style, durability and a variety of sizes.
Best carry on hard shell suitcase
Antler Clifton Cabin Case with a pocket
I don't normally like hard shell suitcases for carry on because they don't normally have any exterior pockets. This means that if you want to quickly get inside the suitcase – maybe to grab your iPad or your snacks or remove your liquids at security – you need to open up the entire thing.
So, if you are going to get a hard shell carry on suitcase I'd recommend looking for one with exterior pockets.
My current favourite is the Antler Clifton Cabin Case with a pocket. Be sure to get the one with the pocket because they also do one without!
Level 8 have a similar carry on case with a front pocket and there's a slightly cheaper one from Titan.
Best tiny under-the-seat 'free' hard shell suitcase
This might just be the cutest little suitcase on the list! It's so little! You can't really tell from the photos but, honestly, it's so sweet.
This tiny suitcase can slip under the seat when flying with easyJet, or other airlines with similar 'free' luggage policies. It's tiny, it's robust, it comes in lots of lovely colours and it's a bargain at under £50!
Best hard shell suitcase for men
Level 8 Aluminium Carry on Case
I got this Level 8 Aluminium Carry on Case for my husband to take away for our honeymoon and he loves it. Actually, I love it too.
It's sleek and beautiful and just feels like such good quality. It's zipperless and has these chunky clasps on the side and the quietest spinner wheels you've ever heard (or not heard in this case!)
It's a heavy suitcase and it is expensive but I think it's worth it.
Best hard shell suitcase for women
Aerolite Retro Vintage hard shell cases
The Level 8 aluminium case above would be gorgeous for women but if you're looking for something stereotypically feminine then I love the Aerolite Retro Vintage hard shell cases.
Thanks to the leather detailing they feel like an old-fashioned trunk suitcase and comes in a lovely cream, blush pink and a rose pink.
They do have all the modern functions you'd want such as spinner wheels, lightweight material, TSA combination lock and interior pockets for easy organisation.
Best unique hard shell suitcase
OK, this might not be the most practical hard shell luggage set but look how pretty it is! That tiny little hand luggage bag is just adorable. With floral details and a vintage feel, this is the ultimate girly hard shell suitcase!