66 days until Christmas!
I don't know about you but I'm getting ridiculously excited. Too soon? Maybe, but I don't care. I love the build up to Christmas so I'm happy to indulge in the excitement of the festive season as early as possible.
Over the next few weeks I'm going to be featuring some of my favourite Christmas gift ideas for the travel lover in your life. I'm hoping to make the Christmas buying season as simple as possible by sharing unique, thoughtful and exciting gifts you know your friends and family will love.
I had one Christmas where I left all my buying until the very last minute and it made everything so stressful and totally took the fun out of Christmas shopping. After that year I vowed to be a little more organised with my shopping so I could enjoy browsing Christmas markets and the magical atmosphere in the shops without the stress and panic!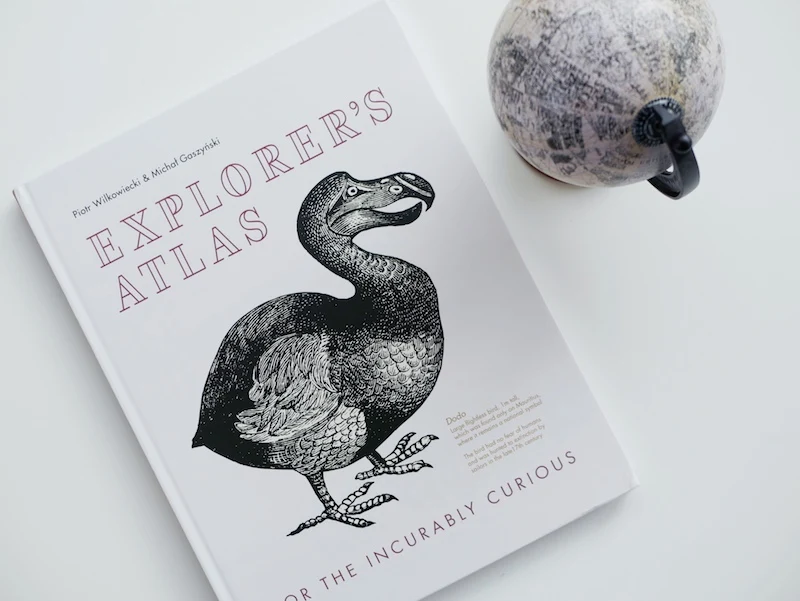 The first thing I'd like to share with you is the Explorer's Atlas: For the Incurably Curious.
This is a beautiful illustrated atlas with a difference because each page is decorated the most intriguing, fascinating and extraordinary facts about the world.
Each map is illustrated with interested facts about that destination, making it the kind of book you can sit and read for hours, if not days. Actually, it's probably the kind of coffee table book you'd have and you'd keep flicking through it for years and keep finding a new fact you hadn't discovered before.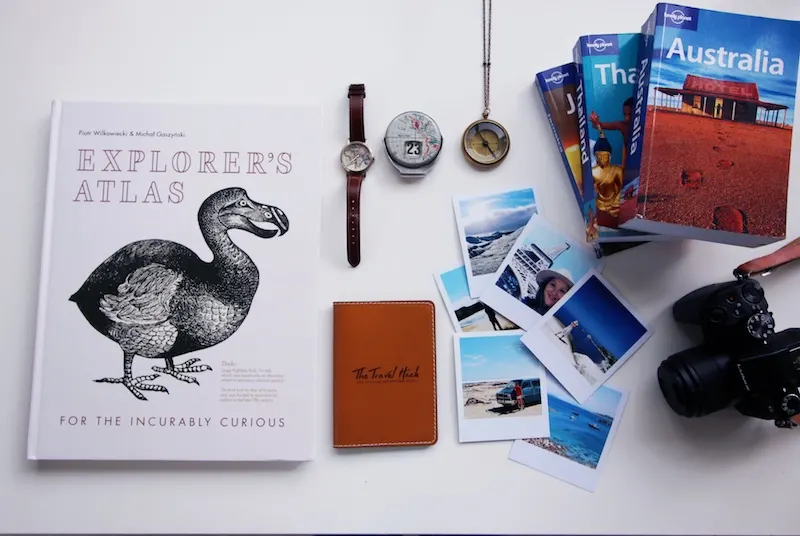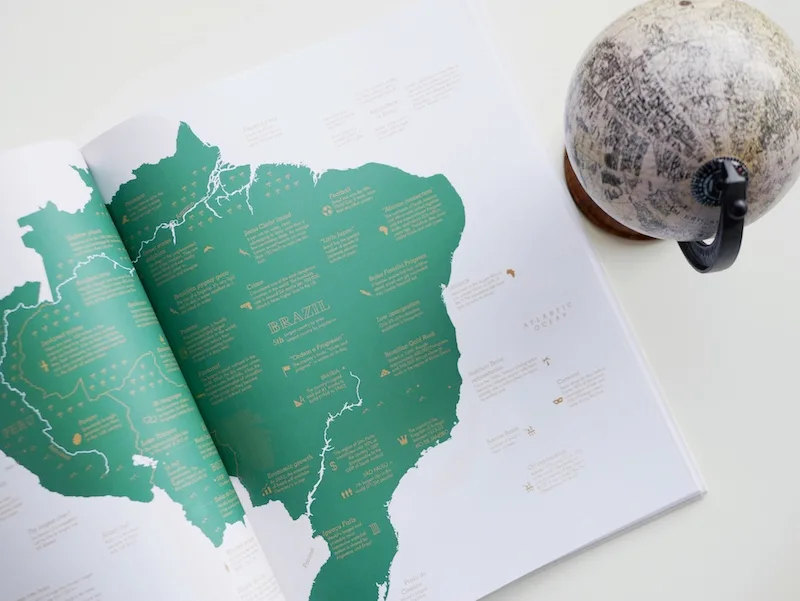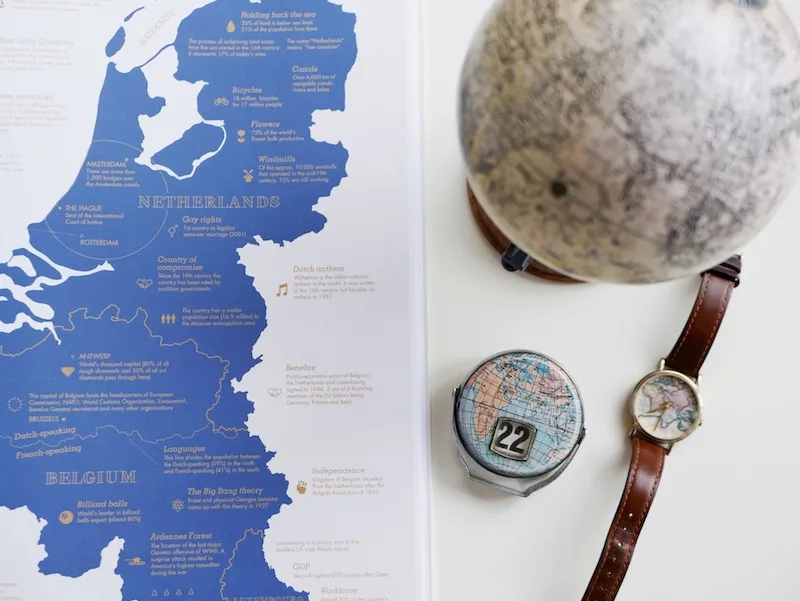 "This autumn, Collins presents the ultimate gift for travellers, map lovers and adventurers of all ages: the Explorer's Atlas. A lavishly illustrated book of maps, Explorer's Atlas is packed full of quirky facts and curiosities from all over the world. Whether you're a would be Michael Palin, or you're looking for ideas to fuel future travel plans, Explorer's Atlas will inspire wonder and delight in everyone from intrepid explorers to armchair adventurers.
The brainchild of two Polish creatives who wanted to combine great design with a passion for mapmaking, Explorer's Atlas is based on a Renaissance map gifted from French admiral Claude d'Annebault to King Henry II of France in 1550. Explorer's Atlas nods to the traditional cartography of the past and the attention to detail is suitably lavish. Facts range from history and politics to popular culture and record-breaking sporting feats, along with statistics on population, economy and topography.
Easy-to-read icons, graphics and routes allow you to travel across continents and oceans and bring the geography and current affairs of our world to life: you can trace gas and oil pipelines across the mountains of Northern Iran, follow the sailing routes that migrant boats make from Libya to Lampedusa or explore the borderline between the United States of America and Mexico. The visuals and the fascinating accompanying text will make you see the world through different eyes."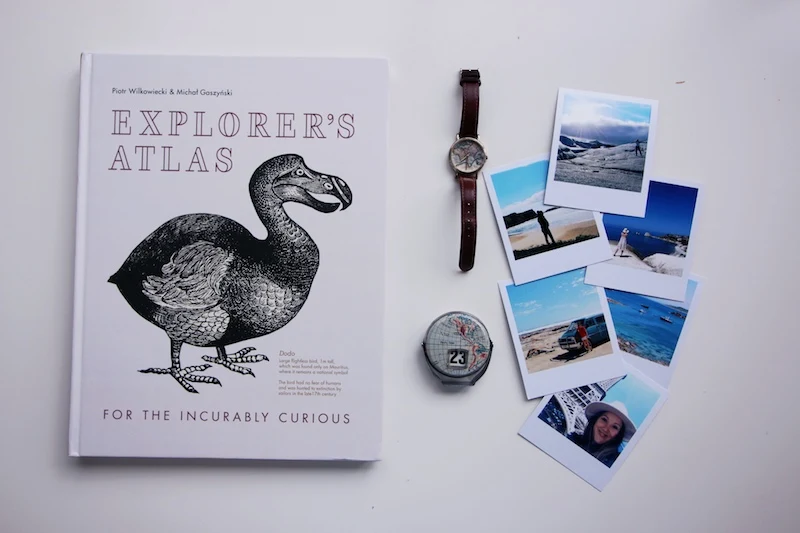 The main reason I'm sharing the Explorer's Atlas as a Christmas gift idea is because I can imagine this making the perfect present. This is the kind of gift someone will open and then sit on the sofa for the remainder of the day reading out weird and wonderful facts to the rest of the family. I can just imagine Sam and my brother doing this. They'll have a beer in one hand and a tub of chocolates between them as they flick through the pages picking out quirky facts and hidden secrets from places we've never even heard of.
By the end of the day they will have planned holidays to far flung destinations based on a random bit of information that's caught their attention.
So if you know a travel and map lover who enjoys nothing more than pouring over the pages of an atlas and discovering unusual facts about places then this is the gift for them.
It's a beautiful coffee table book and would definitely be a crowd pleaser on Christmas Day.
The Explorer's Atlas: For the Incurably Curious is currently selling for £20 on Harper Collins.