If you're looking for a portable, solar powered generator for your next off-grid adventure then I've got just the thing for you.
I'd like to introduce the Jackery Solar Generator 500 and the Jackery SolarSaga 100 Solar Panel. Together, these two clever gadgets can give you solar power for all the electronics you'll need while off-grid. Yes, even if you're travelling with kids who have a billion devices!
Travel Hack Tip: There's currently 15% off Jackery products to celebrate their 9th birthday. The offer ends October 20th so get in there quickly!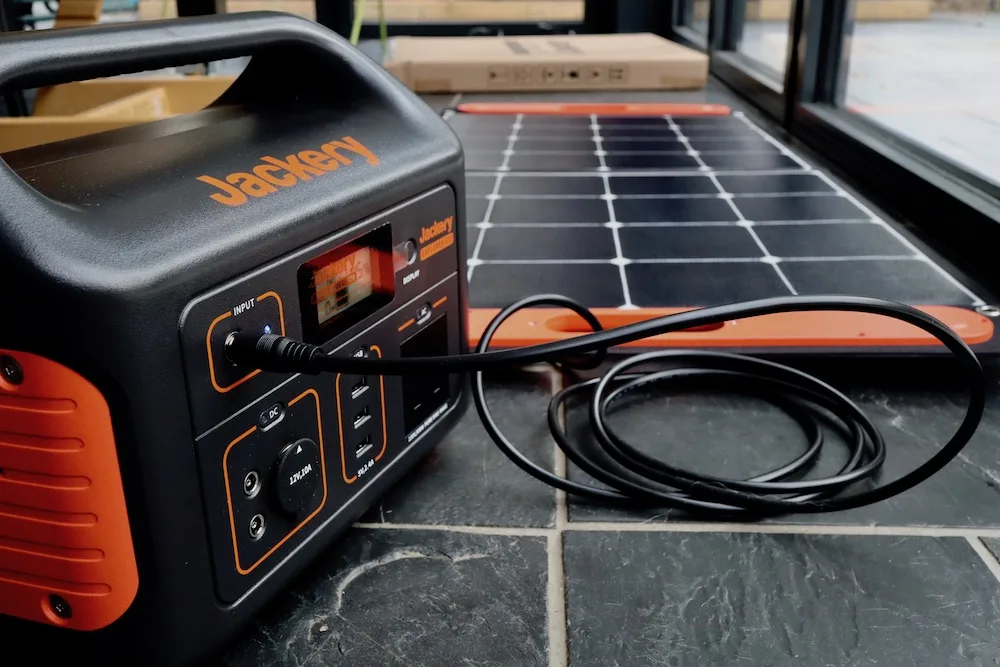 Jackery Solar Generator 500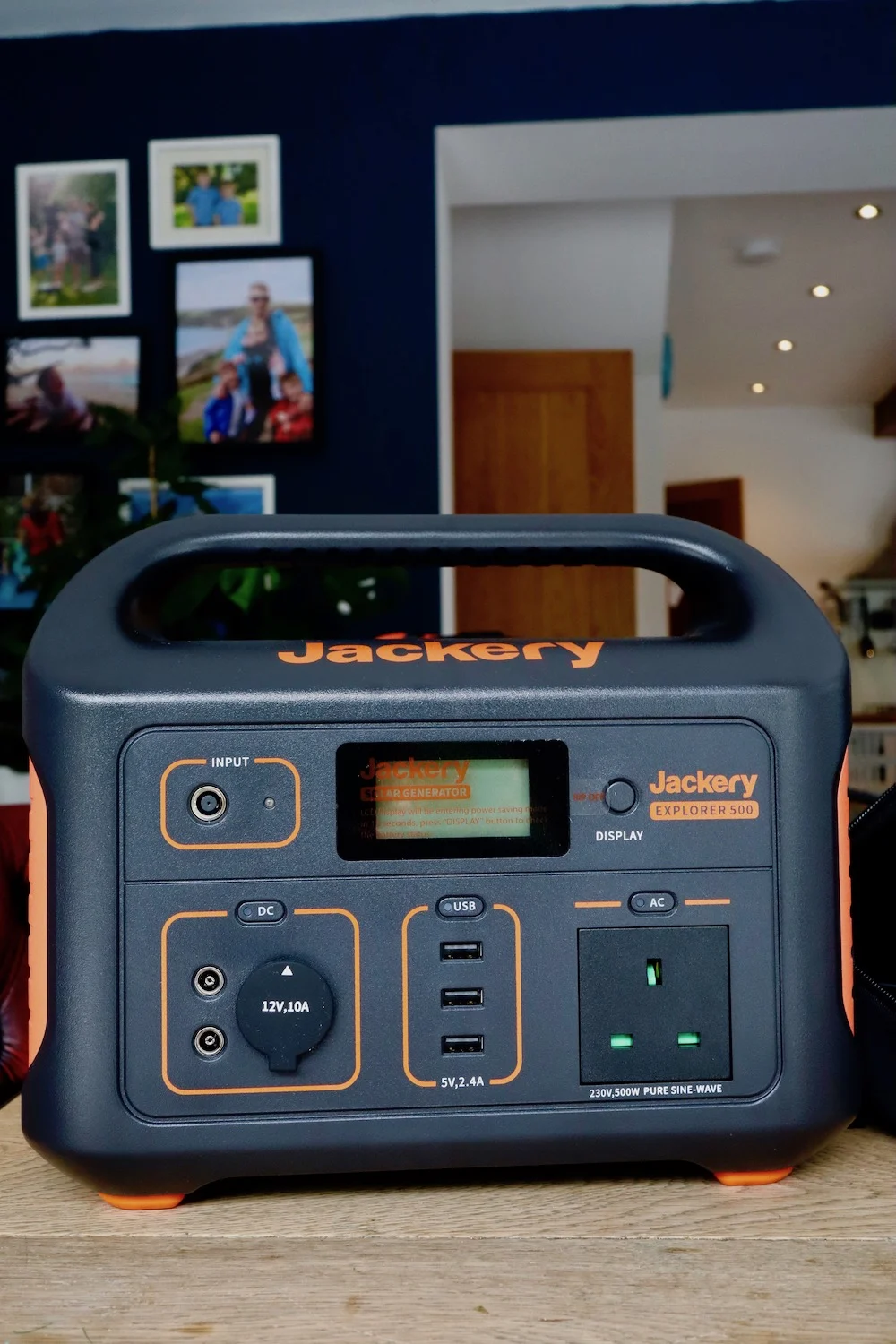 The Jackery Solar Generator 500 is a portable, outdoor power station. It's a rugged mini generator you can use to power everything from fridges and TVs to laptops, phones, tablets, LED lamps and air pumps.
It has:
1 x AC plug socket
3 x USB port
1 x car port plug
2 x DC outputs
This would be such an amazing generator for a big group camping trip or for off-grid van life adventures!
The generator can be charged via the mains or with a solar panel (more on that below). Once it's fully charged, here's the kind of power it provides for the usual gadgets you might take on an off-grid adventure:
Phone – 53 charges
Laptop – 7 charges
LED light (5 Watt) – 45 hours
Mini fridge – 37 hours
TV – 7.5 hours
Blender – 6 hours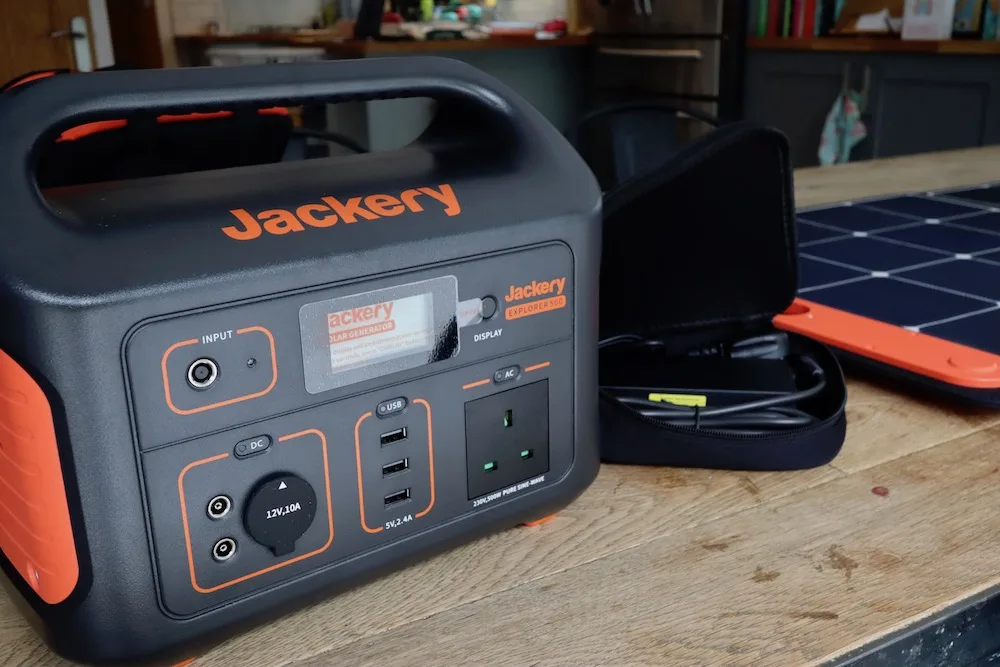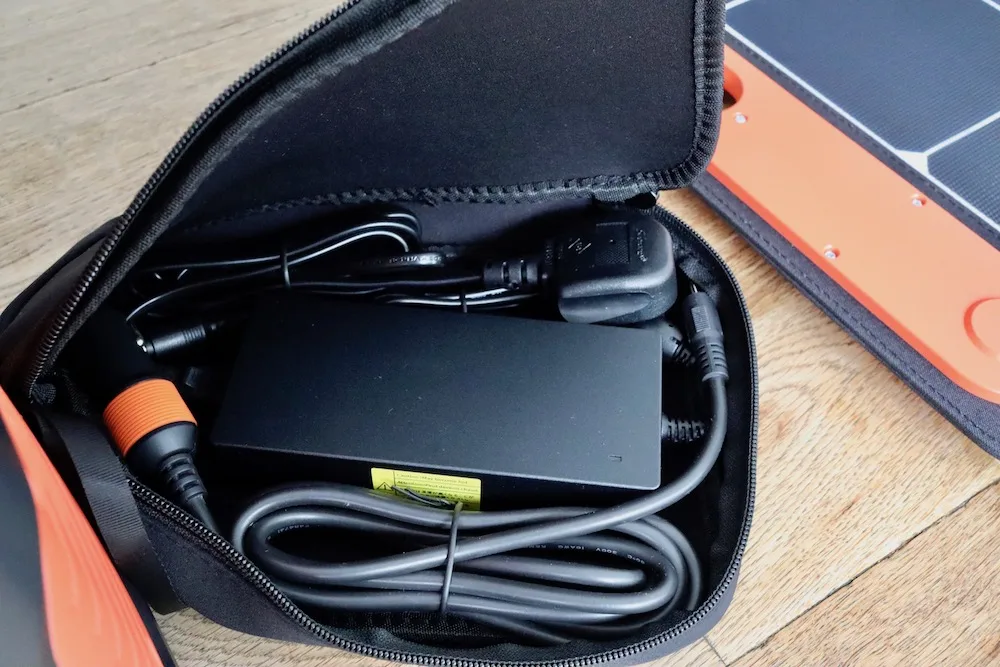 Jackery Explorer 500
The Explorer 500 can be used for electronics that use up to 500 watts of power. So it can be used for most things you'll want while in the great outdoors, but it's not for high watt electrics like a standard hair dryer.
If you will want to use this solar generator for higher watt electronics then there is a bigger version called the Explorer 1000. This can be used with devices up to 1,000 watts – so it could be used for something like an electric grill or a slow cooker.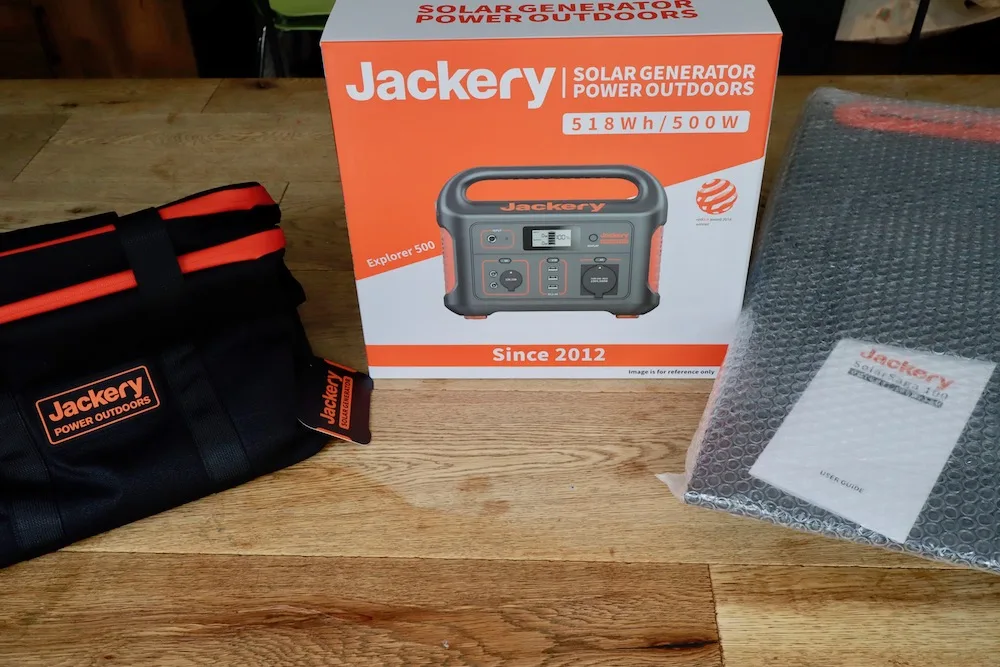 Solar Saga 100 Solar Panel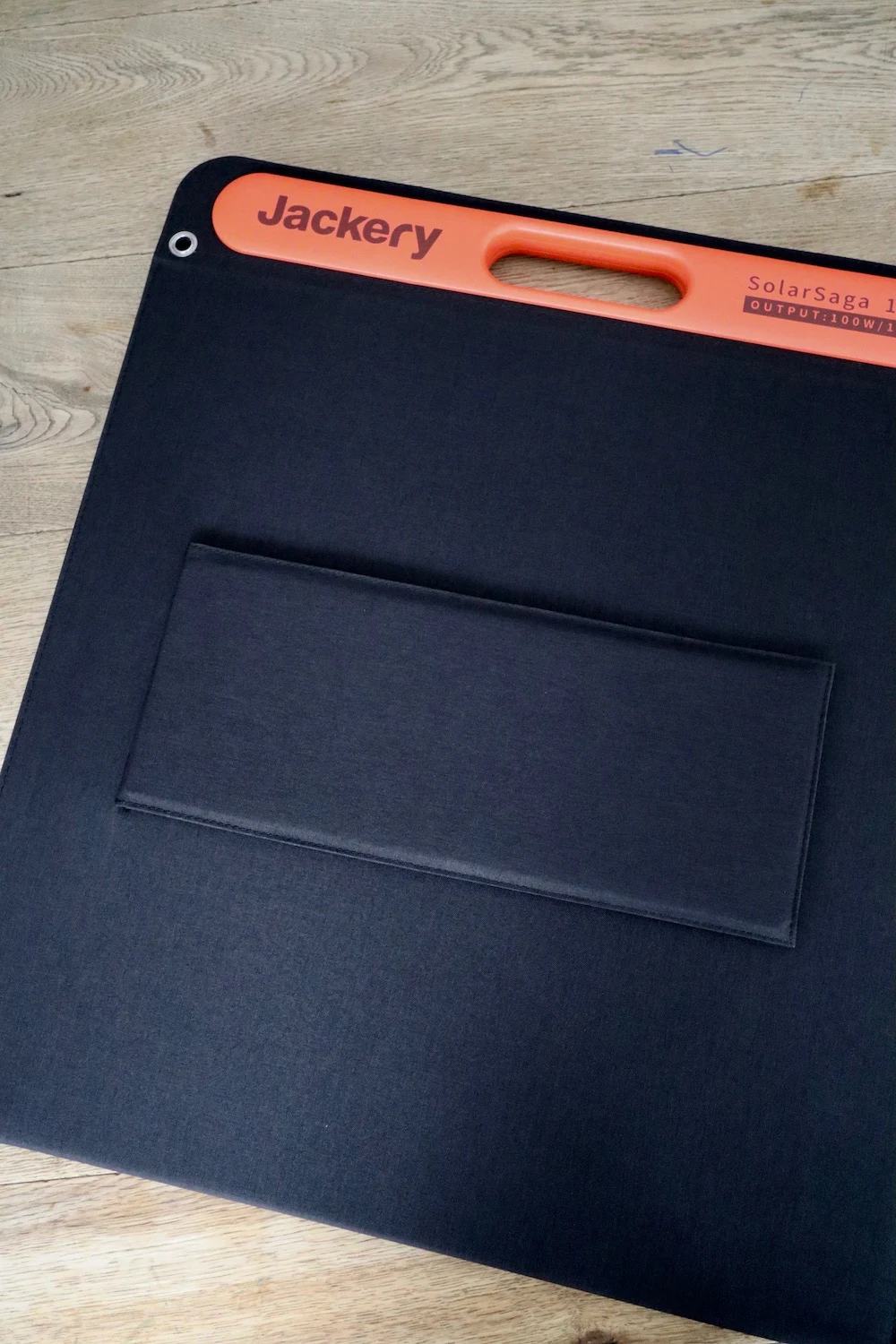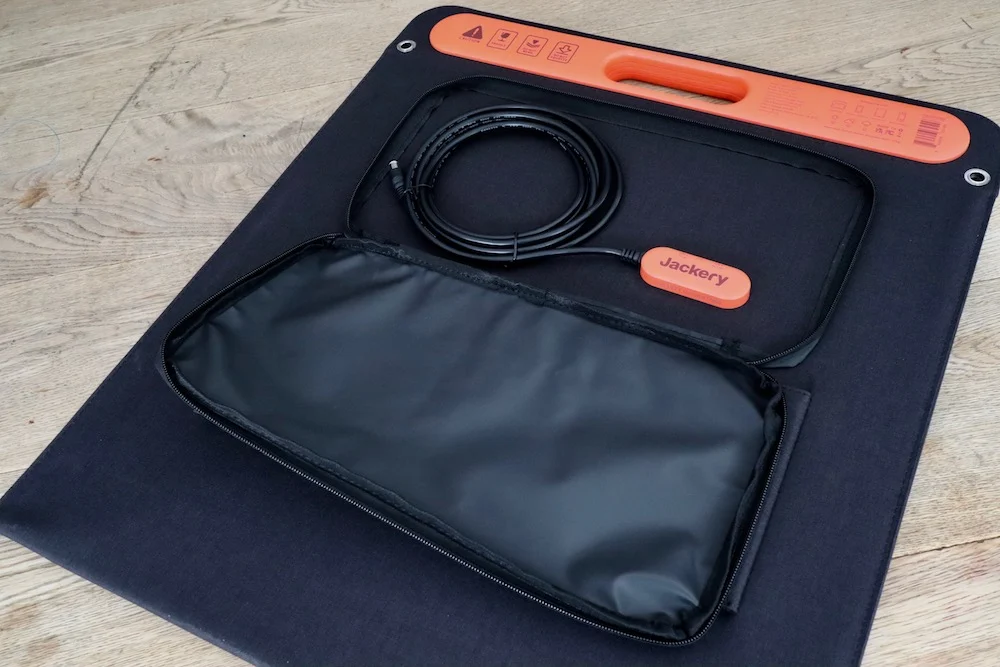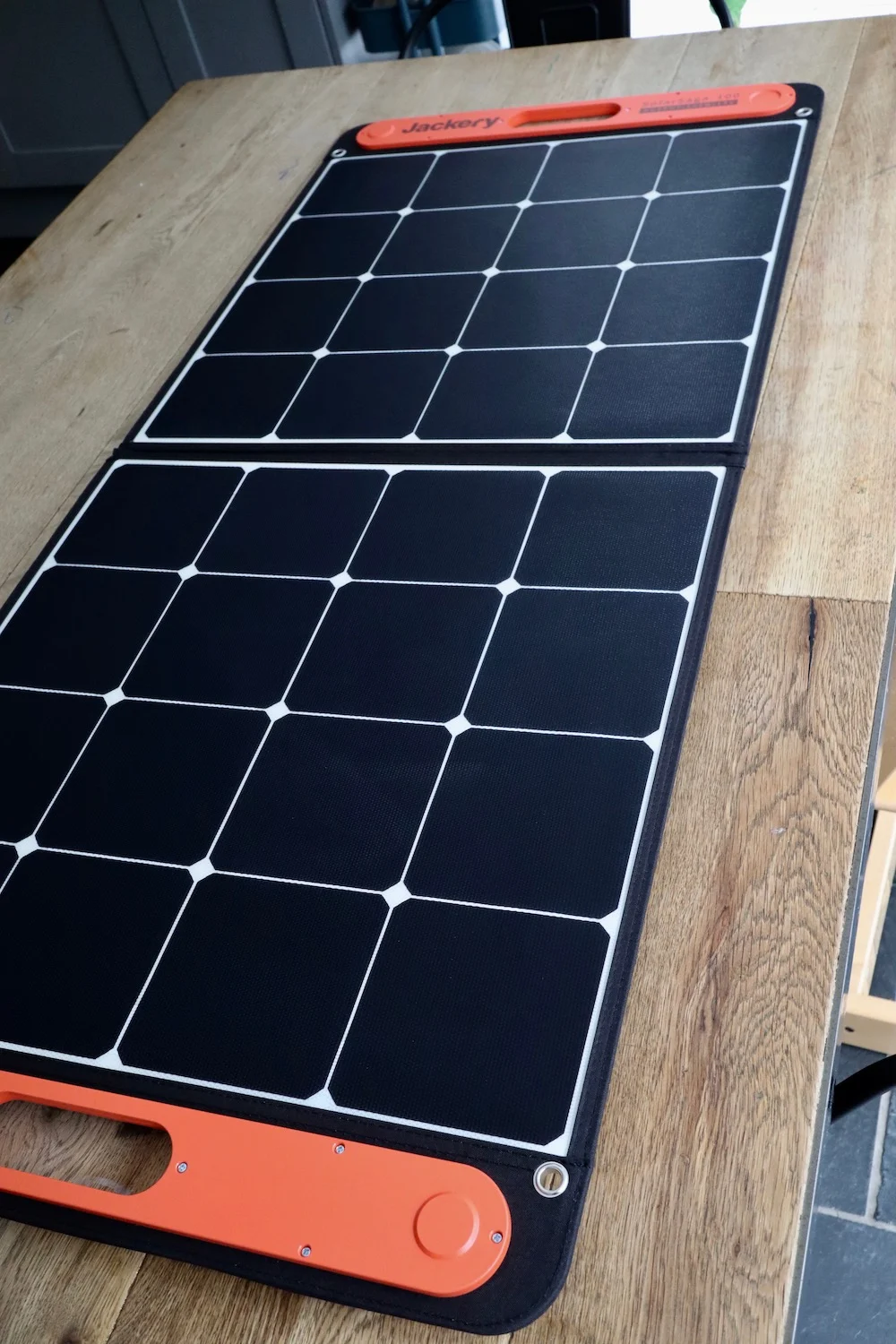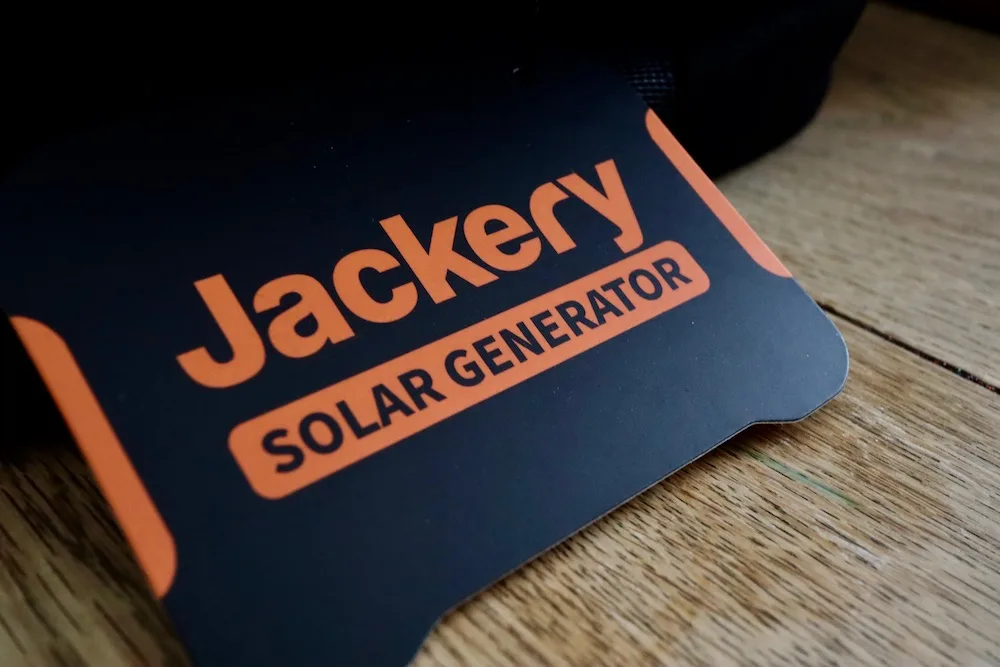 The Jackery Explorer can be used in conjunction with the Jackery Solar Panel, another fabulously simple yet effective piece of kit. The solar panel comes with a cable to connect it directly into the generator.
This portable, foldable solar panel is a highly efficient panel that can be plugged into the generator to charge it in roughly 14 hours. Or you can skip the generator completely and plug USBs into the solar panel to quickly charge small devices.
It has a kick stand so it can be adjusted to face the sun and be as efficient as possible.
Can you use a solar panel through a window?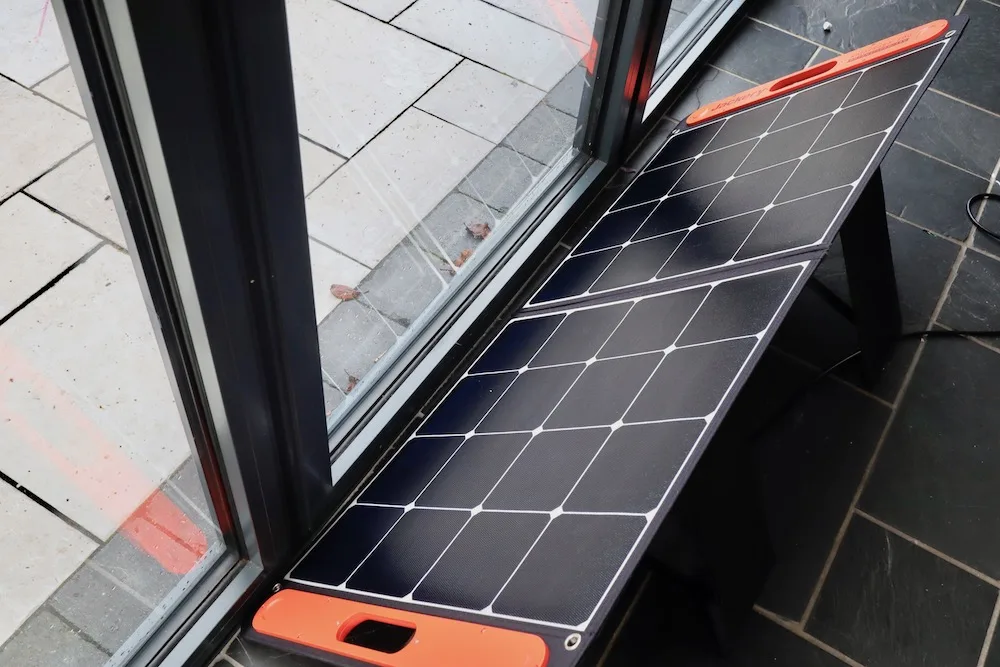 You can but it doesn't seem to be as effective. It's most effective when it's outdoors and in direct sunlight and tilted slightly towards the sun.
Having said that, there's no harm leaving it in the window of your campervan while the sun is out because it will charge!
The solar panels cannot get wet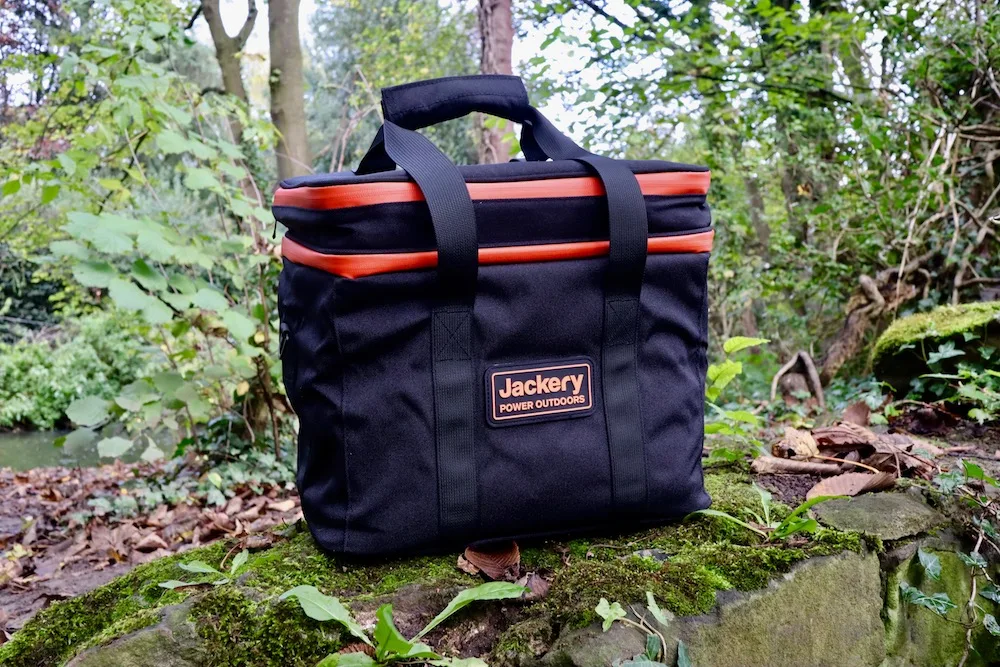 One thing you definitely need to be aware of is that the Jackery solar panels cannot get wet. Depending on where you are in the world this might not be an issue, but we Brits definitely need to keep an eye on the weather. You couldn't leave the solar panel outdoors or on the roof of your van if there's a chance it might rain.
Other things
I haven't used my Jackery generator or panels during an extended off-grid trip yet, but I will be updating this review as soon as I do to let you know how I get on with a few days relying solely on this. But here are some other things I really like about it…
The generator and solar panels look really good. They're sturdy, well made and incredibly easy to use.
The generator also has a handy light on the side which is great for camping trips.
It is quite heavy, weighing 13.3lb. It is easily carried, especially in the carry bag, but you wouldn't carry it during a hiking trip or if you had to walk a long way.
I think this would be an invaluable piece of kit for campervans!
Find out more:
Jackery Portable Power Station 500