When you're doing anything remotely outdoorsy in the UK there are two things you really need:
A good quality coat that is warm and waterproof

Good quality shoes that are comfortable and waterproof
(There's a waterproof theme going on here!)
For everything else you can make do with anything you already have or by begging, stealing or borrowing from your nearest and dearest. You don't really need that fancy quick drying t-shirt with a bunch of tags on it to prove it can wipe away your sweat in seconds, or those fancy leggings that will instantly perk up your bum and make you run even faster. They're nice to have but, let's be honest, we're all a little disappointed when they don't make us run faster.
Anyway, I digress…
Today I'd like to tell you about the latest addition to my outdoor travel kit – my sexy new walking boots by KEEN.OK, OK, they're not the sexiest boots I've ever owned but they're definitely up there with the comfiest. I've been testing these out for over a year now so they've had a lot of use and I'm still loving them.
These are the KEEN Durand Mid hiking boots with photos taken during my recent trip to Montana where I did a lot of hiking!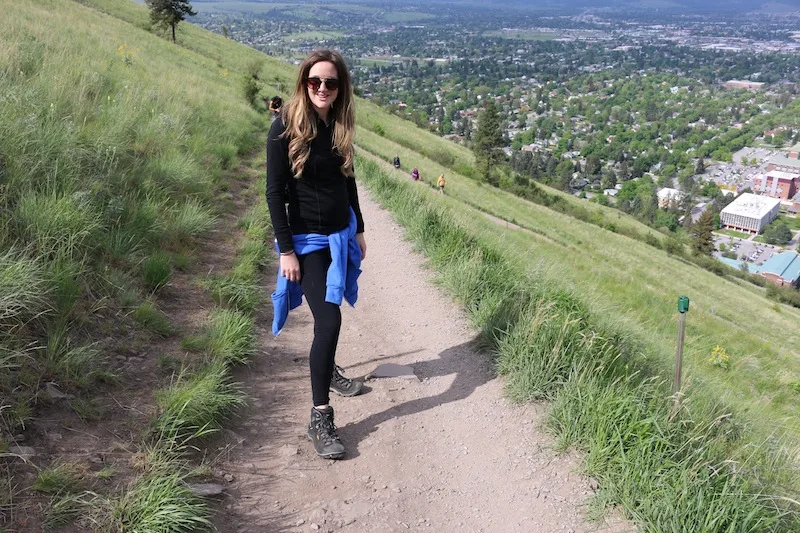 Let me tell you a little about KEEN
KEEN make shoes and accessories for outdoor lifestyles in a modern world. They call this way of life 'the hybridlife' and it's their mantra. They design products for those of us who split out time between work and play and they have a commitment to designing footwear, bags and socks that enable us to play anyplace without a ceiling. They also promise to care for each other and the world around us. They invite all of their customers to dive head first into living a HybridLife.
I'm a sucker for things like this and I love the sound of a hybridlife!
Review of the KEEN Durand Mid WP for Women
I'll admit that when KEEN first contacted me I actually wanted to try the sleeker and more stylish Hoodoo III. I told KEEN I'd be using them to hike around Wales in the autumn and I got a quick response telling me the Hoodoo's would be far too hot and unsuitable for Wales. Sad face. But they are cute with their fur trip so take a look if you're going anywhere cold. They'd be perfect for a trip to Iceland and they're currently on sale.
Lightweight tick in the box
The Durand boot might not be as stylish as the Hoodoo III but I'm really glad I went for them because they're so light. One of my main issues with bulky walking boots is that they're so heavy. I prefer to put my trainers on and bounce around rather than lug my feet around in concrete blocks. Thankfully, I don't have this feeling at all wearing the Durand boot.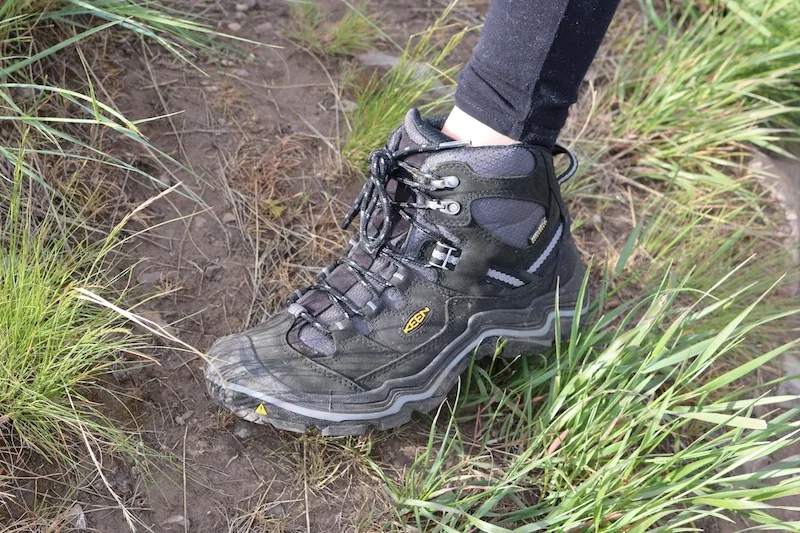 Super comfy tick in the box
"KEEN's boots have unique direct injection PU Midsole underfoot support and cushioning with unmatched shock absorption. They have a mesh lined premium leather nubuck leather upper and KEEN.DRY waterproof membrane to make sure your feet stay dry and comfortable. An integrated heel cushion locks directly into the footbed to support the foot for comfort hikers can trust, whilst a dual-compound outsole combines two distinct types of rubber for versatile protection whether you are heading out on a long hike in the hills or picking up the pace on mixed terrain. A lightweight TPU shank adds reliability stability and midfoot support."
And to put that simply….they're really comfortable. They're cushiony and soft and even after wearing them for months and months they still feel nice and padded.
I also have a silly confession to make – I actually wore mine on a long hike without any socks on. Every other hiker was giving m disapproving tuts – apparently this is something you just never do in hiking boots! But I was absolutely fine and even after a 3 hour hike in this bad boys I didn't have a single blister.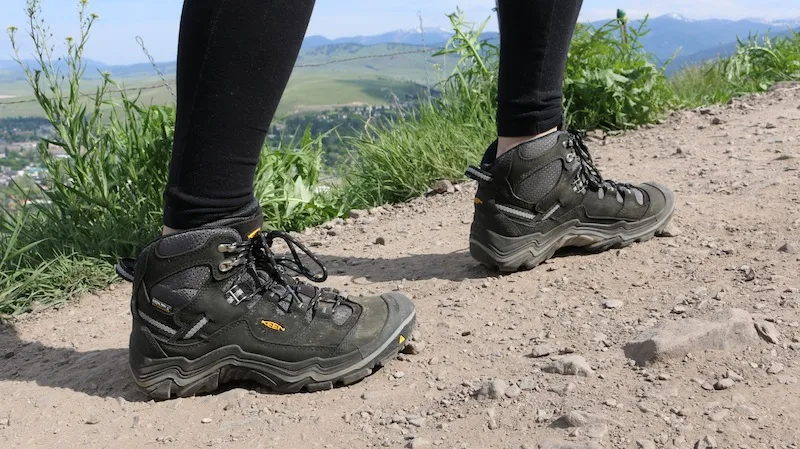 Design?
The design of this boot is pretty standard with not a lot to write home about. They're not going to win you any awards for the most stylish hiker on the mountain but they're fairly plain and simple and go pretty much unnoticed. I like it that they'll go nicely with a pair of jeans as well as hiking leggings or shorts.
Sizing
On the website it says the KEEN Durand Mid WP is sized at half a size smaller than normal UK shoes so they recommend going up by half a size when you order. I usually wear a 5.5 and ordered a 6 and these fit nicely. I find them to be fairly wide but this is actually really comfortable and with thick walking socks on you need that extra space.
Buy them
The KEEN Durand Mid WP boot comes in three colours:
Cascade Brown/Shitake

Gargoyle/Capri Breeze

Black/Gargoyle (this is what I have)
They're currently priced at £139.99 on the KEEN website. They come in sizes 2.5-8.5. They are also available for men.
Disclaimer: I was sent these boots from the lovely people at KEEN to review. As always, all thoughts and opinions are my own. Thank you 🙂