When I was younger I watched hundreds of American movies and TV shows about kids going to summer camp.
These idyllic summer woodland camps set next to a lake looked like the most amazing places to spend the summer and I was so upset we didn't have them in the UK.
The kids stayed in cozy cabins with all their friends and had midnight feasts and stayed up all night chatting. They spent their days swimming and splashing about in the lake. There would be acres and acres of forests where they'd get lost or play games. In the evenings they'd huddle around a campfire making smores and gossiping as the sun set and people skimmed stones around the lake. They'd do activities and have parties and cause mischief and at the end of the film they'd proclaim it was, 'the best summer of their lives'.
I was so jealous. I wanted to spend my summer like this!
While I was in Montana I had the chance to live out my childhood fantasy but on an adult scale. Imagine going to summer camp…but for grownups.
Oh my gosh, yes. I hope you're excited!
During my Montana road trip we spent 3 nights at a Dude Ranch and, yes, that is as cool as it sounds.
A Dude Ranch is basically a cowboy ranch that welcomes guests who are otherwise known as 'dudes'. But really, it's the cowboys who are the dudes.
I've never had a thing for cowboys before but that all changed in Montana!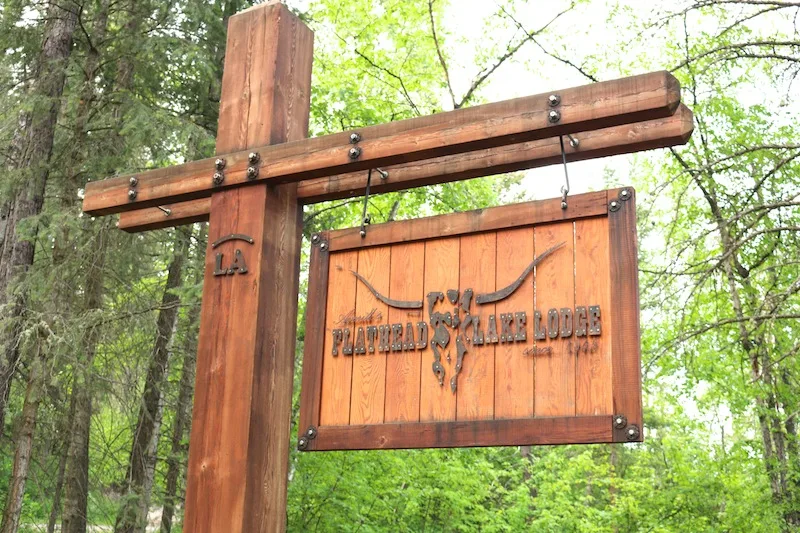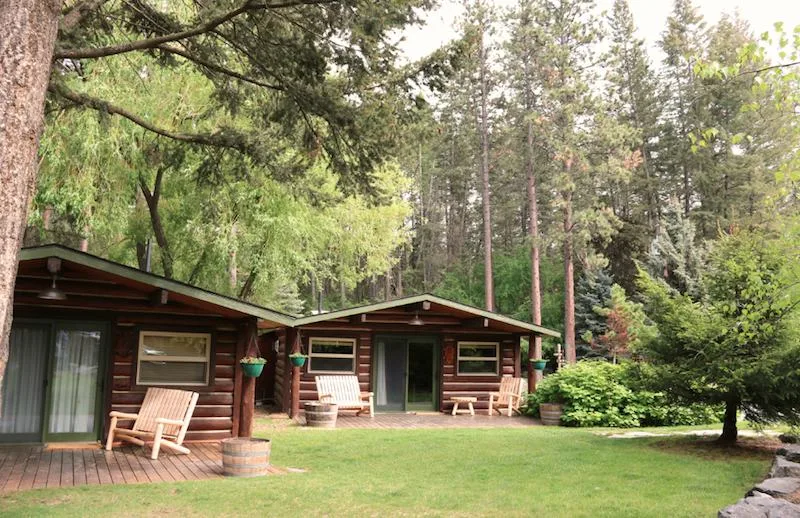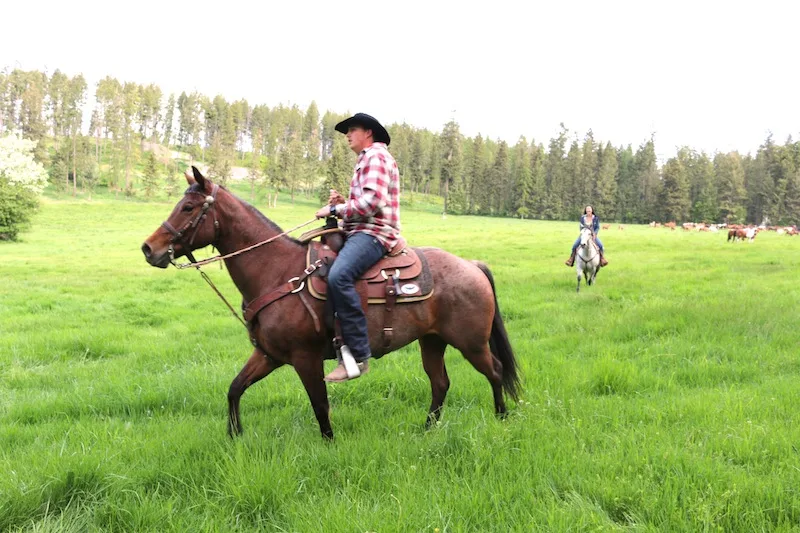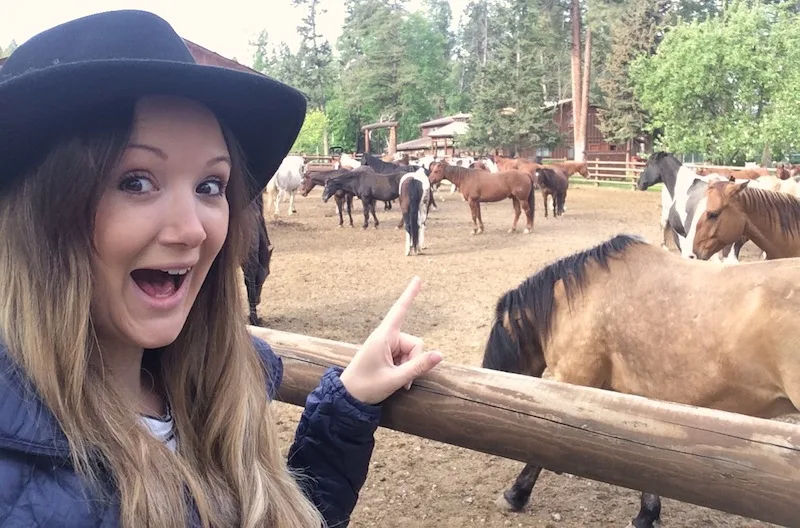 As we arrived into Flathead Lake Lodge in Bigfork, a cowboy slowly emerged from the main building to greet us. Dressed in worn denim, cowboy boots, a cowboy hat and checkered flannel shirt he was everything you'd expect a cowboy to be. He swaggered out like he'd just jumped off a horse (which he probably had) and welcomed us with a slow, cowboy drawl that pretty much made every female melt like an ice cream on a hot day.
We were welcomed inside a huge log cabin that smelled like smoke and fur and leather and immediately made ourselves comfortable in front of an enormous fire. It wasn't even cold outside but there's something comforting and homely about a big fire in a log cabin. On the opposite side of the cabin were little windows overlooking the glassy lake outside. The water was so smooth it was like an enormous mirror stretching out before us.
We each had our own little cabin on the ranch and they were so super cute and cozy. Mine had a double room and a twin room with beds draped in blankets like your nanna would have. There was a bathroom and a living area with an electric fire, fridge and coffee making facilities. But if you were visiting in the summer it's unlikely you'd be spending any time indoors because there's so much to do outside!
We took a cruise around the lake, had plenty of kayaking races, learned how to lasso a cow (because everyone needs to know how to lasso a cow!) and generally soaked up the gorgeous atmosphere on the ranch.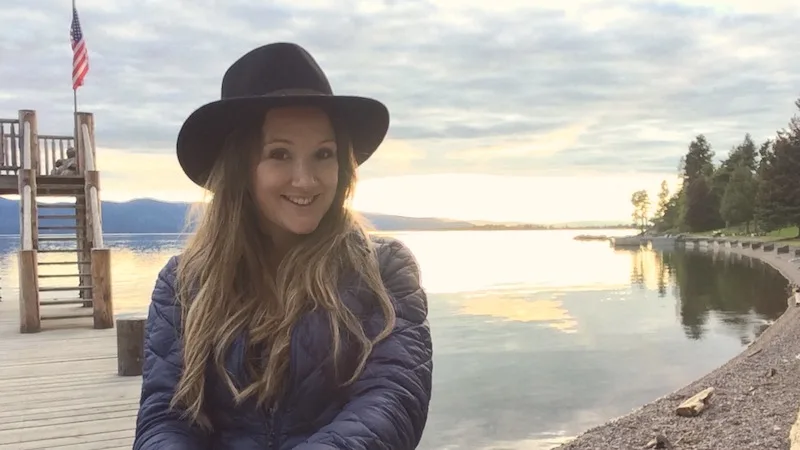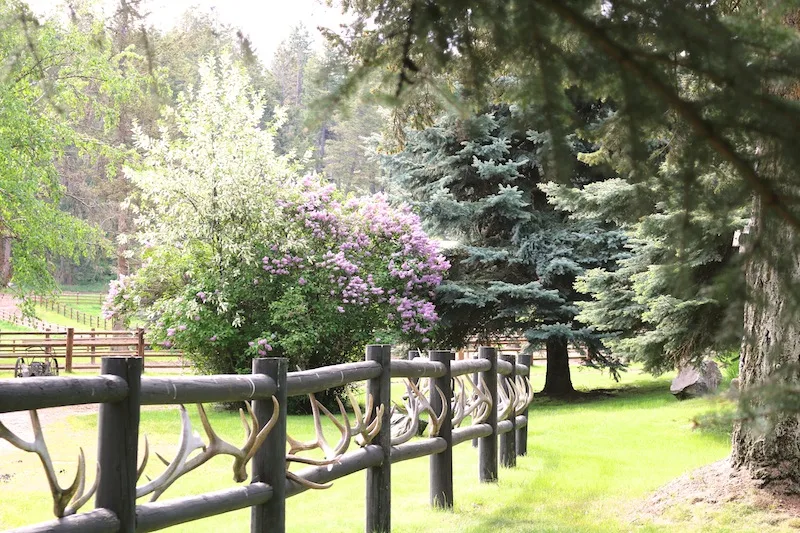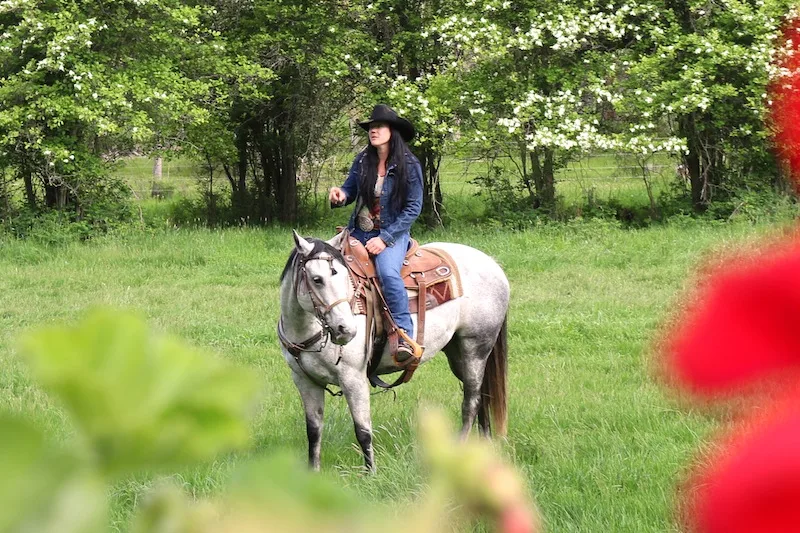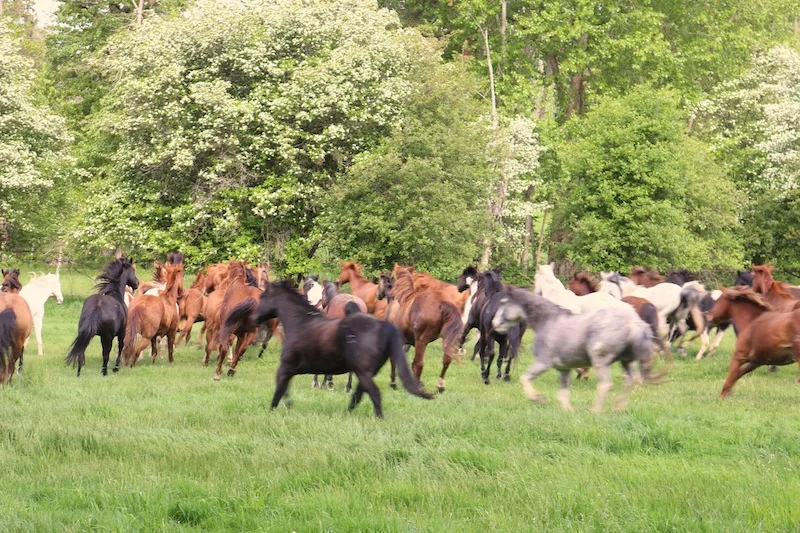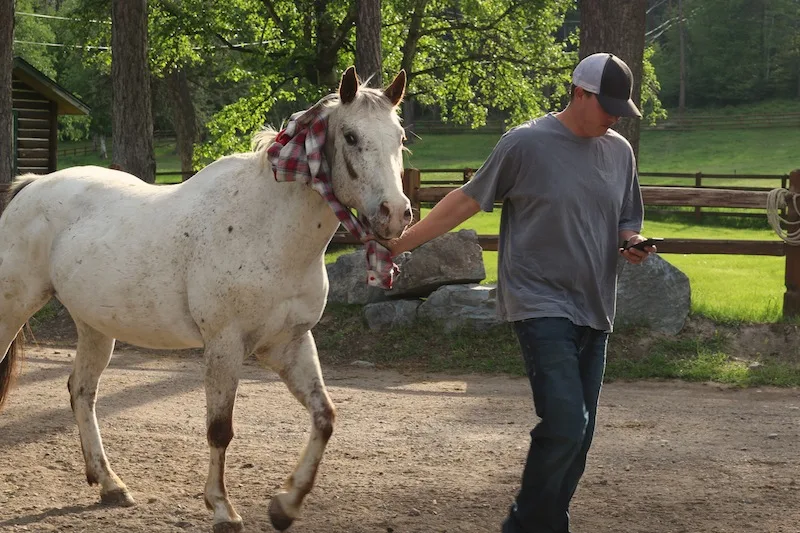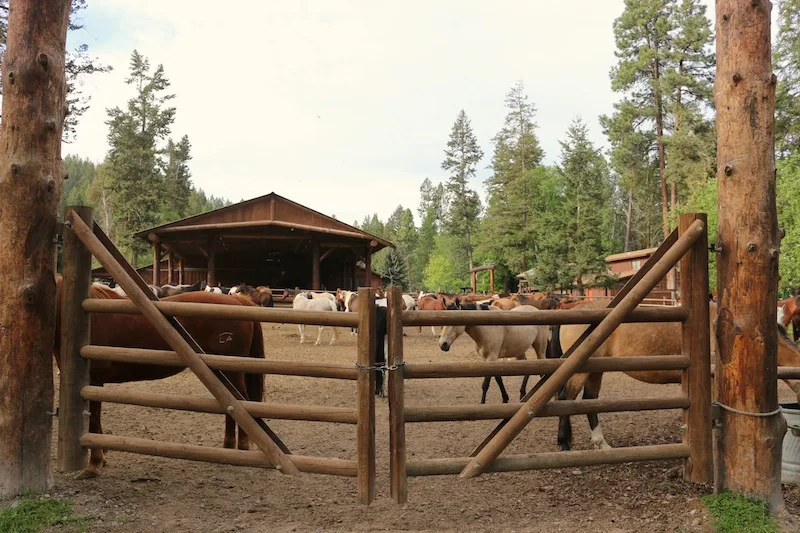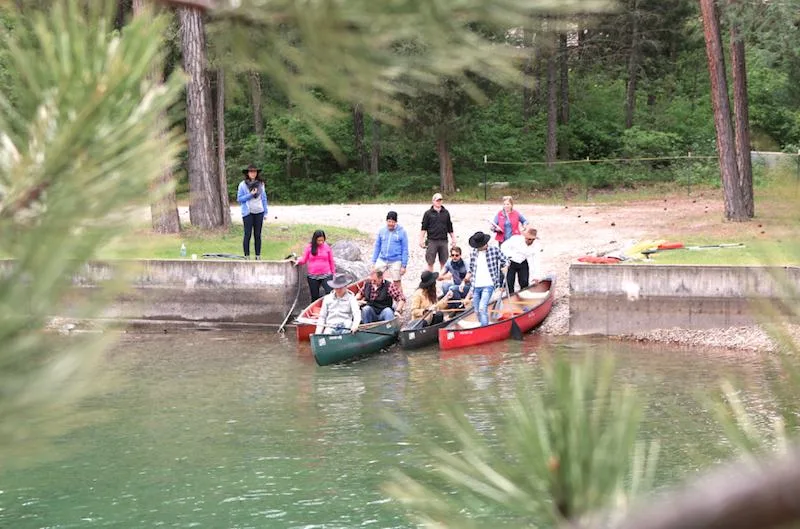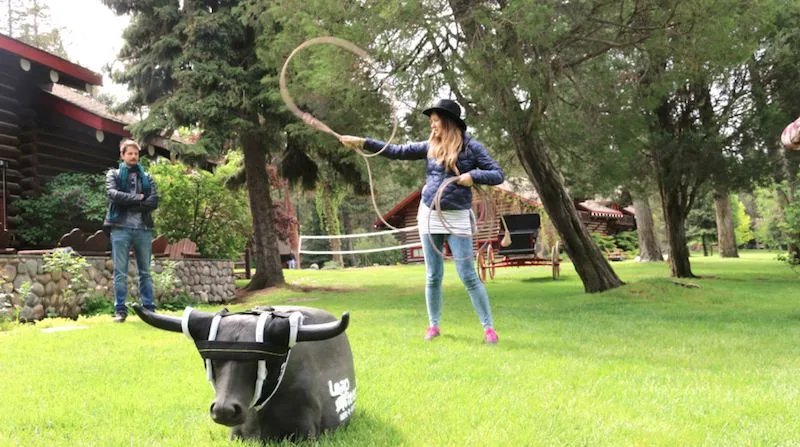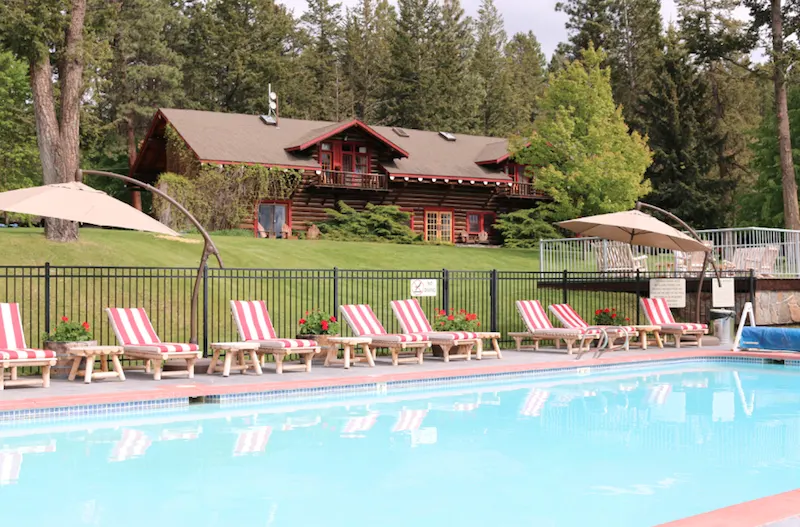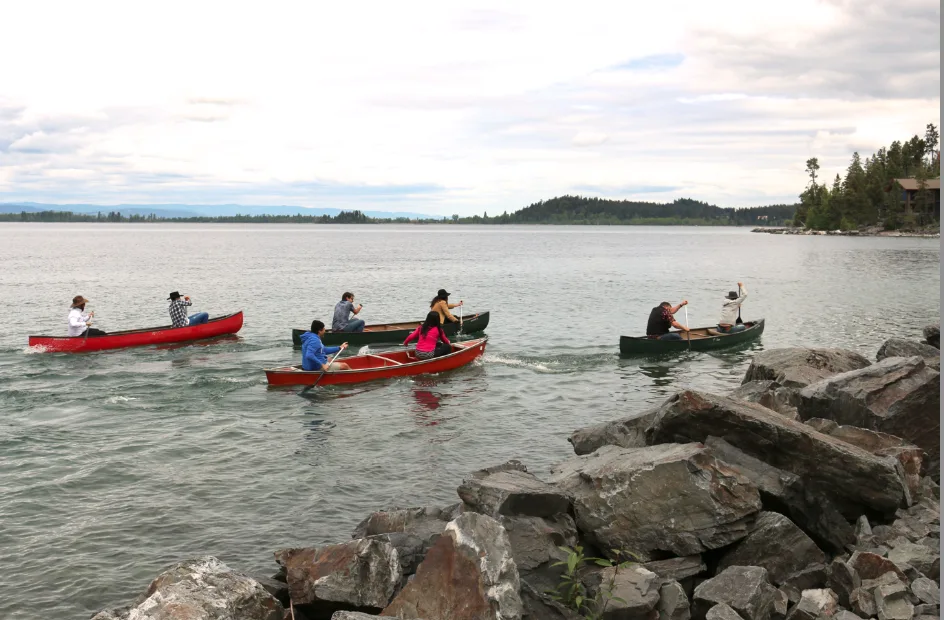 The highlight for me was one evening we spent in the forest having a steak-fry. Deep within the trees a little camp ground had been set up with a huge smouldering fire and little fires to keep us warm. It was like something from a fairytale as streams of light shone through the trees and smoke rose up around us.
A singer (who reminded me a lot of Stinky Pete from Toy Story) kept us entertained with Western songs as we tucked into a feast of steaks and spicy beans.
Some members of our group rode up to this idyllic little spot on horseback, spotting deer and enjoying the sunset a long the way.
Check out Courtney Scott's beaut of a video from her journey:
As I was pregnant I wasn't allowed to ride the horses (sad face) but I did get ride in a pretty sweet ride truck!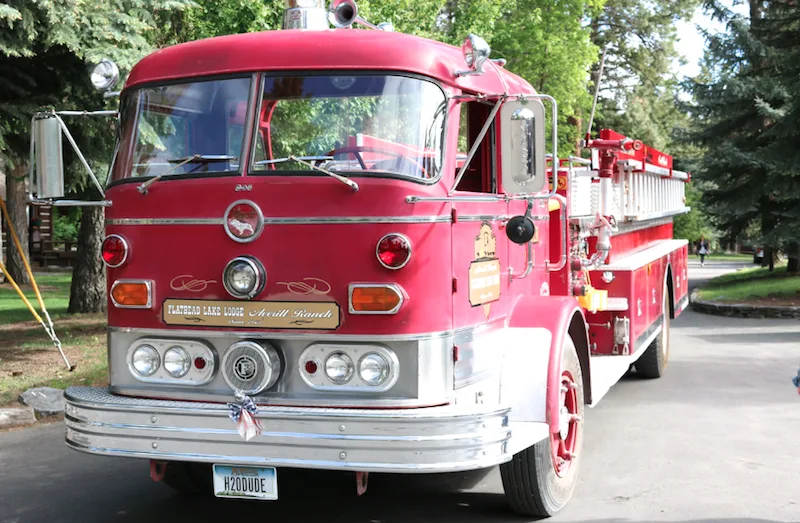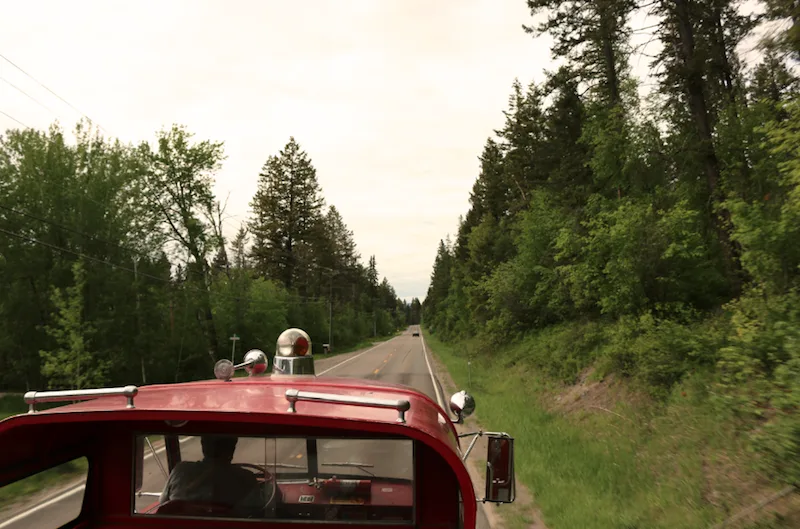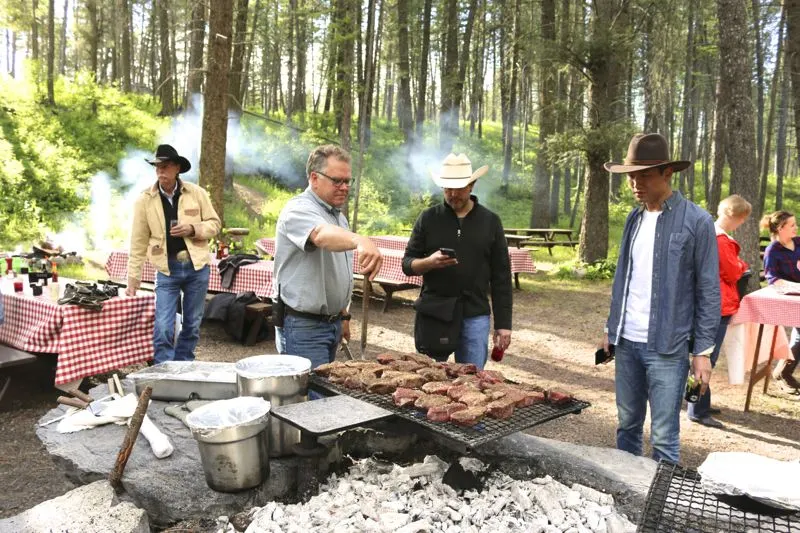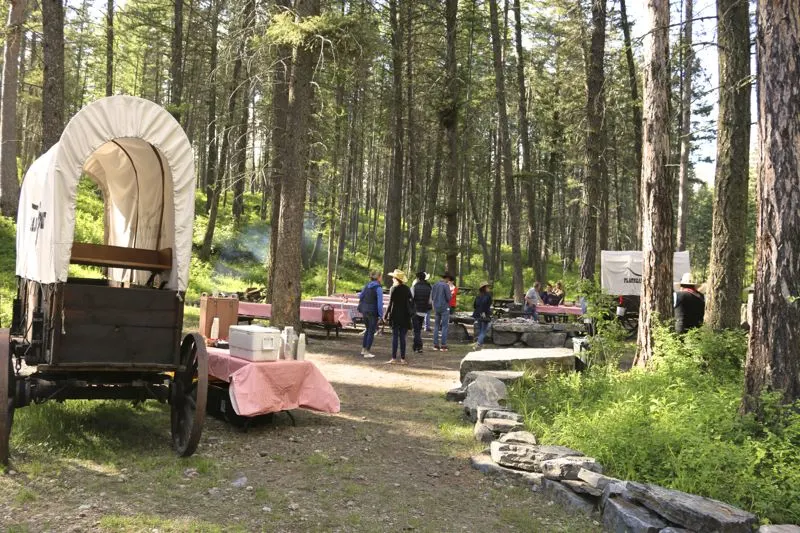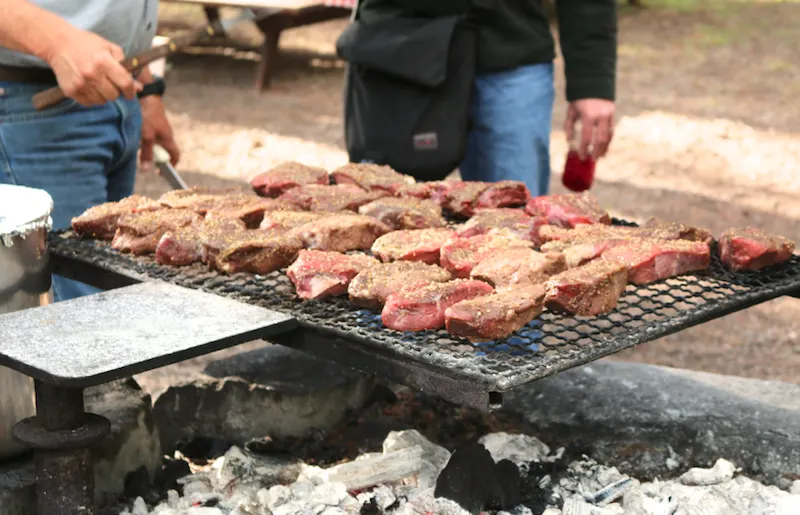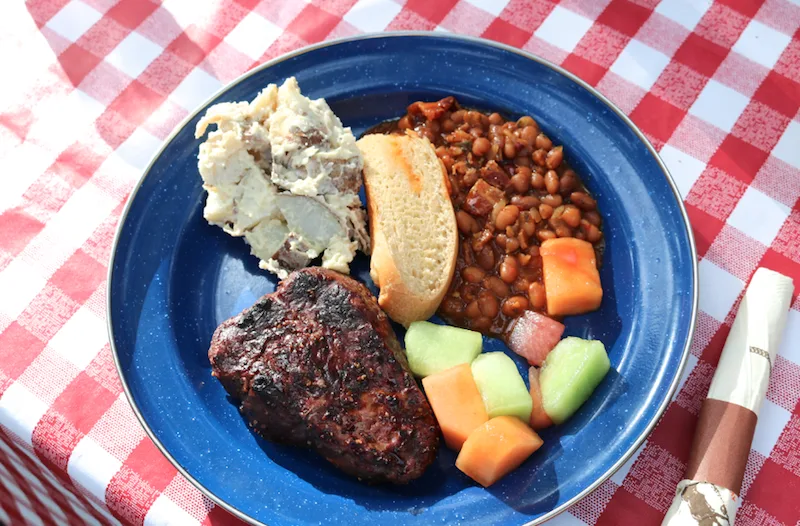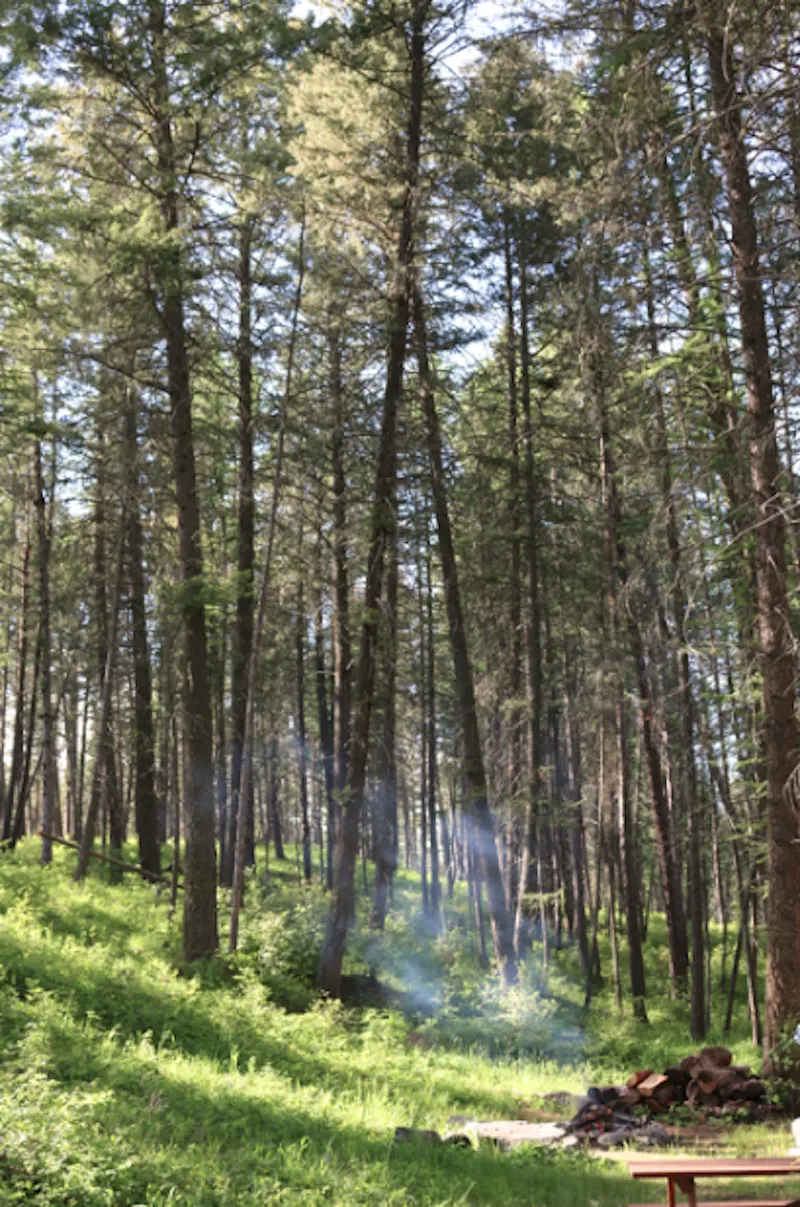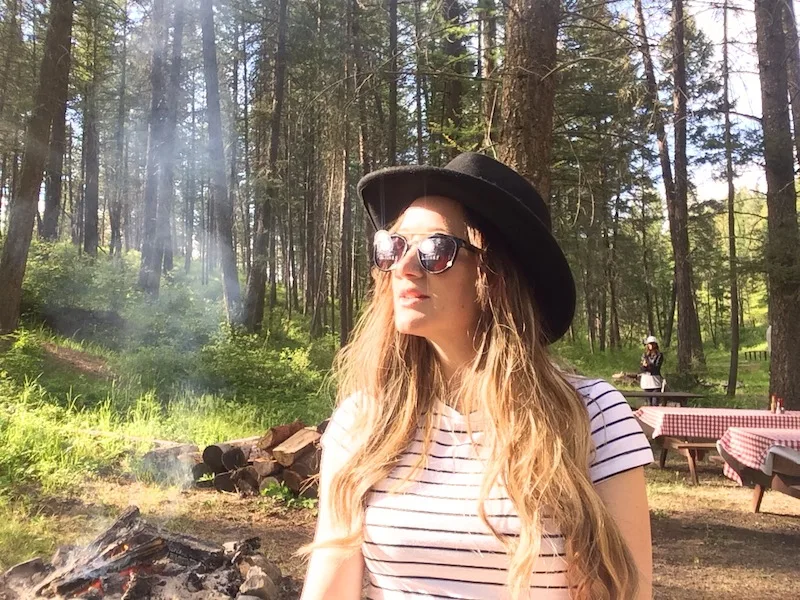 Staying at a dude ranch was like ticking something off my bucket list I didn't even know was on it. It was the classic American experience I'd been longing for but thought didn't exist in 'real life'. It was so authentic but also so accessible. The cowboys made us feel right at home, and what a place to call home, even if it was for just three nights.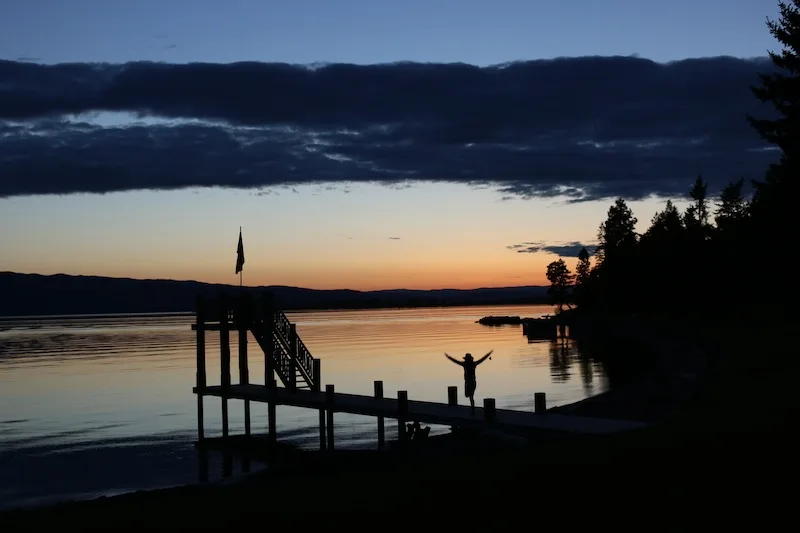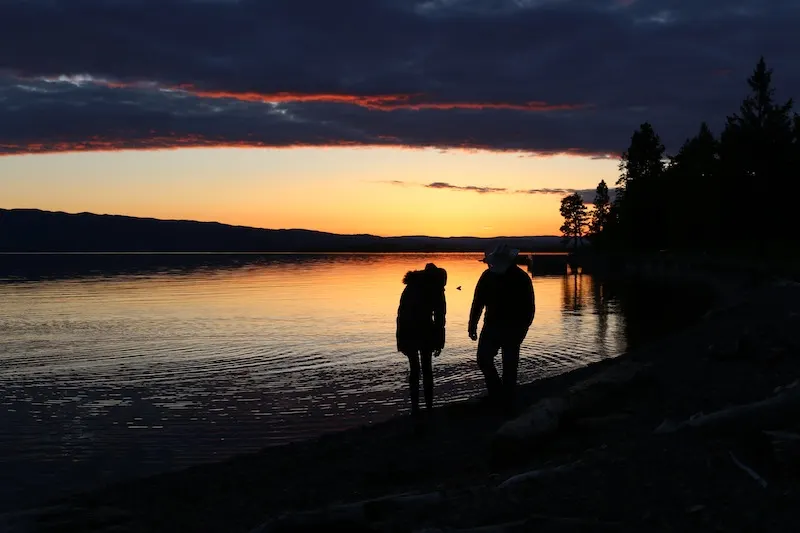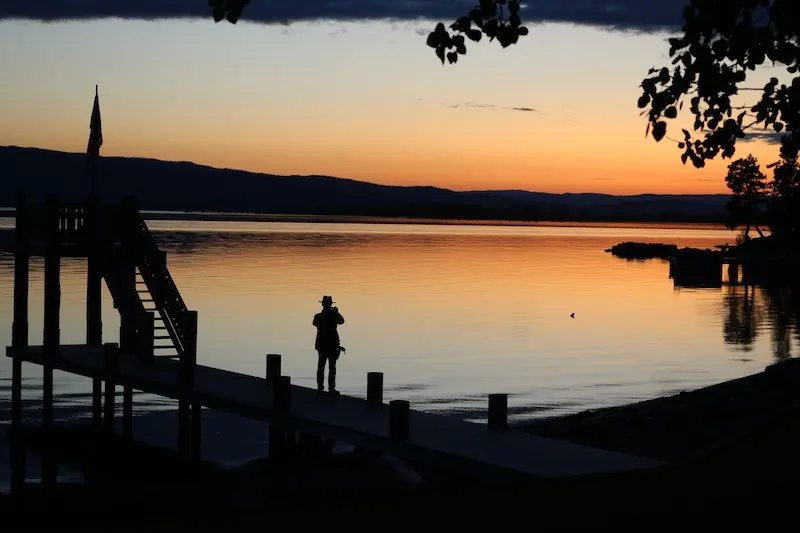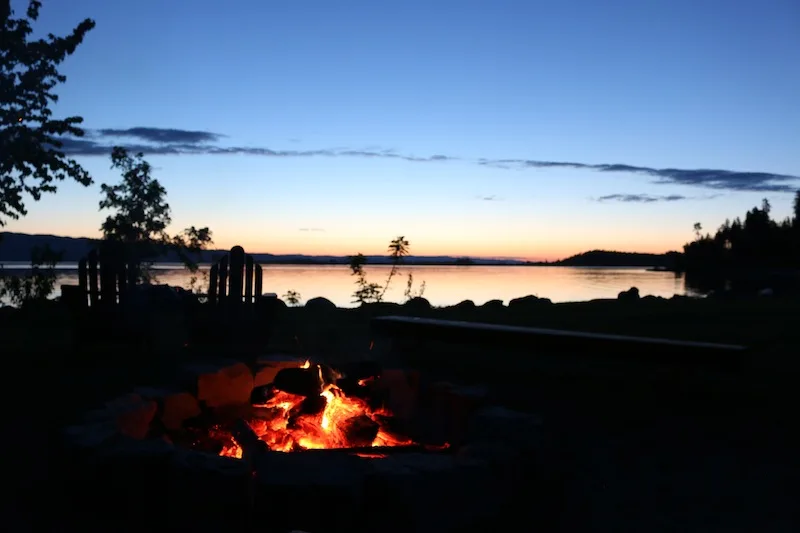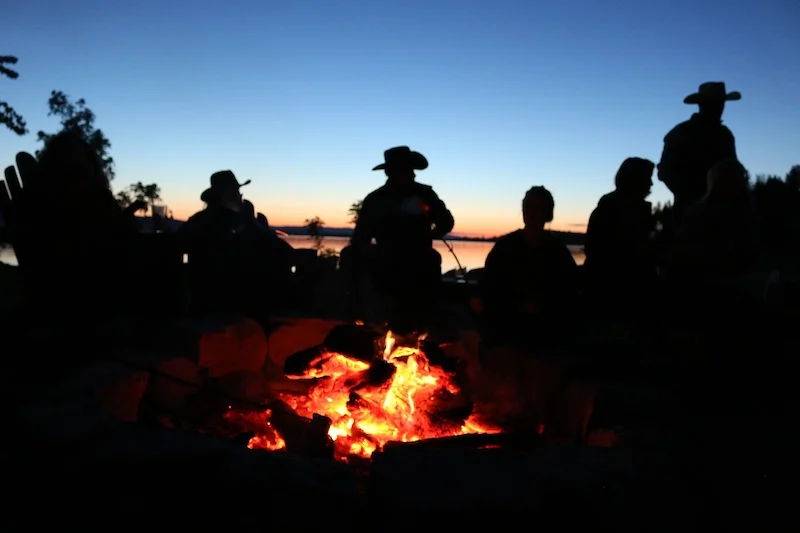 My trip to Montana was with Expedia for the Expedia Viewfinder blog. You can read my first post from the trip here: