Update: I've owned the Caribee Fast Track Wheeled Backpack for over a year now and I still love it. I test out a lot of backpacks and suitcases and this is still my favourite. I can't recommend it enough for long journeys, backpacking or any trip where you need a large case!
**********
For my last few trips I've been using the Caribee Fast Track Wheeled Backpack 75L
. I've been looking for a wheeled backpack for a while now to give me the flexibility of wheeling or carrying my luggage.
If you're going backpacking, this is a massive bonus.
The pack also has a detachable daypack which is perfect for your hand luggage or a separate compartment for dirty shoes or maybe things you want to access quickly.
When I first went backpacking through Asia and Australia I had a traditional backpack and I hated it. It was difficult for me to carry and, in two whole years, there were less than 20 times when I actually needed to carry it.
The only time I really needed to carry my backpack was when I was staying in a beach hut which would have meant dragging my bag across the sand. Getting on and off boats would have been awkward too. Everywhere else it's fine to wheel it! Even if you plan to 'get off the beaten track' there's still going to be a fairly smooth track for your wheels.
I travel a lot but I actually very rarely need a backpack. I'm fairly small so I find it difficult to carry a heavy backpack and would much rather wheel a suitcase. Having said that, there are times when I sometimes need the ease of carrying it.
Plus, let's be honest, you don't feel like a proper backpacker unless you have a backpack. When you're in a queue of backpackers and you see one girl with an enormous suitcase, everyone judges her! With this bag you feel like a backpacker but without the effort of actually carrying a backpack.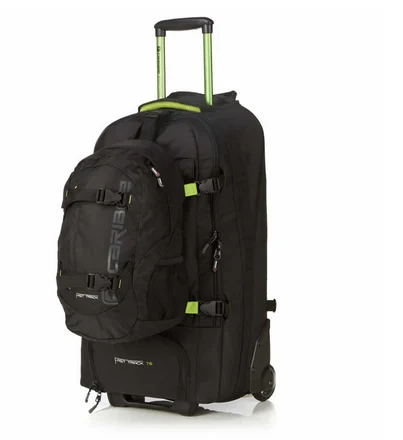 I opted for the Caribee Fast Track Wheeled Backpack
due to the size, toughness and detachable daypack. There's also a smaller 45 Litre Caribee Fast Track Duffle
which I'd definitely consider if you're going on a shorter trip or you're really good at packing light.
Here's the official video review.
Things I love about the Caribee Fast Track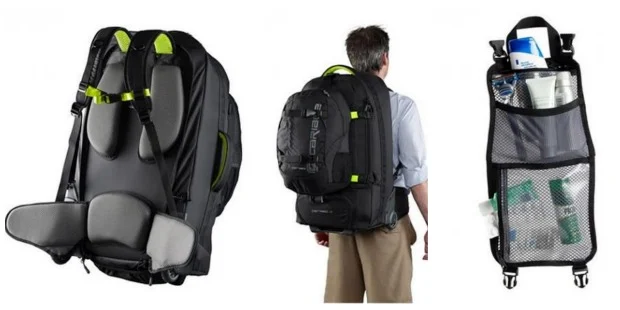 There's a super sturdy handle that doesn't feel like it will ever break.
You can upzip the entire main pocket so you can find everything
TIP: I previously had a top loader backpack and hated it because everything would sink to the bottom and it was impossible to find anything without emptying the entire bag.
The bottom pocket is perfect for the items you need to get to everyday, while at the airport or for toiletries to keep them separate from your clothes.
The inside toiletry bag is actually great for valuables and small items like jewellery.
There are plenty of small inside pockets for fiddily things like cables.
The detachable backpack is so handy.
During my USA roadtrip I used the smaller bag for my sleeping bag, sleeping mat and towel to save space in my main bag. I could then use it for hiking and day trips when I needed to. Sometimes I use it for my handluggage and clip it to the main bag while travelling to and from the airport – there's nothing worse than struggling with lots of bags.
TIP: You can check the whole bag in with the small backpack attached. I've done this with multiple airlines and it's fine.
It's much bigger than you'd think. Even when I think it's way too full to close it will zip up like a dream.
It's the perfect size. I opted for the 75 litre and found it was just big enough for a 2-3 week trip but not so big you can over-pack and it's too heavy.
It's really easy to convert from a wheeled case to a backpack.
Any negatives?
One of my wheels has a small chunk missing from it. This happened during its first trip and it hasn't got any worse but I am worried it could break.
It isn't very agile and can be difficult to wheel around tight corners and will fall over if I pull it down a curb.
The wheels obviously give it extra weight making it heavy than just a backpack. This is to be expected and, realistically, I very rarely use it as a backpack anyway.
Since raving about this bag I have a queue of friends waiting to use it in between my own trips. It's already been to Sri Lanka, Thailand and Croatia without me. I don't think that suitcase endorsements come better than that!
Massive thanks to Travel Outdoors for providing me with the case to try. All thoughts, opinions and suitcase obsessions are, as always, my own. The bag is currently priced at £149.99, discounted from £189.99.
I really do think this is a great bag for adventurous travel and wish I'd had it when I travelled around Asia because it makes travelling so much easier.
And if you're looking for a small backpack that's great for travelling and can also be used as a stylish day bag then make sure you check out The Travel Hack Backpack!