The Travel Hack Backpack is available on now Amazon.
The matching Travel Hack Compressible Packing Cube is also back in stock!
The Travel Hack Backpack
Following the success of The Travel Hack Pro Cabin Case I am SO SO excited to have collaborated with Cabin Max again to release The Travel Hack Backpack!
Why a backpack and why now?
After Ryanair and easyJet changed their luggage policies so passengers get just one small 'free' bag we knew it was time to add to The Travel Hack luggage collection and introduce a smaller bag.
The Travel Hack Backpack was initially designed to be used as a small carry on bag while you're travelling to your destination and then used as your main day bag while you're there.
I knew it needed to be functional, practical and high quality so you can squeeze as much in it when you're boarding the plane…but I also wanted it to be stylish enough so you're proud to use it while you're out and about too.
More than just a travel bag
The first prototype was made and I had a few weeks to use it before we made a few tweaks.
I loved it so much I found myself using The Travel Hack Backpack as my everyday bag and you guys all said the same when you saw me using it on Instagram stories! I used it for travelling but also as a baby bag, a gym bag and as a work bag too.
A perfect, stylish laptop bag too
Most of you were also saying you'd like to use it as a work bag so following this feedback we adjusted the laptop pocket so it comfortably accommodates a 13" laptop as loads of you said you'd use it as a stylish work bag.
I am so incredibly proud of this backpack and so happy with the end result. I absolutely love the suitcase but there's something extra special about the backpack because I see people using it in everyday situations.
I've already spotted one on the train, I saw a mum using one and I saw a teenage girl using it as her school bag! It's crazy to see my backpacks out and about!
The Travel Hack Backpack was designed with women in mind and does have a feminine look. If you're looking for a more masculine backpack then take a look at these Swiss gear backpacks reviews for backpacks for the guys!
The Travel Hack Backpack Features
Fits Ryanair's 'free' under-seat baggage rule
The Travel Hack Backpack is exactly 45x25x20cm which means it fits perfectly under the seat in front of you and is 'free' on Ryanair flights.
Quick access top pocket
This is the most popular feature for The Travel Hack Pro Cabin Case – that top pocket! Everyone loves the top pocket as it makes it so easy to access things without opening up your entire suitcase. I knew we needed to transfer this top pocket over to the backpack in some way.
So The Travel Hack Backpack has a large top pocket which is perfect for things like your purse, phone and keys and there's still a bit of space for other bits and bobs like your lippy or something.
I really love this pocket as it means you can quickly get to your important things without constantly rifling through your bag. There is nothing worse than getting to your front door and you can't find your keys or getting to the till in a shop and you can't find your purse!
Fully unzips like a suitcase
Another one of my favourite features is the fully opening zip so the bag opens up like a suitcase. This means it's super easy to pack and unpack and nothing will ever get lost at the bottom of the bag.
Adjustable water bottle pocket
This pocket can be unzipped if you have a particularly big water bottle or kept closed for a snug hold on smaller bottles
Easy access side pocket
This pocket is great to slip documents or your passport in while you're going through security at the airport. I actually use it for my phone as it's the perfect size for a large iPhone. I know a lot of people wouldn't be comfortable having their phone in an unzipped pocket but it's a tight fit!
3D internal pockets
These pockets are great for keeping things neat and organised inside your bag.
Suitcase strap
On the back of the backpack there's a strap so you can slip it over the handle of your suitcase.
Lightweight
When The Travel Hack Backpack is empty it weighs just 0.6kg!
Comfortable straps and back
The straps and back panel are made from comfortable padded mesh so, even when your back is fully and heavy, it's comfortable to carry for long periods of time.
Showerproof
The Travel Hack Backpack is showerproof so if you get caught in a bit of rain you know you'll be fine.
Padded laptop pocket
The laptop pocket at the back fits a 13" laptop and is nicely padded so you don't need to travel with an additional laptop case.
Optional packing cubes
The backpack also fully unzips so, if you choose to buy one, you can easily slip The Travel Hack Packing Cube inside.
Oh what's that…there's a matching packing cube!?
Yes there is!
I've also designed a compressible packing cube which perfectly slips inside the backpack. You fill the packing cube with your clothes and zip it up to compress them by up to 33%! And it matches the backpack perfectly so it looks gorgeous!
Buy The Travel Hack Backpack here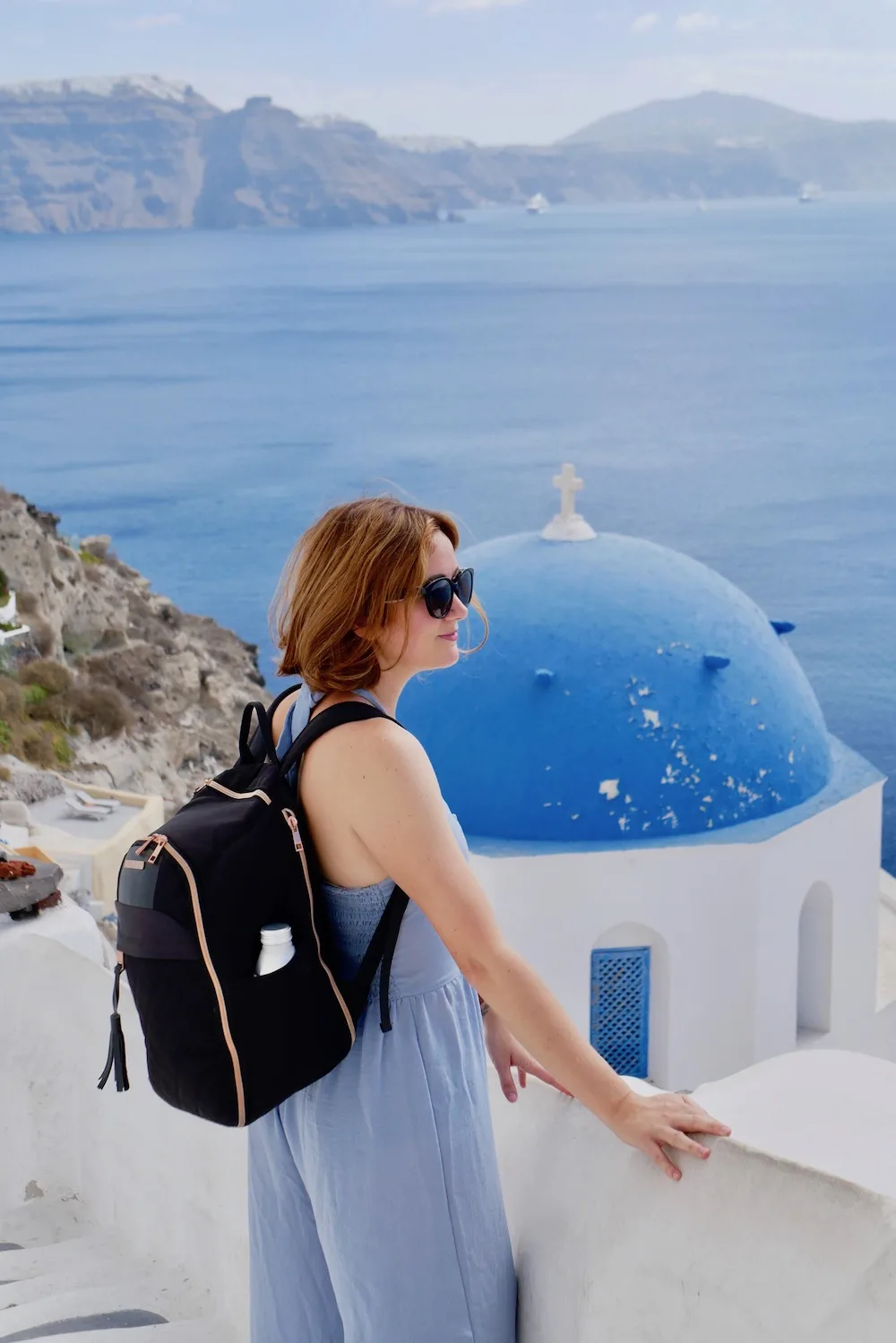 Who are Cabin Max?
If you aren't familiar with Cabin Max already, it is a company specialising in cabin luggage. Their bags are designed to be the exact dimensions for specific airlines carry-on luggage, meaning you get the biggest cabin bag possible so you can take more onboard with you. Their luggage is affordable and high quality and I love working with them because their ethos is exactly the same as my own. We're all about getting more for your money when you travel, but without compromising on style or quality.