Royal Brunei seems to be an airline that most people have heard of, but not many people have experienced for themselves. Which is weird because, after flying to Ras Al Khaimah on board one of the airline's Dreamliners, I was raving about it to anyone who would listen.
Of course, it helped that I flew Business Class – a first for me, and something to tick off that travel bucket list of mine – but on the way home I was back in the all-too-familiar Economy Class cabin and was still telling everyone how great the flight was.
Before I get into why it was so fantastic, let me tell you about the airline itself. It's the national carrier of the sovereign state of Brunei, which is located on the gorgeous island of Borneo.
Royal Brunei Airlines flies from London Heathrow to Dubai (for access to Ras Al Khaimah), and from there onto Brunei as well as a number of Asian destinations, and even Melbourne.
One of the biggest benefits of booking a flight with Royal Brunei is that when you travel long haul, you're guaranteed to be flying on a Dreamliner.
And trust me – that's a huge plus (more on why shortly)!
So what was Business Class really like? And how did it compare to Economy Class on Royal Brunei Airlines? Read on to find out…
Flying Business Class with Royal Brunei Airlines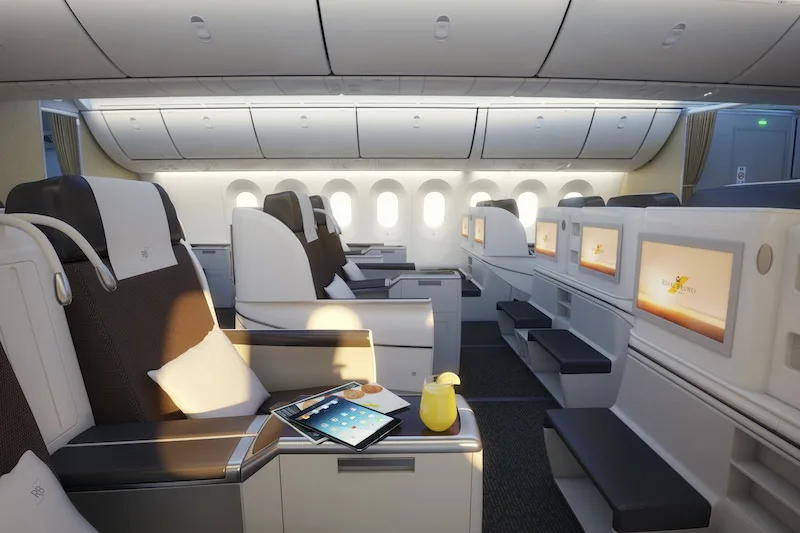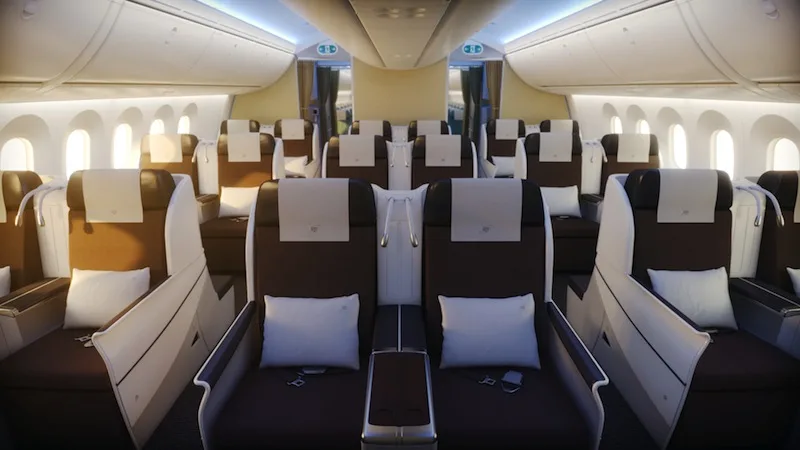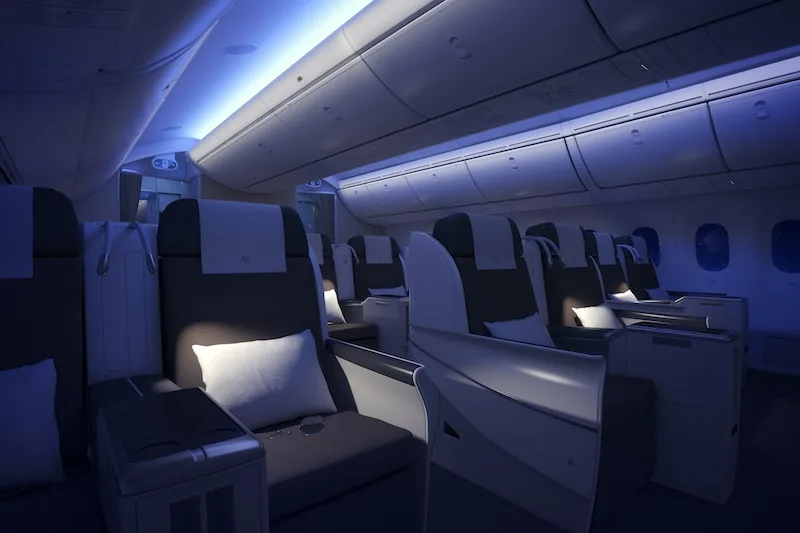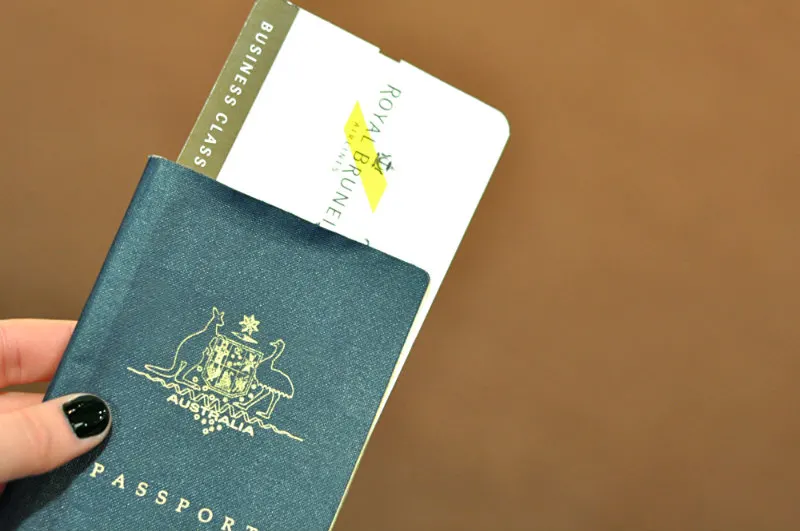 As part of my trip with iambassador to Ras Al Khaimah, I flew with Royal Brunei Airlines to Dubai – one way in Business Class, and one way in Economy, but I didn't know which was which until I arrived at Heathrow airport. As it turns out, I was going to try Business Class on the way out there.
I'd dressed fairly simply – smart casual is what I'd call it – but when I arrived at the check-in desk I was informed that a new rule had just been implemented, banning jeans and trainers from the Business Class cabin. I quickly rummaged through a suitcase stuffed with mostly beachwear, found my leather leggings and suede shoes and checked in wearing this slightly random (but airline approved) combo.
From here, I proceeded through fast-track security (so much nicer than waiting in line for ages) and made my way to the Etihad Lounge, which all Royal Brunei Business Class passengers can access in Heathrow.
I had time for a quick glass of champagne and a snack, and then my flight was called and I headed to the gate to board.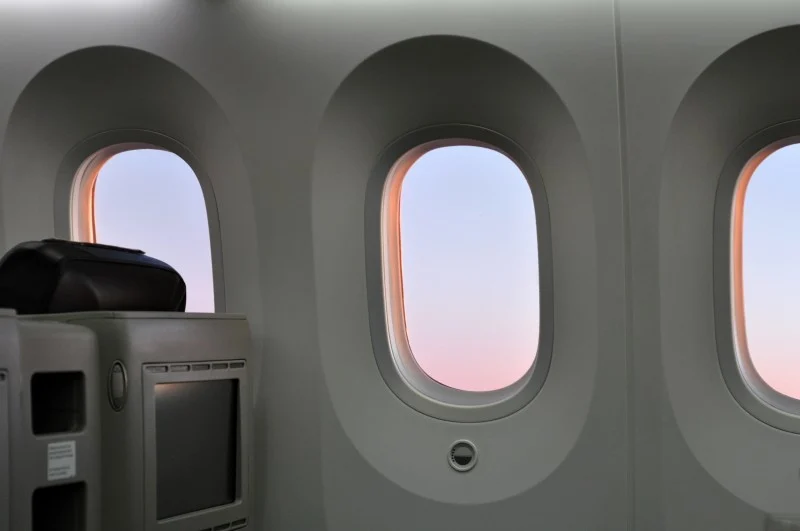 The first thing I noticed was how spacious the Business Class cabin was. With only 18 seats, the aisles were wide and there was so much leg room that my feet didn't even reach the footrest in front of me!
I was greeted with a juice (because Royal Brunei flights are alcohol-free), a hot towel and a menu. My handbag was placed in the overhead locker for me, but was delivered to me again straight after takeoff.
As soon as I was allowed, I tested out the flat bed. It's the main attraction of Business Class flights, and I was desperate to see if I'd get a proper sleep in the air. The bed truly is flat, and once I was lying down one of the flight attendants arrived to tuck me in – I was literally tucked under a duvet on the lie-flat bed.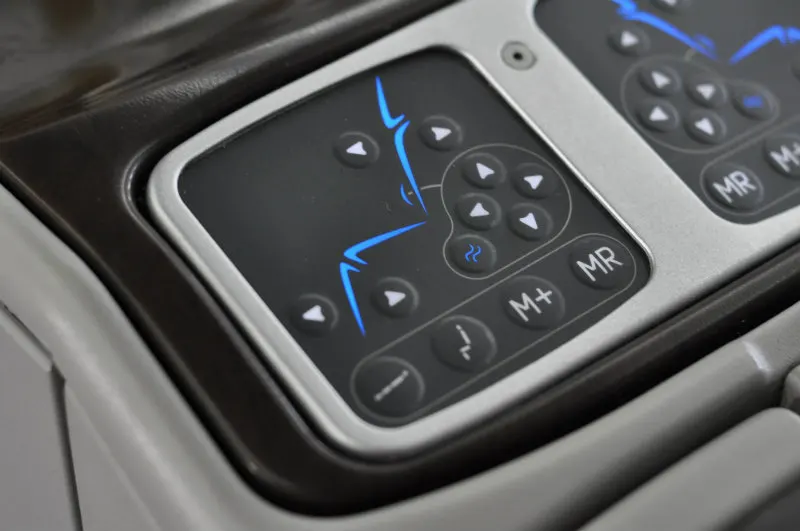 It's weird sleeping on a flight lying down. I've slept on a train before, which has a soothing and consistent movement, accompanied by a rhythmic click-clack. Although my flight was, for the most part, very smooth, there was the odd bump that just felt strange.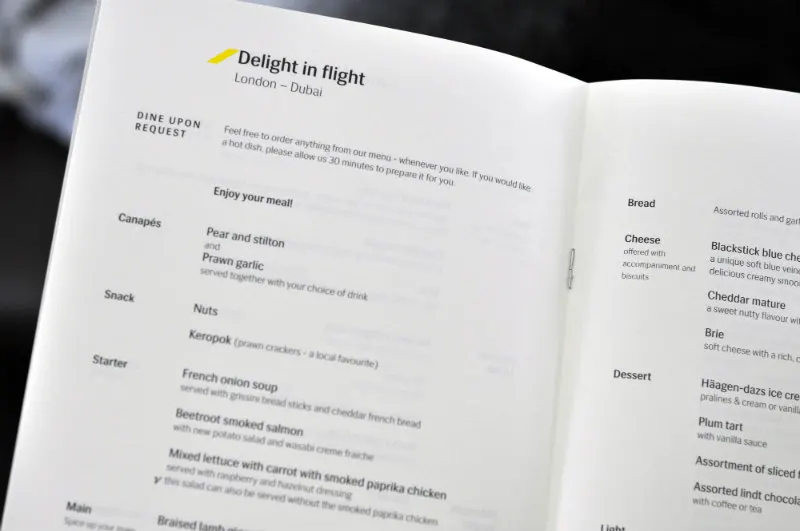 Anyhow, I slept for a few hours, but I also wanted to test all that business class had to offer. Like the lovely plush brown slippers in the amenity kit, the 15.4-inch TV screen and the meal served with – wait for it – real cutlery and salt and pepper pots.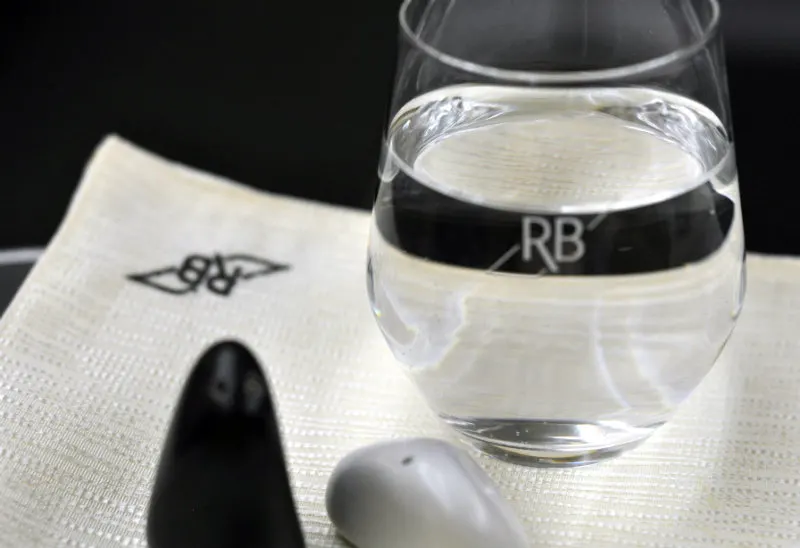 By the time I landed it was safe to say I was well-rested, totally relaxed and ready to explore all that Ras Al Khaimah had in store!
Fancy visiting Ras Al Khaimah? Check out these holidays, including flights with Royal Brunei Airlines.
Flying Economy Class with Royal Brunei Airlines
On my way home, I glanced longingly to my left as I boarded the plane, but turned right into the Economy Class cabin to see how it compared to my luxurious outbound flight.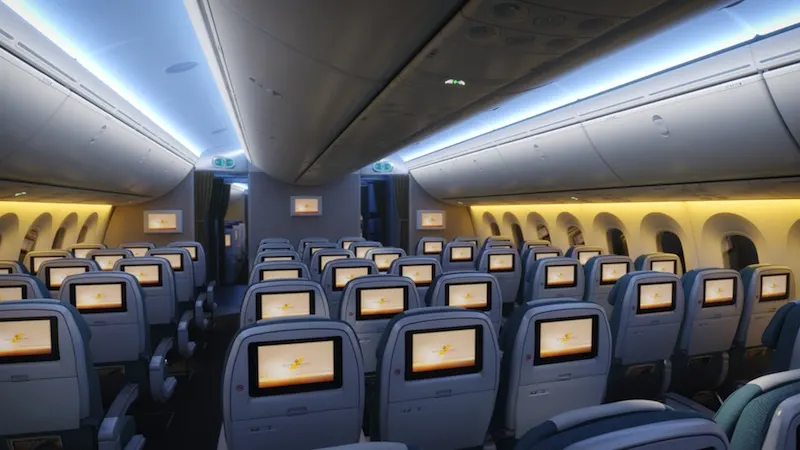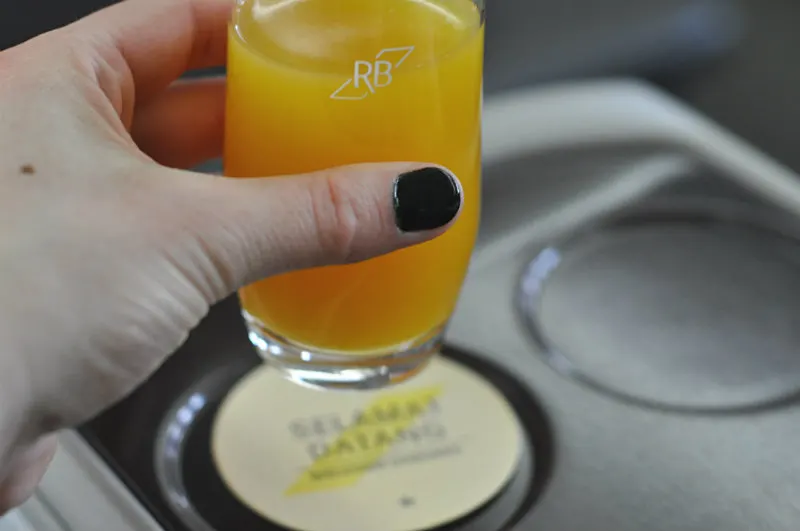 I have to admit, I didn't get a true experience of what Economy Class would usually be like, because I had one of those rare flights with a whole row to myself. I pulled the armrests up, lay flat and fell right asleep.
So although I can't objectively talk about the comfort, I can vouch for the level of service, which was once again impeccable. The food was delicious (even the gluten free option), the seats reclined a generous 6 inches and there was even a power outlet in the chair so I could charge my dying phone.
As far as Economy flights go, Royal Brunei Airlines was pleasantly comfortable, especially given that the prices are so affordable. Of course, it was no match for the luxurious comfort of Business Class, but that's hardly a surprise.
Pros & Cons of Flying with Royal Brunei Airlines
Pros
Fantastic service. The staff on Royal Brunei flights are unbelievably kind and helpful – service is delivered with a smile and nothing is too difficult or inconvenient. It makes such a difference to be well looked after in the air.
100% Dreamliner. On all long haul routes with Royal Brunei, you'll be flying in a Boeing 787 Dreamliner. The Dreamliner is a gorgeous plane, and it really did leave me feeling less dehydrated, better rested, and less jet-lagged than any other plane I've flown on. I used to think all of these benefits were just a myth, but I've travelled on a Dreamliner three times now, and every time I noticed a real difference in how I felt when I disembarked.
Comfort. As I've mentioned, Business Class was incredibly comfortable, but Economy Class didn't feel cramped and uncomfortable, either.
Competitive pricing. With flights to Dubai (for access to Ras Al Khaimah) from just £328 and Melbourne from £612, it's definitely one of the most affordable airlines for these routes.
Cons
No alcohol. T

he sale of alcohol is forbidden in Brunei, so Royal Brunei does not serve alcohol on board its flights. This is actually good for helping you to stay hydrated on your flight, but if you like a glass of wine while you're in the air you may be disappointed by this unusual policy.

No First Class. If you're looking to fly First Class, you won't be able to do so with Royal Brunei, as they only have the two cabins: Business and Economy. Their Business Class is a bit of a hybrid though – with its fully flat beds and impeccable service, it's closer to many other airlines' First Class offering.
Have you flown with Royal Brunei Airlines? What did you think?
This post was brought to you by the #DiscoverRAK project, created and managed by iambassador in partnership with Royal Brunei Airlines and Ras Al Khaimah Tourism, but all opinions are my own.
Pin this for later