"Keep Portland Weird!" Oregon's biggest city begs from every spray-paint splattered wall and worn-out bumper sticker. "Weird" is kinda Portland's thing. It's less about achingly cool hipsters and artisan coffee joints (although you'll find plenty of both here), and more about supporting local business, embracing independent ventures and encouraging uniqueness. Perhaps as testament, this city is home to the Naked Bike Ride, the 24 Hour Church of Elvis and a whole museum dedicated to velvet paintings (!).
The kooky, lovably odd vibe extends to the food. The menus of Portland's many eateries are where some of the city's craziest ideas and fantasies are played out, like drunk artists throwing paint at a blank canvas.
The scene has matured in recent years, and Portland now boasts its own very unique flavour. This is defined mainly by food trucks – a trend which continues to grow and grow. In most cities, food trucks are questionable at best. "End of the night" food, to be polite.
In Portland, they're almost a way of life. Groups of them cluster like penguins on corners, in squares and in the middle of gardens, with queues circling around the block. There's something for everyone, from oozing, meaty burritos to vegan crepes. They're quirky, they're cool, and they're very typically Portland. It wouldn't be hard (or all that pricey) to spend your whole time in the city eating out at food trucks.
And then what about the dessert scene? Portland is riding the crest of a serious sugar high right now, so those with a sweet tooth are in luck. As well as every café, restaurant and bar reimagining classic recipes, a huge number of stand-alone dessert places have sprung up throughout the city. The bizarre combinations on offer can often make it feel as though the title of "most outrageous" is up for grabs, and it's great fun to watch.
Combine it all together, and it's definitely weird – but it's also pretty wonderful. Here are some of my favourite weird places to eat in Portland.
Voodoo Doughnuts
22 SW 3rd Avenue
A quick Google of things to do in Portland will positively thrust you in the direction of Voodoo Doughnuts. It's such a local institution that that there's likely to be a queue outside for each of the 24 hours it's open, and the franchise has now expanded outside of Portland.
Walking inside, you'll find a mesh of contradictions; a rainbow display of giant doughnuts rotates against a backdrop of heavy rock music and gothic artwork. The doughnuts themselves are surprisingly good value (the majority are under $2) for such a tourist trap. The flavours on offer range from the creative bubble-gum flavoured "Voodoo Bubble Doughnut", to the downright bizarre "Cock-N-Balls" (I don't think this requires an explanation). Try the "Maple Bacon" if you're feeling gluttonous.
Blue Star Donuts
1237 SW Washington Street
Want to avoid the tourist masses? Try Blue Star instead. This clean, minimalist doughnut shop in upmarket Pearl District is worlds away from the dystopian madness of Voodoo, and the doughnuts are just as good (if not even better. Shh!) Try the Cointreau Crème Brulee – where the booze comes in a little vial poking out of the top.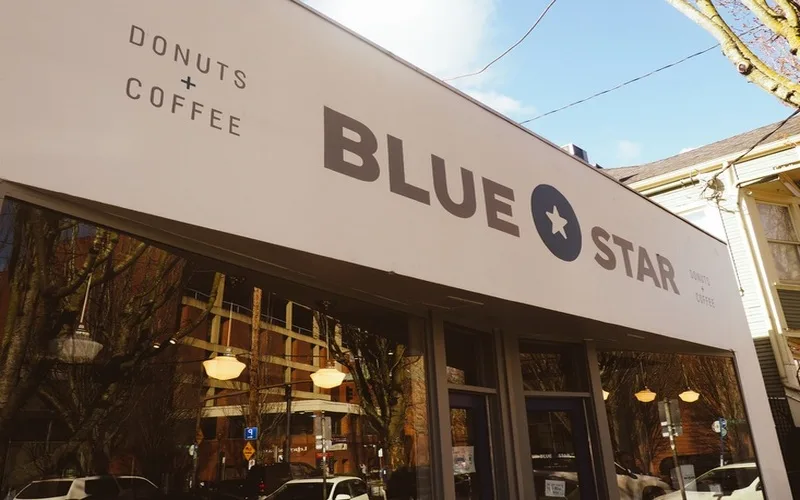 Salt and Straw
838 NW 23rd Avenue
With venues in LA, strictly speaking, artisan ice cream shop Salt and Straw isn't exclusively Portland fare. They did originate here, though – and every bite maintains a distinctively creative Portland flavour. Salt and Straw specialise in ice cream flavours you're unlikely to find in the supermarket. We're talking pear and blue cheese, olive oil, and bone marrow. As a result, it's earned its title as one of the weirdest places to eat in Portland.
Salt and Straw is also well-known for its use of local ingredients and support of the wider Oregon community. With three locations throughout Portland, you're never too far from a spoonful of the good stuff.
Petunia's Pies and Pastries
610 SW 12th Avenue
For those seeking a gluten-free option, you can't go wrong with Petunia's Pies and Pastries. An idea that started in founder Lisa Clark's kitchen after she discovered her own intolerances, Petunia's Pies and Pastries now offers a substantial and tasty range of cakes, pastries and other sweet treats using alternative ingredients. In typically Portland-ish fashion, some creations arouse serious curiosity. Banana Carrot Zucchini Babycake, anyone?
Little big burger
122 NW Avenue
Even the humble hamburger has been treated to a distinctive twist here in Portland. Their signature truffle fries are worth the visit along – nutty, earthy and plentiful, I now miss them in every fast food joint! The burgers are – as suggested by the name – little in size, but big in flavour. Opt for the veggie bean burger with goat's cheese on top for a guilt-free indulgence. There's six venues throughout Portland, and a meal won't set you back much more than five bucks.
La Jarochita
SW 5th Avenue
You can't go wrong with Mexican food, and Portland does it exceptionally well. You'll find this local favourite in a cluster of other food trucks on 5th avenue, and although it may look inconspicuous, it's perfect for when you want big, cheap portions of tasty food. Try the tacos – you won't regret it. The breakfast burritos are pretty good, too!
Fried Egg I'm in Love
3207 SE Hawthorne Blvd
For breakfast, head to the bright yellow food truck named Fried Egg I'm in love, which transforms the seemingly innocuous egg sandwich. If oozing golden yolk and crispy sourdough bread aren't your thing, this one isn't for you. For the rest of us, it's sheer breakfast heaven, any time of the day. Feeling fancy? Wash it down with a mimosa. The Huevo Mutilation is seriously indulgent and delicious – featuring runny egg, caramelized onions, aardvark aioli and their special spice blend of "magic egg dust".
Smakken Waffles
2880 SE Division St
As I mentioned already, Portland loves desserts. A new food truck on the scene, Smakken specialises in rustic Dutch waffles. The "Yamhill" combines goat's cheese, dried cherries, almonds and lavender honey. Or how about "Coconana", a delicious sandwich of coconut, banana and toasted almonds? If you're in a savoury mood, indulge in the "High Tea", a quintessentially British combination of mint jelly, cucumber and cheese. All waffles can be ordered gluten-free, if you're that way inclined.
After a week seeking weird places to eat in Portland, it's hard to remember what "boring" food tastes like. If anyone needs me, I'll be the one eating plain digestive biscuits in the corner.