You probably all know by now that my luggage addiction is getting a bit ridiculous. While most women dream about designer handbags, I'm drooling over suitcases and backpacks with hidden storage pockets and handy compartments.
I love packing for holidays and travelling to airports so I must project a lot of this excitement onto suitcases because these magical little bags help us travel the world!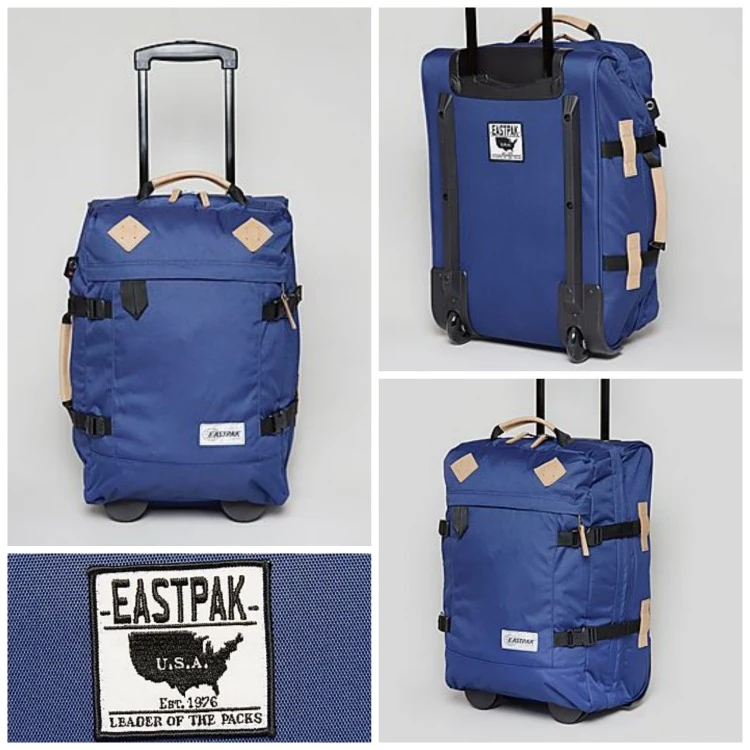 For my last few trips I've been using the Eastpak Tranverz Carry On Bag. It's a stylish little suitcase perfect for short trips and weekends away. It comes in navy blue or black and has two decent sized zippable compartments inside. In the middle of these compartments is a padded sleeve for laptops and tablets. The case has another large thin pocket at the front perfect for documents or a laptop.
Buckles secure the sides and allow you to tighten it up and compress the bag to ensure it's as small as possible.
One of the nicest features of the case are the leather patches on the front, sides and handles. The leather makes it much more durable but they're really there to give it a stylish, grownup look. The rest of the bag is a soft and casual polyester so I think the leather touches give it a great look.
This is now my go-to bag for shorter trips or if I'm really making a conscious effort to pack light.
Things I like about the Eastpak Tranverz Carry On Bag
The two compartments help you stay organised while packing. I use one side for clothes and the other for toiletries, shoes and accessories. The middle compartment is still free for my laptop and documents. When travelling for a weekend with my boyfriend, it's just big enough for us to take a side each.
The laptop compartment is really handy. You can keep your laptop or tablet safe but easily slip it out of your bag without opening up your entire case.
It feels sturdy and durable with a strengthened back and hardwearing wheels and handles.
The top doesn't have any hard plastic to it so it lies flat and will easily slip under the bed when empty.
I may have only used it five times so far but it still looks brand new.
It comes in navy blue and black. Both colours are dark enough to hide any dirt, which helps it look newer for longer.
The Eastpak Tranverz Carry On Bag is available for £79.95 from Amazon. This is more than I'd normally pay for a suitcase but I think it's worth it for the design, sturdiness and durability.