Camping and glamping are two of my favourite summer activities.
Of course, I love jetting off to exotic beaches (who doesn't!?) but you can't beat a weekend camping with all your friends.
I know a lot of people have hideous memories from family camping trips where it rained all week so you're damp and miserable and trapped inside a leaking tent.
Thankfully, camping equipment has improved and if you've got the right gear you'll have fun no matter the weather.
Here's the camping gear I always bring along whether I'm going for a week in the countryside, some time near the beach, a festival or a quick weekend away.
Travel Tip: August is a really good time to be buying camping gear because virtually everything is on sale. You can see that some of the kit I have now has 70% off.
What kind of tent should I use?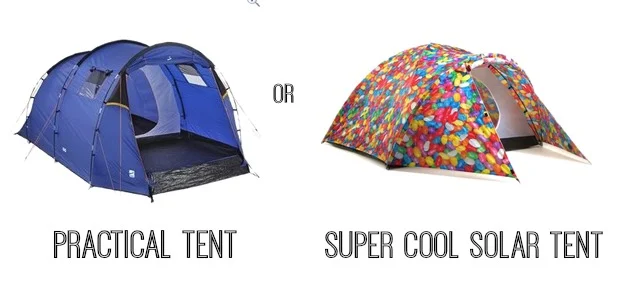 In my eyes there are two kinds of tents. There's the practical tent or a cool tent. I'll take a cool tent to a festival but be all practical and grownup for other camping trips.
If you're going for a practical tent it needs to be:
High enough to stand up in – This just makes it so much easier
Bigger than you think. A 2 man tent is tiny so opt for a 3 or 4 man tent if you want a bit of space for 2 people.
Waterproof – not just water-resistant
Have a porch for muddy boots and wet clothes
If you're going for a cool tent, take a look at Bang Bang Tents. These tents have really fun designs and they're also solar powered – yes, solar powered tents! Charge all your devices or fill it with fairy lights for a glamping experience.
Essential Camping Gear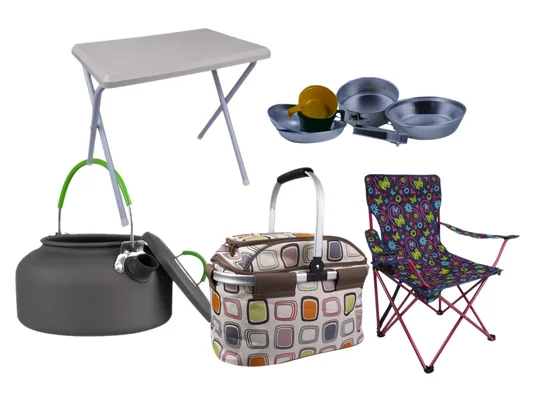 Sleeping bag – Double sleeping bags are great for couples as long as you're on flat ground. If you're on a slight hill however they're the worst thing ever as you need to co-ordinate your wriggling every time you slip to the bottom of the tent. In the UK I opt for a 4 season sleeping bag even in the middle of summer.
Travel Pillow – Much better than trying to use your arm or a hoody.
Air Mattress – The difference between sweet dreams and a night of hell.
(There's more about my favourite sleeping bag, pillow and mattress here)
Chairs – Make sure you've got a cup holder or you'll be constantly knocking your beer over.
Mini Folding Table – So you're not preparing food on the floor
Cooking stove – Camping isn't the same without bacon and eggs for breaky
Cooking pans – Go for small lightweight ones
Mini kettle – You can't start the day without a brew
Picnic hamper/cool bag – Try to find a picnic hamper with all your plates and crockery combined with a cool bag to keep your food and drink chilled.
Binoculars — a top way to spot local wildlife near your campsite (one of the many privileges of the holiday). It's important to admire from a distance, so using a pair of binoculars is a great way to appreciate your surroundings, without getting too close. RSPB's official site for binoculars is a great place to start.
Camping Solar Fairy Lights – Make your camping spot look pretty and make sure you can find your tent in the middle of the night.
Clothes to pack for a camping trip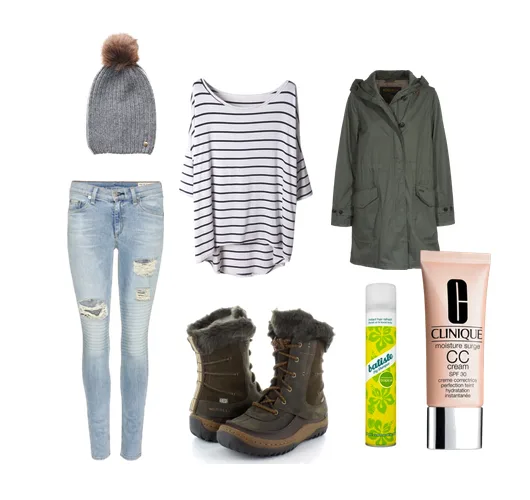 Keep clothes warm, comfortable and casual with lots of layers for (hopefully) warm days and chilly nights.
Dry shampoo is an essential along with a light, tinted moisturiser with SPF.
It may be the middle of summer but winter boots will be a lifesaver no matter what time of year it is. I have these cosy Merrell waterproof leather boots and I love them. They're furry and soft inside and they're waterproof so great for walking and early mornings when the grass is damp. Team them with a cute outfit for a stylish outdoorsy look. If rain is predicted make sure you've got a stylish pair of wellies, such as these gorgeous blue Rockfish Gloss Wellington Boots. Add a wooly hat because you'll need it in the evenings!
What bag to take?
I know most happy campers would recommend a backpack and I get a few giggles when I turn up with a suitcase but I honestly find a suitcase so much easier. I'll be camping this weekend at Blogstock and I'll be taking the Eastpak Tranverse case because it's light, hard-wearing and so much easier than carrying a heavy backpack.
If you're not sure if you want a backpack or a suitcase consider a hybrid case such as the Caribee Fast Track wheeled backpack.
I also recommend using packing cubes to keep everything organised. When you're in a hotel you can unpack your bag but you can't do that when you're camping so packing cubes can be a massive help!
And finally
A power bank to recharge your phone (if you're not going for a fancy solar tent)
Real thick socks to keep your toes warm at night
Marshmallow roasting sticks so you can toast marshmallows on the fire
Portable speakers
A pack of playing cards
Is there anything else I missed….?