Staying in an ice hotel has been on my bucket list for years! I visited one in Finland and it was incredible but it was way too expensive to stay for a night.
When I discovered the Romania Ice Hotel was a fraction of the price I knew I had to stay there!
I stayed in the Romania Ice Hotel during a tour with Untravelled Paths. It was a 4-day Transylvania tour <- I've written about it here but I wanted to go into more detail about the ice hotel because it was incredible!
You don't need to take a tour to stay at the Romania Ice Hotel and you can book independently. Personally, I'd rather take a tour. If you're driving there you need to be prepared for driving through heavy snow and you may need to dig your car out after a night in the car park!
The Romania Ice Hotel is rebuilt every winter with a new theme and, from what I can see, the hotel gets a little bigger and better each year!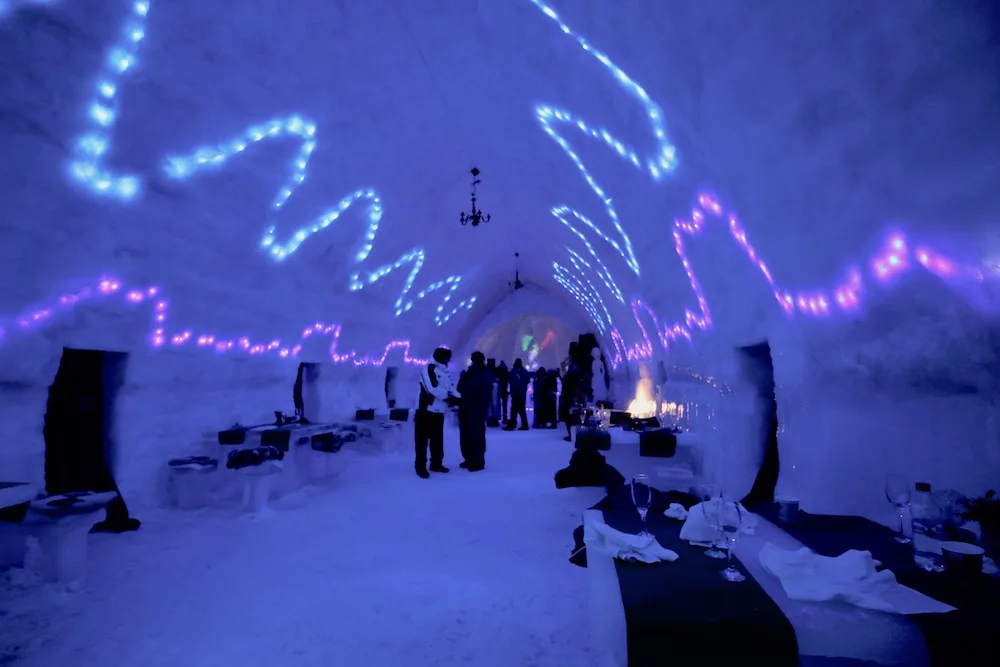 My experience staying at the Romania Ice Hotel
We left Brasov after breakfast and made our way through the windy roads of the Fagaras Mountains.
Our small bus wound through the Alpine forest where the snow covered trees led to Balea Lake Cascada where we caught the cable car up to the hotel.
We piled into a rickety cable car and it slowly glided up into the clouds leaving the snowy ground a worrying distance below us!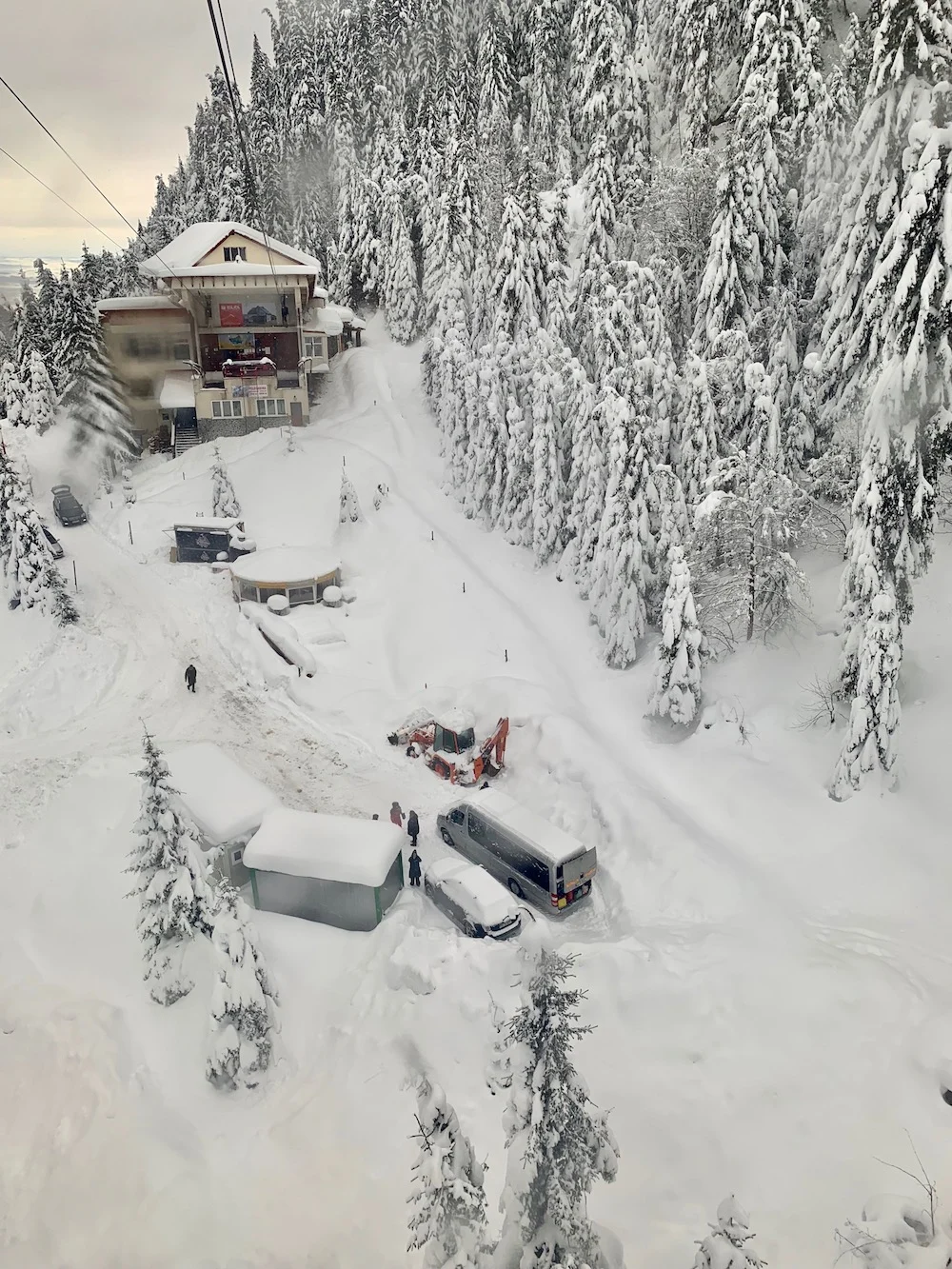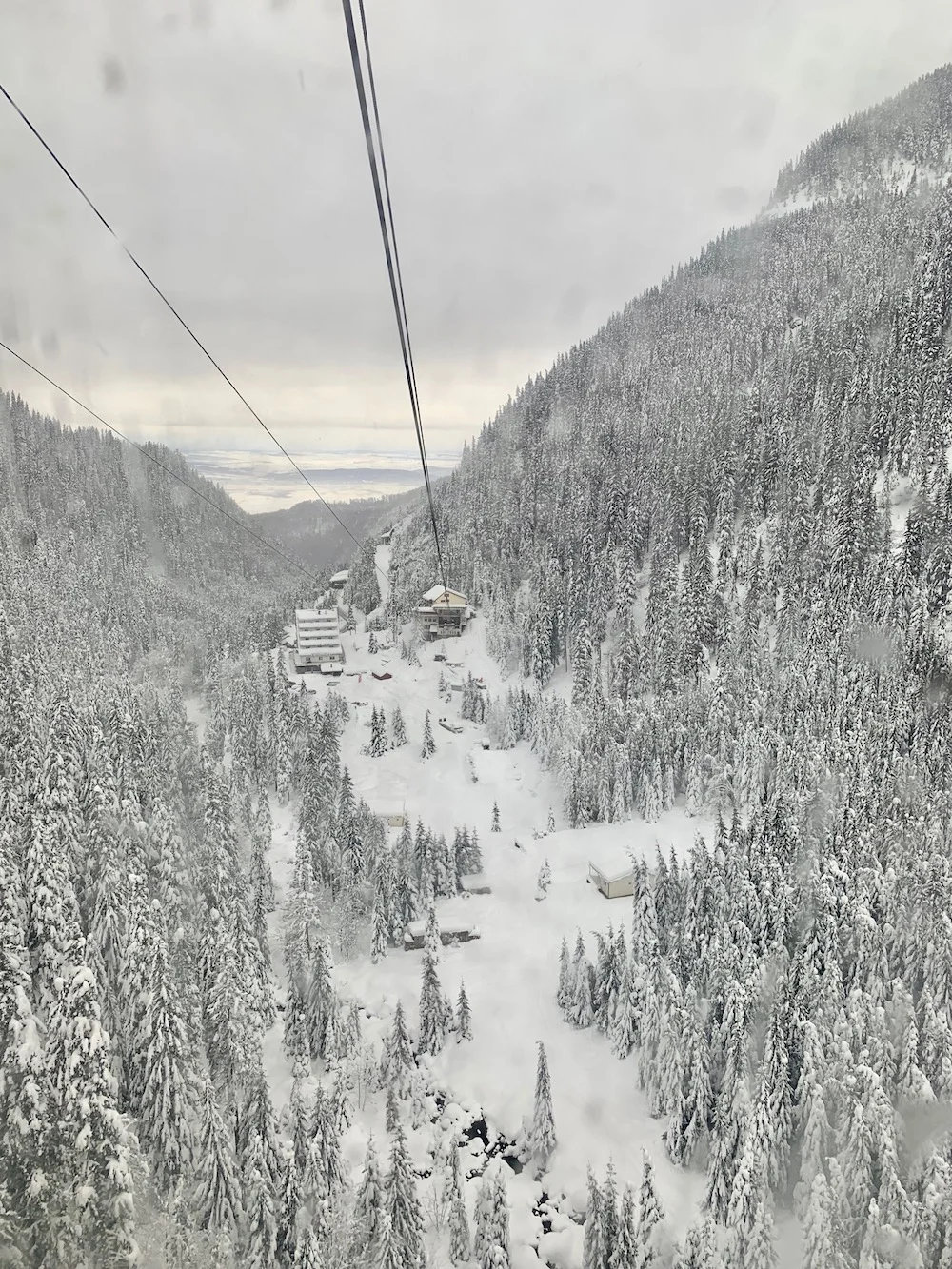 It was difficult to tell what was snow, cloud or misty windows as our warm breath and the icy conditions surrounded us in a fog of white.
As we stepped out of the cable car I was suddenly hit with a fit of giggles. This was absolutely absurd.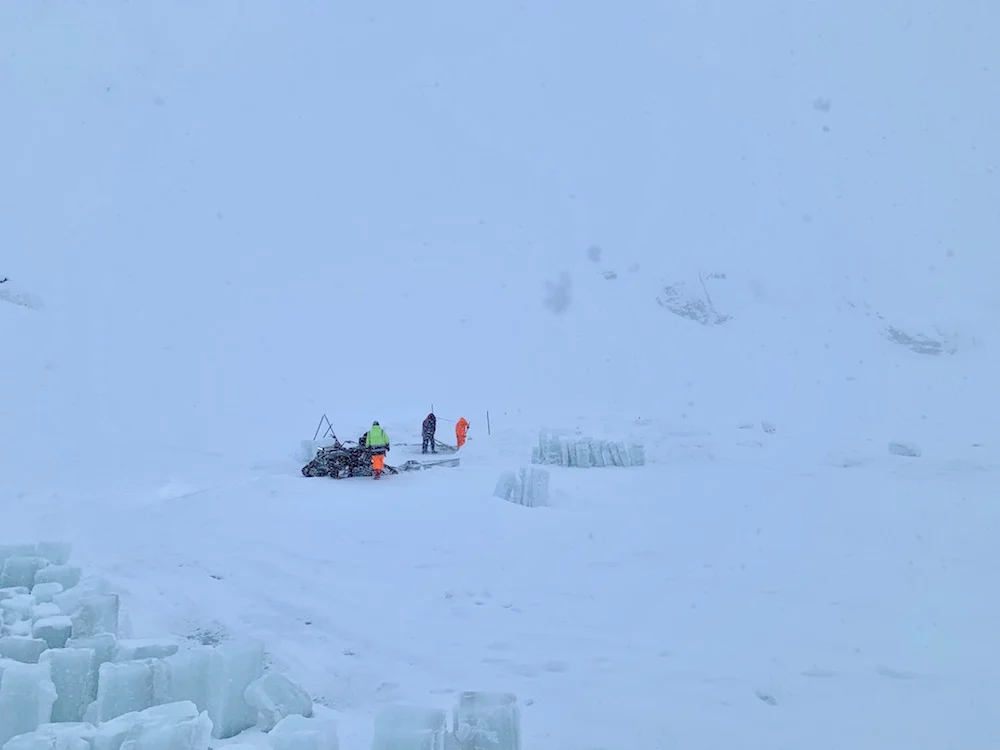 I could literally see nothing around us but white. Up, down, left, right, backwards, forwards. It was just all white. The wind whipped past my face like a brutal slap and it pushed my body in whichever direction it chose. In front of me there were a few people dragging suitcases through the deep snow and it was this scene that really tickled me. They looked like they should have been strolling through the airport, not lumbering across a snowy mountain side in search of…..well we weren't even sure what we were in search of because we couldn't see anything!
Luckily, we had a guide who led the way to a warm chalet which felt like paradise after blundering through a snowy blizzard!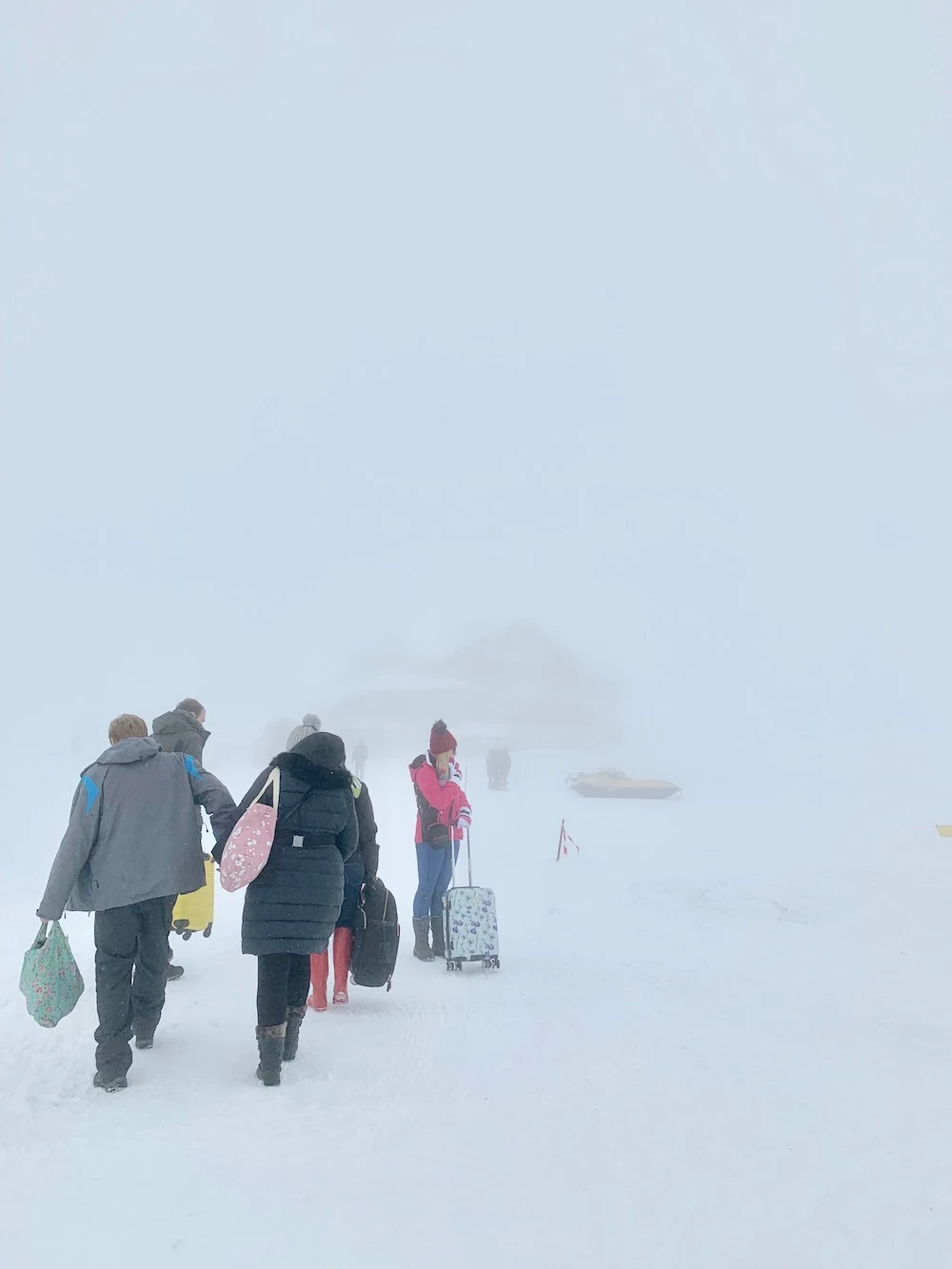 I fell through the chalet door like the abominable snowman, puffing and panting with wild eyes and my snowy hair whipped around my face.
Of course, the chalet was calm and peaceful, a world away from the snowy chaos outside!
It turned out we'd arrived at a bad moment and 10 minutes later the wind had subsided and the sun was straining through the clouds. It was possible to see a few buildings in the distance, the opening to the snow hotel, some snowmobiles whizzing around and a half constructed ice chapel which was still being built.
It took me a while to pluck up the courage to go back outside so I stayed in the chalet to have a large cuppa and some hot food.
There were activities like snowmobiling, tubing, ice rafting and a banana ride but I chose to enjoy them from the warmth of the chalet while watching people from the window and enjoying a large glass of red!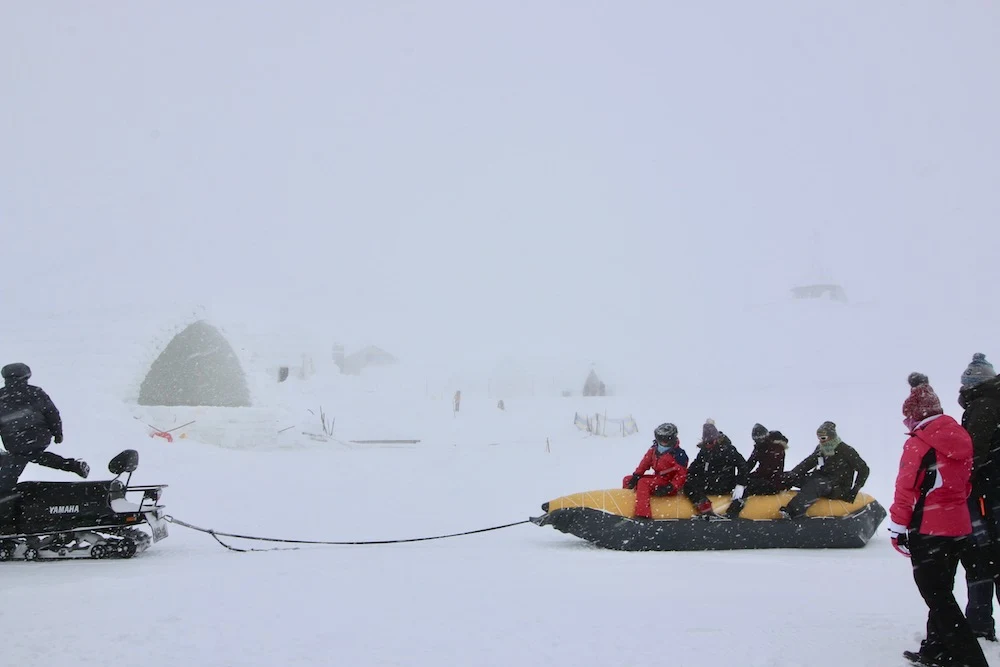 We made our way over to the ice hotel which was barely visible across the snowy landscape. You could see a large door buried but due to the cloud and snow, it wasn't possible to see much else. I once again blundered through the snow in the direction of the door into….a party?
The Romania Ice Hotel was open to day visitors and we entered into a large hall with a bar at one end and music blaring. It was surprisingly bright inside and the air was chilly but didn't feel cold in comparison to the arctic conditions outside.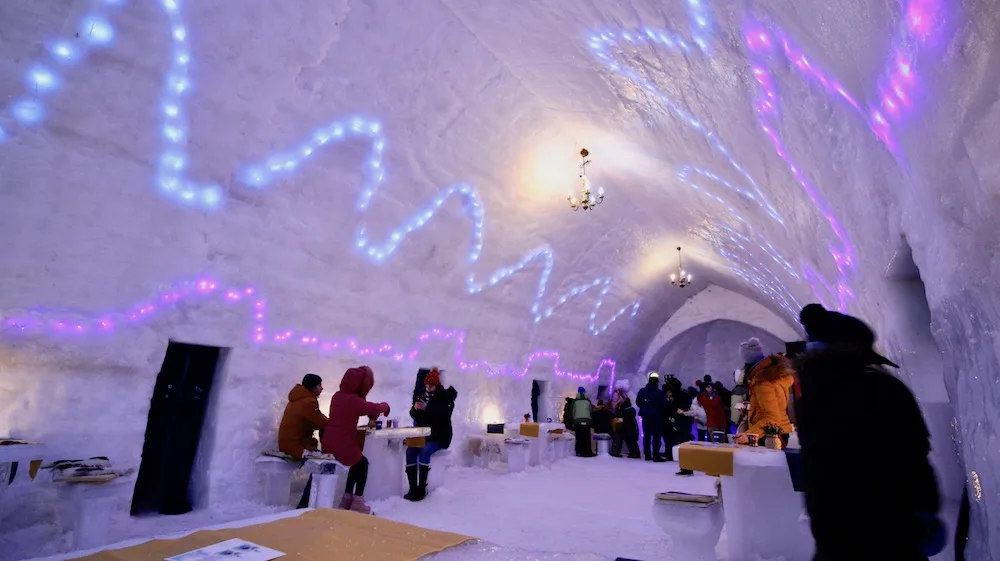 Ice tables and stools lined the walls and people were laughing, dancing and taking photos like they would be in any other bar, only I suspect a lot of the dancing was to keep warm!
There were six low arches along each wall with curtains draped across them leading to little bedrooms. A large bed made of ice dominated the room and some rooms had carvings and little foot stools made of ice. We explored each room, taking photos and wondering how on earth we'd ever get any sleep that evening!
We warmed up with hot chocolates laced with Baileys before heading back to the chalet.
I had been hoping to go on a tunnel trek that afternoon where you take a guided walk across the mountain, through a tunnel and to a view point.
Unfortunately, due to the weather, the tunnel trek was cancelled which was a shame because I did then feel like I was just hanging around waiting for the day visitors to leave so we could have dinner and go to bed!
Yes, I'm not going to lie, I was just really excited about going to bed and sleeping in an ice hotel!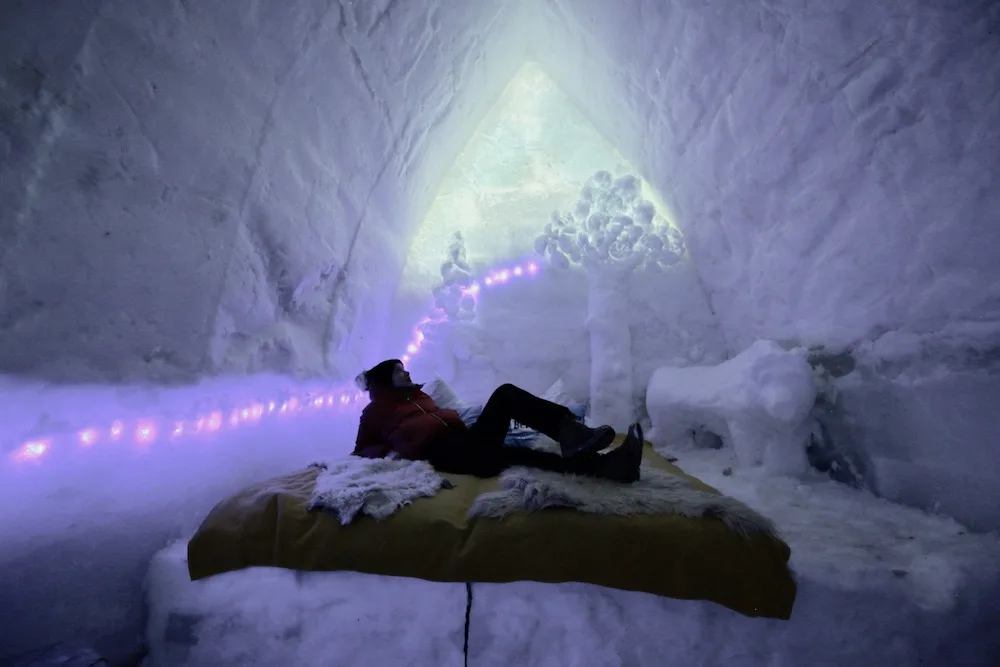 Before bed we had a magical dinner in the ice restaurant where we tucked into four steamy courses while wrapped in blankets and perched on animal furs to stop our bums from freezing! The food was delicious, and I don't just mean 'delicious considering we were in a building made from ice'! It was really delicious and so impressive they managed to serve hot food in such icy conditions.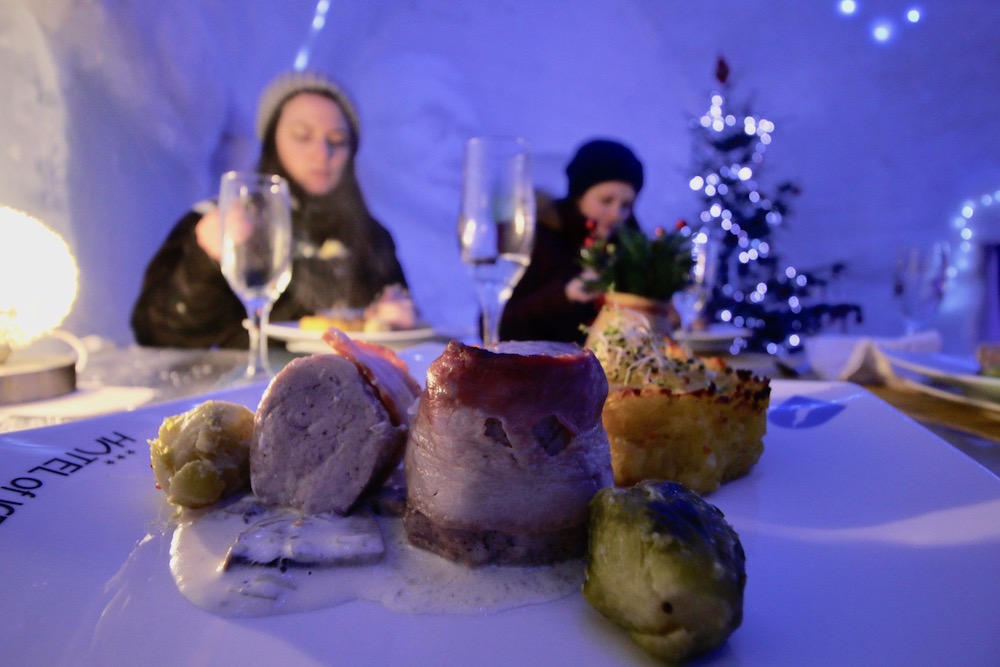 Once the frosty plates were cleared away we had a demo on how to get into bed that evening. And yes, it really was so complicated we needed a demo!
Our guide recommended we wear a layer of clothes we feel comfortable in such as warm PJs or thermals. We'd then get into our sleeping bags and place a fur rug over any shoes, hats or coats we weren't wearing to avoid them being damp in the morning. Once tucked inside our sleeping bags we'd place a blanket on top and you'd be toasty and warm!
We then spent the evening drinking and dancing before it felt like an acceptable time to go to bed (yep, at this point I was really just excitedly waiting to get into my ice bed!)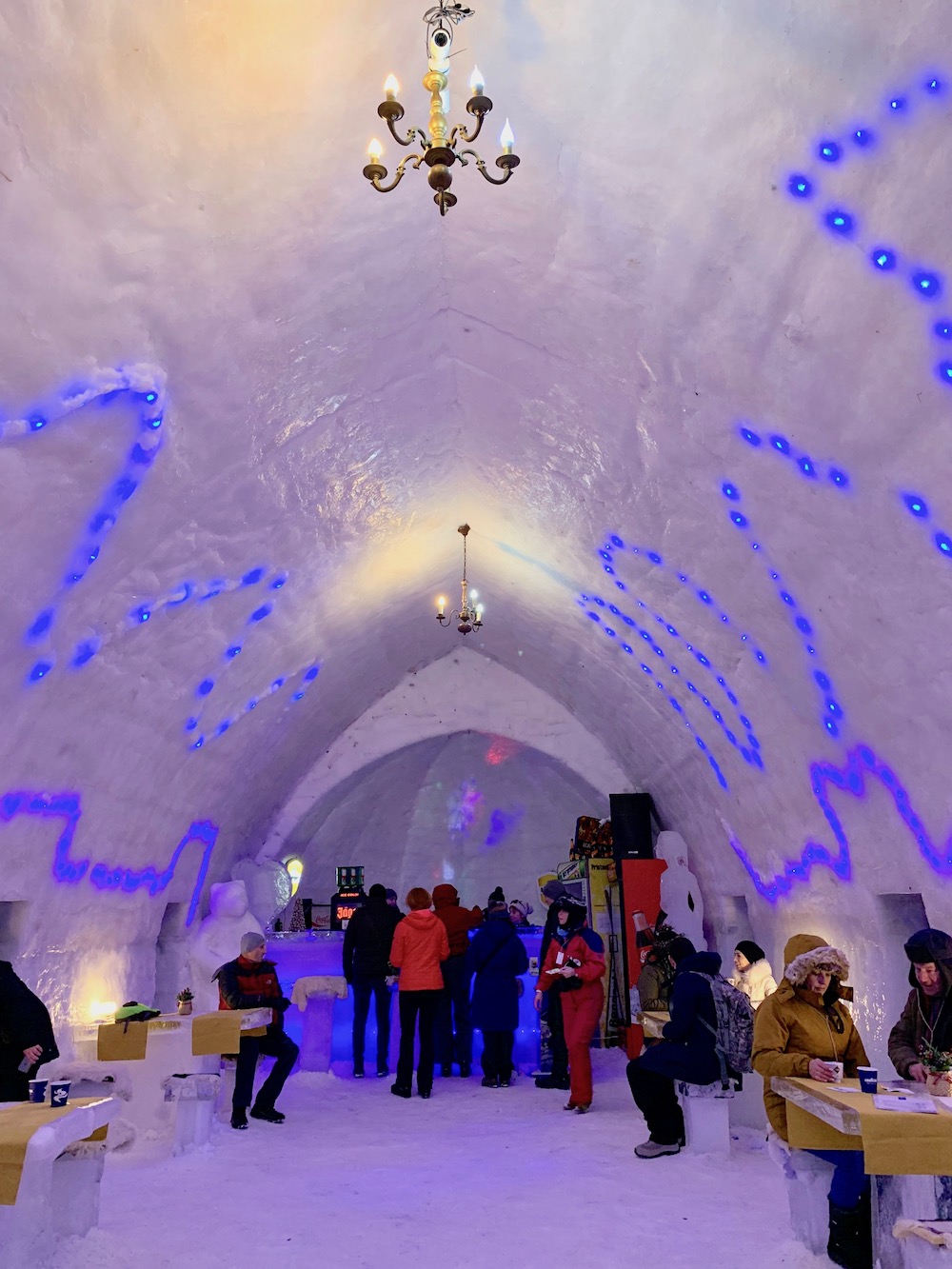 We got ready in the chalet where I changed into a pair of thick fleece leggings with velour PJs on top, thick socks, a t-shirt, a thick jumper and a woolly hat. I also wore a pair of waterproof trousers which I'd meant to remove once I got into my sleeping bag but I didn't have enough space so I just left them on!
We were told not to wear scarves because the moisture from your breath can make it cold and soggy but I pulled my sleeping bag tightly around my face.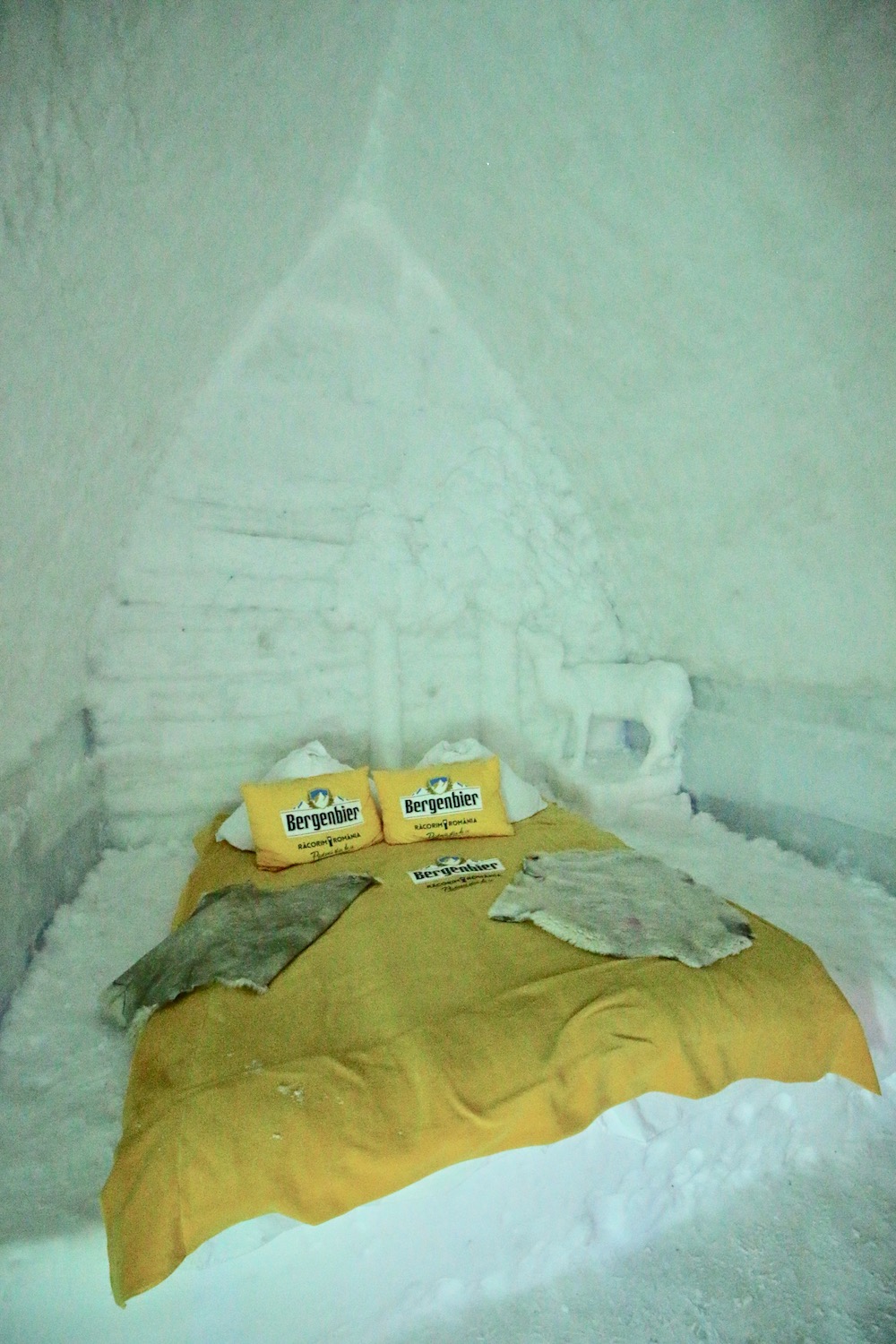 I was giggling like a kid on Christmas Eve as I layered blankets on top of myself and wriggled around to get comfy and warm. With the help of a few shots and a long and tiring day, I was sound asleep within minutes.
I woke up 2-3 times in the night but felt straight back to sleep and I slept from 10pm until 8am and the only thing that finally roused me was needing the loo!
We had breakfast in the chalet and we were able to use the showers in the hotel rooms of the chalet before layering back up and heading back down the mountain via the cable car.
So that was my experience staying in the Romania Ice Hotel.
It was amazing and such an incredible once-in-a-lifetime experience. I'm SO glad I did it, but it really is the kind of thing I only want to do once. I don't feel the need to do it again!
OK, now let's get on to the FAQs about staying in the ice hotel in Romania.
Was it cold sleeping in the Romania Ice Hotel?
This is the question everyone is asking, 'Weren't you cold!?'
I actually wasn't cold. Well, maybe a bit cold but I was never uncomfortable.
The air was obviously really cold at about -1 degree C so any skin poking out from under the covers was cold. My face and my nose were cold but it wasn't enough to stop me sleeping. At one point in the night I lost the hood from my sleeping bag so I woke up because my head and neck were cold but I fell straight back to sleep once I'd readjusted.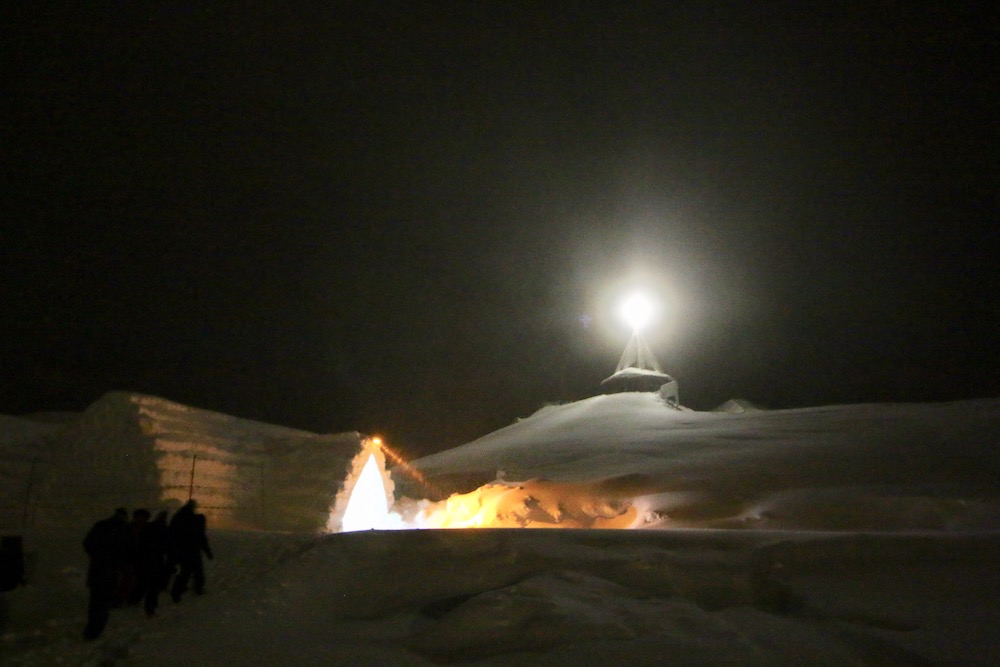 What happens if you need the toilet in an ice hotel?
The toilets for the ice hotel were in the chalet nearby, which was a separate building.
I was worried about needing to go to the toilet in the night as that would have been a nightmare. You would have had to get up, get more clothes on, go outside and walk to the toilets which are in the main chalet building.
A few people did it and one couple said it was actually lovely because it was so calm and peaceful in the middle of the night! Personally, I'm glad I didn't need to go and I'd made a conscious effort to avoid drinking too much before bed!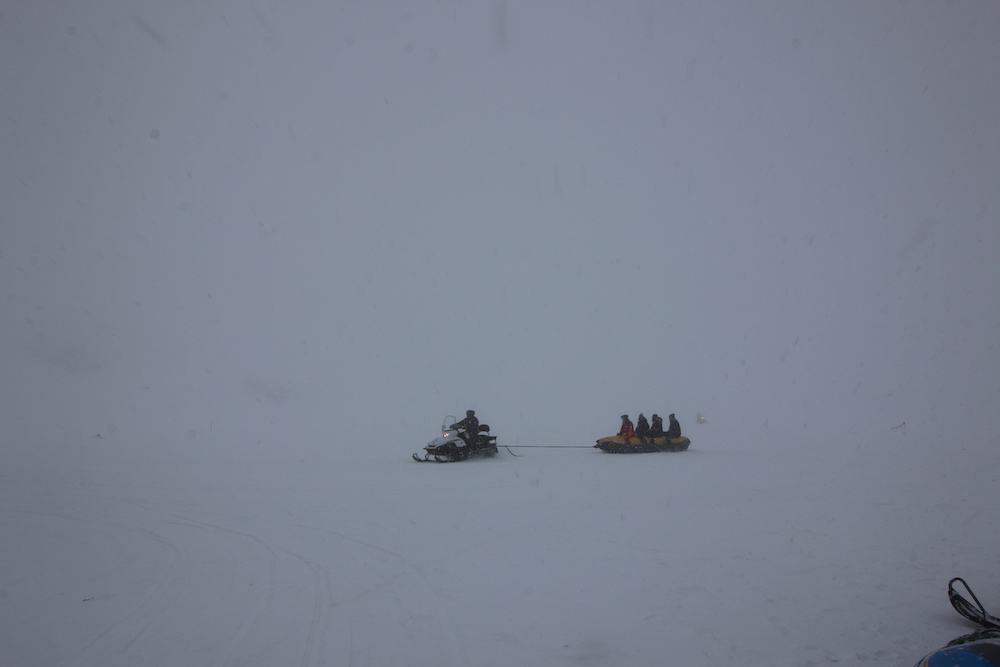 What do you wear in an Ice Hotel?
During the day
During the day in an ice hotel I'd recommend wearing something similar to what you'd wear skiing. I didn't take my ski gear with me because I was trying to pack light but I regret it now and wish I had.
If I were to go again, I'd wear:
Fleece lined leggings (Primark have good ones)
Skiing trousers
Thick socks
Winter boots – I have the Elsa Boot by Keen and I love them
A thermal top
A warm jumper
Skiing jacket or a similar warm, waterproof jacket
Woolly hat
Sun glasses
Ski goggles – if you plan to do any activities like snowmobiling
Gloves – make them skiing gloves if you plan to do activities
What to wear at night to sleep in an ice hotel
If you're like me and feel the cold then this is what I'd recommend to sleep
Fleece lined leggings
Warm PJ bottoms
Warm socks
A t-shirt
A jumper
A woolly hat
You will be given a sleeping bag and 2-3 blankets. If you're given a blanket while you eat dinner, keep hold of it as you may want it later when you go to sleep.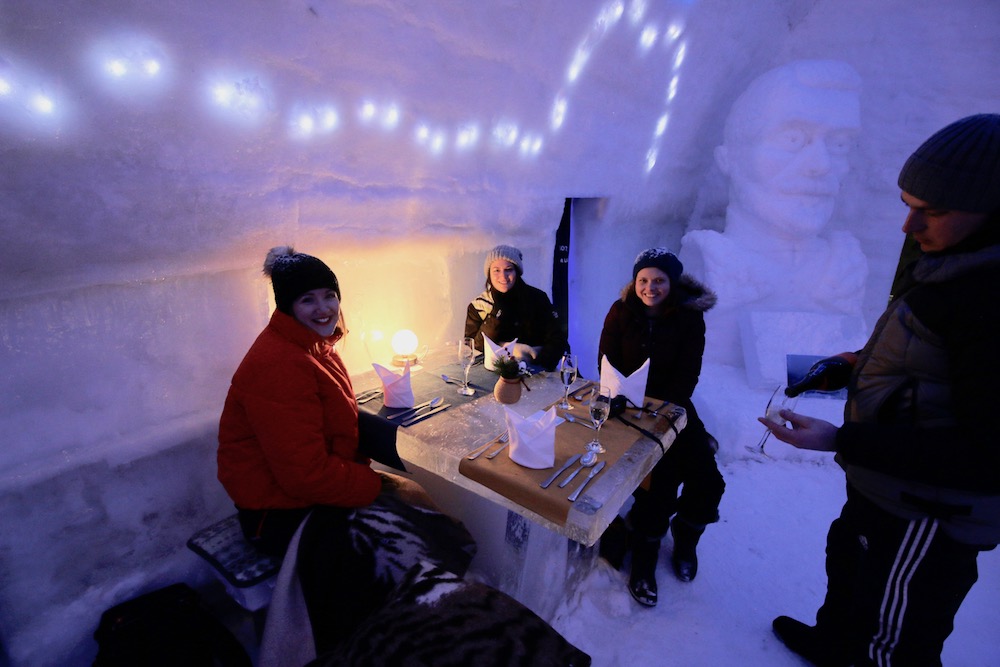 What else to pack for the ice hotel
Other things you'll need to pack include:
Sunscreen
Lip balm
A small bag – You'll probably be advised to take a small bag into the ice hotel and leave your main suitcase elsewhere
Basic toiletries – Toothbrush and toothpaste, face wipes and moisturiser was all I needed
A water bottle – this is an optional one because we were told not to take one as the water would freeze but I had a cough at the time so I took mine anyway as I'm prone to coughing fits at night and water is the only thing that helps.
If you fancy staying in the Romania Ice Hotel then I highly recommend staying as part of a tour with Untravelled Paths. I managed to get a bargain when I booked my experience as I found it through TravelZoo and only paid £299 for the 4-day trip (including the ice hotel!)
If not, you can check dates and prices and book individually here.