Today's post comes from Marie Pottiez as she shares her top things to do in Bangkok if you're a first-time visitor. Bangkok is a crazy, hectic but incredible city so big thanks to Marie for simplifying what a first-time visitor to Bangkok should see and do!
Marie is a blogger and an artist and she's shared a few of her wonderful paintings in this post. There's a link to her blog at the end so be sure to check it out!
---
When I planned my trip to Bangkok, I thought a long weekend would be enough. Then I soon realized I needed more time to soak up the atmosphere and enjoy everything the city had to offer. So I changed my flight to take aaall the time I needed to properly explore the city. There is so much to see, do and eat there, you could quickly be overwhelmed !
So I've put together 10 fantastic things to do in Bangkok –these discoveries that will make your trip so special…
#1. Explore the city on an awesome night tuk tuk tour
I'm not a big fan of tours –I usually rather just walk and get lost in the city than be guided. But with its team of terrific drivers and local guides, Expique Tuk Tuk Tours offers such a cool way to explore Bangkok, I LOVED it.
It's a mix between crazy tuk tuk rides, secret temple hopping by night (when it's all empty and quiet), wandering around the local markets, and a looot of mouthwatering foods. And I mean, not the tourist kind of food. We're talking about the best street food in the city, where the locals go. Prepare for a delicious night around the city !
Note from Monica: Another great tour is the Midnight Food Tour by Tuk Tuk with Bangkok Food Tours!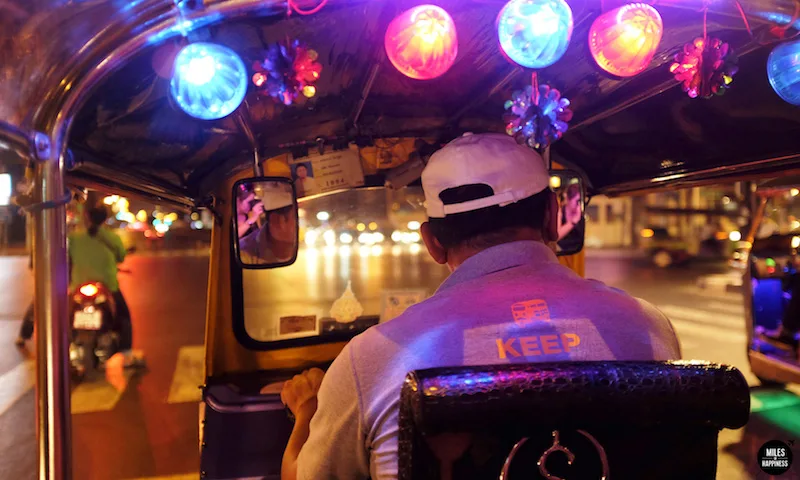 #2. Eat, eat and eat
The food is so scrumptious in Thailand, it would be a good enough reason to travel there. Bangkok being the capital, it also means the city overflows with the most savory restaurants. From street food stalls to luxurious restaurants there's plenty to taste!
My favourites?
The tom yum soup in the very fine Saffron Restaurant, perched in Banyan Tree Hotel with a panoramic view over the city.
The spicy green papaya salad in local Som Tam Convent, the most popular and deliiicious pad thai in the city.
The fresh spring rolls by the river in Savoey Restaurant Tha Maharaj.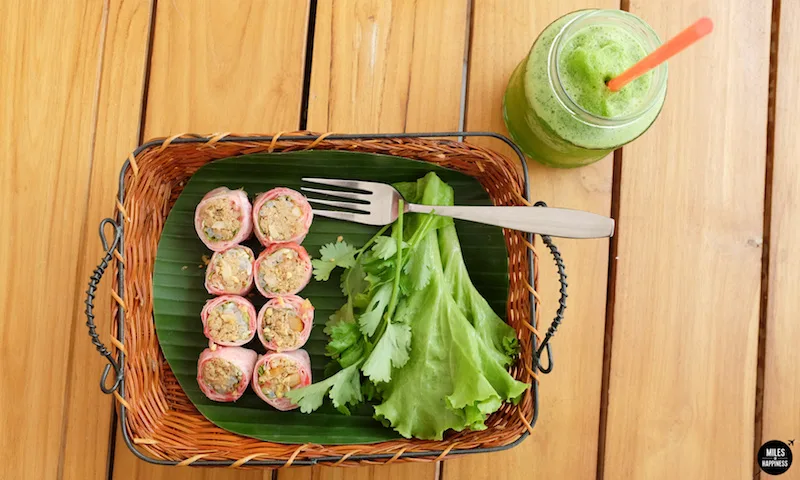 #3. Watch the sunset from above
If Bangkok isn't renowned for its skyline, watching the sunset from one of its chic rooftop bars stays one of the highlights of my trip. You need to get there while there's still some daylight to enjoy the views.
The best is to get a cocktail from the fabulous Moon Bar around 5pm, while it's still pretty chilled out and peaceful. Sipping my cocktail while watching the city from above, I completely fell in love with this incredible city.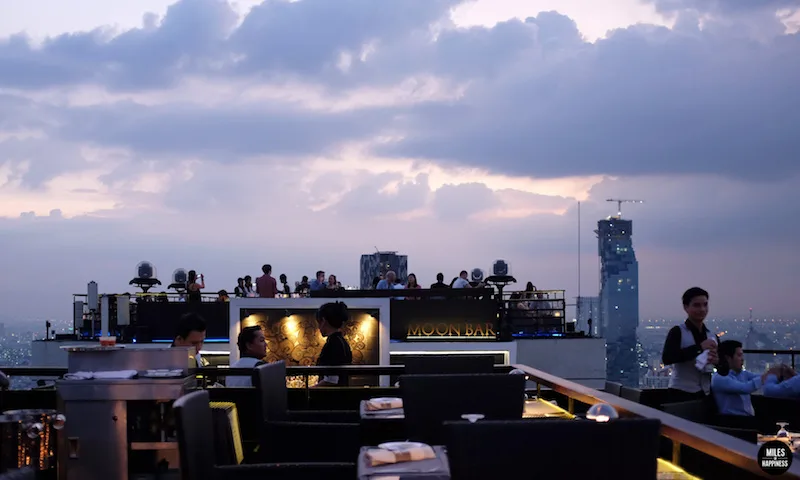 #4. Treat yourself with a good foot massage
Visiting a city can be exhausting, so you'll probably be DREAMING about a foot massage at some point. So why not get in the country's most renowned massage school ? It's situated in the middle of gorgeous Wat Pho Temple, and the service is brilliant. You couldn't ask for a better way to rest between two discoveries.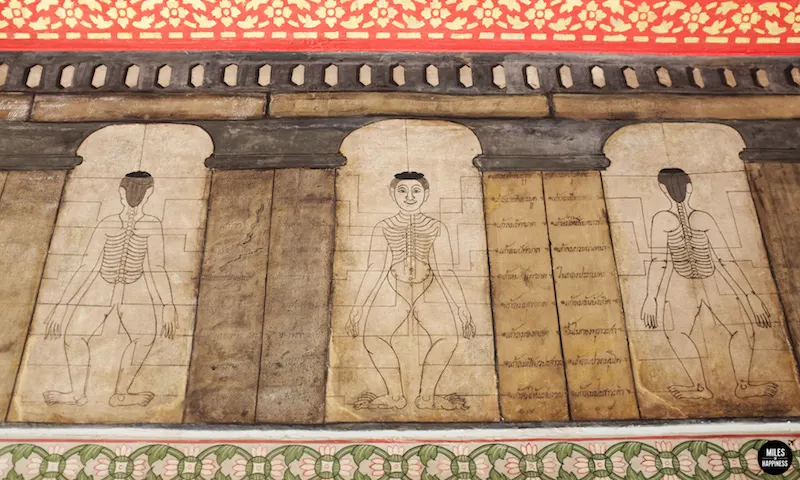 #5. Immerse yourself into the Thai culture and history at Jim Thompson's house
Visiting Jim Thompson's house is like traveling back in time in the old Thailand. His local art collection and textiles is impressive. It's all filled with history, passion and a lot of mystery. Situated along the canal, the house is a piece of tranquility in the middle of the city, a great escape from the crowds.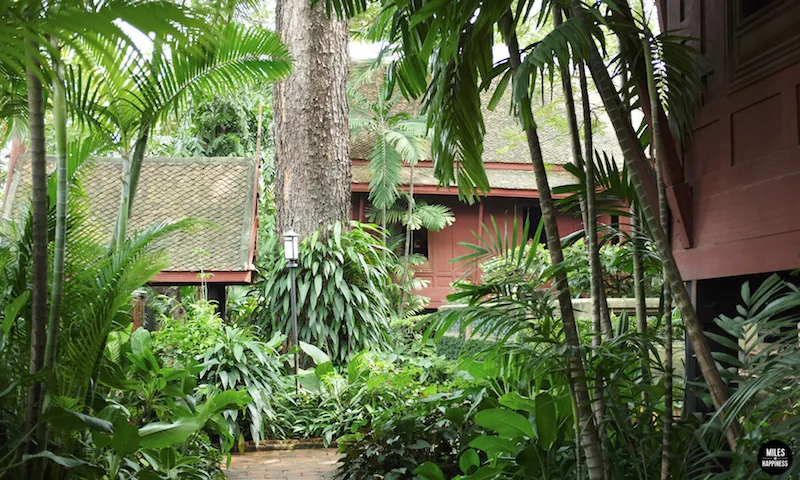 #6. Meet the locals and dive into the 'real' Bangkok
The good thing when traveling in Southeast Asia is that people don't stay hidden in their houses –not like we do in Europe! They live, share, talk out on the street! It's easy to melt into the culture and meet Thai people around some street food or in the park, get to know more about their habits and lifestyle.
Travel Hack Tip: Don't be afraid to eat at the street food stalls – particularly the ones crowded with locals. The food is fresh and delicious and it's likely you'll strike up and interesting conversation too.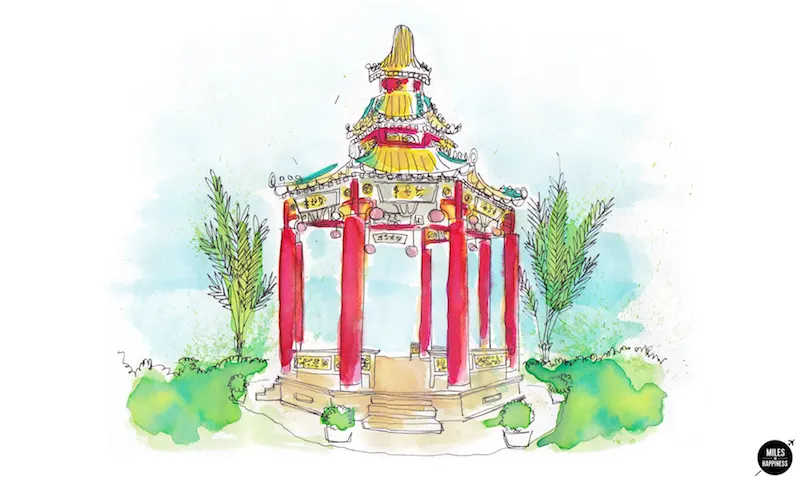 #7. Discover the beauty of Bangkok's markets
There are all kinds of markets in Bangkok, from flowers to food, souvenirs, fabrics, electronics… You can find pretty much anything your need.
If you're in Bangkok on a weekend, don't miss the Chatuchak Weekend Market, a GIGANTIC market that sells pretty much every thing, from domestic kittens to flip flops. There's enough to get lost in a shopping crave for the whole day. Open your eyes, between the tiny alleys, you could find some real treasures…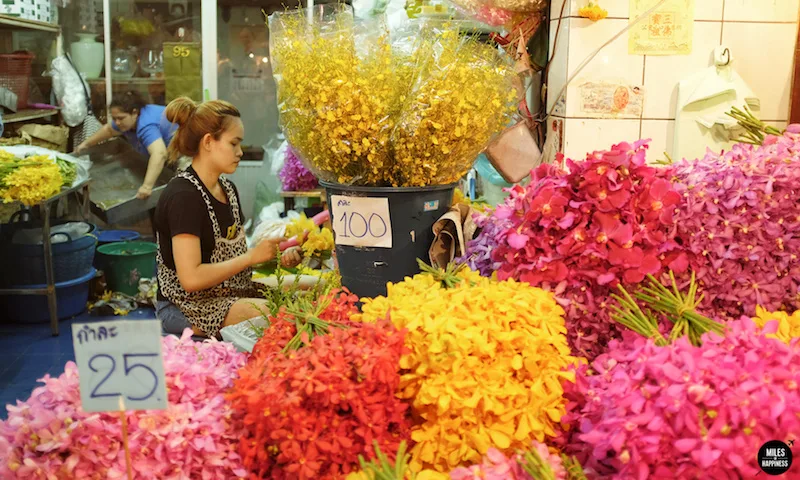 #8. Get lost in Thailand's most prestigious temples
There are so many temples spread out around the city, it's hard to know which one you want to visit. The answer is simple, don't go for quantity, always aim for QUALITY.
Take the time to get lost, enjoy every minute of your exploration and live in the moment rather than rushing to get to the next temple. Of course, the Grand Palace is an architectural masterpiece. Wat Phra Kaeo, Wat Arun and Wat Pho are also real gems. But you'll see, you might fall under the charm of the most remote and tiny little temples hidden in the city.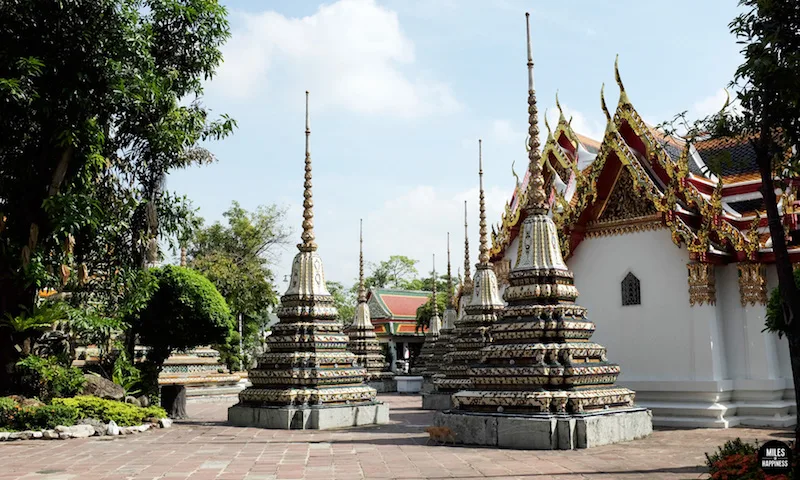 #9. Wander in and around Chao Phraya River
Even after a good foot massage, you might still feel all sweaty and tired at the end of the day. That's the perfect time to hop on a boat and explore the city through Chao Phraya River. You'll go from neighbourhoods to neighbourhood, exploring old temples, flower markets, creative shops and cafés… It's a good way to get an overview of the city without rushing until exhaustion.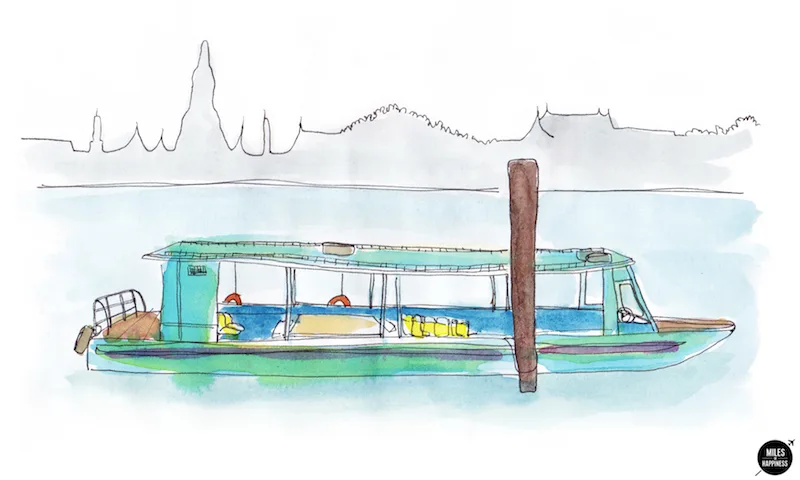 #10. Visit the city's luxurious malls
It might sounds weird, saying this like that, but truly, some malls in Bangkok are so fabulous –the interior design, the architecture, the concept stores-, they're part of the city's fantastic things to do. Siam Centre particularly got my attention –not that the shopping itself was great, but the design and style of the building itself, it's like a little industrial / trendy / conceptual city within the city !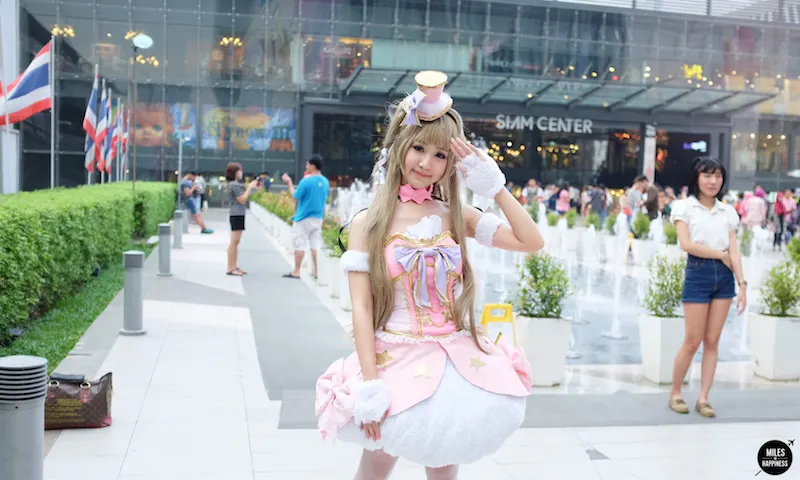 ---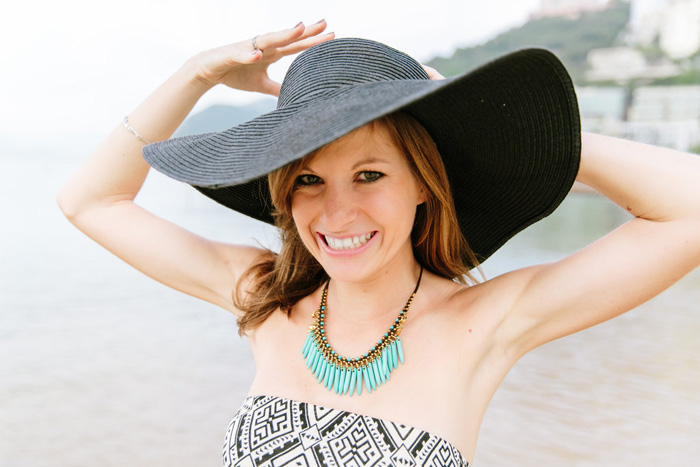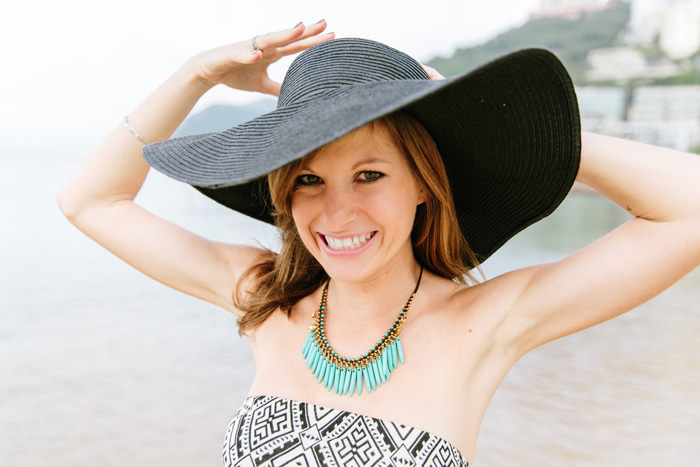 This guest post is contributed by Marie Pottiez, serial expat on the road for the past 5 years and founder of the blog Miles of Happiness http://www.milesofhappiness.com
Originally from France, she lived in Belgium, New Zealand and Indonesia, before settling down in Hong Kong in 2014. She spends as much time as possible traveling throughout the planet, exploring the world one place at a time.
You can follow her adventures on
Marie – Photo ©Ju Redondo Photography