"Trust your feet and let your legs take your weight," my guide shouted from beneath me.
Trust my feet? 'Trusting my feet' was a totally new concept for me. I can trust my hands because they're bendy and flexible and they're right there in front of my eyes but my feet are just ugly stumps at the bottom of my legs. Trusting them was proving rather difficult.
My feet were crammed into a tiny pair of climbing pumps that I was assured were the right size but felt 5 sizes too small. The tips of my toes clung to the cliff while the rest of my feet dangled off the edge of the rock face and certain doom loomed beneath.
I'd sat at the bottom just a few minutes before watching monkeys swinging agilely through the tress. I'd watched my fit and nimble boyfriend go first and speed to the top of the cliff as easily as walking up the stairs. From the bottom there appeared to be huge rocks to hold on to that carved out perfect natural steps all the way to the top. Yet here I was, 10 meters from the ground and the cliff was suddenly as smooth as ice. There were no rocks to hold on to. No holes to tuck my toes into. Nothing to hold on to!
Thailand is one of the best places in the world for rock climbing so, despite me being a total scardy cat, I knew we had to try rock climbing in Phi Phi. We'd spent a few days on Phi Phi island; relaxing, reading, snorkelling and taking short strolls along the beach so it was time to do something adventurous. We booked through a company called Spider Monkey as they were recommended by virtually everyone on the island.
Phi Phi is a great place for beginner rock climbers because there are so many easy routes (I use the term 'easy' in a very loose sense – there was nothing easy about this!)
I quickly found out that rock climbing is both tiring and terrifying. This doesn't sound like a big deal coming from The World's Biggest Scardy Cat; a title that I have awarded to myself and then proudly accepted. It was a totally illogical fear because we were securely attached to the ropes so there was no chance of falling. We were encouraged to take a break and let the ropes support our weight when we were tired so I knew perfectly well that I wasn't going anywhere. So why the hell was I shaking like a leaf?
We would cheer each other on from the bottom and point out places to put hands and feet. But it was that moment when you were clinging on by the tips of your fingers and ends of your toes and your arms and knees would begin to shake because I can barely lift a bag of potatoes, never mind my own body weight with my finger tips, and there seemed to be nowhere to place that left hand that was beginning to slip and there was nothing but 10 meters of fresh air between you and the jagged rocks that led to the sea and certain death. (I hope you felt the exhaustion there!) That was the moment that it was pretty scary and I wondered what the hell I was doing.
And then, what felt like an eternity later but was probably less than 10 minutes, I would reach the top of the cliff and sigh with exhausted relief. I'd made it! The feeling of accomplishment is good, but the view over the island is even better.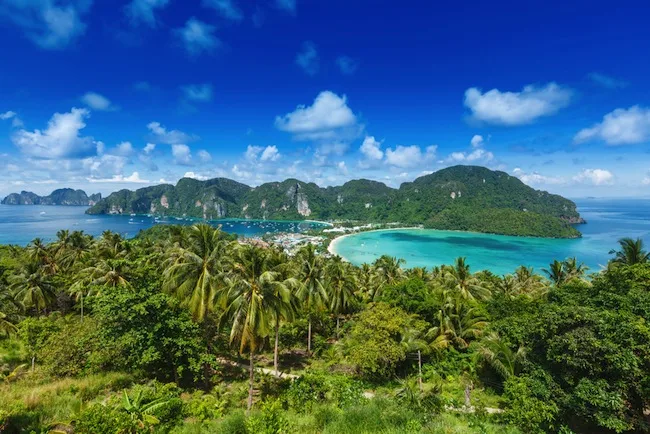 When you're rock climbing, it would be so easy to give up. You're hot and tired and may think you can't do it but keep going because you might just surprise yourself!
We were exhausted that night so went to the local cinema to chill out. Phi Phi is so small it obviously wasn't a cinema at all. It was just like a living room above a bar with some broken sofas, a wide screen TV, a box of copied DVDs and, to make it really feel like home, there was a cute little cat that would curl up in your lap and keep you warm. We were the only people there but still had difficulty choosing a film. We finally opted for the old cliche and watched 'The Beach" as we were heading to the island it was filmed on the next day. It cost 100 Baht (£1) to watch the film or you could spend 100 Baht at the bar and watch it for free. We went for the latter option and bought enough chocolate milkshakes to last for the entire film.