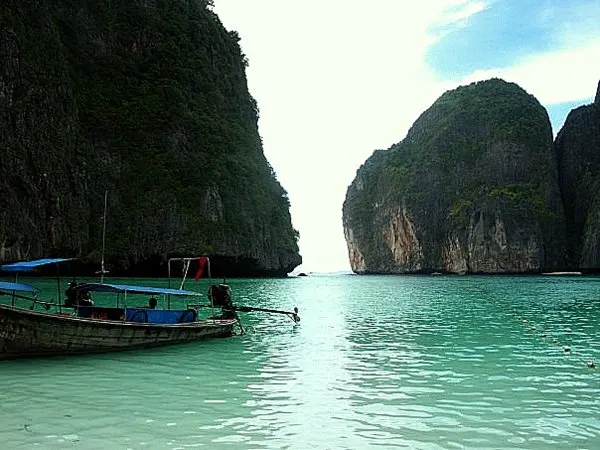 After a few days relaxing on Ko Phi Phi Don, the largest of the Phi Phi islands in southern Thailand, we decided to get adventurous and visit some of the uninhabited islands that surround.
Koh Phi Phi Leh, the film location from The Beach, was the place we all wanted to see most but the surrounding islands were equally spectacular. There were six people in our group so we bartered with a local guy and jumped aboard his long tail boat for a day of exploration…
You can visit Phi Phi Leh by taking a boat trip from nearby islands like Phi Phi Don or from Koh Lanta on the mainland Thailand.
Monkey Island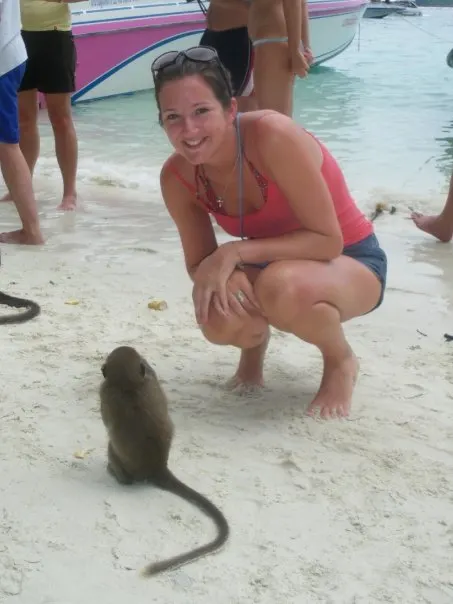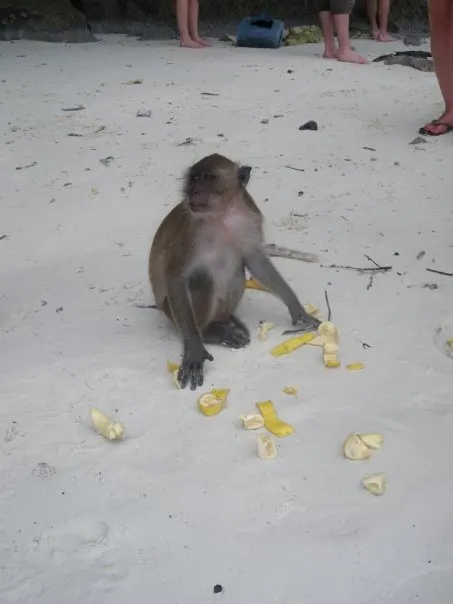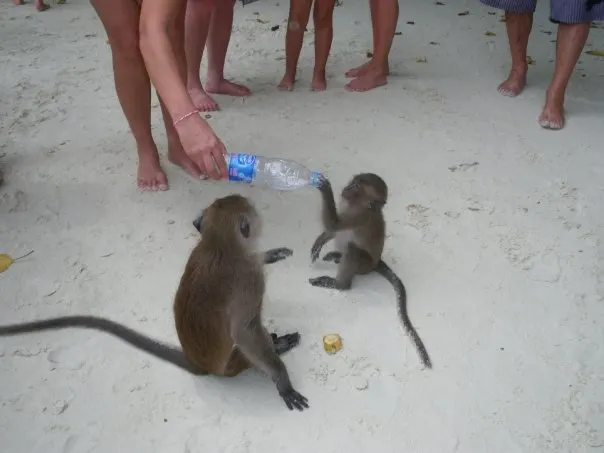 Monkey Island is a beautiful and tiny island with hundreds of Macquarie Monkeys. These guys are little cuties but it's sad to see how unnaturally tame they have become; they'll take fruit from your hand and drink water from a bottle.
Tourists flock to the island and cram on to the tiny beach. Tourists, like ourselves, who just wanted a quick photo with a monkey but didn't care about what kind of mess they left behind; i.e. making these monkeys so tame they can't fend for themselves.
Just by being there we were as bad as all the other tourists so we didn't really know what to do; do we make the most of the opportunity and take some photos or do we stay on the boat and ease our conscience? It all seemed so unnatural and it was one of the many moral dilemmas we were faced with in Thailand. (Another was visiting Tiger Temple in Bangkok). I'll admit that I was intrigued and did take a few photos but we didn't stay long before it became too much.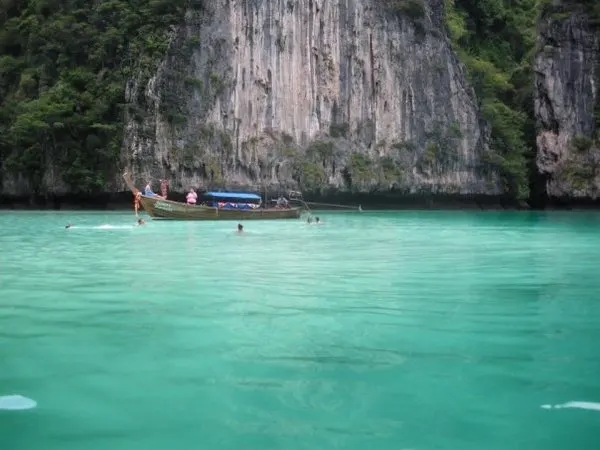 We headed back to the boat and our driver took us to a pristine snorkelling spot. The water was so clear you could see all the way to the seabed and we threw rice into the sea to attract hundreds of colourful fish that swarmed around us like bees. There were so many fish you couldn't even see the white sand beneath us as the water turned a dark blue colour. As someone with a slight fish phobia (OK, it's a ridiculously massive phobia) I decided to enjoy the feeding frenzy from a safe distance and immediately swam as far away from the boat as I could.
We'd heard that a lot of people see sharks at this dive spot and while part of me was disappointed I didn't see one, another part of me was overjoyed.
Bamboo Island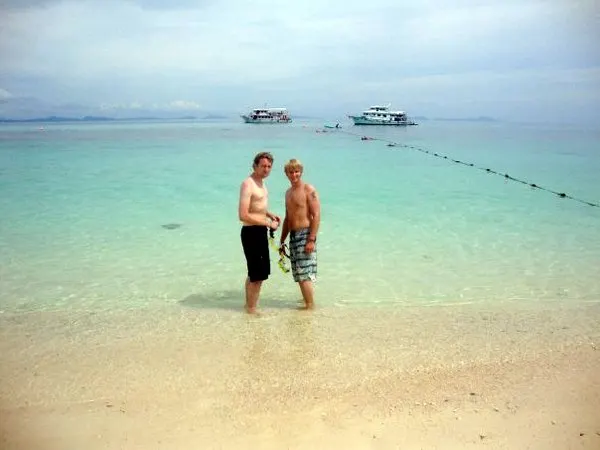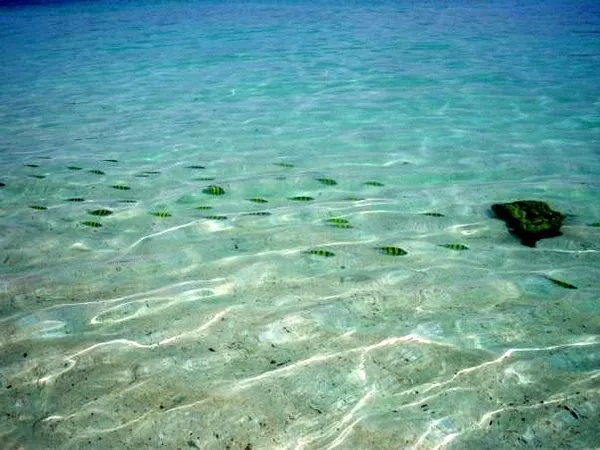 Our next stop was 'Bamboo Island' which is by far one of the most amazing islands I've been to. The sand was so soft it felt like flour between my toes and the water was so clear you could see the shawls of fish swimming around your feet. We ate a simple lunch of rice and veggies here and snorkelled some more, although we barely needed to dunk our heads into the sea because we could see everything so clearly from above the water.
I could have stayed on Bamboo Island forever and lived out my days as a castaway but our boat was waiting and the next stop was the famous Phi Phi Leh.
Maya Beach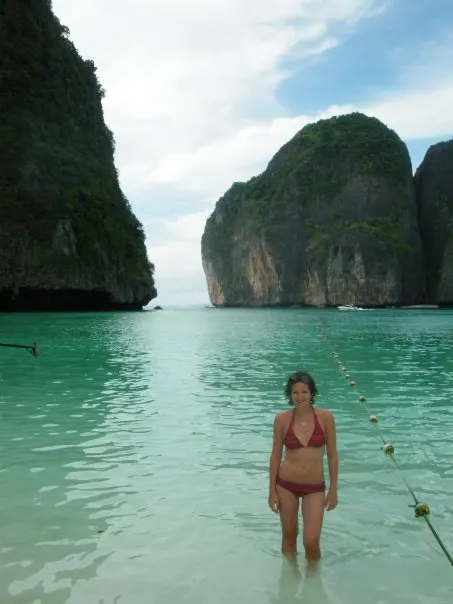 Maya Beach was just as perfect as we expected and we saw the familiar scene of the perfect little bay where 'The Beach' was filmed. Again, we swam and snorkelled and then explored the little island. There was a miniature replica of the beach hut from the film but apart from that there were no signs that a whole film crew was once there.
Many people are put of visiting Maya Beach and Phi Phi Leh as a whole because they think it's so touristy and swarming with backpackers. I'll admit that it was a busy beach but there was none of this fighting for a spot of sand like I'd heard rumours of. We arrived at around 3pm and it was far quieter than the beaches in Phuket.
For me, The Beach by Alex Garland was the first book I read that really inspired me to travel to Thailand so I would have battled with hundreds of backpackers to see it if I had to. I wanted to be one of those people living on the island (minus the shark attack bit) so visiting the real-life beach was a dream come true. It would have been better if Leo was there but, hey, you can't have everything.
There was very little on the island. I was half expecting shops and kiosks selling ice cream and inflatables but there was nothing except this perfect beach. But when you've got a beach like this, what more do you need?