Today I'm sharing my ultimate kids activity pack that is perfect for travel or whenever you need to keep your kids entertained in small spaces!
If, like me, you have kids who don't sit still then these activity pack ideas will come in so handy. I have three young children (ages 7, 5 and 2) and we travel a lot. We take lots of plane journeys and long car journeys and I've created these DIY travel activity packs to keep them busy, happy and quiet for hours at a time.
My kids play with them during long journeys but they're also handy when we're eating out on holiday or just any situation when they're going to be bored!
My eldest son is 7 so he's getting much better at entertaining himself during long journeys (it's a dream come true for him to have unlimited screen time!) but my energetic 5 year old and my stroppy toddler are still a bit of a handful!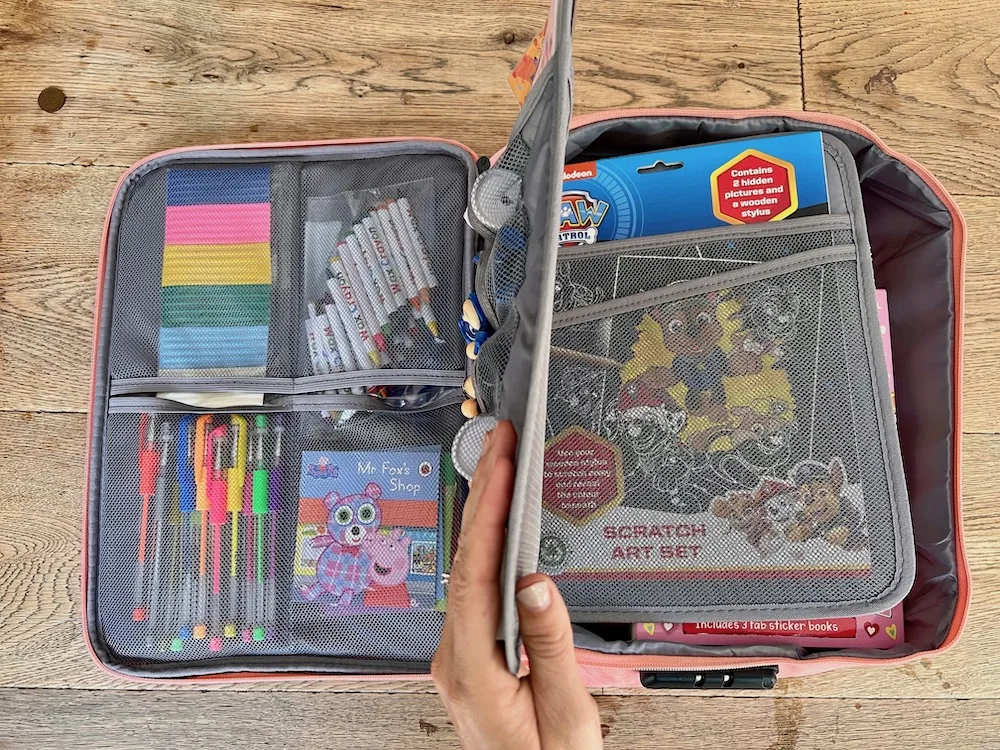 Let me introduce you to my kids activity pack….
I first discovered a similar kids activity pack on Pinterest that involved using a zippable binder and I've adapted the idea to fit my kids and my budget.
Most Busy Books and Busy Binders I came across were created for learning purposes like teaching kids the alphabet or animal names. My kids activity packs do have some educational activities but the main purpose is to keep kids happy, entertained and playing independently for as long as possible!
I'm based in the UK so I've recommended UK stores to purchase everything to go inside your busy binder – but many of these items are pretty generic and can be picked up on Amazon, stationary stores and budget shops (like Dollar Tree). I think the trick is to find a good binder and everything else will be fine!
This kids activity pack can be personalised to your child depending on their age and interests. You can create your Busy Binder on a real budget or go nuts and create something incredible! I've got some ideas to create a kids activity pack on a budget below.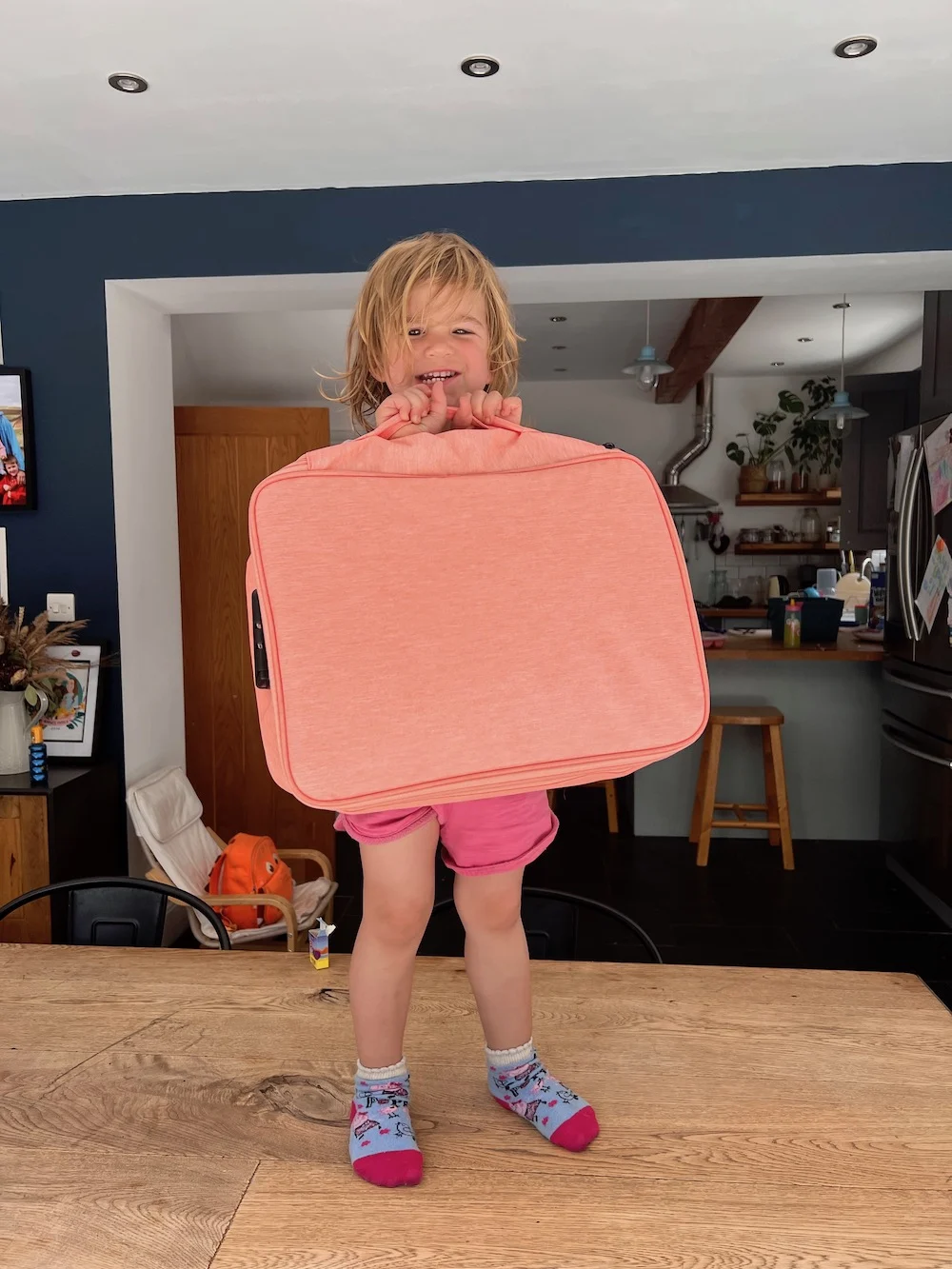 What is a Busy Binder?
A Busy Binder is a zippable folder you fill with kids activities to keep your children entertained during long journeys.
Using a zippable folder is a great way to keep all your kid's activities together and stop everything getting lost, messy or rolling away! I find it much easier to use a folder and the kids find it super exciting too!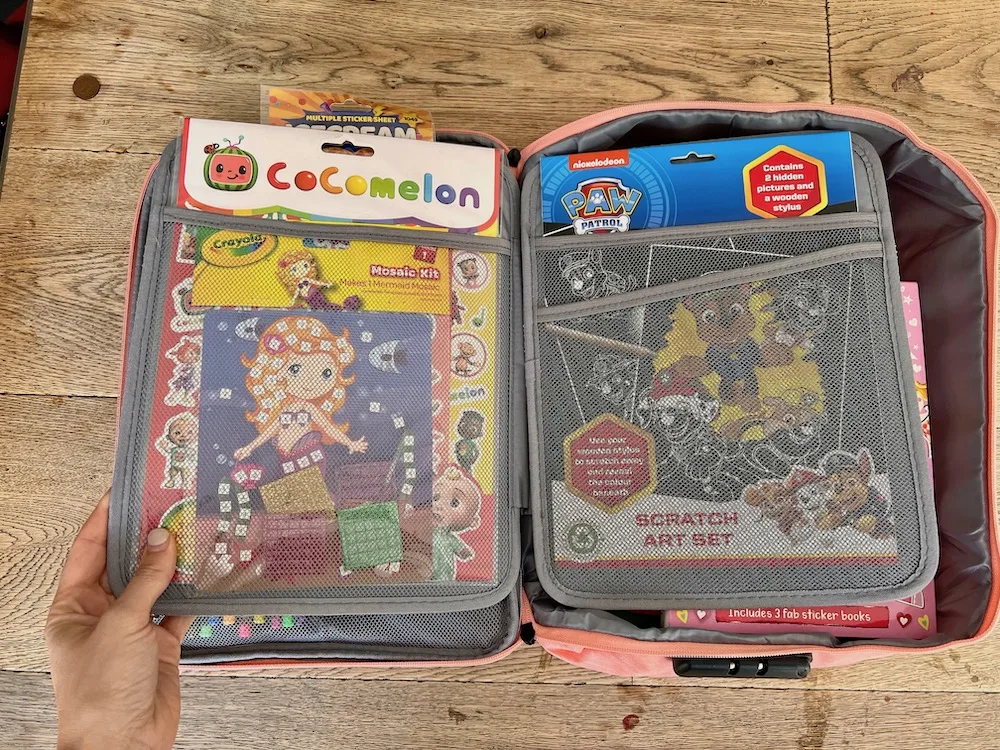 If I just shove everything into a bag then things get lost, forgotten and generally a bit chaotic. When it's all inside a binder, kids can place it on their knee and they're happy for hours and barely need to move! They don't need to go rummaging in bags which can be awkward on a plane or while strapped in a car seat.
If you can keep your kids activity pack a secret until you get on the plane then you'll get extra brownie points because your kids will love it!
You can fill your binder with plastic wallets and place activities inside the wallets. If you have paper-based activities (like drawing and colouring) you can either place them inside a wallet or holepunch them and insert them in the folder.
You can also get pockets and pencil cases with binder holes so it can be clipped inside the folder so things don't get lost.
I've used three different styles of binder for each of my kids to show you how you can do them differently.
You could create this kids activity pack without a binder but putting everything together in the binder seems to be what makes it so exciting for kids.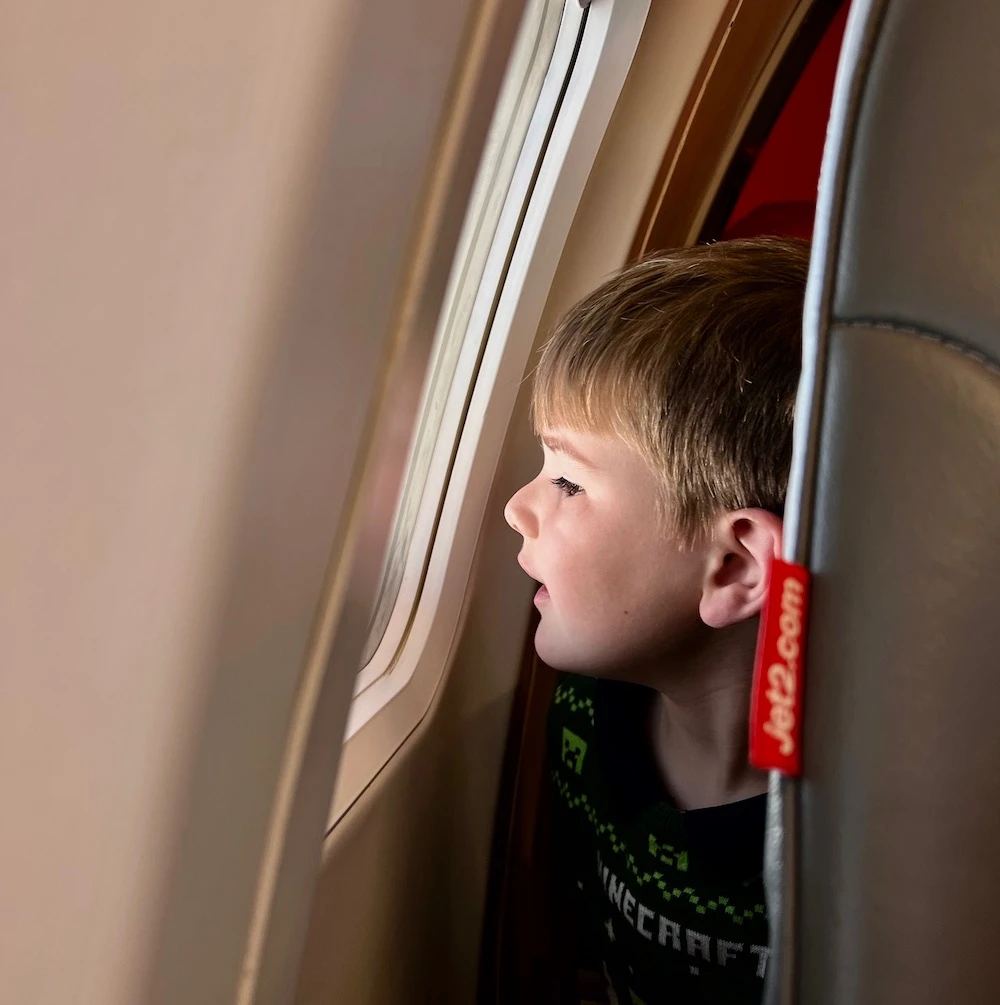 How do you create a Busy Binder?
To create a Busy Binder kids activity pack you're going to need:
A binder / folder (suggestions below)
Some plastic wallets
Activity booklets (info about printing your own activity books further down)
Colouring books
Sticker books
Magazines
Reading books
Crayons, pencils or pens
Small toys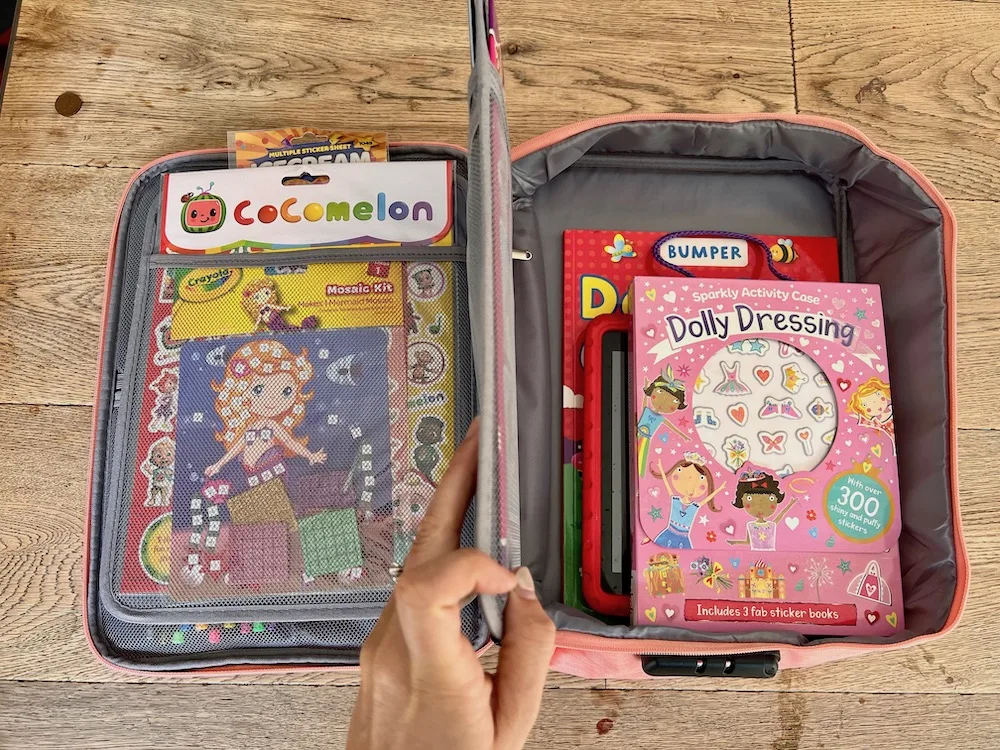 What binder should I use?
You can use any kind of binder you like, from a basic folder you're probably already got at home, to a fancy zippable conference folder with different sleeves, wallets and compartments.
It would be easy to get carried away and spend an absolute fortune on your kids activity pack for the plane. I've tried to keep mine within a reasonable budget but it's totally up to you. If it's something you'll be using regularly then I think it's money well spent to avoid a toddler meltdown or whinging kids during a long journey! It'll be something you can use time and time again and once your kids have outgrown it, you'll probably use the binder for boring adult stuff! It also starts your holiday well as the kids will be so excited to sit down on the plane and open their activity packs.
When looking for a binder, look for one that features:
A zip so things don't fall out
A hard case or clipboard function so kids can lean on the binder for drawing
Interior pocket for pens and crayons
A handle so kids can easily carry it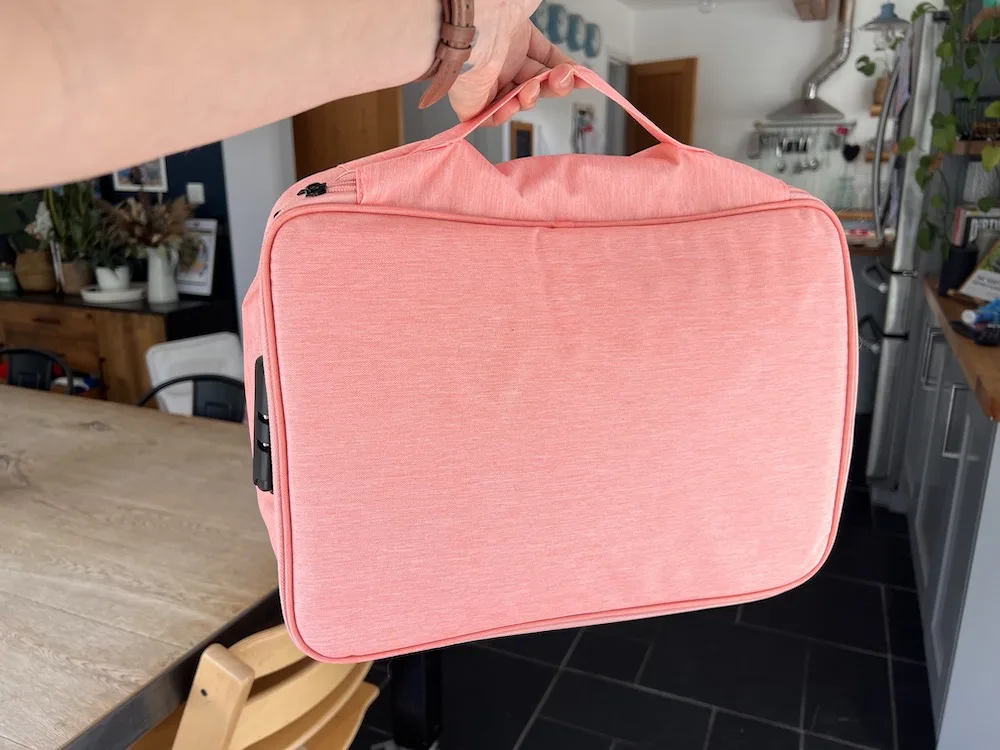 Here are some options for different binders….
This rose gold ring binder would be a great option for a little girl.
This is the one I ordered for Alba (my two year old) and this is a really good option for a toddler who will want toys as well as paper and pens. This is much deeper than a normal binder so there's space for toys as well as organised sections for paper activities.
This is a good budget option and comes in purple or blue. It doesn't have any interior pockets or compartments but you could put everything inside plastic wallets.
This one doesn't actually have a ring binder function but it has so many compartments I don't think it matters. I'm using this one for my eldest son who is a little more capable at keeping things organised! I previously used this as my laptop case so I'm repurposing something I already had. It comes in loads of colours and patterns and is really handy.
Mala Portable Drawing Case from IKEA
One of the best options to create a kids activity pack for the plane is the Mala Portable Drawing Case from IKEA. If you can get to IKEA or order online then they're only £10! They do actually sell on Amazon for £18 but IKEA delivery only costs £4 so you're better off ordering directly from IKEA.
What should I put in my kids activity pack and where should I buy it?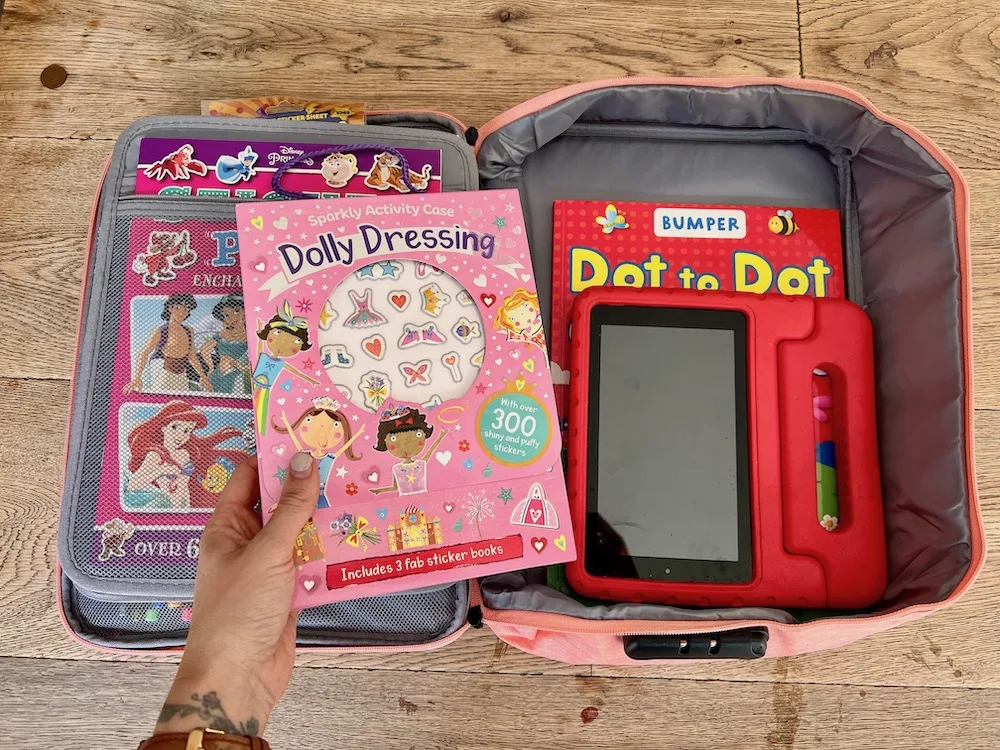 I've found The Works to be the best place to get things for a kids activity pack. They have so many options and everything can be ordered online with free delivery on orders over £30 and you can pay a little bit extra for next day delivery (I think I paid £2 extra).
Amazon do have loads of great options too!
For toddlers, I highly recommend sticker books. All the sticker books! A really good option is the Galt Reusuable Sticker Books so you can use them again and again.
My daughter also likes scratch art (which can be a little messy so make sure you're on hand to sweep away the scratched stuff into a cup!)
I find plasticine is better than play doh as it's not as messy.
Water painting books can also be a great mess-free option.
I would also put a tablet in there. If you don't have a tablet then a Kindle Fire is a great option for kids. I would get one with a lot of storage space so you can fill it with films and TV shows.
We also have these headphones for all of our children and they love them.
Can I create my own activity booklets?
You can buy activity books with things like word searches, dot-to-dots, spot the difference, colouring games etc from lots of budget home stores like Home Bargains, the PoundShop, The Works, The Range, Wilko etc.
But if you've got access to a printer then you can print out your own using templates from Etsy.
Go onto Etsy and search for 'Busy Book Printable Activities' and you'll have so many options.
If you've already got the printer, paper and ink then this is a much cheaper way to fill your Busy Binder with activities – especially if you've got more than one child as you can use the same downloads to print out multiple copies.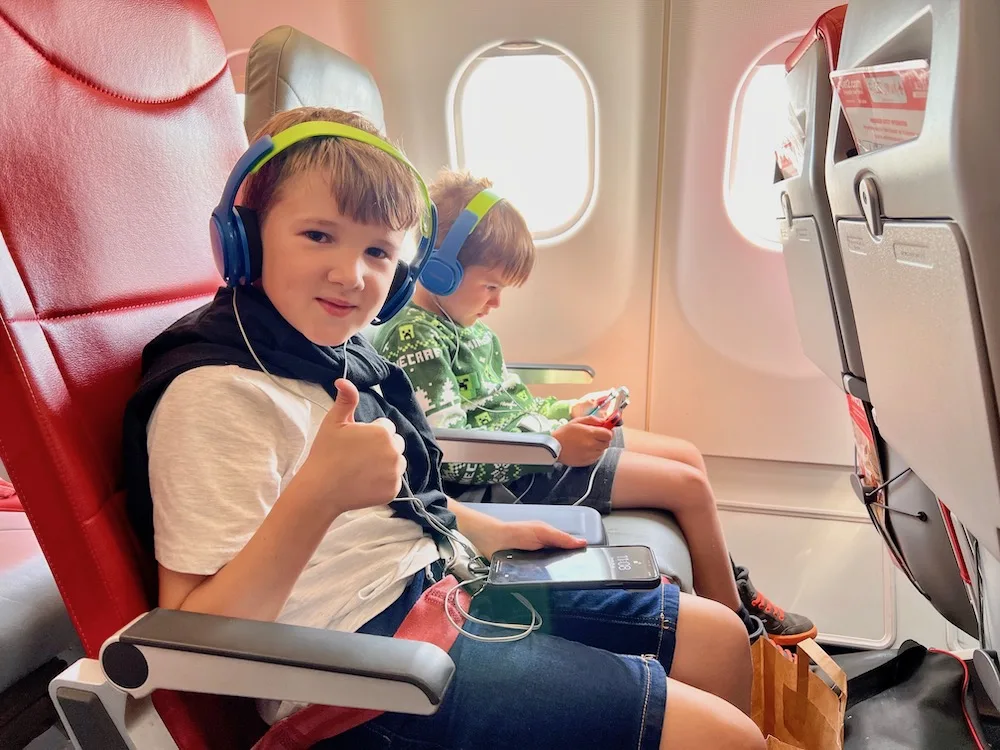 What is the best activity for a toddler on a plane?
There definitely isn't one 'best activity for a toddler' because every child is different. Two of my kids liked to sit and colour when they were toddlers but my third child could barely hold a crayon until he was 4! (He's an excellent drawer now – so don't be worrying if you've got a kid who doesn't draw!)
In my experience, sticker books are the best activity for a toddler – especially on the plane. They're mess free (unless they start going rogue with the stickers!) and they can keep them busy for ages. Many sticker book activity packs require kids to find the correct sticker and put it in a specific place, so this encourages them to think about it and take their time.
Activities for toddlers on a plane should be:
Mess-free (avoid felt tip pens, paint and glue)
Not have too many small parts (avoid Lego or you'll spend the whole flight picking it up off the floor)
Not too noisy (avoid toys that repeat the same irritating phrase again and again!)
Don't need batteries (or won't chew through batteries really quickly!)
Aren't too bulky or heavy
Our favourite activities for toddlers on a plane include:
Plasticine (it's not as messy as play-doh – just keep an eye on where it's rolling to)
Colouring
Reading
Scratch art
Sticker books
Find the xxxx (a bit like Where's Wally but with different things)
iPad shows
iPad games
iPad drawing and colouring
Little toys like cars, little men, dolls, soft toys
Arts and craft packs
And last but most importantly, you can't forget about takeoff, landing, eating snacks, going to the toilet and walking up and down the aisle! Realistically, these are the activities that take the most amount of time.
I'm sure toddler parents are the only people on a plane who hope there is a long queue for the toilet. Just standing in the queue and chatting to people, looking at people and stretching your legs becomes the best form of entertainment!