Singapore is an island city-state in Southeast Asia. Back in 2015 it received the title of 'top country to visit' from Lonely Planet and today it boasts a tropical climate, a multicultural population and the long list of things to do in Singapore will shock any tourist visiting the city. The sheer volume of activities, places to visit and things to try can be overwhelming, so to help you out we've put together this post containing a whopping 57 things to do in Singapore.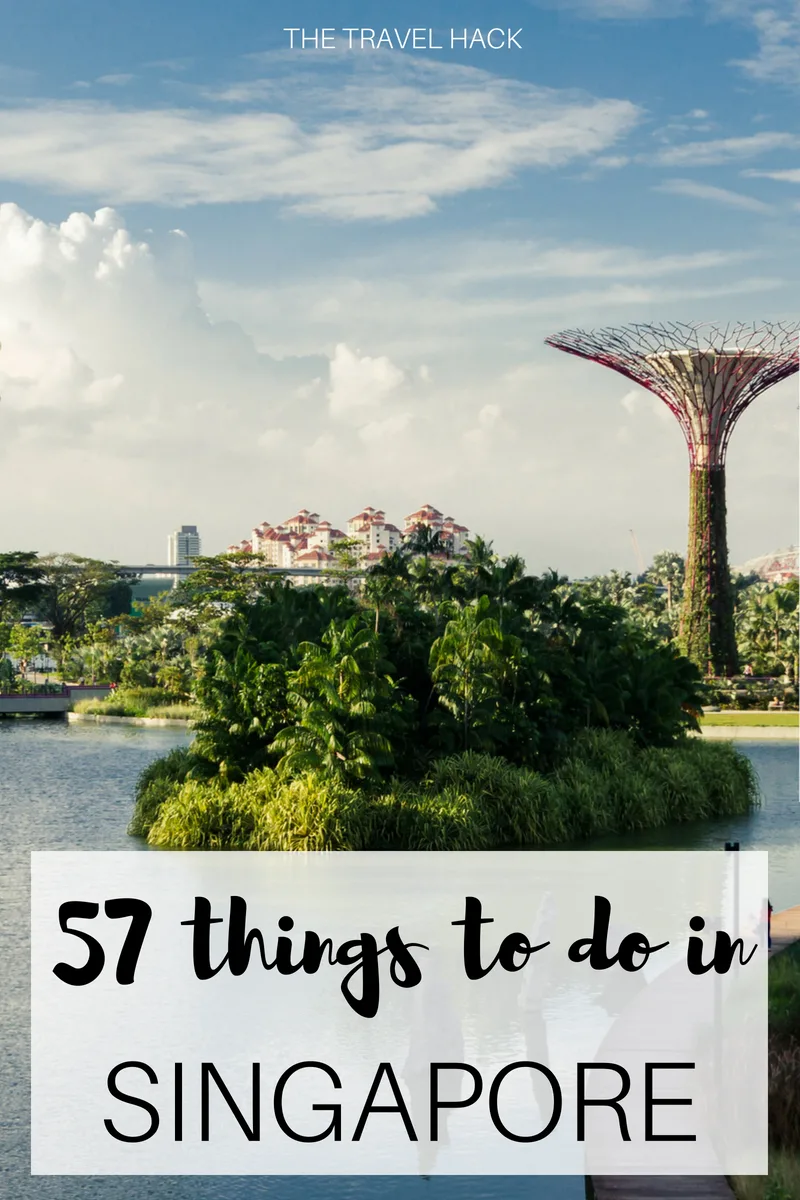 I have a confession to make:
I never considered Singapore to be much more than a stopover destination, albeit one with a fantastic airport in which to spend a few hours on the way to Australia.
But I couldn't have been more wrong. After three days exploring some of the city-state's most famous sights, sounds and flavours, I left disappointed. Not because there wasn't enough to see, but because I'd simply not had enough time to try everything that Singapore has to offer.
It's easy to see why Lonely Planet has named it the top country to visit in 2015, and there's no better time for Singapore to be awarded such a title, as this year it celebrates 50 years of independence. So whether you have several hours or several days to discover this destination, you'll leave knowing, as I now do, that you'll be back for more.
Although this is by no means an exhaustive list, here are some of the most essential things to do in Singapore.
EAT
Singapore is well known for its cuisine, with everything from Michelin-starred restaurants to local eateries to choose from, this is one city that will please food-lovers from across the world. With a huge variety of options to choose from when it comes to eating out, one of the best things to do in Singapore (to really experience the city) is to try a meal in as many restaurants as you can while you're there. Here are our best suggestions for places to eat in while you're in Singapore:
1. Dine with locals at a Hawker Centre
2. Splurge on a meal at L'Atelier De Joël Robuchon, created by the chef with the most Michelin stars in the world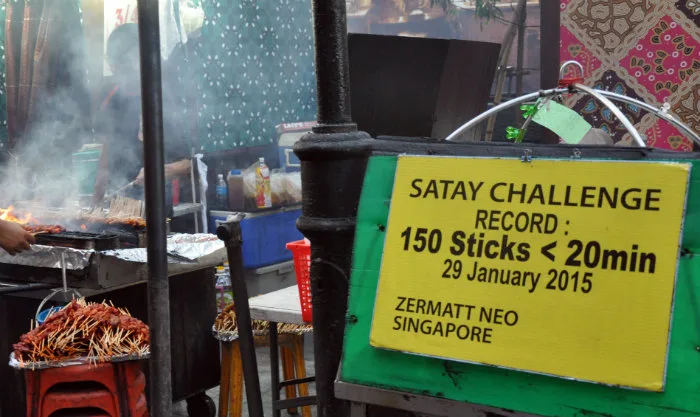 3. Taste as many different kinds of satay as you can to find your favourite (satay challenge, anyone?)
4. Start your day with a traditional kaya toast breakfast. WARNING: not for those who like their eggs well cooked
5. Taste Chinese, Indian and Malaysian flavours in one dish, such as fish head curry
6. Unwrap a nyonya-style bak zhang, a sticky rice dumpling filled with sweet meat and wrapped in bamboo leaves
7. Cool down with ice kacang, a local dessert that comes complete with shaved ice, jelly, red beans and sweet corn
8. Taste (but don't smell) a durian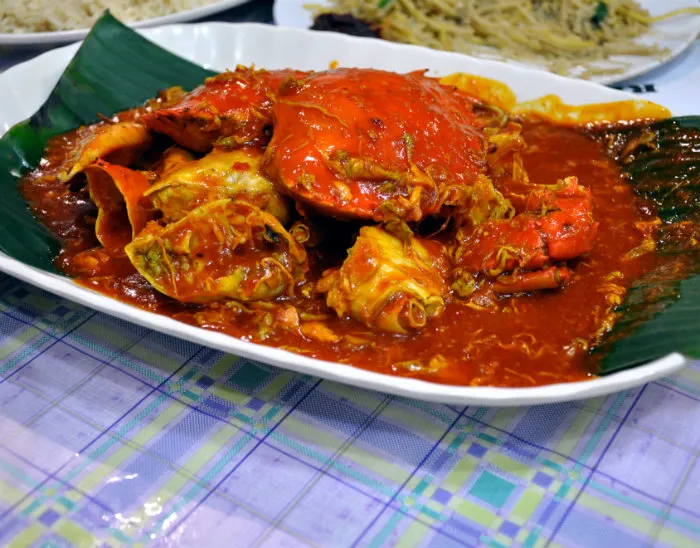 9. Crack open a chilli crab, one of Singapore's National dishes (and named by CNN as one of the world's 50 most delicious foods)
DRINK
Drinking in Singapore is normally hailed as the biggest no-no for travellers simply due to the perceived cost of alcohol in the Asian city. However, Singapore has a hugely diverse nightlife with a range of bars, pubs, and clubs to choose from which does make drinking in Singapore on a budget possible – you just have to know where to go! We don't want you to completely rule out the idea of drinking as one of the things to do in Singapore so we've put together a little list of the best places to go for a refreshing drink while you're in the city: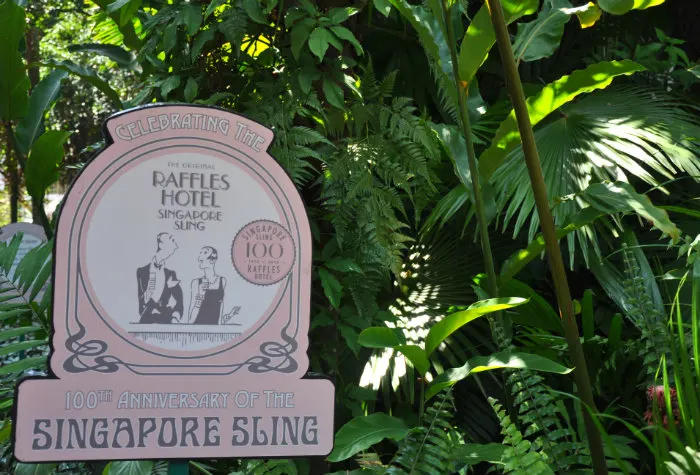 10. Sip a famous Singapore Sling at the iconic Raffles Hotel Singapore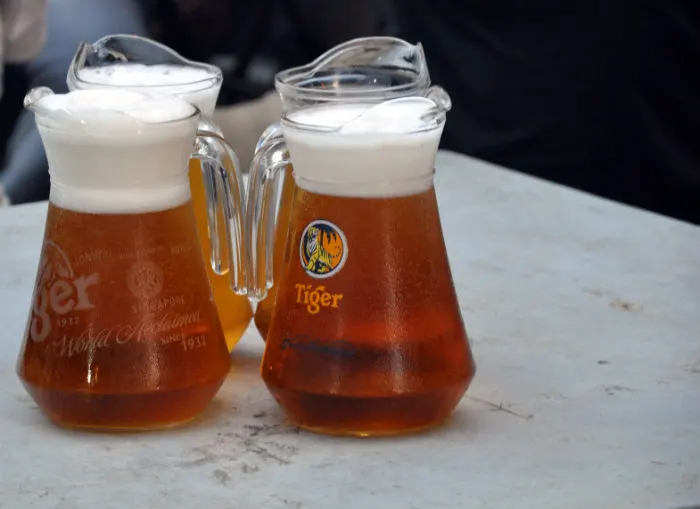 11. Enjoy a refreshing jug of Tiger beer with your meal
12. Visit Brewerkz, a microbrewery along picturesque Clarke Quay
13. Sip a craft coffee at The New Black, whose website oozes creativity
14. Discover a hidden bar, like The Library, which you can only access with a password (hint: find it on their Facebook page)
EXPLORE
With so much to do and see in Singapore, the chances are that you'll do a lot of travelling within the city as you move from place to place. While you're travelling to your next attraction, incorporate one of Singapore's many transport systems into your journey to make it a fully immersive experience. See the sights from the comfort of a river cruise, get to know the area on foot with a guided walk or travel like a local on the underground train system.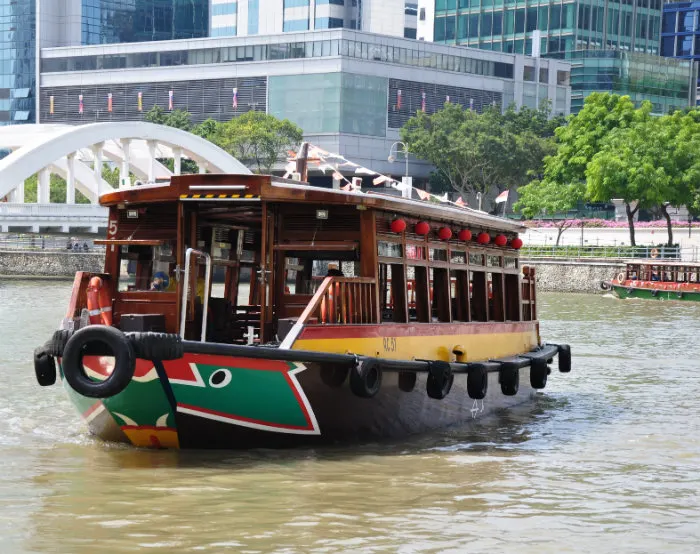 15. Cruise along the Singapore River and into Marina Bay on a traditional Bumboat
16. Be whisked from the city to the beach on the Sentosa Express monorail
17. Hail a taxi. Cabs are cheap in Singapore (especially coming from London)
18. Hop on a Hop-on, Hop-off bus tour for an overview of the city at your own pace
19. Get a unique perspective from a local guide with Singapore Walks
20. Enjoy a cycle-powered trishaw ride past some of Singapore's most colourful sights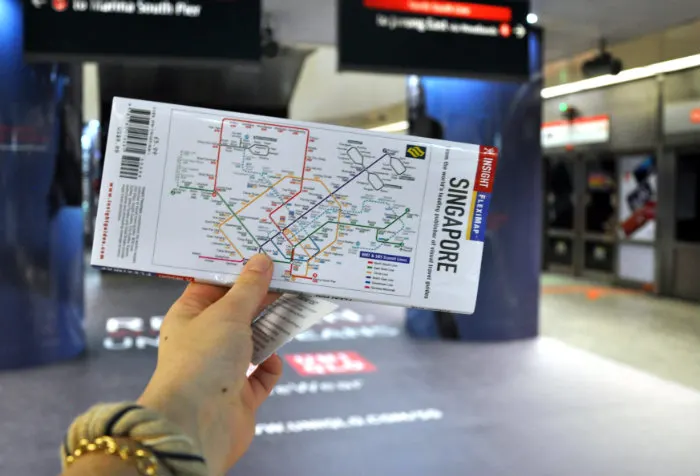 21. Feel like a local on the MRT, the city's fast and clean underground train system
SHOP
One of the top things to do in Singapore is to go shopping and this city has more than its fair share of malls and markets. Whether you're looking for luxury products or authentic gifts, Singapore has it all and we've compiled a list of some of the best places to shop while you're in Singapore: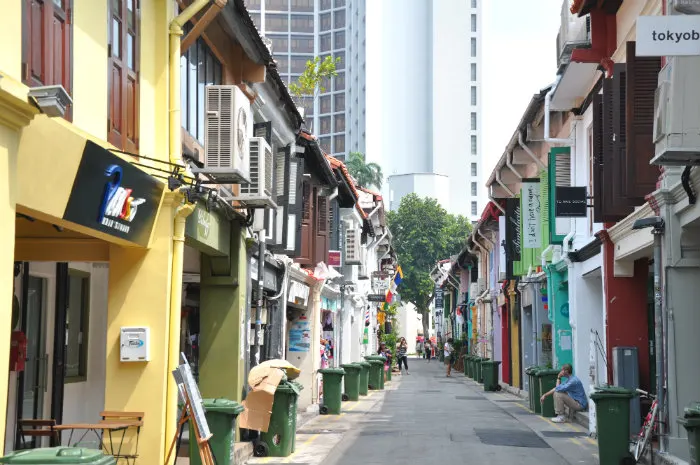 22. Find unique treasures in the boutiques that line Haji Lane
23. Stock up on silks and other fabrics for tailor-made clothes on Arab Street
24. Head to Orchard Road or Chinatown to order your custom made garments
25. Uncover pre-loved treasures at Dark Horse Vintage
26. Marvel at the modern wonder that is ION Orchard mall
27. Indulge in endless retail therapy along Orchard Street
28. Bring home souvenirs for friends and family from Bugis Street Market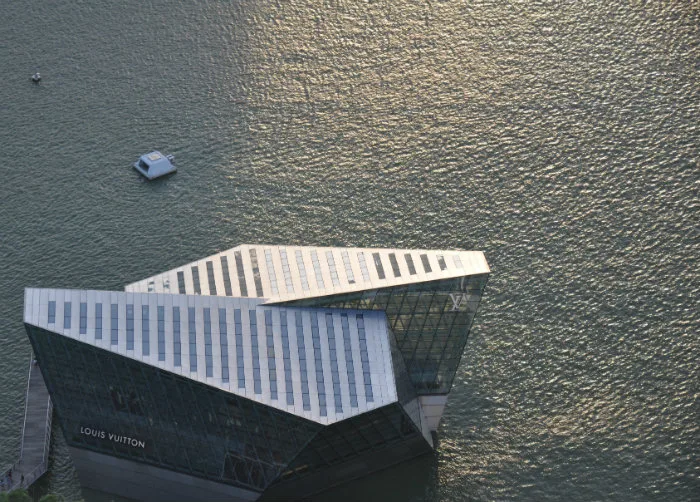 29. Splash out on luxury goods at Louis Vuitton Island Maison, a floating concept store in Marina Bay
VIEWS
When it comes to visiting a city, there is no better way to take it all in than by admiring it from up above where you can see a stunning panoramic view. Singapore's skyline is no exception to this rule, which is why heading up to one of the many viewpoints over the city is one of the best things to do in Singapore.
30. Catch the cable car from Sentosa Island to Faber Peak for breathtaking views over the city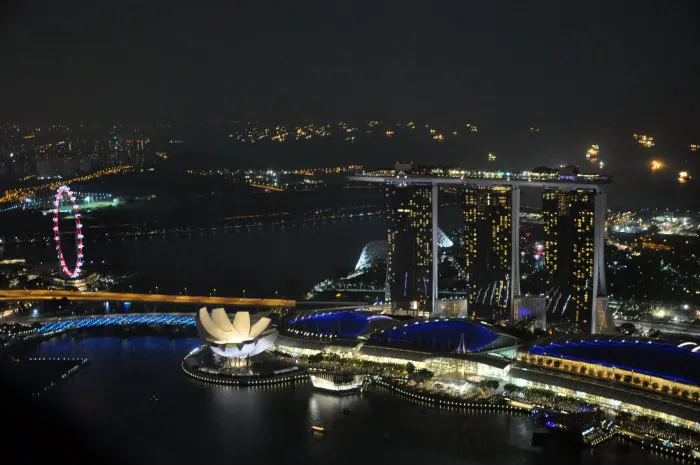 31. Sip a cocktail at the world's highest al fresco bar, 1-Altitude
32. Journey 56 floors up the iconic Marina Bay Sands building to the SkyPark Observation Deck
34. Spend half an hour in a pod on the Singapore Flyer to take in the views at a leisurely pace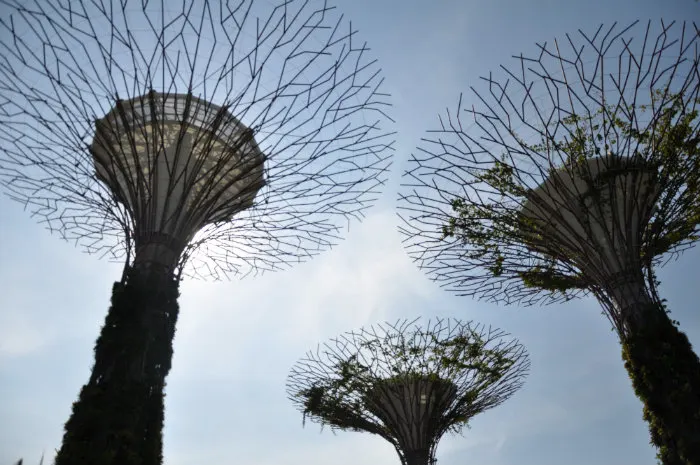 35. Hang out in the treetops of Singapore's Supertrees Grove
CULTURE
The cultural diversity in Singapore is incredibly rich, which makes it particularly interesting to tourists. With everything from museums to street art to explore, discovering the culture in this city is something that everyone should make time to do while visiting Singapore.
36. Understand the unique Chinese-Malay culture known as Peranakan at the Peranakan Museum
37. Absorb the kaleidoscope of colours at the entrance of the Hindu Sri Mariamman Temple
38. Stop to appreciate the many public sculptures that line Singapore's streets
39. See the inside of an iconic building (and get a culture fix) at the ArtScience Museum
40. Make a wish at UNESCO-awarded Thian Hock Keng (AKA Temple of Heavenly Bliss)
41. Enjoy vibrant colours of street art adorning walls across the city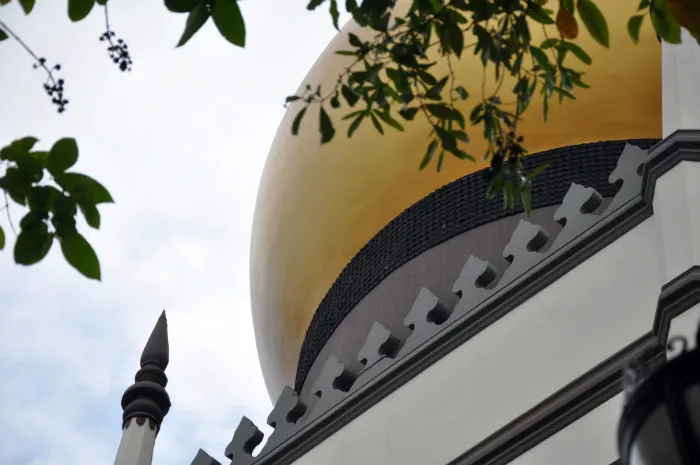 42. Peer up at the row of black discs surrounding the golden dome of Sultan Mosque in Kampong Glam. The discs are actually soy sauce bottles, a tribute to the poor locals who sold bottles like these to help pay for the refurbishment of the mosque
SIGHTS
There are so many places to visit and things to do in Singapore that you'll probably find yourself overwhelmed with choice. To help you out, we've narrowed down your decision to four of the best sights to see in Singapore: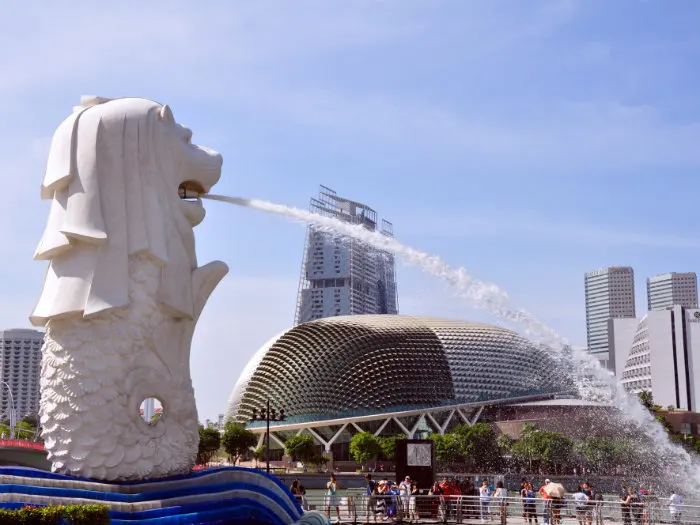 43. Take a photo with the part lion, part fish Merlion statue (and look for the Merlion cub hiding in the background)
44. Pay homage to the founder of Singapore at the Raffles statue
45. Cross Helix Bridge, designed to represent DNA
46. Take in the nightly Wonder Full light and water show that illuminates Marina Bay
ENTERTAINMENT
Singapore might be small but it still has a number of entertainment venues set up for travellers to enjoy and over the years the city has really worked hard to establish itself as an entertainment destination. Now, as with any good city, there are plenty of things to do in Singapore that have been created to give you somewhere to go for a fun-filled day out. From a Universal Studios Centre to a Waterpark, Singapore really is a city that has it all.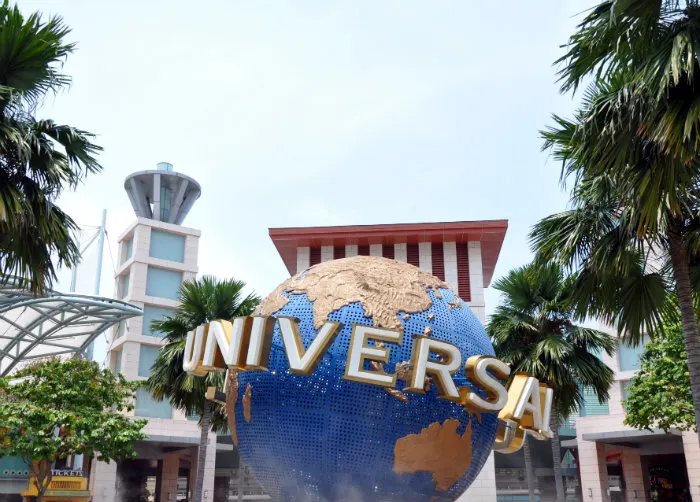 47. Get an adrenalin rush on one of the rides at Universal Studios on Sentosa Island
48. Skydive without a parachute at iFly, an indoor skydiving experience
49. Cool down without having to hide in a mall at Adventure Cove Waterpark
NATURE
Nature and cities don't generally go hand-in-hand but if you're looking to escape the metropolis for a few hours then there are still a few things to do in Singapore that will make it difficult to believe that you're still in the city. Whether you're looking to walk, run, or simply step away from the hustle and bustle of city life for a little while, Singapore has plenty of green spaces and natural hideaways that you can head to for a few hours of tranquility.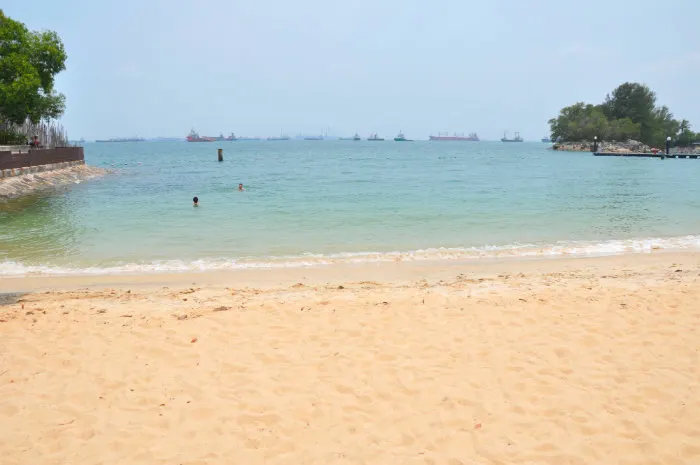 50. Feel the sand between your toes at one of the beaches on Sentosa Island
51. Escape the city to a bygone era on the electricity-free island of Pulau Ubin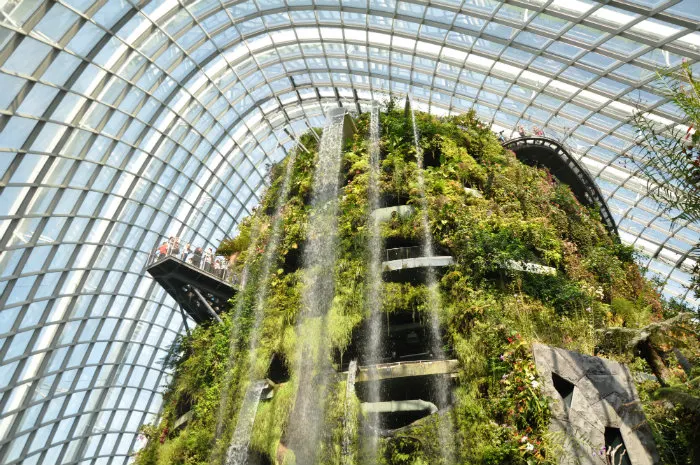 52. Walk in the clouds at the top of the world's tallest indoor waterfall at Gardens by the Bay
53. Enjoy some peace and tranquility in Singapore's 156-year-old Botanic Gardens
FLYING HOME
There comes a time when every traveller has to say a sad goodbye to the city that they've spent time exploring but Singapore won't let its visitors go without a spectacular finale. One of the greatest things about visiting this Asian city is that, even as you wait in the airport, you can still find a wide array of things to do in Singapore.
54. Eliminate any pre-flight stress by strolling through the butterfly house in Changi Airport
55. Chill out by the airport's rooftop pool
56. Catch a film at a 24/7 cinema (there's one in each terminal)
57. Treat your weary feet to a free foot massage in one of the plush chairs dotted throughout the airport
Pin this for later: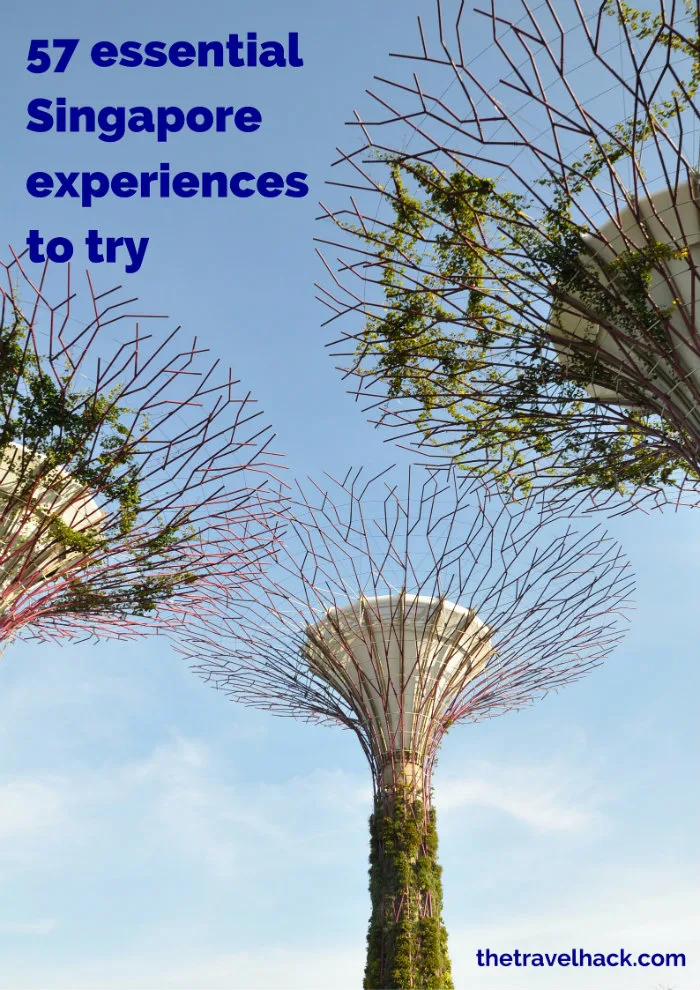 Have you visited Singapore? What else would you add to this list?