Choosing a hand luggage bag for travel is way more difficult than you'd ever imagine.
You think you just need a bag that complies with airline size limits and is big enough to hold all your stuff, right?
If only it were that simple!
I usually check my main luggage in so here's what I need in a hand luggage bag:
A compartment to keep my DSLR camera and lenses safe
A compartment for my laptop and charger
Space for water and snacks
Space for my iPad, Kindle and headphones
Space for a top or scarf
Separate pockets for documents
Easy to carry and hold
Not too big – I want to be able to use it as a day bag once I reach my destination
Stylish and look good with all my outfits
Durable – This bag is going to take a bashing
I know I'm asking for a lot but, until now, I've never found a hand luggage bag to suit all my needs.
I've tried backpacks but the cool ones are never durable and eventually break under the weight of my laptop and camera. Handbags are too small. Small, wheeled cases are awkward, especially when I have my regular case too. And then there's the problem of my camera. There's never any space for it!
Camera bags are practical but they're not exactly stylish and you might as well wear a huge sign saying, 'I have an extremely expensive camera in this well padded bag. Mug me at an opportunity best suited to you.'
For the past 6 months I've been using the Valencia camera bag from Aide de Camp.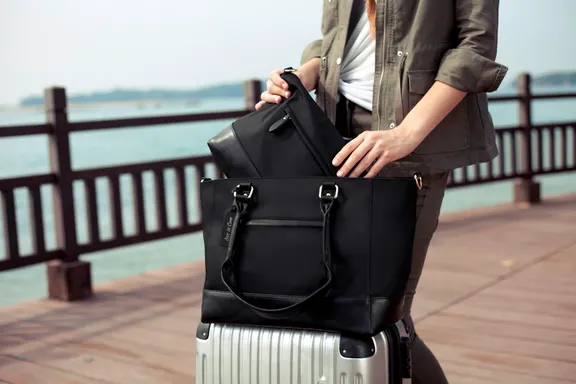 Aide de Camp was founded by Michele Ng after she noticed it's tough to find practical bags that also look stylish. She saw fashion bloggers struggle to find bags for their cameras and Michele herself would wrap her DSLR in a scarf and place it in her regular hang bag.

Hands up if you're screaming, 'Me too, me too!'
Cameras are expensive and we want to keep them safe but no one wants to ruin their outfit with a clunky camera bag. So Michele began designing stylish bags suitable for DLSR's and extra lenses.
The Valencia couldn't be more perfect for travelling. Here's why: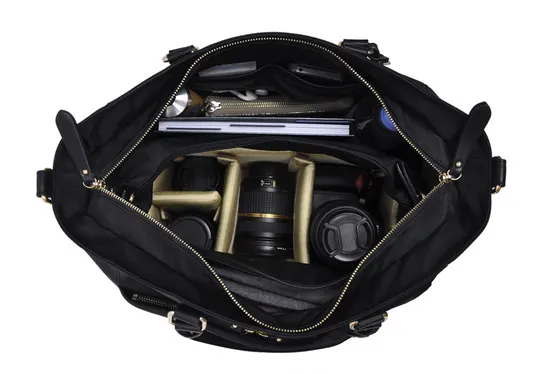 The Outside
It's made from water resistant nylon so it's easy to wipe clean…
….but it also has leather straps, a leather bottom and 14-karat gold plated hardware and zips to give it a stylish, luxurious and durable feel.
The outside has a pocket on either side perfect for documents and your phone.
One of these pockets can be unzipped at the bottom so it becomes a handy little strap to put your suitcase handle through. The bag then sits neatly on top of your case without falling off while you wheel it.
The inside (this is where it gets interesting)
A removable camera bag inside! There's a smaller, separate bag that sits neatly inside the larger bag. At first you wouldn't realise it's detachable as it sits so neatly. This smaller bag looks like a regular camera bag inside with sturdy cushioning creating pockets for your camera and lenses. This cushioning is securely Velcro'ed to the sides so you can adjust it depending on the size of your camera. I only have one extra lens but found the compartments handy for water or to keep my clutter together.
Lots more handy pockets and zips inside
It's really easy to clean – I had a horrid porridge incident in my bag but managed to turn my bag inside out and quickly wash it out at a train station. Moral of the story – don't put a Starbucks porridge pot in your bag. (Who would do that? What a stupid thing to do!)
It's big enough to fit EVERYTHING….
…but not so big I can overfill it with all my crap.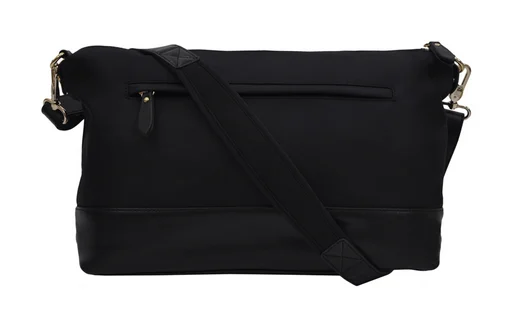 Long handles make it easy to carry
There's also a long, over the shoulder strap which is perfect if you're using the smaller camera bag separately
The smaller bag is perfect for the day and could even be used at night time too.
If you end up with too much stuff you can use the two bags separately.
The bigger bag is surprisingly massive and would do you for a weekend away.
The bigger bag also makes a good laptop bag for work as it looks like a regular hand bag.
I have a friend with a new born baby who has said the Valencia would be perfect as a nappy/camera bag. I had no idea new mums have a difficult time finding stylish nappy bags but apparently they do!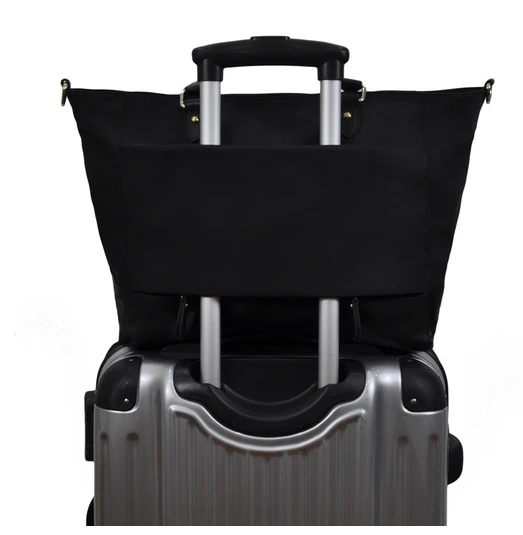 Anything I don't like about the bag?
I love the larger bag but I must admit the smaller camera bag feels a bit like a mum bag. It isn't quite as stylish as a regular handbag. Having said that, it's a million times better than a regular camera bag so I really can't complain.
Disclaimer
I did receive the bag for the purpose of this review but, as always, all thoughts, options and luggage obsessions are my own. I'm sent a lot of cool products to review and I honestly only feature the ones I genuinely love. I've been using this bag since February and I'm still loving it as much as the day it arrived.
More Info
Admittedly it's a pricey bag but as I get older I've really started to appreciate quality. I know I sound like an old woman but I'd rather have one decent bag than 10 bags with broken straps and zips.
You can read more about the Valencia on the Aide de Camp blog.