In today's travel hacking post, Anne compares two of our biggest british airlines, British Airways and Virgin Atlantic. We all know that travel hacking is most effective when you're loyal to a particular airline so which should you choose, BA or Virgin? Let's begin the battle of the British airlines…
A comparison of British Airways and Virgin Atlantic is a little like comparing chalk and cheese. If they were your children, you might consider Virgin the brash teenager and British Airways the more responsible child. Neither are children though and although Virgin may seem like the new kid on the block, the airline has actually been around since 1984.
Whilst Virgin might be the teenager you gravitate towards in the hope of wild parties, champagne on tap and serious fun, British Airways might be the airline you turn to when you need dependability, like the serious but reliable friend you turn to in your hour of need. In short, an airline you can count on.
So which is best for travel hacking: British Airways or Virgin Atlantic?
For those embarking on an initiative to maximise airmile opportunities however, it would be useful to understand which airline offers the best prospects for achieving those goals in the UK. After all, you don't want to expend lots of energy (and money!) building up those points, only to be disappointed when you actually want to use them.
So here it is, the definitive guide to which airline wins in the battle of the British airlines.
1. Choice of Routes
For those unfamiliar with an airline alliance, it is a group of airlines who join together to offer more choice of flights for their respective customers. From the British Airways website, a customer could book a flight with Qatar Airlines, earn BA miles and then redeem those miles for flights with Malaysian Airlines, all because British Airways is part of the Oneworld alliance.
British Airways and the 15 members of the Oneworld alliance offer flights to 1,011 destinations in 154 countries, all of which can be booked directly through their website.
Virgin is not a member of an airline alliance, albeit it has twelve partners with whom you can earn and redeem miles. You can also earn miles with SAS but cannot redeem miles with SAS. Unlike British Airways however, any partner airline flights you wish to book require you to call them. Some of you may not mind hanging on phone lines but I hate it so this is a big negative for me!
Once you add up all the destinations that Virgin and its partners fly to there is unlikely to be a large difference in the number of destinations and countries served, but if you look closely at the destinations, you will see that the Virgin proposition is really a long-haul proposition, whereas those with smaller points balances can take advantage of British Airways short haul options. For this reason, British Airways wins the crown for the choice of routes!
Winner in the battle of the British airlines: British Airways
2. Miles earning opportunities
For a bumper post on BA miles collection options check out the Beginners Guide to Collecting AVIOS. Without a doubt, British Airways offers a zillion different ways to earn points including spending through two car rental companies, 18 hotel chains and literally hundreds of high street stores.
Conversely, you can earn Virgin Flying Miles at 29 hotel chains, 6 car rental companies, other companies in the Virgin Group and a limited selection of stores.
Both companies also allow you to earn miles from credit cards and Tesco, but more on that shortly.
Whilst Virgin seem to have more travel related opportunities to earn, overall British Airways allows you to earn at hundreds of high street stores which really bump up your prospects for earning miles. For this reason, British Airways bag this crown too!
Winner in the battle of the British airlines: British Airways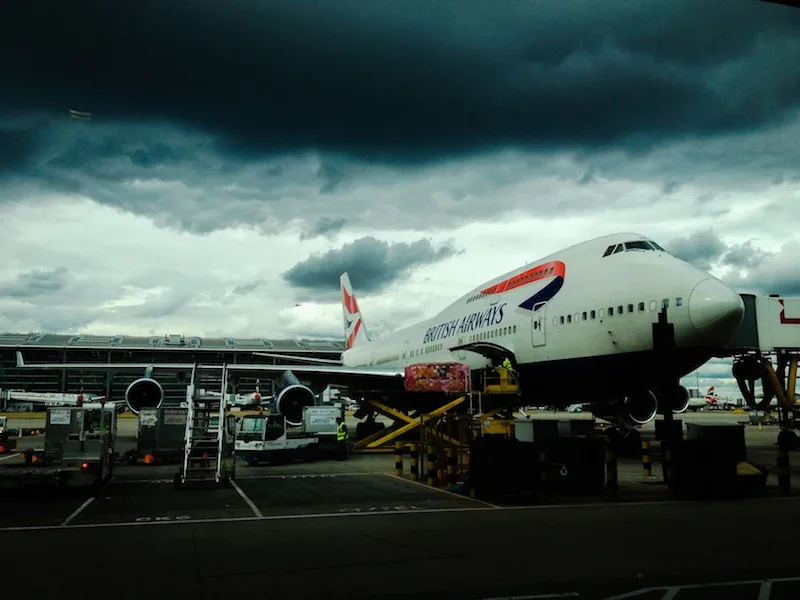 3. Airline Credit Cards
See this post for a detailed comparison of all airline credit cards, but here are the key features for just the Virgin and British Airways cards.
| | | | | |
| --- | --- | --- | --- | --- |
| | British Airways American Express | British Airway Premium Plus | Virgin Atlantic White Credit Card | Virgin Atlantic Black Credit card |
| Points earned | 1 per £1 of non BA spend | 1.5 per £1 of non BA spend | 1 per £1 of non Virgin spend on AMEX or 1 per £2 of spend on the VISA | 2 per £1 of non Virgin spend on AMEX or 1 per £1 on VISA |
| Card type | American Express only | American Express only | Visa and American Express | Visa and American Express |
| Sign up Bonus | 3,000 on spending of £500 within 3 months of opening | 18,000 on spending of £3,000 within 3 months of opening | 3,000 when you make your first card purchase within 3 months of opening | 18,500 when you make your first card purchase within 3 months of opening |
| Annual Fee | Nil | £150 | Nil | £140 |
There is little difference between the free credit card versions other than the spending requirement, but the Virgin card does come with the added benefit of a VISA card useful for those outlets which will not accept AMEX.
For the premium versions, Virgin trumps British Airways in every respect, with a higher earnings rate, a lower annual fee and a better sign up bonus. This is a no brainer and Virgin wins its first crown in the battle of the British airlines!
Winner in the battle of the British airlines: Virgin Atlantic
4. Top Cashback and Tesco
Top Cashback offers the option to convert Cashback into Tesco Clubcard points on a 1:1 basis. If you earn £100 of Cashback this converts into 40 Tesco ClubCard vouchers worth £2.50 each.
You can then convert these vouchers into BA Miles or Virgin Flying miles depending on your preference. Every £2.50 voucher you convert earns a very commendable 600 AVIOS points but a slightly more attractive 625 Virgin flying miles.
Your £100 Cashback is therefore worth 24,000 AVIOS or 25,000 Virgin Flying Miles. With Upper Class flights with Virgin available from as little as 100,000 points to Shanghai you would need just £400 in cashback to bag yourself a flight!
You would need £630 in cashback to book a British Airways Club World flight so once again Virgin wins the crown!
Winner in the battle of the British airlines: Virgin Atlantic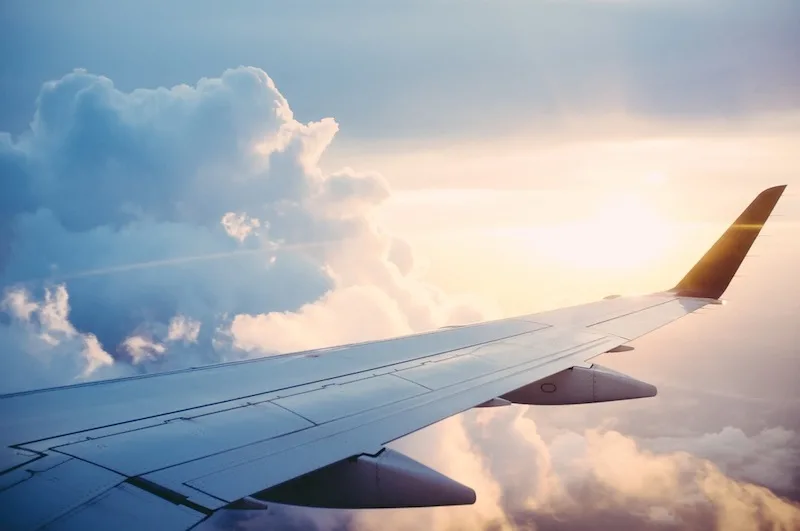 5. Redemptions
Let's face it, this is a pretty important criteria for which airline wins the battle of the British airlines. To check which airline offers the best redemption options you can use Virgin's redemption calculator (it is easy to find and you don't need to be logged in to use it) or this British Airways tool to calculate redemptions (you need to be logged in first).
Here are some example redemptions for principle routes which are all quoted plus taxes and fees.
| | | | |
| --- | --- | --- | --- |
| Route | British Airways Club* | British Airways First* | Virgin Atlantic |
| London – Johannesburg | 125,000 | 170,000 | 100,000 |
| London – Shanghai | 150,000 | 222,000 | 100,000 |
| London – Miami | 125,000 | 170,000 | 100,000 |
| London- New York | 100,000 | 136,000 | 80,000 |
| London – New Delhi | 125,000 | 170,000 | 100,000 |
| London – Orlando | 125,000 | 170,000 | 100,000 |
| London – Hong Kong | 150,000 | 204,000 | 120,000 |
* All British Airways redemptions quoted are off-peak. If you travel at peak times, the points required to redeem will increase significantly. Virgin Atlantic has one set redemption regardless of date.
It doesn't take a genius to spot the winner here, as Virgin requires less miles in every scenario when comparing Virgin Upper Class to Club Class. Some might argue that the British Airways First Class experience is more comparable with Virgin Upper Class, and for this reason I have also detailed the miles required for British Airways First Class.
The difference is startling with London – Hong Kong costing a whopping 70,000 extra points for British Airways redemptions. London – Shanghai is even worse costing more than double the redemption cost of Virgin Atlantic.
Of course, if you have a British Airways Companion Voucher to redeem, you can half the points required! It's safe to say though, that Virgin Atlantic storms this one and takes the lead in the crown winnings!
Winner in the battle of the British airlines: Virgin Atlantic
6. Companion voucher
British Airways allow their companion voucher to be redeemed in conjunction with AVIOS. All you pay is taxes and fees, which tend to come to around £1,000 to £1,200 in total for two passengers, for long haul flights in Club World.
With Virgin, you have to purchase a full fare, qualifying ticket in the cabin for which you wish to use the companion voucher. So if I wanted to redeem my voucher to fly Upper Class, then I need to pay for one Upper Class ticket in addition to taxes and fees on the companion voucher.
This means the cost of redemption is considerably greater with Virgin, as a Upper Class fare to New York currently costs £1894.35 including taxes, to which you need to add taxes of between £505 and £606 for the companion. This is virtually double the cost of redemption on British Airways.
Redeeming the voucher also has to be done on the phone whereas it can be done online with British Airways.
Now in an interesting twist, as we saw in the last category, for the odd route, the redemption cost for British Airways is double that of Virgin Atlantic (First v Upper Class) so this is a factor which needs to be borne in mind, but looking at the companion voucher in isolation, hands down British Airways trumps this one to make a comeback!
Its now three all in the battle of the British airlines.
Winner in the battle of the British airlines: British Airways

7. The experience
Of course this post would not be complete without at least touching upon the experience. Unfortunately I have no personal experience of Virgin Upper Class (but Monica does and you can read her Virgin Upper Class review here) so I am going to break this down into some of the key areas people consider when making their selection.
The Bar
Virgin offers access to an onboard bar area, which British Airways does not, although you often feel like you don't need it such do they ply you with endless champagne! Having said that, I think it would be pretty novel to be able to enjoy an in-flight drink at the bar with friends.
Monica's note: On my flight I didn't see a single person actually sitting at the bar
Chauffeur pick up
Virgin Atlantic also offer chauffeur pick up for Upper Class passengers from selected airports. These complimentary pick-ups are available within 75 miles of the airport so if I'm travelling from Manchester to Orlando, New York, Barbados, or Las Vegas I'm in luck!
Most flights do however depart from London, so I would fail to receive the benefit of this perk unless I wanted to pay an extra charge.
That said, British Airways do not offer a similiar feature for either their Club World or First Class clients.
Seating
Both airlines offer you a full flat bed however British Airways offers better configurations with seats in groups of two (allowing you to chat to your companion if the privacy blind is down) or even your own compartment in the centre of the plane when there is a 2-4-2 configuration.
If you are travelling as a couple or family on Virgin, you may find it a little more difficult to engage in conversation given the seat configuration, as all seats face inwards. You could always head to the bar though!
Another downside to the seats facing inwards is that any chance to admire the scenery requires the head of an owl (I don't think owls are allowed to fly!) If you are seated in the window seats on British Airways then you can comfortably admire the passing scenery.
On the upside, each bed on Virgin has direct aisle access…no having to step over people's feet, trying desperately not to disturb them as you do in British Airways Club Class.
Flat Bed
Virgin's flat-bed is 22″ wide converting to to 33″ wide when it lays flat. Now that is pretty awesome, as much as I love flying Club World, those beds are a bit on the narrow side.
A whole 13″ extra is seriously enticing! Plus the bed is 6'6″ long, catering for taller people like my husband, compared to BA's measly 6 foot. You have to fly British Airways First Class to get the extra length!
Lounge Access
Both airlines offer access to lounges albeit the British Airways experience includes access to the Galleries lounge which is a self-service lounge.
The Virgin Upper Class Clubhouse offers personal waiter service and a full service bar. This is possible within the Concorde lounge but you only gain access to this if you are flying First Class on British Airways.
Wi-fi
Virgin offers onboard wi-fi on select airlines for a cost of £14.99 and grab and go breakfast, ideal for those on business who wish to maximise their sleeping in advance of landing. British Airways have no current wi-fi offering.
Here's a quick reference comparison for your benefit.
Feature
British Airways
Virgin Atlantic
Transfers
None
Chauffeur Transfer directly into the airport*

"Limobike" a speedy motorcycle transfer that helps you avoid the Monday – Friday London traffic

Heathrow or Gatwick Express complimentary tickets

Check In
Dedicated check-in area for Club and First customers at most airports
Personalised, dedicated check-in

Drive Thru Check in – from car to terminal in ten minutes

Departures Lounge
Dedicated British Airways lounges in the UK and access to shared lounges world-wide
10 Dedicated Clubhouse lounges and access to shared lounges but more limited lounge access
Spa Treatments
Available at London Terminal 3 & 5 and JFK before departure
Available at Heathrow, JFK and Gatwick
Baggage Allowance
3 x 32kg suitcases can be checked
3 x 32kg suitcases can be checked
Security
Fast-Track channel at London Heathrow, Gatwick and JFK
Private security channel
Seat
Full flat bed – 6ft in Club (and 6'6″ in First)
Full flat bed of 6'6″
Arrivals Lounge
Club Lounge
Revivals lounge including spa treatment
*Available on J, D, C or I booking classes
If you prefer a visual overview of the Virgin Upper Class Experience, you can also watch the short video below. I guarantee it will have you drooling! It had me doing quick calculations to work out exactly how much cash I need to earn from Top Cashback to bag my seats!
The Virgin Upper Class Experience
Much as I would love to show you British Airway's equivalent video, this is not possible as they do not appear to have one!
For a number of reasons, including the bar, chauffeur service and super-sized bed, Virgin steals the experience crown taking the lead once again!
Winner in the battle of the British airlines: Virgin Atlantic
8. The fun factor
Anyone remember the 'BA Can't Get it UP' ambush of the London Eye lift? If you are aged 25 upwards, I bank on the answer to this being yes. Admittedly it was 16 years ago, but this was an iconic scene. Who would have believed the gaul of Sir Richard Branson?
Of course, since then he has pulled off a varierty of stunts which have made headlines. BA, on the other hand….well, who even knows the name of their boss?
From the marketing to the colour scheme, the videos to the website, Virgin Atlantic epitomises fun.
British Airways on the other hand is more staid and functional. It does the trick but no one will be checking out their Youtube Channel for their latest exciting video!
Winner in the battle of the British airlines: Virgin Atlantic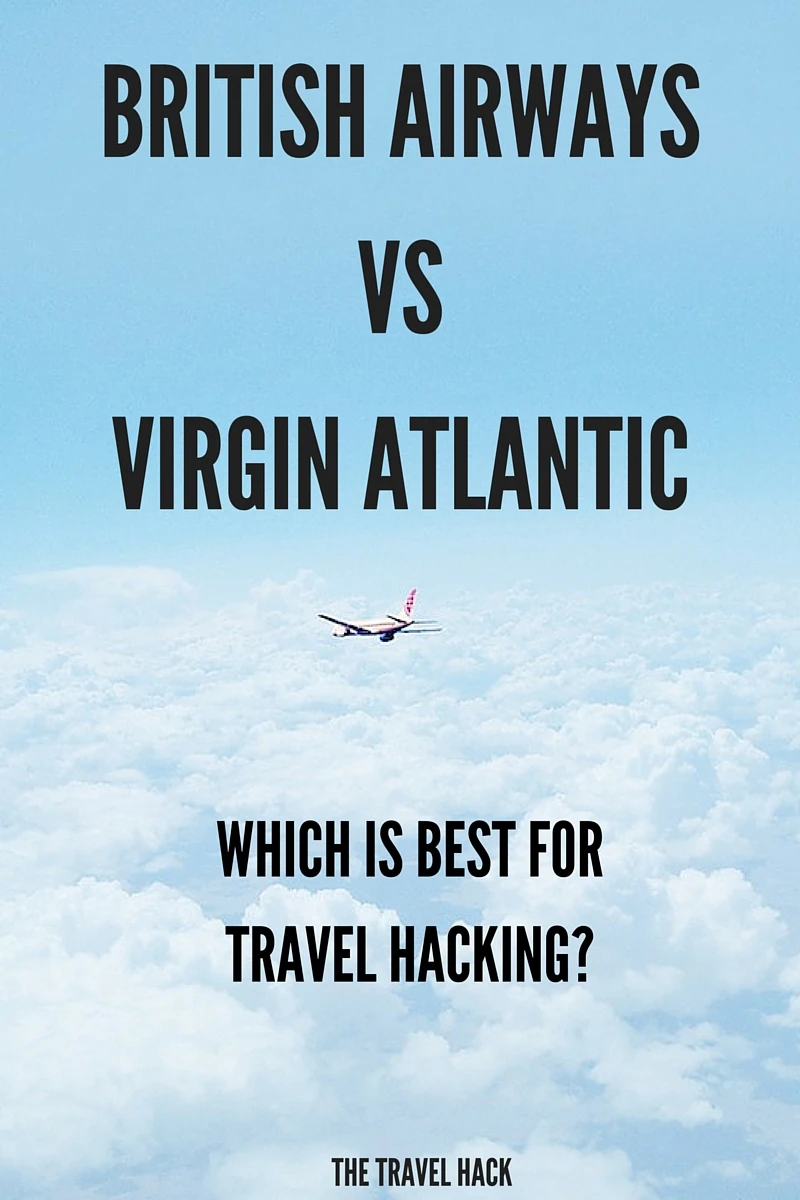 So who wins the battle of the British Airlines?
Based on the experience, it is fair to say that Virgin Atlantic appear to offer a better service, however the experience is only part of the equation when we are consider travel hacking opportunities. Then the ability to redeem for a wide range of routes, cost of redemptions, companion vouchers and earnings options all come into play, and the winner is pretty divided across these categories.
So I'm afraid I have to plead the fifth amendment, and in the interests of true democracy allow you guys to decide.
Have your say…
So who do you think should claim the crown in the battle of the British airlines? Feel free to have your say below. Maybe you think I have missed a ton of factors and have some other ideas on things that should be taken into account. I'd love to hear from you. I'm currently planning my own mission to fly Virgin Atlantic Upper Class and will obviously report back to you on that but it may be a little while.