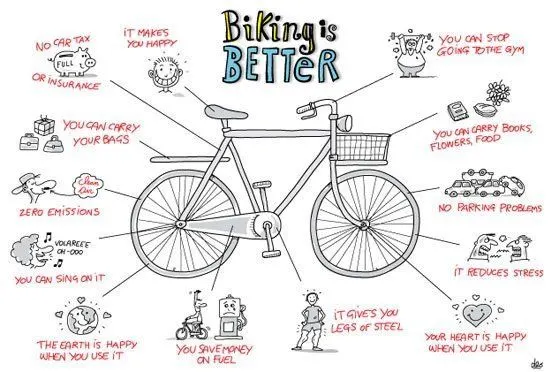 I love riding a bike. It's virtually impossible to be unhappy on a bike (unless you're going uphill) as you breeze along with the wind in your hair and the sun on your face and without a care in the world. It reminds me of being a kid when my bike was my primary source of freedom during the long summer holidays.
I may be an adult these days (kind of) so in most places I could hire a car, a scooter and in some countries I could even hire a private driver, but I always opt for a push bike when I want to see a city.
Here's why I love bike tours plus a few tips if you're unsure about riding in a busy city:
You go fast enough to see everything in a day, but not so fast you'll miss anything
Walking is usually slow and boring and takes forever to get from one 'must-see-sight' to the next. But travelling in a car or on a scooter can be a bit too quick and you end up missing things or not getting a real feel for a place. A bike is the perfect compromise.
It's cheap!
Cycling is probably the cheapest form of transport around and most cities have loads of places you can rent a bike from. Don't forget that you can usually barter over the price of your bike but always make sure it comes with a helmet and a padlock.
It's great exercise
Keeping fit while travelling can be tough as you don't have regular routines or a gym you can always go to. A day on a bike will make up for those boozy nights out and help get rid of the beer belly.
You'll feel the breeze
Walking in hot countries can be awful, especially if you can't find any shade. As you ride a bike you'll be sure to feel the breeze and you won't get all hot and bothered.
No parking fees
You don't have to pay to park a bicycle which is a God-send in cities like London where parking costs a fortune. Just make sure you have a secure padlock and never lock your bike to the railings outside someone's house.
Top Tips:
Not a fitness fanatic?
Don't worry if just the thought of riding uphill makes you sweat, there is an option for you. In some places you will find 'Downhill Bike Tours'. I went on one in Ubud in Bali and it was brilliant. You're driven to one of the highest points in the area, hop on a bike and then free-wheel all the way down while being guided past all the sites Ubud has to offer.
Worried about the traffic?
You'll usually find that cities with a lot of traffic also have a lot of cyclists and this means the drivers are much more aware of bikes and scooters simply because there are so many of them. I often feel unsafe in cities that don't have much traffic or many cyclists because the drivers aren't used to seeing bikes on the road. Remember to stay close to the curb, never swerve through traffic, avoid undertaking and always wear a helmet.
Don't know where to go?
There are loads of cycle tours you can take that don't cost a bomb. Try to gather together a big group of people and barter on the price. If you're on a tour, you won't be aimlessly cycling around and wasting energy. I did this in Amsterdam when we were challenged to see the city in a day and we managed to see heaps with a guide.
Is anyone else a massive fan of riding a bike and cycling tours?