I know that you wouldn't put flying economy class and stylish travel together but The Travel Hack is all about affordable luxury and little tips to give even budget travel a stylish twist.
I, like most people, would love to fly upper class on every flight. I'd love to sip expensive champagne, stretch out my legs and enjoy fine dining in the clouds.
Unfortunately, I rarely fly anything but economy, but that's OK (I say begrudgingly through gritted teeth). I'm happy to save money on a flight so I can then splurge on a fancy hotel, a room upgrade, dinner in a super swanky restaurant or even a new outfit or two for my trip.
I'll hold it together and squeeze myself into a tiny seat for a few hours if it means I can have a little more luxury when I reach my destination.
Over the years I've picked up a few tips and tricks to make economy flights a little more luxurious. Here are some products that make me feel relaxed, pampered and stylish during economy flight.
The economy flight survival guide
My favourite in-flight products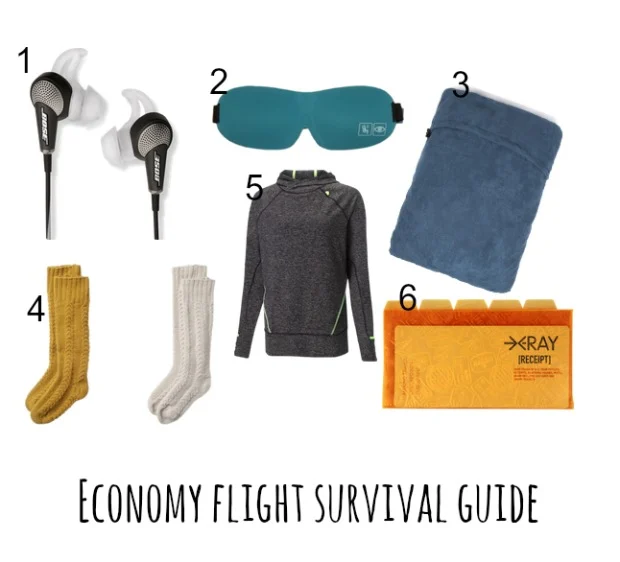 1. Noise cancelling headphones
Once you've got your eye mask on you're going to want to block out the sound so you can get some sleep or simply pretend you're somewhere else. A good pair of noise cancelling headphones may be expensive but it's money well spent. Goodbye screaming children and noisy engines!
2. Eye mask
It can be hard to sleep with all the lights and people walking around so I love this eye mask from Flight 001. The eye bits are raised so it doesn't squish your eyes in. This makes it really comfortable and it keeps out the dark perfectly.
3. Comfy neck pillow
A comfy pillow really can make your flight so much more comfortable. I have this pillow from Blacks. It rolls up pretty small but also fluffs out to be soft and comfortable. This is a must to avoid head lolling and drooling on your neighbour's shoulder.
4. Cozy socks
As soon as I get on a flight I take my shoes off so a pair of thick socks are vital.
5. Warm hoody or cardigan
Have you ever had a freezing cold flight that has left you uncomfortable and shivering? If you haven't, you're lucky. If you have, you'll understand this one. There's nothing worse than a cold flight so pack a warm top just in case they've got the air-con set to 'Arctic'. If your flight it warm, at least you can use it as a pillow. I love this running hoody from Sweaty Betty as it's light and thin but still really warm.
6. Document Wallet
Keep all your documents tidy and together so you're not rummaging through your bag at security. This is another of my favourites from Flight 001.
Handy purse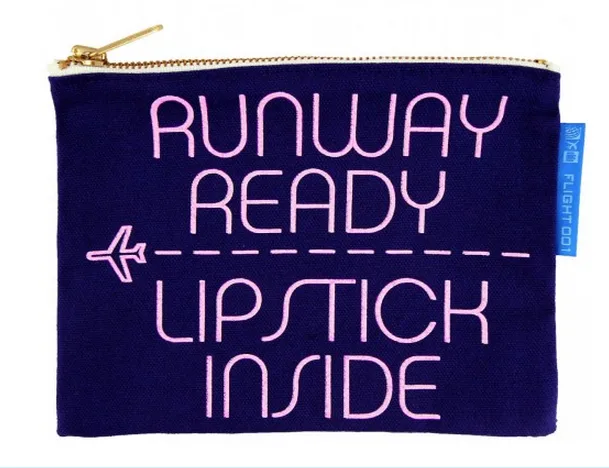 I love this cute little purse from Flight 001 (are you sensing a slight obsession with Flight 001 here?) I use it for all the little bits and bobs that get lost in my bag like lipbalm, pens, cables and gum.
Huge bottle of water
There is nothing worse than feeling dehydrated on a flight. You'll ask the air stewards for some water and they bring back these tiny plastic cups that hold little more than a shot of water. I always travel with a re-fillable water bottle and get it filled up at a fountain or café before the flight.
In flight beauty products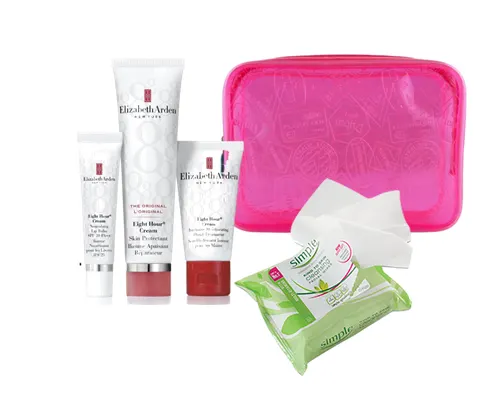 Elizabeth Arden Eight Hour Products
I have really dry sky at the best of times so long-haul flights leave me looking and feeling like a dried up autumn leaf. I always pack travel-sized tubes of Elizabeth Arden Hand Treatment and skin protectant. These are so lush and smell gorgeous and generally leave you super soft for the entire flight.
If the Elizabeth Arden products are a little out of your price range, check out the Lacura products from Aldi. Yes, really! I've never found anything that comes even close to the quality and price of Aldi moisturizer.
Cleansing wipes
After a long flight your skin can feel filthy so I always carry cleansing wipes so I can freshen up.
Miniature make-up bag
I also carry a condensed version of my make-up bag so I can reapply my face just before we land. I know I shouldn't care but you want to be selfie ready as soon as you arrive! This is another beaut from Flight 001. I also get through security with this makeup back without having to empty everything into a clear plastic bag. I've been told on Instagram that this shouldn't be possible but I've done it 4 times now without a problem.
Survival tips
Book yourself into an airport lounge
You might not be flying first class but that doesn't mean you can't have the first class experience before the flight. Airport lounges are surprisingly inexpensive, especially when you book them in advance, so you can start your holiday in style.
Check out: 10 reasons why I love airport lounges
Pamper yourself in duty-free
I don't know about you but expensive lotions and potions make me feel good. I always spend some time in duty free trying out new products, spritzing perfume and covering my hands with moisturizer. Some airports even offer massages, facials and make-overs.
Book a seat with legroom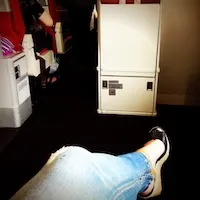 Most budget airlines and economy tickets will allow you to pay a little extra to select a seat with extra leg room or to sit at the front of the plane. The price varies from airline to airline but it usually isn't a lot. If you've got particularly long legs I think it's well worth the money to pay for a few extra inches to stretch your pins.
We paid for extra leg room for the 11 hour flight home from Los Angeles and it was worth every single penny.
Stock up on tasty treats
The food in economy isn't always the tastiest so do a quick whizz around the airport and stock up on food for the flight. I try to avoid unhealthy snacks because they leave me feeling gross so I usually head to Boots for fruit packs and vegetable dips.
Having said that, I can't resist getting a huge latte and the biggest chocolate chip cookie I can find just before I board the flight, it makes that boring 'waiting-to-takeoff' time much more enjoyable.
Gadgets
The trusty iPad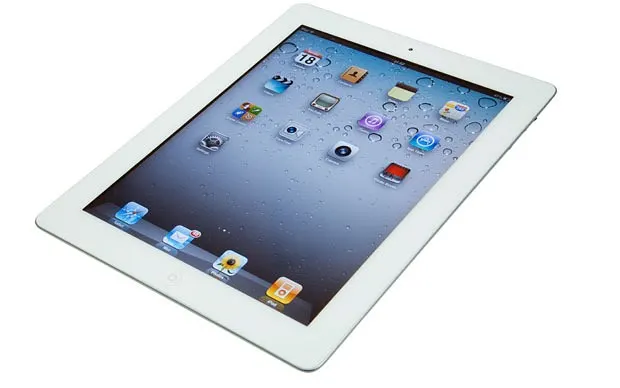 I can't imagine a flight without my iPad as it keeps me entertained for hours. When you're squished in economy you don't normally have space to whip out your laptop. I also prefer to 'work' on my iPad whenever possible because it feels less like work and more like fun.
Here are some of the things I use my iPad for during a flight:
Editing holiday photos – Make sure they're all stored on my iPad before hand and use Snapseed to edit them. This can take up a lot of storage space so you need to make sure you regularly update and empty your iPad.
Making videos – I'm useless when it comes to video editing but I really like the iMovie app and it makes it really easy.
Holiday research – I'll often download a travel guide before a flight and do some last minute research before I get there. I also like using the app Spotted By Locals for unique recommendations – it's particularly good for finding bars.
Magazines – I'm a magazine addict and I subscribe to so many different magazines on my iPad. You'll often find that subscriptions are slightly cheaper through Zinio and remember to archive old magazines to save space on your iPad.
Music – I have lots of my music stored on my iPad and I like to listen to chilled out tunes while I'm snoozing (or trying to block out screaming babies)
Writing blog posts – I usually start writing notes or entire blog posts on my way home while everything is still fresh in my mind.
Watching films – If I'm with a budget airline with no TV screens then I'll download a film or TV series to watch on the flight.
Games – I'm not going to lie. I have spent an entire 8 hour flight playing Candy Crush.
Kindle
It might seem excessive to have an iPad and a Kindle but Kindles are so much nicer to read on. Make sure you have a nice backup of books to read; there's nothing worse than finishing your book on a flight and then having no wifi to download a new one.
It's all about the attitude
Remember that it's not just about luxury products and cool gadgets to help survive an economy flight, it's all about your attitude. Keep yourself busy, chat to your fellow flyers, get excited about your holiday and then put some tunes on, close your eyes and pretend your at the front of the plane sipping champagne. You'll be there in no time.
Let us know if you have any more tips to survive an economy class!