How would you like free nights at a fabulous and luxurious hotel like the Marriott, Phuket in Thailand?
Or how about free hotel nights in Costa Rica, perfect for nature lovers, scuba divers and beach lovers alike?
Wouldn't it be great if you didn't have to enter a competition or spend months (possibly years!) saving for a luxury hotel.
The good news is you don't. You really can get free hotel stays at luxury hotels. All you need is a hotel loyalty club, a credit card and some determination. Keep reading and I'll show you how…
How do hotel loyalty programs work?
Many of the big hotel chains operate loyalty programmes with an aim to encourage guests to commit to their brand in exchange for a range of goodies.
Those goodies might include complimentary breakfast, access to the executive lounge for canapés and evening drinks, room upgrades, wi-fi and more.
The goodies become more impressive as you progress through membership tiers, as each chain looks for ways to make your stay more memorable, and woo you into never ending loyalty.
It works too! Once you have opted for one chain, it is difficult to switch to a different programme. If you are enjoying the perks of free drinks, food, wifi and more, then reverting to the base tier of another programme is not an appealing prospect.
With my loyalty cards, I have been unashamedly diva like, in the quest to maximize my membership. I even managed to secure a four night upgrade in the Waldorf Astoria New Orleans whilst on a work convention last year, to the dismay of the Executive Directors in line behind me (they got a standard room!). Well, if you don't ask, you sure as hell wont get.
It's a pretty nice room, I think you will agree? An incredible hotel too if anyone is thinking of heading there….
Once you have signed up to a programme, each stay earns you reward points, which can then be exchanged for FREE nights.
You can sign up with all the big chains like Marriott, IHG, Hilton, and more, but beware, this isn't necessarily the smartest way to collect.
After all, there are only so many overnight stays you can indulge in, unless you are a Hollywood movie star with a permanent abode in the Presidential suite of your favourite hotel.
Which program for you?
It makes sense to pick one or two hotel chains you like and focus on those. It is worth having a few at least, as some countries or cities may not have an hotel within your programme or budget. However, more than two or three and you may find it difficult to accumulate sufficient points to make it worthwhile.
My main focus tends to be on Hilton and Marriott, both of which have a large presence in the UK, and are usually (unless I'm in central London) within my expense budget.
Plus the Hilton Metropole in Birmingham has been known to leave Belgian chocolates, and mini bottles of wine, in my hotel room. That's definitely one way to make an impression on me!
How to collect Marriott Rewards
Today I'm going to start with Marriott Rewards.
Marriott offer a wide range of hotel options from budget to bonkers (price that is!). There are over 4,200 hotels, from 16 brands in 79 countries, so unless you are super-picky, they should have something to suit your budget and taste. In their portfolio of properties you can choose from the mega swish Ritz Carlton (drool worthy indeed!) to the more budget conscious Courtyard chain.
There are functional hotels fit for business, and more resort style hotels ideal for weddings and honeymoons. How incredible would it be to get your honeymoon hotel paid for?!
So how do I earn Marriot Rewards points?
All you need to remember is the Stay, Play, Pay motto.
Stay
Book hotel nights at any hotel in the Marriott group. UK residents will be familiar with the likes of Marriott, Marriott Courtyard, and Ritz-Carlton, but there are other global brands within the group that will also earn you rewards.
For each night you stay, you will earn between 5 and 10 points per US$, so a hotel room at the Marriott costing $100 dollars, will earn you 500 points.
Once you have stayed for 10 nights, you will be promoted to Silver Elite, and will receive even more goodies, plus Silver Elite members earn an extra 20% bonus on stays. Gold members earn an extra 25%, and Platinum members a whopping 50% extra. That same $100 room is now worth 600 (Silver), 625 (Gold) or 750 points (Platinum). There are different benefits for each of the Marriott Rewards four tiers of membership. Room upgrades and late checkouts are things you may look forward to as you progress towards VIP status!
I particularly like the perks of lounge access which you get once you become a Gold member. Entrance includes free drinks and canapés during set hours, and even if you only have a few wines each, at an average cost of £8 – £10, per glass, it is worth around £50 per visit.
Even More Free Nights
One benefit that all membership tiers enjoy, is a 5th night free on redemptions, which is a great incentive for you to save points, and redeem them in bulk, to fund a longer trip.
Imagine heading off for 10 nights in Costa Rica, and using 8 nights of redemptions.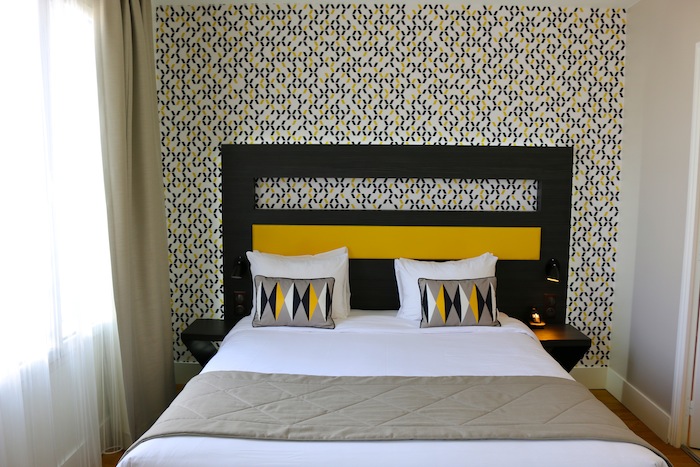 Corporate Bonus
(skip this section if you don't work in events, or aren't a business owner)
If you do happen to work in events and you're booking hotel rooms for a group, or run your own company, and wish to reduce company expenses you can really ramp up your points by joining a reward, and earn free nights even sooner.
It's way more fun if the company is contributing to your personal free holiday, but there's also great advantage to be gained by small and large companies alike looking to reduce expenses.
For corporate events or meetings booked, you earn 3 points per $1 USD, up to a maximum of 50,000 points (3 points per $1 USD). That alone would pay for 6 free nights at the Courtyard Pune in India.
Play
So now you have booked your hotel rooms and settled into your comfy room, should you venture to the bar, or restaurant, indulge in a spa treatment or round of golf, you will earn extra points for that spend too.
In addition, you can also earn rewards from over 30 participating airlines, and a whole list of other reward partners including cruise companies, AVIOS, online shopping and more.
Pay
Marriott also offers a reward credit card which seems a very attractive option. You can view a comparison of reward credit cards here, albeit with more of an airline focus, however the Marriott card is a great option for those who prefer to get free hotel nights.
For every £1 spent in Marriott hotels, you earn two reward points, and one reward point elsewhere. Overseas Marriott hotel stays earn you four rewards per £1 and two for all other overseas spend.
There is no annual card fee and you earn 10,000 rewards if you spend £200 in the first six months, plus a further 2,000 points on the card anniversary.
Example Earnings for First Year of Marriott Rewards Membership
| | | | |
| --- | --- | --- | --- |
| Expenditure | Earnings Rate | Spending Amount | Rewards Earned |
| Marriott Hotels (UK) | 5 Points per $1 | £1000 | 8,000* |
| Marriott Credit Card | 2 Points per £1 | Double dip on above spend | 2,000 |
| Credit Card Bonus | | | 10,000 |
| Annual Credit Card Bonus | | | 2,000 |
| Other Spend (UK) | 1 Point per £1 | £8,000 | 8,000 |
| Total | | | 30,000 |
*Assuming USD exchange rate of 1.6
That would pay for 4 nights at The Courtyard Pune or one night at the Ritz-Carlton Bangalore. In fact, I'm tempted to get this card right now, although I'd best finish off satisfying the minimum spend for my bonus 20,000 AVIOS on the American Express Gold card first.
How do I redeem?
Now this is probably what you really want to know right? How much will it cost you to redeem, and how easy is it?
I've already given you a few examples, but let's take a closer look.
Navigate to the bookings page, and enter your target dates and destination. Make sure you select the 'Use Rewards Points' option.
If you are inflexible on dates, leave the 'flexible on dates' box unchecked and you see a screen like this, showing a selection of hotels and the reward options for each.
If, on the other hand, you are flexible, tick the box 'my dates are flexible' and it will return a screen like this.
This site is so easy to use, and I found availability for Marriott Rewards to be fantastic. You can see from the screenshot there's lots of availability, and this seemed to be typical of all the dates and hotels I selected.
Selecting 'my dates are flexible' might give you Points Saver options for your stay too, allowing you to maximise your points further. Points Saver nights are discounted by up to 33%.
The table below should the points required for redemptions in different tiers. As you can see, these start from as low as 7,500 increasing to 45,000 for category 9.
Some of the redemptions seem very reasonable, with the Ritz-Carlton Bangalore costing just 30,000 per night.
In other words, you could head to Bangalore for ten nights for 240,000 points (remember those two free nights are included!). This may seem like a lot, but assuming you take out the reward credit card too, it's easier than you think, particularly as you accumulate points faster once you reach Silver status.
So how do I get started?
Sign up for Marriott Rewards here, if you haven't already.
What else do I need to know?
Expiring points
If no activity takes place on your account for 24 months your points will expire, however it's easy to avoid this by following these tips.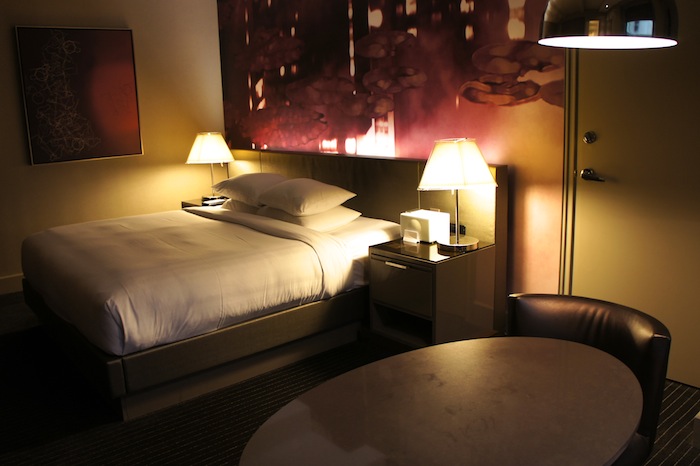 Exclusions
Some hotels in the group do not allow redemptions to pay for hotel rooms. This includes some of the Ritz-Carlton hotels (spoilsports!), but you will still be spoiled for choice.
For a full list of exclusions see the terms and conditions here, especially if you are planning a special trip, and have a specific hotel in mind. How devastating would it be to save the points, only to find you cannot redeem them for the hotel of your choice?
Tracking Points
Don't worry if you struggle to keep track of your points, you can use an app like Usingmiles or Loyalive which will take care of that for you.
Start Collecting
So everyone truly can enjoy free hotel nights. No competitions, no gimmicks, just a hotel loyalty membership scheme, credit card and determination.
Admittedly, we might not all be able to redeem for nights at the Ritz, but redemptions for 7,500 are easily within reach of even the most modest of spenders, and before long you could be drinking cocktails at sundown.
I you have a burning desire to see a specific hotel chain covered, please pop a note in the comments box, or connect on social media, and I will do my best to oblige.