You've made the decision you want to travel more this year. You've realised experiences are more important than possessions and you've put together a plan to start saving for your next big trip.
But how are you going to decide where to actually go?
Budget and time will undoubtedly play a part in the decision making process but with so many amazing places in the world, from a serene yoga retreat in Bali to an adrenaline-filled adventure in Iceland, how do you whittle it down?
If you're anything like me, you'll just want to go EVERYWHERE and explore as much of the world as possible! But unless you're taking a few years out to travel, this really isn't an option. While some people want to go everywhere, other people don't have one place on their wish list and they're not sure how to discover new places to go.
Whichever situation you're in, here are my top tips to help you choose your travel destinations.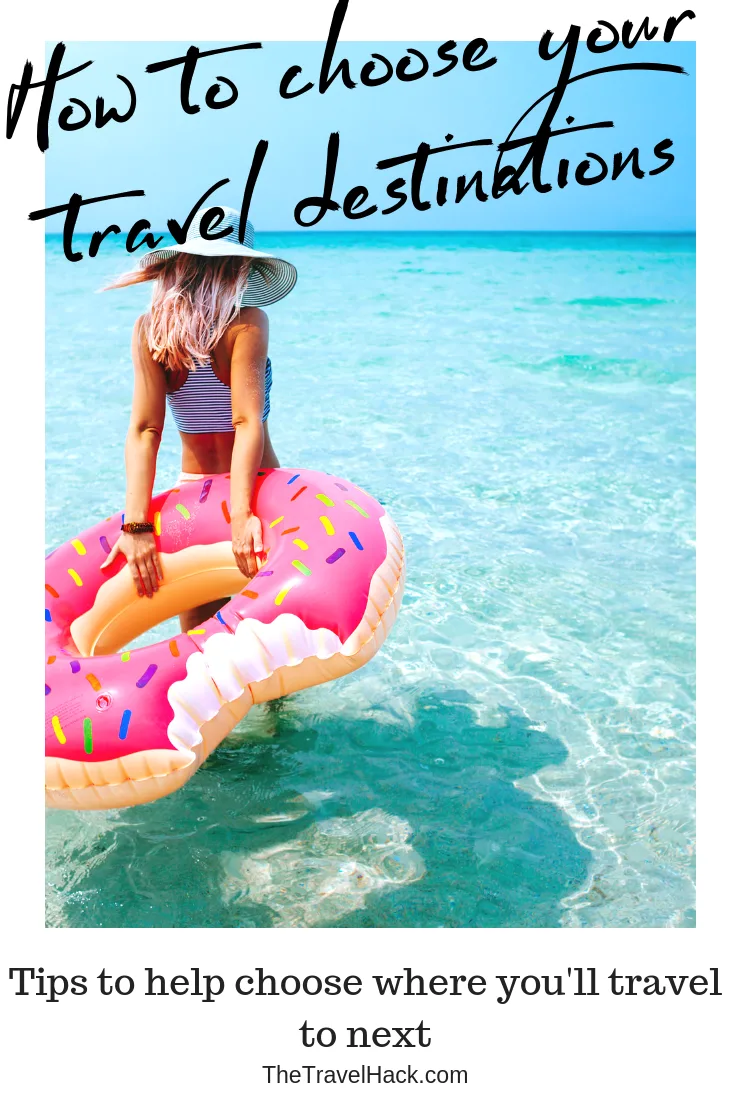 First of all, let's start with some questions:
City, beach or countryside?
Hot or cold weather?
Adventure or relaxation?
Shopping, culture or adrenaline?
Family, friends or boyfriend/girlfriend? Or maybe solo?
Independent travel or have everything organised for you?
Budget or splash the cash? Or somewhere in the middle?
Off the beaten track or a tried and tested destination?
We've starting thinking about what kind of holiday you're after, so it's easier to pin-point the kind of destination you'd like.
Now it's time to get in the right frame of mind…
10 tips when choosing your destination
#1. Be open-minded
Haven't heard a place? Can't even pronounce a place? Have no idea where a place is? But you've found suspiciously cheap flights to said place…? Google the hell out of it, check it's safe and book that flight! Sometimes you'll have the best adventures in places you can't pronounce. Ljubljana, I'm talking to you.
#2. Be creative
You want to travel to a certain destination but flights are really expensive? Don't let this put you off, find an alternative. Using the example of Ljubljana again, it's really expensive to fly direct but flights to Venice are cheap and then there's a 2 hour shuttle bus from Venice into Ljubljana. Problem solved.
#3. Consider the underdog
Every country has a 'second city' and it's often a much cheaper and a more unique alternative to the capital city.
#4. Be decisive
You've found a place you want to go. Book it now. Go on, book it. Don't think about it for 3 weeks and then think a bit more and then realise you've missed the opportunity.
#5. Ask yourself 'why'?
Why do you want to travel? Do you want to relax, have fun with your mates, reconnect with a loved one, switch off from work, learn something new, get a tan or have an adventure? It's easier to decide where you're going when you know why you're going there.
#6. Remember, remember…
You'll only regret the things you didn't do.
I always think about this when I need a kick up the arse to be a little more adventurous.
#7. Safe choices aren't bad choices
Yes, I like to be adventurous in my travel choices but a good old weekend in Paris or an all-inclusive beach holiday should never been sneered at. So what if a million people have done it before you. If you have a good time, that's all that matters.
#8. Go Solo
You've found somewhere you REALLY want to go but no one wants to go with you? Don't let this stop you, go solo!
#9. Don't dismiss your own backyard
Who said travelling has to include long flights? Search a little closer to home, you'd be surprised by the hidden gems you might find.
#10. There's always a budget option
Don't let your budget stop you from travelling somewhere. Even the most expensive countries have budget options like hostels where you can cook your own food, free city tours and public transport. You're going to need to be creative but that often makes it more fun.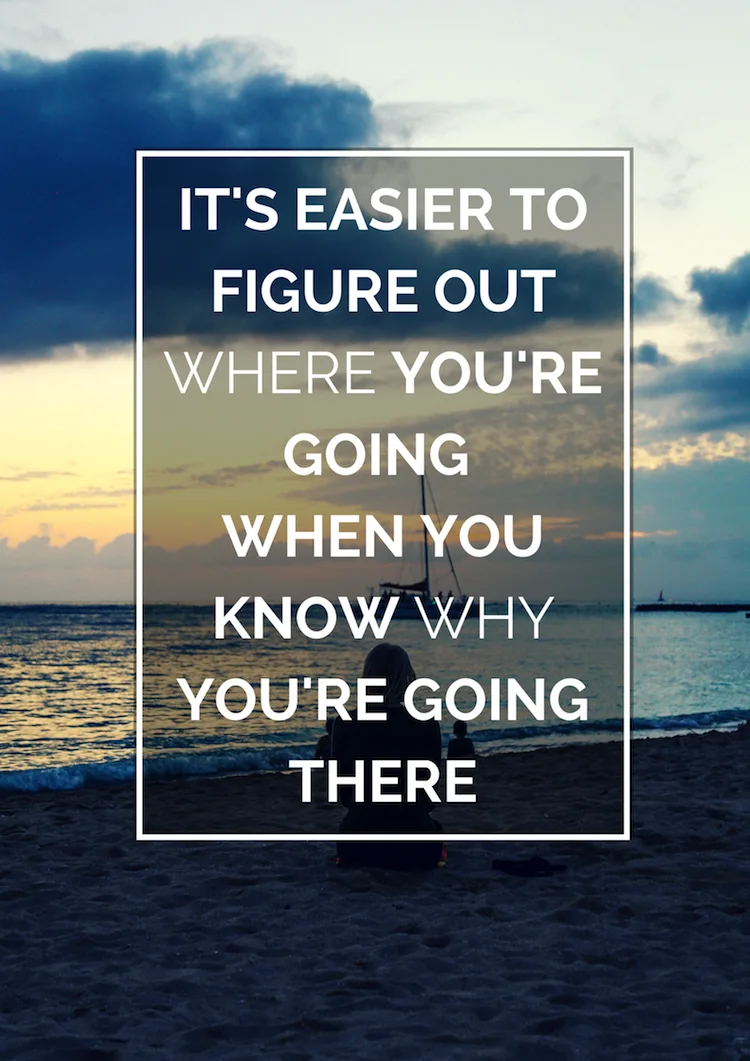 Now you know what kind of trip you want and you're in the right frame of mind to start your search. It's time for the fun part…
Where to look for travel inspiration
The inspiration stage of travel planning is my favourite part. January is the perfect time of year for this stage because most people spend a lot of time indoors and often don't have much money to get out and about.
This is the time to get yourself a giant pot of tea or coffee, crack open the Chocolate Hob Nobs and spend a weekend surrounded by books, magazines and your laptop.
Pinterest
Ahhh, Pinterest, my favourite procrastination tool and an endless source of wanderlust.
If you aren't familiar with Pinterest, think of it like an online mood-board or scrapbook. You can create as many 'boards' as you like and you 'pin' images to your boards. This is the modern day version of chopping up magazines and gluing them into a scrapbook.
You can have boards for all sorts of things such as your travel wish list, beautiful beaches, hotels you want to visit, activities you want to try or country specific boards. I even have useful boards such as 'Travel Tips' with articles I find online that I know I'll want to read again in the future.
Start by searching for travel pins and before you know it you'll have lots of boards filled with places you want to visit.
Warning: There's a crazy amount of photos of Santorini in Greece on Pinterest so this island will soon be on your list!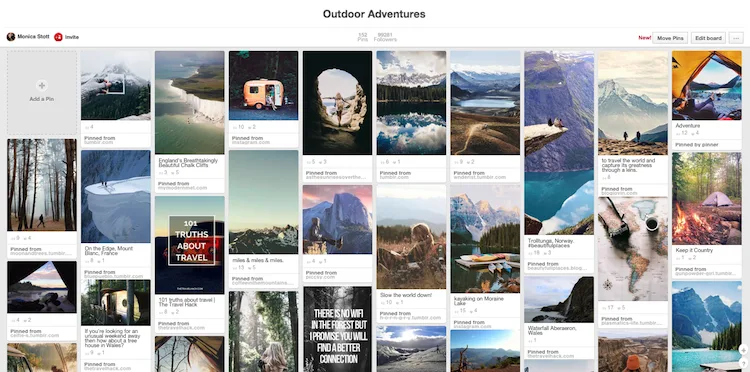 Lonely Planet's Lists
It seems like every travel site has a list of 'Top Places to Visit this Year' but the only lists I'm ever interested in are the Lonely Planet Best in Travel lists.
Lonely Planet are usually spot on with up-and-coming destinations. It's good to be one of the first to visit these places, not only because we all love to say, 'I went there before mass tourism hit', but it will also be cheaper if you get in there a year or two before everyone else.
I love the big Lonely Planet books such as Lonely Planet's Best in Travel 2017. Make sure you get the print edition rather than the Kindle or ePub. You'll want this on your coffee table and it's too gorgeous to be hidden away on your Kindle.
If you plan to travel a lot in 2015 then budget is likely to play a big part in choosing your destinations. Check out Lonely Planet's Best Value Destinations for some inspiration.
Accommodation vs Destination?
Rather than searching for destinations, search by accommodation option. Maybe you want to stay in an amazing spa, the most luxurious hotel in the world, a themed hotel or something really quirky?
Accommodation is often more important than the destination if you plan to have a relaxing break. If you're going to a spa for example, it doesn't matter where you are because you'll spend most of your time wrapped in a fluffy robe while you're pampered from head to toe.
Consider staying closer to home to save yourself time and money. You'll still feel like you've had a holiday without spending days of travelling to get there.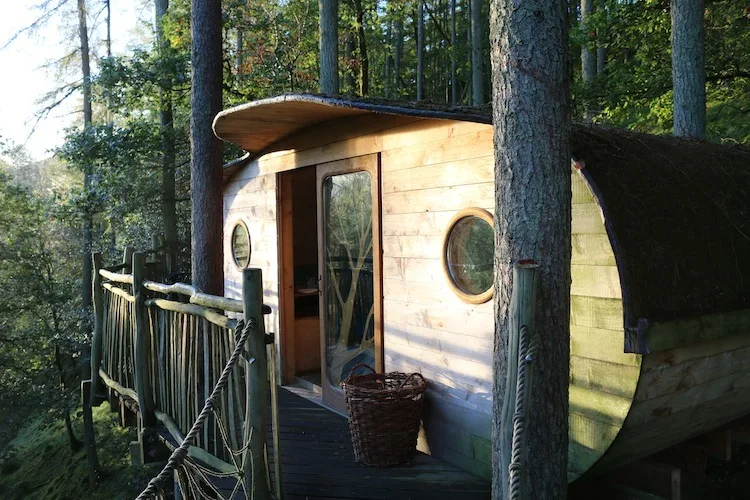 This tree house was just an hour from home but felt like another world.
Travel Bloggers
I know I'm biased but I think following travel blogs is the best way to find travel inspiration.
I've got a great list of weekend away ideas here and it even makes me want to book a weekend break!
Travel bloggers are often ahead of the game when it comes to new travel destinations. Most bloggers will do a combination of independent travel and working with tourism boards to help them uncover the best things to do.
Bloggers can also keep you motivated to keep travelling – although there can be a fine line between inspiration and pure jealousy!
Here are some of my favourite bloggers to keep an eye on:
This list could go on and on and on because I read so many blogs so maybe I'll save that for another post.
Magazines
I'm a magazine addict and I'll pick up a travel magazine virtually every time I get on a train.
If you're lucky enough to have a good library nearby, make the most of it! My local library has subscriptions to magazines like Wanderlust, Lonely Planet, National Geographic and lots more.
Travel for a festival
If you've always been saying you'd love to travel for a particular festival or event, make 2015 the year you actually do it.
You usually need to get your flights and accommodation booked in early if it's a popular event so look into it as soon as you can.
Here are some ideas:
India for Holi Festival
Thailand for Songkran
Edinburgh for the Fringe Festival or Hogmanay
London for Wimbledon
Spain for Benicassim
Travel for a hobby
Do you have a particular hobby that can be incorporated into a holiday? I love yoga holidays and my boyfriend loves scuba diving holidays so Bali was an ideal holiday destination for us because it's great for both.
Other hobby holidays might include:
Cycling holidays
Skiing holidays
Sailing holidays
Fishing holidays
Golfing holidays
Writing holidays
Photography holidays
The list could go on but you get the idea, you can find a holiday for pretty much any kind of holiday!
If you need some more inspiration, here are my dream trips for the #Take12Trips challenge.
As I'm pregnant and Baby is due in March, there's no chance I'll be doing all of these this year but I can dream, right…?
January – A healthy yoga holiday
February – A skiing holiday with a stay in a gorgeous, rustic lodge
March – A weekend in Paris
April – Sri Lanka
May – Krakow
June – Mozambique
July – Road trip around Ireland
August – Camping or glamping in the UK
September – Dubrovnik
October – Iceland
November – Morocco
December – New York
Once you've decided on a destination the next stage is getting it booked. Next Monday's post is all about finding the best deals on flights. Keep your eyes peeled or sign up for the newsletter so you don't miss it.
---
Do you have any more tips to help choose a travel destination?
In case you missed them, check out: