If you're lucky and you feel well enough to travel while you're pregnant then there is nothing stopping you travelling the world.
Most airlines restrict travel after 36 weeks (for an uncomplicated single pregnancy) but until then, the world is your oyster. Today we're sharing our pregnancy travel essentials to help you travel in stress-free style while you're pregnant. A few members of The Travel Hack Team have now travelled extensively while pregnant so we've got lots of tips!
I'm a firm believer that if you feel well then you should make the most of your final baby-free months and travel as much as you can. I can't wait for Baby to come along but I'm well aware that travelling with a baby will be much more difficult than travelling with a bump.
Travelling while pregnant can be a little uncomfortable and tiring at times. It can also be difficult to know what to wear with this new basketball shaped bump stuck to your front!
Personally, I've done my best to avoid buying too many maternity clothes. Having a baby is expensive enough so I don't want to waste too much money on oversized clothes I'm only going to wear for a few months.
Plus, most maternity clothes seemed to be designed for middle-aged women stuck in the 90's with a limitless budget to waste on hideous, over-priced clothing. (Sorry, that was a bit of pregnancy-induced rage starting to escape there.)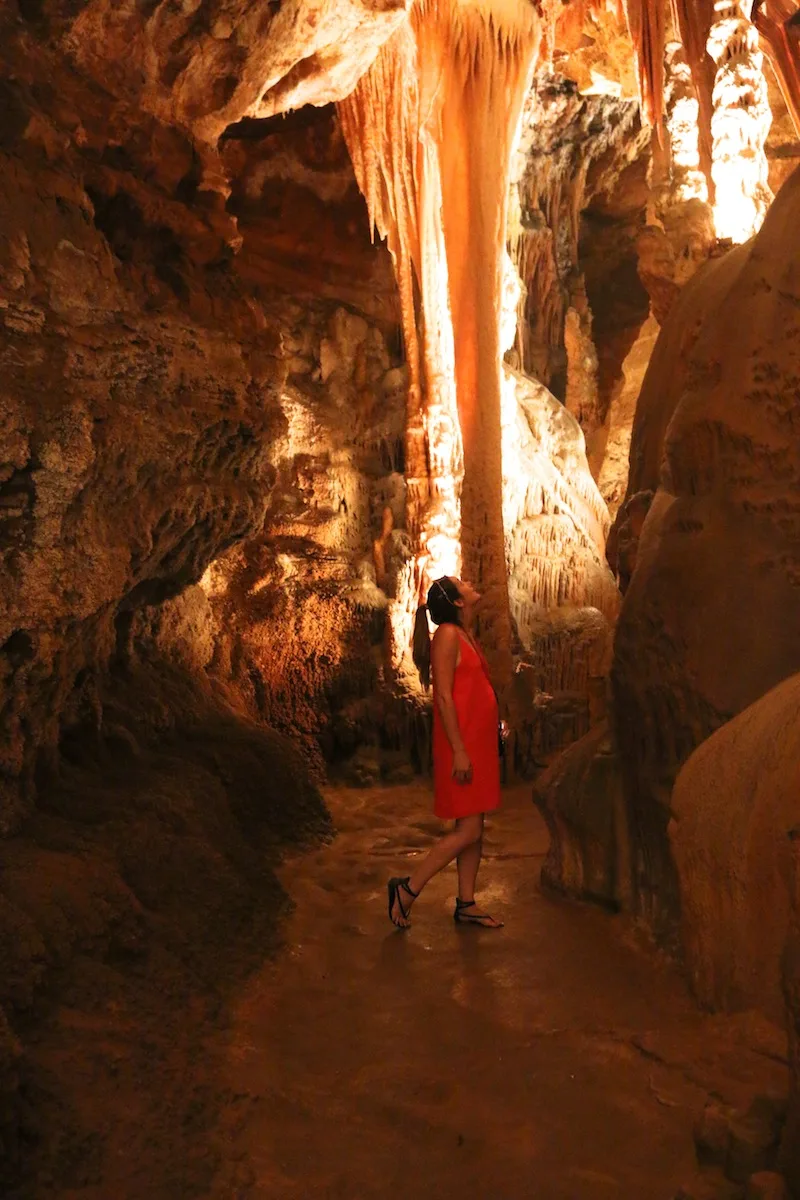 Here are our pregnancy travel essentials to help you through every stage of your journey…
What to pack for flying while you're pregnant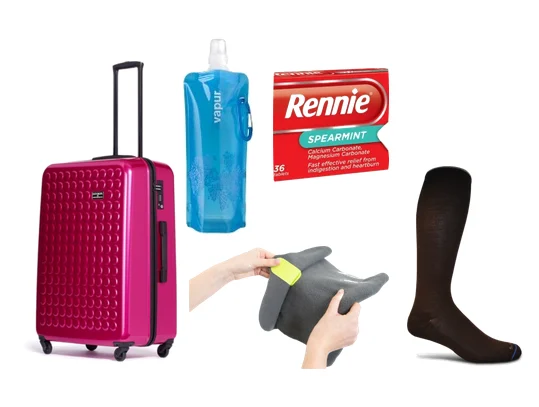 #1: Easy to wheel luggage
Even if you're checking your luggage in, do your best not to overpack because you don't want to hurt your back lugging it around.
Make sure your case is light and easy to wheel to make your journey as simple as possible. Check out The Travel Hack Pro Cabin Case for a great luggage option with a handy top pocket!
You'll also want some packing cubes to keep your belongings neatly organised.
I'd also travel with wheeled hand luggage – even for your small 'under the seat' free bag. It's just one less thing to carry and Cabin Max have an adorable little under the seat wheeled suitcase. My hand luggage often gets surprisingly heavy just with my laptop and water bottle and other bits and bobs so don't lug a heavy bag on your shoulder.
Get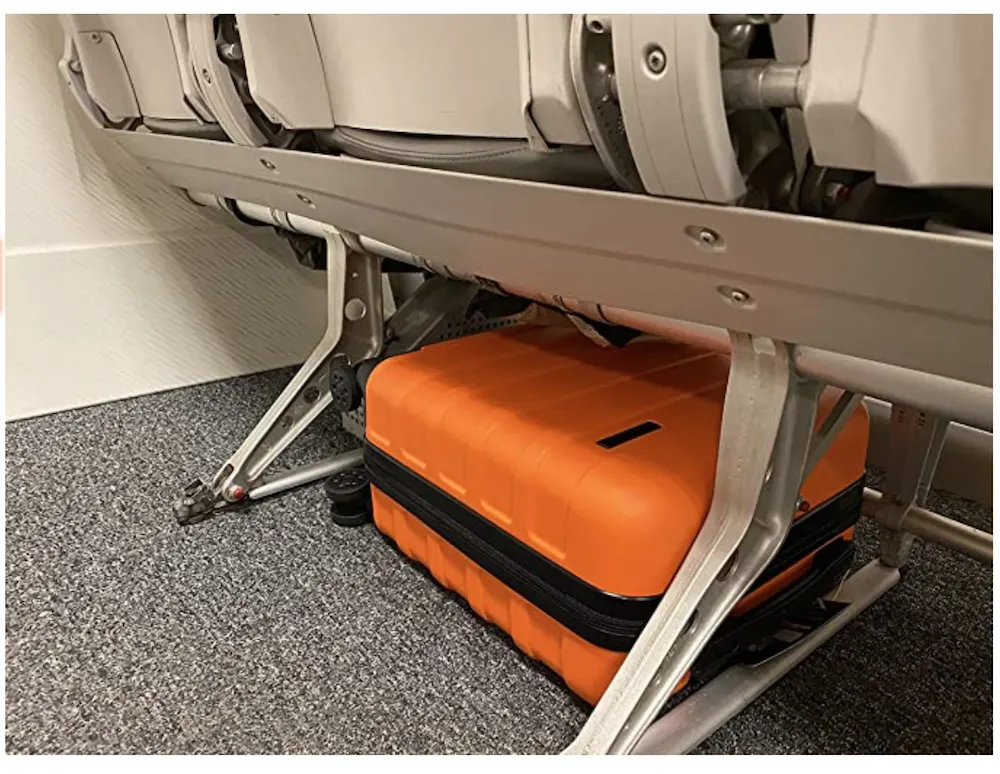 Get yourself a wheeled hand luggage bag so you don't need to carry anything. You can even get tiny wheeled suitcases that fit under the seat in front and can be your 'free' hand luggage bag. This orange one from Cabin Max is currently out of stock but here's an alternative.
#2: Pillow for the plane
Even if you're not ill with pregnancy, chances are you're going to be super tired. Make the most of every opportunity to nap because you'll need to save all your energy for the fun parts of travelling. Pack a comfy pillow to help yourself nod off and get some shut eye.
I'm a big fan of the Trtl Sleepscarf
because it isn't too bulky and is super comfy.
You also can't go wrong with a good old-fashioned U-shaped travel pillow!
Buy your travel pillow online before you leave because they're twice the price at the airport!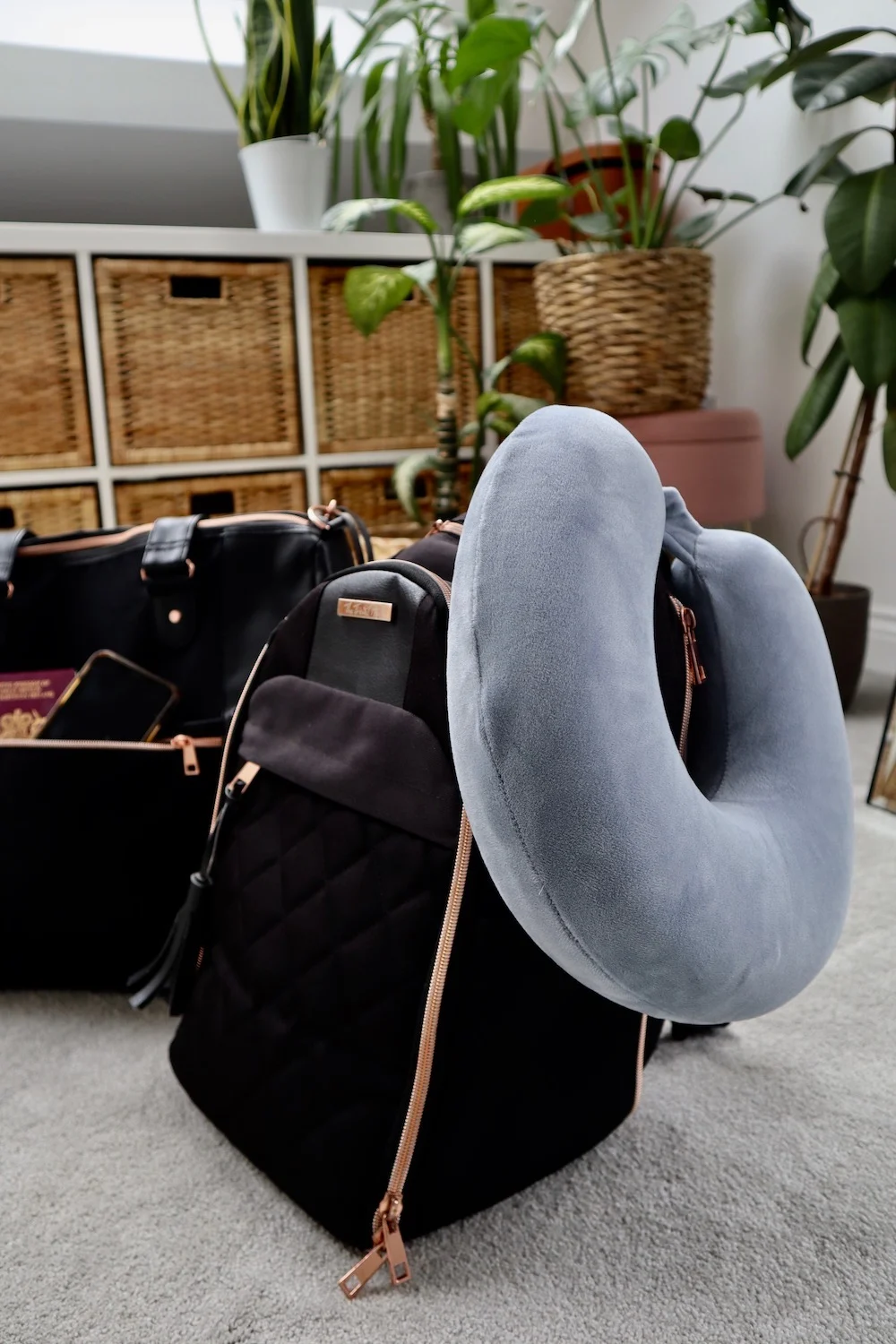 #3: Vapur Water Bottle
One of the most important things about travelling while pregnant is staying hydrated. I mention the Vapur Water Bottle
all the time and I've been travelling with mine for years. The reason it's so good is because you can roll it away when you're finished so it won't take up any space in your bag and you won't be tempted to use (and waste) plastic bottles. It also fits under the tiny tap on planes that you can't fit a regular bottle beneath.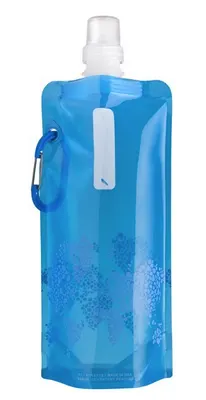 #4: Letter from the doc
Once you reach 28 weeks you're meant to travel with a letter from your doctor declaring you fit for travel. Make sure you check with your airline as you may need one earlier than 28 weeks. I'd recommend getting one if you have a big bump early on too. The airline staff have the right to refuse entry onboard the plane so it's not worth the risk.
Having said that, call me a dare devil but I flew at 28 weeks without a letter from my doctor. I have a small bump and even at 28 weeks I could hide it beneath my big winter coat so I knew I'd get away with it.
#5: Travel Insurance
Make sure your travel insurance company know you're pregnant and you're covered. If you're considering risking it and not upgrading, read about the British couple who travelled to New York when she was 29 weeks pregnant. The baby was born 11 weeks early. He's a healthy little bubba but the couple faced a £130,000 hospital bill! They have actually been let off after their story went viral on social media but they were very lucky. Moral of the story – make sure you have very good insurance that would cover any medical expenses.
#6: Heartburn tablets or sachets
Heartburn is a common complaint for pregnant women and it can be made even worse by plane food and cramped conditions. I prefer the sachets but remember you won't be allowed to take liquids through security so stock up on tablets or buy them once you're through security.
#7: Flight Socks
They're not sexy but they are practical. You've got more chance of DVT while you're pregnant so pick up some flight socks. My feet and ankles always swell when I fly but since I got pregnant I've been wearing flight socks and I haven't had any swelling at all.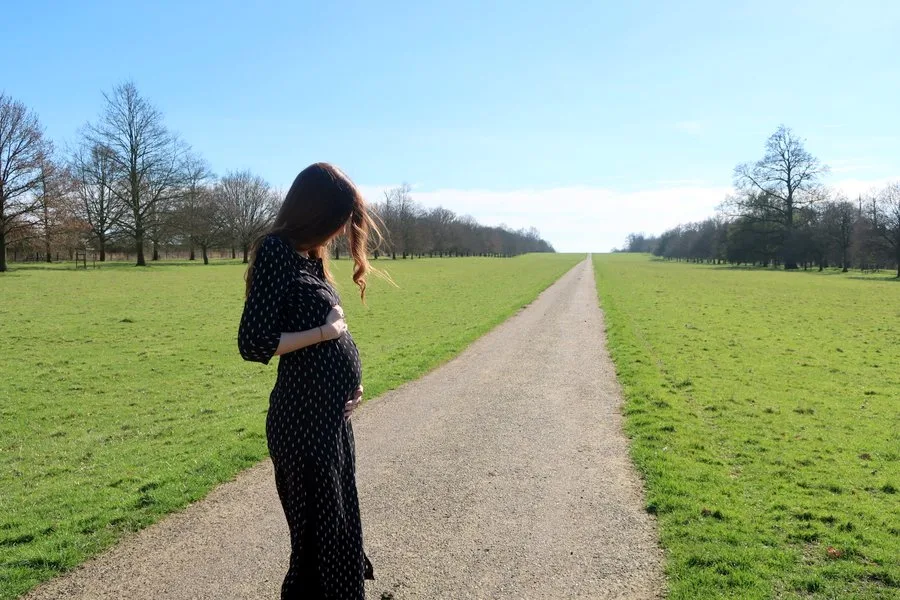 What to wear on holiday while pregnant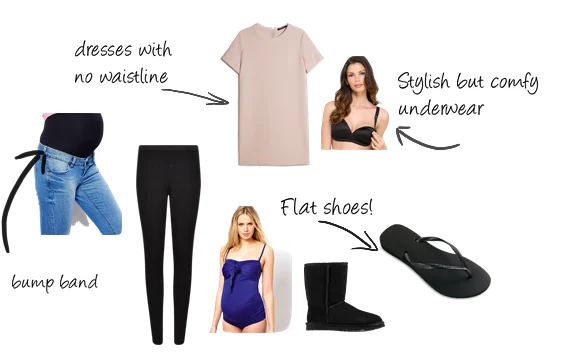 #1: Flat, comfortable shoes
I'm sorry to say this but pregnancy is not the time for 4" heels. Make life easier for yourself and leave the heels at home.
I've found myself in my UGG boots more and more, particularly while I was in Gothenburg and it was freezing. I know they're ugly but they're so damn comfortable I don't care.
Remember that if you're travelling to a hot country you're more likely to get swollen feet, particularly on the plane. So you'll be best in open-toed sandals or flip flops.
Take a look at our post with the best shoes for travel for some inspo!
#2: Comfortable but stylish underwear
One of the perks of being pregnant is the rock star boobs you acquire almost immediately. One of the downsides is that your sudden boob growth-spurt can be uncomfortable and you won't have a single item of underwear that fits.
A lot of the maternity underwear reminds me of the enormous items I used to see billowing on my grandma's washing line. Thankfully, there are some sexy and stylish options out there too!
Look out for bras without underwires and try to find one that's adjustable. If you plan to breastfeed you might as well get one that can double as a nursing bra once needed to avoid buying even more maternity clothes in the future.
I'm a big fan of Bravado, particularly the bras that aren't size specific and come in small, medium, large and extra large. After years of being told you need to have the perfect fitting bra, I was unsure if this was a good idea but they fit perfectly. It also means you won't need to keep buying new bras as your boobs get bigger and bigger as the months tick by.
#3: Leggings
I basically live in leggings these days. It gets a bit boring but it makes packing for travel really easy. Leggings barely take up any space in your case and they can be easily dressed up or down. You could buy maternity leggings or just go for a bigger size. I really like Love Leggings maternity leggings. They're a great price and really comfy and soft – but it's worth noting they're quite thick and cosy so they're ideal for winter pregnancies but you might be hot in the summer.
#4: Long tops & dresses
You don't need to fork out on loads of maternity tops, I found that my long tops and dresses were fine and I wore them for long after the baby was born too. It might be worth getting a few long cami vests (possibly with breastfeeding clips) to go underneath shorter tops.
A lot of my shorter dresses now look like long tops so I wear these with my leggings.
If you've read any of my other packing posts, such as What to pack for a cruise, you'll see that I like to travel with lots of small, lightweight dresses. These dresses are now coming in really handy during pregnancy!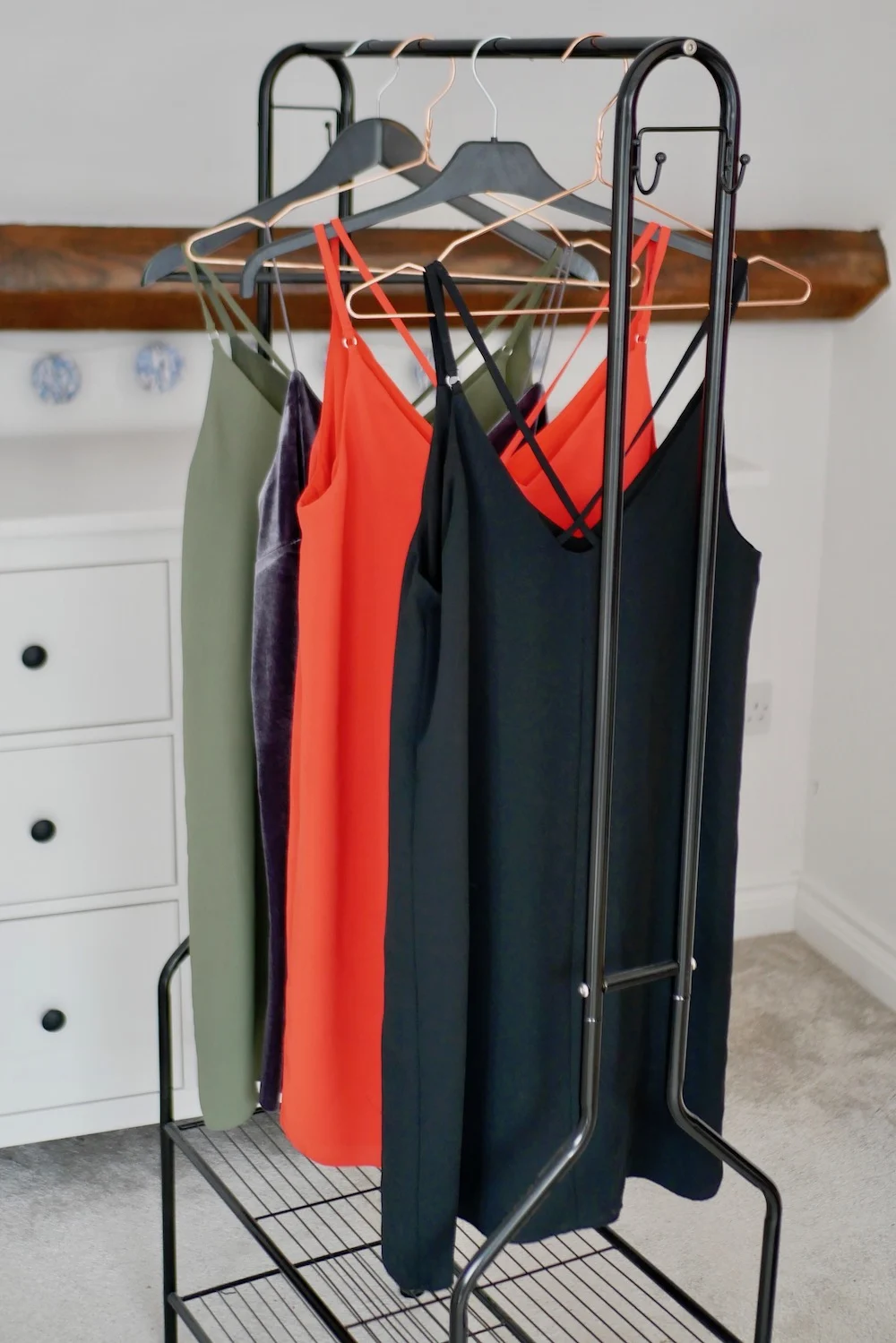 These simple slip dresses are honestly the items that get the most wear in my whole wardrobe. They saw me through 3 pregnancies and I still wear them now!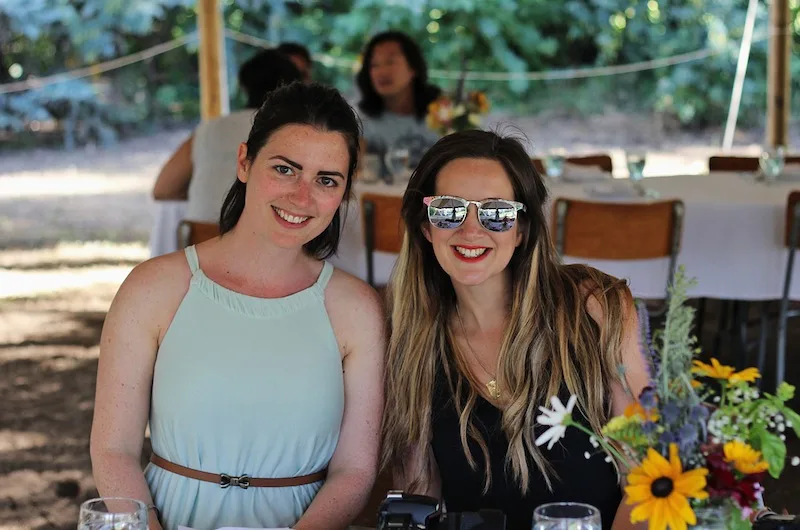 Wearing the black dress over maternity jeans while pregnant in Canada.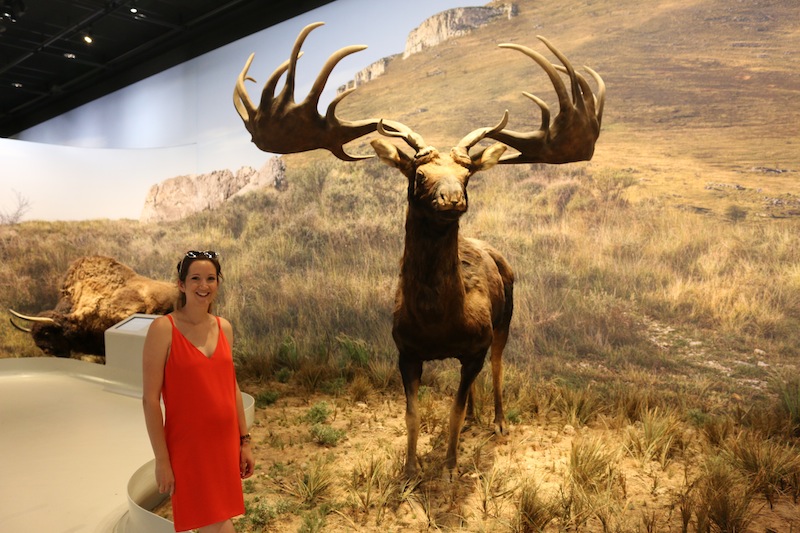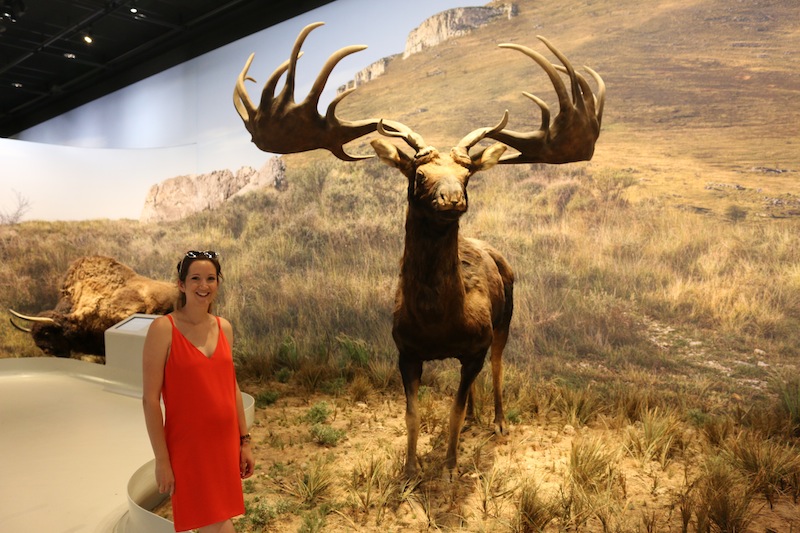 And the red one getting a little snug while travelling in France!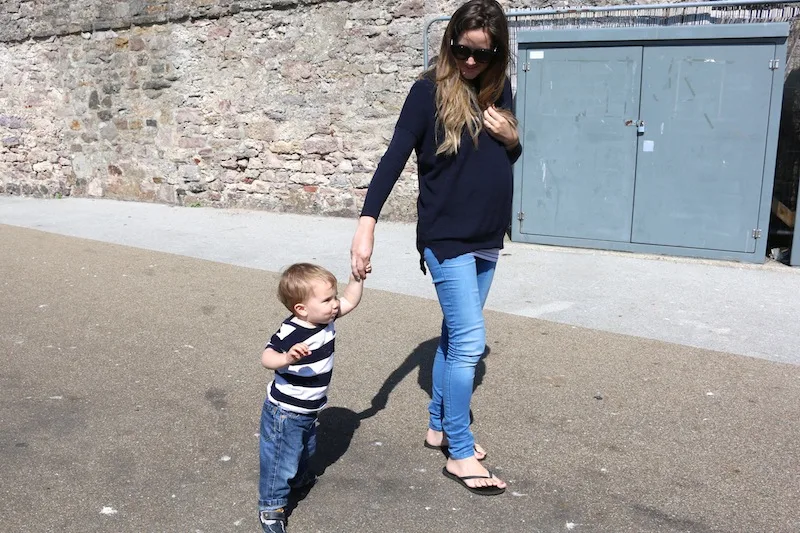 Long jumpers over maternity jeans were my pregnancy travel essentials for UK trips!
#5: Hair elastic
You're probably wondering why on earth I've put a hair band on the list. If you don't put too much weight on during pregnancy, you'll probably be able to wear your regular jeans almost to the end.
I'm still wearing my normal jeans but I put a hair band through the button hole to give an extra inch around the waist. This won't work with high waisted jeans but it's fine with most of my regular jeans.
#6: Bump Band
A Bump Band
is a lifesaver for anyone trying to squeeze into their old clothes for as long as possible. It covers your midriff so is perfect if you're wearing under a top that rises up. It also provides some much-needed support for your lower back.
I'm not talking about the bump bands that suck you in after having a baby and claim to 'shrink your tummy' immediately after giving birth. Avoid those ones!
#7: Swimwear
If you're going somewhere hot you're going to want some gorgeous swimwear to flaunt your bump in style. Most maternity swimsuits aren't particularly sexy so I've been opting for a tankini that I'll be able to wear post-baby.
Are there any other mammas out there with experience of travelling while pregnant? What are your pregnancy travel essentials?
Read more:
My ultimate baby and toddler holiday packing list