If you're the kind of person who loves their annual ski holiday and can't imagine skipping it, but also can't imagine how you'd cope on a ski holiday with a baby or a toddler then this is for you! We've just returned from a family ski holiday to Les Gets in France with our two boys – George who was almost two and Joseph who was 4 months.
I've had lots of messages from people asking how we managed a ski holiday with a baby and a toddler. It wasn't exactly the easiest holiday we've ever had but it was great fun and we all loved it. So much so that we can't wait to do it again next year. Here's how we managed…
Travel with another family
We went away with another family who have a baby boy aged 1 and two girls aged 9 and 10. So there were 4 adults, 2 children and 3 infants in total! This meant we were all able to chip in and help out, take turns babysitting and everyone mucks in where necessary. The two older girls were a godsend and were amazing at entertaining the little boys! (Thank you Elexi and Lois!)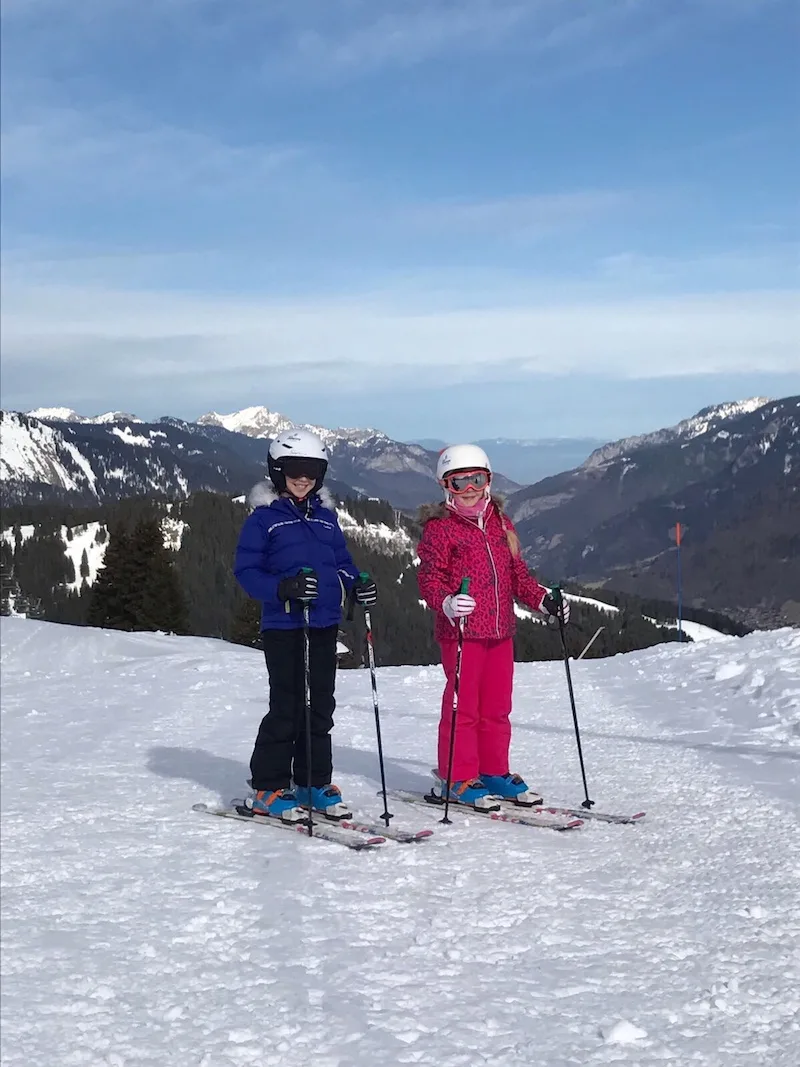 Stay in a chalet
We had a four bedroom chalet with an open plan living room, kitchen and dining area so there was plenty of space for us all. It's much easier to stay in a chalet rather than a hotel as you've got more space and can prepare all your own meals. You also don't need to worry about disturbing other guests and it's basically a home away from home.
This is the chalet we stayed in with Alpine Inspirations. The chalet was beautiful and we were met by an English man when we arrived who was lovely and very helpful. It was nice having the bedrooms across two floors as it meant one family had one floor and another family had another. The living space was a little bit cramped for all of us but the location of the chalet more than made up for this!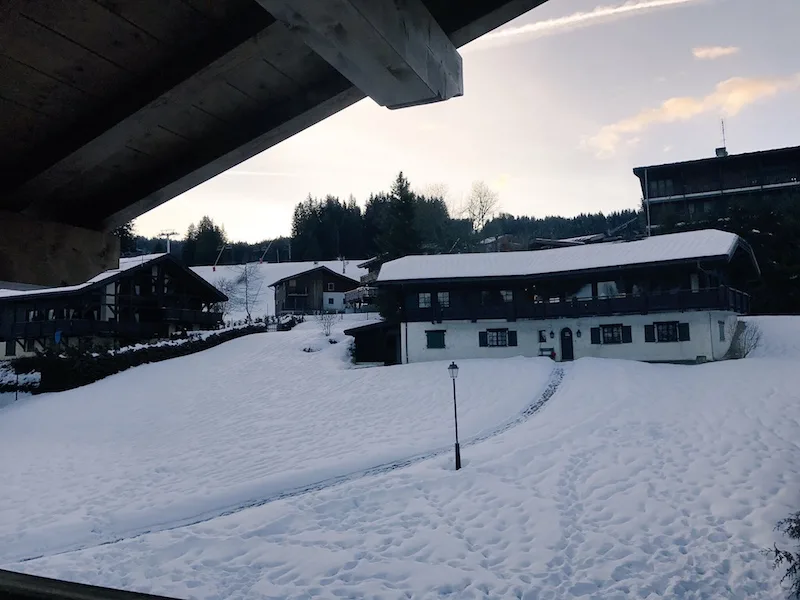 Stay somewhere central
We were so lucky with our chalet and it was pretty much as central as it could be. This meant it was really easy to pop back and to – whether it's to put kids down for a nap, pop back for a snack or to feed a baby, retrieve forgotten gloves or simply the ease of not having to walk far with skis and pushchairs and boots and hats and the million and one other things you can't leave the house without!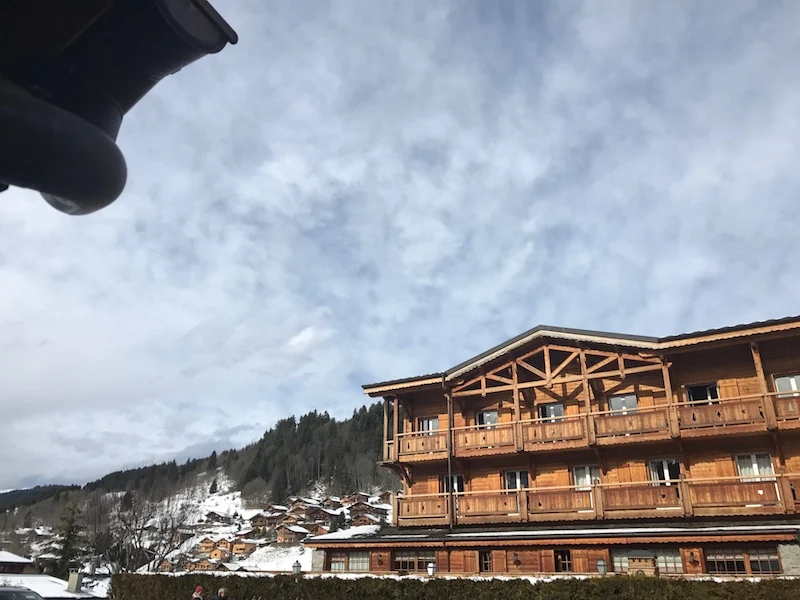 Use caterers
We used an outside catering company to prepare our dinners and it was amazing. They came round at 6pm with our dinner and instructions on how to reheat it and we had delicious dinners when we were ready. It was much easier than eating out every night and was really affordable. After a long day skiing, no one wants the hassle or responsibility of preparing dinner for everyone and the small supermarkets in ski resorts are really expensive so outside caterers are ideal.
We used Dining Direct and I can't recommend them enough!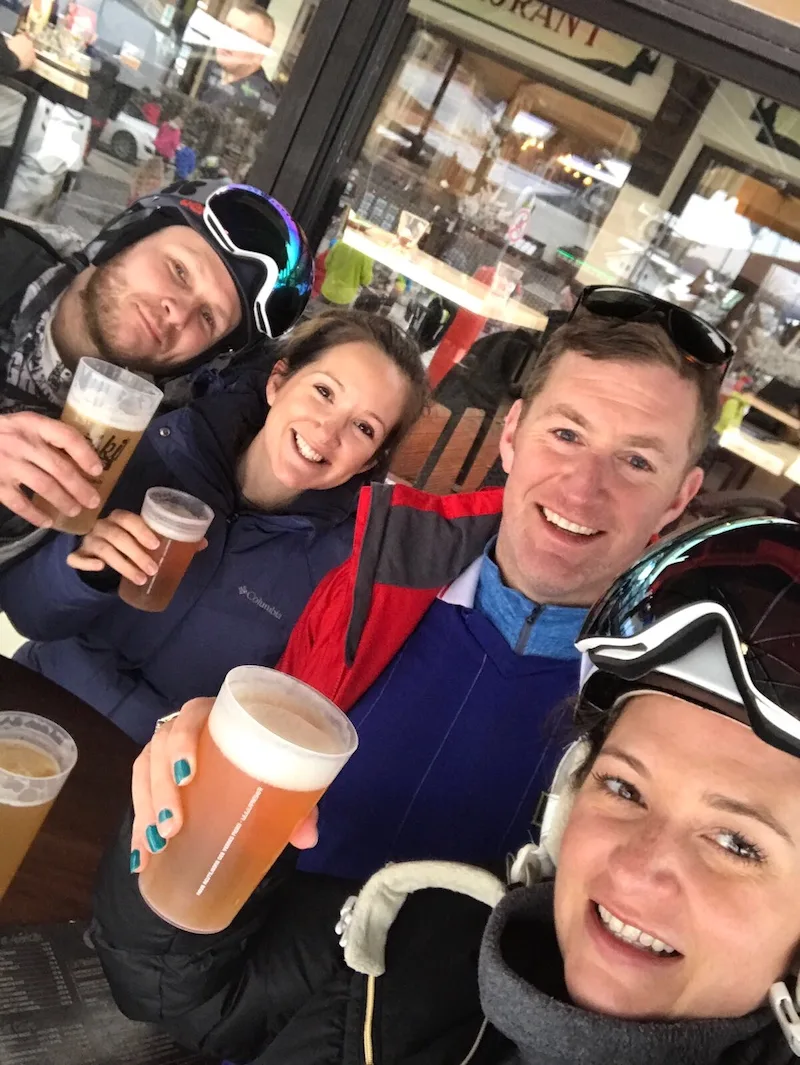 Use babysitters
We used a babysitting service to come into the chalet and look after the 3 boys together. They were British nannies and were all qualified. By law we needed 2 nannies for the 3 kids and we had them for 3 half days from 9am-2pm. They boys loved them and had a great time and it gave us the chance to ski together and have a bit of time off.
This is also where the central location of the chalet came in handy because I'm breastfeeding Joseph so I was able to pop back and feed him really easily.
We used Jack Frosts and they were great.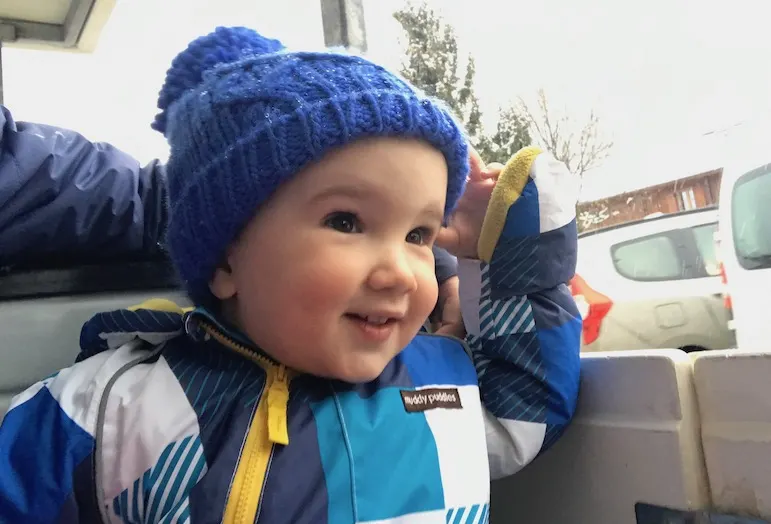 Hire pushchairs
We hired Mountain Buggy pushchairs while we were out there from Intersport (the same place we hired all our ski equipment). We hired them once we arrived but I'd recommend reserving them in advance, especially if you'd like a double pushchair as we had to wait a day for ours.
You could use your normal pushchair from home but the Mountain Buggys were amazing. You can get through the snow, across ice and slush and up and down curbs with no bother at all. It just makes it that little bit easier to get out and about when you've already got your hands full.
I really wish I had a photo of Sam walking down the street in Les Gets with Joseph in a baby carrier, George on one side of the pushchair and his snowboard strapped into the other side. He got a few funny/impressed looks that morning!
Travel Hack Tip: if you're looking for a new pushchair then I highly recommend the Mountain Buggy! I wish I'd just bought one of these for everyday use at home too. It also folds down in one so is easy for the plane. (You're allowed 2 pieces of baby equipment on most flights but if your pushchair folds down into two pieces then this counts as your two bits of equipment, meaning you can't take a car seat).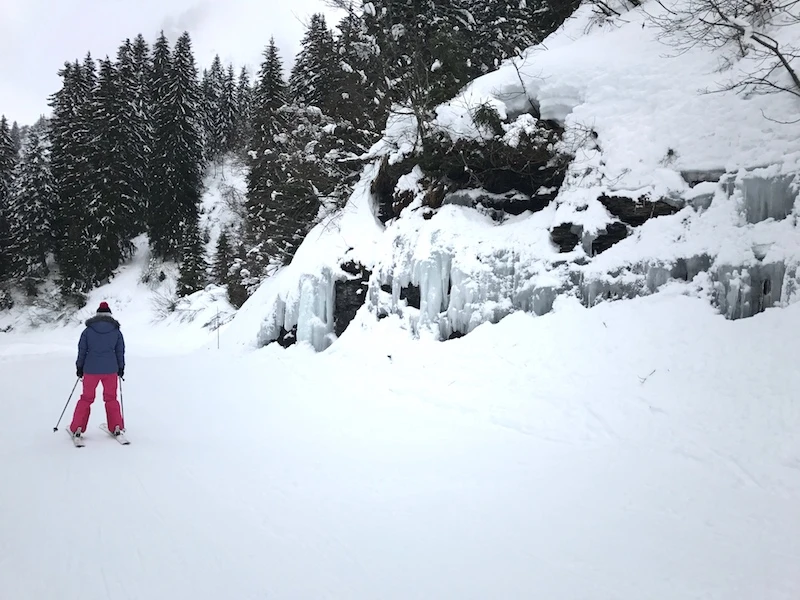 Hire toys and equipment
We didn't do this because the nannies brought lots of toys with them. But if you don't have nannies the look into toy and equipment hire services. There are companies that will drop off everything you need that chalets don't supply, things like potties, bathroom steps, baby bouncers, books and toys. Of course, you can go a week without all these things but it just makes life a little easier! There are even services to drop off nappies and wipes for the week. The local supermarkets will stock these things but they're going to be quite expensive.
We took lots of toys with us but having new toys and books arrive half way through the week was brilliant.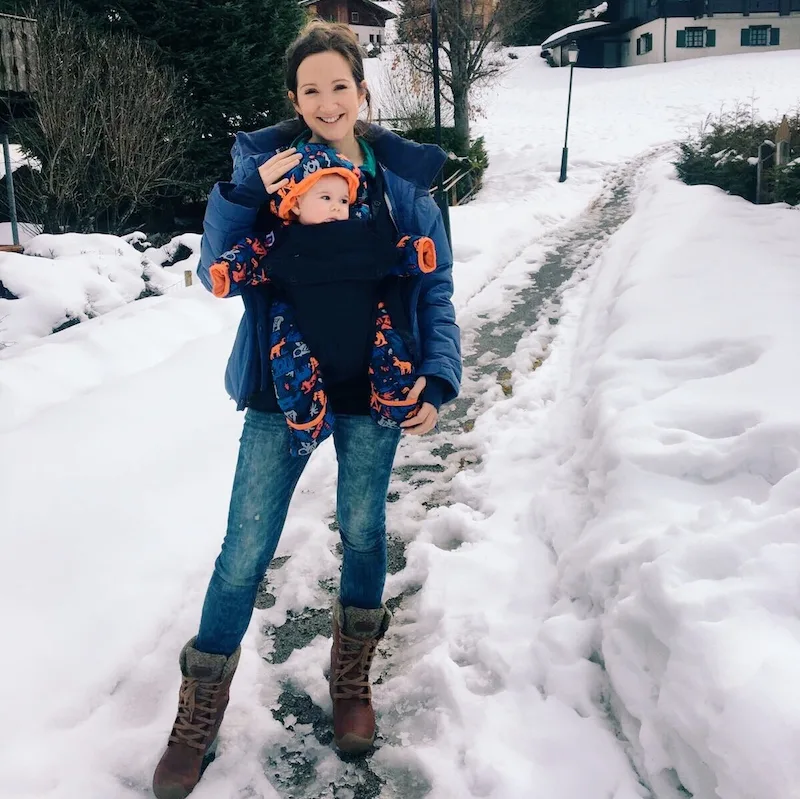 Get a private transfer from the airport
After a long flight the last thing you're going to want is a long transfer on a noisy coach with loads of people. It takes ages for the coaches to leave while everyone struggles with their luggage and there's always someone who gets lost between the airport doors and the bus! These coaches are normally packed so you have to sit with the kids on your lap as you wind your way through the mountains. George was sick on the transfer coach to Tignes last year so we wanted to avoid this at all costs! If your resort isn't too far from the airport then look into a private transfer or a transfer on a small bus.
We didn't have a private transfer but we booked a transfer with Powder Cab on a 12 seater coach so it was all
Of us and 3 poor guys sat awkwardly between all the kids!
Read more: What to take on flight with a toddler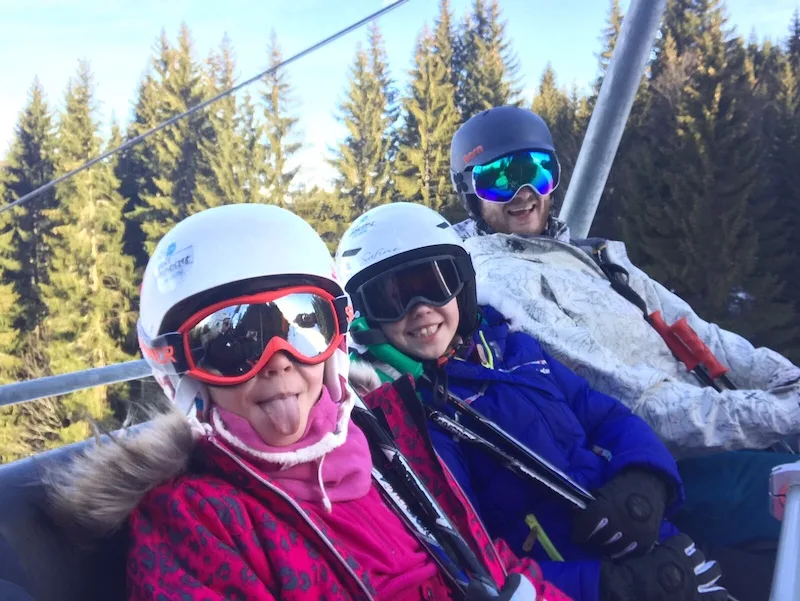 Choose a family friendly resort
Les Gets is well known as being family friendly. It's small and pretty and there are loads of kids. And because there are loads of kids it means there are loads of services for the kids (like the nannies, toy hire and pushchair rental). Restaurants also cater for families really well, there's an ice skating rink, a bowling alley and people are generally more accepting of kids being everywhere.
Do you have any more tips for a family ski holiday?
Read more:
Swapping apres for afternoon tea: What it's really like to go skiing with a baby with Mark Warner
6 tips for a cheap skiing holiday (it is possible!)
Skiing vs Snowboarding: The great debate
[one_half]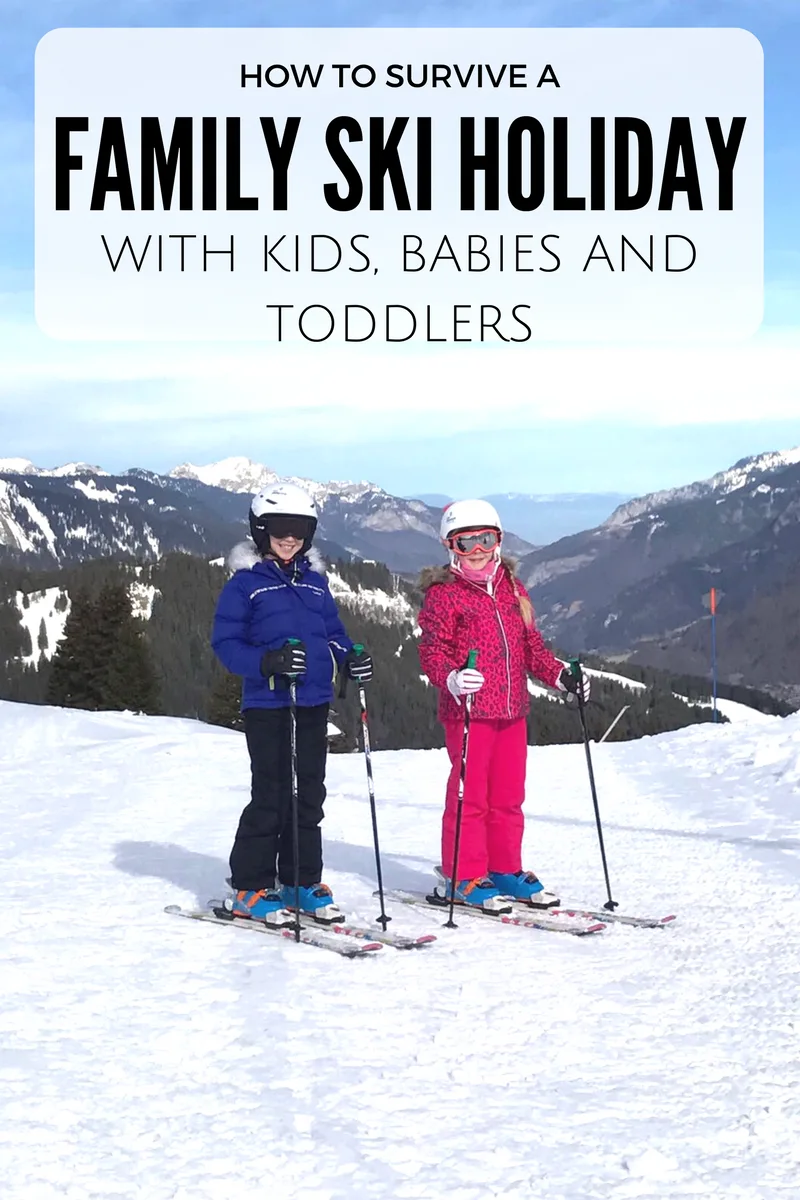 [/one_half]