Today I'd like to welcome Harriet Johnston to the blog as she debunks the myth that you can't have a cheap skiing holiday. Harriet is deputy editor of Ski+board magazine and loves travel with a healthy dash of adventure on the side. She has worked with sites like The Debrief, DRESSR and VICE and also co-founded her own site, www.twobird.squarespace.com. When she's not writing she's probably out exploring London, a city she only recently moved to.
---
Rumour has it ski holidays are overly expensive, and can completely blow your budget. This is not particularly tempting if you've never been skiing before and are not even sure if you'll enjoy it! Often with travel, it can seem tricky to find the best and cheapest locations, but let me be your guide to show you exactly how you can have a cheap ski holiday and still have a great time.
I promise, skiing is an amazing sport and it's so much fun. Even better, it's something which is so sociable and a great holiday to have with loved ones. I've been skiing since I was 5 or 6, first with my parents and later with my friends, and I absolutely love it. Now I'm in full time work, I've been on the hunt for the cheapest and best locations for a ski holiday. Here are my best tips and tricks when you're searching for that winter wonderland getaway.
#1. Avoid School Holidays
If you don't have kids (or have pre-school kids), try to avoid school holiday periods. Not only do flights, hotels, tours etc inflate in price but the slopes will be a whole lot busier. Christmas and February half term will be especially expensive whereas most of January and March will be a lot cheaper.
#2. Travel in the shoulder season
If you're willing to take the risk with the snow in resort, it could be worth looking into taking a week in early December or looking at skiing into April. Lots of resorts now have really great snow-making machines which means slopes can stay open even if there's not been a dump. But, in my opinion, the ski holiday loses a bit of it's charm if it's all greenery and slush down below. Resorts in North America and further afield will be snow-sure for longer and it's quite likely you could look for a late deal on popular resorts from California to Vermont in "end of season" type deals (which can even touch end of April time!). Meanwhile if you're staying put in Europe, flights will be cheaper and jet lag is less likely to impact your stay.
#3. Fly with budget airlines and book early
Easyjet have a huge range of flights to many ski resorts, as do Ryanair. Book as far in advance as you can to get the cheapest flights and don't forget to pay for baggage or sports equipment when you book your flights. It's much cheaper to do it in advance and can end up costing more than the flight if you do it at the airport.
Travel Hack Tip from Monica: Airlines DO weigh your sports equipment bag. Many couples attempt to squeeze both of their skis or snowboards into one bag. We did this for years and would also include our boots and anything else we could squish in there, but they weighed the bag with our last flight with easyJet and we had to pay extra. The same happened to my parents with their golf clubs, so be warned!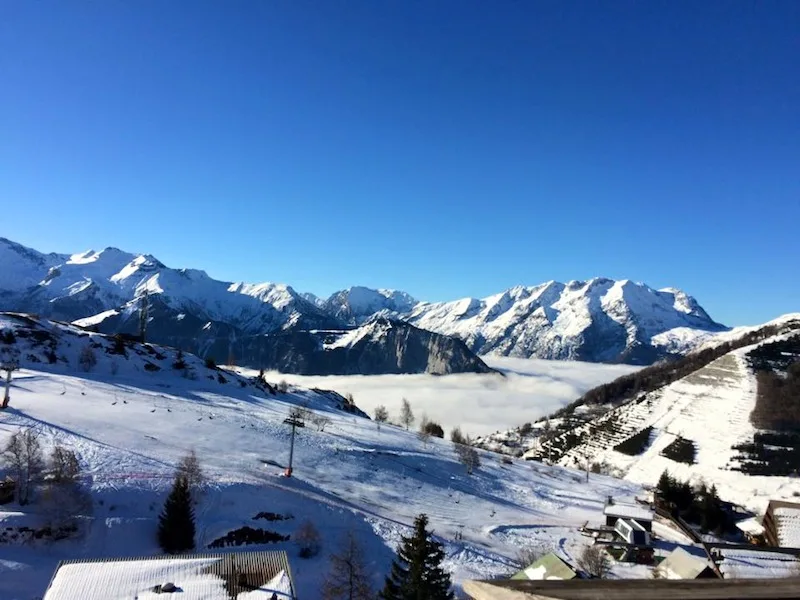 #4. Take a train transfer?
Rail transport in Switzerland and Austria tend to be good and the networks are super easy to navigate. This can save money on an overly expensive transfer, but obviously will include the hassle (or excitement, if you look at it that way) of sorting yourself out a bit more!
#5. Avoid the glitzy locations
Another tip would be to avoid the most A-list known ski locations. We all know Courchevel, Meribel and Whistler have top class skiing but what about heading a little further off the grid.
Hidden gems can provide just as much fantastic snow and fun resorts without the hefty price tag. Resorts like Bankso in Bulgaria, Pas de la Casa in Andorra and even Cervinia in Italy will provide skiing which is just as fun but also means you could have some extra money to enjoy at apres. Definitely worth it if you ask me. Check out sites like Ski Club which have a holiday comparison grid, allowing you to compare resorts side-by-side and determine exactly where you should be going.
#6. Opt for self-catering
While skiing with both family and friends, I have always gone for a self catering apartment. This means you have no ties for meals and no additional cost if you're hoping to keep it cheap. In a chalet or hotel, your meals may well add a stack to your overall cost. If possible, try to make sandwiches to take up the mountain with you at lunch, in order to avoid overly expensive mountain meals which aren't even particularly nice. You can normally enjoy the view with your own pack lunch without paying a silly amount. Plus think of all the french cheese you can devour if you're self catered, and with nobody even watching. Yum.
Do you have any more tips to find a cheap skiing holiday?
[one_half]
[/one_half]
[one_half_last]
Read more:
Ditching my snowboard and learning to ski
What to look for in a family ski holiday
Swapping apres ski for afternoon tea: What it's really like to ski with a baby
Your ultimate guide to the World Ski and Snowboard Festival