This Seatfrog review has been created in collaboration with Seatfrog and, as always, all thoughts about the app and over-excitement about travelling First Class are all my own!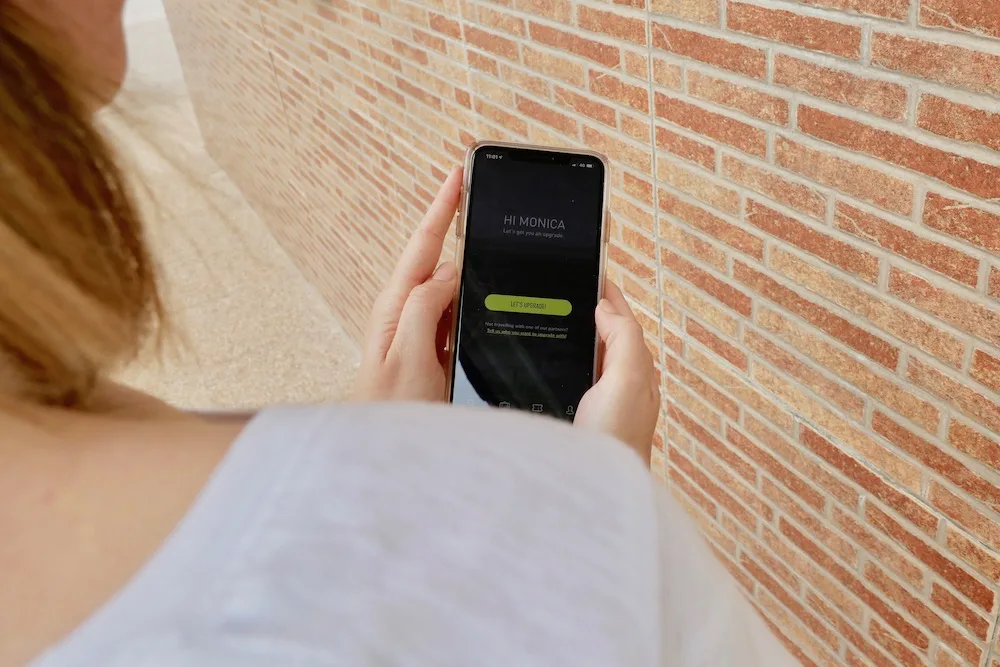 Today I'd like to share a new app I've discovered called Seatfrog. Prepare to have your Virgin Train journeys in the UK changed forever! This is my Seatfrog review and more info about this clever app that allows you to upgrade to First Class train tickets for tiny prices.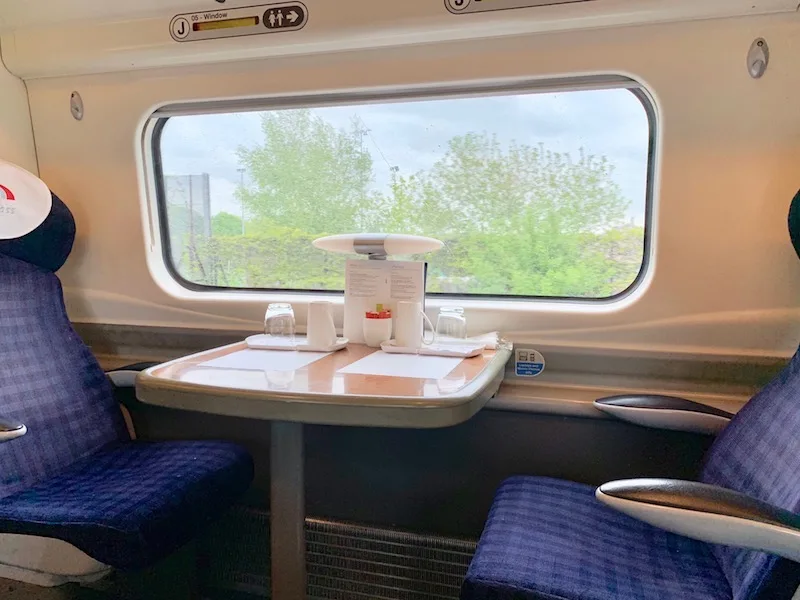 What is Seatfrog?
Seatfrog is an app that allows you to bid on empty First Class seats on Virgin Trains. It works on Virgin Trains on the west coast with only journeys to and from Holyhead excluded at the moment.
It's a really simple, user-friendly app. Here's how it works:
You sign up and add your card details.

You then add a trip into the app – this is a train journey you've already purchased through your normal platform, I always book direct through VirginTrains.com (to get my Nectar card points!).

There are two ways to add your journey into the app; you can use your booking reference number or simply search for the train journey you're booked on to by entering your departure and arrival stations, the date and time. So even if this a journey that's been booked on your behalf (like a work trip) and you don't have all the confirmation details, it's still easy to upgrade.

Once you've added your journey you can then bid on a First Class seat if there are any available. You'll see the current price for the ticket and you can then place a bid. You could also skip the auction and immediately upgrade with the buy it now feature.

You'll be kept up to date with the bidding via email and the app.

If you win your bid you'll get an email confirming you've won and the app will update to include your new seat number and there's a QR code that the train staff can scan along with your original ticket to get your new ticket.
[one_half padding="0 5px 0 5px"]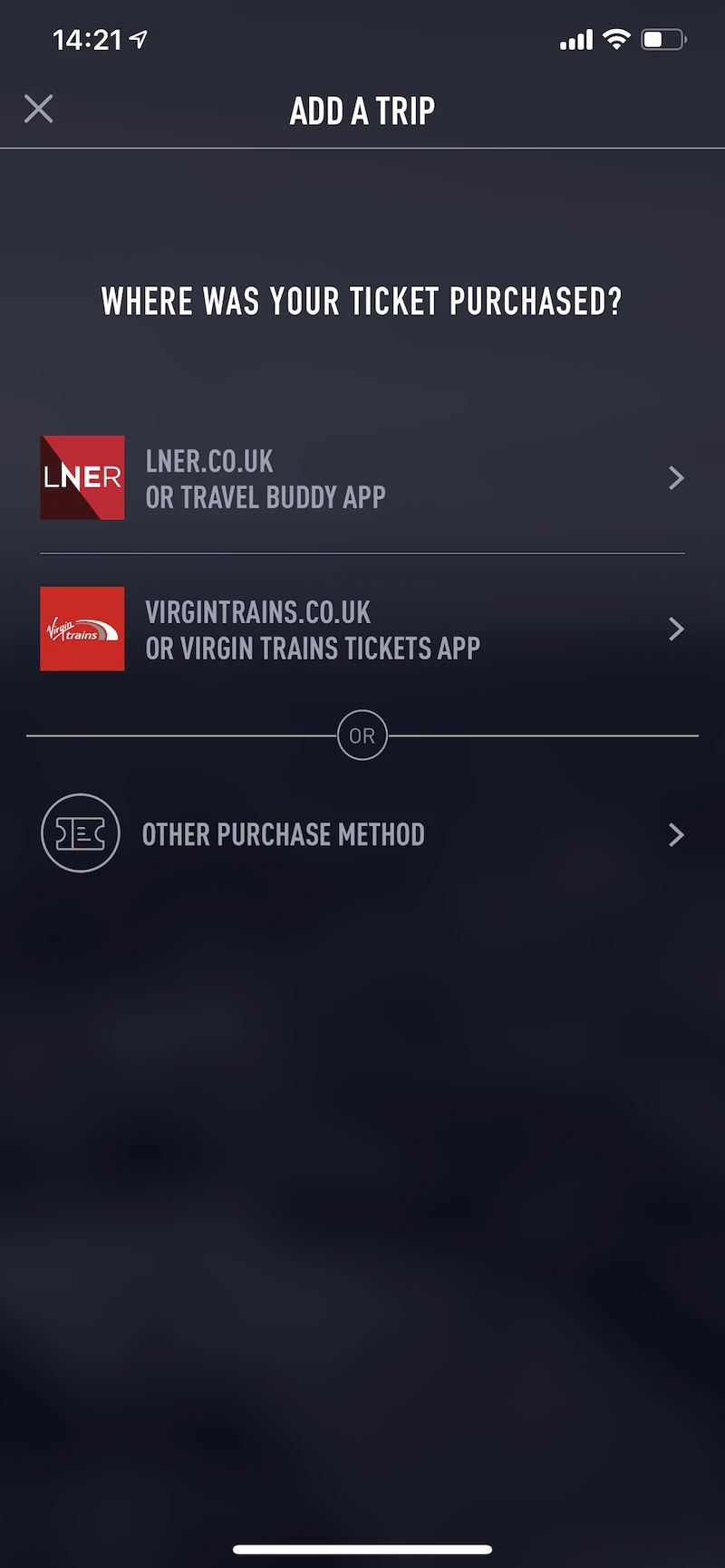 [/one_half][one_half_last padding="0 5px 0 5px"]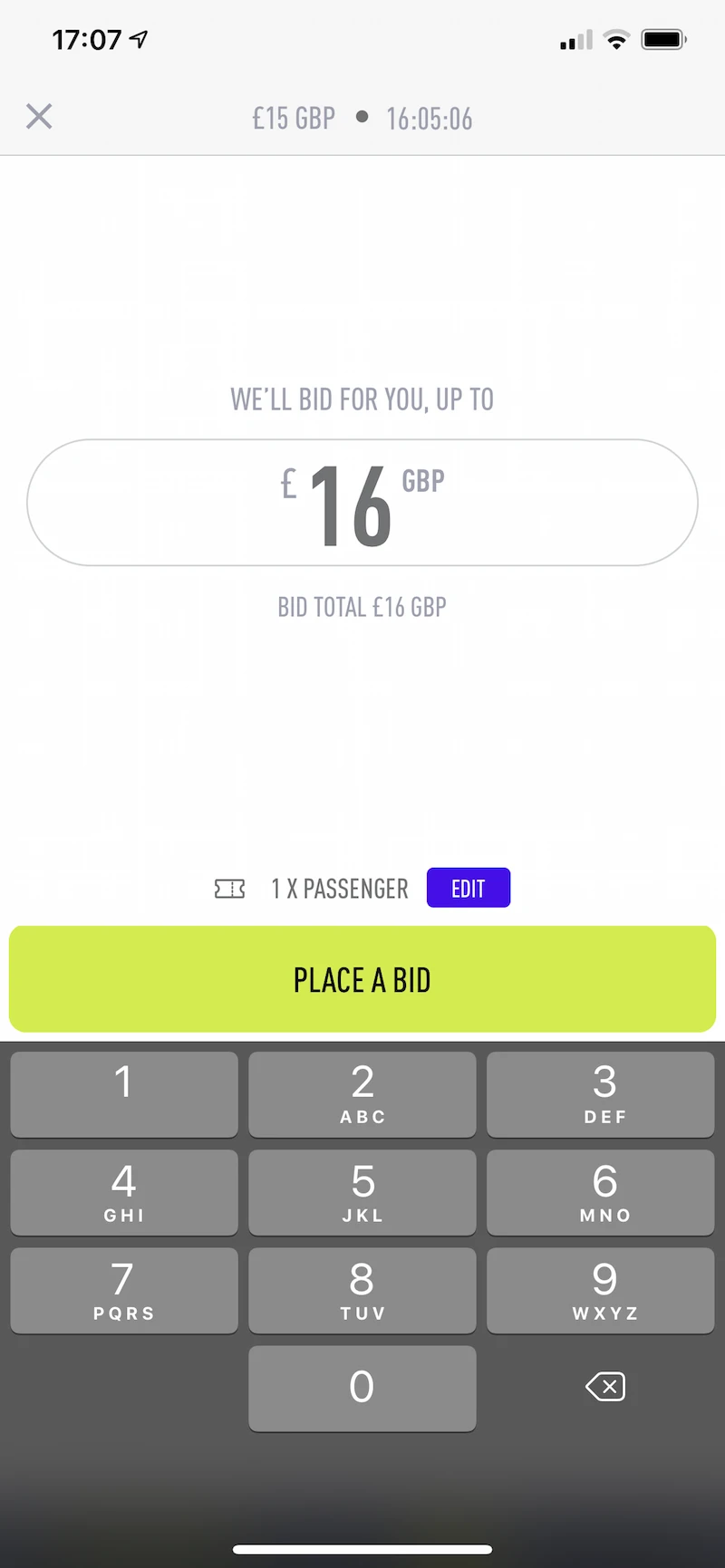 [/one_half_last]
[one_half padding="0 5px 0 5px"]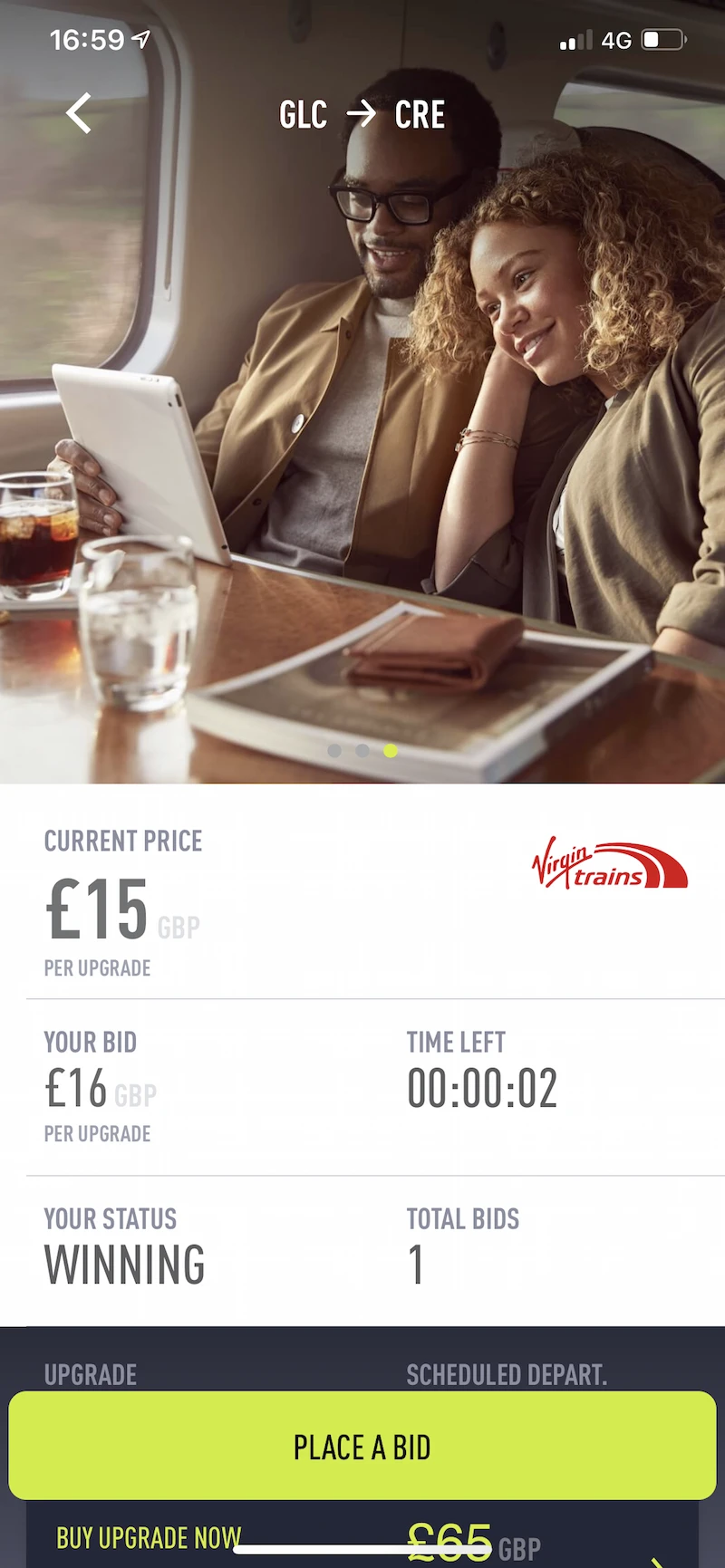 [/one_half][one_half_last padding="0 5px 0 5px"]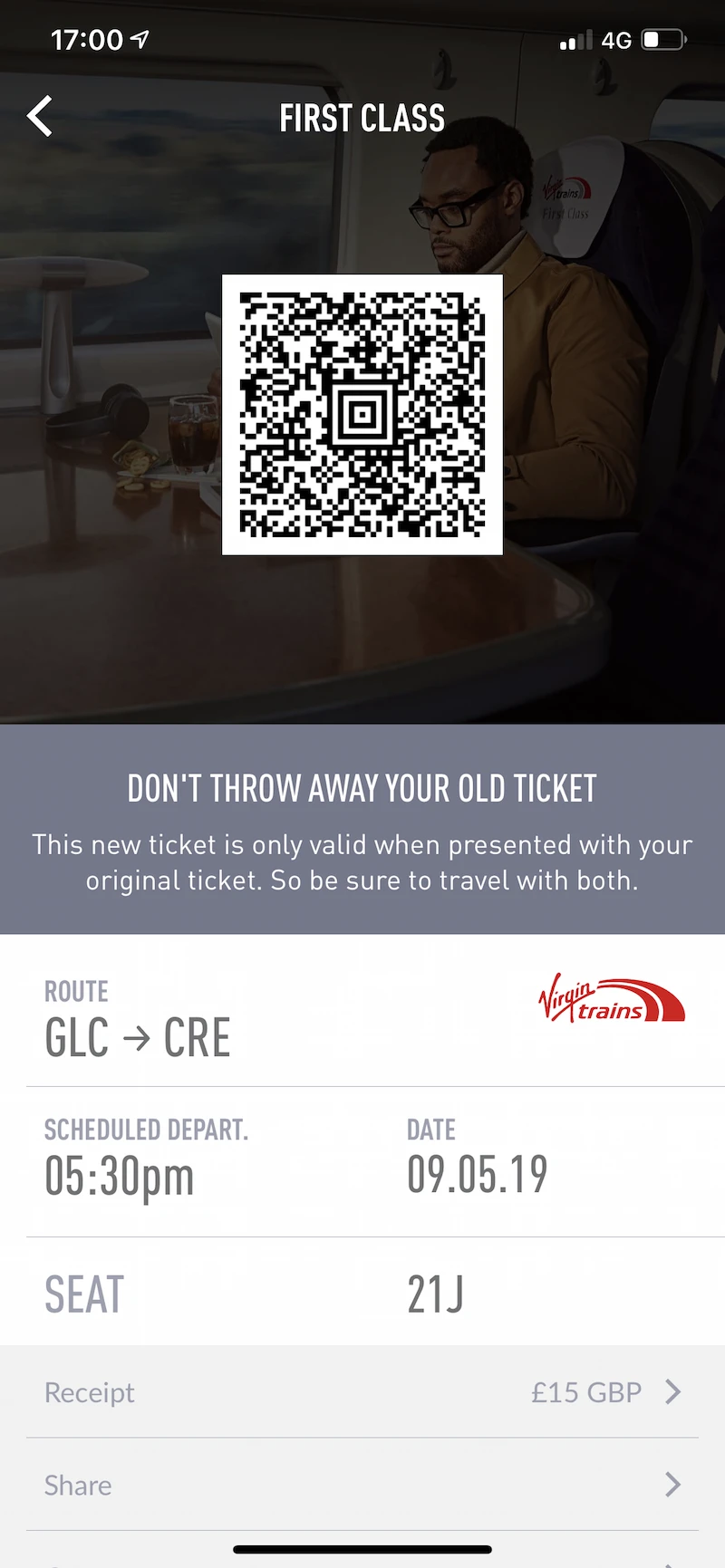 [/one_half_last]
Other things to know…
You use your original ticket with your Standard seat to get through the ticket barriers.

You can use the Virgin Trains First Class lounge.

You can upgrade your ticket from 24 hours to 30 minutes before the train departs.

And First Class tickets are available from just £10!
I've got to admit, I read through the instructions before using the app and I thought it couldn't possibly be this simple, but it really was! Seatfrog was so easy to use and I can't recommend it enough!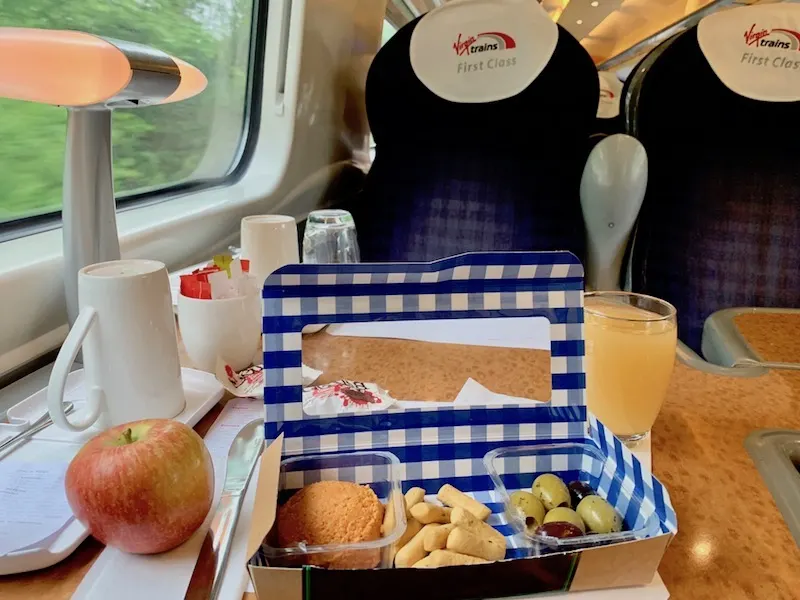 Seatfrog review: My journey to Glasgow using Seatfrog to upgrade my train ticket
To test out the app, I took a train journey up to Glasgow to see if this really works!
I took the train from Chester to Glasgow but had to switch trains at Crewe so the upgrade was from Crewe to Glasgow. This was fine by me because it's still a 3-hour journey from Crewe to Glasgow.
I only had to place one bid for my ticket and I got it. It cost me £15 to upgrade from my standard seat to First Class.
There were 3 First Class carriages and in my carriage there was loads of space!
The journey was dreamy and I had plenty of space to spread out and a constant supply of snacks as staff walked up and down the aisle with food and drinks trolleys.
My return journey was even better because it was a peak time train at 5.30pm so a two-course hot dinner was served.
Once again, I upgraded for just £15 and had some time to make use of the Virgin Trains Lounge at Glasgow Central Station. There were snacks, drinks and newspapers available in the lounge so I had a hot chocolate and some fruit while I waited for my train.
As soon as the train left Glasgow Central a lady came around to take our orders for dinner. I opted for a creamy seafood linguini followed by a cheesecake. Other options included chicken tikka masala, gnocchi or a salad and they all looked delicious. My meal was lovely. I'd been expecting to be served something like plane food with a foil lid but it was much nicer than that and I would have been happy if I'd been served this meal at an informal restaurant.
Benefits of First Class seats on Virgin Trains
I'm a big fan of Virgin Trains already. I travel down to London at least once or twice a month on Virgin Trains and I find them to be really comfortable. Even when I could drive, I'll still take the train because it's so much faster and I'd rather sit comfortably, watch a film, read a book and relax for the journey.
But Virgin Trains First Class seats are the dream.
You have so much more space, everyone has a large and comfortable chair, a plug and a table, a little lamp and it's generally much more comfortable.
You also get WiFi included (no ridiculous passwords or difficult codes to get on it!) although you aren't able to stream videos unless you're using their film service which does have some really good options.
And….wait for it….food and drink!
As soon as you board the train, you'll be offered a drink and a snack and then the staff are almost continuously walking up and down the aisle with cold drinks (including alcohol), tea, coffee and snacks.
Hot food is served at peak times but in the middle of the day, later in the evening and at weekends it's cold food like sandwiches, salads and meze boxes.
Now I don't know about you, but during a 3-hour train journey I can easily spend more than £15 on food and drink, so you definitely get your money's worth! I'm currently pregnant so I couldn't take advantage of the icy cold G&Ts I could see my fellow passengers sipping, but having the extra space to stretch out my legs and the cold drinks were very much appreciated!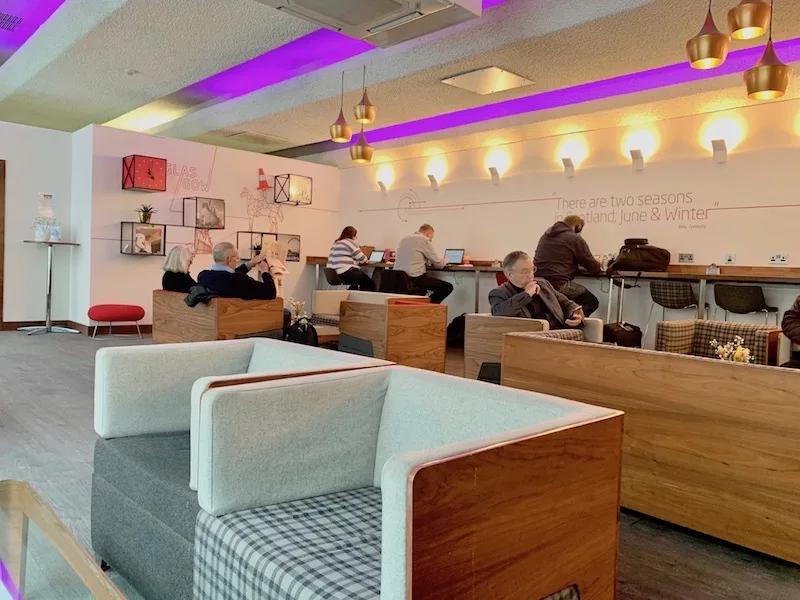 The First Class Virgin Trains lounge at Glasgow Central
Why use Seatfrog?
If you've ever booked a train ticket in the UK you'll already know that First Class seats are more expensive in comparison to a Standard ticket. If you're travelling at peak times it can be a couple of hundred pounds more expensive. Seatfrog gives you the chance to get these First Class train tickets at a fraction of the price.
I have managed to get fairly cheap First Class tickets on a very quiet Sunday evening service to Chester but it's rare and never available at busier times.
It's great if you fancy treating yourself at the last minute (and even better if it's a business trip and you didn't personally pay for the tickets anyway!)
Both times I used Seatfrog I wasn't outbid so it was a really simple process for upgrading.
Of course, there's the chance there aren't any First Class seats available on your journey or you could be outbid and the tickets become quite expensive but, in my opinion, it's worth downloading the app and checking if a cheap upgrade is available because, you never know, you might get a bargain! I'd also recommend giving it a go sooner rather than later because you never know what will happen when everyone discovers this app!
Once again, this was created in collaboration with Seatfrog but I'm so grateful for this opportunity to test out the app. I've used it twice since my trip to Glasgow as I take the train to London a lot and I'm sure I'll be using it a lot in the future! So if you see me looking all flash and travelling First Class on Instagram stories, you'll know why!
[one_half padding="0 5px 0 5px"]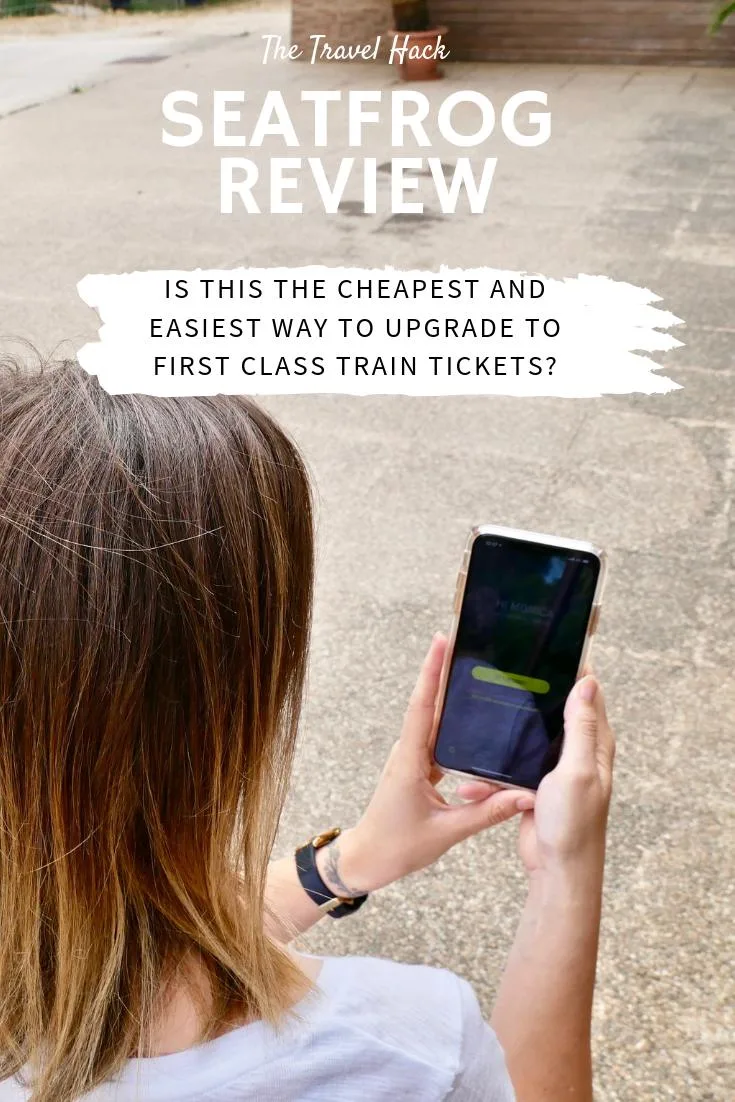 [/one_half][one_half_last padding="0 5px 0 5px"]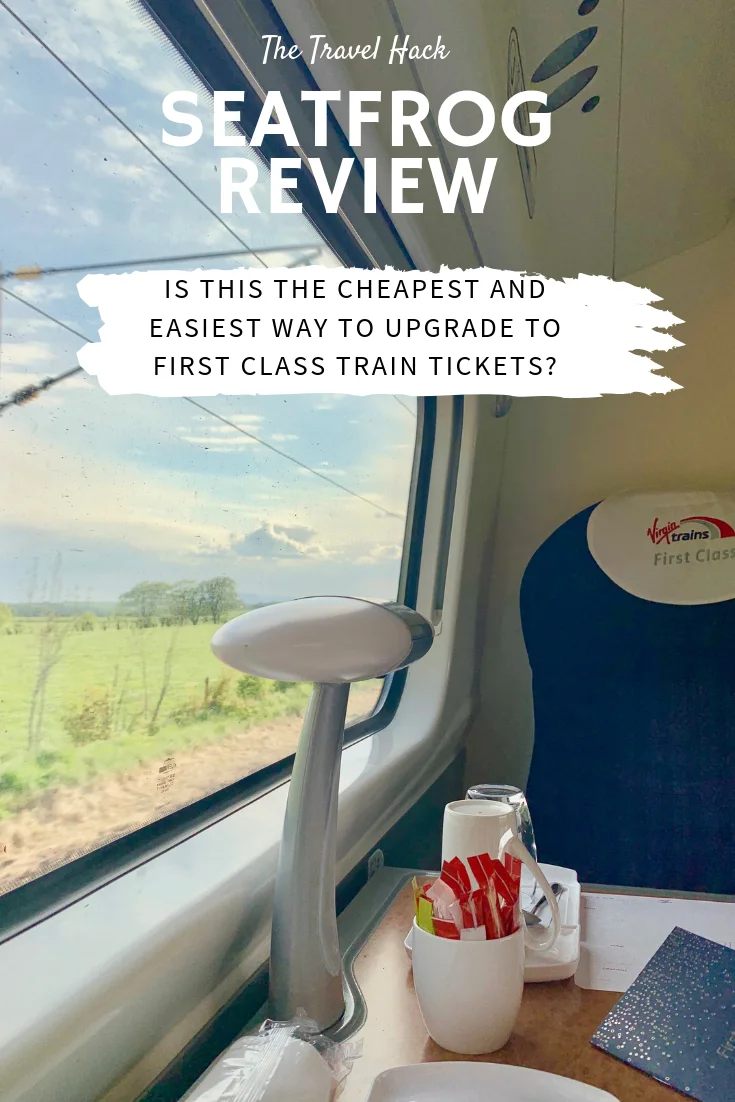 [/one_half_last]